Maybe I'm biased, but I love my home state of California. We have everything! Mountains, beaches, golden hills, desert… There is something here for every kind of outdoor enthusiast.
So I'm a little surprised that while most other states in the western US are collecting established bikepacking routes at a rapid rate, bikepacking in California still seems to be in its infancy. Only a small fraction of our trails and public land have been mapped and described from a bikepacking perspective.
As a proud Californian and bikepacker, I'd like to help change this. We have so much gorgeous land to explore! I love unstructured rambles, but let's face it, when vacation time is short sometimes an established and pre-mapped route is exactly what you need.
In this post I've collected a wide range of California bikepacking routes and trails organized by region. Some I've ridden, and many are still on my wishlist. Much of my bikepacking time has been spent exploring other states and countries, but I'm looking forward to exploring my home state more thoroughly in the near future.
This is meant to be a growing list, and I add reader suggestions from time to time. If you're bikepacking in California and have a route to recommend, please leave a comment at the bottom.
Southern California
Southern California, specifically the area to the east of Santa Barbara, LA, and San Diego, is an obvious place to start. Bikepacking.com and others have already developed several routes in this area, and there are many more options waiting to be explored.
A string of national forests, state parks, and other public land can be linked together for days of access to backcountry dirt roads and 4×4 tracks with free dispersed camping. Close proximity to major metropolitan areas, particularly LA, keeps transportation time reasonable. Weather is often sunny year-round, and wide-open desert landscapes are good for the soul. What's not to love?
Bikepacking in southern California often means desert landscapes and everything that comes with them: sand, rocks, rattlesnakes, hot summer days, and cold winter nights. Spring and fall are excellent times to bikepack in the southern California desert. Winter can work well for lower-elevation routes (check snow conditions for any sections over 6000 feet or so). Lower elevation in the desert can be brutally hot during summer.
For routes with desert riding, consider your tire setup carefully. Sandy routes reward wider tires (in the range of 2.6″ and up), and spikey desert foliage makes tubeless tires a necessity in many cases.
Here are several standout bikepacking routes in Southern California, ordered roughly from north to south.
Baldy Bruiser
The Baldy Bruiser is a burly 150 miles of dirt road and 4×4 track through the San Gabriel Mountains in the Angeles and San Bernardino National Forests. Climbing is plentiful and sometimes steep, and surfaces are varied.
The wide elevation range, from around 1500 feet up to nearly 8000 feet, means this route is best ridden in fall or early winter when temperatures aren't too hot and snowpack at the high points is manageable.
SoCal Desert Ramble
Longer and a bit gentler than the Baldy Bruiser, the SoCal Desert Ramble offers 500 miles of mixed-terrain riding through some of southern California's most iconic desert landscapes. Though remote in some places, it also takes in a bit more civilization than the Baldy Bruiser, including quirky desert communities and sights like Joshua Tree, Salton Sea, and the unforgettable Slab City.
The SoCal Desert ramble can easily link up with the southern end of Baldy Bruiser, and for those who want to keep heading south, the northern end of the epic Baja Divide. It also overlaps with a good chunk of the Stagecoach 400 route (see below).
Stagecoach 400
The Stagecoach 400, originally established as a bikepacking race of the same name, is 380-ish mile loop out of San Diego. Terrain is a challenging mix of dirt, pavement, and singletrack. The moderate elevation makes it rideable throughout most of the year, but it's best in spring or fall when temperatures are neither too hot nor too cold.
Catalina Island
This rugged island off the coast of LA was suggested by a reader, and looks like it would make an amazing 2-3 day bikepacking trip! It's accessible by ferry, crisscrossed by dirt roads (here's a map), and has several campgrounds and primitive campsites (reservations likely needed). The resort town of Avalon at the island's southern tip would make a posh place to relax before, during, or after your ride.
Bring your climbing legs… The island may be small but the elevation profile looks mighty.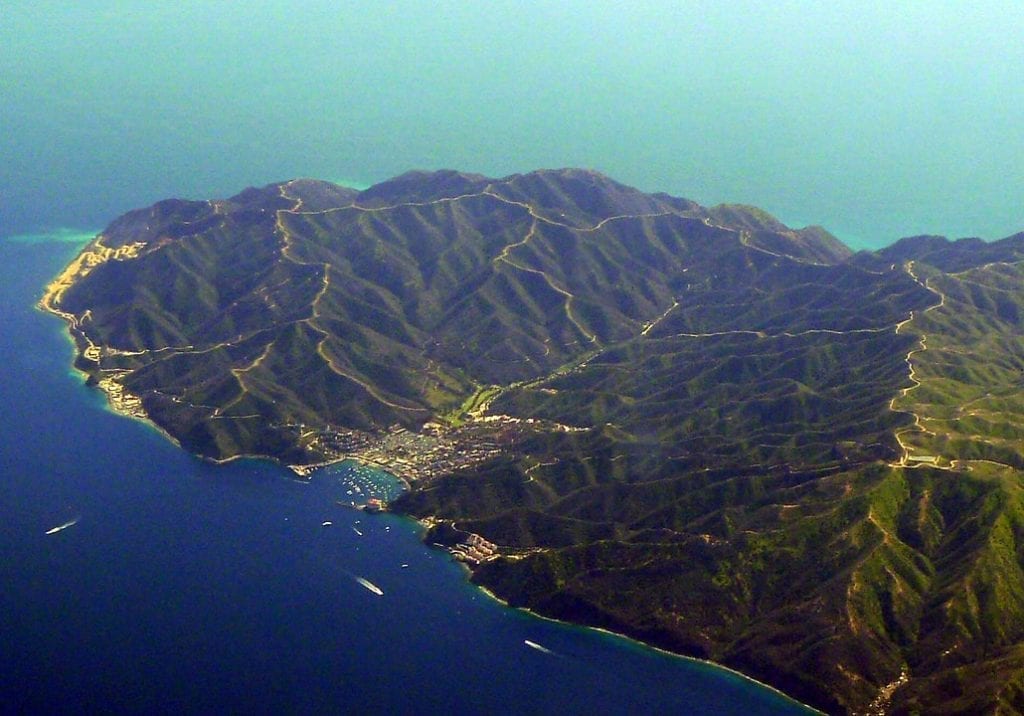 Central California
Bikepacking in Central California is dominated by the extensive Los Padres National Forest. Though not contiguous, it spans a surprisingly large north-south distance between Big Sur and Santa Barbara, and is more rugged than you would expect.
Here are a few good places to start when looking for a bikepacking route in Central California:
Tour de los Padres: This is a bikepacking event held annually on a variety of different routes in the region. I rode it in 2022 and was impressed. The TDLP website contains a wealth of information about the official route, as well as descriptions and GPS tracks for a number of shorter bikepacking routes in the Santa Barbara backcountry. The northernmost section (Arroyo Seco to Gorda) and southernmost section (from New Cuyama to Santa Barbara) are the highlights in my opinion.
Sierra Madre Road: As depicted in The Long Traverse film, this is an 80 mile day ride instead of a bikepacking route, but Sierra Madre Road jumps off the map to anyone interested in bikepacking in Central California. It also features in the above-mentioned Tour de los Padres route as well. Highly recommended!
Carrizo Plain National Monument: Flat-ish gravel roads and wildflowers in the spring, with opportunities for wild camping in a vast landscape. This loop from Doing Miles includes a section through Carrizo Plain, as does the 2022 Tour de los Padres.
Arroyo Seco Indians Road / Coast Ridge Road / Fort Hunter Liggett: The northern part of Los Padres National Forest features some nice options for short bikepacking trips. The Doing Miles ride report, 2022 TDLP, and my Central California loop all include parts of this area.
Soledad – Paso Robles – Coalinga Loop: This 260 mile loop is primarily pavement, but includes a few excellent sections of gravel and the closed dirt Arroyo Seco Indians Road mentioned above.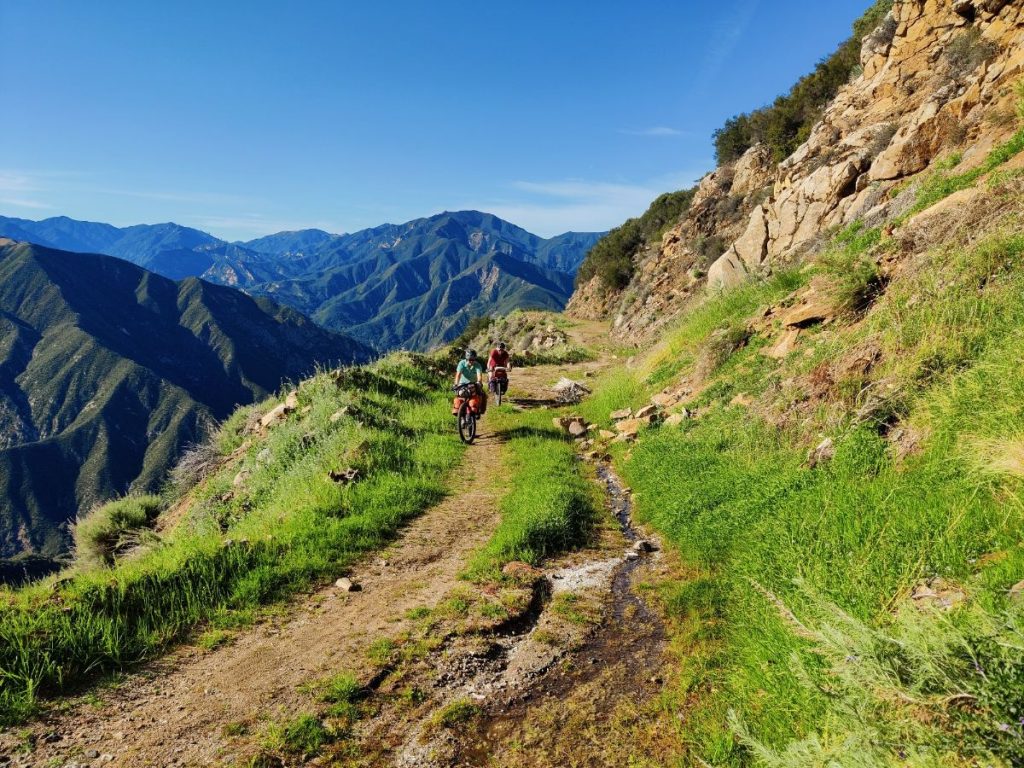 Sierra Nevada Mountains
Though I've spent plenty of time backpacking in the Sierra Nevada mountains, I haven't done as much bikepacking there. This is partly because much of the region's most spectacular terrain is protected in national parks and wilderness areas where bikes aren't allowed.
Still, there is a lot of potential for bikepacking in the Sierra Nevada. Here are some routes and areas to start with.
Around Lake Tahoe
With classic lake views, sunny summer mountain weather, and more bike-legal trails than most other areas of the Sierra, Lake Tahoe is a great option for bikepackers.
Summer is the best time to bikepack in the Tahoe area, since high-elevation areas will be blocked by snow through winter and spring (there's a reason the area is famous for its ski resorts!).
There are several ways to approach bikepacking around Lake Tahoe, but all are based at least partly on the famous Tahoe Rim Trail. Bikes are permitted on a majority of the trail, with a notable exception through Desolation and Granite Chief wilderness areas and a few smaller sections.
To bypass the bike-illegal sections and extend the route, several folks have mapped out variations that incorporate a mix of jeep roads, pavement, and other local trails. Here are the two well-established options:
Tahoe Twirl: 187 miles, 19,300 feet of gain
Bones to Blue: 250 miles, 31,000 feet of gain
There is some overlap between the two routes, and plenty of places where they run parallel to each other. Tahoe Twirl stretches all the way northeast to Reno before heading back to the west and south. Both routes go through Truckee. Bones to Blue includes a short loop to the northwest of Truckee that could be skipped to shorten the route, though you'd miss some historic (if rather somber) sites related to the infamous Donner Party and the deaths of many Chinese railroad laborers.
Both routes have a fair bit of singletrack, though Bones to Blue has more, and its ratio of climbing to miles is higher. Both challenge riders from low-elevation areas with a peak elevation of over 9500 feet. The loop nature of both routes, along with relatively easy food and water resupply, make both logistically simple. Black bears can be a problem; you'll want to hang your food at the very least, and ideally use a bar-resistant bag like the Ursack Major.
For those of you with more time on your hands, I can't resist noting that these routes around Tahoe, especially the Tahoe Twirl, are easy to link up with the Pony Express to the south and the Trans Northern California to the north for three sides of a massive California bikepacking loop. See below for details on those other two routes.
Downieville / Lost Sierra Region
I absolutely love the Lost Sierra region for outdoor adventures of all kinds. Mountain biking enthusiasts probably know it for the Downieville Classic race. But beyond the famous singletrack, I've explored a few of the area's dirt roads on shorter rides and I believe this would be a fantastic – if challenging and steep – area for bikepacking.
Forest roads and jeep tracks north of Highway 49 lead to ghost towns like Poker Flat. South of the highway, still in Tahoe National Forest, a vast web of dirt roads branch off from Henness Pass Road near the tiny town of Forest (which has some nice singletrack nearby). The area offers lakes, a few campgrounds, and lots of forest, along with plenty of climbing.
One of these days I'll get back to the area and try out some bikepacking routes! If you beat me to it, please let me know what you find out.
Pony Express Route
The new Pony Express Trail is hardly just a California bikepacking route; it extends all the way to Missouri! For anyone dreaming of a longer trip, or interested in riding from Sacramento to Tahoe (perhaps to link up with Tahoe Twirl or Bones to Blue!) on relatively low-traffic road and trail, this newly developed route might be just the thing.
I hear the section through Nevada is tough and very sparse on water and resupply options; research before attempting! I recommend joining the Facebook group if you're interested in learning more.
San Francisco Bay Area
As a resident of the San Francisco Bay Area, I struggle with the lack of a true bikepacking scene here. Our dense population and tightly regulated public land make it nearly impossible to set off on a multi-day ride without careful planning and hard-to-get campground reservations. Pretty much any long ride is sure to involve some pavement and at least a bit of busy road riding. Sometimes it feels a bit… claustrophobic.
Still, we're lucky to have many open space preserves here in the bay, and motivated local bikepackers have managed to link them up in some creative ways. We may not have endless dirt roads and camp-wherever-you-want land regulations, but bikepacking in the bay area has its own charms.
These routes are all rideable throughout the year thanks to a moderate coastal climate, though it's best to avoid riding during or right after heavy rain. Be sure to make reservations for campgrounds or accommodation in advance if needed, and be prepared to share the trails with plenty of hikers.
I don't recommend coming to the bay just for the bikepacking, but if you're in the area or passing through and want to explore what the area has to offer, here are a few routes to check out.
Peninsula / Santa Cruz Mountains
The SF Peninsula Traverse is one of the standout local routes and includes a lot of the best bike-legal trail on the peninsula. It's doable in three days and neither of the two on-route camping options require a reservation, though making it between them might require a push.
There's a lot of variety on this route, from coastal riding to ridgetop views, and singletrack trail to paved highway. Don't expect to have any of the trails or roads to yourself in this busy area, especially on weekends.
North Bay / Mount Tam
The North Bay / Mount Tamalpais area is a prime candidate for Bay Area bikepacking routes, such as this overnight loop out of Fairfax. It includes a long stretch of Bolinas Ridge road, which jumps off the map to anyone looking for long ride possibilities in the area. There are several campgrounds in the area, including Samuel P. Taylor State Park with its hiker / biker site, perfect for a nice little bike camping overnighter.
It would make a lot of sense to extend that loop to the south and include the famous trails of the Marin Headlands, perhaps linking up with this North Bay Overnighter. It's relatively straightforward (and memorable, if you haven't done it) to bike across the Golden Gate Bridge, for anyone who wants to add a visit to San Francisco into their trip!
Henry Coe State Park
Henry Coe State Park, down south near Gilroy, is the only Bay Area park where true backcountry camping (outside designated sites) is allowed. Its fire roads can be devilishly steep though, and summer temperatures can soar, so don't expect easy riding.
Here's a short 46 mile loop that includes some of the highlights, and an even shorter 36 mile overnighter. For those wanting something longer, inspiration may be found from the HardCOEre 100. Note that all those routes have a lot of elevation gain for their mileage, which is pretty much unavoidable in Coe.
East Bay Trails
The East Bay includes many smaller open space preserves with a few campgrounds. If you can coordinate the necessary campground reservations, this East Bay bikepacking route looks awesome.
Around the Bay
The Bay Area Ridge trail, though a tempting concept, is still very much unfinished. A few brave folks have circumnavigated the whole bay using parts of the trail and some busy road riding, but I wouldn't consider that a relaxing bikepacking trip.
The Bay Area Triple Crossover links up a lot of the best options in the north and east bay, and includes three bridge crossings! If you like variety and don't mind mixing some civilization in with your nature and trails, this is about as good as it gets in the bay area.
Intrepid riders might be tempted to link the Triple Crossover with the Peninsula Traverse mentioned above, leaving just a couple sections on the peninsula that would need to be navigated carefully on busy streets.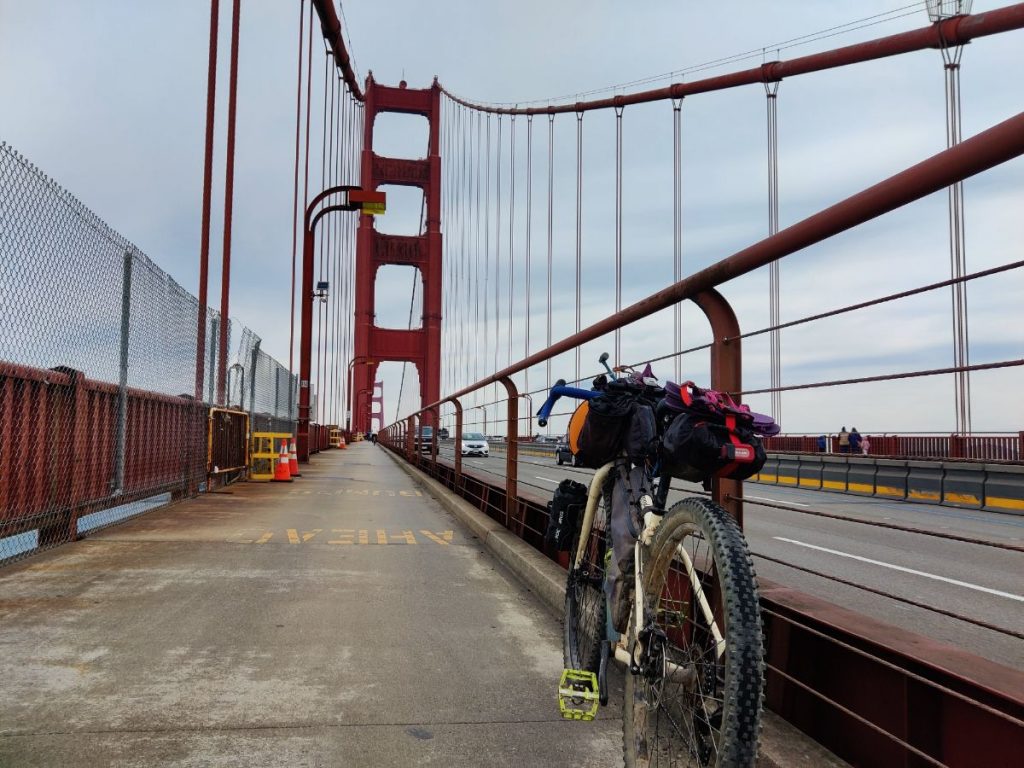 Northern California
For a region nearly covered in national forest land, northern California – loosely defined here as the area north of Tahoe – has surprisingly few documented bikepacking routes. For this area I can only offer a few general leads, since I have yet to explore it much outside of Mendocino National Forest.
Mendocino National Forest
As one of the closest national forests to the Bay Area, Mendocino National Forest is an intriguing possibility. I recently had the chance to do a quick overnighter in the southern portion and it did not disappoint. The area is remote, rugged, and surprisingly mountainous with plenty of long climbs.
My little trip just barely scratched the surface of this vast web of forest service roads. Here's a backcountry discovery route that highlights many of the main dirt roads and camping areas. For those who want to venture even further off the beaten track, plenty of jeep tracks and even singletrack motorbike trails can take you nearly anywhere you want to explore.
Trans North California
The ambitious Trans North California is technically an underground race, though it would make an interesting touring route too. Here's a random RideWithGPS track I found for it (haven't tested it personally – ride at your own risk). 🙂
It happens to overlap with a bit of the Mendocino NF route I linked to above, and if that's any indication of the rest of the route, it's probably tough! It also could be linked up with the Tahoe Twirl route mentioned above.
Farther North
I haven't had a chance to explore these yet, but here are some other areas of northern California that look intriguing:
More of those backcountry discovery route ideas here. Keep in mind they're designed for driving, so don't contain any singletrack and could include sections of busy highway. But if you like gravel roads, they seem like a useful starting point.
More California Bikepacking Routes?
When I think about how big California is, and how much beautiful public land we have, I'm embarrassed that this list is so short. It seems like we currently have a wide-open slate on which to scout and explore our own routes. While I really enjoy making up my own routes, I would also love to see more established routes that would make bikepacking in California a bit more accessible.
For even more ideas based on trip journals from other riders, see the California page on BikeSleepBike (another project of mine that aggregates bike travel blogs).
If you have a great route to suggest, please comment below! Let's help get more bikepackers out there on our roads and trails.
More Bikepacking Resources
If you're interested in bikepacking in California, you might also find these helpful:
Or, visit the bikepacking resources center for more pedal-powered info and inspiration.
Bike resources in your inbox?
There's more where this came from! Sign up here for occasional emails full of inspiration and information about bikepacking and bicycle touring.


Share the Adventure
If you found this article helpful, please consider sharing so more people can benefit from it:
Pin For Later