This stretch of quiet, newly paved rural road from Stung Treng to just east of Siem Reap is hands down the most enjoyable cycling I found in Cambodia. I highly recommend it as an alternate route to busy highway 6 from Phnom Penh.
I recently spent a packed two weeks bicycling back and forth across Cambodia on a wide variety of roads. Only after leaving Siem Reap and heading south on busier national highways did I realize what a gentle introduction to cycling in Cambodia this northern route had been.
Not only are the roads fantastic by Cambodian standards, the area is relatively rarely visited. Most nights I didn't see any other foreigners in town, and the greetings I received from locals were some of the warmest and most genuine-seeming in all of my three months in Southeast Asia.
What To Expect
Most of this route passes through rural areas sparsely dotted with small homes, some in rather ramshackle shape. There are small settlements roughly every few dozen kilometers and a substantial town every 50 to 130km.
It's pretty easy to find snacks and cold drinks for sale at tiny roadside shops, but don't expect much variety. You can find basic meals of rice, noodles or soup at small restaurants along the way, but again, quality will be hit or miss.
The terrain is flat and open, with wide views of grasslands and low hills. There's not much shade and it's easy to feel scorched in the hot Cambodian sun. Bring plenty of water, cover your skin with sunscreen or clothes, and plan to make stops for cold drinks along the way.
Road Conditions
As this route was the first place I cycled in Cambodia, I didn't fully appreciate the road conditions until I later found myself mired in dusty gravel on busy shoulderless highways farther south.
The stretch from Stung Treng to Siem Reap is all paved (as of late 2018… road conditions change fast in Cambodia). Some sections are newer than others, and I'm sure there were some potholes in places, but I barely remember because in hindsight they were nothing compared to what I encountered later.
If you do come from the border with Laos, there's currently (end of 2018) a stretch being repaved that is just bumpy, dusty gravel. It doesn't last the whole way to Stung Treng though, so just stick with it and you'll be back on pavement soon.
Traffic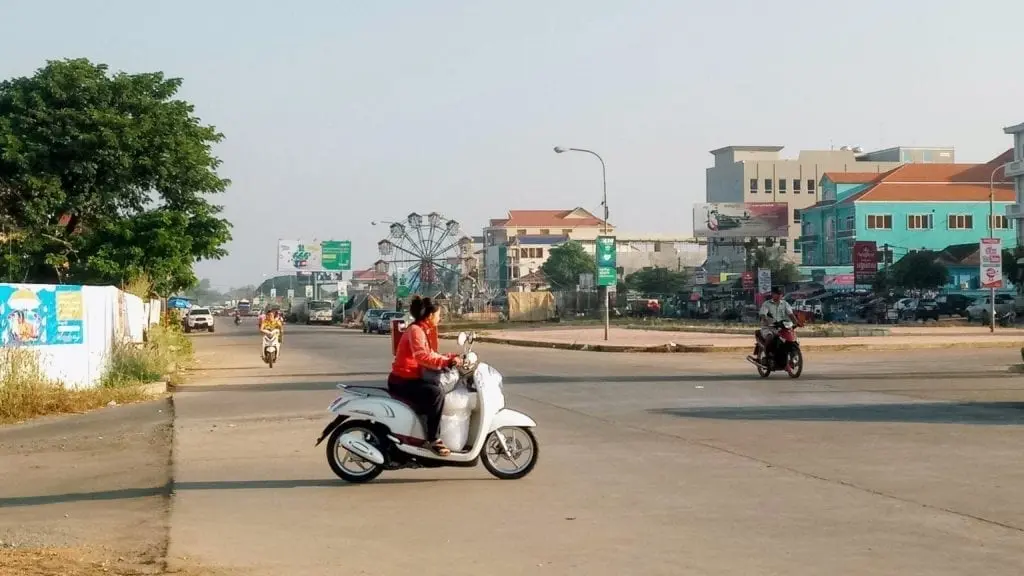 Traffic on much of this route is blissfully light, just a few motorbikes and the occasional car or truck. Riding through the towns of Stung Treng and Preah Vihear is also fairly relaxed.
The traffic does pick up as highway 64 approaches highway 6. For the last few kilometers the small road can feel quite hectic as it struggles to contain all the activity. When it finally bursts out onto wide and ugly highway 6, the speed picks up but you have two lanes each direction and a wide hard shoulder, making for fairly safe if somewhat less pleasant riding.
Closer to Siem Reap the road narrows and starts to feel more hectic again, and once you hit Siem Reap you need to simply embrace the chaos. These tips may help.
Route Overview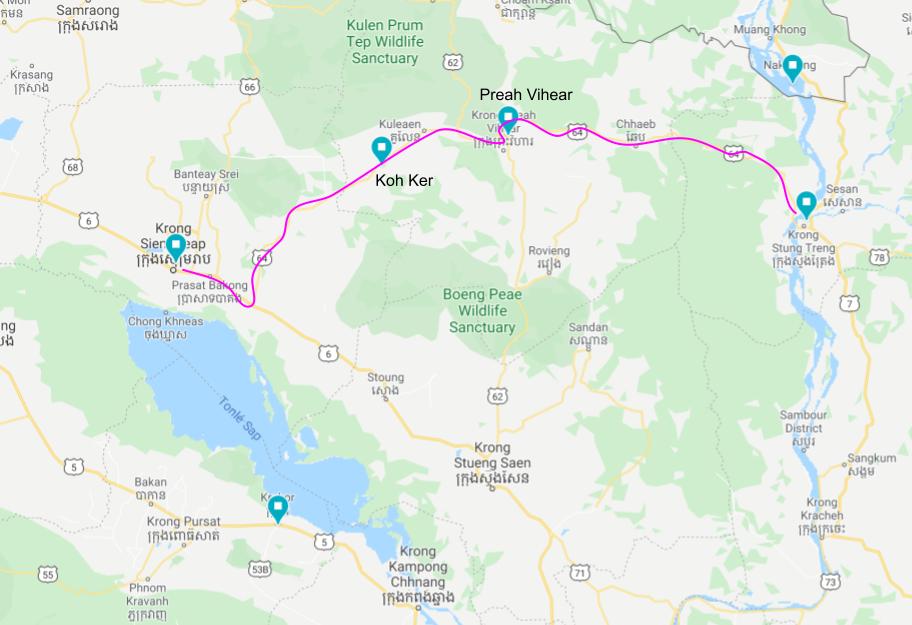 To get to Stung Treng, the start of this route, you have two options: cross from Laos at the border about 60km north and ride south down highway 7, or ride up highway 7 from the south, perhaps Phnom Penh or Kampong Cham. I did the former, but I hear the southern stretch of highway 7 is nice and interesting too.
Of course you could also do this route in reverse, starting in Siem Reap and ending in Stung Treng and then continuing north to Laos or south to Phnom Penh.
The total distance between Stung Treng and Siem Reap is about 300km, perfect for 3 or 4 days of riding. If you're coming from a hillier region, you'll enjoy being able to pedal long days on this flat and open terrain.
Stung Treng to Preah Vihear: 130km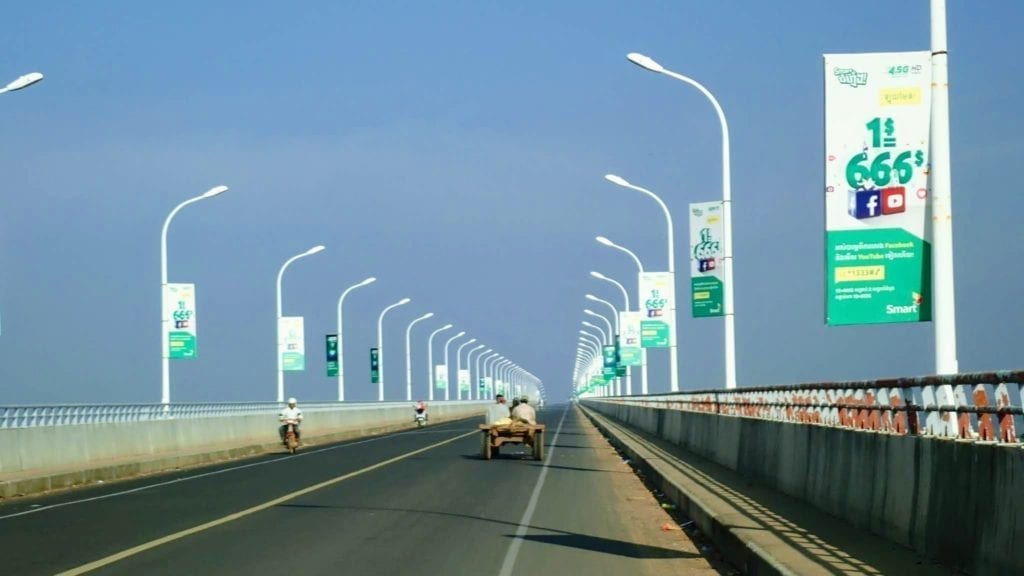 From the town of Stung Treng, head west across the big bridge over the Mekong on highway 64, also sometimes shown on maps as highway 9. It's about 130km to Preah Vihear town (note, this is a different location from Preah Vihear temple which is farther north). If this is a long day it may be possible to spend the night partway in the small town of Chlaeb, especially if you're willing to ask around and possibly camp at a temple.
Preah Vihear to Koh Ker junction: 55km
At the town of Preah Vihear, turn right on highway 62. About 20km later, turn left on highway 64 again. Continue on highway 64 until it meets the junction with the road heading to Koh Ker temple complex, which makes a really lovely half-day side trip.
Koh Ker to Siem Reap: 110km
From Koh Ker junction, continue west on highway 64 to the intersection with highway 6. This stretch passes directly by Beng Mealea temple, which makes for a reasonable hour or two side trip. There are also some basic guesthouses nearby if you want to break up this stretch into shorter days.
Approaching highway 6 the energy definitely picks up and the small road becomes more and more urban until the wide highway is actually a welcome relief.
At highway 6 turn right and ride the big highway for about 30km into bustling Siem Reap. This part is bound to be a shock after the quiet roads earlier in this route, but much of the highway is well paved with a wide shoulder and even two traffic lanes each direction in some places.
Where to Stay
There are almost enough guesthouses along this route to allow comfortable daily distances, but it might take a bit of advance planning to make sure you end up at one each night. The following locations worked well for me as overnight stops:
Stung Treng
Preah Vihear
Koh Ker (small town at junction with road to temple, has a few basic guesthouses)
Siem Reap
Stung Treng and Preah Vihear are both substantial towns with plenty of lodging options. There are a few travelers around but no obvious "tourist quarter" like some of the more visited towns, so just ride around poking your head in guesthouse doors until you find one with a price you like.
In Stung Treng I highly recommend Pov Monique Guesthouse on the corner of Street 51 and Street 20. It has very nice rooms, friendly staff, and cheap rates.
The small town at the junction to Koh Ker is a bit rougher around the edges, yet there are still a handful of guesthouses and restaurants which occasionally encounter tourists.
Other Overnight Options
Between Stung Treng and Preah Vihear is a tiny town called Chlaeb. If the 130km is too far for you, you may be able to spend the night there. I don't think there is a guesthouse, but if you ask around you can likely find a temple, school, or restaurant to camp at.
I think there are also some guesthouses near Svay Leu and Beng Mealea, as well as the junction with highway 6, if you're looking to break the trip up into shorter sections.
As a general resource I love Maps.me for finding guesthouses in this area of the world.
Siem Reap
Once in Siem Reap, you'll most likely want to stay a few days and visit the temples of Angkor Wat. It's great to have arrived with your own two wheels, because exploring Ankgor Wat by bicycle is the perfect way to visit these amazing ruins. You'll also want to grab a few hearty meals in town at one of the many great restaurants in Siem Reap after days of rural roadside food.
In Siem Reap you can have your pick from hundreds of hotels, hostels and guesthouses. However, if you're on a budget and looking for a safe opportunity to camp – not something I would usually do in a city – you can camp for free at the Tourist Police station near the temples. It's just outside the ticket checkpoint on Charles De Gualle Road, on the way to the temples.
The officers are super friendly and welcome cyclists and other overland travelers to set up tents on their front lawn for free. They kindly provide wifi, drinking water, toilet, shower, and charging for electronics. It's conveniently located near the temples, though the tradeoff is that it's farther from town, but still a very manageable short ride into central Siem Reap. I stayed for four nights and bought them some snacks when I left to say thank you.
Koh Ker and Beng Mealea
Especially if you haven't been to Angkor Wat yet (and are thus unaffected by "temple fatigue"), these two temple sites make nice stops along the way. Of the two my favorite is Koh Ker, mainly because it's much less crowded and touristy, but Beng Mealea is bigger and arguably more impressive.
Koh Ker
The Temples of Koh Ker make for a good way to spend the afternoon if you've ridden from Preah Vihear, about 55km away, in the morning. When you finish you can spend the night nearby in the town back at the junction. It could also be a morning visit before spending the afternoon riding to a guesthouse near Beng Mealea. I think about a half day is perfect for Koh Ker.
To reach Koh Ker from the main road, turn right on a road labeled 2641D on Google Maps. You'll buy a ticket shortly after the turn, $10. From there it's about 7km to the start of the loop.
Koh Ker is actually a collection of many small sites spread around a 6km smooth dirt loop road, perfect for exploring by bicycle. The most famous temple – a large pyramid called Prasat Thom – is at the far end of the loop. I traveled counterclockwise, starting with the smaller sites, and thought it was the perfect buildup to the bigger one.
On the day I was there, only the pyramid had any noticeable amount of visitors. I had many of the smaller sites, hidden away in the forest, completely to myself. Cycling slowly around the quiet road and wandering the empty ruins, I had the feeling I was on some ancient treasure hunt.
Beng Mealea
Beng Mealea, being closer to Siem Reap, gets more visitors and is a very different experience from Koh Ker. Expect some tour bus groups if you go in the middle of the day, but not so many that you can't still find quiet paths along the edges and around the back.
The ticket price is $5 and the overall site is smaller, consisting of a single much larger temple than those found at Koh Ker. Much of its charm lies in its dilapidated, mossy state; it has not been restored like many of the temples closer to Siem Reap.
An hour or two is probably the right amount of time to explore Beng Mealea. The surrounding streets have a selection of overpriced tourist restaurants selling food and drinks, though you can certainly find something cheaper and more "authentic" if you continue down the road just a bit away from the temple.
Where to Go Next
Cambodia is a relatively small country, and this route will take you straight across the northern half of it. Leaving Siem Reap, you can either ride back eastward or continue west, both on highway 6.
I looped west through the relatively affluent-feeling town of Sisophon and south to Battambang before attempting to cycle the rest of highway 5 to Phnom Penh. That road was pretty dangerous in places, and I ended up catching a bus near Krakor for the final run into the city.
Many of the traditional highlights of Cambodia are in the south along the coast: Kampot, Koh Kong, Sihanoukville, and Koh Rong. If you can manage the infamous stretch of busy highway 4 heading north from the turnoff to Sihanoukville to the turnoff to highway 48, you'll be all set for a nice ride toward Thailand.
More Southeast Asia Cycling Resources
If you're planning a bicycle tour in Southeast Asia, you might also like these:
You Might Also Like