The Carretera Austral, an evocative Spanish translation of "Southern Highway," is a staggeringly beautiful adventure through rural Patagonia in southern Chile. The full route stretches roughly 770 miles (1240 km) from Puerto Montt to Villa O'Higgins, growing wilder and more remote as it plunges southward. It's THE premier Patagonia cycling route, and for good reason.
Though popular with roadtripping overlanders and hitchhiking backpackers, the Carretera Austral has much to offer intrepid cyclists as well. You'll wild camp beside rushing rivers, marvel at one glacier-capped peak after another, and soak up views of lakes so bright blue they can hardly be real. There were times I cycled around a bend in the road and literally just stopped in my tracks to gawk.
You'll also – unless you're a true beast on two wheels – push your bike up some steep hills. You'll fall down in loose gravel and struggle against the occasional wicked headwind. More cars than you'd like will pass you closer than you'd prefer, at least in the high season. You'll be dusty, wet, hot, cold, and tired, sometimes all in the same day. But as you leave the Carretera behind, feeling strong and rugged and a bit feral, you'll look back and see nothing but epic adventure.
At least that's how it was for me.
What's in this guide
This is a brain dump of everything I learned about the Carretera Austral that might help someone else plan their trip, or decide whether this route is right for them. When my friend and I needed to plan carefully to make sure the route fit our timeline, we found relatively few resources online to help. So I'm going to add another in hopes of helping other travelers in the future.
It's a massive post, but I've tried to organize it into sections for everything from food and camping to bike setups to ferries. At the end there's a day-by-day itinerary to help anyone still trying to get a sense of the daily experience, but note that we skipped 200 km, so don't plan to do the whole route based on our timeline!
Route overview
Heading south, the southern half of the Carretera Austral starts in Coyhaique, a convenient town with everything you need. The route begins with a misleadingly smooth 100 km of pavement (albeit with plenty of climbing). The mood changes drastically a few km south of the small town of Villa Cerro Castillo, where the road turns to ripio (Spanish for gravel) and doesn't turn back until the end of the route. The views are amazing and only keep getting better as the road winds through river valleys and forests. The gravel at times is quite bad but it will get better.
Near the towns of Puerto Rio Tranquilo and Cochrane there are gorgeous, huge, bright blue lakes. Stop in Cochrane and stock up on food, it'll be several days before you see a town again. South of Cochrane the traffic becomes lighter and the terrain is initially dry. The scenery continues to astound, eventually transitioning to lush forest and more rivers.
Plenty of climbing and descending brings you to the first of three boat crossings at Puerto Yungay. From here it's a day or two with some formidable climbs to Villa O'Higgins, the official end of the Carretera Austral. However, most cyclists continue for another 2-4 days across two lakes, beautiful and quieter roads, and an epic section of no-mans-land into Argentina to finish at the hiking mecca of El Chaltén.
Good company and a tight schedule
I cycled the southern half of the Carretera with a friend in February 2019. After so much solo travel I was excited to finally have a badass female friend to go with. We started in Coyhaique, Chile and rode south, finishing in El Chalten, Argentina. Technically the Carretera Austral ends at the ferry crossing at Lago O'Higgins, but like many cyclists we added the exciting extension of the border crossing into Argentina.
My friend was on a tight schedule so we compressed this trip – which would ideally take around 3 weeks, more if you want to do some sidetrips – into only ten riding days in order to make her flight. I don't exactly recommend this… But it's possible, and was totally worth it. We managed this only by skipping 200 km using vehicles and some very precise planning, which I'll explain below.
My schedule wasn't quite as constrained as my friend's, so after she went home I continued riding solo south to Ushuaia. What a contrast!
Why the southern half
Given our tight timeline, we obviously only had time for one half or the other. We chose the southern half, despite its complexity and challenges, for its rugged and remote reputation. A good portion of the northern half has been paved which makes for smooth riding, but hundreds of kilometers of gravel on the southern half beckoned to our inner adventurers. We ended up getting what we came for, both the good and the challenging.
What type of bike tour is the Carretera Austral?
My only other long bicycle tour prior to this was in Southeast Asia, and cycling in Patagonia turned out to be pretty much the exact opposite.
Southeast Asia was full of curious people, confusing interactions, cultural differences, language barriers, cheap guesthouses, noodle soup in shabby roadside stalls… In other words, that delightful overwhelm and confusion that many of us associate with travel in developing countries.
Patagonia was more about camping, dealing with weather, and enjoying the beautiful wild outdoors in relative peace and quiet. It felt kind of like a hiking trip on wheels.
Patagonia's biggest highlights for me:
Amazing scenery
Remote and wild feeling
Peaceful, no big towns or cities to navigate
Patagonia's biggest challenges:
More traffic than expected
Sections of bad gravel road
Fast-changing and sometimes extreme weather (heat, cold, rain, wind)
Which direction to ride the Carretera Austral?
A majority of cyclists ride the Carretera Austral north to south. Why?
Wind. Supposedly the wind more commonly blows toward the south. Especially for cyclists on a more extended trip including the windy Argentine plains, that makes a difference.
Increasing remoteness: It makes a nice progression to start on busier paved roads and finish by dragging your bicycle through forest singletrack. The increasing remoteness when heading southward feels very satisfying and adventurous.
Ferries: heading south, the ferries come at the end of the route. I don't know for sure but I think it's probably easier to book them coming from Villa O'Higgins than from El Chalten. We met one woman who had been stranded on the southern end of Lago O'Higgins for five days eating mostly bread and jam due to bad weather and cancelled ferries. Backtracking would have been arduous. But coming from the north you are in the town of Villa O'Higgins where it would be much more pleasant to wait for a ferry.
That said, we passed many hardy northbound cyclists, most headed for points much farther north in South America. It definitely can be done.
Weather and best time to go
I suppose it's possible any time of year with the right gear and mindset, but most people visit Patagonia in the southern hemisphere summer: mid-November to late-March.
It's certainly possible to go earlier (in spring) or later (in fall), but be prepared for nights that dip below freezing and days that top out in the fifties (Fahrenheit). The ferries and buses run less frequently, so you'll need a flexible schedule or careful planning. On the bright side, prices may be lower, lodging in town easier to find, and there will be fewer cars and people around.
Even in summer, Patagonia is not exactly a hot place. Some sunny afternoons are hot enough for a t-shirt and shorts, but all it takes is some cloud cover or a bit of wind and you'll be reaching for a jacket and long pants. I spent a lot of time feeling cold on the second half despite having good gear (though I naturally run colder than most people).
The one consistent thing about weather in Patagonia is that it's never consistent. Expect several season's worth of weather in a single day, and dress in convenient layers. Our rain gear and warm layers were often bungeed to our rear racks for easy access, and we made a lot of stops for putting on and removing layers. With the changeable weather and short hills, it often felt like all day was spent alternating between too hot and too cold.
Getting to and from the start and finish
Coyhaique (Balmaceda Airport)
For some reason this place was the hardest to pronounce of anywhere on the trip. It's not "coy-haw-kway" like we thought. It's more like "coy-yay-kay."
The small airport here is in Balmaceda, 56 km from Coyhaique. There are several flights each day from Santiago, not too expensive. From the airport you can get a shuttle that will drop you and your bike box at a specific address for 5000-10000 pesos. Apparently you can also walk outside and find a much cheaper bus, but it drops off at a bus station so you may then need a taxi. Cycling from the airport would certainly be possible if you have the energy, but I was tired from 24 hours of air travel.
Coyhaique seems a bit scruffy on the outskirts but has a surprisingly polished and touristy center. You can get everything you need in the few blocks near the main square: food (Unimarc supermarket is popular), SIM cards for all major carriers, fuel canisters for camp stoves, ATMs and foreign exchange houses, and even a selection of basic bicycle parts. We ran all our errands in just a few hours.
Do you need to go to Coyhaique? Being short on time, we debated this, since Coyhaique is 40 km in the wrong direction from the junction with the Carretera. Could we just head south to Villa Cerro Castillo and make do there? In hindsight, I'm glad we both went to Coyhaique as it was a nice place to begin the trip and it was so easy to get everything we needed there. It's also the best place to fix anything that may have gone wrong with your bike during transit. Villa Cerro Castillo is tiny by comparison, with no bike shops. It does have a small grocery shop and I think I saw fuel canisters there, but the selection is certainly limited and it's doubtful they have SIM cards or money exchange / ATMs.
Villa O'Higgins
If you choose to finish your ride in Villa O'Higgins at the official end of the Careterra Austral, I believe there are buses that return north to Coyhaique. We didn't inquire since we were continuing to El Chaltén, but I remember reading online that they may not run every day and may get fully booked in high season. This option might work best if you have a couple days to sort it out once you arrive in town.
El Chaltén (El Calafate airport)
Most cyclists continue across the border to Argentina and finish in El Chaltén. I certainly recommend it, as it's the most remote stretch of the route and one of the most beautiful. It does require some careful ferry coordination and a bigger budget, which I'll get into below.
The nearest airport to El Chaltén is 215 km away in El Calafate, from which there are regular flights to Buenos Aires.
When we were in El Chaltén in February there seemed to be multiple buses to El Calafate each day, throughout the day. My friend ended up taking a very early one, 6am I believe, with her boxed bike. She also got really lucky asking at the bus station about where she could find a bike box; they had one there! Apparently they keep the ones discarded by cyclists who arrive on the bus, so definitely ask at the bus terminal if you need a bike box in El Chaltén.
If you would like to bike to or from El Calafate airport and prefer dirt to fast traffic, check out this inconspicuous off-pavement route sent by reader Can. Note that there are a few barbed wire fences to cross, and the route is unpaved, much like an old 4×4 track.
Transportation along the Carretera Austral
If you want/need to skip a section of the route (like we did for timing reasons), is it possible? The answer is yes, but you probably can't plan it in advance and hopefully you speak a little Spanish.
There are buses that head south along the Carretera, but it's hard to find schedules online. We still don't know the full story, but here's what we noticed:
From Coyhaique, several buses head south in the morning each day but they were all booked by the afternoon prior
From Puerto Rio Tranquilo, a couple buses per day head south, leaving between noon – 2pm.
I would guess Cochrane and Villa Cerro Castillo are other possible places to catch buses, but we didn't investigate.
It was easy enough to get the bikes into the bus luggage hold, but we did have to politely insist (driver first said there wasn't room) and remove front wheels. Expect to pay extra for bikes, potentially as much as half the price of your ticket. It's your job to help load them and pad the important parts to ensure everything still works after hours of bumpy roads.
If the bus doesn't work out for you, it's pretty common to hitchhike along the Careterra, but not as easy as just sticking your thumb out to the first car that passes. You may have to be very patient, very lucky, or have a very obvious mechanical problem in order to get picked up.
Another option, if your budget allows, is to pay a local for a ride. Most people in this region have big cars or pickup trucks. If you're in a transportation-related bind try asking owners of hostels, campgrounds, or restaurants if they know anyone interested in driving you for a fee.
Road Conditions
The Spanish word for gravel is "ripio" and you will come to know it well. As of early 2019 the first ripio on the southern half began 13km south of Villa Cerro Castillo, and they were extending it southward literally as we rode by the roadwork crew. That means your first 108 km or more from Coyhaique will be on smooth paved road, which is very misleading. Looking back, that first day and half feels almost like a totally different trip.
The first day of ripio was actually the worst, with deep rocky gravel and a killer headwind. Things were not looking promising. But after a while conditions improved and we had some stretches of good smooth-ish hardpack, especially south of Cochrane.
In general the road conditions varied a lot with bad stretches including deep gravel, soft dirt, and bone-rattling corrugation. They are constantly working on the road so I imagine the location and severity of these sections changes over time. Expect some rough sections, but don't expect them to last forever.
Traffic
There was more traffic than we expected. On the paved section at the beginning the cars would pass respectfully, moving into the other lane as long as there was room.
On the narrower gravel roads it became trickier. Many drivers traveled way faster than I would have expected given the road conditions, kicking up huge clouds of dust and making us skittish. Often we pulled off and stopped because we didn't feel confident controlling our bikes in the loose gravel on the edge while vehicles passed so closely.
We did pass one accident, which seemed to have caused no serious injuries, but a car had skidded off the road and partway down a hillside.
The worst section was the northern part of the southern half (from Coyhaique to Cochrane). We were there in mid-February, which is still high season, and many of these cars were travelers from South America and further abroad.
Things got better south of Cochrane, and once into the far south between ferry crossings we had a few blissful days with almost no cars. On the sections between ferries it's nice because the traffic mostly comes in waves a few times a day, and you can simply pull off and wait for them to all pass at once.
Difficulty and average daily distance
Simply put, we overestimated the distance we could cover on the Carretera. I'm decently fit and had done a few months of bike touring in Southeast Asia, where I regularly put in 60-80 mile days even with stretches of rough road. My friend is strong, trained hard, and has been a recreational road cyclist for a lot longer than I've been bike touring. I thought we could manage at least 40 miles per day on the Carretera, no problem.
Instead, most days we did closer to 30 miles. This was due to several factors:
Slow pace on the gravel where it was loose, bumpy, or deep
Rare but formidable headwinds
Plenty of climbs, though none are very long, but you can't always make up time on the downhill when the gravel is rough
Changing weather and the need for lots of layering stops
Jaw dropping scenery and the need for lots of photo stops
The need to time ferry crossings
The commitment to relax and have fun on what was supposed to be our "vacation" instead of a slog
So how hard is the Carretera Austral? I would say moderately hard. We met cyclists who had biked the length of South America and they described the Carretera as some of the hardest road they'd ridden on the continent. We certainly met cyclists moving faster than us, but we also met plenty who were struggling.
It's tough, physical riding, especially for cyclists used to pavement. The struggle to keep loaded bikes upright in loose gravel and push them up occasional steep hills makes it a full-body effort. Summer days are long in Patagonia and the sun sets late, but we ended up with far more daylight than we wanted to ride for. Even though we could have gone farther, we simply didn't want to. Most days we left camp by 9 or 9:30am, stopped for about an hour at lunch, and arrived at camp between 4-6pm.
Here's my personal assessment: For casual riders wanting an enjoyable trip, 30-40 miles per day seems about right depending on training and fitness. I think averaging more than 40-45 miles per day would take a lot of training, physical strength, mental strength, or at least two of the three. I'm sure it's possible for some riders to do 50+ but I think you'd miss out on a lot of enjoyable experiences.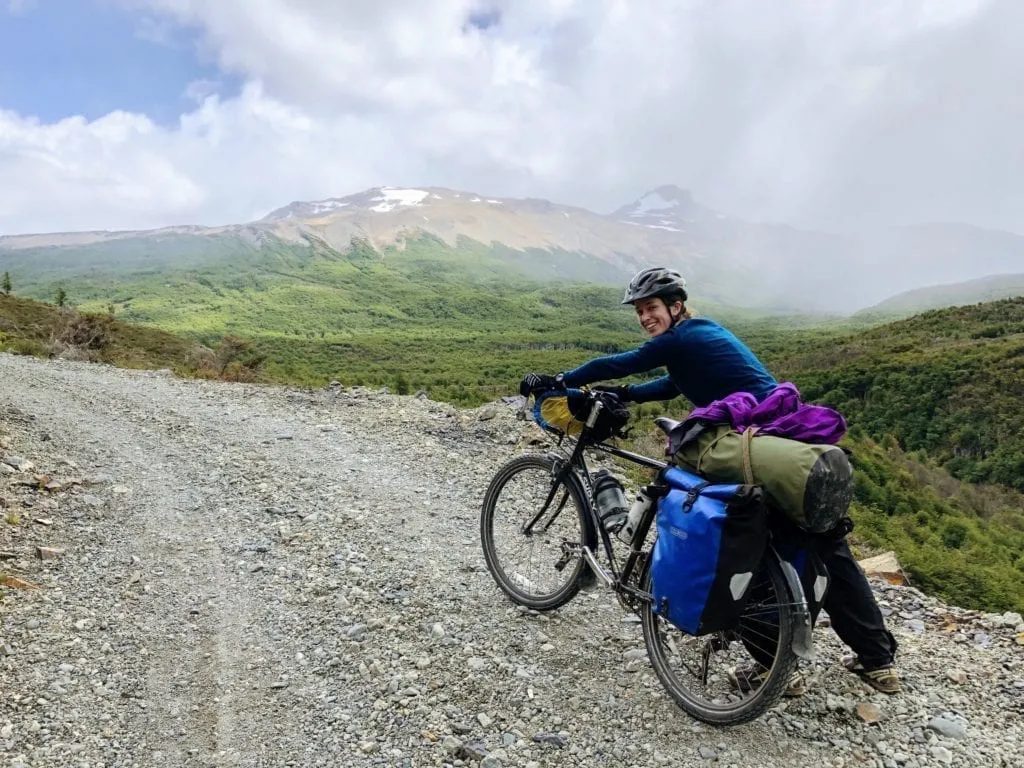 Navigation and planning resources
For on-the-ground navigation, route planning, and basic elevation profiles, I strongly recommend the Maps.me app. For finding campsites and services, the iOverlander app was amazing. We used both frequently and felt no need for paper maps.
The route in general is straightforward; there aren't many junctions and often they are signed. It's helpful to know that Carretera Austral is a fancy name for Chile's Ruta 7. This popular route is also pretty obvious from the clusters of campsites marked on iOverlander.
The timing of the last few days, into El Chaltén, is tricky because of the three ferries. You can't simply plan to ride as many kilometers as you want; you need to time your riding with ferry schedules. If you have a flight to catch at the end of your trip I highly recommend researching the distances and ferry times for the last few days and then working backwards from the end to make a plan. I've included more details on ferries in another section below, and distances between them are listed in the day by day itinerary at the bottom.
The best guide I've seen for the Carretera (and other cycling in the region) is not easily found on Google, at least back when I was researching. The folks at bicyclepatagonia.com have done a lovely job and I highly recommend reading their guides and downloading the relevant sections to your phone.
We also appreciated the following posts about others' Carretera Austral journeys while we were planning ours:
For bike travelers looking for more background on the region in general, resources about backpacking in Patagonia are a good place to look for details like budget, food, and activities along the way that will be of interest to both cyclists and backpackers alike.
Sleeping and Camping
Here's how we spent our 14 nights:
wild / free camping: 8
paid camping: 2 nights (one in Cochrane, 1 rural)
hostel or small apartment: 4 nights (1 in Coyhaique, 3 in El Chaltén)
Wild Camping: This worked out great! Not only did it save us a ton of money, it was always lovely. Either the sites were secluded and peaceful, or great places to meet like-minded adventurers. By carefully reading descriptions on iOverlander we almost always found sites hidden from the road where we felt very comfortable. It was easy to find sites with water too. Highly recommended, but do pay attention to iOverlander or be very flexible, as there are large sections of fenced land where it's tricky to find a good spot.
Paid camping: The towns all had paid campgrounds, which are a good way to save money compared to hostels, but certainly nothing like camping outside of towns. Typically in high season they are crowded tent cities; bring your earplugs. On the bright side they're a great way to meet other cyclists, overlanders and backpackers. Hot showers, wifi and electricity are common in towns but not necessarily outside. Outside of towns we only stayed at one paid campground and it was very nice, but descriptions on iOverlander seem mixed. Price is usually around 5000-6000 pesos per person, which was about $7-9 USD in early 2019.
Hostels, hotels, apartments: Price and quality vary hugely. We paid about $30 USD per person for an apartment in Coyhaique with plenty of space to assemble our bikes. In El Chaltén we shared a room with two other cyclists and paid $15 per person per night for our 4 person dorm. It can be hard to find available rooms if you show up in town late in the afternoon in high season; be prepared to ask around at several places before finding space. "Hay espacio?" is a good way to ask if they have rooms available.
If you are hoping to spend every night under a roof, I would say the Carretera is not for you. I'm not even sure it's possible, especially on the most remote section from Cochrane to Villa O'Higgins, at least without some long days and meticulous planning. It would also be quite expensive. For us, beautiful campsites were one of the biggest joys of the Carretera and I would highly recommend enjoying them to the fullest.
Food
You'll be carrying a few days of food between towns. The most we ever carried was five days' worth, between Cochrane and Villa O'Higgins, which included a bit extra in case our ferry was delayed due to weather. We could have potentially carried a bit less and resupplied at Puerto Yungay, but the selection was pretty dismal and I'm glad we didn't need to.
In general the small towns along the way have at least a small grocery store, but selection is better in the bigger towns. Here's a list of the places we saw food for sale:
Coyhaique
Villa Cerro Castillo
Puerto Rio Tranquilo
Cochrane
Puerto Yungay ferry terminal (very limited selection, mostly cookies and some pasta if you're lucky)
Villa O'Higgins
El Chaltén
Fuel canisters for camp stoves were definitely available in the bigger towns: Coyhaique, Cochrane, El Chaltén. It's possible you can find them in Villa Cerro Castillo and Villa O'Higgins but I wouldn't count on it. For us one normal canister (not the tall double size) lasted about a week, maybe a little more, using it for morning coffee, breakfast and dinner each day.
Food is surprisingly expensive in Patagonia. It seemed like every time we stepped into a grocery store to resupply for the next 2-3 days we spent around $40 for two people. We didn't try to pinch pennies on food – it's a bicycle tour after all – but we did avoid super expensive imported stuff.
We met other cyclists cooking healthier food (canned lentils, fresh veggies, meat on evenings after a town stop). On a longer trip this would have been worth it, but we mostly stuck to lighter-weight options like pasta and rice. Here's an overview of what we ate:
Breakfast: oatmeal or granola with powdered milk, raisins and peanuts, and sometimes a bit of chocolate melted in. Instant coffee. Yogurt and banana when fresh from town.
Lunch: salami, cheese, bread or crackers
Dinner: pasta with tomato sauce and shredded parmesan cheese (surprisingly easy to find almost everywhere), rice with canned/boxed lentils or beans and seasoning packets. For more substance and protein some of my favorite finds were: meat ravioli, canned beans/lentils, creamy soup powders, frozen burger patties and vegetables (on town days) and lots and lots of parmesan.
Snacks: cookies cookies cookies. If you can find peanuts, stock up.
Note that Chile has some very strict customs regulations about what food you can bring into the country. This will be an issue for those traveling north from El Chaltén, who will cross into Chile early in a stretch with no grocery stores and need to eat basic food for a few days until Villa O'Higgins. It's also enforced at airports. Generally speaking they care most about fresh fruits and vegetables, unpackaged meat, and sometimes dairy. Packaged foods are supposedly fine. It's wise to always declare what you have in order to avoid a fine. I declared peanuts and raisins and was allowed to keep them, but I think they're a lot stricter with the fresh stuff.
Water
Water is pretty easy to find on the Carretera, and many of the excellent wild camp spots are on or very near lakes and rivers. Still, there are some dry wild campsites marked in iOverlander so read the descriptions to avoid a surprise.
Usually we started the day with enough water to last until camp (2 -3 liters each) but most days it would have been easy to stop and filter more along the way. There were a few hot dry stretches where this might have been harder, so check for rivers on your map and plan accordingly.
We carried my favorite water filter of all time, the Platypus 4 liter GravityWorks. It was perfect for two people and made our water treatment routine really efficient. The glacially fed streams and lakes can be silty so having a filter is nice.
We also carried small bottles of Aquamira chlorine dioxide drops. These are quicker and easier than getting out the filter, and perfect for when you just want to quickly top up a bottle from a clear stream, or for treating tap water in a hostel.
I'm sure many of the natural water sources on the Carretera are pristine and don't need treating or filtering, but we always did. Some travelers just use their judgment and drink untreated water when they deem it safe (little chance of contamination from animals or humans) and boil it when they don't.
I believe tap water is technically safe to drink throughout the region, but this is a personal decision. I drank it in some places and treated it in others, depending on how reckless I was feeling. Even though it's safe for the locals to drink, it can still sometimes cause stomach problems in travelers who aren't used to it.
Money and Budget
You'll need cash for everywhere except big establishments in major towns. Supermarkets in Coyahaique, Cochrane, and El Chaltén will take credit card, but a small family-run hostel may not. It's a good idea to have plenty of cash with you and not rely on credit cards.
Personally I think the best strategy is to bring dollars (or Euros, but dollars are more useful in Argentina), change them to Chilean pesos in Coyhaique, and carry the biggest chunk in a money belt or pocket underwear. There are a few "casas de cambio" in Coyhaique with different rates, so shop around. Surprisingly the banks there didn't seem to offer foreign exchange, at least the ones we asked.
In El Chaltén it was harder to get money; the ATM was empty over the weekend and there are apparently no banks or foreign exchange houses. Fortunately pretty much everyone there (and in other touristy places in Argentina) accepts US dollars at a decent exchange rate. I managed to collect a stash of Argentinian pesos for the next leg of my trip by paying for everything in dollars and asking for change in pesos.
ATMs: Coyhaique has several but you might need to try a few before finding one that works. Cochrane surely also has one or two. I'm not sure about other towns; best not to rely on them. ATMs also have high fees in this part of the world.
Budget for this trip will vary a lot depending on where you spend your nights and if you eat many meals out in towns. You can save a lot of money by wild camping and cooking your own food (see Sleeping and Food sections above), but it sure is tempting to splurge on a burger and beer in town every now and then. The two ferry transfers (Lago O'Higgins and Lago del Desierto) are expensive, running $20-$40, so factor that in if you plan to continue to El Chaltén.
Bikes
I rode a Surly Long Haul Trucker and my friend rode a Surly Straggler. Both are great bikes and worked well enough on the Carretera, though I wouldn't say they were ideal. Rigid touring bikes are common on the Carretera, in part because many people ride it as part of long-haul routes up and down South America, but many have some modifications like wider handlebars and lower gears that would definitely be useful. A mountain bike is not needed but would be a reasonable choice if that's what you have, especially on the unpaved southern half.
Tires: I used 2 inch Marathon Mondial tires and loved them. My friend ran Surly Knard tires, a bit thinner than mine, I'd guess 1.5 or 1.75 inch. Sometimes she struggled in the deep gravel, possibly due to her lack of off-road riding experience (she was brave to jump right in with this trip!) and possibly her thinner tires. Neither one of us had any punctures!
Brakes: My Surly has rim brakes and they were sufficient, even in the rain (note that myself and my gear are on the lighter weight side though). There were only two places where I wished for more precise braking: a few dozen meters of steep downhill somewhere in the middle of the route, and trying to ride the final part of "the gauntlet" crossing to Argentina. No big deal, in both cases I just walked the bike. My friend had mechanical disc brakes and liked them.
Handlebars: We both had road-style drop handlebars. An ideal setup for the rugged gravel would probably be wider handlebars, allowing better control in rough gravel and strong wind. But, our drop bars were totally workable.
Gears: My Surly LHT is designed for heavy touring and has 3 rings in the front with low gearing. My friend's Straggler has only 2 rings in front, and she would tap out on steep hills sooner. She definitely wished for lower gearing, but managed fine with what she had by simply pushing up the steepest parts of hills when needed. These stretches were never long and it wasn't a major issue for us.
Shifters: My friend has integrated shifters near her brake levers and liked them a lot. I have bar end shifters which require moving my hands to the drops in order to shift, and sometimes I struggled when riding in wind and bad gravel. There were a few sections of short rolling hills combined with bad gravel that left me wishing for integrated brifters.
Pedals: Platform, most definitely recommended. Only a skilled off-road cyclist would want to ride the rough gravel sections while clipped in. I had Power Grips, great for the flat sections, but I often flipped the pedals and rode on the bottoms for the rough sections. In hindsight I would go without them.
Fenders: Both used them, much appreciated on rainy days.
As you can see, our bikes weren't exactly optimized for this route but they got us through just fine. One great thing about Surly bikes is their durability, which was key in this remote region with no bike shops outside of Coyhaique and El Chaltén (and possibly Cochrane?).
Bike Parts and Tools
Here's what we brought, in order of most useful to least:
Multitool, 1 each (used a lot, mostly for tightening bolts, adjusting seats, etc)
Blue thread lock, 1 small bottle (used a lot, bolts rattle loose on the rough roads)
Chain lube and baby wipes (used regularly)
Portable pump, 1 each (used occasionally)
Patch kits (not used by us, but gifted to an unfortunate patch-less cyclist stopping every 10 minutes to pump his leaky tire)
Electrical tape (used to repair my handlebar tape after crashing and ripping it on the gravel)
Spare tubes, 1 each (not used)
Chain quick links, 1 each (not used)
Spare brake and shift cables, me only (not used)
Zip ties, duct tape, and straps for emergency repair (not used!)
If you're wondering what to pack in your repair kit for this ride or others, here's a more detailed guide to bicycle touring tools and repair kits.
Touring Setup
We both used only a rear rack and rear panniers. I used the Ortlieb backroller classics and my friend used Arkels of similar size. We both bungeed a bag to the top of the rear rack: a 30 liter dry sack for me and a small backpack for her. We both used handlebar bags for our valuables and frequently used small items.
Most cyclists we met were using front racks and panniers as well, but many were also on longer multi-month tours. However, we probably could have done a longer tour with our setups as well. When fully loaded with days of food I was almost out of space, but it the rest of the time it was perfect.
I highly recommend a sturdy, steel rear rack plus blue threadlock on all your bolts. We met one and heard of other cyclists with snapped racks and broken bolts. My friend lost a bolt when it rattled loose and was lucky to meet another cyclist with a spare. The rough roads really put strain on racks and panniers and you'll need to get creative with repairs if anything goes wrong on these remote roads.
Packing and gear notes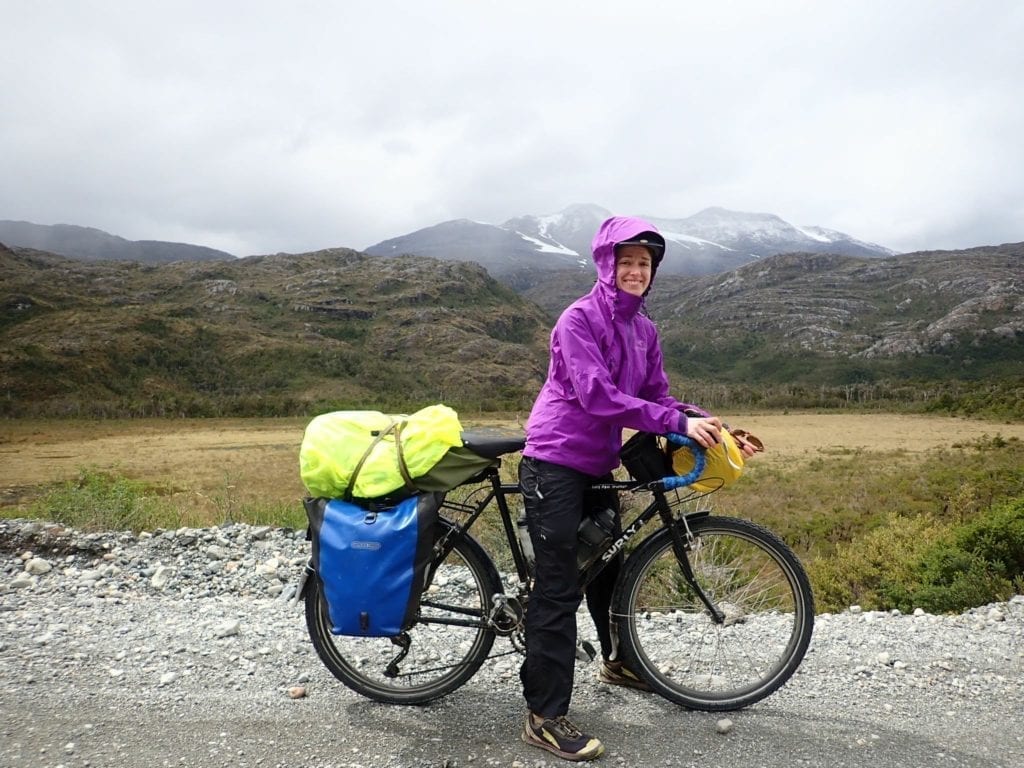 I'd like to make a separate post for the full packing list, since I think it would be applicable to many similar routes. But for now, here are some notes that stand out:
Good waterproof jacket and pants: very important!
Warm layers, also very important
Full-finger cycling gloves: very important for me (Related: after this trip I was inspired to write these tips about dealing with cold hands outdoors)
Waterproof shoe covers and gloves: wish I'd had them! Cold fingers and toes were a constant problem for me, especially in the rain.
Small cable lock: helpful for overnights in towns, though in general the area is quite safe so no need for a super heavy duty lock.
Small backpack: important if you want to enjoy some of the region's spectacular hiking.
Buff or other head/face covering for dust, cold, and sweat
Communication with locals
It's very helpful to speak at least a little bit of Spanish. The more you speak, the more you can enjoy talking with locals and other South American travelers, and the easier it is to solve problems that arise along the way. It's possible to muddle through with poor Spanish but it will take patience. Don't expect anyone outside of tourist establishments in the bigger towns to speak English.
Connectivity
This part of the world is not as connected as Southeast Asia or even much of Sub-Saharan Africa (to draw on my previous travel experiences). If you buy a local SIM card, expect service in the towns and occasionally between, but don't count on it. We read Entel was best for that region so that's what we got, and it worked fine for our needs throughout the trip. I think Movistar and Claro also would have worked, in some places at least. You can buy all three in Coyhaique.
I had an Android phone and my friend had an iPhone, and we noticed sometimes one would have service but not the other. Probably a difference in supported frequency bands.
In towns many hostels and campgrounds will have wifi but it can be very slow. Sometimes libraries and tourist offices also provide free wifi. Internet cafes are not very common.
Other Cyclists
Traveling in high season we often met between 5 – 10 other cyclists each day! There were enough of us that sometimes we didn't even stop to chat with each other. Many were on longer tours, and some were Chileans and Argentinians, and we liked meeting them all.
The only time things felt crowded was the one night we took shelter from a storm at a refugio with 10 other cyclists! The rest of the time we had no trouble finding unoccupied wild camp spots.
Female and Solo Cyclists
The Carretera Austral sees many solo cyclists, but unfortunately almost all are male. We met only one solo female cyclist, a couple other pairs of women, plenty of couples, and plenty of male groups. This is a shame, as the dangers to solo women seem no greater than the dangers to solo men in this part of the world.
To solo cyclists of any gender wondering about taking on the Carretera, I would say the number one issue is: are you confident enough in your gear and skills to ride and camp alone safely in a remote area with sometimes extreme weather? Can you keep yourself warm and dry, plan your water refills smartly, and ride within your abilities on rough roads? Can you fix a flat tire in a rainstorm with numb hands, or at least have a backup plan if you can't? On the most remote part in the far south, it may be hours between vehicles, so while help is likely to arrive eventually you don't want to count on it.
As for female-specific risks, which usually means harassment, increased risk of theft, or sexual assault, all are extremely rare in this part of the world. There are simply very few people, and therefore very few of this kind of threat. My friend and I were treated with respect by every male we encountered and never felt unsafe in this department. We did read a couple negative experiences on iOverlander, where female cyclists warned of sleazy campground owners, so I can't say it doesn't happen. But I think this part of the world is as hassle-free as it gets for solo female cyclists.
Ferries on the Carretera Austral
There are three ferries on the route if you go all the way to El Chaltén, and one if you stop at Villa O'Higgins. If going all the way to El Chaltén I strongly recommend researching ferry schedules and planning out your last few days ahead of time, unless you have time to spare at the end. Information is hard to find online, but I've done my best to collect what I know below.
Puerto Yungay – Rio Bravo Ferry
The first ferry, from Puerto Yungay to Rio Bravo, is free and takes 45 minutes. There is a small shop at Puerto Yungay selling empanadas and snacks. If you end your trip in Villa O'Higgins this is the only ferry you need to take. Times are (as of early 2019):
December to March: Puerto Yungay to Rio Bravo (south): 10am, 12 noon, 3pm, 6pm. Note the 3pm crossing is NOT on the road signs we saw along the way.
Rio Bravo to Puerto Yungay (north): 11am, 1pm, 4pm, 7pm
April to November: 12 noon and 3pm going south, 1pm and 4pm going north
If the times change someone will likely mention it in iOverlander.
Lago O'Higgins Ferry
Less of a ferry, more of a tourist cruise, no motor vehicles allowed. Mostly used by tourists going to visit the nearby glacier and returning to Villa O'Higgins. Hikers and cyclists, however, are allowed to get off and on at Candelario Mancilla, near the Chilean border post and the start of the no-mans-land between Chile and Argentina on the way to El Chaltén. The duration from Villa O'Higgins to Candelario Mancilla without glacier excursion is 2-3 hours depending on the company, and the boats all seemed to leave at 8:30am. You can choose to add on the glacier excursion and then be dropped at Candelario Mancilla after, but plan to camp somewhere in no-mans-land since you'll be getting a late start on the 20km of tough biking to the Argentine border.
Several boat companies run this crossing. They seem to each run roughly every other day; I don't know if between them all there is a crossing each day or not. We went with Robinson Crusoe as they were the only ones who took advance bookings and had a clear schedule online, but they are the slowest and most expensive (about $55 USD). They ended up being fully booked for the morning we went, but we met other cyclists who successfully bought last-minute tickets the day before for the same crossing on other boats.
Here's a helpful map, schedule and price info from Robinson Crusoe. You can also visit their office in Villa O'Higgins.
Here's another boat company's website; I don't know how accurate it is.
Of the three ferries on the route, this one is the most frequently delayed due to weather. If going north, beware, it's possible to be stranded for several days at a small campground at Candelario Mancilla. Supposedly they make everyone stay at the paid campground (no wild camping) and only sell bread and jam. We met a cyclist who had been stranded there for 5 days waiting for a ferry and she said many stuck travelers were running low on food and money. Bring plenty of both if heading north from El Chaltén to Villa O'Higgins!
Lago Del Desierto Ferry
Relatively straightforward compared to Lago O'Higgins, and much less frequently delayed. Also not really a ferry, no motor vehicles allowed. We booked and paid in Villa O'Higgins when we paid Robinson Crusoe for the Lago O'Higgins crossing. There was a small discount for advance booking (the cost was about $40 USD) and the ticket was good for two days.
Our boat left at 11am, so we had a leisurely morning at the lovely and popular free campsite on the north shore. There's another southbound departure at 5pm, and the corresponding departures heading south to north leave one hour earlier (10am and 4pm). The crossing itself takes about an hour and is popular with cyclists and backpackers, as well as sightseers who come from El Chaltén for the round trip across the lake and back.
The Robinson Crusoe website also has prices and schedule for this crossing.
The Border Crossing And "Gauntlet"
If you choose to continue past the official end of the Careterra Austral and on to El Chaltén in Argentina, you'll enjoy two gorgeous lake crossings, some brutal hike-a-bike, and the most remote and traffic-free roads of the whole trip. I highly recommend it, but it's a bit complicated and will add at least two days depending on ferry schedules, your fitness, and the weather.
This section was tricky to understand in advance, so I want to clarify exactly what it entails. From getting off the boat at Candelario Mancilla at the shore of Lago O'Higgins, to the Argentine border post and free camping at the north shore of Lago Del Desierto, here's what to expect:
1 km up steep hill to Chilean border post. Be sure to stop here and get stamped out! If you don't, you won't be allowed to enter Argentina, 19 difficult kilometers away and NOT a section you want to backtrack.
About 5 km more of riding and sometimes pushing up steep gravel climb with beautiful views and no vehicles.
About 10 km of lovely rolling dirt road through forest and meadow
5km of "the gauntlet," mostly rolling with steep downhill at the end
Argentine border post is right on the lake. The formalities are very easy and you can spend the night camped nearby if you arrive after they close, then be stamped in before the morning ferry.
So what about this "gauntlet?" This is a section of rough singletrack, basically a rough hiking trail or mountain bike trail, which you will need to push/pull/drag/carry your bike through. Challenges include prickly bushes, mud pits, rickety stream crossings on logs, plenty of rocks and roots, eroded narrow trenches, and a steep downhill at the end.
Some small stretches are rideable, but on a loaded touring bike even cyclists with trail biking experience will walk substantial sections. We're both small women and were each able to handle our own bikes, but just barely, and it helped to have good full-body strength and relatively light gear. If you're heavily loaded and/or haven't done much strength training, you may need to shuttle bags over rough sections or use teamwork. Some cyclists remove a pedal so they can push more easily without bashing their shins and calves; I chose not to and ended up with marks to prove it.
We originally thought this section was far longer than 5km from reading about it – it's probably the most photographed section of the whole route and we understood why when we hit it. It was an interesting challenge and we perversely enjoyed it, but were happy to see the end after a few hours of slow progress. Here's a great YouTube video to give you a sense.
Our Itinerary
In case you could possibly be looking for more information after that massive dump above, here are the day-by-day notes from our trip.
Day 1: Coyhaique
Picked up food, SIM cards, fuel, and assembled bikes.
Day 2: 42 miles / 67 km
Coyhaique to riverside wild camp.
All paved. Traffic got better after turnoff to airport at about 40 km.
Two big climbs. First more rolling, second more sustained.
After turnoff to airport, not much water or shade.
There's a paid campground around 36 miles for 6000 pesos per person. We were tempted to stop, but pushed on to the wild campsite and were glad we did.
Day 3: 35 miles / 56 km
Wild camp by river to another (more crowded but nice) wild camp by a different river
Beginning was nice, climb and then gorgeous descent into Villa Cerro Castillo for lunch and food restock.
13km south of Villa Cerro Castillo, ripio starts. The next stretch is one of the worst on the whole route due to headwind and loose gravel. Demoralizing, but we met some nice cyclists and overlanders at the river camp.
Day 4: 30 miles / 48 km
River wild camp to paid campground at farm, 5000 pesos and very nice with refugio and hot showers
Change of scenery, more foresty and wet. Gradual long hill, then flat and rolling. Gravel a bit better condition but still tough, with some loose sections of road work and too many cars. Nice wild and remote feeling.
Day 5: 0 km cycled, 200 km in vehicles (this is how we made our trip fit into the required time)
Campground at farm to San Lorenzo Campground in Cochrane, 5000 pesos and crowded but totally sufficient.
Got a ride to Puerto Rio Tranquilo from owner of campsite (less than 1 hour), then bus to Cochrane (4-5 hours). There were at least two buses heading from Rio Tranquilo to Cochrane that day, one leaving around noon and the other around 1:30pm. They had no problem fitting our bikes once we took front wheels off. Looking out the window, I imagine this section would have been both beautiful and hard to cycle. Gorgeous huge blue lakes, but also hot weather, no shade, some corrugated road (though better than day 3!). I estimate we skipped 3 days of riding at our pace, so we saved 2 days overall. Small price to pay for being able to fit this amazing trip into the time we had!
Day 6: 28 miles / 45 km
Cochrane to wild camp at bridge, not hidden from road but nice spot. Shared it with one campervan, plenty of space.
Mostly hardpacked gravel with some corrugation. Hot and dry with little shade. Mostly rolling climb with big downhill and nice views at end of day.

Day 7: 36 miles / 58 km
Wild camp at bridge to another wild camp at another bridge, empty except for us.
Forest and then almost jungle, more lush than previous day. Not too much climbing, relatively easy, got to camp early.

Day 8: 23 miles / 34 km plus ferry ride from Puerto Yungay to Rio Bravo (20 km to ferry plus another 17 after).
Wild camp at bridge to small hidden wild camp by river with view of glacier. Very cold.
Day started with a big climb, beginning is very steep but it gets better.
Ferry is free, see the Ferries section above for times.
There's a small shop and restaurant at the ferry terminal in Puerto Yungay. They sell empanadas, cookies, cake, some very basic food like pasta. Not the best place to stock up for days but good to supplement if you're running low on anything. A bit expensive.

Day 9: 31 miles / 51 km
River wild camp to refugio
Tough day! Rainy, windy, cold. First half three substantial climbs, then second half mostly flat with nice tailwind. We stopped at a wooden shelter with fireplace, ended up being joined by 10 other cyclists! 7 or 8 of us slept inside, the others pitched tents outside. Nice to be warm and dry and meet people, but a bit crowded. Light traffic since we're now between ferry crossings.
Day 10: 25 miles / 40 km (32 km to Villa O'Higgins, then 8 km to ferry terminal) plus long lunch and resupply in Villa O'Higgins.
From refugio to stealth wild camp just past ferry terminal.
Easy ride to town, mostly flat and rolling hills. Enjoyed lunch in town, bought more food (surprisingly good selection for small town), used free wifi at library, confirmed and paid for our ferry booking with Robinson Crusoe.
Rode the 8km out to Lago O'Higgins ferry terminal (the official end of the Carretera Austral) in the evening, easy rolling hills. Continuing past ferry terminal there's a small dirt road that's technically signed "no unauthorized people" but someone told us it was ok. We waited for some other tourists to leave, then snuck less than 1km up the dirt road and found a fairly hidden spot on the left, obviously used many times before.
Day 11: 13 miles / 20 km, including 3 hour ferry crossing of Lago O'Higgins and "the gauntlet" border crossing. Tough day!
From wild camp near Lago O'Higgins ferry terminal to popular and beautiful free camp at the Argentine border post on Lago del Desierto.
Ferry drops off at Candelario Mancilla. From there it's a tough 6km climb followed by about 10km rolling hills, beautiful, zero vehicles since cars can't make the Lago O'Higgins crossing. The last 5km are the infamous gauntlet section, dragging/pushing/carrying through singletrack, mud, stream crossings. Fun but exhausting!

Day 12: 22 miles / 35 km, including 1 hour ferry crossing of Lago del Desierto
From north shore of Lago del Desierto to El Chaltén.
Flat with nice tailwind but very bumpy road. Amazing views of Fitz Roy. Most hostels in town full (Friday night), had to ask around.

Day 13: Hiked Laguna de los Tres, ate a lot of food.
Day 14: Ran errands, ate a lot of food. My friend packed her bike.
Day 15: My friend caught an early morning bus to El Calafate with her boxed bike. I cycled out of town heading east and then south for some solo riding.

Side trips and attractions along the way
Being on such a tight schedule, we didn't do most of these. But if you have more time, these are the attractions that seemed most popular:
Hiking in Villa Cerro Castillo
Marble Caves near Cochrane (accessible by boat excursion, only a couple hours)
Caleta Tortel: coastal village known for its stilt houses, out and back 23km each way from the Carretera roughly halfway between Cochrane and O'Higgins
Gran Glaciar de O'Higgins, optional add-on to the Lago O'Higgins boat crossing
Hiking in El Chaltén (we hiked to Laguna de los Tres with jaw-dropping views of Fitz Roy, I highly recommend it if the weather is sunny)
Perito Moreno Glacier excursion from El Calafate (near the airport 200 km from El Chaltén)
Continuing by bicycle: where to next?
After my friend flew home, I had 2.5 weeks left to cycle. Where should I go? I debated endlessly and ultimately made my decision at the junction between the route to Rio Gallegos and the one to Torres Del Paine.
Here's an overview of the options that most cyclists choose between when heading south from El Chaltén.
Optional out-and-back to El Calafate, then south and back west into Chile at Cerro Castillo on your choice of paved or ripio roads (note, this is NOT the same as Villa Cerro Castillo, the small town just south of Coyhaique). Then on to the famous Torres del Paine National Park, with optional difficult cycling loop inside the park or famous multiday hikes like the W-Trek (these hikes need to be pre-booked far in advance). Then back to the main highway to Puerto Natales and south to Punta Arenas, a boring highway section that many cyclists skip via bus. From Punta Arenas it's possible to take a ferry to Porvenir on Tierra Del Fuego and ride south to Ushuaia.
Optional out-and-back to El Calafate, then east across Argentina's open pampas to Rio Gallegos. Better hope the wind is in your favor; it usually is if you're riding this section southward. From Rio Gallegos you can cross to Tierra Del Fuego on the Punta Delgada ferry and continue south to Ushuaia, or take the highway west to Punta Arenas back in Chile.
Which way did I end up going? It was colder and rainer over in Chile, the wind was blowing east, and I'd already seen plenty of amazing mountains, so I pointed southeast and cycled to Rio Gallegos, Argentina. The flat paved roads, warmer temperatures, and open views were a welcome change. After Rio Gallegos I continued south to Tierra Del Fuego, visiting the King Penguin colony before crossing the island on amazing and remote gravel roads and then continuing down the highway to Ushuaia, the official southernmost city in the world.
In the meantime, enjoy planning your trip on the gorgeous and challenging Carretera Austral!
Related Resources
Bike resources in your inbox?
There's more where this came from! Sign up here for occasional emails full of inspiration and information about bikepacking and bicycle touring.


Share the Adventure
If you found this article helpful, please consider sharing so more people can benefit from it: