This summer's bikepacking trip was a long time coming. Ever since I began cycling I've dreamed of touring the full Silk Road from Europe to China. It seemed special, the "big one," and I wanted to save it for when my husband could join.
In the meantime I took off on many solo adventures at home and abroad, and he joined for a few shorter trips near home. By the time he was finally able to take time off for an international adventure, a couple years ago, the world had other plans. Now things have changed, both personally and globally, and the full long-haul trip just isn't in the cards.
But this summer I finally got a taste of my Silk Road dreams, and was finally able to share an international bike adventure with my husband. Instead of the original long-haul tour we spent a month focused on more rugged bikepacking-style riding in Kazakhstan and Kyrgyzstan. Starting and ending in Bishkek, we looped north to Almaty and east to a short but varied route called Kazakh Corner, then south to Kyrgyzstan to connect with the epic Tian Shan Traverse.
We gawked at the scenery, sweated through relentless heat, shivered through high mountain storms, fumbled through translated conversations, struggled across chilly rivers, and got sick and recovered (a few times). Sometimes we weren't sure we would finish, but in the end we made it back to Bishkek – dirty and hungry – in time for our flight home. Looking back, we packed A LOT into our four week trip and I feel very satisfied with this taste of remarkable Central Asia, its landscapes and its people.
This trip report and route overview is for those interested in a similar ride, or just curious about what it's like to bikepack in Central Asia. I've split it into two posts to keep things manageable. This post focuses on the first third of our trip, which was mostly in Kazakhstan.
To read about the second part of our trip, in Kyrgyzstan, see Central Asia Bikepacking Part 2: Kyrgyzstan's Stunning Tian Shan Traverse.
Trip Overview
Dates: July 14 – Aug 13 2022 (30 days total, 10 in this Part 1 post)
Riding days: 22 total, 8 in this Part 1 post
Non-riding days: 8 total, 2 in this Part 1 post
Distance: 920 miles (1480 km) total, 400 miles (644 km) in this Part 1 post
Who: Myself and my husband. I'll call him E, he's privacy-conscious 🙂
Highlights of Part 1: beautiful scenery east of Almaty, pleasant day exploring the city, wide open landscapes
Challenges of Part 1: busy freeway, riding in and out of Almaty, 100+ F degree heat, stomach bug
Route Overview
Here's the full route we followed, with waypoints marked for the "Kazakh Corner" section only. We began and ended in Bishkek and rode clockwise. We took a few deviations that aren't shown here; I'll explain them in the Ride Journal section.
This post focuses on the northern part of the loop, from Bishkek across the border into Kazakhstan and then back down to Karakol in Kyrgyzstan. This part included quite a bit of road riding and could be called "touring," with just a bit of more rugged terrain on the eastern side. For the Tian Shan Traverse part of our ride, which featured more rugged terrain and more of a bikepacking style, see part 2.
Our decision to ride in Kazakhstan was very last-minute. We were originally drawn to the mountains of Kyrgyzstan and had planned to stay entirely within its borders, riding from Bishkek to Kyzyl-Su (the start of the Tian Shan Traverse) via the south shore of Lake Issyk-Kul to avoid potential complications with border crossings. But with COVID travel restrictions newly removed and the summer tourist season underway, we guessed the border crossings would be straightforward and jumped at the chance to include a second country in our route.
In hindsight, it might have been better to fly into Almaty and out of Bishkek instead of doing the full loop. The section of A2 highway west of Almaty is essentially a freeway. Though it was mostly safe enough (we rode the gravel shoulder almost the whole way) it was not enjoyable for us; maybe we're spoiled by all the peaceful off-road bikepacking we usually do. Almaty would have likely been a cheaper flight too; our flights from the US to Bishkek were painfully expensive.
On the other hand, we loved the convenience of starting and ending in the same city. Our hostel in Bishkek stored our bike boxes for us, and it was fun to return to a familiar place at the end of our adventure.
Recommendation: If you're thinking about this route I suggest checking flight prices for multiple options, including the full loop from Almaty or Bishkek as well as a one-way ride between them (leaving out the section north of Bishkek and west of Almaty). Consider your tolerance for busy highway riding and bike box hunting as you make your decision.
Ride Journal
Here's an overview of our first ten days, summarized from the nearly incoherent notes I took in the tent each evening.
Bishkek to Almaty
We started our trip in Bishkek, Kyrgyzstan. I highly recommend Koisha Hostel! They picked us (and our two large bike boxes) up from the airport and stored our boxes for our return. Their courtyard is perfect for assembling bikes and relaxing. We saw several other cyclists there.
We took a day to explore Bishkek before pedaling out. It's a really pleasant city full of trees and parks, very pedestrian friendly and clean, multicultural and with all the modern conveniences.
Key tip: You can buy isobutane camping gas cylinders in Bishkek at Red Fox. You might find some partially used ones at your hostel too. We didn't look in Almaty but I'd be surprised if you can't find them there too.
Pedaling out of Bishkek wasn't too bad. We chose to ride the sidewalks like most locals do, and the biggest challenge was weaving through crowds of oblivious pedestrians (smartphones are apparently just as captivating in Central Asia as they are in the US). Some streets have wider sidewalks and even bike lanes, if you can find them. Just take it slow and work your way along.
About fifteen miles north of Bishkek we reached the Kyrgyzstan – Kazakhstan border at the Korday border crossing. After waiting a long time in the pedestrian line we were redirected to the vehicle line, but otherwise the crossing went smoothly. It wasn't an overly friendly welcome (not like crossing back into Kyrgyzstan at Karkara) but the border guards were polite and helpful.
Just past the border we stopped at a friendly looking "Family Restaurant" and were surprised to find that it was literally designed for families. Half the floor space was devoted to a giant play area! Despite our lack of a small child they let us eat there anyway – cute little mini cheese burgers – and we enjoyed our break from the hot sun. We noticed this pattern throughout Kazakhstan and Kyrgyzstan: public spaces are very child-friendly and kids seem to be a bigger part of public life than here in America.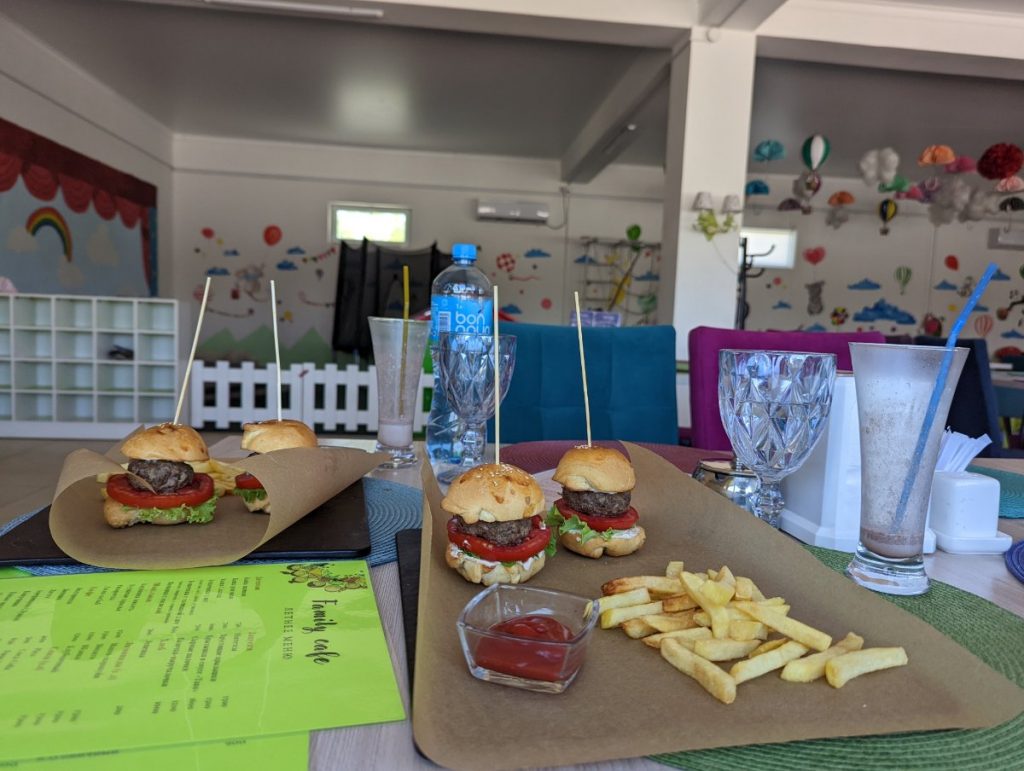 The road north from the border was moderately busy and we often rode the gravel shoulder. Our first campsite was tucked away in a grove of trees down a side road, which we discovered on iOverlander. A shepherd and bunch of goats came through in the morning but otherwise it was peaceful.
On day 2 we turned east onto the A2 highway and a gradual uphill into a headwind in 90+ F degree heat. Traffic was fairly heavy and we rode the gravel shoulder, which thankfully was in good condition. Where it occasionally disappeared we picked our way along side roads or half-finished construction, always finding some safe-ish way to move forward.
We detoured into the town of Uzynagash to escape the highway and find a place to sleep. The lobby of the first hotel we spotted was filled with squealing children and dancing entertainers in Transformer costumes. As we stood on the steps pondering our next move, a Kazakh man waved to us from the doorway. Turns out he studied architecture at University of Southern California and was there for a family birthday bash. With the help of his English skills we got a room and were able to recover from the hot and stressful day of riding.
Day 3 was all about getting into the city of Almaty. The pace picked up until we found ourselves in the middle of a six lane freeway (but with no lane lines). At this point we hopped onto a confusing network of bike paths and busy sidewalks that eventually – after a great deal of patience – took us to the center of town and our hotel. We stayed at Mika City Hotel and found it a good balance of price and quality; we were allowed to bring the bikes upstairs after some persuasion.
On day 4 we walked around Almaty, which we thought was an impressively pleasant and cosmopolitan city. We enjoyed the exhibits at the Central State Museum (well worth a visit), various squares and parks, and good craft beer at Hoper's. I felt a bit off digestively and the weather was very hot. By the end of the day we were wiped out, but determined to press on in the morning so as not to get behind schedule so early in the trip.
Almaty to Charyn Canyon
Fortunately riding out of Almaty on day 5 was easier than riding in. Still, we rode gravel shoulder most of the day as traffic whizzed by relentlessly. After a few dozen miles the intensity began to ease as our route passed through smaller towns and increasingly long stretches of farmland.
At the town of Turgen, 40 miles from Almaty, we finally turned off the main road and into the Turgen River Gorge. At last, quiet peaceful road! We passed many campsites higher up in the gorge and eventually settled for a cramped site close to the road shortly after the pavement ended. Unfortunately many of the camping and picnic sites in this area are covered in trash and toilet paper.
Day 6 began with a climb and short detour to an abandoned Soviet-era observatory. We couldn't go in but it was still interesting to see from afar. Kazakhstan (and Kyrgyzstan, Tajikistan, and Uzbekistan) were part of the Soviet Union until 1991 when they gained independence. As a result you can see a lot of old Soviet infrastructure and architecture in various states of decay throughout these countries.
During the gradual downhill that followed we finally got into a rhythm, except for occasional short steep climbs as we crossed little ravines. The road passed through green fields dotted with yurts and animal herds; for lack of a better term we described it as "pastoral AF." In this area of Central Asia many people follow a nomadic lifestyle, herding their animals to higher pastures in the summer when the snow melts and returning to lower pastures in fall and winter. Presumably this prevents overgrazing and leads to healthier animals.
A surprising number of old cars rattled along these rough dirt roads as yurt dwellers went about their daily business. A local man flagged us down and asked us to pump up his motorbike tire with our bike pump! Having benefited many times for the helpfulness of locals, we were happy to return the good karma.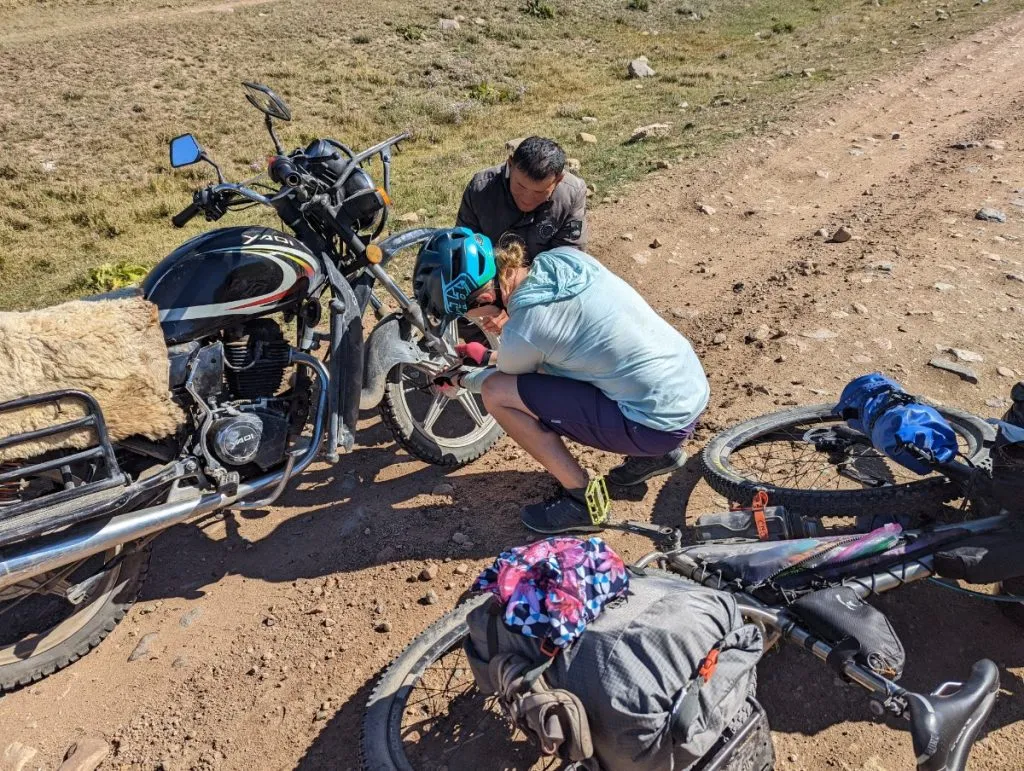 What looked like a long easy downhill turned out to be a series of extremely steep plunges punctuated by equally steep hike-a-bike climbs. It was slow-going, and when we reached the river and spotted a gorgeous campsite around 4:30pm we decided to stop early for the day before tackling the climb out. We enjoyed the afternoon sunshine and free time at our lovely campsite, and in the morning found a herd of curious horses right outside the tent!
On day 7 we tackled the wild and steep climb out of the river canyon. Fortunately the following descent was beautiful, dramatic, and very rideable. The temperature climbed as we cruised down to Lake Bartogay, a surprisingly barren and inhospitable place this time of year. The water was extremely silty and we decided to push on to town with what we had.
Recommendation: The water at Lake Bartogay was hard to reach (muddy banks) and the river very silty, definitely not an ideal water source. I also wouldn't recommend camping at Lake Bartogay in summer due to the heat and lack of shade and wind shelter. The river campsite ~15 miles west is far better. There are also a couple animal water troughs partway up the climb between the river and the lake.
We pushed on to Kokpek in the heat and a crosswind. Just outside of town we had our first taste of Kymys, the fermented horse milk drink popular with locals and notorious with travelers. Two nice men pulled over and offered a bottle from their car; we were so hot that its cool temperature was almost (but not quite) enough to make it drinkable. We took a grateful swig or two, then dumped the rest in some parched bushes after they drove away.
In Kokpek we took a nice long break to eat laghman noodles and restock on food from the convenience store. A number of nice folks said hi here, and some knew a few words of English.
Eventually we forced ourselves back onto the hot road and headed for Charyn Canyon. The 6 mile out-and-back from the route passed quickly enough in the downhill direction, but we knew we'd have to climb back out the next morning. After walking to the closest viewpoint and taking the obligatory canyon pictures, we found a campsite in the hills near the entrance. The weather was still scorching – we later found out it was over 100 degrees F that day! – and we counted the minutes until the sun sank below the hills.
Recommendation: Charyn Canyon is nice, but being from the western United States we're spoiled when it comes to impressive desert canyons. In hindsight I don't think it was worth the 12 mile out-and-back simply to see the viewpoint. I would recommend going to the canyon only if you plan to spend a day there and walk or ride all the way down to the river. Otherwise you can get a good sense of the canyon at the bridge crossing 7 miles further along the route.
Charyn Canyon to Karakol
When we woke at Charyn Canyon it was already too hot and the sun was barely up! E felt ill with digestive issues, and day 8 was a difficult slog. It was mostly gradual pavement riding, but extremely hot, and poor E was obviously feverish but there wasn't really anywhere comfortable to stop.
We slowly worked our way to the town of Kegen, where we got a room at a guesthouse (the basic but friendly Kegen Hotel). I went out to get us food and found the town very friendly and relaxed. Some food, water, and rest seemed to help E's condition, and the next morning he was still tired but ready to keep pedaling.
Fortunately the riding on day 9 was mostly flat to the Karkara border crossing with Kyrgyzstan. We found this border crossing much friendlier and more relaxed than our crossing into Kazakhstan. Within an hour we were in Kyrgyzstan enjoying a quiet gravel road through green meadow.
At the first junction our luck ran out. A large festival near the border created a dangerous rush hour of dust and constant traffic. Many drivers were friendly but it was very unpleasant, and one truck ran E into the ditch while dangerously overtaking another truck. It was a huge relief to turn off onto a smaller road and steep little climb. Drivers were friendly here, and almost every passing car waved or honked.
Once we descended to pavement it was a fairly easy cruise to Karakol through small towns. Kids waved hello and drivers passed respectfully. Only the final few miles into town felt busy. We stayed at the Snow Leopard Hostel and thoroughly enjoyed a rest day after five days of cooking in the scorching sun.
From Karakol our ride continued to Kyzyl-Su and the Tian Shan Traverse. See part 2 for the rest!
Bikes and Gear
Our setups were mostly optimized for the more rugged Kyrgyzstan section of the ride described in Part 2, so the mountain bikes were overkill for all pavement in this section.
You could do this Kazakhstan section on a touring bike. The dirt through Assy Valley and down to Lake Bartogay might be a little rough, but nothing a sturdy set of 2″ touring tires can't handle. If I were choosing a bike specifically for these first ten days, I might have brought my original Long Haul Trucker touring bike.
That said, here's what we rode for the full 30 day route:
Me: My new Chumba Stella Ti mountain bike with rigid carbon fork. Though she was supposed to be mainly for bikepack racing closer to home, I enjoy her so much that I couldn't resist bringing her on this trip. This isn't a standard setup for long-haul international touring – she has hydraulic brakes and a 1×12 drivetrain – but for this short trip it worked fine.
E: Solace Cycles OM-2P with Pinyon / Gates drivetrain and rigid carbon fork, new for this trip. On past trips he's had extremely bad luck with multiple drivetrain catastrophes (How do you even break a chainring?!) and decided he wanted a totally different approach. Since he's been busy working while I've been off riding my bike, he can afford it. 🙂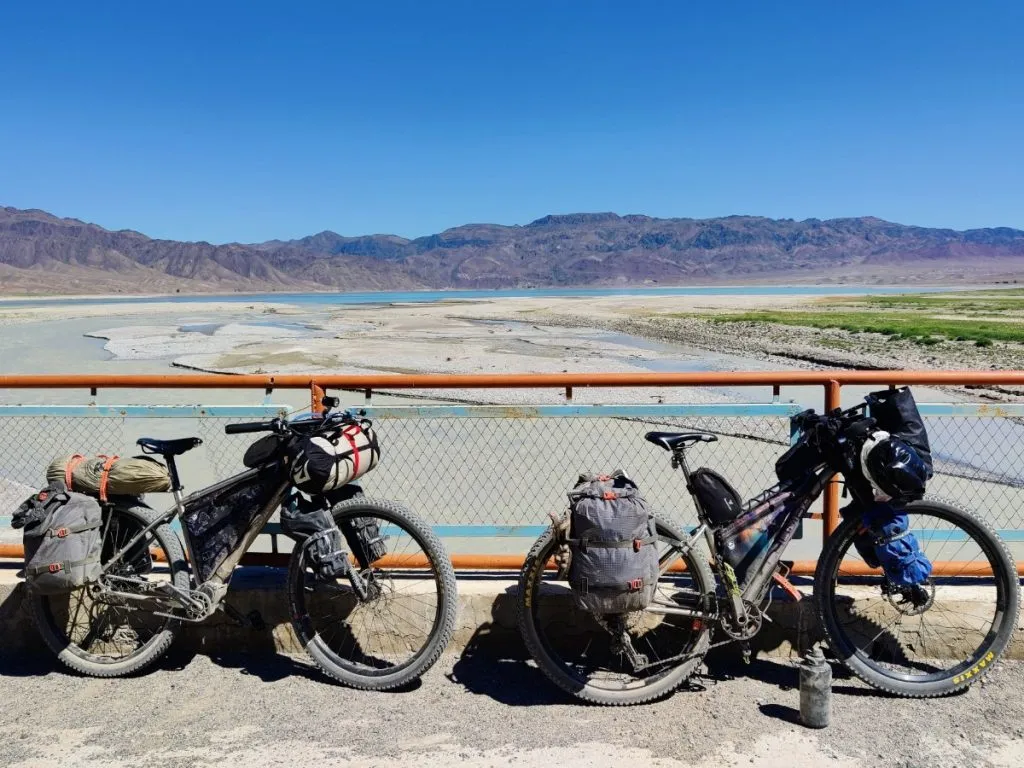 Both bikes held up really well through this section as well as in Kyrgyzstan. Aside from a slipped Gates belt and a few loose bolts, we had no mechanical issues whatsoever.
If you're not running tubeless tires, take care pulling off the road into some of the prickly foliage.
Gear and Packing
Like our bikes, our packing choices were focused on the more rugged riding in Part 2. I would have liked to go with a pure bikepacking bag setup, but couldn't figure out how to fit everything needed for a trip of this complexity (range of climates, need for extra spare bike parts, etc.) and the 6 day food carry we would do in Kyrgyzstan.
We compromised with a hybrid setup: bikepacking-style frame bag, handlebar roll, and fork cages, plus rear rack and REI Link Panniers. The panniers use a velcro attachment system rather than plastic hooks and are a bit smaller than traditional touring panniers, so they worked well for the rougher sections of the route.
A few key items of gear worth highlighting:
Navigation
We used two smartphones (one as backup) and the RideWithGPS app to navigate. Gaia would also be a great choice, maybe even better because of its topographic map layer. Both apps charge a small fee for offline use, which you'll definitely need. A rugged GPS navigation device like the Garmin eTrex would also work, but it's not a must-have.
Key Tip: I highly recommend an offline Open Street Map app like Maps.me to help with judgment calls and detours. Google Maps is incomplete and sometimes just plain wrong in this region, and we often consulted Maps.me when in doubt about our navigation choices.
Planning Information
Camping
We found some nice campsites along the smaller roads where marked in the RideWithGPS file (embedded above) or iOverlander. Along the A2 highway we didn't see many attractive options, though I'm sure one could just wander off the road across the steppe and make something work. We pieced it together by detouring into town for a guesthouse where necessary.
Don't expect much shade or wind shelter in the treeless areas, and don't expect total privacy. Shepherds on horseback may stop by and say hello when passing through with their herds.
Tip: For help finding good campsites I recommend the iOverlander and Maps.me apps. Don't forget to cache for offline use before heading out of town! iOverlander caches automatically when you look at an area, while Maps.me lets you download by region.
Food
This section of the route offers some kind of restaurant or resupply opportunity almost every day. The one exception is between Turgen and Kokpek, which is only 80 miles but tough riding; it could take 2-3 days.
In Almaty you'll find plenty of nice restaurants and cafes with any type of food you might wish for, as well as fully stocked supermarkets.
In smaller towns it's easy to find laghman (noodle dish) and the local fast food favorites (burgers, shawarma, and pizza) or savory fried pastries. At small shops we resupplied on ramen, nuts, dried fruit, oats, bread, cheese, instant coffee, and other staples for snacks and camp meals.
For cooking we carried a JetBoil MicroMo and mostly just boiled water for quick and easy camp meals. We carried our isobutane fuel canisters from Bishkek (Red Fox Sports) but I'm fairly sure you can find them in Almaty too.
Water
This section was the driest of our route. Unlike Kyrgyzstan where we almost always followed rivers and streams, the steppe of Kazakhstan was often dry and very, very hot.
To manage this we sometimes carried 6-7 liters of water each, such as when dry camping at Charyn Canyon. In hindsight we maybe could have found water at the bathrooms there or made the walk down to the river, but we found that carrying a bit more water – not too difficult on the flat paved sections – gave us more options.
We each carried a Sawyer Squeeze water filter and CNOC filter bag, and we filtered all our water from the tap and natural sources. My sense is that purification (for the difference between filtration and purification see my post on water treatment for bike travelers) is overkill in most of Kazakhstan, but some travelers may prefer it.
Culture and Interactions
We found Kazakhstan comfortable from a cultural perspective. It seems people are used to seeing cyclists there, so we didn't get excessive attention. There aren't many tourists in this part of Kazakhstan, yet we didn't feel out of place. The ethnic diversity, especially in Almaty, probably helped us blend in when walking around town. We're Caucasian and maybe could have passed for Russian without looking too closely.
People were generally reserved in public places. As Americans we had to reign in our impulse to smile at strangers and acknowledge everyone we passed, but when I felt the need to give a wave or head nod it was usually returned. People mostly ignored us on the street, or sometimes just stared, but in direct interactions were usually friendly and kind. Personal space bubbles were smaller than we're used to.
Language and Communication
Russian is the most widely spoken language in Kazakhstan due to its former place in the Soviet Union, followed by Kazakh. Both use the Cyrillic script / alphabet, which will only be somewhat readable to those of us used to the Latin alphabet.
If you're going to learn one word to recognize in the Cyrillic script, make it the word for shop / store: магазин ("magazin"). If you're going to learn a second word, I suggest шаурма (shawarma – delicious Middle Eastern wrap full of meat, veggies, and french fries that's a common fast food item in towns and cities).
English is not spoken much in Kazakhstan, though you may meet a few people (especially younger folks) eager to try out a few words. We got by with basically no Russian aside from spasibo (thank you) and dasvidaniya (goodbye). Fortunately the Google Translate app is widely used in Kazakhstan and we had good results using it to translate between English and Russian.
Key tip: Google Translate allows you to download Russian for offline translations (but not Kazakh unfortunately). The camera feature is key for reading menus and signs.
Traffic and Driving Style
The traffic in Kazakhstan sometimes perplexed us. In Almaty it was fairly orderly, but in small towns the style sometimes grew more aggressive and chaotic. On fast highways drivers usually gave us space when they could, but close passes were common at low speeds and when vehicles were coming both directions at once (best to pull onto the shoulder in this case).
A couple other common patterns to watch out for:
Drivers often pull over to the right for a quick stop, such as to pick up a passenger. When they pull out into traffic again, they don't always seem to notice a bicycle approaching on their left. Be careful passing stopped cars on the left!
Drivers overtake each other often and don't seem to care if there's a bicycle in the oncoming lane. Watch out for cars hurtling toward you at high speed in your lane. They probably won't hit you, but it's unnerving.
Traffic moves on the right side of the road, but interestingly both right-hand and left-hand drive cars are used.
Money and Budget
Kazakhstan uses the Tenge currency and is largely a cash economy. ATMs are easy to find in mid-sized towns and cities; we found one just after crossing the border from Kyrgyzstan. In Almaty credit cards are sometimes accepted, but neither of ours worked (tried both Visa and Mastercard) the one time we tried them.
Changing between currencies is straightforward in any town big enough to have a currency exchange office. When returning to Kyrgyzstan we changed our remaining Tenge to Som in Karakol. We also each carried a few crisp $100 bills that could be changed to local currency in case we couldn't find ATMs, but we never needed to use them.
It's an affordable place to travel, at least compared to the US. We enjoyed good meals for the equivalent of a couple US dollars, and a nice hotel in the city for $50 per night. In a mid-size town a simple guesthouse room with shared bathroom might run $10.
Weather
In July this part of Kazakhstan was HOT. Temperatures reached over 100 degrees F (38 C) in the lower elevation steppe and near Charyn Canyon. We had sunny skies and no rain, though we would have liked some!
Final Thoughts
By the time we crossed back to Kyrgyzstan at Karkara, we felt like we'd already had a big adventure! The ten days we spent in Kazakhstan were well worth it. Though we struggled with the heat and busy roads, I'm glad we took this route over the more homogenous option through Kyrgyzstan south of Issyk-Kul.
To read about the rugged and stunning second part of our trip, see Part 2: Bikepacking Kyrgyzstan's Tian Shan Traverse.
Bike resources in your inbox?
There's more where this came from! Sign up here for occasional emails full of inspiration and information about bikepacking and bicycle touring.


Share the Adventure
If you found this article helpful, please consider sharing so more people can benefit from it: