This summer's bikepacking trip was a long time coming. Ever since I began cycling I've dreamed of touring the full Silk Road from Europe to China. It seemed special, the "big one," and I wanted to save it for when my husband could join.
In the meantime I took off on many solo adventures in the US and abroad, and he joined for a few shorter trips near home. By the time he was finally able to take time off for an international adventure, a couple years ago, the world had other plans. Now things have changed, both personally and globally, and the full long-haul trip just isn't in the cards.
But this summer I finally got a taste of my Silk Road dreams, and was finally able to share an international bike adventure with my husband. Instead of the original long-haul tour we spent a month focused on more rugged bikepacking-style riding in Kazakhstan and Kyrgyzstan. Starting and ending in Bishkek, we looped north to Almaty and east to a short but varied route called Kazakh Corner, then south to Kyrgyzstan to connect with the epic Tian Shan Traverse.
We gawked at the scenery, sweated through relentless heat, shivered through high mountain storms, fumbled through translated conversations, struggled across chilly rivers, and got sick and recovered (a few times). Sometimes we weren't sure we would finish, but in the end we made it back to Bishkek – tired and dirty and hungry – in time for our flight home. Looking back, we packed A LOT into our four week trip and I feel very satisfied with this taste of remarkable Central Asia, its landscapes and its people.
This trip report and route overview is for those interested in a similar ride, or just curious about what it's like to bikepack in Central Asia. I've split it into two posts to keep things manageable. This post focuses on the second part of our trip in Kyrgyzstan, the Tian Shan Traverse route.
To read about the first part of our trip in Kazakhstan, see Central Asia Bikepacking Part 1: Bishkek to Almaty and the "Kazakh Corner".
This is a long post, so if you want to jump to a specific section:
Trip Overview
Dates: July 14 – Aug 13 2022 (30 days total, 20 in this Part 2 post)
Riding days: 22 total, 16 in this Part 2 post
Non-riding days: 8 total, 6 in this Part 2 post
Distance: 920 miles (1480 km) total, 520 miles (837 km) in this Part 2 post
Who: Myself and my husband. I'll call him E, he's privacy-conscious 🙂
Highlights of Part 2: absolutely stunning mountain scenery, sense of adventurousness, learning about the nomadic lifestyle of people living along the route
Challenges of Part 2: mountain storms, river crossings, high altitude passes, steep rocky hike-a-bike climbs
The Route
The Tian Shan Traverse route was developed by folks at bikepacking.com. Here's their GPX file, which we mostly followed with a few deviations that I'll describe below.
This route made up the second 2/3 of our full trip, which was a loop starting and ending in Bishkek. To close the loop and get to the start of the Tian Shan Traverse we rode northeast into Kazakhstan and then back into Kyrgyzstan near Karakol. For a map of our full loop, see Part 1.
Pacing and Difficulty
The first 170 miles to Naryn are the slowest of the route. The route designers recommend 4 – 6 days for this part, and there is no resupply. We needed 5.5 days to go from Karakol, 25 easy miles before the official start at Kyzyl-Su, to Naryn. We didn't reach Arabel Pass at mile 55 until day 4!
Why so slow? The final few miles of the climb up Dzhuku Pass is brutal hike-a-bike (more like carry-a-bike) and the miles after are cross-country through lumpy steppe with no road and a tricky river crossing. The descent starting from Arabel Pass is gorgeous but we had a fierce headwind for the gradual trip down the valley, and lots of water crossings. There are ways to avoid some of these challenges (see next section) but they were part of what made this trip so memorable!
After Naryn the route gets significantly more straightforward and faster. There's still plenty of climbing, but many miles follow decent gravel roads with bridged water crossings. The other truly gnarly section is Kigety Pass, the final high point before the plunge to Bishkek, where landslides force some steep and loose hike-a-bike on the south side. Once over the top, the descent to the north is completely rideable.
Many people wonder if they can do this route in less than the 20 days recommended by bikepacking.com. For many people the answer is yes, but it's not as easy as you might think. We ended up skipping about 130 miles for reasons I'll explain below, and it took us 14 riding days. You'll definitely want a couple rest days, which brings the total to 16 days with our shortcuts.
For a comfortable ride of the entire route I think 19-20 days is about right, but if you have less time consider the shortcuts below.
Shortcuts
Based on personal experience and combing through the comments on bikepacking.com, here are the recommended ways to shorten the route if you must.
Start from Barskoon instead of Kyzyl-Suu. A gravel mining road travels into the mountains and meets up with the route just before Arabel Pass, sparing you the brutal carry-a-bike up Dzhuku Pass and the slow section of roadless steppe that follows. This would be a much easier and faster way to start. On the other hand, the ascent to Dzhuku Pass is one of the most scenic and dramatic parts of the route, and one of my most cherished memories from the trip (in hindsight…). Heavily loaded tourers should probably consider the Barskoon alternate, but those running a lighter bikepacking setup might want to go for the original route.
Skip the Tash Rabat ruins. Apparently it's underwhelming and touristy, and skipping the out-and-back saves about ten miles.
Skip the Djong-Ailish out-and-back. As far as I can tell, this is only for resupply purposes and adds 30 miles to the route. If you stock up in earlier towns (Kojomkul is the last chance, but Chayek is better stocked) you can get from Kojomkul over Kigety Pass and down to shops near Bishkek with a food carry of 3-4 days.
Ride pavement from Naryn to Jangy-Talap via Dostuk. This is probably the least-recommended way to shorten the route, but we ended up taking this shortcut due to illness and I know others have used it to save time. It skips some hot and dusty miles but also a very scenic section near Baetov that I was sad to miss. It cuts off about 150 miles with significant climbing and replaces it with a 60 mile road ride that can be done in a single day.
Resupply Notes
Most resupply stops are marked in the RideWithGPS route and mentioned in the description, but here are a few important notes.
Naryn: big town with plenty of food options, and the first resupply on the route. Between Kyzyl-Su and Naryn there are no stores. You may be able to buy a meal from a friendly family in a yurt along the way, but best not to count on it.
Baetov: another decent size town with a grocery store
Chayek: town at mile 413 (not marked in the GPS file) with plenty of grocery options and a few basic guesthouses. I suggest buying a bit of extra food here, especially snacks like nuts and dried food, which we had trouble finding in the smaller towns further along the route.
Kyzyl-Oi: small town at mile 441 (not marked in the GPS file) with a small basic store and some guesthouses.
Kojomkul: small town with only one small store (that we found). The options were very limited but we were able to buy 4 days of food here, supplemented by some snacks left over from Chayek.
Ride Journal
Here's a section-by-section journal summarized from my daily notes. This post covers the second 2/3 of our trip, beginning in Karakol 25 miles before the start of the Tian Shan Traverse.
For the first part of our trip, beginning in Bishkek and heading north into Kazakhstan before returning to Kyrgyzstan further east at the Karkara border crossing, see Part 1.
Karakol to Naryn
We took a rest day in Karakol to recover from part 1 of our trip and stock up on 6 days of food for the section ahead. The next morning we pedaled out toward Kyzyl-Su, the official start of the Tian Shan Traverse 25 miles away. The road was busy but the gravel shoulder was good. If you're not coming from the north like we were, stocking up on food in Kyzyl-Su would also work.
After turning south off the highway, the climbing began. At first it was gradual as the gravel road passed through farmland toward snow-capped peaks ahead. Where it steepened we could tell our bikes were heavy with food. Eventually farms gave way to scattered yurts and we spent the night camped in some trees near the rushing river.
On our second day from Karakol we finished the gradual climbing and started the steep section. Along this road a little girl came out of her yurt to hand me a piece of candy – possibly the first time during my travels that a child has given me candy instead of asking for candy or money. I traded her a few candied nuts in return.
As the climbing steepened we met a group of three bikepackers going the same way. We would leapfrog with them all the way up Dzhuku Pass, which made us feel a bit less ridiculous as we pushed our bikes up the loose slopes. We had hoped to get over the pass on our second day, but the big boulders and flowing water beat us down. We camped at a lovely green patch beside one of the switchbacks and saved the final slog for morning.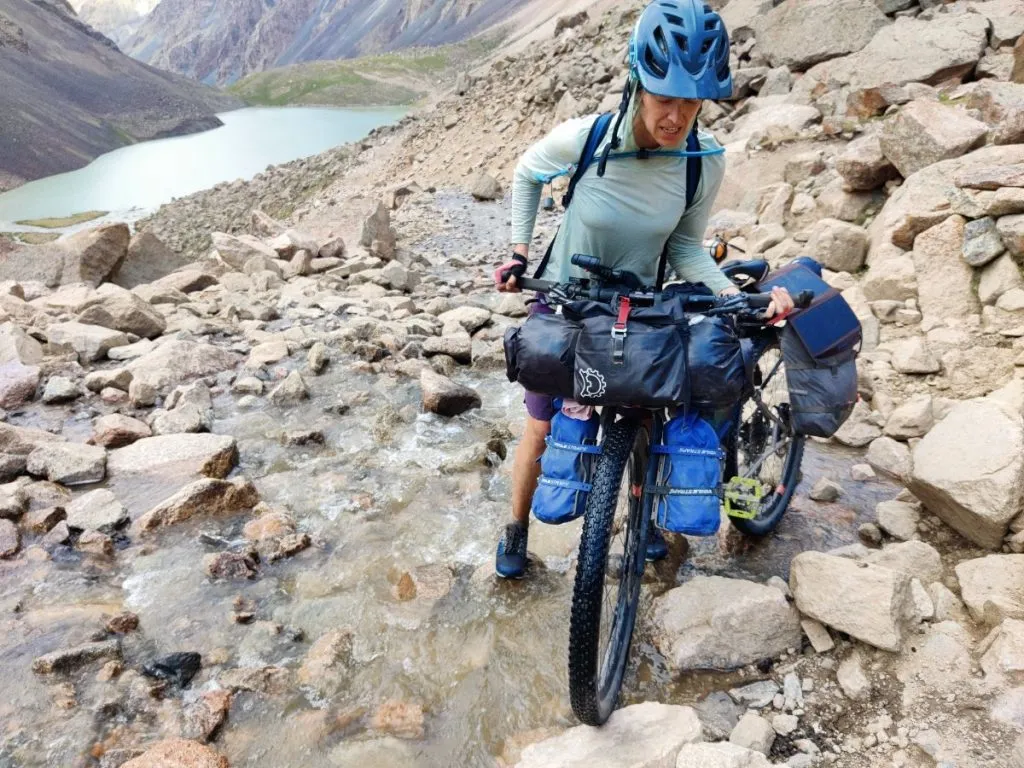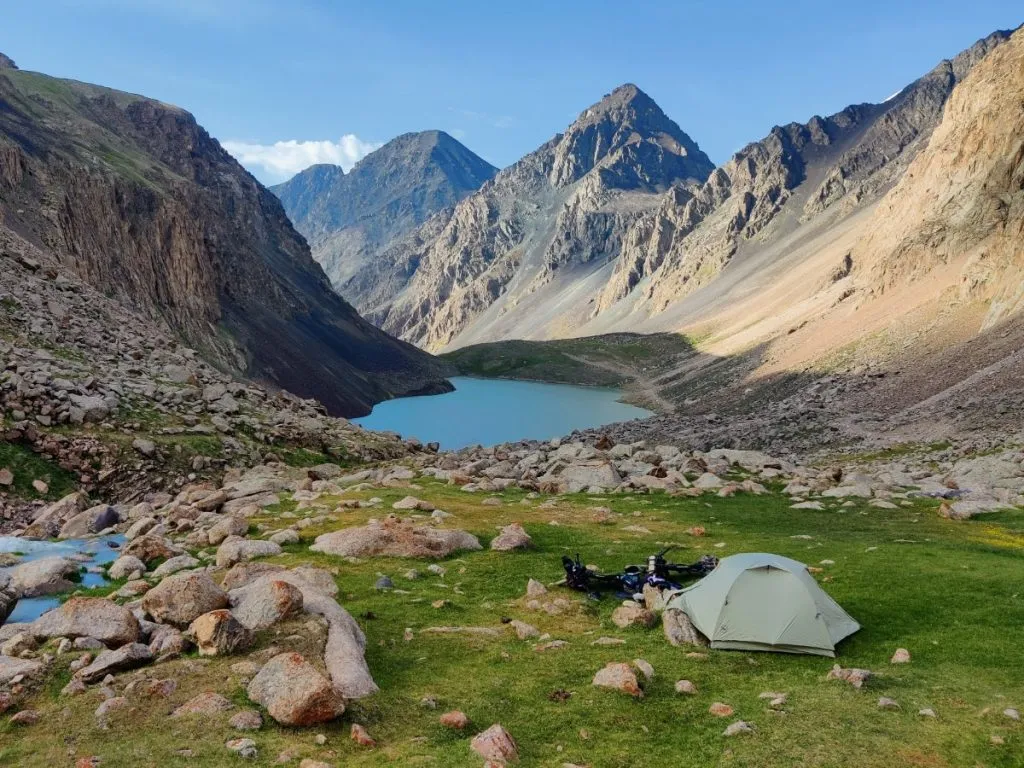 On our third morning we tackled the final mile to the pass up steep, boulder-covered switchbacks. It was just barely possible for me to drag my bike to the top using all my strength. Some folks will definitely want to remove gear and make multiple trips on this section, or team up with riding partners to move one bike at a time.
From the top progress was only a little easier as we followed the GPS track across roadless steppe. Our next goal was to connect with the gravel mining road, but the Arabel Su river blocked the way. Maps.me showed a track continuing straight – a possible shortcut to the road – but the crossing was unbridged, so we turned right and continued slow progress along barely visible tracks as the weather turned cold and stormy.
This turned out to be a questionable decision – we now had to cross a large tributary and the river. We tackled the first crossing as a team, with E carrying the bikes and me following behind with panniers. In one place the water was thigh-high and I gladly accepted a hand from E for stability. Normally I'm a do-it-myself kind of gal, but there's no denying my smaller size was a disadvantage here.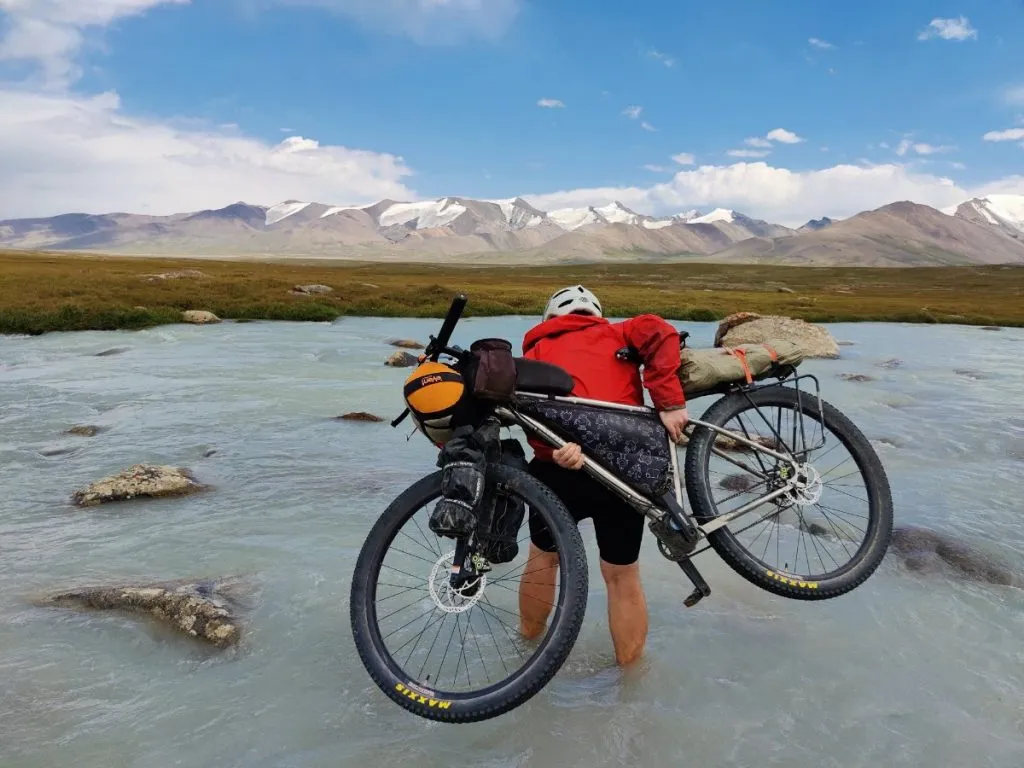 We continued a bit off-route hoping to find a better crossing of Arabel Su near the outlet of the lake where the water was slow and wide, but were too tired to deal with it when we arrived. We made camp by the lake in a beautiful spot and spent the night above 12,000 feet, hoping the water would be a bit lower in the morning.
Note on river crossings: We were here in mid July, and these crossings might be easier later in the season. We later heard there's a bridge across Arabel Su somewhere, maybe a kilometer from where the route first approaches the gravel road but then turns right. If you can find it, more power to you! Maybe try asking a shepherd.
On our fourth morning the water was a few inches lower and we tackled the river crossing successfully. The final stretch to the road was swampy and muddy, but at last we reached the gravel mining road! From there to Arabel Pass was decent gravel and dirt, a relief after so much tricky terrain. The wind was howling and we were feeling the altitude, but we still made progress.
The descent from Arabel Pass was very scenic, as was the long gradual trip down the valley. We fought a fierce headwind and tackled many water crossings, one of which was deep and fast enough that E needed to carry the bikes and offer me a hand.
In this valley we encountered some very hospitable locals who invited us in for tea and food, as well as a young man running a "hotel" with his family (more of a homestay situation with mattresses on the floor) where we took shelter from the howling wind.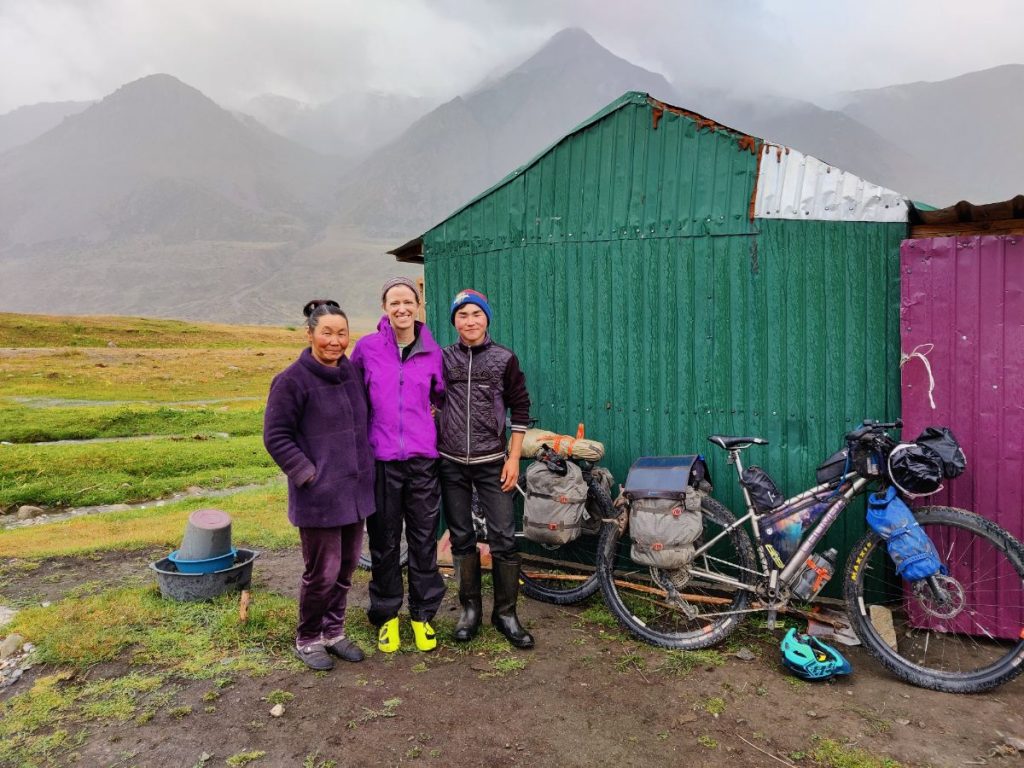 Note on homestays: Though the offers of food and lodging can feel like free hospitality, keep in mind that tourists pass through this area almost daily. These folks can't afford to give food and lodging away for free to everyone. We paid them a reasonable rate.
The next morning we woke to rain on the metal roof of our homestay. It eased a bit as we ate a delicious breakfast, but we pedaled all day in intermittent showers that eventually chilled us to the core and covered our bikes in mud. We struggled through a couple small passes in an area dotted with ranches, then eventually camped near the river just before joining the main gravel road to Naryn.
We finally reached Naryn on our sixth day since leaving Karakol. There was a headwind again (of course) but first we enjoyed a nice descent along the river, back below treeline again for the first time in days. In Karakol we stayed at Datka's Guesthouse, which was very comfortable. There's also a tourism office in town that hooks travelers up with smaller homestays.
Interlude in Naryn
The day after sleeping at the homestay I woke with a scratchy throat. Perhaps the mattresses had been dusty? But the next morning it was worse, and by the time we arrived in Naryn I had a slight cough. I figured it was just a cold, but when I woke the next day with chest congestion I remembered the single rapid covid test I had slipped into my first aid kit "just in case."
That's right: after 2.5 years of doing my best to avoid getting and spreading covid, it finally found me in Kyrgyzstan. Presumably we were exposed at our guesthouse in Karakol, the only place we'd recently spent much time indoors.
E and I are vaccinated and boosted and take the disease seriously, but have also been trying to find balance and move forward with our lives. I feel embarrassed that I finally caught it while traveling and may have – heaven forbid – spread it to the people we spent time around the day before my symptoms started. I can only hope they've built immunity from all the other tourists they hosted before us.
So what's it like to have covid while bikepacking in a foreign country? It's complicated! E's symptoms started soon after mine, and we extended our hotel stay one day at a time. Protecting the people around us turned out to be difficult in a place where no one seemed worried about the threat. We masked up and made quick runs for food and medicine, but otherwise stayed in the room and rested.
Our symptoms were fairly mild, and after three days we made the decision to pedal out of Naryn. Conventional advice says to isolate in a hotel, but we felt it would be more responsible to get back on the road where we could camp and be away from other people for the remaining days of our potentially contagious period.
We also had a schedule to keep, and it was now or never in terms of being able to finish most of the route. Bikepacking at high altitude isn't exactly the recommended covid recovery plan, but we were going to try it. We would take it slow and carry some extra food in case we ran into problems.
Naryn to Kojomkul
Three days of rest put us too far behind schedule to follow the full route from Naryn, so we took a shortcut directly east on pavement to Jangy-Talap in an effort to salvage the rest of our ride. We rode the 60 miles of gradual downhill in one day and camped on the edge of a field shortly after rejoining the route. Like all the lower elevation parts of the Tian Shan Traverse, the terrain was barren and the weather was hot.
Our second day featured the long tough climb to Song-Kul. The cold dry air and high altitude aggravated our lingering coughs and reduced us to walking the steeper sections, so we took all day to go just thirty miles. We saw many other cyclists on this popular section of dramatic road.
Tip: If camping at Song-Kul Lake, get water from a stream on the way. The lake itself is murky and ringed in mud, and the inlet streams were dry.
Leaving the lake, the Tian Shan Traverse follows a road that peters out into faint tracks through grass, then eventually turns across the open steppe to connect with a small road to Tjilbel Pass. We thoroughly enjoyed the long rideable descent from this pass, the first real "free miles" we'd had in awhile. The temperature rose as we dropped into the hot and barren valley, but we felt strong at lower altitude. Eight days after first feeling sick, I was ready to declare myself recovered.
At the A367 we encountered a construction zone. Trucks kicked up impressive plumes of dust as they rumbled past. Fortunately traffic was light, and in many places we were able to ride partially completed new lanes instead of the chewed up gravel. Where the route turned south we finally found smooth downhill pavement as we cruised into the town of Chayek. This town isn't marked on the GPS file, but it has a few basic guesthouses and the last well-stocked grocery stores on the route.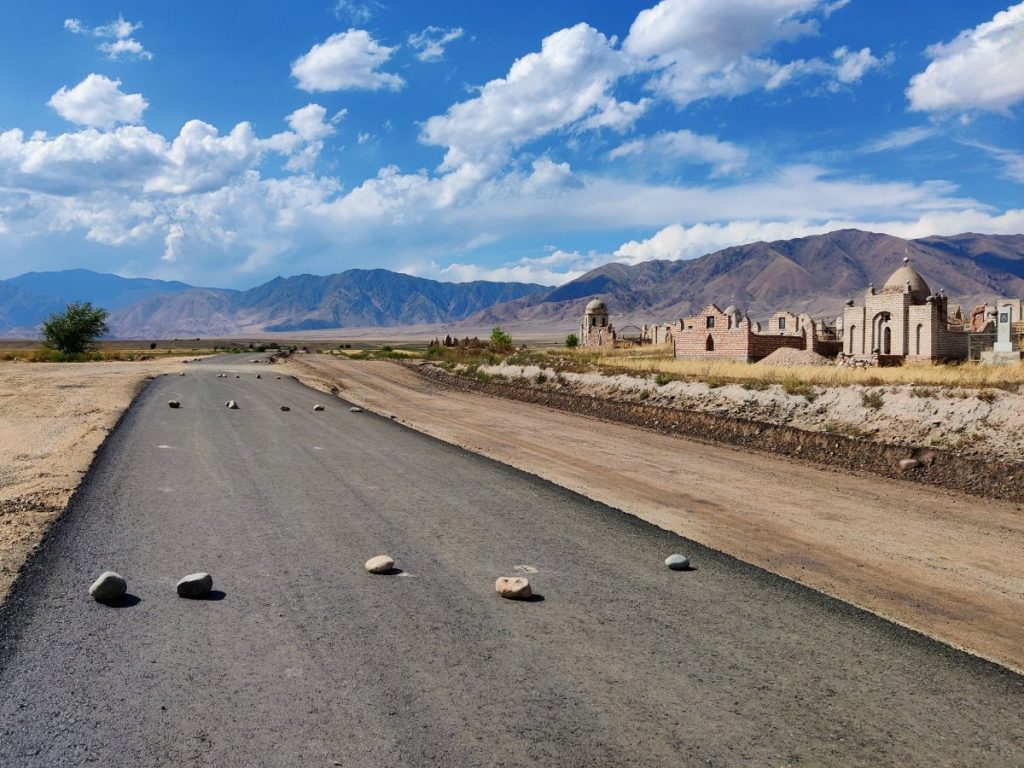 After a bit more easy pavement we turned north onto the gravel road leading up the Kokemeren Valley. Though the road was straightforward, washboarding and relentless gradual uphill made for tedious riding. A day of grinding brought us almost as far as Kojomkul, and the next morning we popped into the one small store there to fill our bags with four days of food.
Kojomkul to Bishkek
The store in Kojomkul was tiny, but we managed to buy a pile of questionable food to sustain us over Kigety Pass: mainly ramen, pastries, dates, cheese, candy, and cookies. The town felt peaceful and quiet except for a few boys on bicycles. One rode alongside us, fishing pole in backpack, all the way down to the river.
Here we faced a navigation decision. The route file follows the south side of the river, but Open Street Map shows a small track that eventually stops before the first bridge. Not wanting to risk a lengthy backtrack we decided to play it safe and follow the main gravel road on the north side of the river. Perhaps we missed a more exciting trail on the south side? If you ride it you'll have to make your own decision (and come back here and tell me what you find please).
The valley grew more scenic as we climbed higher, back into gorgeous alpine landscape. We camped early the first afternoon when E's stomach felt off again; luckily he was better by morning. Local shepherds came by to invite us for food and drink, but we were happy in our tent on the grassy bench above the road. In the morning herds of horses and cows grazed just outside our tent.
Two final obstacles lay between us and Bishkek: Karakol and Kigety passes. Karakol Pass was relatively straightforward, but a building storm added to the challenge. As we pushed up the final slope to 11,3000 feet I looked back and saw the valley filling with dark clouds and rain. We hustled up and over, but not quite fast enough to outrun the gnarly thunderstorm.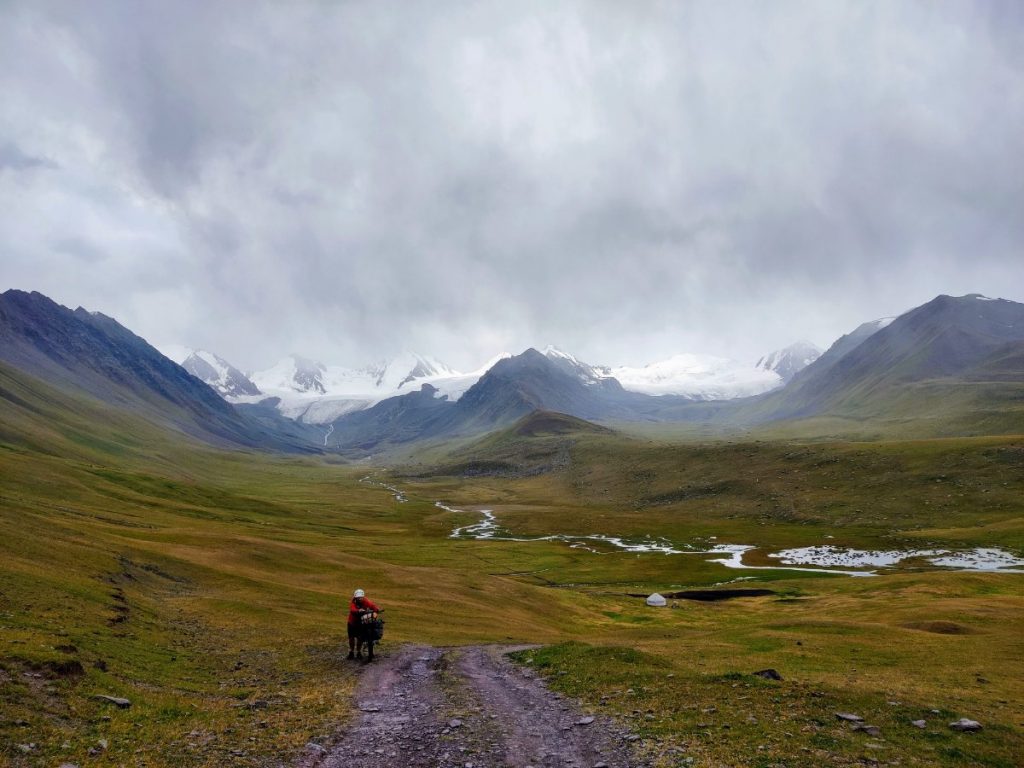 Here we got into a bad situation. Caught up in the urgency of dropping elevation, E didn't put on his rain pants or gloves for the descent (mine were already on during the climb). We dropped into the valley as the wind pushed us downhill and thunder rumbled. A flash of lightning lit the hillside just ahead. We sped carefully into a hairpin turn on rocky road. If we could just make the turn and hit the straightaway maybe we could outrun the worst of it…
We only made it a few miles before realizing it was a losing battle. Just past the highest yurt we pulled off and hustled down to a grassy bench by the river in the pouring rain. Usually I'm the cold-sensitive one and being with E gives me margin for error, but he was just as cold as I was. We weren't sure we could set up the tent in the howling wind. What to do?
It took awhile, but step by step we got the tent up, got in with our warm gear, and got dry. I didn't realize how worried I'd been until I finally slipped into my sleeping bag and felt an immediate urge to cry with relief. We both shivered for a long time but gradually warmed up.
Important lessons learned (again): Layer up for descents even when you're in a hurry. Stop before getting too cold! We didn't want to impose, but if the situation had been any worse it would have been smart to ask for help at the first yurt we saw.
Eventually the intense wind stopped but the rain continued all night. The next day was a constant guessing game as the weather changed from sun to sprinkles, and storm clouds coalesced and cleared. We pushed on determined to make it over Kigety Pass, but I worried constantly about the weather.
Kigety Pass, just a small notch barely lower than the surrounding ridgeline, was intimidating from below! Landslides have covered the old road in steep and slippery scree. It was a tough hike-a-bike up to 12,300 feet and took us a couple hours, but compared to brutal Dzhuku Pass it was manageable. As we slogged up the final switchbacks – ten steps, three breaths, ten steps, three breaths – the sky cleared and we crested under a beautiful blue sky.
From Kigety Pass the road plunges 9,000 feet in thirty miles! We enjoyed the rideable descent and sense of victory – we were going to make it! Just below treeline we made camp by the river for one last night under the stars.
The final day was less inspiring, but we got it done. An endless bumpy canal road took us through farmland and eventually the outskirts of Bishkek. We dodged a constant stream of pedestrians and cars as we worked our way back to Koisha Hostel. There we found a room, a hot shower, and our bike boxes waiting for us. What more could we ask for? We did it!
Over the next two days we rested, packed our bikes, and wandered Bishkek in search of hearty food and craft beer (finally found the latter at Brewster). Then a long but uneventful series of flights returned us to California. Here we are unpacking gear, cleaning bikes, getting over jet lag, and reveling in our memories and pictures of stunning mountains and cultural delights.
Bikes and Gear
Though our bikes (especially mine, a 1×12 drivetrain with hydraulic brakes) weren't typical for international bike travel, they worked out really well for the Tian Shan Traverse and we would both choose them again. Here's what we rode:
Me: My new Chumba Stella Ti mountain bike with rigid carbon fork. Though she was supposed to be mainly for bikepack racing closer to home, I enjoy her so much that I couldn't resist bringing her on this trip.
E: Solace Cycles OM-2P with Pinyon / Gates drivetrain and rigid carbon fork, new for this trip. On past trips he's had extremely bad luck with multiple drivetrain catastrophes (How do you even break a chainring?!) and decided he wanted a totally different approach. Since he's been busy working while I've been off riding my bike, he can afford the Pinion. 🙂
Both bikes held up really well. Aside from a slipped Gates belt in the mud and a few loose bolts, we had no mechanical issues whatsoever.
A suspension fork could certainly be nice on parts of this route, but we would both choose our rigid forks again for their weight savings, simplicity, and efficiency on the long smoother stretches.
We ran tubeless tires and had no flats, but the lower elevation areas definitely had some spikey foliage. Take care if running tubes, and bring plenty of patches.
Gear and Packing
This was a tricky trip to pack for, and I'm not sure we got it right. Some of the terrain (Dzhuku and Kigety passes) demanded a lightweight setup, the kind we would have run at home for a rugged bikepacking trip. But a monthlong international trip demanded some extras – like a more extensive first aid kit, more spare bike parts, extra clothing for cultural sensitivity and city days, extra water capacity for Kazakhstan – than could fit in a rackless setup.
We compromised with a hybrid setup: bikepacking-style frame bag, handlebar roll, and fork cages, plus rear rack and REI Link Panniers. The panniers use a velcro attachment system rather than plastic hooks and are a bit smaller than traditional touring panniers, so they worked well for the rougher sections of the route. Downsides: hard to remove from racks for river crossings, and awkwardly placed for steep hike-a-bike.
In hindsight I wish we had packed lighter, but I'm not sure what I would have left out. I could have maybe cut a pound of non-essentials, but otherwise I'm happy with what we brought. We didn't use most of our first aid and bike repair kits, but I wouldn't have wanted to go without them.
I recommend making sure your gear and packing system is:
Removable, unless you're packed super light. On the steep hike-a-bikes and deeper river crossings you may need to remove gear from the bike until it's light enough to carry.
Waterproof, for both storms and river crossings. Key items like electronics, warm layers, and sleeping bags should be protected against heavy rain and accidental dunking.
A few key items of gear worth highlighting:
Tent: Big Agnes Copper Spur HV UL3. Best advice I've ever heard for bike touring as a couple: use a 3 person tent! This tent is a perfect balance of light weight and convenience, and plenty roomy enough for lots of gear and personal space. Read my detailed review here.
Merino sun hoody: I wore a Smartwool Merino Sport Ultralight Hoodie and loved that I could pop up the hood for sun protection on my neck. It was surprisingly lightweight and comfy in the hot weather, and merino wool is naturally stink-resistant. There are other merino sun hoodies on the market and this one wasn't perfect – the light color got dirty and my back got sunburned through it – but all things considered I'm glad I brought it.
Stove: JetBoil MicroMo. Very quick and efficient way to boil water for camp meals. Isobutane fuel canisters were available in Bishkek and Almaty, but don't count on finding them anywhere else.
Solar charger: BigBlue 28W. We've used this for a few long hiking trips in the past (see my detailed review here) and it worked beautifully on this trip too.
Shoes: Pearl Izumi X-Alp Canyon SPD. These are my go-to bikepacking shoes (along with these single-sided SPD pedals). They're very walkable and also provide decent pedaling efficiency. Detailed review here. We each brought a pair of sport sandals for town, otherwise these were our only shoes.
Digestive meds: Immodium, Gas-X, etc. "Central Asia Tummy" was a factor for us and many other travelers we talked with.
Clothing
A good layering system is critical for this ride. We were glad to have lightweight clothes in the hot valleys, and we needed all our warm layers and rain gear up high. Here's the minimum I would recommend:
Top: light base layer, warm mid layer, insulated jacket, rain jacket
Bottom: light base layer shorts, tights for sleeping or warmth, rain pants
Hands and feet: spare socks (they will get wet), gloves, waterproof mittens, waterproof shoe covers
Merino wool is a great fabric for travel and bikepacking – breathable and comfy and stink-resistant. 🙂
Note on water crossings: There will be lots. We waffled between changing into sandals and just getting our feet wet, depending on the weather and how wet our feet already were. A sturdy pair of sandals is helpful for river crossings, which are often rocky and can beat up bare feet.
Note for women: Kyrgyzstan's population is largely Muslim, so I brought a pair of long pants in case I felt the need to cover up in rural areas. Having ridden through Egypt and Sudan as a solo woman, I know that sometimes long sleeves and pants are best. Turns out Central Asia holds its religious restrictions lightly in this area. You'll never see a local woman's knees in rural areas (Bishkek is a different story) but I didn't sense any disapproval of my knee-length baggy mountain bike shorts.
Planning Information
Camping
There is fantastic wild camping on most of the Tian Shan Traverse. With the exception of the A367 highway northwest of Son-Kul and the final 40 miles into Bishkek, much of the route follows quiet dirt roads through sparsely populated pasture land. Nomadic families move their home and herds to higher pastures in the summer and back to winter pastures in the fall, presumably to avoid overgrazing.
As far as I can tell, pasture land is owned and managed as a national treasure by the government and Kyrgyz culture seems very tolerant of travelers camping on this land. It's probably polite to ask for permission if you camp near a yurt, but otherwise you're free to pick any spot you like.
Water is usually easy to find near camp since most of the route follows river valleys. Trees are fairly rare so don't expect much shade, visual cover from the road, or shelter from the wind. Don't expect total privacy either — horsemen may appear out of nowhere to say a quick hello.
Tip: For help finding good campsites I recommend the iOverlander and Maps.me apps. Don't forget to cache for offline use before heading out of town! iOverlander caches automatically when you look at an area, while Maps.me lets you download by region.
Guesthouses and Homestays
The larger towns usually have a few guesthouses or hotels, and Bishkek has a wide range of options. We definitely recommend Koisha Hostel as a base in Bishkek. They're used to cyclists, stored our bike boxes for us, and arranged rides from and to the airport for us and our bike boxes.
Outside of Bishkek most places aren't listed in online booking apps (like Booking.com), but those that are sometimes have lower prices if you don't book online.
Some yurts and houses in rural areas seem to serve as informal homestays. This can be a nice way to interact with locals and learn about their lifestyle; we enjoyed interesting conversations via Google Translate. I suggest paying them a fair rate for food and lodging. It can feel like feely offered hospitality, but this area is touristy enough that it's likely a side business for them.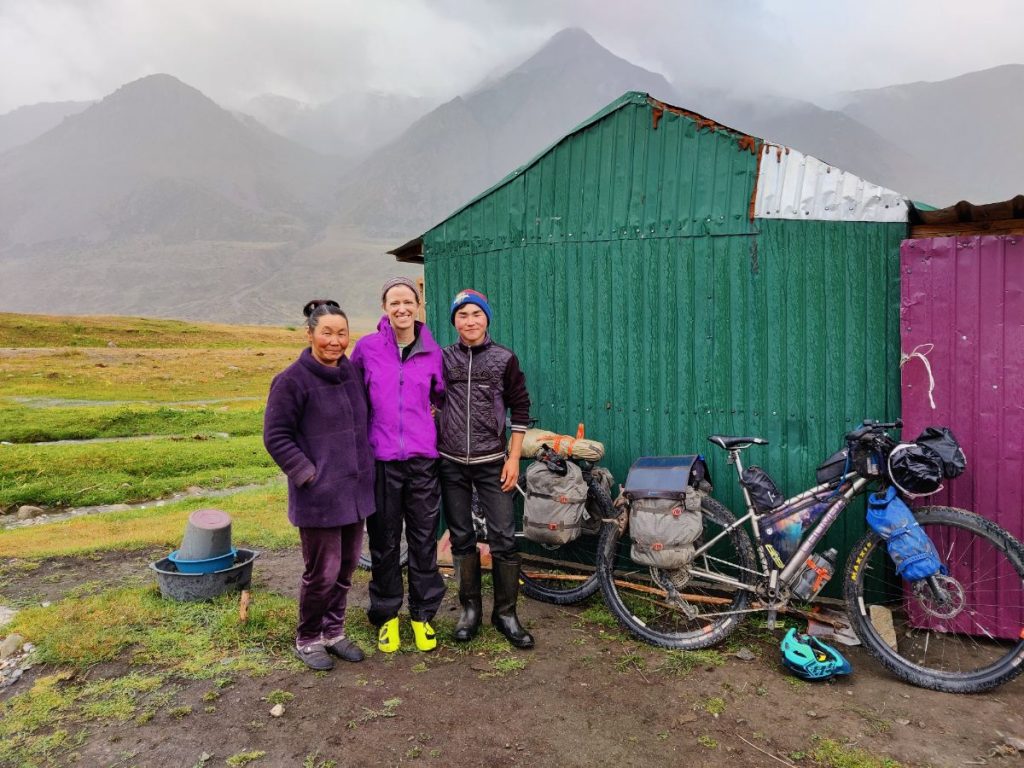 Food
In Bishkek you'll find plenty of nice restaurants and cafes with any type of food you might wish for, as well as fully stocked supermarkets.
In smaller towns it's easy to find laghman (noodle dish) and the local fast food favorites (burgers, shawarma, and pizza) or savory fried pastries. At small shops we resupplied on ramen, nuts, dried fruit, oats, bread, cheese, cookies, instant coffee, and other staples for snacks and camp meals. Rice and lentils were often available, but we didn't have the patience to cook them.
To supplement the nutrient-poor food available in the smaller towns we brought some add-ins from home: egg powder, textured vegetable protein, freeze dried veggies, and coconut milk powder. See my post about add-ins for backpacking meals for more ideas.
For cooking we carried a JetBoil MicroMo and mostly just boiled water for quick and easy camp meals. We bought our isobutane fuel canisters in Bishkek at Red Fox Sports.
Culture and Interactions
We found Kyrgyzstan a very comfortable place to travel in. People were kind and friendly when we interacted with them, and drivers often waved or honked. But we never got too much attention or felt pressured to stop riding when we didn't want to. Kids liked to say hello and sometimes wanted high-fives, but never asked for anything or got annoying.
Personal space bubbles were smaller than we're used to, especially in line at ATMs! We sometimes felt like people were cutting in line at stores and ATMs, but it always turned out that everyone was keeping track and knew who was next. As Americans we had to reign in our impulse to smile at random people on the street, but our head nods and occasional waves were usually returned.
Prices were usually clearly marked and we never felt like we were paying the "tourist tax" or people were trying to overcharge us. That said, some guesthouses or homestays are negotiable and you might want to ask the price before agreeing to stay.
Language and Communication
Russian is widely spoken in Kyrgyzstan due to its former place in the Soviet Union, as is the Turkic language Kyrgyz. In Bishkek Russian is more common, but in rural areas more people use Kyrgyz. Both languages use the Cyrillic script / alphabet, which will only be somewhat readable to those of us used to the Latin alphabet.
If you're going to learn one word to recognize in the Cyrillic script, make it the word for shop / store: магазин ("magazin"). If you're going to learn a second word, I suggest шаурма (shawarma – delicious Middle Eastern wrap full of meat, veggies, and french fries that's a common fast food item in towns and cities).
English is not spoken much outside of the tourism industry, though you may meet a few people (especially younger folks) eager to try out a few words. We got by with basically no Russian aside from "spasibo" (thank you) and "dasvidaniya" (goodbye), plus "rahkmat" (thank you in Kyrgyz). If you know any Arabic you might be surprised to recognize the common greeting "salam" or "salam alaikum," a reminder of Kyrgyzstan's Muslim majority.
Fortunately the Google Translate app is widely used, and we had good results translating between English and Russian.
Key tip: Google Translate allows you to download Russian for offline translations (but not Kyrgyz unfortunately). The camera feature is key for reading menus and signs.
Weather
Be prepared for anything! At lower elevations it gets very hot, perhaps into the 90's F. Up in the mountains there could be hail, sleet, or snow. Rain was quite common and didn't seem to follow any particular timing pattern; we had brief showers, prolongued drizzles, and powerful storms at various times of day and night. I don't think we had any sub-freezing nights, but it could certainly happen. Strong winds were common.
Water
We each carried a Sawyer Squeeze water filter and CNOC filter bag, and we filtered all our water from the tap and natural sources. You'll find grazing animals in even the most remote mountain areas, so you'll definitely want a filter that removes bacteria and parasites.
My sense is that purification (for the difference between filtration and purification see my post on water treatment for bike travelers) is overkill in most of Kyrgyzstan. The concentration of waterborne human viruses in rural water sources can't be very high. That said, it's never a bad idea to be safe.
Money and Budget
Kyrgyzstan uses the Som currency and is largely a cash economy. ATMs are easy to find in mid-sized towns and cities; if one doesn't work, just try the next one. In Bishkek credit cards may sometimes be accepted, but don't count on it.
Changing between currencies is straightforward in any town big enough to have a currency exchange office. When returning to Kyrgyzstan we changed our remaining Kazakh Tenge to Som in Karakol. We also each carried a few crisp $100 bills that could be changed to local currency in case we couldn't find ATMs, but we never needed to use them.
It's an affordable place to travel, at least compared to the US. We enjoyed good meals for the equivalent of $2-$3 USD. In a mid-size town a simple guesthouse room with shared bathroom might run $10, and a comfortable hotel room in the city could be $30-$40. Groceries are very affordable, and between towns there isn't anything to spend money on unless you stop at a homestay.
Navigation
We used two smartphones (one as backup) and the RideWithGPS app to navigate the Tian Shan Traverse. Gaia would also be a great choice, maybe even better because of its topographic map layer. Both apps charge a small fee for offline use, which you'll definitely need. A rugged GPS navigation device like the Garmin eTrex would also work well for this route, but it's not a must-have.
In most cases the route is very easy to follow – just a single road through a long valley and over an obvious pass. In a few places, notably after Dzhuku Pass and west of Son Kul lake, the route cuts across empty steppe with no road at all. In these places the routing takes a "connect the dots" approach and doesn't need to be followed exactly; use your best judgment to find the easiest path.
A few valleys have roads on both sides of the river, and we weren't always convinced that the GPS track chose the correct side. Most notably, leaving Kojomkul the route turns eastward on the south side of the river following a road that – according to Open Street Map – doesn't go all the way through to the first bridge. We took the main gravel road on the north side to avoid a potential long backtrack, though we may have missed a nice "adventurous" experience on the south side.
Key Tip: I highly recommend an offline Open Street Map app like Maps.me to help with judgment calls and detours. Google Maps is incomplete and sometimes just plain wrong in this region, and we often consulted Maps.me when in doubt about our navigation choices.
Which Direction to Ride
The Tian Shan Traverse is mapped from east to west and we rode that direction, but we met other riders coming the opposite way and think it could probably be enjoyed either direction.
Whenever we had a long section of gradual climbing or descending we almost always had a headwind. It seems the wind usually blows from west to east, so riding the "wrong" direction might allow for more tailwinds. You'd also get to descend Djuku Pass (if not taking the Barskoon detour) which would still be grueling, but not quite as grueling as ascending it.
The biggest drawback of riding west to east might be the massive 9000+ foot climb up to Kigety Pass over the first few days! At least it would be over and done with early in the trip.
Traffic and Driving Style
This route felt very low-risk in terms of traffic. With a few short exceptions most roads carried only occasional slow-moving cars. Every now and then we rode the gravel shoulder when passing through a larger town. Most drivers gave us space and even waited to pass until it was safe. Bishkek might be a different story; traffic seemed pretty orderly there but we still rode the sidewalks like most locals do.
Transport
Except for rides to / from the Bishkek airport arranged by our hostel, we never needed transportation aside from our bikes and feet. However, we noticed a few things that might be helpful:
Sprinter vans will fit bikes and can be hired to go almost anywhere. We saw other cyclists using this method to get back to Bishkek after cutting their ride short. Larger towns have tourism offices that should be able to book one for you.
Hitchhiking is common among locals, though I think drivers expect payment. Standing on the side of the road with your hand out is the signal, but most passenger cars won't have room for bikes. I've heard of cyclists hitching rides with trucks when needed.
Solo Riders
I was stoked to share this ride with my husband after a long history of solo travel. I see no reason why solo riders wouldn't enjoy the Tian Shan Traverse, but I do have a few thoughts for those considering it.
Weather: Perhaps the biggest risk on this route is getting dangerously cold in a mountain storm, especially coming over the high passes. Solo riders have less margin for error here, so make sure your gear and clothing are on point and consider conservative decisions in bad weather.
Remoteness: Though the landscapes are big and weather can be gnarly, you're rarely more than a few miles from a yurt or shepherd who might be able to help in a true emergency. That said, it's still essential – especially for solo riders – to be prepared, self-reliant, and experienced with mountain environments.
River crossings: This route has many unbridged water crossings, especially in the beginning from Kyzyl-Su to Naryn. Most are shallow – you can either ride or walk across – but in mid-July we found a few short sections of thigh-deep water. Solo riders, especially those on the smaller and lighter side, might find these unnerving (I know I did). My tips:
If you can't carry your loaded bike, have a plan for removing gear until it's light enough to pick up and carry across.
Remember that water is usually lower and slower first thing in the morning. If you run into a problematic crossing in the afternoon, consider camping and trying again tomorrow.
You may need to look up or downstream for a better place to cross, or ask for advice from locals.
Stealth camping: When bikepacking alone I prefer to camp in hidden places, but much of the Tian Shan Traverse is above treeline or in narrow river gorges where this isn't practical. It's also quite common for (male) shepherds to come by and say hello. We found them all friendly and non-threatening, but solo women will want to mentally prepare for these meetings if you're used to hiding yourself away at night.
One solution might be to ask at yurts for permission to camp nearby, putting yourself inside the protective sphere of a family. But beware, you might be invited inside and offered food and vodka. 🙂
More Kyrgyzstan Bikepacking Resources
If you're interested in the Tian Shan Traverse or making up your own bikepacking route in Kyrgyzstan (there are many options!), here are a few more resources to check out:
Route description on bikepacking.com. This is the primary resource for the route from the people who created it, and the comments section is a gold mine of information from other riders.
Silk Road Mountain Race: A self-supported ultra race that happens in August and typically overlaps with parts of the Tian Shan Traverse. Though racing is a very different vibe than touring, the media coverage from this event gives a great sense of the region. You can also use their route maps as inspiration for extensions or other routes.
Kyrgyzstan blog post directory on BikeSleepBike: links to dozens of trip journals about cycling in Kyrgyzstan from personal blogs and websites.
In Conclusion
If you're thinking about a bikepacking trip in Kyrgyzstan, I'd encourage you to go for it! I've pedaled over 15,000 loaded miles on five continents but this trip might just top the list for adventurousness. If you're drawn to big remote landscapes and also enjoy experiencing new cultures, the Tian Shan Traverse will be a great blend of rewards and challenges.
More Bikepacking Resources
If you liked this post, you might also like these:
Or, visit the complete bike travel section for lots more!
Bike resources in your inbox?
There's more where this came from! Sign up here for occasional emails full of inspiration and information about bikepacking and bicycle touring.


Share the Adventure
If you found this article helpful, please consider sharing so more people can benefit from it: