A few loyal readers have already noticed from pictures of my recent bikepacking trips: a new bike has joined my family. She's pretty darn awesome, and her name is Stella (unimaginative perhaps, but a perfect fit).
This newcomer is the snazziest machine to ever grace my living room garage. For years and many thousands of miles I've loved my reliable mid-range bikes: a Surly LHT for road touring and a Salsa Fargo for dirt bikepacking. But my new Chumba Stella Ti is — no offense to the other two, but there's no other way to say it — a substantial upgrade.
I have about 1300 3700 miles (see below for latest update) on her so far, mostly from three bikepacking events and one leisurely tour. Together these rides span about 650 miles of gravel and dirt roads of varying quality, 300 miles of pavement, and 350 miles of singletrack.
This post is primarily a review of my Chumba Stella Ti, and I hope it'll be helpful to anyone considering this specific bike. I'll also discuss some of the components on my custom build, which might interest folks considering the same parts on different bikes. Finally, I hope my perspective of upgrading to a higher-end bike after years of budget-constrained riding will help folks navigate the value-for-money spectrum when it comes to bikes and components.
You should know in advance that I'm not a professional bike reviewer or a competitive racer. I can't guess a headtube angle by feel or tell Shimano XT from XTR in a blind comparison. I can't tell you how this bike compares to the last five bikes I've ridden this month. And I certainly can't comment on its XC racing prowess, though apparently it's formidable.
I'm just a regular gal and a recreational, though dedicated, bikepacker. I ride far and often, usually logging a few thousand miles each summer, but I'm not particularly fast. Though the Stella is the steed of choice for a number of high-performing bikepack racers, it has not magically turned me into a race-winning champion. (A gal can dream, right?) I ride and sometimes "race" the same types of routes and events as these folks, but at my own slower pace.
So while my Stella Ti is certainly worthy of a better and faster rider, she's stuck with me. Nevertheless, she seems happy to make my ride more enjoyable, and I can already tell that she's expanding my riding skills and ambitions in sneaky ways.
Update: Now 3700 Miles
Since first writing this post, Stella and I have logged another 2500 miles together: 900 in Central Asia, 300 at Smoke 'n' Fire, and 1200 on the Western Wildlands Route. All these rides were done with the rigid fork and included a mix of gravel, dirt (mostly non-technical) and a bit of pavement. What I've written in this post still applies, and I still love this bike!
The Money Thing
Let's get this out of the way. A Stella Ti frame alone costs a bit under $3000, which is twice what I paid for my secondhand Salsa Fargo (complete bike) a few years ago. My almost-complete Stella Ti custom build cost north of $6000. While these prices are not unusual in the bike industry by any means, to me (and many other riders) they are big numbers.
So what happened, did I win the lottery or something? Followers of this site know I've been a champion of bikepacking on a small budget since my earliest days of cycling. Scrappy and underbiked best describe my personal style. I've always felt proud to set an example for people who want to get out there without spending a fortune. In daily life as well as cycling and outdoor gear, I love a good bargain and am vaguely uncomfortable with expensive things.
Thus I have mixed feelings about the financial side of this upgrade, especially given my public platform here. I still insist that you don't need a fancy bike or expensive gear to enjoy bikepacking. I see too many people put off from even trying the sport because of the perception that it's too expensive or exclusive, and the last thing I want is to be part of that.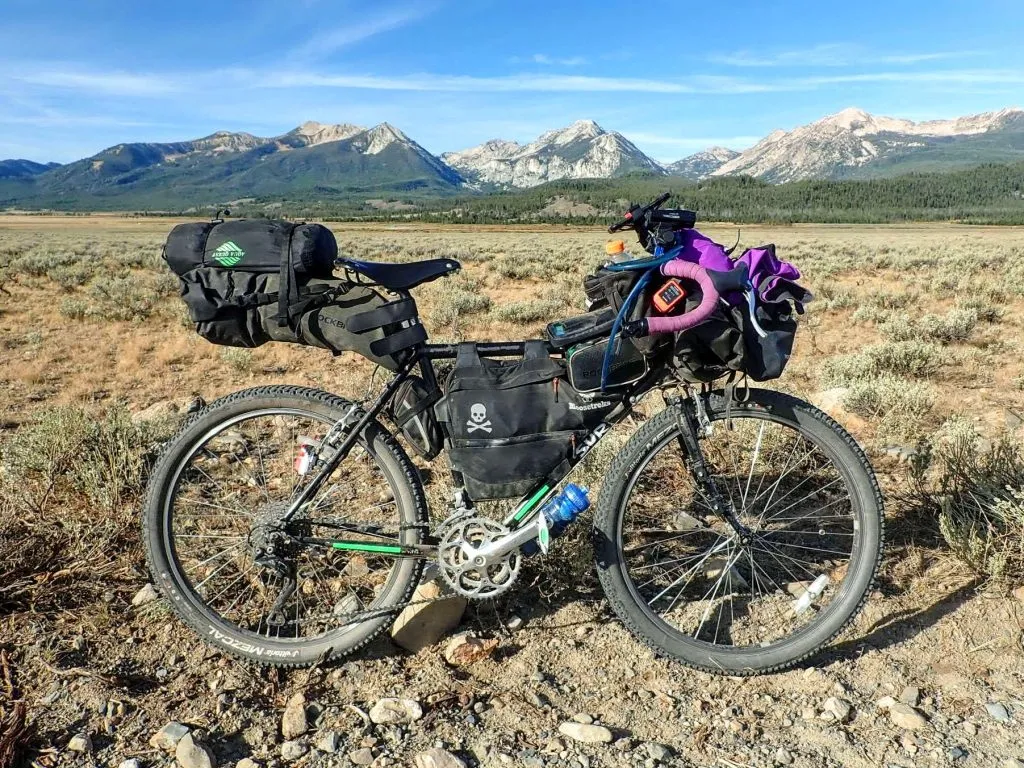 And yet, bikepacking has become a huge part of my life. I travel thousands of miles every year on my bike, and I'm all-in on making the most of this passion while the time is right. While I certainly don't need this bike to enjoy bikepacking, my interests and skills have evolved to the point where I absolutely want and enjoy this bike and appreciate the value it adds to my riding.
So what happened? I received a gift; my fantastic and supportive husband chipped in to bring this fancy-schmancy machine into my price range. For years he has tolerated and even encouraged my escalating bikepacking obsession — which began after we tied the knot — without complaint or judgment. He cheers me on from afar while I ride solo and sometimes joins for shorter trips. He knew I would appreciate this bike even before I did. Thanks dear, you're the best. 🙂
If you're budget-constrained but intrigued by the Stella, consider the steel frame. It runs about $1000 less than the titanium. You could cut at least another few hundred dollars by choosing lower-tier components across the board (I splurged in a few places).
About Chumba
Chumba USA is a small company based in Austin, Texas. They make many of their frames in-house: all their steel frames, Sendero Ti frames, and custom versions of their other Ti frames. My Stella Ti, as well as the Terlingua Ti, are made in batch production runs in Tennessee.
A couple people who've been into bikes longer than I've been alive have asked me: is this the same Chumba that made downhill mountain bikes in the '90s? While the current company does come from that lineage, there have been multiple changes of ownership and direction over the years.
When Chumba changed ownership and moved from California to Austin in 2014, Vince Colvin joined to build the brand and design. They quickly brought all their manufacturing back to the US, where it remains today. Mark Combs joined as framebuilder a few years later. In 2018 Vince and Mark partnered up and bought the company, transforming it into its current iteration with new designs and more customization options.
For more about the company and how they make their bikes, check out the Bikes or Death interview with Vince.
About the Stella Ti
The Stella is the XC and endurance race hardtail in Chumba's line. Per Chumba's website, it's "equally at home racing your local singletrack or decked out w/ bikepacking gear … Designed to be extremely compatible with a wide range of tire sizes, 29er and 27plus wheels, and fork lengths."
The frame comes in steel or titanium and is available as frame only, partial, or complete custom build. They'll build it up rigid or as a hardtail, with 29er or 27.5″ wheels. Sliding dropouts allow for 20mm of chainstay length adjustment, so the geometry can be tweaked to fit terrain and riding style. In short, it's a very versatile bike that can adapt to a wide range of off-pavement adventures.
For all the details and latest specs or to start the order process: Stella Ti on Chumba's website.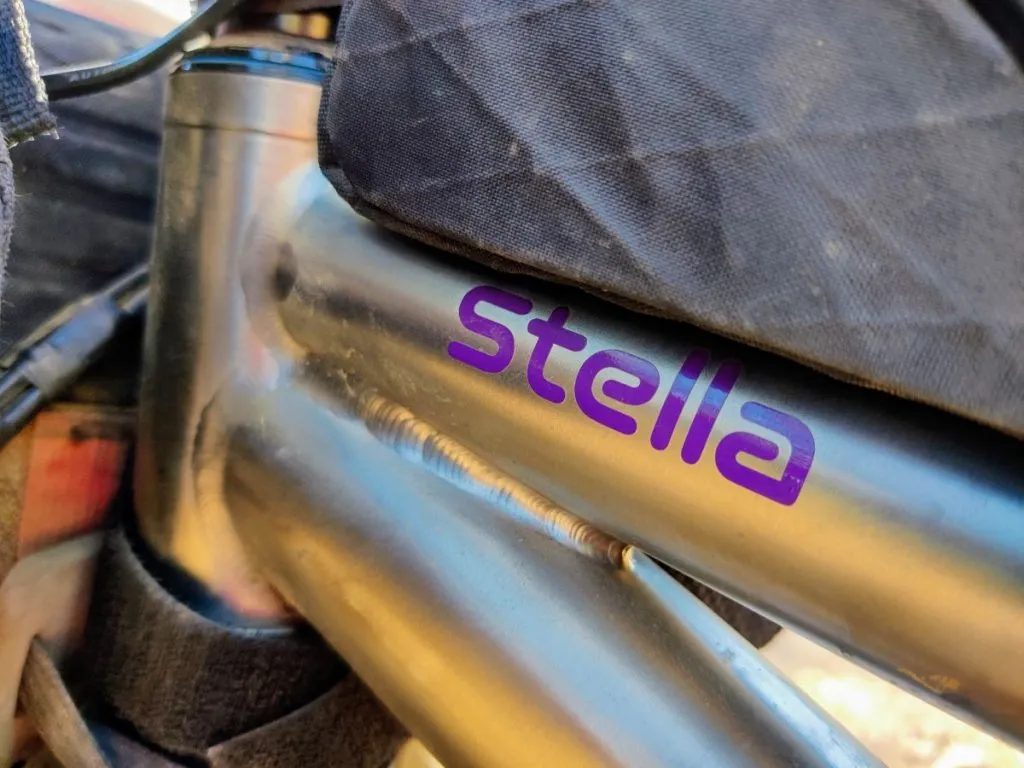 Why I Chose the Stella Ti
So why this bike among so many great bikes? First, I knew I wanted a light and super-durable frame:
Light because I weigh 120 pounds. I'm tired of wrestling with a heavy beast of a loaded bike that weighs half what I do, especially when pushing my limits at bikepacking races.
Super durable because I might want to ride it anywhere in the world, and things can happen when a bike is strapped to the roof of a bus or checked as luggage without a proper box.
Light + durable = titanium, so that part was settled.
Next, I wanted this bike to be my first hardtail and to have flat handlebars. I've always ridden rigid drop bar bikes in the past and singletrack is my biggest weakness. Yet every time I ride a mixed-terrain route like Smoke 'n' Fire or Pinyons and Pines, I regret my lack of mountain biking experience. I wanted a bike that would be fun and confidence-inspiring on local trails so I would feel motivated to practice my skills and unlock more technical routes.
And yet… While I see more mountain biking in my future, gravel riding is my current sweet spot, so I wanted a bike that would be great for that too. The example of Chumba team rider Alexandera Houchin swapping between rigid fork + 29″ wheels and suspension fork + 27.5″ wheels convinced me that the Stella could span this range.
The Stella's focus on versatility in general — compatibility with various wheels, forks, and drivetrains — was a major plus for me. I can't imagine owning more than one bike in this price range, so I wanted it to be as flexible and adaptable as possible. Whether training for races, touring for fun, or enjoying trails on day rides, I wanted a bike that could grow with me and my evolving interests for many years to come.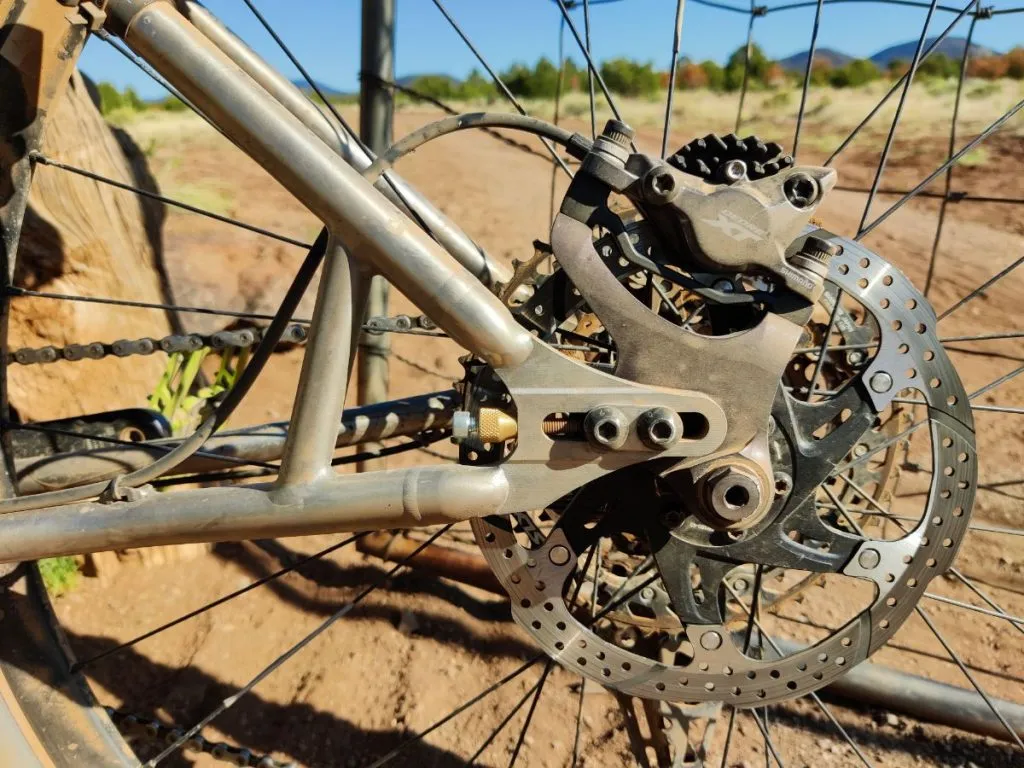 Finally, I liked the idea of a custom build. I've developed definite likes and dislikes during thousands of miles of bikepacking, and I figured any stock bike would require some changes before I was happy with it. I also felt the value-for-money factor would be optimized if I could choose exactly which components were worth a splurge and which I didn't care about upgrading.
Once I realized the Stella ticked all the boxes on my wish list, word of mouth gave me the confidence to move forward. I know a number of badass bikepackers (Katy McGuire, Patrick of Bikes or Death, the speedy Strempke's) who ride and love Chumba bikes for both racing and casual riding. Chumba's racing team includes some impressive high-level athletes, but their website and marketing speak to building bikes for "all riders" and any goal.
The Fork Situation
Though I wanted the Stella to be my first hardtail, her first incarnation was fully rigid. This is because the Fox suspension fork was delayed and I had some trips planned for the spring.
To get the bike sooner I ordered a rigid carbon fork, which I had wanted to add eventually anyway so I could swap between them. I had it shipped to Chumba and they included it in the build. They recommended the ENVE Mountain fork but it too was backordered, so I went with the Whisky No. 9.
The Fox 34 suspension fork arrived later and has seen fewer miles. I've ridden about 3400 miles with the rigid Whisky fork, mainly for simplicity and weight savings. So far I've Iogged only 300 miles with Stella in hardtail mode, primarily at Bones to Blue, but the Fox fork is currently installed and ready for future trips.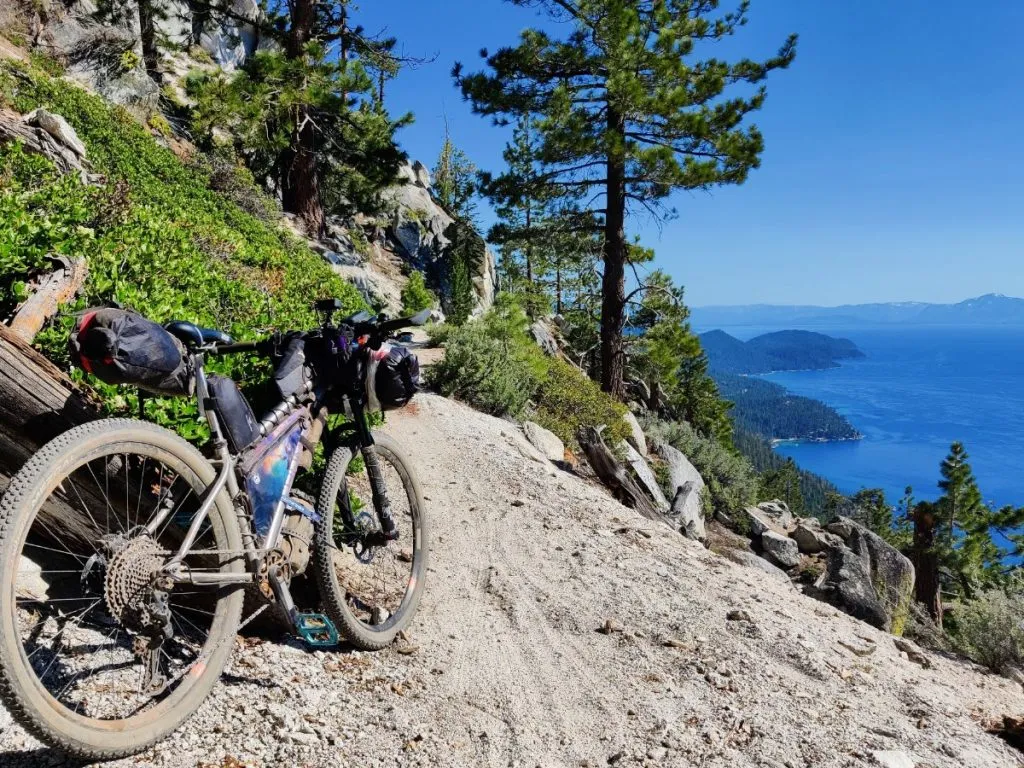 What I'm Loving
Overall, this bike is a dream to ride! I could feel the difference from the first mile, and a thousand+ miles later it continues to impress me. Here I'll highlight the qualities and components I'm especially excited about.
Keep in mind that Chumba does custom builds, so my components are just one possible combination of endless options. You could choose a 2x drivetrain, mechanical disc brakes, a singlespeed setup, a top-dollar groupset, and on and on.
Chumba's Order and Build Process
This was my first experience buying a bike in this price range and having input into the build, so I wasn't sure what to expect. I'm happy to say it was a great experience.
The process starts with a conversation about goals and dreams, which evolves into discussion of specific components. Vince was very patient and prompt in answering my many questions. He listened to my dreams for the bike, as well as my budget, and made custom recommendations for every component. We communicated in detail via several phone calls and a lengthy email thread. Though I flip-flopped several times on decisions about key components, he never showed a hint of frustration.
Not every rider will relate to this concern, but for those who do: I never got patronizing or egotistical vibes from anyone at Chumba. Their website says they make bikes for "all riders" and I felt they upheld that throughout the whole process. I know my own bikes pretty well but many of the components we discussed for the Stella were new to me. I needed to ask some "stupid questions" and they were always answered with patience and class.
The process did take awhile, partly because Chumba makes frames in batches and partly because — as you likely know all too well — the entire bike industry has been clobbered by supply chain issues. I sent my first inquiry in mid-October 2021, paid the deposit on the frame in late October, and we worked out most of the build spec by mid-November. The bike was scheduled for January 2022 but eventually shipped in late February, with a few non-essential parts following in April once they became available.
Smooth Ride Feel
Simply stated, I love how the Stella Ti feels. I could throw a bunch of words at you about how titanium bikes are supposed to feel — smooth, lively, placid, compliant but not stiff — and all of those seem true. In my own words it feels smooth, stable, and comfy, a bit like floating along a half-inch above the ground when moving fast.
No doubt this is due to titanium's natural properties combined with Chumba's design and construction choices. Their oversize tubing is customized per frame size, with S and M getting a smaller diameter down tube than L and XL.
Though the feel definitely changes when loaded with bikepacking gear, the Stella rides great both loaded and unloaded. My steel Long Haul Trucker, tuned for heavily loaded pavement touring, has always felt uncomfortably stiff when carrying just my 120 pound body weight. I'm happy to say the Stella has no such problem.
The lovely ride quality certainly increases enjoyment, but it also improves my comfort and therefore endurance compared to my Fargo. Long days are still long days, but I feel noticeably less beat up after a 100+ mile day of dirt and gravel. The Fargo has always felt good (especially compared to the Long Haul Trucker), but the Stella is noticeably better.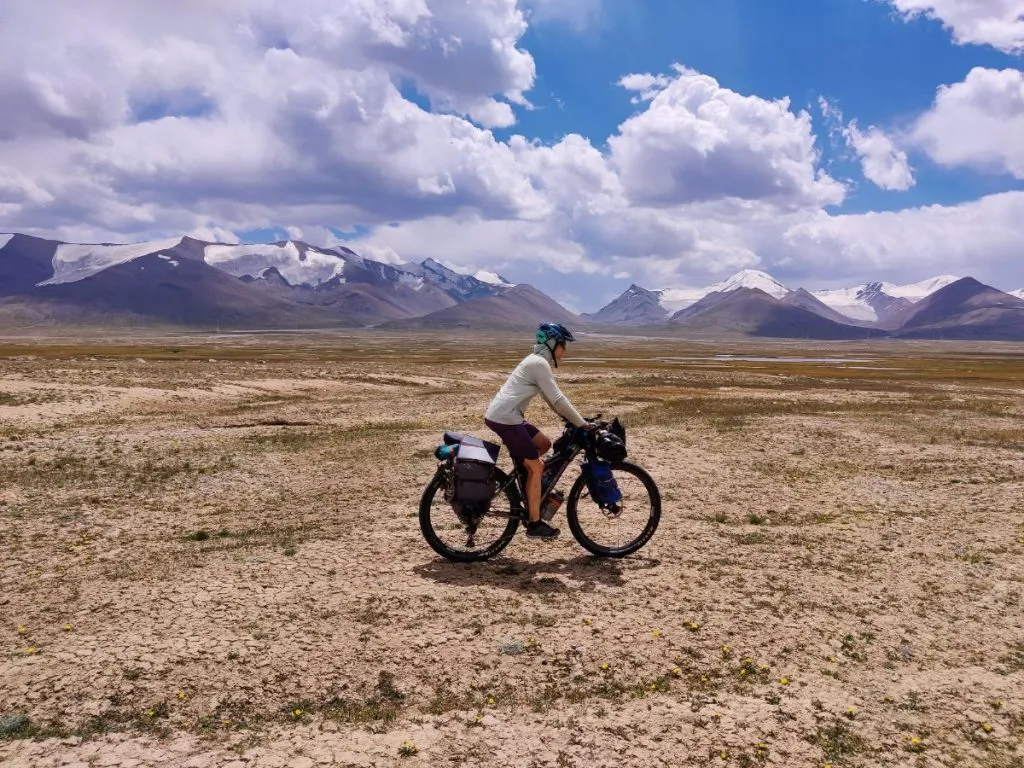 Lighter Weight
Losing a few pounds of bike weight was one of my biggest goals for this new bike. I'm a fairly small person, and when my steel Fargo is fully loaded she weighs half what I do. With a slimmed-down "racing" kit (no tent, stove, or luxury items) I can get her down to 50 – 55 lbs, but I have never seen a "4" in the first digit.
When I loaded up the Stella for her first weeklong tour, I stepped on the scale with her and calculated 49 lbs (with some food and no water). Woohoo! Stripped down for a fast and light ride she would be closer to 45 lbs.
I tried to do an unloaded comparison between my Fargo and Stella, which is tough because my bikes are never unloaded. After trying to adjust for the weight of a few lingering bags and gizmos on each, the Fargo weighs about 30 pounds and the Stella Ti weighs about 27 pounds. So the Stella Ti is at least three pounds lighter. I actually suspect the difference is even bigger, but I don't want to unmount every last thing from my bikes to check more accurately.
You might say that's not very much, but it's noticeable to me. Of course other factors (like lower gearing) play a role when climbing, but I also notice a meaningful difference on rough hike-a-bikes where I need to lift the bike up ledges and over obstacles. Even heaving the bike in and out of my car or over trailhead gates is easier.
1×12 Drivetrain
My 2018 Fargo is a 2×10, and I really agonized over the decision to get on the 1x train. Would I have all the gears I need for loaded riding? Will the parts be expensive and hard to find? Will I struggle to find a comfy cadence due to larger jumps between cogs?
In the end I decided to take the leap. My Stella has a 10-51T SLX 12 speed cassette, Shimano SLX 1×12 derailleur and shifters, and a Wolf Tooth 32 T oval chainring.
I love it. It took a few hours, but once my legs re-calibrated to the gear spacing I've had zero complaints. The range is just a bit narrower than my Fargo (38/24t in front with 11-36t cassette), with a lower climbing gear. Combined with the lighter weight this helps me pedal up noticeably steeper and longer pitches before getting off to walk. The high gear is slightly lower than on my Fargo, but no big deal, I'm bikepacking! If I'm spun out at 20 mph it's time to relax and eat a snack.
People say they prefer 1x for the simplicity. This makes sense in theory, but I think it becomes even clearer after actually trying it. My left hand quickly got used to having nothing to do, and during the adjustment process I noticed that it took slightly less thought to execute each shift. It's a small amount of mental load, but if you shift hundreds (thousands?) of times per day it can add up.
As for those larger gaps between gears, they don't bother me. Whether on pavement, gravel, or singletrack I'm still able to find a comfortable gear, and it usually takes fewer shifts to get there. The shifting overall feels smoother than my old setup, and less finicky to keep adjusted properly.
I thought I might miss the ability to make a single big shift in the front, but I don't. I can achieve the same result with a few clicks of the rear, or (when down shifting) just a single long throw that shifts multiple cogs at once. My SLX shifter only up-shifts one at a time, but the higher-end XT can shift two at a time if you feel the need for more efficient big shifts.
Yes, the parts are a bit more expensive and someday I may struggle to track down a 12 speed chain in the middle of nowhere. But I think these will be acceptable tradeoffs given the improvement in riding experience.
Climbing in General
I've always been a shameless hike-a-bike advocate. I save energy on long rides by walking many a rideable climb. During my first loaded ride on the Stella I surprised myself by continuing to pedal far past the point where my brain told me to get off and walk. I felt like a total beast! Of course I still walk some climbs during long rides, but I can pedal much farther before I hit the same effort threshold.
Is it that lighter titanium frame? The lower climbing gear? How about the oval chainring? Shorter cranks perhaps, better suited to my body size? Maybe it's the bike's geometry. Whatever it is — and surely it's a combination of all those factors — it works darn well.
Hydraulic Shimano XT Brakes
The Fargo's Avid BB7 road brakes were my least favorite part of her build, so it's no surprise that these hydraulic brakes are a massive improvement. On the Fargo I struggled with hand fatigue on long descents, persistent noisiness despite trying all the remedies, and constant fiddling and adjustments. I'm not a very confident descender to begin with, and the combination has definitely held me back.
The Shimano XT hydraulic brakes on my Stella are a revelation. Braking no longer feels like a full-body endeavor! I just sit there and enjoy the views while moving the little levers with one finger, and my bike slows precisely and without complaint. I also went for 180 mm rotors (my Fargo had 160), and the combination is a HUGE upgrade in braking performance and comfort.
I was originally hesitant to switch to hydraulics for bikepacking, and almost went with mechanicals instead. I like parts I understand thoroughly and can repair by myself anywhere in the world. I changed my mind at the last minute though, and so far I'm glad I did.
Might my hydraulic brakes someday fail on a remote international bikepacking trip, leaving me covered in brake fluid and cursing this decision? Sure! But for now, I don't even care. They are such an improvement to my riding experience that I accept this risk. After all, there are plenty of things that could someday leave me stranded; this just adds one more to the list.
For what it's worth, people seem to like TRP Spyre / Spyke mechanical brakes much better than the Avid BB7's; a friend says they feel almost as good as hydraulics to her. If I were building up this bike for a long-haul trip (like across a continent or around the world) I would probably go with those for ease of maintenance on the road.
SON Dynamo Hub
I've been coveting a dynamo hub for some time, and this splurge of a bike felt like the obvious time to include the splurge of a dynamo hub.
During bikepacking races, where I do a lot of night riding and try not to stop much, I used to carry three or four power banks to keep all my electronics charged. They're heavy and bulky and I would still stress about running out of juice. I've managed to mitigate the issue somewhat by getting a Garmin eTrex for navigation (saves phone battery) and a helmet light with its own battery pack, but I would still regularly bump up against my charging limits while both racing and touring.
The dynamo hub, which generates power from the spinning of the front wheel, is a dream come true. I'm using it to power a kLite Gravel kit (super-bright headlight and dual USB charger) and Qube tail light. Chumba also offers Sinewave Beacon lights as part of their builds.
The combination has unlocked a new peace of mind with night riding and remote bikepacking. It's not quite endless magic — at slower speeds the dynamo current is limited and I still need to think about running a second light and topping up my phone at resupply stops — but it's pretty darn close!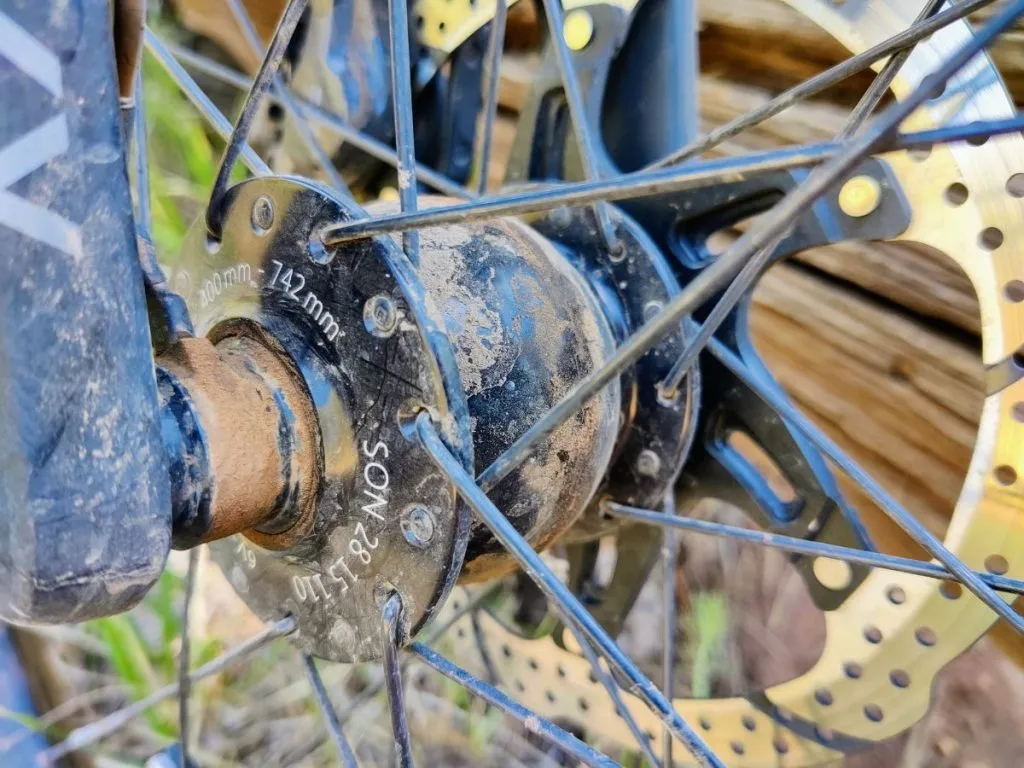 Handlebars: SQ Lab 16 Degree + Cane Creek Ergo Bar Ends
I've always appreciated drop bars for the varied hand positions they offer, especially since I'm prone to hand numbness and weakness on long intense rides. I was excited to try wide flat bars for more control and confidence on singletrack, but I wanted them to be as ergonomic as possible. The 16 degree backsweep on these bars seems just right. They feel very stable, yet the angle between wrist and forearm is natural.
The Cane Creek bar ends are a really nice touch. I wanted them for the extra hand position, but I didn't realize how helpful they would be for climbing too. They help me keep the bike steady on slow climbs, and something about the action of inward compression at my shoulders helps engage the right muscles in my hips for more powerful pedaling.
I learned the hard way about one drawback of this setup: running wide bars with bar ends on overgrown singletrack is dangerous business! After repeatedly snagging my bar ends in brush during Tour de los Padres and twice crashing because of it, I had an inch chopped off either end of the bars. Now I have a bit more safety margin on overgrown trails. Bonus: my bike fits better through doorways.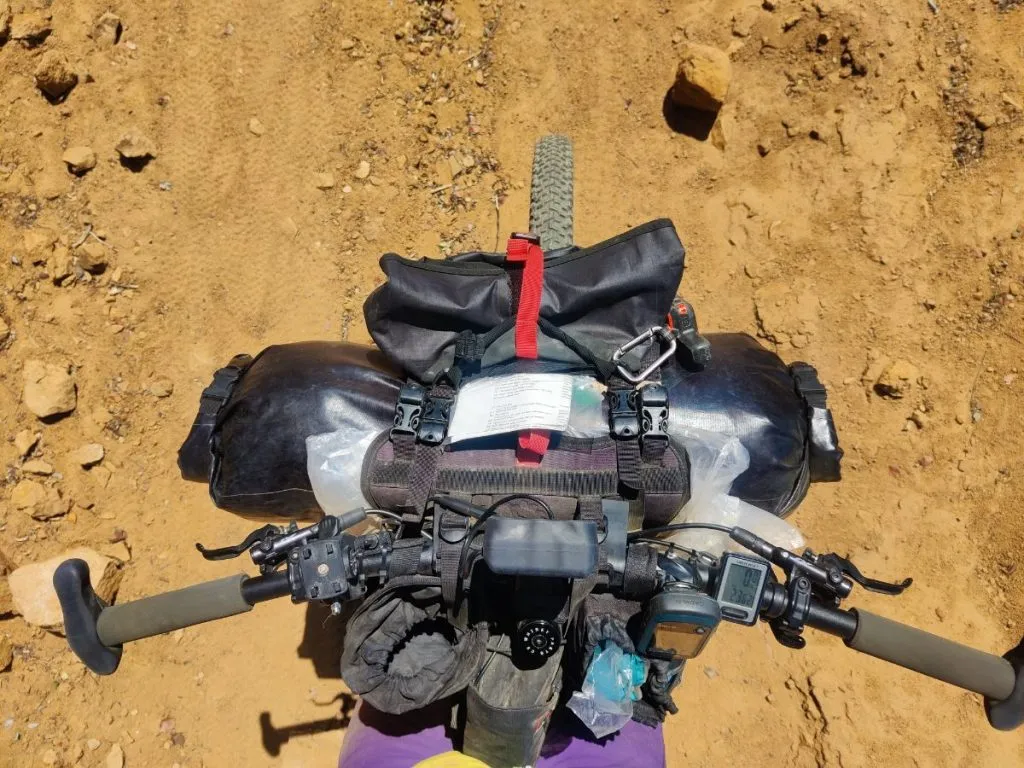 What Could Be Better
In case it's not already clear, I love this bike. But nothing is perfect, and there are a few minor things I would change in hindsight if I could.
Loud Industry Nine 1/1 Hub
This hub, the "budget" offering from Industry Nine, has 90 points of engagement! It's a very good hub, in fact it's better than I need. In hindsight I wish I had done more due diligence here before accepting this recommendation, because this hub has one major drawback: it's LOUD.
I'm sensitive to sound in general, and the quiet experience of nature is one of my favorite parts of outdoor adventure. I'm also a female bikepacker who often rides solo and occasionally prefers to roll through certain places unnoticed.
On the plus side, people (and maybe animals) can hear me coming on the trails and hikers are less likely to be surprised by my "On your left!" In certain contexts, like rolling singletrack, the intermittent sound is kind of fun. I've read that packing the hub with grease can help quiet the sound and I'll be trying that next.
Wolf Tooth 32T Oval Chainring – Nice but Noisy?
Oval chainrings weren't even on my radar before this bike, but Chumba recommended one and I decided to try it. In theory they make climbing a bit easier by decreasing the amount of power needed to pedal through the weakest parts of the stroke at the top and bottom.
Can I feel the difference? Hard to say. I love the way this bike climbs, but given the lighter weight and lower climbing gear it's hard to definitively assign credit to the chainring. Still, I imagine I can feel a slight amount of extra ease through the bottom and top of the pedal stroke.
Unfortunately I think the chainring is contributing to some crunchy drivetrain sounds. It's not a deal breaker and I'm pretty sure it's just caused by grit in the wrong places at certain chain lines. But it's an unnerving noise, and someday when the chainring wears out I may try a different one.
Minor Communication Issues
There are a LOT of things to keep straight when managing a custom bike build, and understandably a few details slipped through the cracks. I would encourage prospective buyers to communicate extra-clearly with Chumba (or any bike builder) and not hesitate to confirm important details. When a couple things were overlooked, Chumba was super responsive to my emails and made things right as quickly as possible.
Worth the Money?
I know many cyclists struggle with this question: Is a more expensive bike really worth the money? I've certainly had my doubts in the past. So now that I'm riding a bike that costs four times what my old bike did, is it really four times as good?
This is where value-for-money gets tricky in the bike world. As much as I love this bike, I can't imagine ANY bike that could make bikepacking four times better than it was on my Fargo, and even my Long Haul Trucker before that. It was already pretty darn good! Around this point in the price-awesomeness curve I think most recreational riders encounter a point of diminishing returns; it takes more and more money to buy the same amount of additional awesomeness.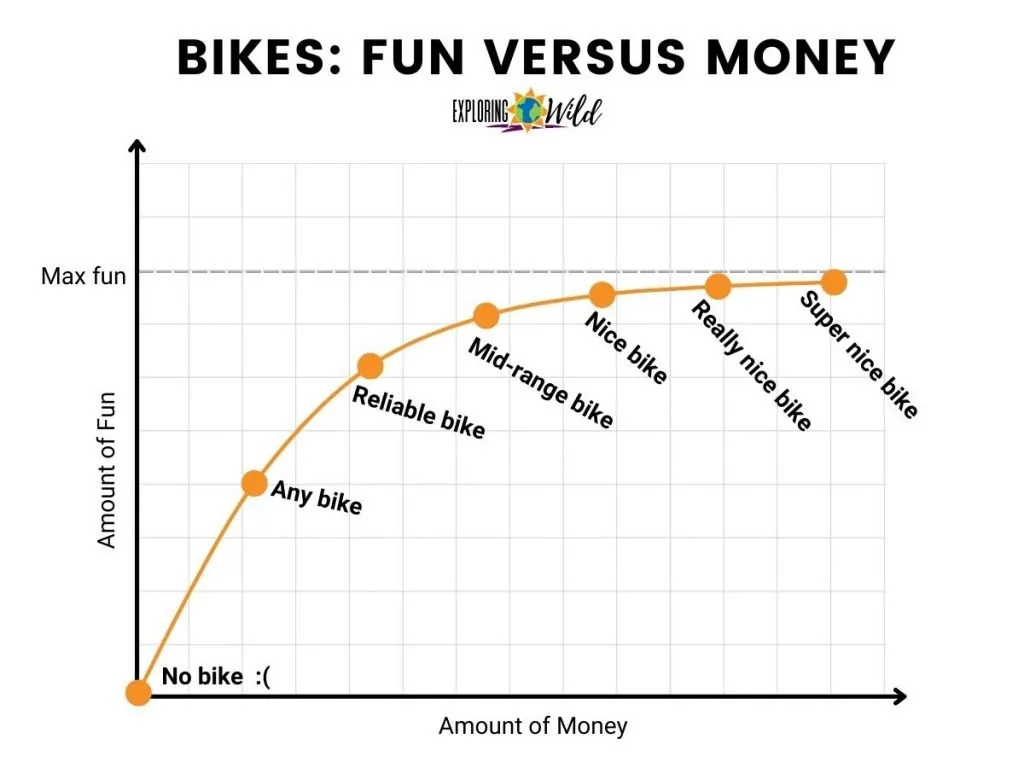 So on a mile-for-mile basis, no, the Stella is not four times as fun as the Fargo. I don't recommend that newer riders start with a bike in this price range unless money is truly no object. So much of the bikepacking experience is dominated by factors unrelated to the bike, especially when you're a beginner. You can enjoy a lifetime of bikepacking on a bike that costs much less, and the decision to spend more is as much about finances as it is about bikes.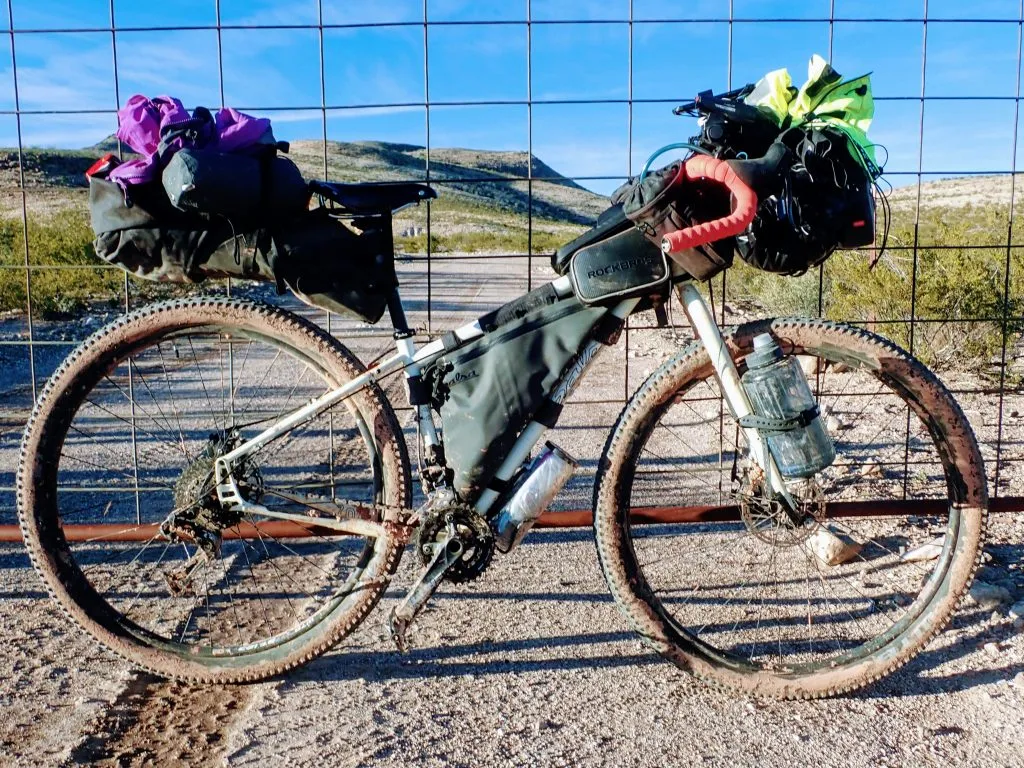 But at this point in my riding trajectory, the Stella offers some powerful long-term benefits with compounding value. By making long days more comfortable she encourages me to push my limits at races and in training. Her MTB capabilities motivate me to improve my riding skills and take on more demanding routes. And maybe someday, if (heaven forbid) my motivation wavers or life gets in the way, having this lovely bike in my garage will be the nudge I need to get back into riding.
There's some interesting psychology at work here too. I have always felt most comfortable as an underdog: underprepared and underbiked, lacking in fancy gear and focused training. I prefer to underpromise and then overdeliver, doing better than expected thanks to sheer grit and willingness to jump in where others might hesitate.
Stella throws a wrench into this identity. The ugly side is that I worry people will judge me unworthy of her or resent the financial privilege that made her purchase possible. "Do I deserve this bike?" is a question no cyclist should have to ask, yet here I am. (Maybe I should talk to a therapist? But going for a long bike ride is cheaper, once you already have the bike…)
The positive side of that coin, however, is Stella encouraging me to rise to the challenge and become the rider she deserves. She vaporizes my excuses and forces me to confront my own mental blocks. She says "Come play with me! Learn to ride trails better so I can have more fun. Train to ride faster so I can show off my potential. Keep riding so you can get your money's worth out of me!"
It's hard to put a price on the impact all this might have on my growth as a bikepacker, cyclist, athlete, and person. But I'm beginning to think a few thousand dollars is a pretty good deal.
More Bikepacking Resources
Bike resources in your inbox?
There's more where this came from! Sign up here for occasional emails full of inspiration and information about bikepacking and bicycle touring.


Share the Adventure
If you found this article helpful, please consider sharing so more people can benefit from it: