Mount Bintumani, the highest point in West Africa north of Cameroon, lies deep in the Loma Mountains of Sierra Leone.  It tops out at only 6,381 feet and can be climbed without any technical skills, but don't let its relatively diminutive stature fool you. This mountain is a beast, and the infrastructure related to climbing it is, shall we say, a little rough around the edges.
Everything about this hike is hard, starting with getting to the start.  After that you'll need to persevere through negotiations with village elders, taking care of your guide and porters (isn't it supposed to be the other way around?) and clawing your way up slippery jungle tracks in oppressive humid heat.  When it's all over, you'll stumble back into the village surrounded by gaping children and then spend a day just getting back to a town with electricity.
I hiked Mt. Bintumani in April of 2018 while on a five month, seven country trip in Africa.  It was one of the gnarliest, most frustrating, and most memorable endeavors of my trip.  If this makes you say "gimme some of that!" instead of "hellll no," Mt. Bintumani might be for you.
Oh, and though I only realized it when I was already at the top of the mountain, I had malaria the whole time.  But, that's just my bad luck.  You'll be luckier!  Probably.  Take your malaria prophylactics.  And read on to learn a little bit (not everything – that would spoil the fun!) about this crazy and unique West African hiking adventure.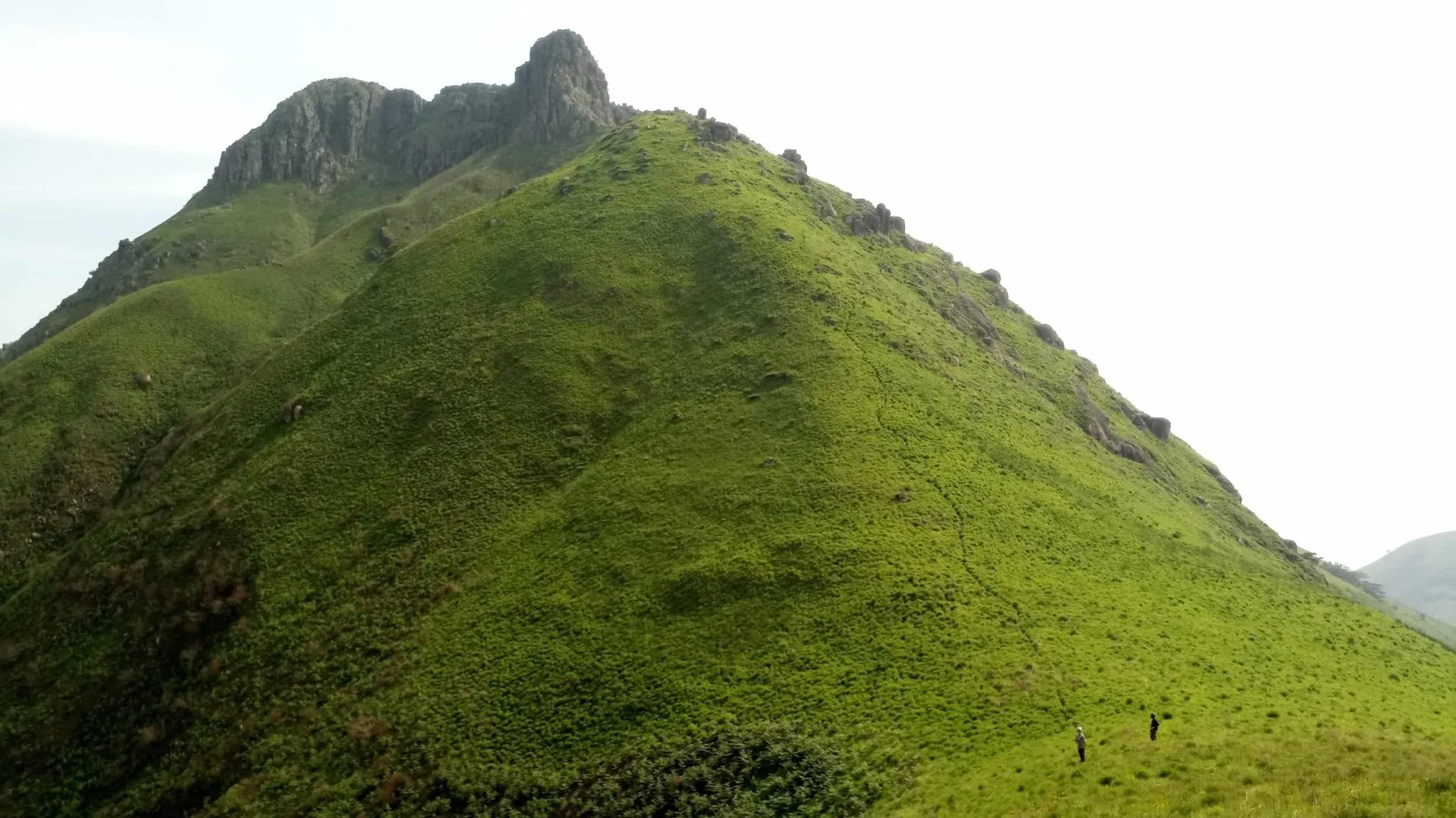 Travel in Sierra Leone
If you're thinking of hiking Mount Bintumani, you're probably already thinking of visiting Sierra Leone.  It's both a challenging and rewarding destination, mostly for the same reasons.  For an overview of what a trip entails and what else to do once you're there, see this Sierra Leone travel guide and these other things to do in Sierra Leone.
Much of interior Sierra Leone is easier to visit in the dry season, and this is true ten times over for Bintumani.  I can't imagine even trying to reach the start, let alone climb what must become a non-stop river of mud, in the rainy season.  Try at your own risk.
Routes and Timing
The best information I found about the various routes is in the Bradt travel guidebook for Sierra Leone.  In summary, there are three routes:
Most popular: Start from Sinekoro on the northwest side, 2-3 days.
Start from Sokurala in the east, 1-2 days
Start from Yifin in the west, 4-5 days
I took the most common and supposedly most scenic route from Sinekoro, which is what the rest of this post will focus on.  Total time was 4 days starting from the lovely town of Kabala.
Day 1: Kabala to Sinekoro village by motorbike, start negotiations for guide and porters
Day 2: Finalize negotiations, hike from Sinekoro to high camp
Day 3: Summit and hike down, spend night in Sinekoro
Day 4: Sinekoro to Kabala and on to Makeni
The two day hike felt plenty speedy, and negotiations took surprisingly long, so I would not hesitate to plan five or more days for this trip.  It's a remote area and all kinds of random things can and will happen.  You just can't rush West Africa.
Can the Sinekoro route be done in a day?  I don't think so, despite what I heard from a hotel owner in Kabala.  I met a couple who left from Kabala early in the morning and attempted a single day hike but didn't even reach the halfway point before turning back.  Negotiations, strenuous hiking, and "Africa time" will eat into even the fittest hiker's chances of accomplishing this feat.
Terrain
The hike is non-technical, though roots and trees are in-bounds as you claw your way up.  Many people aren't above butt-sliding some steep sections on the way down, though it's not essential.
The lower part of the mountain, the majority of the Sinekoro route, is blanketed in sticky sweaty rainforest.  The upper portion below the summit opens up to green grassy knolls unexpectedly reminiscent of Scotland or Ireland.  The very top is a rocky, dirty scramble to a flat roomy summit.
Though the mountain is supposedly rich in wildlife, we didn't see much, except the large rodent-type-thing our porters shot for an evening snack.
Getting to the Start at Sinekoro Village
To attempt the Sinekoro route, first get yourself to the lovely hill town of Kabala in the north of Sierra Leone.  It's reachable by shared taxi from Makeni in just a few hours, or possibly a single day from Freetown if you start early.
Once in Kabala, either ask around for motorbike drivers who can take you to Sinekoro or head straight to the Kabala Hill View Guesthouse (if you're not already staying there) and ask them.  They host most of the foreigners who come through Kabala and can quickly hook you up with a motorbike driver who you will negotiate your own rate with (do so respectfully but firmly – they start high).
Allow half a day for the ride from Kabala to Sinekoro, and plan to start in the morning so your moto driver has time to return to Kabala before dark.  Motorbike is the most natural fit for these rutted roads, but they're passable by 4x4s too, though I didn't believe it until I saw it.  There was one river crossing that needed to be walked across while my moto driver crossed with the bike, and a few short hills where I had to dismount and follow him up on foot.  The scenery was absolutely gorgeous.
The only negative of the ride in: some village elders in the last village before Sinekoro have figured out they can extract money from tourists by demanding a "fee" for passing through. My advice: negotiate artfully.  Flat-out refusal didn't get me very far, but pleading that I didn't have much cash with me and offering some of my food got me out for around $5 (they started around $20).
My moto driver advised me to be respectful and apologetic, not argumentative, and striking a deferential mood did seem to smooth the negotiations.  It was a tense and unfriendly conversation though and really put a damper on the ride.  I hear the Sinekoro villagers are upset and have been trying to get this practice stopped (it leaves hikers with less money to spend in Sinekoro), so who knows if it will continue. 
You might want to bring a little extra cash in case you meet these guys on a bad day, unless you're willing to seriously ruffle feathers or are a brilliant negotiator.
At Sinekoro Village
When you arrive in the village, ask respectfully to meet with the chief.  You may need to wait hours for him to return from wherever he is.  Be patient and play some games with the dozens of children who are now surrounding you, watching your every move (but don't give them candy or money).
If you brought small gifts (soap, sardines, sugar), present them to the village elders and chief as a gesture of thanks.  You'll probably be directed to set up camp in the front yard of a house, presumably the chief's.  There is a small fee for this, just a few dollars, probably negotiable but we didn't bother.
There is a pit latrine around the corner, and you can make a cooking fire to prepare dinner.  There is a water source nearby (bring a water purification method) and someone can bring a bucket of water for you to rinse off with (in full view of all the staring children of course).
Most of the villagers speak Krio and not much English.  We were lucky to have an impromptu translator in our group, but I assume groups of exclusively English-speaking tourists get by somehow.  I'm guessing the negotiations are even harder, and the final price higher, in that case.
In my case, at Sinekoro I had the good fortune to meet and link up with four American NGO workers and their Sierra Leonean driver and friends.  This ultimately saved me money, upped the fun factor, created new friendships, and scored me a ride back to Makeni in their Land Cruiser after my malaria symptoms kicked in.  It was also invaluable having the help of their Krio-speaking driver and friends for sorting out details with the villagers.
Guides and Porters
You'll definitely need a guide, and for that expect to spend hours negotiating with village elders who are starting to learn just how lucrative this business can be.  You may also want a couple of porters, depending on your group size and how much gear you have.
Once you hire a guide and porters, don't expect the kind of attention that you might find elsewhere. In fact you'll need to bring food and shelter for them and sometimes keep them on track. 
Our guide and porters brought no food, no shelter and no warm clothes for themselves.  Presumably they know how to survive in their own backyard, but it would have been unpleasant, and they seemed to expect a little help. Thanks to the foresight of the other group's driver, we were able to offer them rice and sauce, warm sweatshirts, and a tarp to sleep under.
I know this can be tough for tourists who don't have a home base in the country, but if you're able to, consider bringing warm clothes and shelter for your guide and porters.
Definitely bring snacks and meals for your guide and porters, and the meals better be rice.  We cooked spaghetti for ourselves and they didn't want any!  For them, they haven't eaten if it's not rice.
For our group of eight, we had one guide and two porters.  The porters mainly carried group cooking gear, leaving us to carry up most of our own camping gear.  The standards of guiding and portering were, shall we say, not the most professional. 
There was not a lot of dialogue about our itinerary, and at one point our guide left the group to go hunt for food to bring back to his village and we all got lost.  But, in the end he got us up the mountain and he got us back down.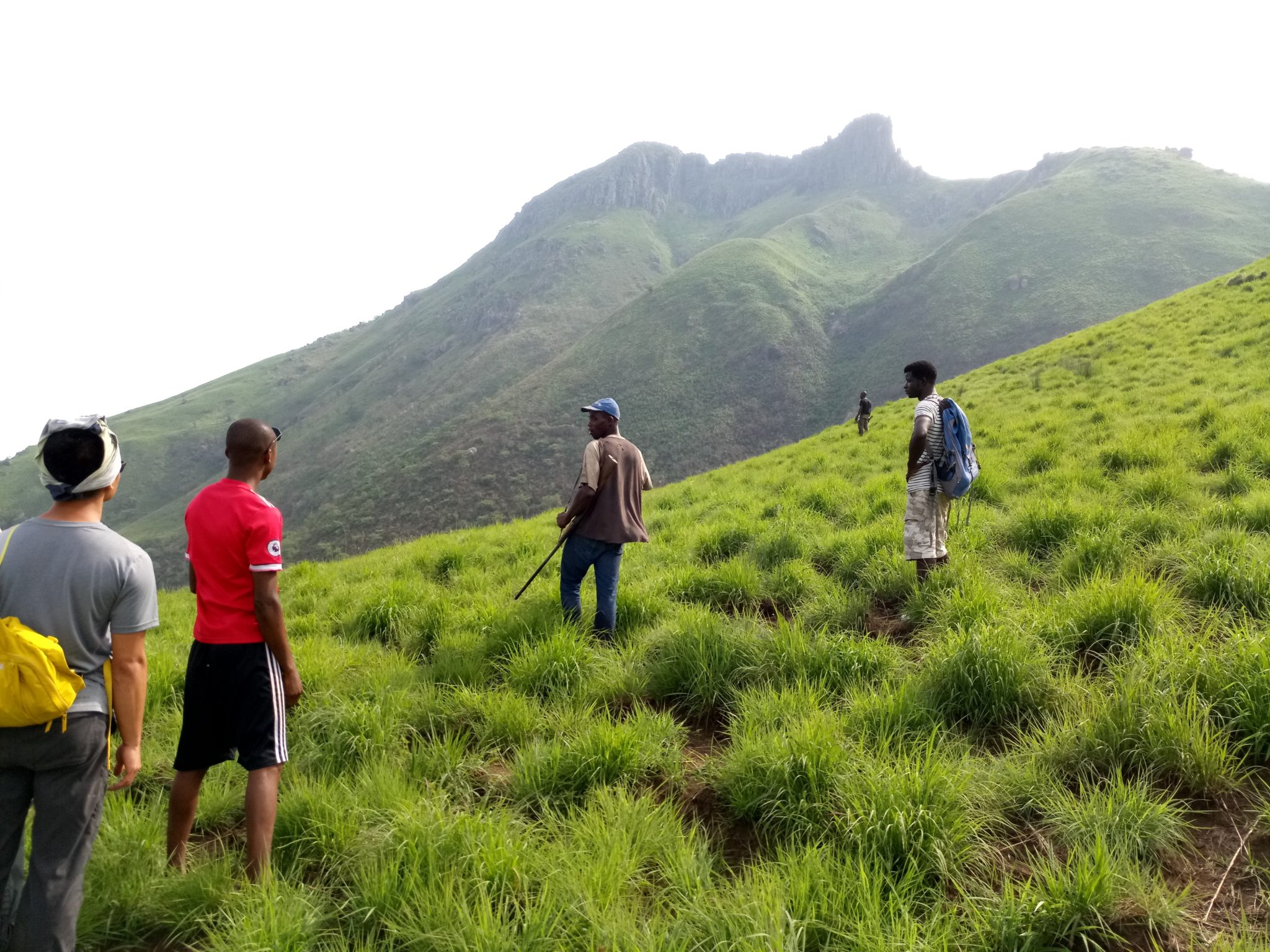 The price you pay for all this is far from fixed, and will depend on your group size, negotiating skills, and the chief's mood.  Expect them to start really high, and then expect to spend many hours pleading your case for a lower fee and listening to the village elders discuss your fate in Krio you cannot begin to understand.  In the end we had to go to bed without a deal and pretend we were leaving in the morning in order to get a rate we thought was reasonable.
I would suggest negotiating patiently but firmly toward a reasonable rate in the context of the local economy.  They're not going to let you walk away (well, moto away) without hiking; then they get no money at all. 
Yes, the villagers are poor and probably need money more than you do, but this money is going directly into the chief's pocket and we heard whispers that it may not be shared with the rest of the village.  The more tourists pay exorbitant rates for hiking Bintumani, the more extortionate these negotiations will become in the future.
Food and Water
Bring everything you need for meals and snacks for both you and your guide and porters.  Makeni is the best place to stock up on the way, or you can find basic staples (rice, sardines, crackers, cheese, juice powder, etc) in Kabala.  Sinekoro had only one tiny shop selling a few packages of cookies and soda.  Not what you want to eat for two days on the mountain!
If you've been in Sierra Leone more than a day or two you probably have a sense of what ingredients are needed for rice and sauce: hot pepper, oil, seasoning, some vegetables.  If you get all the ingredients, your guide and porters will know how to whip up a tasty (and probably spicy – let them know you want "small peppeh") rice and sauce dish on the mountain.
Everyone will appreciate some high-energy snacks for the hike.  If buying in Kabala your options are probably limited to cookies and nuts; buy plenty of both and expect to share with your guide and porters.
Don't expect to find bottled water in Sinekoro; either bring your own or purify the water they bring from the stream or well.  I would suggest bringing chlorine dioxide drops or tablets so you can purify your own water on the mountain.
Here's more detail on water purification for travel, if you don't have your system picked out yet.
Necessary Gear
I detail a lot of my favorite gear for Africa, including this trip, in this post about adventure travel gear and my West Africa packing list.  Some essentials include:
Water purification pills, drops, or filter
Tent or bivy sack
Sleeping pad
Shelter and warm clothes for guide and porters, if at all possible
Warm clothes
I traveled without a sleeping bag, which worked great for five months of jungle and equatorial heat, but high camp on Bintumani was the coldest night I spent in Africa.  I combined my silk sleeping bag liner with a metallic emergency bivy and all my clothes and it was just barely warm enough to sleep. 
It's not necessarily worth bringing a sleeping bag on a long trip just for this one night, but make sure you have some layering options because it does get chilly up there.  I highly recommend space blankets and emergency bivvies for this kind of situation.
After the Hike
Most people go back the way they came, to Kabala, after finishing the hike.  Unless you finish by mid-afternoon, you'll want to spend a night in Sinekoro before setting out on the rough road back to Kabala.  It's not a road you want to be navigating in the dark.
I had originally been eyeing an exciting backroads adventure in which I would continue on to Koidu on the east side of the Loma Mountains.  Our hiking guide said he would walk with me to another village a few kilometers from Sinekoro, where I could hire a motorbike to take me the rest of the way to Koidu, making for an adventurous traverse of a very remote area. 
But alas, one positive malaria test and a long night later, I decided to head back to Makeni with my new friends to rest and recover in comfort.  A good decision for sure, but hopefully someone else will try this route one day and let me know in the comments how it went.
Now is the time.
Like elsewhere in Sierra Leone, changes are afoot.  The trickle of tourists on Bintumani is increasing and the mood may well change in the coming years.  I heard talk of a rudimentary guesthouse being started in Sinekoro, though I'm not holding my breath. 
Perhaps someday this route will become well traveled and lose both its frustration factor and its edge.  Who knows what that will do to the locals in Sinekoro and other nearby villages.  I hope it's a positive change for them, but I'm sure it's more nuanced than that.
In any case, tread lightly as a tourist, respect the locals and the land, and climb Bintumani now while it's still gnarly.
More Africa Resources
If you're traveling to West Africa, be sure to check out the full list of Africa Travel Resources. You might also like these:
Travel resources in your inbox?
There's more where this came from! If you're into adventurous, thoughtful, off-the-beaten-track travel, sign up here for occasional emails with my best tips and inspiration.
Share the Adventure
If you found this article helpful, please consider sharing so more people can benefit from it: