I've already sung the praises of the Sawyer Mini water filter for backpacking (and also for bikepacking). It's currently my go-to for everything from long solo trips to weekend adventures with my husband.
The ONLY thing I don't love about it – I'm sure you can already guess this, since you're here – is those darn dirty bags / pouches.
The default Sawyer squeeze pouches are awkwardly shaped, hard to fill, and have been known to leak and and crack, which is definitely NOT what we need when depending on them in the backcountry. Sorry Sawyer, I love your filter, but I need an alternative dirty bag replacement for my Sawyer Mini. Enter CNOC.
How I Discovered CNOC
I first heard about the CNOC Vecto water bag in the garage of a new friend as we compared gear choices after a four day bikepacking race. He had found it by accident on Amazon while searching for hydration bladders, and noticed in the reviews that people were using it as an alternative squeeze bag for the Sawyer Mini. He tried it, fell in love, and the rest is history.
A few months later I ordered one with some skepticism – if it was so great, why hadn't I heard about it before? I put it to the test on some overnight backpacking trips and, most recently, a month-long bicycle tour through Sudan.*
I am now convinced that this lovely little bag is one of the best-kept secrets in the outdoor gear world. In this post I'll explain how to use the CNOC Vecto as a versatile Sawyer Squeeze bag replacement and more.
* Note: The water in Sudan requires purification, not just filtration, which the Sawyer Squeeze does not do. I used a combination of the Sawyer and chlorine dioxide to safely purify my water there. For more details on this crucial difference, see this post on water purification for travelers.
** In case you're wondering, nobody paid me to write this and I bought the bag myself with my very own money.
CNOC Vecto Review Summary (28 mm thread)
Note on thread types: This review is for the 28mm thread version, because that's what fits the Sawyer filter. CNOC also has a 44mm thread version, also available in both 2 and 3 liter sizes, that screws onto the Katadyn  BeFree filter. It's important to choose the correct thread type for your filter.
Review Summary: The CNOC Vecto water bag is a thoughtfully designed, lightweight, versatile dirty bag alternative for the Sawyer Squeeze and Katadyn BeFree water filters. It's an essential part of my go-to filter setup for everything from backpacking to bikepack racing to international travel.
What I Love
Screws securely onto my Sawyer filter
Flexible material rolls up small
Wide opening is easy to fill
Plastic slide-closure is easy to hang for use as gravity filter
What I Don't Love
Trying to think of something…
…
Nope, can't think of anything.
Options
Size: The CNOC Vecto water bag comes in both 2 liter and 3 liter sizes. For some fast-and-light solo hikers, 2 liters might be just right. But if you often fill up with more than 2 liters at a time, or are sharing the filter in a group, definitely get the 3 liter version.
Color: Blue or orange, take your pick. This may seem minor, but being able to tell whose bag is whose can be handy when using multiple bags on the same trip, especially if one member of the household group tends to not clean his gear as well as the other member of the household… It can also help you distinguish between between dirty and clean bags if using one on each end of your filter.
Thread type: The 28 mm thread is the correct size for use with a Sawyer filter. CNOC also offers a 44 mm version that screws onto a Katadyn BeFree, so be sure to order the correct thread type for your filter.
Design Features
A water bag seems like a simple thing, but the devil's in the details as they say, and the CNOC Vecto stands out for its thoughtful design. It was a Kickstarter project, after all, and the team seems to be all about design and innovation.
Dual Opening
This is the key. One end screws onto your Sawyer filter, just like the original Sawyer pouches do. But instead of trying to fill the bag from a shallow stream through that same tiny opening, you can slide off the plastic clamp on the other end and fill through the full-width opening instead. It sounds like a small thing, but when you're hot and tired after hiking/biking/running all day long and you just want to filter some damn water asap, this is magic.
Plastic Clamp = Gravity Filter
Another seemingly small detail, the sliding clamp has a loop for attaching some cord (not included). This allows you to transform the Sawyer "Squeeze" filter into a gravity filter! Instead of sitting there squeezing water from a pouch, you can simply hang the Vecto from a tree branch (or doorknob in your guesthouse room, or the handlebars of your bike) and let gravity do the work while you eat a snack.
The fact that the clamp sticks out beyond the edges of the bag makes the height of the gravity setup adjustable. Just loop the cord around the edges a couple times to shorten it if you have a lower hanging point. I use a loop that is about 22 inches around and find that it's very versatile for both long and short setups.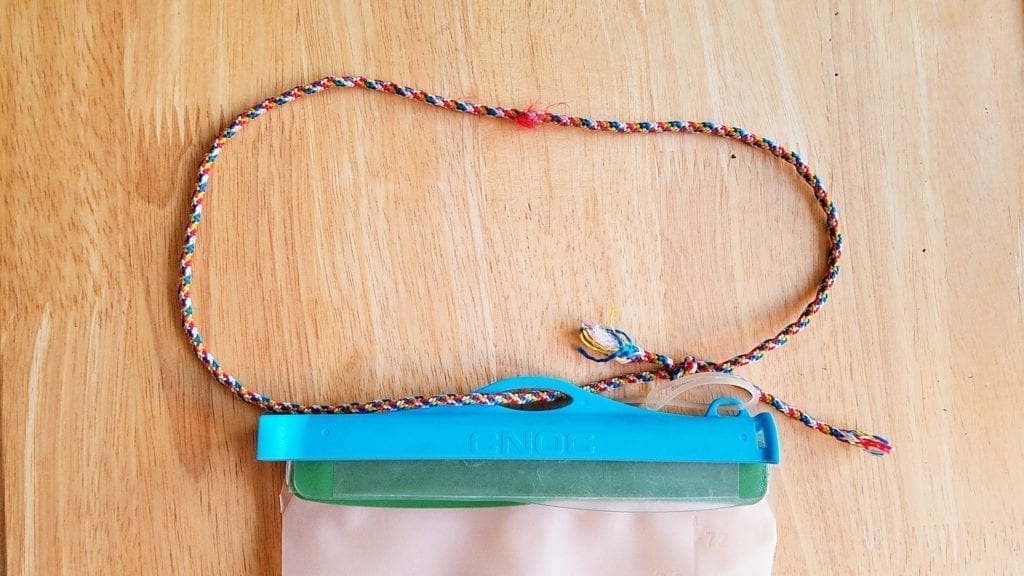 Graduated Markings
Always a nice touch, the bag has volume markings so you can see exactly how much water you're about to filter.
Leak-Proof?
Sometimes I like to just fill up my dirty bag, carry it to camp in my backpack or bike bag, and do the filtering later. So far I'm happy to report, the CNOC Vecto has never leaked while doing this. I even carried it as extra water capacity, completely full, for 4 days in a bike pannier while crossing the desert in Sudan and it leaked not a single drop.
Durability
The bag's flexible fabric and light weight might make you worry about its durability. So far, I have had no issues. This includes a month of daily use while bicycle touring through Egypt and Sudan, plus a number of shorter backpacking and bikepacking trips closer to home. It's hard to say for sure since I only purchased mine last year, but I have a feeling it will last for a long time.
That said, it's nice to know the CNOC online store offers replacement plastic parts, should we ever need them.
Final Thoughts
If you are looking for a better squeeze bag for your Sawyer filter, I highly recommend the CNOC Vecto. The designers clearly put a lot of thought into the design, which means I don't have to put much thought into filtering my drinking water at the end of a long day on the trail. Sometimes the best gear is the gear that works so well, you barely even notice it.


Hiking resources in your inbox?
There's more where this came from! If you're into exploring the wild outdoors, sign up here for occasional emails with my best tips and inspiration for backpacking, hiking, and more.


Share the Adventure
Was this helpful? If so, please consider sharing so it can help other explorers too:
Are you an experienced backpacker who's excited to share your knowledge? You can contribute to this site. Learn more here.