Cold numb hands can really freeze the fun out of an otherwise lovely backcountry evening. Whether you're officially coping with Reynaud's Disease or just find that your fingers and toes get cold easily, the end result is the same: uncomfortably frigid digits.
I would know! For whatever reason, my hands are always cold. I've spent many a chilly evening and morning battling numbness and sometimes even the "screaming barfies" – a technical mountaineering term for that feeling when your frozen hands thaw and hurt so much you want to both scream and barf. Fun!
I recently spent several (amazing!) weeks bicycle touring through Patagonia as summer turned to chilly far-south fall. I mostly rode solo, meaning I had no warmer-handed partner to fetch the drinking water from the frigid stream or help as I fumbled with tent poles in my mittens.
But one evening, while setting up my cozy tent in a tranquil valley paradise as the sun's warmth faded, I realized my hands were coping better than expected. After camping solo for so many nights, I had finally fine-tuned some techniques for keeping my hands warmer outdoors.
If you also struggle with cold hands while backpacking and camping, never fear! Here are my tried and tested tips for keeping hands warmer while camping in cold weather.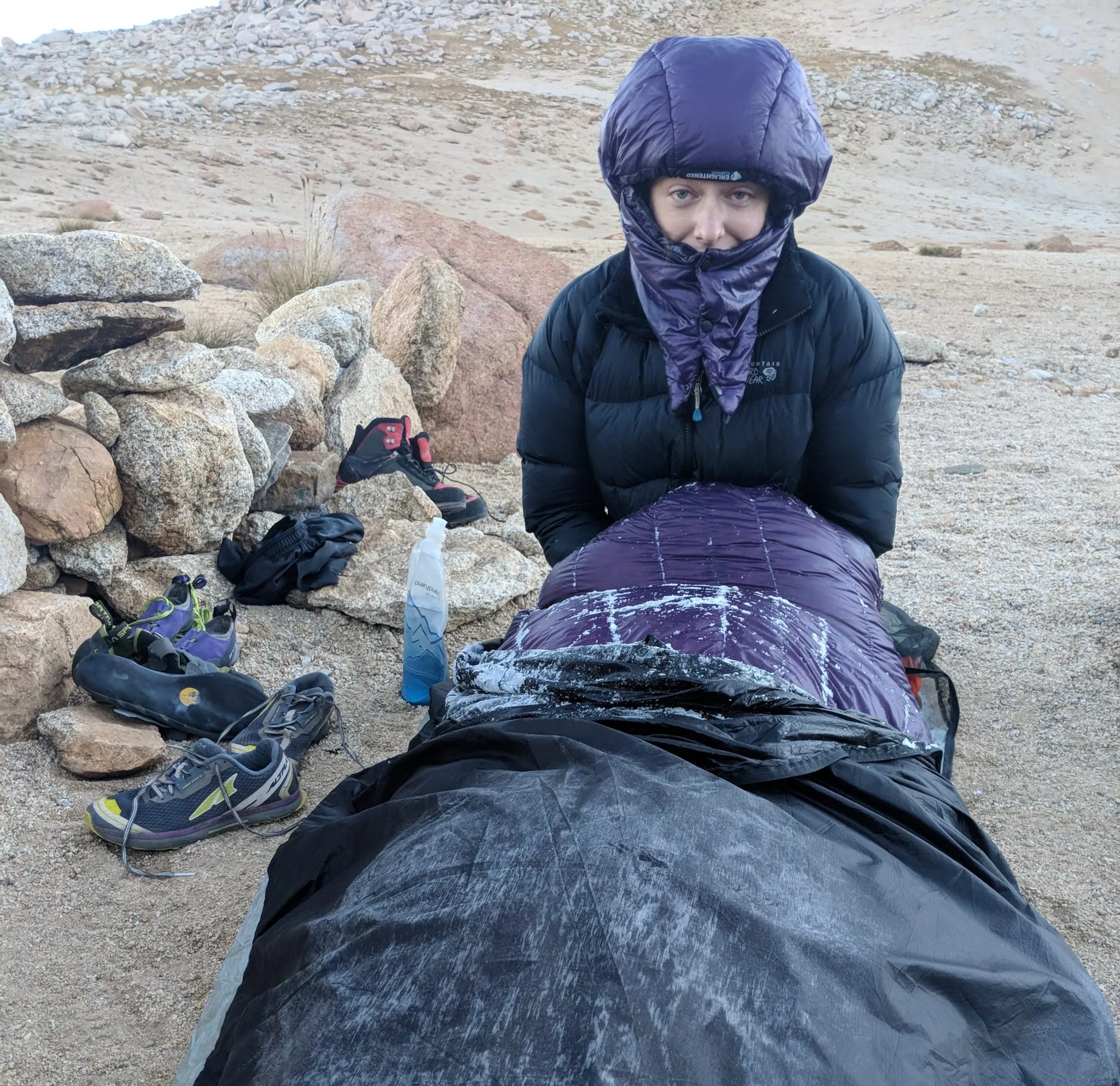 Keep Your Core Warm
Your body smartly prioritizes your core over your extremities when there isn't enough heat to go around. This helps keep you alive – a good thing – but also often causes chilled hands and feet when the temperature drops. To reduce this effect, make sure your core has all the warmth it needs. This could be a whole article on its own, but for now here are some quick tips for keeping your entire body warmer.

Bring and wear proper layers for warmth and rain.
Wear a warm hat. A surprising amount of warmth is lost from the head, so wearing a hat makes a bigger difference than you think.
Add layers right away before you get cold, as soon as the temperature drops or whenever you stop working as hard. This could mean stopping for a snack break, switching from a tough climb to a downhill (especially on a bicycle), or stopping at camp for the night.
Stay dry, because wet clothing will chill you extra fast. Put on your rain gear before you get soaked. As soon as you stop at camp, remove any clothing that's damp from rain or sweat.
Generate your own warmth when needed. If you're uncomfortably cold and don't have any more warm layers to put on, it's amazing how a set of pushups, jumping jacks, or a jog around camp can make your world warmer. Just don't overdo it and get so sweaty that you're even colder later.
For a lot of people a warm core will keep their hands and feet warm enough. Unfortunately for some of us it's not enough. I can have a toasty warm core and numb fingers at the same time. If that's familiar to you too, read on because I have more ideas for you.

Wear Mittens Instead of Gloves
When you don't need to use your hands, pull on a cozy pair of mittens instead of gloves.
If you struggle with unusually cold hands like I do, gloves might not be enough. I have yet to find a pair of gloves that actually keeps my hands from going numb if the air temperature is near freezing, but mittens will sometimes do the trick. If you're sitting around with nothing to do, definitely pull on a pair of mittens. Letting your fingers stay together actually keeps them warmer than separating them. If you really don't need to use your hands for awhile, slide your lonely thumbs in with the others.

If you've ever tried to pitch a tent with mittens on though, you know how useless they make you. All you can do is flap your arms pathetically and mumble "cold hands" under your breath while your camp mates do all the work. Because of this I don't use mittens much when I camp alone, because there is just too much to do. So how can you keep your hands warm while actually using them?

Identify Glove-Friendly Camp Chores
I quickly lose patience fumbling with gear and tend to just take my gloves off as soon as I need to use my hands. However, I've learned that certain chores are really not that hard with gloves if I use just a little patience, and keeping my gloves on for them helps a lot.
For example, I can pitch or take my tent down pretty easily with gloves on, and this helps a lot because dealing with metal poles and damp fabric are two surefire ways to suck the life from my fingers. But brushing my teeth or futzing with plastic baggies to make dinner? Gloves come off.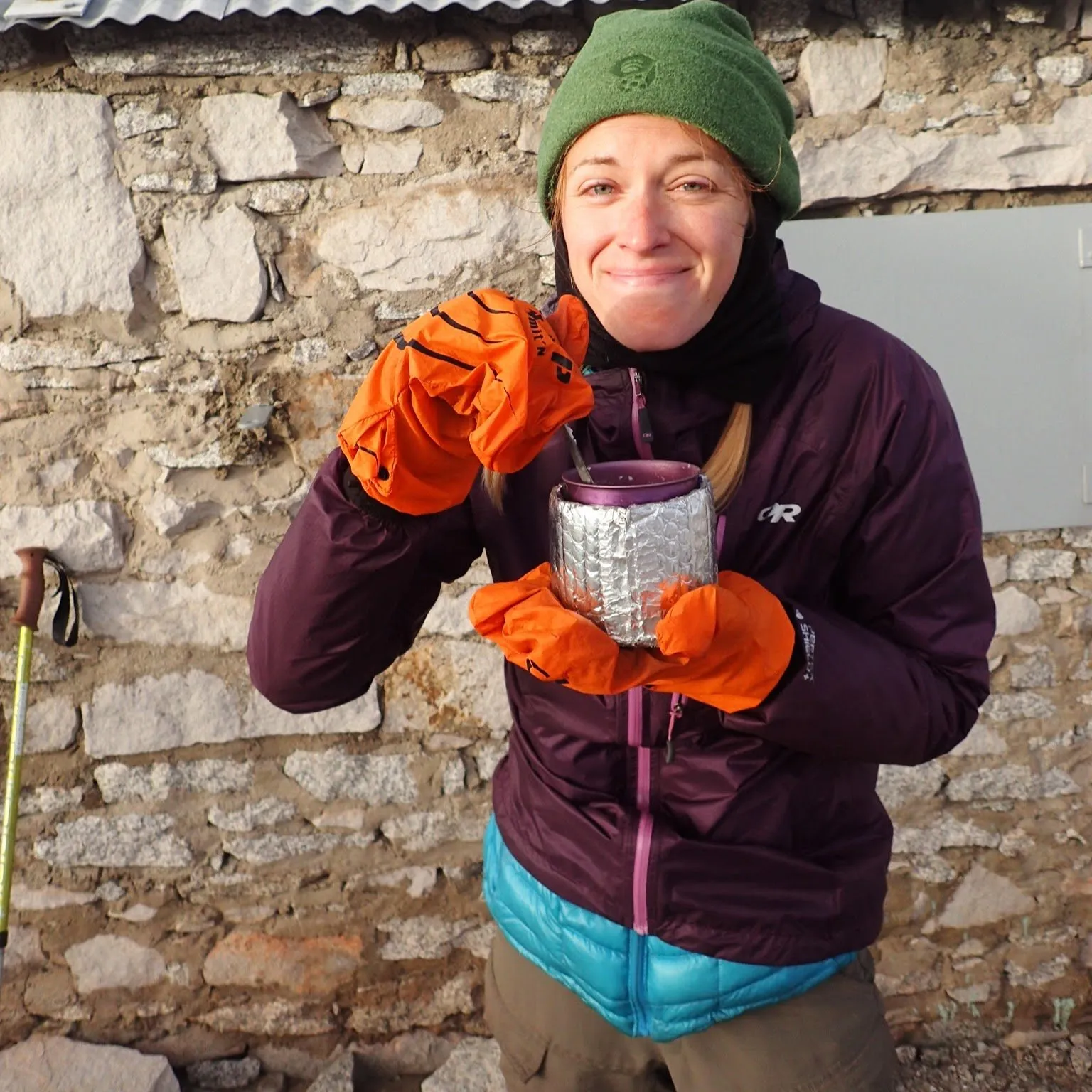 Warm Your Hands In Awkward Places
Pockets are great for keeping warm hands warm, but once your fingers are already cold pockets won't warm them up very fast. All pockets do is help retain the heat that's already there, so if your fingers are already really cold you need a better solution.

To warm cold hands effectively, shove them down the front of your pants. Seriously. Or at least against your abdomen. This is a warm part of your body and – once you get over the initial shock of your own cold fingers against your skin – you'll instantly start to feel your fingers coming back to life. So what if your campmates giggle.

Another recommended warm spot is under your armpits, but personally I find it hard to do this without lifting up too much clothing and making the rest of me cold. I recommend sticking with the down-the-pants method.

Heat Water for Washing
Another great way to warm your hands, as long as you're not short on stove fuel, is to use warm water for your evening "shower" and to wash your dishes. Neither takes as much water as you think; a half liter, used carefully, can accomplish either task. When done with cold water it's a finger freezer for sure, but with warm water it's a lovely way to get some life back into chilled hands.

Alternate Cold and Warm Camp Chores
For those of us with chronically chilly hands, there are two types of tasks in the world: hand-warming tasks and hand-chilling tasks. Scooping water from a glacially fed steam to filter for drinking: hand-chilling. Cooking dinner with a camp stove: hand-warming.

The key is to never let your hands get cold beyond the point where they will be painful when they warm again. You can help with this by strategically alternating hand-warming and hand-chilling tasks.

Here's an example, starting after you've arrived at camp:
Warm: First throw on an extra layer to keep your core from getting chilled when you stop moving
Cold: Get cold water for filtering
Warm: Heat a bit of water for washing up, then remove any wet layers and put on dry warm ones after you wash
Cold: Set up the tent (darn those cold metal poles)
Warm: Cook dinner and warm your hands over the stove
Cold: Brush your teeth with cold water and clean up camp
Warm: Finish up by heating a little water to wash the dishes
Cold: Put away dishes and food,
Warm: Crawl into your toasty sleeping bag
Of course you may find a sequence you like better, but you get the idea. The goal is to always have a hand-warming task to look forward to right after you finish a chilly one, so your hands never have a chance to get too deeply chilled.

Take Frequent Hand Warming Breaks
I used to just push through all my camp chores so I could put gloves back on. The problem was, by the time I finished everything my hands would be frozen past the point of no return, and I would be in for a long and painful thaw.

Instead, I've learned to pause as soon as my hands start to get too cold, before they get white or painful, and use the above tricks to warm them. This could be just thirty seconds with my hands in my pants, or a quick break from packing gear to wash dishes with warm water, or (if I'm feeling ambitious) a set of pushups to get the blood flowing.

Bonus Luxury Ideas

These won't appeal to folks looking to save weight, money, or both. But if you don't mind the cost and really need something extra to keep your hands comfortable, try:
Chemical Hand Warmers
For backcountry luxury throw some of those chemical heat packs into your mittens. This obviously works best for car camping or short backpacking trips where you don't mind carrying extra weight.

Heated Glove Liners
These are definitely a luxury and not very well suited to backpacking because of their weight and limited battery life. But for a single day push – I used mine on the final summit push of Kilimanjaro and often use them skiing – they can be great. I feel like they give me the added warmth of mittens but with the relative dexterity of gloves. I use these battery-powered motorcycle glove liners and find that on low power the battery lasts about five hours, not great but long enough to offer some relief on a single cold day.

Hopefully these tips will help keep your hands warm while backpacking and camping. It's almost impossible for some of us to keep our hands warm all the time, but with these tips I find it's a manageable problem. I hope they help you enjoy many comfortable chilly nights in the great outdoors.
Do you have more tips for warming cold hands while camping? Share them in the comments below!
More Backpacking Resources


Hiking resources in your inbox?
There's more where this came from! Sign up here for occasional emails full of inspiration and information about backpacking and hiking.


Share the Adventure
If you found this article helpful, please consider sharing so more people can benefit from it: