Just by reading this article, you're supporting the Colorado Trail Foundation. Each year I donate a portion of the ad revenue from this page to the CTF to support their work as trail caretakers. Thanks for reading!
When planning a thru hike on the epic Colorado Trail, your resupply strategy is one of the first and most important parts to work out. It will determine (and be determined by) your hiking pace, style, menu, pack weight, and overall trail experience.
Fortunately you have a lot of options when designing your Colorado Trail resupply plan. But also unfortunately, the same is true! Sorting through the various towns and mail drop options can feel overwhelming when you don't have enough information.
I personally struggled with this while planning my 2020 CT thru hike, especially in the midst of a global pandemic. We wanted to minimize risks like hitchhiking and hostels, while still getting the food we needed and experiencing at least one or two of Colorado's famed trail towns on a schedule that fit our pace. How to put the pieces together?
There are already plenty of lists out there containing all the details about CT resupply stops, like this one and the CT Databook. This post is meant to be used together with those lists. I won't duplicate all those details here, but I will hopefully help you make sense of all the options. My goal is to help you figure out which of the many options YOU actually want to stop at, depending on your hiking style. In this post I'll give examples of CT resupply plans based on preferences such as:
Do you want to hitchhike, or avoid it as much as possible?
Do you want to mail yourself resupply boxes, or shop as you go (or a mix)?
Do you prefer to push through longer sections with a heavier food bag, or hop from town to town carrying less food?
Are you looking for a social town scene and hiker hostels, or would you prefer to spend your time camping in the wilderness?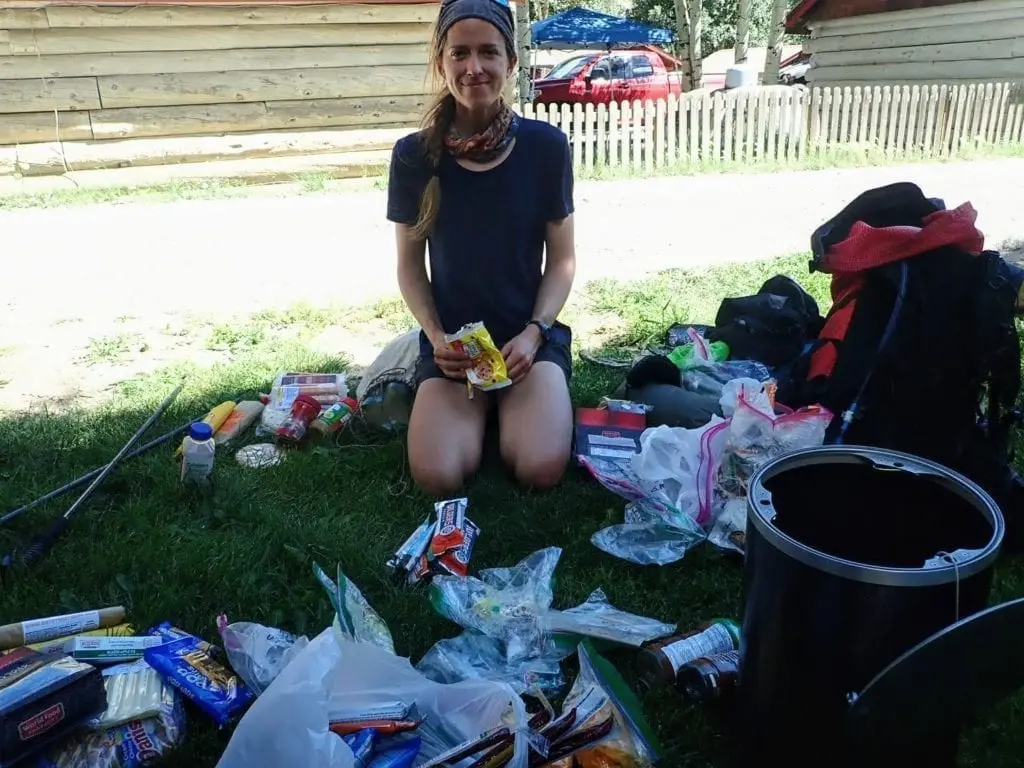 Big Colorado Trail Resupply Table
To start with, below are tables showing the full list of resupply options. Don't worry if it looks like a lot, because the rest of this post is all about how to choose the best options from this list. But, we have to start somewhere!
A few notes about the tables that follow:
The extra gray space between the rows is based roughly on mileage, to help you quickly understand the distances between stops. I started from a spreadsheet where each row represented 10 miles, and then filled in the empty rows with gray blanks.
When two stops are accessible from roughly the same trail mileage, I've combined them into one row to make the choice obvious. The focus here is more on your schedule than the towns themselves.
I've made separate tables for Collegiate East and Collegiate West, and highlighted the section where they differ in yellow, to help you avoid any confusion about how the CW / CE decision fits into your resupply plan.
It's hard to get the formatting right for a table this big on all devices, so I've included each table as both an embedded Google Sheet and an image.
Important: If the formatting of the tables below doesn't work well on your device, you can go directly to the google sheet HERE. There are two tabs, one for Collegiate East and one for West.
Hopefully the information in those tables got you thinking about your Colorado Trail resupply plan and how you'd like to design your experience. Now, let's break down the options even further.
Favorite Trail Towns Resupply Plan
Looking for historic Colorado mountain towns, hoppin' breweries, and perhaps a hostel scene where you might meet other thru hikers? This plan highlights the trail towns most appreciated for their good vibes and memorable experiences.
The only downside, if you see it that way, is that most require hitchhiking or a pre-arranged shuttle.
Here are the stops to consider first if you're into the trail town scene:
| | | | |
| --- | --- | --- | --- |
| Name | Miles from Denver | Get There | Notes |
| Breckenridge | 104 | Free bus | More social and popular than nearby Frisco because it has a hostel. |
| Leadville | 143 | Hitch or shuttle | |
| Buena Vista | 216 (CE) or 219 (CW) | Hitch or shuttle | |
| Salida | 253 (CE) or 262 (CW) | Hitch or shuttle | |
| Creede or Lake City | 343 or 358 | Hitch or shuttle | Hikers disagree on which town is best. Creede seems slightly more popular. |
| Silverton | 411 | Easy hitch | |
CE = Collegiate East, CW = Collegiate West
The towns listed above tend to be favorites of CT hikers, but of course you can fill in between them with other stops (see the Slow and/or Light plan), or skip those you don't need.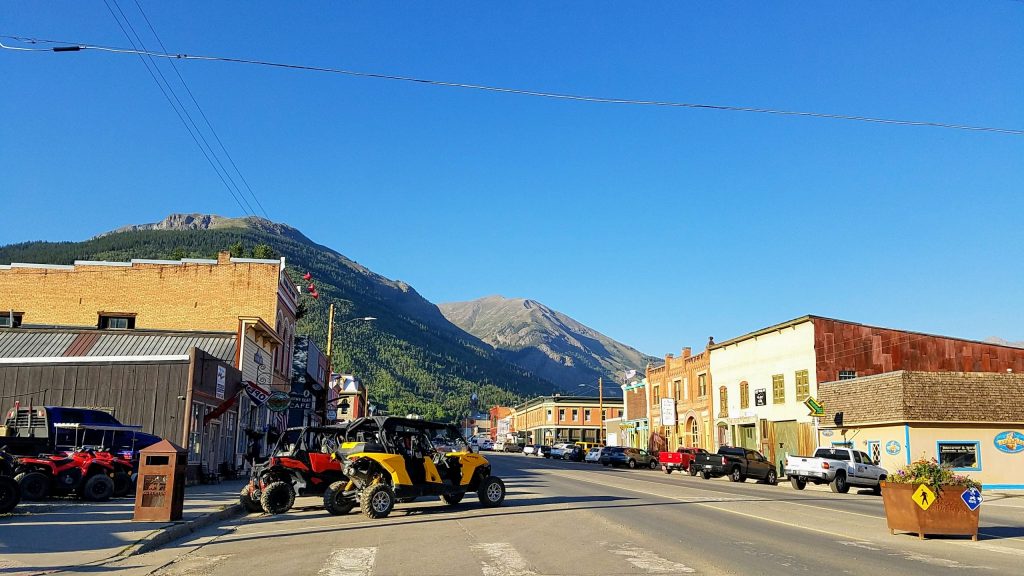 No Hitchhiking CT Resupply Plan
Also known as the 2020 pandemic plan… this Colorado Trail resupply plan keeps you away from towns and minimizes resupply-related transport as much as possible. It can also save you money and time, because it keeps you closer to the trail and more self-sufficient instead of allowing you to get lost in the vortex of zero days.
Essentially this is the opposite of the "Favorite Trail Towns" plan above. Of course, you can mix and match between the two for a more varied experience.
Note that this plan requires at least one maildrop to be sent in advance, right around the halfway point (convenient for restocking anything that's hard to find along the way). The rest of the stops can be either maildrop or grocery shopping.
If you choose to shop along the way, note that only Breck/Frisco have fully stocked mega-supermarkets. The others are small town grocery or general stores and you will have to be flexible with your menu choices, but a full resupply is always possible (unless you have dietary restrictions).
Here are the best Colorado Trail resupply stops for those who want to minimize off-trail transport and/or avoid hitchhiking:
Name
Miles From Denver
Get There
Notes
Breckenridge or Frisco
104
Free bus
Grocery and maildrop
Twin Lakes
176
Walk (1.5 miles on road or take cutoff trail)
Small grocery and maildrop
Collegiate East only:
Mt. Princeton Hot Springs OR Monarch Spur RV & Campground
230 or 253
Walk (< 1 mile to both)
Snacks and maildrop (Mt. Princeton has restaurant also)
Collegiate West only:
Monarch Mountain Lodge
251
Walk (1.5 miles each way, uphill on way back)
Snacks and maildrop, restaurant with limited hours
Creede or Lake City
343 or 358
Pre-arranged shuttle with Debbie
Small towns with small grocery stores and maildrops
Molas Lake Campground OR Silverton
410 or 411
Walk (< 1 mile) to campground or easy hitch to Silverton
If you're going to hitch into one town on the CT, Silverton is pretty easy. Otherwise, mail a box to Molas Lake Campground.
Using Shuttles Instead of Hitching
Note that many hitches can be avoided by pre-arranging a shuttle, making plenty of other resupply options hitch-free with some advance arrangements. Email the CT Foundation to request the list of shuttlers and their contact information.
Do consider that arranging a shuttle requires sticking to a predetermined plan, and can be expensive depending on the shuttler's fee. Also don't expect phone service out there if you're running late or early and need to contact your shuttler from the trail. Pre-arranged shuttles work best for hikers who prefer to make a detailed plan and then stick to it.
Slow and/or Light Resupply Plan
I won't make a separate table for this, because it's essentially the "Big CT Resupply Table" above. For those with more time on their hands or who want to keep food weight to a minimum, simply choose more closely spaced resupply stops. I suggest starting from either the "trail town" or "no hitchhiking" plan above and then adding stops as needed.
For reference, my thru hike was 35 days which is a fairly average pace. We did two carries of 7-8 days: 104 miles to Frisco and then 107 from Monarch Mountain Lodge to Lake City. These were heavy; I would not have wanted to go any longer between resupplies. Had we been on a slower schedule we would have needed to add stops at Jefferson and Buena Vista to break up those stretches.
Do note that while lighter packs help with speed, stopping more often takes time, especially if hitching. The town day vortex is real; once you get in, it's hard to get out again. If time is your primary concern, you may complete your hike faster overall by carrying a bit more weight and stopping less frequently. It's all a balance.
Fast and/or Heavy Resupply Plan
For those who plan to hike fast or don't mind carrying a heavier pack, you'll be able to skip many of the resupply stops listed in the "Big Table" above. Around 100 miles is a typical "long carry" for a thru hiker of roughly average pace. Super-fit and/or super-fast folks can get away with more.
If stretching your limits, it's wise to think through backup resupply stops that could be added if your planned mileage doesn't quite work out.
Hikers striving for fewer resupply stops should also make the most of town meals and on-trail snack stops to supplement their overall calorie count without needing to carry more food.
Quick Snack Stops
No matter what your primary resupply plan is, don't miss stopping for a snack or meal at these on-trail / near-trail spots with restaurants and / or snack shops. They're a great way to top up your food supplies or stretch your meal plan a little further.
| | | | |
| --- | --- | --- | --- |
| Name | Miles from Denver | Miles from Trail | Notes |
| Copper Mountain Resort | 119 | 0 | Restaurants and snacks |
| Mt. Princeton Hot Springs | 230 (Collegiate East) | 0 | Restaurant and snacks |
| Monarch Spur RV and Campground | 253 (Collegiate East) | 1 | Snacks (also maildrop) |
| Monarch Crest Souvenir Shop | 262 (Collegiate West) | 0 | Snacks and light meals (also maildrop except 2020) |
| Molas Lake Campground | 410 | 1 | Snacks (also maildrop) |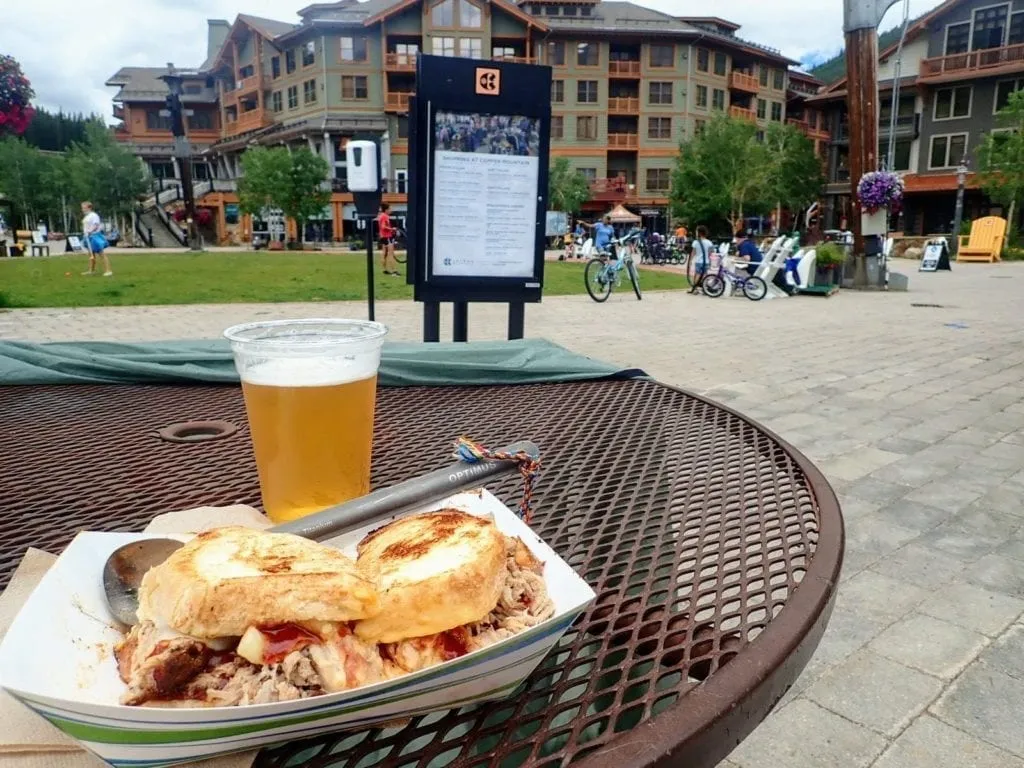 Resupply Delivery Plan
For hikers with a high tolerance for advance planning and a low tolerance for town stops (not me!), it's possible to hire shuttlers (or bribe friends) to deliver resupply boxes to you at the more accessible trailheads.
One note of caution: while this may seem attractively efficient during the planning phase, don't be surprised if you find yourself craving a burger and bed when you're 200 miles deep. Perhaps choose just one or two of these stops for convenience and then treat yourself to some town or lodge time when you want it.
These are the places where major state or US highways intersect with the CT:
| | | | | |
| --- | --- | --- | --- | --- |
| Name | Miles from Denver | Highway | Nearest Town | |
| Kenosha Pass | 72 | US 285 | Jefferson | |
| Gold Hill Trailhead | 104 | CO 9 | Breck / Frisco | |
| Tennessee Pass | 143 | US 24 | Leadville | |
| Monarch Spur (CE) | 253 (CE) | US 50 | Salida | |
| Monarch Pass (CW) | 262 (CW) | US 50 | Salida, Gunnison | |
| HW 114 | 303 | CO 114 | Saguache, Gunnison | |
| Spring Creek Pass | 358 | CO 149 | Lake City | |
| Molas Pass | 411 | US 550 | Silverton | |
CE = Collegiate East, CW = Collegiate West
Mail Drops or Shopping Trips?
Ah, the age old debate: should I prepackage and mail all my food, or buy it as I go along?
There are pros and cons to both. Here are the big ones.
Advantages of mail drops:
Get the food you want, especially if you have a restricted diet (many stores on the CT have limited options)
No grocery shopping saves time in town (but post offices have limited hours; try to ship to hostels or stores when possible)
Ship yourself other things you need: medication, contact lenses, etc.
Advantages of shopping as you go:
Change up your menu when you get tired of something (and you WILL get tired of something)
Save money; mailing food boxes is expensive
All that prep takes time before your hike. Not everyone can manage it.
Keep your schedule flexible; change resupply plans on the fly.
I hope you like Ramen and Cliff Bars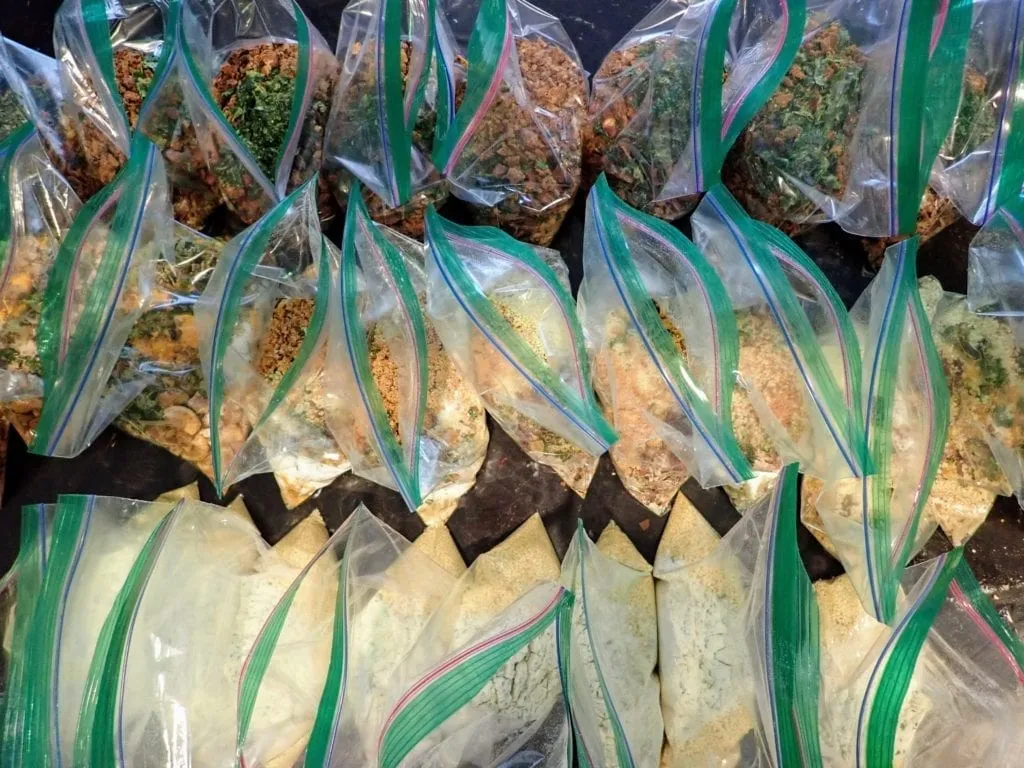 Collegiate East vs. West?
Take care to not mix up resupply stops on Collegiate West vs. East. Between approximately miles 180 and 260 from Denver, the route splits into these two parallel options for the next ~80 miles. Some resupply possibilities are available from both, though from different mile counts and with differing degrees of difficulty.
For example, Mt. Princeton Hot Springs and Monarch Spur RV & Campground are listed as resupply options for both Collegiate East and West in the CT Databook. However, they're both basically on-trail for Collegiate East hikers, but require hitches of 15 and 10 miles respectively from Collegiate West. Don't get confused between the two!
Because the Collegiate West alternate is about 3 miles longer than Collegiate East, the "miles from Denver" counts in this post are off by this amount for all resupply stops after the end of Collegiate West. I've left them as-is for simplicity, since it makes the tables far easier to create and read.
Crafting Your CT Resupply Plan
There are many good ways to craft your CT resupply plan. Some folks plan their entire hike down to the day and schedule every resupply ride in advance, while others wing it completely. Most are somewhere in between.
For those without a strong preference, I suggest a mix. Consider shipping one resupply box to yourself somewhere around halfway, so you can restock on all those little things that are hard to find in small towns (contact solution, your favorite brand of energy bar, etc).
Then tentatively schedule a few town stops depending on your hiking pace, using the tables above to choose which stops are best suited to the experience you're seeking. If you can tolerate hitching, you'll be able to keep your options open even more, otherwise use the stops in the "No Hitchhiking" plan to reassure yourself that you can get what you need even if your thumb isn't up to the challenge.
Finally, take a deep breath and remind yourself that the trail tends to provide. Once you've done a bit of research, you'll have what you need to solve problems and change plans on the fly if necessary. It's all part of the adventure anyway.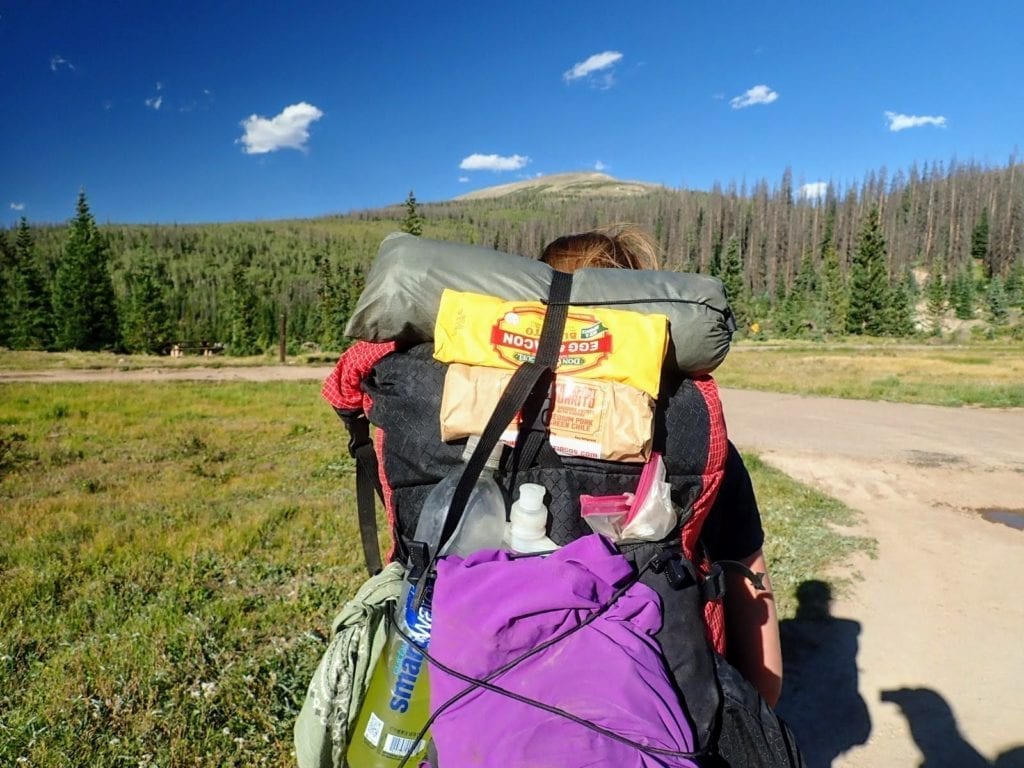 More Tips
If you still haven't made up your mind, here other resources you can consult for yet more information related to resupplying on the Colorado Trail:
Guthook app: helpful for recent comments from hikers about their experiences with various resupply stops (also great for navigation and water sources)
Facebook groups (general CT and CT 2021) for various opinions and recent updates on services and hours
For general advice on planning a CT thru-hike, here are answers to 35 important questions about the CT.
For section hikers, or thru hikers wondering what to look forward to, here are the best segments of the Colorado Trail.
And finally, for general advice about backpacking that will undoubtedly apply to the CT, check out these popular resources:
Thru Hiking Resupply Checklist
Spend your town time resting and eating instead of worrying what you're forgetting. Download this free town day resupply checklist to your phone, or even print it out like in the old days:
Get the Checklist


Hiking resources in your inbox?
There's more where this came from! Sign up here for occasional emails full of inspiration and information about backpacking and hiking.


Share the Adventure
If you found this article helpful, please consider sharing so more people can benefit from it:
Pin For Later