I've been fortunate to enjoy many long-distance journeys, but hiking the Colorado Trail remains a highlight. For 35 days in the summer of 2020 my husband and I climbed passes, dodged storms, and traversed valleys through a veritable alpine wonderland as we made our way from Denver to Durango.
We felt strong, wild, and free. And sometimes also tired, hungry, and irritable. But eventually we walked all 490 miles of the Colorado Trail, and I would easily do it again if there weren't so many other excellent trails to explore next.
If you're thinking about thru hiking the Colorado Trail, first of all, I highly recommend it! I've written elsewhere about the trail and logistics, resupply options, and most scenic sections if you need further inspiration.
This post is about the nitty gritty details of my Colorado Trail gear list: what I packed, what worked well, and what I would have done differently in hindsight. Whether you're fine-tuning your packing list or just wondering what it takes to hike almost 500 miles through the Rocky Mountains, I hope it helps you.
Quick Overview
There are as many styles as there are hikers, so what kind of Colorado Trail packing list is this? My style tends toward moderately lightweight but not too minimalist (I like hot meals, warm layers, and reading at camp). I appreciate good quality gear but don't have money to burn, so most of my gear is carefully chosen and well-used.
For context, here are the basics of our trip:
When: July 17 – August 20, 2020
How long: 35 days (including 2 zero days and a few half days)
Direction: Denver to Durango
Who: Myself and my husband (shared items will be noted in the gear list below)
Background and experience: Both in our mid-thirties, above average fitness but nothing crazy, prior thru hiking and bikepacking experience but the CT was our longest hike at the time.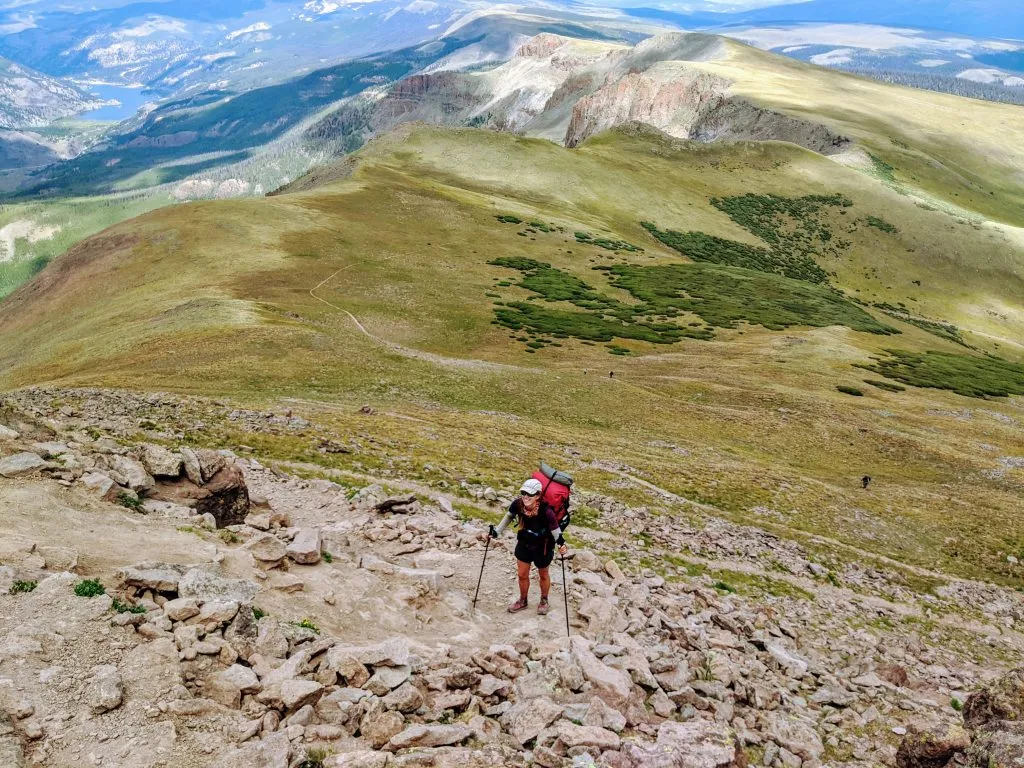 Weather on the CT
Generally speaking, a summer thru hike of the CT requires basic three-season backpacking gear and clothing. This Colorado Trail gear list isn't very different from what I've packed for the John Muir Trail, Arizona Trail, or even a summer bikepacking trip like the Great Divide.
Be prepared for potentially hot afternoons, occasional overnight freezes, rain, and perhaps rare hail or snow. Afternoon thunderstorms are a constant factor in the Rocky Mountains, and they can sometimes bring heavy wind and nasty precipitation at high elevations (in addition to the danger of being struck by lightning – stay off the high passes in storms!). The rain usually doesn't last long but can be quite heavy.
Typically the months of June and July are rainier than late August and September, but every year is a little different. Weather can change quickly in the mountains, and big differences in elevation lead to big differences in temperature. Be prepared for a bit of everything.
Now, on to the details of our gear list for the Colorado Trail!
Thru Hiking Resupply Checklist
Spend your town time resting and eating instead of worrying what you're forgetting. Download this free town day resupply checklist to your phone, or even print it out like in the old days:
Get the Checklist
Sleep and Shelter
A good sleep and shelter system for the Colorado Trail needs to handle a wide range of temperatures, from relatively balmy evenings in the 60's down to an occasional sub-freezing night (more frequent if you hike into September). It should also be fully rain-proof and moderately resilient in strong wind. Mosquitos are definitely an issue in some places at some times of the season.
Sleeping bag: Enlightened Equipment 10 degree Convert: I am a cold sleeper, and this quilt (combined with a Hoodlum hood) kept me plenty warm almost every night on the CT. At higher elevation on chilly nights I also slept in my down jacket.
Sleeping pad: Therm-a-Rest NeoAir X-Lite. I've been using this pad for 7 years and love its combination of light weight and relative comfort for side sleeping.
Pillow: Sea to Summit 8 Liter Dry Sack stuffed with odds and ends and wrapped with a Buff.
Bivy: Borah Gear Ultralight Bivy: Used together with the tarp (see below), this ultralight water-resistant bivy makes a versatile, fully enclosed (read: mosquito-proof), and rain-proof shelter system. Detailed review here.
Tarp: Six Moon Designs Haven (2 person): This easy-to-use tarp is roomy, pitches easily with two trekking poles, and does admirably in wind, rain, and even a few inches of snow. We pitched it whenever there was a chance of rain, an extra-cold night, or we simply wanted a more cozy sleeping setup.
The Haven also came in handy during afternoon thunderstorms. We could pitch it quickly and hunker down for an hour without worrying about getting the inside of a tent all wet and muddy. Detailed review here.
In general we were very happy with our sleep and shelter setup on the CT and would pack the same things if we could do it again.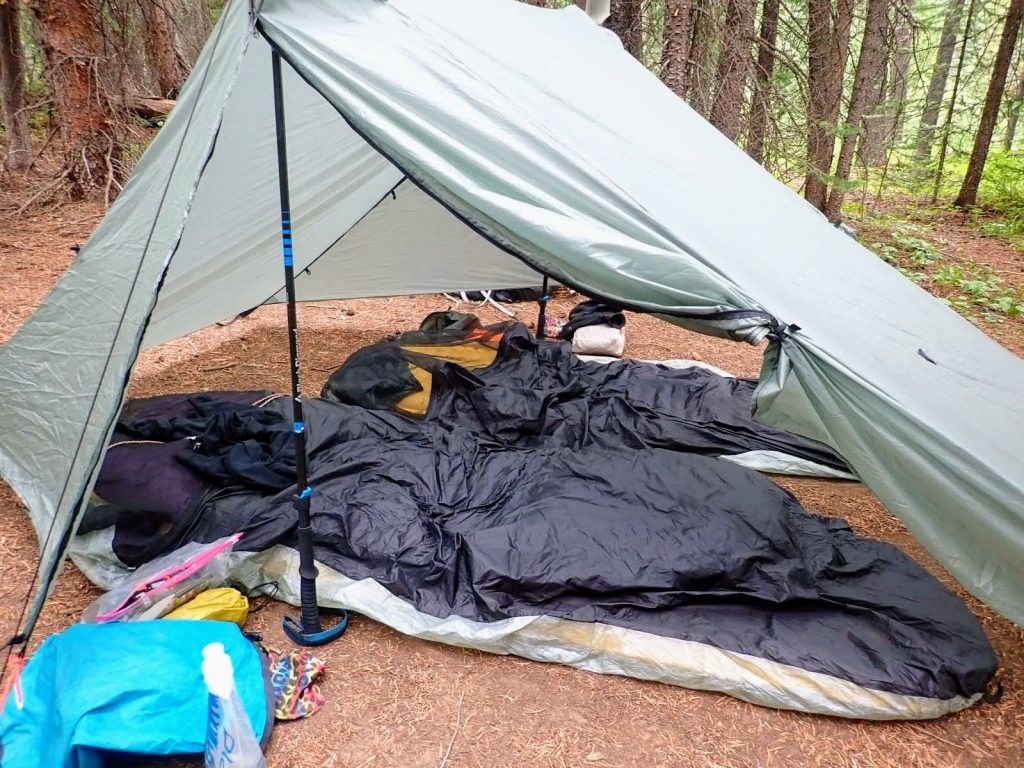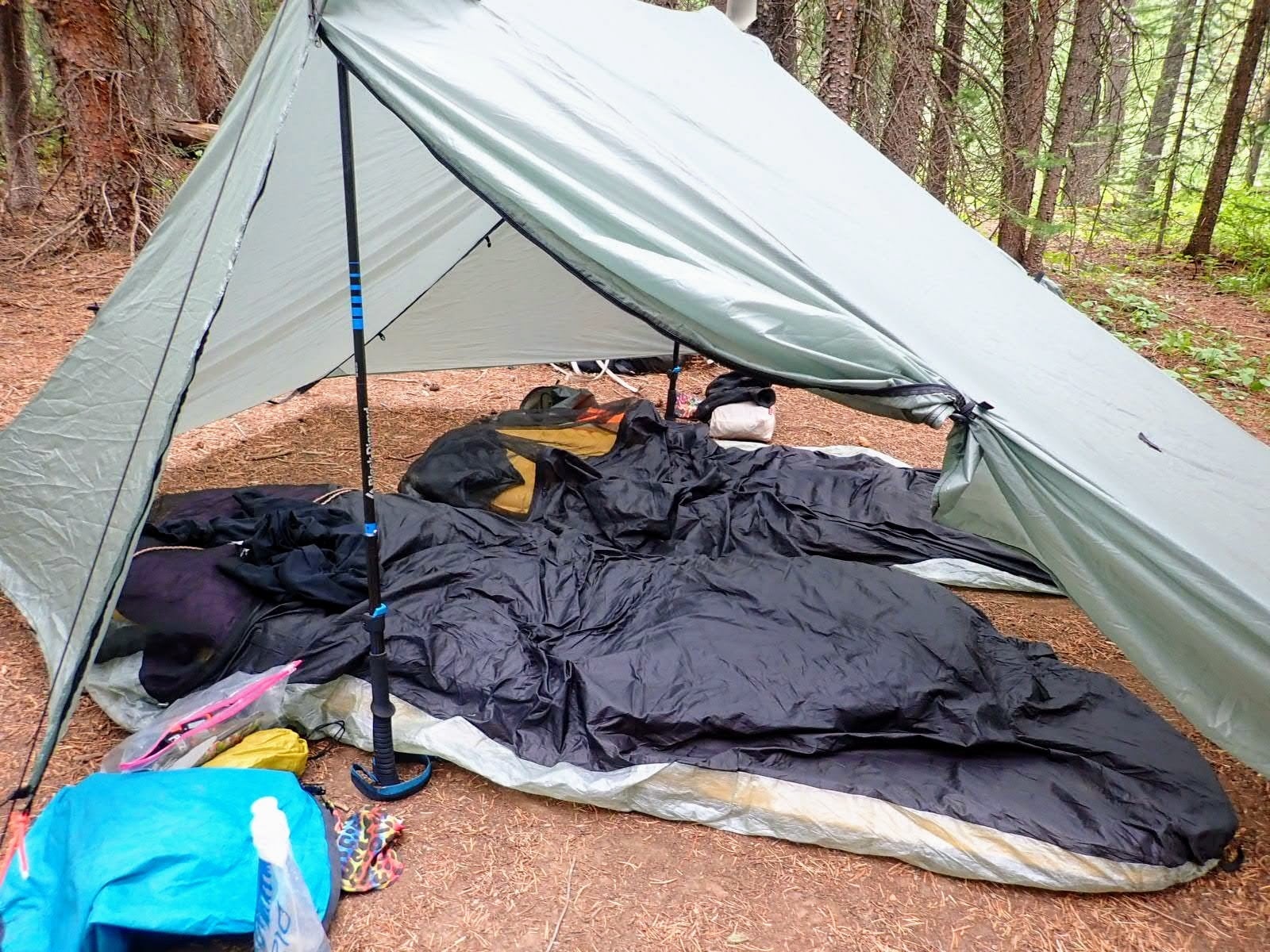 Backpack and Poles
Pack: ULA Circuit, 68 liters. The CT was my first trip with this new pack and I loved it. At 68 liters it's a good size to comfortably hold my moderately lightweight gear with plenty of expandable room for food and water on long carries. A few really lightweight folks carried packs in the 35-45 liter range, but unless your gear and pack list are highly optimized most people will need more space.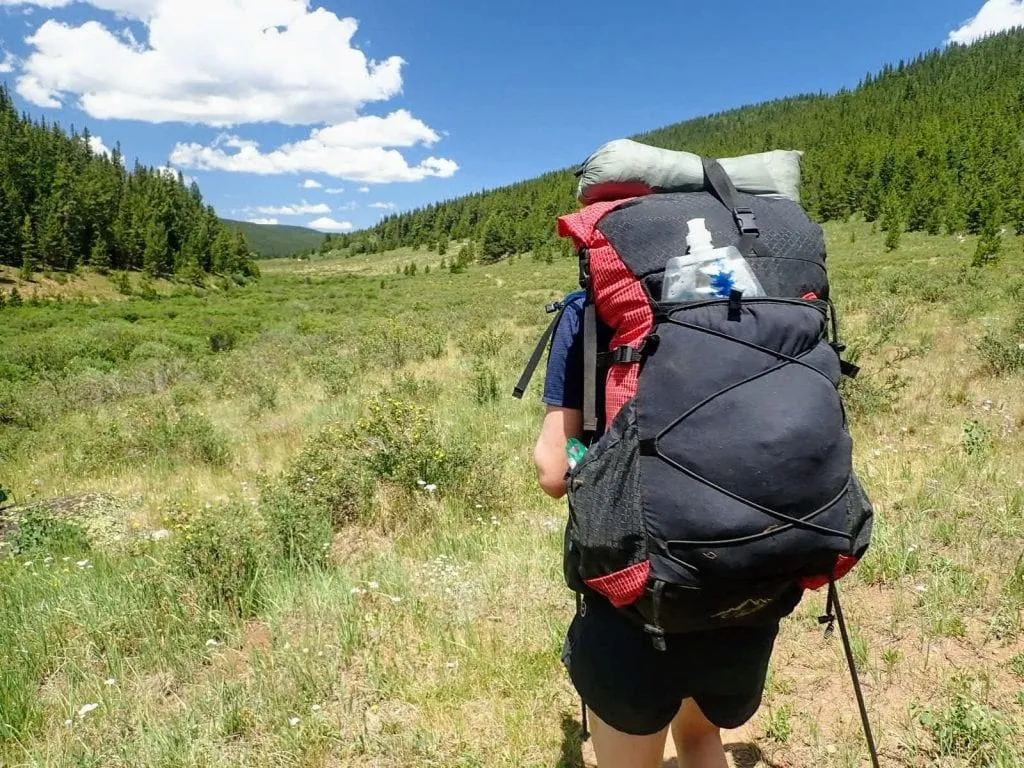 Pack cover: ULA pack cover, simple and lightweight. It rains often enough on the Colorado Trail that I think a pack cover is worth the weight (only 3 oz in this case). My pack has a lot of external pockets so I appreciated the full coverage compared to an internal liner, and an ultralight solution like a garbage bag wouldn't have been durable enough.
Hiking poles: Black Diamond Distance Carbon Z: ultralight fixed-length foldable poles. I loved them for their light weight and small packed size, but after the CT I switched to the Distance Carbon FLZ (small adjustable height range) and now prefer those for backpacking. My husband had a pair on the CT and we always used his to pitch the tarp, since they made it easy to tighten up the pitch from inside (especially helpful in rain).
Feet
You can hike the CT in the same footwear you would use for most other trails – just make sure it's very broken in and comfortable! I'm a big fan of trail running shoes for backpacking, so here's what I wore.
Shoes: Altra Lone Peak 4 trail running shoes (women, men): Lone Peaks have been my go-to hiking shoe for years, and are probably the most popular footwear on the CT and pretty much every other long trail. My husband wore the men's version, and we each hiked the whole trail in a single pair.
Gaiters by Dirty Girl. I highly recommend gaiters for those hiking in trail running shoes. You'll spend less time emptying pebbles and pine needles out your shoes and socks, or tending to blisters from too much grit. Plus, they're stylish and come in tons of fun patterns.
Socks: Smartwool PhD. I carried three pairs: a thicker pair for sleeping, and two thin pairs ("ultra light") for hiking. Having two pairs allowed me to wash one and hike in the other while it dried.
Clothing
A three season layering system works great for the Colorado Trail. I suggest packing light, prioritizing comfort, and using layer-able items that can be worn together or separately.
Base Clothing
Running shorts: just a cheap pair of black running shorts that don't chafe and breathe well.
T-shirt: Icebreaker Merino Tech-Lite Tee. These are my go-to hiking shirts, and a great choice for thru hiking thanks to the natural moisture and temperature management properties of wool. It breathes and wicks well, is comfy through a wide range of temperatures, and naturally stink-resistant – very important!
Spare lightweight synthetic t-shirt as backup and for town days.
Panties, 2 pair, breathable and antimicrobial. I like these by REI and these by Woolly Clothing.
Sports bra: Patagonia Barely, very comfy and stink-resistant.
Sun Sleeves by Outdoor Research. I prefer to hike in a short sleeve shirt for comfort while still protecting my arms and hands from sun exposure. Long sections of the CT are above treeline with no shade at all. Some hikers wear a long sleeve shirt and sun gloves instead.
Buff: these headbands are so useful for so many things: hair band, neck gaiter, towel, face covering, pillow case, etc.
Sunglasses: I'm currently liking these CastKing Hiwassee polarized sunglasses. They're unisex but somehow fit my small face just fine, and they're cheap enough that when I inevitably scratch, break, or lose them, it's not a huge deal.
Warm and Dry
Tights, Columbia OmniHeat: I've worn these for years and think they have an excellent warmth-to-weight ratio. I use them for sleeping, hiking when it's very cold, and town days.
Long sleeve midlayer, Icebreaker Merino 260: Breathable warm layer for sleeping or hiking in cold weather. Merino wool is great at regulating body temperature so you can stay relatively comfy even while switching from downhill to uphill, or shade to sun.
Down jacket: I packed an old lower-end Mountain Hardwear puffy for this trip, because I wanted something warmer than my lightweight Ghost Whisperer. It kept me warm enough but was fairly heavy and bulky. After finishing the CT I upgraded to the Arc'teryx Cerium LT, which has a much better warmth-to-weight ratio, and this is what I would pack for the CT if I had it to do over.
Rain jacket: Arc'teryx Beta AR. This is the burliest of my rain jacket options and I chose it for the Colorado Trail because it's impenetrable and relatively breathable. I love it (see my review here) but it's pricey. I recommend my husband's REI Stormbolt GTX as a more affordable 3 layer GORE-TEX jacket, or even the Marmot PreCip for smaller budgets.
We got lucky with weather in 2020 and in hindsight I could have brought my lighter Outdoor Research Helium II and been fine. In a wet year though I would have been glad for the heavier Beta AR and would probably carry it again for peace of mind.
Rain pants, White Sierra Trabagon. Sadly they've been discontinued, but they were a simple and affordable lightweight rain pant (not full Gore-Tex). Some hardy folks might say you don't need rain pants on the CT, but I wore mine often for rain or just for warmth and would definitely bring them again.
Midweight gloves, Mountain Hardwear Power Stretch: My hands are always cold, but even if yours aren't, you'll still probably appreciate gloves for those chilly mornings and evenings.
Rain mittens, MLD eVENT: Cold hands are a big weakness of mine, so I layer these over my gloves for extra warmth in rain or wind.
Food
Animal-proof storage: Bears are definitely an issue on the Colorado Trail. We had a very persistent one visit our campsite on the morning of day 2! Rodents were also a problem in several campsites.
To protect our food (and the bears) we carried an Ursack Major and a Bearikade Expedition, with our shared food split between the two. A bear canister is not required on the CT and if we'd had two Ursacks that's what we would have brought, but we already had the Bearikade.
I think Ursacks are a good middle ground: less bulky than a bear can but more bear-resistant in case you can't find a good tree to hang from. Use an Opsack Odor-Proof Bag inside to protect from spills.
Paracord and carabiner for hanging food where necessary.
Stove: Jetboil MicroMo: Incredibly fuel-efficient and decently lightweight as a stove/pot combo, especially shared between two people. All our hot meals were of the just-add-hot-water variety. We loved how quickly the Jetboil worked even in cold temps and at high elevation.
Bowl: Sea to Summit collapsible mug. Very compact and handy. Paired with a DIY lid made from metallic bubble wrap to keep food warmer while rehydrating.
Spoon: Toaks Long titanium: Simple, lightweight, long enough to eat out of any container.
Cup: Snow Peak titanium mug. Light and very sturdy.
Bandana for wiping out dishes and other miscellaneous needs.
Small knife: Kershaw Scallion, useful for cooking on trail and in town.
Flexible flask: Vapur 10oz, used to carry olive oil, or sometimes a bit of whiskey as a special treat.
Water
Water is readily available and of good quality on all but a couple segments of the CT; see my CT overview for details. We each used 3 liters of capacity most of the time, with ability to carry a 4th liter occasionally. Here's how we filtered and carried it.
Water filter: Sawyer Micro. In hindsight I would recommend the Sawyer Squeeze instead for its faster flow rate and greater resilience to clogging. Our Micro clogged badly during segments 17 – 19 and we struggled with flow rate for the rest of the hike. We also each carry our own filter now – even when hiking together – as a backup and to save time.
Backflush syringe for Sawyer filter. We did NOT bring this (used Platypus SoftBottles instead) but wish we had. It's lightweight and seems to backflush more effectively than other methods.
Gravity filter bag: CNOC Vecto 3L (28mm thread), used as dirty bag in a gravity filter system and for extra water capacity as needed. Much better than the squeeze pouch that comes with the Sawyer filter!
Sawyer Fast Fill adapter kit, allows you to gravity filter directly from the Sawyer into a hydration bladder.
Chlorine dioxide: Small number of Potable Aqua tablets as a temporary backup in case the filter failed.
Hydration bladder with hose: Platypus 3 Liter Hoser as my primary water container. I love the bladder but recommend replacing the bite valve with this one from Hydrapak that includes a shutoff valve and cover.
Extra bottle: 1L Platypus SoftBottle for extra capacity and the convenience of having a bottle (as opposed to hydration hose) at camp for cooking, washing, etc.
Toiletries and Consumables
Here's what I carried:
Toothbrush (I love this travel toothbrush), small toothpaste, floss
Deodorant: just a few small crumbles of solid deodorant in a baggie, for town days only
Hairbrush: small folding travel brush
Razor: travel size
Soap: small amount of Dr. Bronner's in a tiny bottle, useful as soap, shampoo, or laundry detergent
Carmex lip balm for nighttime
Sunscreen (in 3 oz bottles) and SPF lip balm
Menstrual cup: ladies, the Diva Cup (or similar) is a game changer for long adventures. Here's why and how.
We resupplied favorite essentials via mail drop (CT resupply details here). I go over my approach to toiletries in more detail here: Lightweight Toiletries for Backpacking.
Toilet Kit
Toilet paper: a few squares per day on average, rolled into small packets and carried in a ziplock bag. You can easily resupply this by grabbing a few extra squares when you use a real bathroom.
Wet wipes: optional but one per day can be a nice treat
Ziplock bag for used TP: in case you're not familiar, the standard "leave no trace" etiquette in the US is to pack out all used toilet paper. Burying it, even the "biodegradable" kind, is not very effective; it tends to get resurfaced by rain or animals. So please pack it out, pretty please? Thanks.
Hand sanitizer: Helps avoid illnesses spread by bathroom breaks and pit toilets.
Trowel? We did NOT bring a trowel on the CT since the soil is mostly soft enough to use a hiking pole, shoe, rock, etc. to dig cat holes. On the Arizona Trail, by contrast, we did carry a trowel to help with the rocky ground.
Electronics
No matter how much we like to escape the "real world" when we hike, electronics are essential parts of our navigation and safety systems these days.
Smartphone with Guthook installed, highly recommended for navigation and trail info. I also recommend you bring a backup of some kind (second phone, paper maps, or Guidebook). We had a paper copy of the CT Databook and the CT Guidebook on my Kindle.
Satellite Messenger: Garmin InReach Mini, for communication and emergencies in areas without phone service. This is a matter of personal preference but I would especially recommend it (or a SPOT) for solo hikers. We felt glad to have ours especially after witnessing a helicopter rescue for altitude sickness. For more detail, see How to Use Your Garmin InReach Mini.
Power bank: 10,000 mAh Ainope, lightweight and quick-charging.
Solar charger: BigBlue. My husband loves this thing and is happy to carry it, so no complaints from me. In sunny or even partly cloudy weather it kept both our phones charged indefinitely, so we could spend our town time doing something other than hunting for outlets. Detailed review here.
Wall charger: Anker PowerPort, fast charging with two USB ports, and 3 USB cables of various lengths and types.
Headlamp, Petzl Actik Core: I like that this headlamp is USB-rechargeable but can also take AAAs in a pinch. Has a good low-light mode and red night-vision setting for camp.
Wireless earbuds: Not everyone will agree, but when I spend weeks hiking or biking I like to use some of that time for learning and exploring in other dimensions too. I use Jabra Elite wireless earbuds (technically only one earbud; I always leave one ear open) to enjoy audiobooks, podcasts, and music on all my long adventures.
Bluetooth mini-keyboard: As you can probably tell, I like to write! This little guy makes it so much more pleasant. I mostly used it on rest days for taking notes and answering messages, and found it totally worth the weight.
Kindle E-Reader. Yup, I carried a Kindle! Totally worth the weight. I love reading at camp or on zero days.
If you're worried about keeping everything charged, many of these tips on charging electronics while bikepacking apply to backpacking too.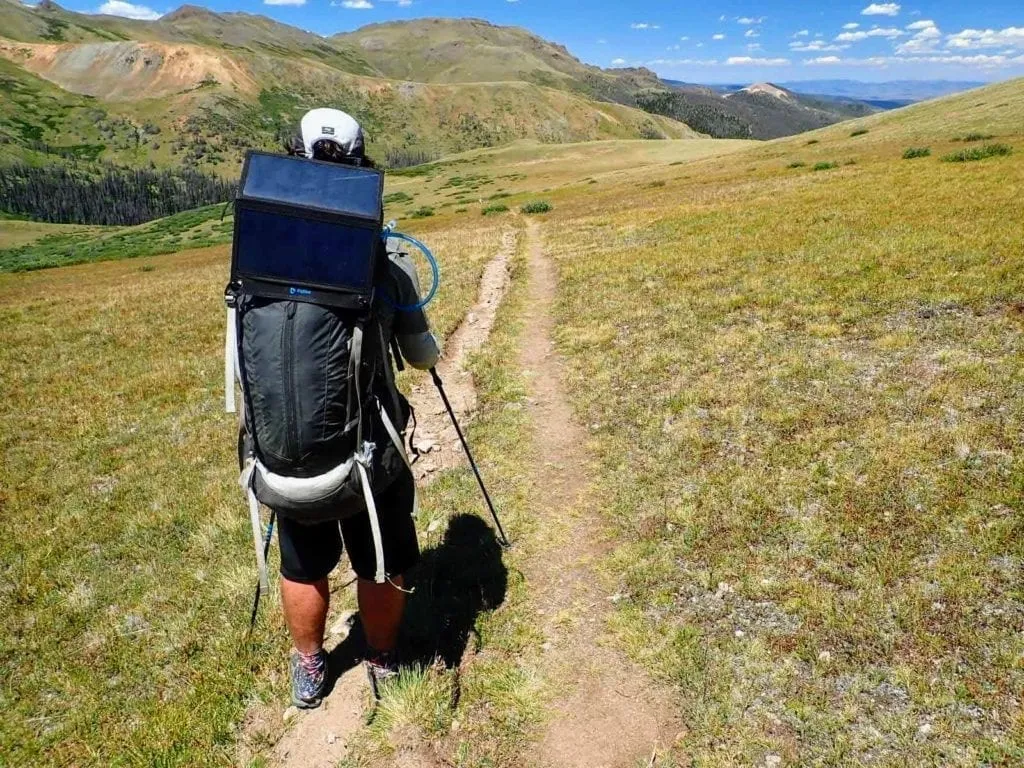 Other
First aid kit, lightweight and customized. The most used items were a few blister pads, some New Skin Liquid Bandage, Tums, and Imodium.
Cotton balls rubbed in Vaseline, and waterproof matches: fire starter for emergencies.
Gear repair tape, handy for patching a torn tarp or rain jacket, punctured sleeping pad, or other gear damage.
Mylar space blanket for emergencies and extra warmth on cold nights
Leatherman PS: Handy little tool from my bikepacking kit that includes mini scissors and file (trimming fingernails), pliers and screwdriver (gear repairs), tweezers (cactus spines), and a bottle opener (town beers).
RumbleRoller Beastie Massage Ball: 100% worth the weight for me since I struggle with tight IT bands. I spent quality time with this little guy almost every evening on the CT. If this sounds useful to you, other ideas for relief include nightly stretching and morning warmup, both of which I did religiously to keep my knees happy.
Mini Exercise Band, a key part of my morning warmup to keep my glutes activated and knees happy.
Disposable ear plugs for the occasional noisy campground or motel
Plastic baggie wallet with ID, credit cards, health insurance, etc, plus cash in $1, $5, and $10 (useful for campground fees, laundromats, and donations to trail angels).
More Thru Hiking Resources
I hope my Colorado Trail hiking gear list has given you some idea of what to pack as you wander through the gorgeous Rocky Mountains.
These other posts might be helpful too:
For even more, visit the hiking and backpacking resources center.


Hiking resources in your inbox?
There's more where this came from! Sign up here for occasional emails full of inspiration and information about backpacking and hiking.


Share the Adventure
If you found this article helpful, please consider sharing so more people can benefit from it: