If you're traveling in Morocco without your own car, there's a good chance you'll end up on a CTM bus at some point. This is a good thing, as the CTM network is large and their buses are comfy and reliable. Alongside Supratours, the other well-known bus company in Morocco, CTM is the best way to travel through Morocco using public transport.
In this post I'll explain how to take the CTM bus in Morocco: how to book your ticket (even if the website doesn't work), how luggage is handled, and what to expect onboard. During our month and a half in Morocco we took CTM buses a number of times, including some extra little challenges like an overnight journey, traveling during Ramadan, and bringing bicycles with us as checked luggage. We learned a ton of helpful tips about CTM buses and I'm here to share them with you so your journey runs a bit more smoothly.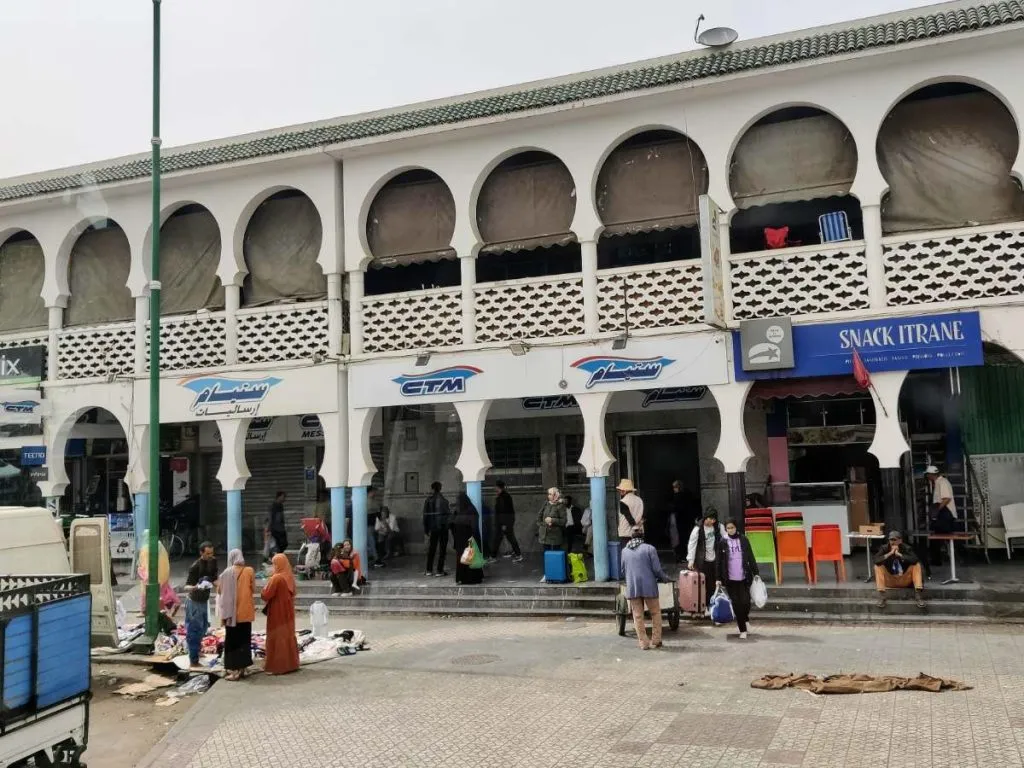 About CTM Buses and Stations
CTM buses in Morocco are generally clean, reliable, and mostly on schedule. The drivers and station staff are uniformed and professional, and some of them speak a little English (though don't count on it). The buses seem in good condition and have assigned seating, air conditioning (so helpful for those hot Moroccan summer days), and seat belts.
Though popular with tourists, you'll find plenty of Moroccans on the CTM bus as well. You may even get lucky and enjoy a nice conversation with your seatmate. We found the locals were helpful and curious about us, especially on the overnight route from Dakhla to Agadir, and generally looked out for us during the journey.
CTM stations are found in every city and many larger towns throughout Morocco and Western Sahara. They vary from large and modern(ish) complexes to small roadside rooms. They usually have a bathroom of some sort inside or nearby; expect squat toilets and bring your own TP. Larger stations may have a cafe or little restaurant where you can buy a snack or quick meal.
Important note: some cities have more than one CTM station! Be sure you go to the right one, or you could miss your bus.
CTM Prices
Though not the most affordable way to cover miles in Morocco, CTM bus tickets are a reasonably good value given their comfort and convenience. When we traveled in 2023 we paid around $13 per person for a 3 hour route like Marrakesh to Agadir. A long overnight route like Agadir to Dakhla (20 hours) cost about $50 per person, not cheap but considerably less than the cost of a flight.
How to Book CTM Tickets
Popular routes do sell out, so I recommend booking a a couple days (or more) ahead if your schedule is rigid. There are two ways to book your CTM bus ticket: online and at any CTM station.
To book your CTM bus ticket online, go to https://booking.ctm.ma/. When the website is working this is a nice convenient option, especially if your French and Arabic aren't great. If you do get through to the payment step, there's still a risk of an error at the last minute. We had better luck with Visa, though Mastercard is supposedly accepted. When booking online you'll be asked for your passport number and you'll be able to choose your seats.
Pro tip: Seats 1 and 2 have the best view out the front window, but they have less legroom than all the other seats. I recommend avoiding them for longer journeys.
For us the website didn't load or failed to show the schedule about half the time; in that case you'll need to try again later or book in person at a CTM station. In one case the website said a route was completely sold out but we were able to get tickets in person. In summary, don't give up on your desired route based on the website alone; go and ask at the station.
To buy a CTM bus ticket in person, go to the ticket counter at any station. It does not have to be a station on your route, and it can be for a date in the future. The station staff may or many not speak any English, so be prepared to describe your desired route and timing in French (or write it on your phone, or use Google Translate). If you want a specific seat, ask when you book the ticket; as mentioned above I recommend avoiding the very front seats on long trips because of the legroom issue.
We were told it's not possible to book a luggage ticket in advance, only the rider ticket. If you have large items to go under the bus you can buy a luggage ticket when you arrive for the ride.
Luggage
CTM buses have space for small items beneath your seat and in an overhead tray (significantly smaller than a typical overhead bin on an airplane). Larger items like suitcases and bicycles can be "checked" which means they go underneath in the cargo compartment.
Ask for your checked luggage ticket at the counter when you arrive at the station for your ride; you can't buy luggage tickets in advance. They'll give you a tag to put on your bag and a claim check to keep with you. Make sure to keep the claim check! They don't always ask for it, but if they do and you don't have it, you could have trouble claiming your bag at the end of the ride.
Checked luggage costs vary depending on the route and seem to be calculated automatically. We usually paid a few dollars' worth (in Dirhams of course) for each of our bicycles on several-hour routes.
What to Expect When Riding
Taking the CTM bus is usually easy and straightforward. It's smart to arrive at the station around 30 minutes early, especially if you want to check luggage or in case there's any issue (like being at the wrong station).
Buy your checked luggage ticket (if needed) and have a seat in the waiting area. Listen for a staff member to announce loading for your route. It helps to know the end point of your route, not just your stop, since that's what will be announced. If in doubt, just ask a staff member. Once in the loading area you'll wait for the go-ahead to load any large checked luggage and board the bus.
Seats are assigned, so check for the number on your ticket. We occasionally found someone else in our seat, perhaps having moved from their original assignment. It was never a problem; they either moved or we took another seat nearby.
There's no bathroom on the CTM buses, as far as I know, so go before you board. Once on the road the bus stops every few hours at gas stations or roadside cafes where you can use the toilet and buy a snack. If you're traveling during mealtime the bus will usually stop for long enough to grab a quick meal. Make sure you're on the bus when it leaves!
We found CTM buses to be fairly comfortable. They generally had working seatbelts, reclining seats, air conditioning, individual reading lights, and curtains for the windows. The drivers were usually helpful and looked out for us, especially on a long overnight ride from Dakhla to Agadir where we were the only tourists. We even got to know a few of the locals on the bus and gratefully received their offers of contact information should we need anything later.
Taking Bicycles on CTM Buses
We were traveling through most of Morocco on bicycles, which made taking the CTM bus a bit more challenging. Morocco is big and some areas are busy with traffic, so we used the bus to fast-forward over several sections we didn't want to pedal. Fortunately, taking bicycles on CTM buses in Morocco is as easy as it gets. I don't think I've ever experienced a more bike-friendly long-distance bus network!
A bicycle is considered checked luggage, so arrive at the station early and buy a luggage ticket. You'll stick the tag on your bike (wrap it around your handlebars) and keep the claim check with you. We paid a few dollars per bike for several-hour rides like Marrakesh to Agadir; I don't remember the exact numbers but they were reasonable.
If the bus is big and your bike is small-to-medium, you may be able to load it upright in one of the side compartments of the cargo hold. We did this several times without needing to remove any wheels or bags, and it worked really well. If you ride a large bike you may need to remove your front wheel.
Some buses have smaller cargo holds, and in that case you'll definitely need to remove your front wheel and maybe lower your saddle so the bike fits upright. We briefly traveled with another pair of cyclists and we did manage to fit all four bikes on the same bus, but the loading process was a little hectic.
The staff always helped load our bikes but we stayed involved in the process. Sometimes we needed to remove a bag or rotate a handlebar gadget to make things fit. They mostly knew what they were doing and seemed to have plenty of practice, but I suggest keeping an eye on the position of any fragile bits on your bike. I once had to request that we re-position my bike because the rear derailleur was at risk of being knocked by suitcases. The baggage handler wasn't thrilled because we were already running late, but he let me do it.
CTM Buses During Ramadan
Part of our trip fell during Ramadan in March and April of 2023, which posed an additional challenge. During the holy month of Ramadan, Muslims fast (no food or water) from sunrise to sunset. Morocco takes this seriously; Muslim Moroccans can be fined for breaking this rule. Though tourists and non-Muslims aren't expected to join in, it's only polite to avoid flaunting your food and drink in front of people who are fasting.
I'd always heard that Muslims have permission to eat and drink while traveling during Ramadan, but I didn't see any locals eat or drink before sunset during our bus ride from Dakhla to Agadir. The cafes at the bus stations were all closed and I didn't notice anyone snacking on the bus. We snuck a few sips of water and bites of snacks, but always tried to be discreet — not the best time for crunchy potato chips or a fragrant kebab.
Almost exactly at sunset the bus pulled into a roadside cafe and everyone poured out to buy the traditional iftar meal, breaking the fast. We hovered politely in the back letting all the hungry fasters go ahead, but a few kind and hospitable souls still insisted we get our food before them. The mood was festive and we felt honored when fellow passengers invited us to sit with them and share their celebratory sweets.
This was a 20 hour bus ride, so we had a chance to observe an entire day's worth of Ramadan from the CTM bus. We stopped again around midnight for a full dinner, and then right before sunrise for a hearty breakfast. After sunrise we didn't see anyone else eating, though the bus continued to stop for bathroom breaks every couple of hours.
Overall it was an interesting experience to take the bus in Morocco during Ramadan. Sharing the iftar meal with our fellow passengers was especially memorable. You can snack and sip if you must, but be prepared to feel a little hungry if you're too polite to eat while others are fasting.
In Conclusion
Thank goodness for CTM buses! I came to appreciate them while traveling in Morocco, especially compared to the more "rustic" transportation I've experienced elsewhere on the African continent (see Surviving West African Bush Taxis). They'll get you where you need to be in relative comfort and with minimal confusion. Enjoy the ride!
More Travel Resources
If you found this helpful, you might also like these:
Or visit the travel section for lots more.
Travel resources in your inbox?
There's more where this came from! If you're into adventurous, thoughtful, off-the-beaten-track travel, sign up here for occasional emails with my best tips and inspiration.
Share the Adventure
If you found this article helpful, please consider sharing so more people can benefit from it: