One of my favorite things about bicycle travel is simply connecting dots. Looking at point A on the map, my brain can't resist drawing a line to point B. And then, I can't help but wonder: what would that line feel like as it passes beneath my wheels?
So, because I was already in Boise, ID for the Smoke 'n' Fire bikepacking race, and because I had some time on my hands, I decided to try cycling back toward California. I made it as far as Klamath Falls, OR, before hopping an Amtrak to escape a late September cold snap and snowstorm – this was supposed to be a fun post-race recovery ride, after all – and saving the northern California portion of my planned route for another time.
Still, my ride from Boise to Klamath Falls was 10 full days of lovely riding through the wide-open country of eastern and central Oregon, and I would highly recommend it.
The route is a bit of an odd mix, divided roughly into two halves: a paved ride along quiet highways north and westward, then a left turn south along the dirt and gravel of the Oregon Outback bikepacking route. For those who want more gravel in the first half or more pavement in the second half, options certainly exist in Oregon's vast network of quiet country roads.
This post is an overview of my route and ride, intended to help others interested in cycling in eastern and central Oregon patch together their own route. You could choose to follow it as-is, or use it as a jumping-off point to plan your own personal Oregon cycling adventure.
Whatever route you choose, you're sure to enjoy pedaling through the vast landscapes. There is plenty of open space to go around in Oregon.
Route Overview
I spent ten days riding this 614 mile mixed terrain bicycle route from Boise to Klamath Falls. Some days were quite leisurely and others were a push, whether to reach a good overnight spot or to outrun a late September snowstorm.
The first half, up to mile 339, is nearly all pavement. The second half, where the route turns south and links up with with the Oregon Outback bikepacking route, is mostly gravel and nontechnical dirt with a little pavement mixed in.
Here's the route. The mileages used in the rest of this post refer to the miles shown here.
Is this the only way to cycle from Boise to Klamath Falls? Definitely not! It's probably not even the best way, and it's definitely not the shortest. I chose it for two reasons.
1) I was already familiar with parts of the paved section from riding Bike Nonstop US, knew I was comfortable with the light traffic there, and was eager to see them again from a different perspective. I was also excited to branch off onto a couple nearby new-to-me segments in the same general area.
2) I'd heard about the popular Oregon Outback bikepacking route and wanted to check it out, so I looked for a way to link up with it. Established routes like this are a nice way to explore the middle-of-nowhere that is central Oregon without worry of getting completely lost, being forced to backtrack due to private property, or failing to locate enough water sources.
At the end of this post, after describing the route I took, I'll offer some other ideas for alternate routes between Boise and K-Falls.
Here's an overview of the route and milestones along the way, broken into three segments.
Segment 1 of 3: Boise to Service Creek (miles 0 – 279)
Leaving Boise is actually fairly painless as far as biking out of cities goes. The first ten miles are on greenbelt bike trail along the river, and then the route hopscotches along agricultural roads to the Oregon border at Nyssa and on to Vale, OR.
The agricultural roads are fairly low traffic and plenty of parallel options exist, but they do lack shoulders, so avoid commute hours if you're concerned about traffic.
From Vale you'll hop on Highway 26 and begin the long gradual (and eventually not-so-gradual) climb up into the plains of central Oregon. The shoulder is a bit narrow in places, but traffic is light.
This section is a bit more fun going the other direction, but I still loved all the wide open space. Don't forget to turn around and enjoy the view behind you as you climb up toward Unity.
After Unity and another climb, you'll turn off highway 26 at Austin Junction and pass Bates State Park campground. Now you're on a route known as the Old West Scenic Bikeway until Kimberley Junction. Enjoy a long gradual downhill along a lovely and low-traffic road beside the John Day River. This section has several campgrounds and is also criss-crossed with national forest roads where you could easily sneak off and camp.
At mile 206 you'll turn left onto highway 395, which is low-traffic in this area, for a climb up to gorgeous golden plains and the small town of Long Creek.
After Long Creek enjoy more open ranch land and a long descent into the small town of Monument. Then the north fork of the John Day River leads to the junction at Kimberly and the John Day River proper, which leads to the peaceful small town of Spray. Traffic along this route is mostly still light, but keep an eye out for the occasional large trailer or RV.
From Spray, continue along the river to the junction at Service Creek, a perfect place to rest before the next big climb.
Milestones and Places to Stay
| | | |
| --- | --- | --- |
| Place | Mile | Notes |
| Nyssa | 57 | Good spot for a lunch break. Maybe a motel, not many overnight options though. |
| Vale | 78 | A few motels and trailer parks, plenty of food options. |
| Willow Creek | 90 | Small general store and restaurant. Informal camping seemed to be allowed at the store, school, or church (I camped behind the church after asking at the store). |
| Unity | 143 | Burnt River Market and Motel has a great little general store (serves hot food), campground, and rooms |
| Austin Junction | 164.5 | Small store and cafe |
| Bates State Park | 166 | Nice campground with a hiker/biker area (no reservations needed) and potable water. |
| Long Creek | 219 | General store, food truck, a hotel, and great camping at the friendly RV park on the left on the way into town |
| Monument | 240 | General store, RV parks and campground |
| Spray | 266 | Well stocked general store, nice town park with bathroom, camping available |
| Service Creek | 279 | Campground on the river (turn left at junction), or rooms / cabins / camping at the super-friendly Service Creek Resort (store, motel, and restaurant) |
Segment 2 of 3: Service Creek to Prineville (miles 279 – 390)
From Service Creek, a ten mile climb takes you to my favorite turn on the entire route: the left turn off the highway and onto a gorgeous and little-traveled paved descent through ranch land down to the John Day River. Cross the bridge, turn right on S. Twickenham Road, and get ready to say goodbye to pavement for awhile.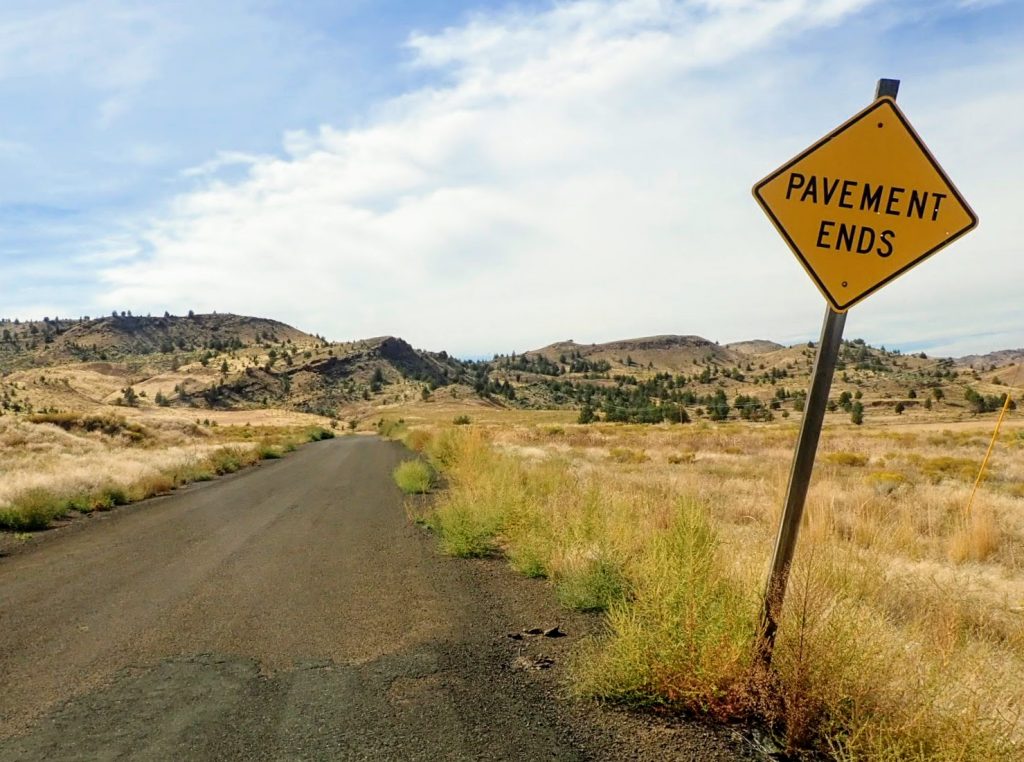 This is where things start to get interesting. Gravel roads follow the river for awhile, passing two BLM recreation sites where you can camp or fill up on water (Priest Hole – accessible via short detour – and Burnt River Campground). These are the last obviously reliable water source I saw for a while, so don't skip them if you're running low.
Leaving the river, road quality deteriorates to a small dirt road winding through rolling ranch land, steep at times. I saw zero vehicle traffic on this stretch. Watch out for goat head thorns, especially when crossing any creeks! I would recommend carrying your bike across (and also tubeless tires).
At mile 341 the route merges with the Oregon Outback bikepacking route, which it will follow in reverse the rest of the way (275 miles) to Klamath Falls. Definitely check the Oregon Outback route on bikepacking.com for all the latest details.
Ashwood is the first town you'll pass through on the Oregon Outback route. There doesn't appear to be much there, but camping is supposedly allowed outside the town hall and apparently a fridge near the post office offers self-service drink and snack sales.
From Ashwood it's a long but tolerably gradual climb up into Ochoco National Forest, beginning around mile 363, with plenty of free dispersed camping options. Leaving the national forest you will eventually meet pavement again, and coast down into the large town of Prineville, which will feel like a luxurious paradise with its array of motels and restaurants (and a good bike shop).
Milestones and Places to Stay
| | | |
| --- | --- | --- |
| Place | Mile | Notes |
| Burnt Ranch Campground | 318.5 | Primitive recreation site (no bathrooms?) with river access (potentially last easy water access for a while). Turn right at river and follow small path for hidden campsites. |
| Start of Oregon Outback Route | 339 | From here on, consult the route guide on bikepacking.com for latest details. |
| Ashwood | 346 | Camping allowed at town hall, possibly drinks and snacks from self-service fridge near post office. |
| Ochoco National Forest | 363 – 380 | Plenty of free dispersed camping along this stretch |
| Prineville | 390 | Big town, plenty of motels (I stayed at the Econo Lodge), restaurants (Ochoco Brewing Company, Subway!), bike shop (Good Bike Company). Basically everything you could ever need or want after a few days in the wilderness. |
Segment 3 of 3: Prineville to Klamath Falls (miles 390 – 614)
Once you've rested and restocked in Prineville, head south on peaceful pavement along the scenic Crooked River. There are dozens of inviting campgrounds along this stretch – Palisades, around mile 405.5, looked nicely tucked away from the road – so if the timing is right and you don't need a motel, consider pressing on from Prineville and camping by the river.
Cross the reservoir dam and tackle a mini-climb up to high plains and ranch land. Eventually the pavement turns to gravel and brings you to a short (just over 1 mile) but uncomfortable stretch on high-traffic Highway 20, which feels oddly out of place out here in the middle of nowhere.
You'll be happy to turn off the highway and continue climbing through classic Oregon outback scrubby plains, past a creepy abandoned ranch and up into the comforting Deschutes National Forest. From around mile 446 – 470 there are lots of national forest roads and dispersed camping is readily available.
The forest will gradually thin back to scrubby outback and the road will take you straight south past distinctive Fort Rock and into the town of the same name. Pass on through and continue grinding gravel southward to Silver Lake, a slightly bigger town with a general store.
After Silver Lake is a long rolling stretch of mostly gravel through Fremont National Forest, followed by some stretches of private land. At mile 544 you'll turn onto the OC&E Woods Line State Trail and off of vehicle-accessible roads pretty much for good. Where the trail passes through national forest (up until about mile 552), you can find places to camp along the trail.
The OC&E trail varies a lot in terms of quality. Some sections are windy, rutted, covered in fresh cow poo, and guarded by some unnervingly disgruntled-looking cows. These were some of the hardest miles of the whole trip for me. Other sections were pleasant, and the one night I spent camped along the trail I woke up to a surreal dusting of late September snow.
There are a LOT of gates on the OC&E Trail. Once you see all the cows you'll understand why. It's a pain but make sure to close them all behind you.
The last 15 miles or so feel increasingly populated and suburban, and eventually you'll enter Klamath Falls outskirts on paved bike trail. My route ended in Altamont at the Motel 6 and Stagecoach Pizza, but there are plentiful options for sleeping and eating in town.
Klamath Falls has an Amtrak station that can conveniently whisk you away if this is the end of your trip. Those with more time could consider riding south into California, linking up forest roads in Modoc and Lassen national forests. One of these days I'll get around to trying that.
Milestones and Places to Stay
| | | |
| --- | --- | --- |
| Place | Mile | Notes |
| Deschutes National Forest | 446 – 470 | Lots of free dispersed camping options along this stretch |
| Fort Rock | 479 | Small general store and restaurant |
| Silver Lake | 495 | General store, restaurant, RV park, town park with water and camping possibly allowed |
| Fremont National Forest | 502 – 520 | Free dispersed camping options |
| OC&E Trail | 544 | Start of the OC&E Trail section |
| Sprague River | 577 | Small general store |
| Klamath Falls | 613 | Motels, food, bike shops, Amtrak, everything |
My Itinerary
In the route description above I've listed quite a few (though not all) of the places to stay, and riders of nearly any pace can find good places to break up their days.
In case it helps anyone, here's where I ended up staying and how long I rode each day.
Boise to Willow Creek (90 miles). Camped behind the church. Some riders will likely want to stop earlier in Vale instead.
Willow Creek to Unity (53 miles, short day). Camped at Burnt River Resort after a short day, just because it looked so inviting.
Unity to Long Creek (76 miles). Camped at the RV park on the left on the way into town.
Long Creek to Service Creek (60 miles): Camped at Service Creek Resort.
Service Creek to Burnt Ranch BLM recreation area at mile 318 (40 miles). Short day, late start, dawdled through good brunch and conversation at Service Creek Resort.
Burnt Ranch rec area to Ochoco National Forest at mile 364 (46 miles), this day took me forever due to dozens of goat head thorn punctures.
Ochoco National Forest to Prineville (26 miles). Short day due to more punctures, and a visit to Good Bike Co. bike shop in Prineville to purchase tire liners.
Prineville to Deschutes National Forest camping at mile 466 (76 miles).
Deschutes NF to Fremont National Forest camping at mile 547, near the beginning of the OC&E trail (81 miles)
Fremont NF to Klamath Falls Motel 6 (66 miles). Tough day due to wind and bad quality trail.
My last three days, from Prineville to Klamath Falls, are more commonly done in four days. I pushed for three because I was trying to outrun a nasty cold snap and snowstorm. I almost succeeded, getting a dusting of snow my last night out but holing up warm and dry in the Motel 6 the following stormy night. They were long days though, and I think four days would be a more comfortable pace for most riders.
Other Notes
Bike
I rode this route on my trusty Surly Long Haul Trucker in bikepacking mode (2.1 inch Vittoria Mezcal tires). With half the ride on pavement and the other half on gravel and dirt, this is probably as good a compromise as any. If I'd had it at the time, I might have ridden my Fargo, but it would have felt a bit silly on those first few days of road riding.
Tires and Tubes
I rode with tubes and nearly didn't make it out of the Cherry Creek / Horse Heaven area (between Service Creek and Ashwood) due to goat head thorns. I would highly recommend tubeless tires for the Oregon Outback portion of this route. I converted to tubeless immediately after this ride and haven't looked back.
Traffic
Traffic was mostly light on the paved roads, and negligible on the gravel. Still, it's worth being visible and keeping an eye out. Depending on the time of day, the large horse trailers and RVs can get a bit stressful. Most people were nice, but not everyone out there is excited to see a cyclist on the road, so I tried to make a good impression by offering easy passes and friendly waves.
Navigation and Maps
I used a combination of the bikepacking.com RideWithGPS route for the Oregon Outback, plus my own RideWithGPS route I created for the first half (both cached offline). Feel free to use the route I embedded above, but do be sure to check the official bikepacking.com Oregon Outback route for details on the second half.
For locating stores and campgrounds I use both Google Maps (with the relevant sections saved offline) and Maps.me (also offline).
Drinking Water
On the road section, water was easy to come by in general stores, diners, and from the rivers along many of the roads.
Once on the Oregon Outback route, be sure to check the route notes for water sources, as there are a few notable dry stretches and the weather can get hot. With a bit of planning though, you can find water sources at camp every night (definitely use a filter). I don't think I ever carried more than 4 liters of water, maybe 5 max.
Food Resupplies
There are enough small general stores and restaurants on this route to make resupplying pretty easy, and I never carried more than 1-2 days of food. I usually ate a hearty hot meal whenever it was available at small-town diners, and packed sandwiches and snacks for the road.
Keep in mind that stores in small towns often close early, around 5 or 6pm, or sometimes aren't open at all on certain days. It's best to have a backup plan.
Camping in the national forests on the Oregon Outback route will require carrying some meals with you. I didn't want to carry a stove for only these nights, so I made do with cans of cold ravioli for these dinners, and protein bars plus cold instant coffee for breakfasts.
Hunting Season
My mid-late September ride seemed to coincide with the end of one type of hunting season and the start of another. I don't know exactly what the dates are, but if you're riding around in the national forests and notice a lot of guys with guns, you might want to pull on a brightly colored shirt or jacket. As a local policeman told me, "just don't go running around in the woods looking like a deer."
Route Alternatives
Though this route gave me what I was looking for – revisiting familiar roads, exploring new ones I'd been eyeing, and covering as much of the Oregon Outback as possible – it's certainly not the most direct route between Boise and Klamath Falls.
A few alternatives jump out from looking at the map:
Highway 26 Route
Instead of turning right at Austin Junction (mile 164), you could continue on Highway 26 through Prairie City, Mt. Vernon, Dayville, and Mitchell. From Mitchell (where you should definitely stay at the amazing Spoke'n Hostel) you could head north to meet my route at the John Day River, or continue west on highway 26 and then forest roads to meet the Oregon Outback route in Ochoco NF.
I suppose you could even ride highway 26 into Prineville, but then you've missed a nice stretch of low-traffic back roads in exchange for a busier highway.
I've ridden this alternate before in the opposite direction during Bike Nonstop US, so I wanted to try something new. Certain sections, like near the town of John Day, are also a bit heavier on traffic during commute time. It's a nice route though, and definitely worth considering, though if you have the time I think the route I detailed here is a bit quieter and more scenic.
Seneca – Suplee – Paulina (NF 16 / hw 395 / hw 380)
From the map, this looks promising! I'd like to try it someday. Between Ironside and Unity, you would turn left from highway 26 onto NF Road 16 to Seneca, then up 395 and left on highway 63 which eventually becomes 380 and leads to Prineville (these labels are from Google Maps).
This looks to be mostly paved and probably very low traffic.
West to Portland on (Mostly) Pavement
If you're looking for more pavement than gravel, consider skipping the Oregon Outback and instead following the Oregon portion of the Bike Nonstop US course in reverse. From Service Creek you could continue north to Fossil, then to Clarno, Antelope, Shaniko, Maupin, and west through Mt. Hood National Forest. This is a great route that travels through yet more wide-open central Oregon countryside.
Southern Backroads Route
A cyclist in Boise recommended the scenery on the more direct line southwest from Boise to Klamath Falls, passing near the Steens Mountain Wilderness and the Hart Mountain Antelope Refuge. There seems to be tempting potential for linking up a portion of this Oregon Big Country route and surrounding back roads.
I didn't have enough time to research it thoroughly (especially water sources!) before starting my trip, so I'll save this route for another time. And you should too unless you've done the research, because it's big, remote, dry country down there.
Highway 20 Route
After riding one short mile of highway 20 during the Oregon Outback route, I would not personally cycle this highway. Too much traffic, not enough shoulder.
Whichever way you go, a ride through eastern and central Oregon is sure to be memorable. Personally I can never get enough of the open roads and wide open spaces. Just writing this up has me itching to go back and try a different route!
More Bicycle Touring and Bikepacking Resources
If you're feeling in the mood to bicycle through Oregon, you might also find these helpful:
Bike resources in your inbox?
There's more where this came from! Sign up here for occasional emails full of inspiration and information about bikepacking and bicycle touring.


Share the Adventure
If you found this article helpful, please consider sharing so more people can benefit from it:
Pin For Later