If you're packing lunch for a day hike, first of all, don't stress. Food always tastes better on the trail! When you're perched on a rock overlooking a gorgeous wild view, I promise you, no matter what you packed for lunch it's going to taste amazing.
Still, some hiking lunch ideas are objectively better than others. Certain foods are easier to carry in a backpack and better targeted to a hungry hiker's nutritional needs. If you need both inspiration and expertise from a prolific hiker who knows what it's like to be famished on the trail, I'm here to help.
All the hiking lunch ideas in this post are no-cook once on the trail (i.e. no backpacking stove required) and suited for a single-day hike. Backpacking food is a different topic entirely, usually involving weight and space constraints, a stove and fuel, and dried ingredients that won't go bad. Day hikers can usually get away with carrying fresher foods and paying less attention to the weight and space they take up, which is a good thing when it comes to eating your fill on the trail. So plan to enjoy these day hiking lunch ideas the same day you pack them.
When I look at other articles about day hiking lunches, I'm shocked to see how fancy their recipes are! Maybe these people are all chefs in their off-trail life? Honestly, most of their "hiking lunches" are fancier than what I eat for lunch at home. Rest assured my list of day hiking lunch ideas contains only quick and easy hiking meals that won't keep you stuck in the kitchen all morning. After all, you've got a hike to prepare for! So let's get to it.
When you buy through affiliate links in this post, I may earn a small commission. Thanks for your support! Don't worry, everything you read here is unbiased and based on real experience on the road and trail. Learn more.
When To Pack Lunch For Day Hiking
If you're new to hiking, you might be wondering: Does it even make sense to pack a lunch for a day hike? How long does the hike need to be before you bring a lunch?
There's no one right way to do it as long as you pack enough calories overall. A bunch of snacks may be more convenient for short hikes under a couple hours, even if your hike spans lunchtime. On the other hand, a nice lunch can really elevate your enjoyment of a short hike, especially if there's a scenic viewpoint or summit where you can eat it. For longer hikes (say more than ~4 hours) it can be tough to get enough energy from snacks alone, and you'll likely welcome a longer break for eating some "real food."
Whether you pack a lunch or not, remember to also pack plenty of hiking snacks! These should be easy to eat during quick breaks or even while you're walking. The key with hiking is to eat before you get hungry so never experience a dip in energy.
Important note: Not all foods will stay fresh and safe to eat during hours of hiking. Many of these hiking lunch ideas involve meat, which is best kept refrigerated until you're ready to eat it. You can most likely get away with a couple hours in your pack, but if your hike is long or you want to play it safe make sure to choose non-refrigerated options.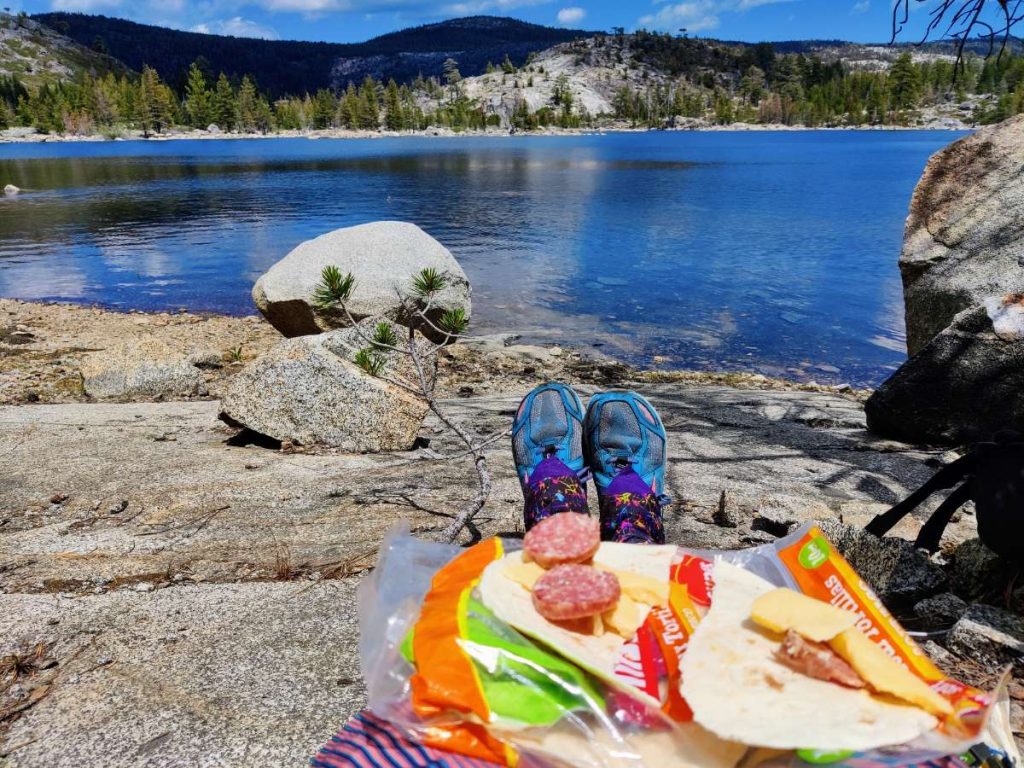 Easy Day Hiking Lunch Ideas
A good hiking lunch contains a mix of macronutrients: carbohydrates, fat, and protein. All of these are needed to keep your body moving energetically, prevent you from feeling hungry, and help you recover quickly. The best hiking lunches are also packable (won't squish or crunch), space-efficient, not too messy to eat, and taste good cold.
Tortilla wrap with deli meat, cheese, and lettuce: This one is super easy to prep and carry and has all the nutrients needed to fuel your hike. Slather an extra-large tortilla with your favorite condiments, layer in some sliced deli meat and cheese, and add a leaf of lettuce and slice of tomato for some crunchy freshness. To make it more filling, add a few slices of avocado or smear guac on the tortilla. If you're really feeling fancy you can chop it up into bite-size "pinwheels" but this makes it harder to carry.
Bagel and cream cheese: I suppose this is technically a breakfast food, but why not eat it for lunch? It packs lots of calories into a small package and is super-easy to prep and carry.
Tortillas, hard cheese, salami: This is the rare day hiking lunch idea that works as a backpacking lunch too, and is perfect for a long day hike and/or hot weather. Hard cheeses (like aged gouda or aged cheddar) and hard salami last days without refrigeration and handle heat well, so you don't have to worry about them spoiling while you hike. You can slice everything at home and pre-prepare them, or just bring the ingredients and a pocket knife to feel like you're "cooking" in the wild. (Be sure to bring a container for the open packages in case you don't eat them all – but you probably will!)
Picnic spread: If you want to make your hike all about the lunch break, you can pack an entire picnic! You might call this a trail charcuterie board or an appetizer or tapas-style lunch, but to me it's about packing bite-size portions of fresh finger foods with a fun amount of variety. Ideas: crackers (pack in a tupperware to protect), cheese, salami, grapes, apple slices, smoked salmon, olives, . You can pre-slice things at home or bring a pocket knife and do all the prep on-trail. Be sure to bring some napkins and a few paper plates to spread everything out on, and containers for bringing home any unfinished portions.
Snack lunch: Similar to a picnic spread but easier to prepare, a snack lunch is just an abundant array of hiking snacks that you can eat in a single lunchtime sitting. I recommend protein bars, trail mix or nuts, dried fruit, nut butter packets, string cheese, beef jerky or meat sticks, and maybe a fresh apple or orange to round it out.
Burrito: Any kind of burrito makes an excellent hiking lunch. Make your own from scratch, microwave one from the freezer, or buy one at Chipotle (yum…). You could wrap it in foil to try and keep it warm, but this only works for the shortest hikes. In my experience a cold trail burrito is tasty too, especially on a hot day.
Prosciutto and cheese rolls: You can make these in a few ways, but the easiest is to wrap some prosciutto (thin-sliced salty dry-cured ham) around a stick of string cheese or rolled up cheese slice. The salty prosciutto tastes extra good in hot weather. Pre-chop them into bite size pieces at home, or just pack the whole thing and bite off chunks on the trail. You'll want to add a source of carbs to this one, like wrapping the whole thing in a tortilla or eating the slices on crackers, for a balanced hiking lunch.
No-fridge lunch boxes: If you're still looking for ideas, pretty much any of these lunchbox ideas would work well as a trail lunch because you don't have to worry about leaving them out of the refrigerator for a few hours before eating them. The combination of finger foods, variety, and fresh ingredients is perfect for satisfying hiker hunger.
Sandwiches for Hiking
If you thought it strange that the above section didn't include any sandwiches, that's because they merit their own entire section! Sandwiches are one of the easiest, most common, and most popular day hiking lunch options. They're portable, nutritionally varied, easily customizable for different tastes, and you probably make them at home all the time anyway.
Pretty much any sandwich can be a hiking sandwich. Personally I like to avoid the messy ones and those that are usually served hot (like BBQ pulled pork) but even those can work if you pack them carefully. For a cold sandwich just layer up your favorite bread (slathered in condiments), deli meat, sliced cheese, some crunchy lettuce, and anything else you prefer. Below are a few of my personal favorites.
Any of these hiking sandwiches can also be turned into a wrap. Just substitute in an extra-large tortilla for the bread.
Peanut butter and jelly: If you haven't eaten a PB&J sandwich since you were a kid, this is the perfect time! Peanut butter sandwiches are great for longer hikes because there's no risk of spoiling if they sit in your pack a little too long. Really slather on the peanut butter, don't be shy, as this is what will keep you feeling full. Jelly adds some delicious sweetness, or you could use honey. To add more protein try sprinkling some hemp hearts or flax seed. For a fancier vibe and a different taste try sunflower butter or cashew butter instead.
BLT: The combination of salty bacon, crunchy lettuce, and juicy tomato hits the spot any time, but it's especially delicious on the trail. Make sure you pack it well (see below for ideas) so the tomato doesn't squish out.
Pastrami and swiss on rye: Pastrami, or any salted meat, can taste especially good as a hiking lunch on a hot day. Your body loses electrolytes as you sweat, and eating salty foods is a good way to replenish them. Add some mustard or mayo, and maybe even some coleslaw, for a restaurant-grade sandwich in the middle of nowhere. If you don't like rye bread, sub in any bread you prefer.
Your favorite sandwich: Turkey and cheddar? Ham and swiss? Sourdough or sprouted wheat bread? Tuna or chicken salad? Whatever you enjoy the most will make the perfect hiking sandwich.
Vegetarian and Vegan Hiking Lunches
If you're vegan or vegetarian, you probably already have your go-to favorite lunches. Many of these will work perfectly fine for hiking too! Here are a few highlights that are similarly quick, easy, and satisfying on the trail. Many of them also make excellent healthy hiking lunches for anyone looking to eat more veggies and complex carbs.
Bean burrito: Beans are an excellent source of both protein and slow-burning carbs, perfect for a vegetarian or vegan hiking lunch. Add some rice, corn, pico de gallo, and vegan or regular cheese and you've got a balanced and satisfying trail meal.
Pasta salad: Fresh cool pasta salad can be a surprisingly good hiking lunch. Just it ahead of time and carry it in a plastic tupperware container (don't forget a fork!). Go heavy on the fresh veggies like cucumbers, tomatoes, and peppers for a healthy hiking lunch. Pasta salad is great with mozzarella or parmesan cheese, but if you're vegan you can obviously leave these out or add your favorite substitutes.
Falafel pita wrap: Here's a hearty and healthy hiking lunch everyone can enjoy, and it also happens to be vegan-friendly. The chickpeas in falafel provide a perfect blend of carbs, fats, and proteins to keep you feeling energetic. Vegans can skip or modify the sauce, but everyone will enjoy plenty of fresh veggies like tomatoes and cucumber for their refreshing crunch. Just be sure to wrap your pitas well when you pack them, as they can be messy.
White bean salad: Similar to pasta salad but with even more protein, this super-healthy vegan hiking lunch is easily carried in a tupperware container and eaten with a fork while perched on a log. You can flavor it in any number of ways, such as this recipe with fresh oranges (perfect for a hiking lunch in my opinion) or this option with bell peppers and sundried tomatoes.
Peanut butter and jelly sandwich: If you haven't eaten a PB&J sandwich since you were a kid, now is the perfect time! Peanut butter sandwiches are great for longer hikes because there's no risk of spoiling if they sit in your pack a little too long. Really slather on the peanut butter, don't be shy, as this is what will keep you feeling full. Jelly adds some delicious sweetness, or you could use honey. To add more protein try sprinkling some hemp hearts or flax seed. For a fancier vibe and a different taste try sunflower butter or cashew butter instead.
Keto Hiking Lunches
Keto and low carb hiking food isn't a common choice for most people. Those of us not currently on a ketogenic diet feel much better on the trail when we eat some carbs for quick energy. However, if you're on a low-carb or ketogenic diet and want to maintain it during your day hike, here are some keto lunch ideas.
Low-carb tortillas with cheese and salami: An easy tortilla substitution makes this popular hiking lunch keto-friendly. Almond flower tortillas are a popular low-carb option but aren't very durable in a backpack. I like these "carb balance" tortillas instead, though they're low calorie so you may want to pack extras.
Prosciutto and cheese rolls: You can make these in a few ways, but the easiest is to wrap some prosciutto (thin-sliced salty dry-cured ham) around a stick of string cheese or rolled up cheese slice. The salty prosciutto tastes extra good in hot weather. Pre-chop them into bite size pieces at home, or just pack the whole thing and take bites on the trail.
Cobb egg salad: Normally I wouldn't recommend a regular green salad as a hiking lunch, simply because it's not hearty enough (you need calories out there!). But a cobb egg salad like this one is keto-friendly and has plenty of protein and fat for a filling and satisfying meal. Don't skimp on the avocado, egg, bacon, and cheese! Pack in plastic tupperware and don't forget a fork.
Fish or tuna packet with cauliflower rice: This is a simple yet filling keto hiking lunch that doesn't require much prep. Combine any packet of protein (I like salmon) and some pre-cooked seasoned riced cauliflower with some chopped or cooked veggies to make it even more healthy and delicious.
Keto bento box: Literally any of these keto lunch box ideas would taste amazing on the trail and make for a healthy hiking lunch as well. The combination of easy-to-eat finger foods, freshness, and variety makes this style of lunch especially fun as the centerpiece of a hike.
Hiking Lunch Sides
If you want to spruce up your hiking lunch, add a couple of these "side dishes" to round things out.
Potato chips or plantain chips: Salty food helps replenish the electrolytes lost in your sweat, which is why it tastes amazing on a hot day. Plus, chips won't add much weight to your backpack (though you'll have to be careful not to crunch them). Potato chips are a fantastic guilty indulgence (I try to avoid them at home but love them on the trail). For something a bit healthier, try plantain chips (salty or sweet). You could even bring a small container of guacamole for a true trailside indulgence!
Carrot sticks: Baby carrots make an excellent healthy addition to any hiking lunch. They hold up well in the heat, won't get squished in your pack, and the cool crispy crunch tastes even better on the trail.
Apples and oranges: These two fruits work especially well as healthy hiking snacks because they're durable and full of refreshing moisture. Just make sure to pack out your cores and peels; they don't decompose as quickly as you might think, and they can make a rotting mess in the meantime.
Celery and peanut butter: An classic snack that's both healthy and tasty! Cut some celery stalks, smear peanut butter into the recessed part, and pack in rows. Or simply bring a bag of celery sticks and a pouch of peanut butter and assemble them as you eat.
Greek yogurt cup: For some extra protein and a tasty treat that goes down easily, throw a single-serving cup of Greek yogurt into your pack to have with lunch. Don't forget the spoon!
Sweet and salty peanut butter bites: If you'd enjoy preparing a homemade hiking snack, any kind of sweet and salty finger food is a great choice. These peanut butter balls are one example, but many tasty variations are possible.
Day Hiking Dessert Ideas
Your body needs energy on the trail, so a hike is the perfect time to indulge in dessert! There are many excellent possibilities, but here are a few favorites to get your wheels turning.
Snickers bars: Long-distance hikers have been known to survive on Snickers bars (not recommended). The sweet and salty combo really hits the spot on the trail. Pack a few individually wrapped fun-sized bars to make sure they don't melt in your pack.
Pudding cup: Easy to carry, won't melt, and tastes great on a hot day. Don't forget the spoon!
Payday bars: Those of us who've spent a lot of time hiking in hot weather know this secret: Payday bars won't melt because they don't contain any chocolate.
Fruit leather: For a healthy hiking dessert try fruit leather snacks. You can even make your own if that's your style.
Chewy cookies: Cookies of any kind taste amazing on a hike, but personally I like the big chewy chocolate chip kind. Chewy cookies are less likely than crispy cookies to turn to crumbs in your pack.
How to Pack Lunch for A Day Hike
Packing your day hike lunch doesn't have to be complicated, especially if your hike is short and relaxed. Avoid heavy glass containers — they're heavy and could break — but plastic tupperware-style containers are great for foods you want to protect from squishing or crunching. For more space-efficient packing a simple ziplock bag, foil or plastic wrap, or reusable silicone pouch is the way to go. Double-bag anything with the potential to leak and make a mess of your backpack.
Throw in a few napkins and any utensils you might need, as well as a bag for trash. It's super important that you pack out anything and everything you brought in, especially trash and even uneaten food, to protect animals and the ecosystem where you're hiking.
For drinks, the best option is to carry plenty of water and drink up while you eat lunch. Add an electrolyte tab while you're at it. Cheers! Enjoy your hike and your hiking lunch.
More Hiking Resources
If you enjoyed this post, you might also like these:
Or visit the hiking and backpacking section for lots more!


Hiking resources in your inbox?
There's more where this came from! Sign up here for occasional emails full of inspiration and information about backpacking and hiking.


Share the Adventure
If you found this article helpful, please consider sharing so more people can benefit from it: