The Desolation Wilderness, best known for its vast granite basins and alpine lakes, is a popular backpacking destination west of Lake Tahoe. Many visitors are weekenders heading in for a single scenic night, and those with more time or stamina tackle a short loop.
While looking at the trail map, I couldn't help but wonder: what's the longest Desolation Wilderness backpacking route one can hike? For those of us wanting eastern Sierra scale with the easy logistics and accessibility of Tahoe, is there any way to walk for days in this granite wonderland without retracing too many footsteps?
Since I had a few days available in mid-June on a lowish snow year, I decided to find out. I mapped out a few possibilities, checked trail conditions, and headed up to Wrights Lake on June 18. With the variables of early-season snow, high water crossings, and ambiguous trails on contradictory maps, I wasn't sure if this route would go.
I'm happy to report that it went, and it went really well! From the heights of Rockbound Pass down to the lush and slabby banks of the Rubicon River, along the rugged Rubicon OHV route and the PCT hiker highway, up to gorgeous alpine lakes in dramatic granite basins, this backpacking route connects every possible ecosystem in the Desolation Wilderness (and a few miles outside of it).
It was impossible to get bored while navigating the steep rocky steps, marshy woodlands, and lingering snowpack on trails ranging from busy and well-maintained to faint and deserted. There's enough challenge here to keep fit and experienced hikers interested while being less intimidatingly remote than parts of the eastern Sierra. Camping options are plentiful and the main loop can be accessed from several different trailheads for ease of logistics and permits.
I couldn't find much information about longer backpacking routes in the Desolation Wilderness, so I'm writing this one up and naming it – with only slight tongue-in-cheek grandiosity – the Grand Loop. I hope it provides an interesting option for more experienced hikers seeking a longer backpacking route in the Desolation Wilderness.
Grand Loop Overview
Distance: 55 miles (up to 63 with recommended extensions, or 74 with the not-so-recommended extension #3)
Elevation gain: 9100 feet (up to 11000 feet with recommended extensions, or 13800 with extension #3)
Days: 4 – 6 would be typical, but obviously depends on your pace. Fast-and-light folks could to it in less, but since there is no resupply on the route (except possibly in extension #3) you'll pay for a slower pace with more food weight.
Difficulty: moderately challenging? Difficulty is subjective, but this is a route for folks with some fitness and backpacking experience. Challenges include long sections of very rough and rocky trail, high altitude (up to 9300 feet), lots of elevation change, faint or confusing trail, and (in early season) high water crossings and lingering snowfields.
Should you try it? In my opinion a reliable navigation system, physical (or at least mental) endurance, and good judgment should be enough to get intermediate backpackers around the loop or at least safely back to the trailhead. I'm reasonably fit and experienced in the outdoors, but had not recently trained for backpacking and am not an expert in backcountry skills (water crossings, cross-country navigation, snow travel, etc).
Extension Options
If you're looking for the longest backpacking route in Desolation Wilderness, the Grand Loop can be made even grander! Here are three options for extending it.
The map below shows the main loop in purple, plus three possible extensions to make it even longer. I recommend extensions 1 and 2, which add some nice scenic lakes for a reasonable amount of effort. I don't really recommend extension 3 due to its extreme elevation gain and loss plus the relatively crowded trails in this part of Desolation Wilderness.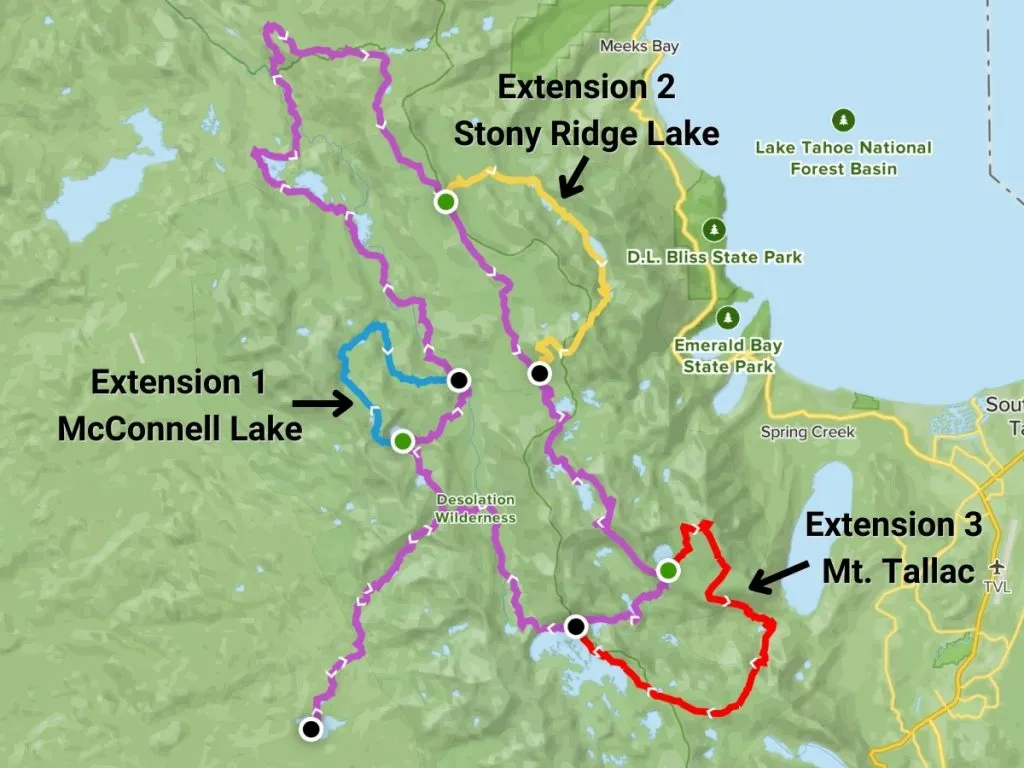 The Grander Loop: Extensions 1 and 2
If you have time, experience, and good conditions I would absolutely recommend adding extensions 1 and 2 (but not extension 3, unless you're really determined). I'll call this the "Grander Loop" in the descriptions that follow.
I hiked the route in mid-June, and due to time constraints and lingering snowpack I was only able to hike the main route (shown in purple on the map above).
Half-Grand Loop
If you're short on time or things don't go as planned out there, the loop can be chopped in half via the Velma Trail. The southern half-loop is the clear winner for alpine scenery, but the northern section is interesting in its own way and will have less lingering snow early in the summer.
Trail Maps
Here are GPS tracks for several versions of the route. I used the AllTrails maps for this hike and found them very accurate (more accurate than my paper map). Note that offline downloads in the app require a small subscription fee.
Grand Loop (55 miles, 9100 feet climbing)
This is the main "lollipop" loop starting from Rockbound Trailhead. The loop itself is only 43 miles and could be started from a number of other trailheads. Here's the map on AllTrails.
Grander Loop (64 miles, 11k feet climbing)
This is the main loop plus two extensions: McConnell Lakes and Stony Ridge Lake. McConnell is the more challenging of the two; less experienced or early-season hikers might want to skip it and just do the Stony Ridge Lake extension. Here's the map.
Combined Routes
If you're interested in extension 3, or just want to see all the variations in the same place, here's a combined map. Detailed AllTrails map here.
Starting Trailheads
This backpacking loop can be adapted to start at almost any trailhead in Desolation Wilderness! This is extremely helpful for getting a permit, since (as I'll explain below) there is a quota system based on your first night's camp location. The main Grand Loop without the "lollipop stem" is 43 miles, and entering over Rockbound pass adds about 6 miles each way.
As mapped, the route starts from Rockbound Trailhead at Wrights Lake on the west side of Desolation Wilderness. This is convenient if you're coming from the west and don't want to go all the way into the Tahoe basin, and it's generally a less crowded part of Desolation Wilderness. The road to Wrights Lake is narrow and curvy, but paved the entire way and accessible in any type of car.
If you're starting from within the Tahoe basin, one of the eastern trailheads will be more convenient. Meeks Bay and Bayview are popular options and have a shorter "lollipop stem" than Rockbound.
From the south on Highway 50, Ralston Peak trail offers a longer approach (7+ miles each way) but the chance to see more of Lake Aloha without the arduous addition of extension 3.
Loop Direction
The loop works fine in either direction. Starting from Rockbound Trailhead I have a slight preference for clockwise because you'll get more of the rugged trail done first. When you hit the PCT after finishing the Rubicon OHV connector you'll be pleasantly surprised by how quickly the miles pass. Going the other way (counter-clockwise) you'll want to leave plenty of time for the slower sections in the second half.
Route Description
This detailed route description is from my trip in mid-June 2022, so early-season conditions were still a factor. Some of the challenges, like water crossings and obscure trails, should resolve through the hiking season.
Rockbound Trailhead to Rockbound Pass
Starting from Rockbound Trailhead at Wrights Lake, the trail climbs five miles to Rockbound Pass. The last couple miles are quite rough and rocky (it's called Rockbound after all) and slow-going. It can get windy up there and I've twice encountered hail on this pass — maybe just my bad luck.
If you get a late start there are places to camp on the way up to the pass. The last good spots are probably at Maude Lake.
Rockbound Pass to Rockbound Valley / Rubicon Trail
From Rockbound Pass a short descent leads to Doris Lake, another good place to camp. This bowl holds snow later than most other areas of the route. From Doris the route continues past Lois Lake to Lake Schmidell, with good camping at both.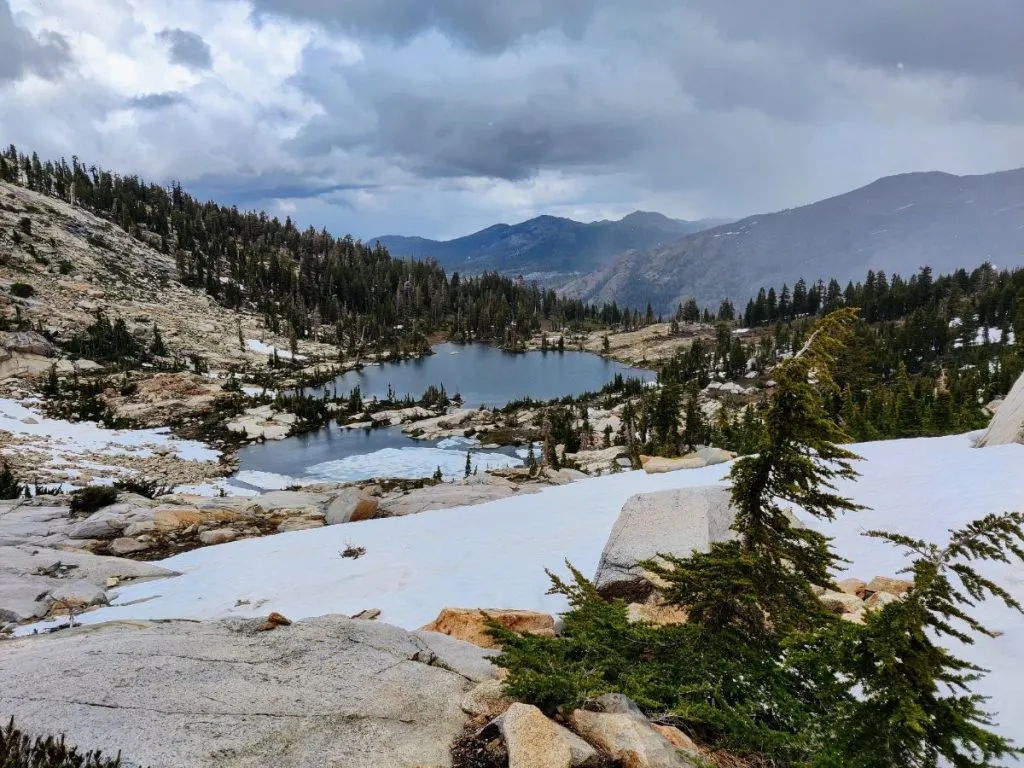 At Lake Schmidell you'll either turn left for the primitive trail to McConnell Lake (extension 1) or right to descend into Rockbound Valley along wooded trail and granite slabs. You can see in the pictures that I had bad weather for this section, but it's generally quite scenic!
Rubicon Trail / Rockbound Valley to Rubicon OHV Trail
Once in Rockbound Valley, the Rubicon hiking trail follows the Rubicon River gently downhill for several miles to the Rubicon Reservoir. There are three river crossings in this section. I was surprised by the force of the ankle-deep water across slippery granite at the lowest crossing, but the others were fine.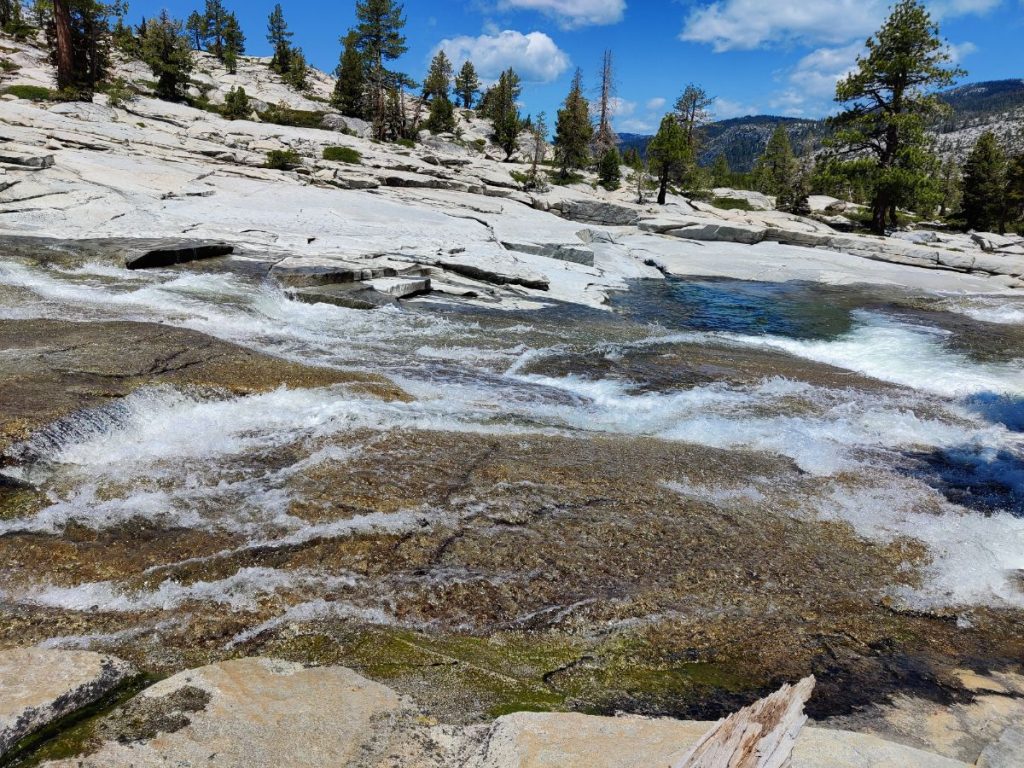 This section was slow-going so early in the summer. Numerous sections were swampy and blocked by downed trees. I often lost the faint trail and had to consult my GPS track, and my feet were wet for hours. I would expect better conditions later in the summer, but it's still more rugged and less well-traveled than the PCT.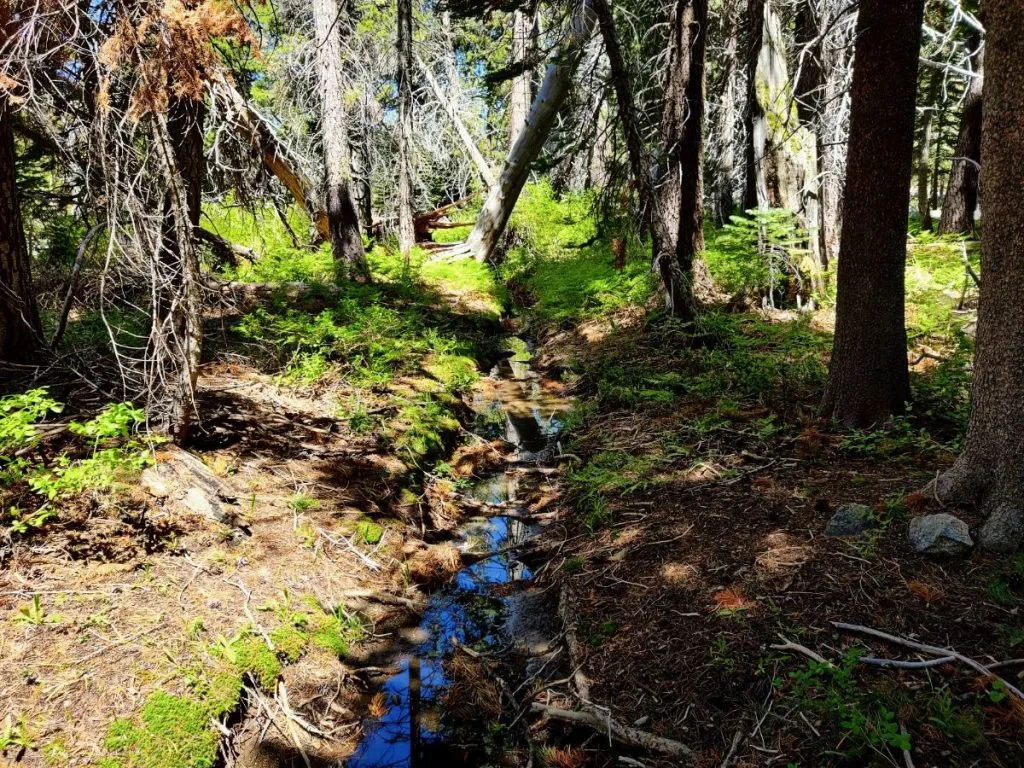 Around Rockbound Reservoir and Rubicon Lake the trail became drier and better defined. Near Buck Island Lake the trail exits Desolation Wilderness into Tahoe National Forest before connecting with the Rubicon OHV trail.
Important note: The trail that connects the Rubicon (hiking) trail to the Rubicon OHV trail along the west side of Buck Island Lake is not shown on my Adventure Maps Tahoe Basin paper map, though it does indeed exist. That map, made in 2011, instead shows a primitive trail along the eastern side of Rockbound and Buck Island lakes that does not actually exist. AllTrails shows both of these correctly, though the primitive trail is marked "historical, private" only if you zoom in very closely. In short, follow the route in my AllTrails map above even if it doesn't agree with other maps.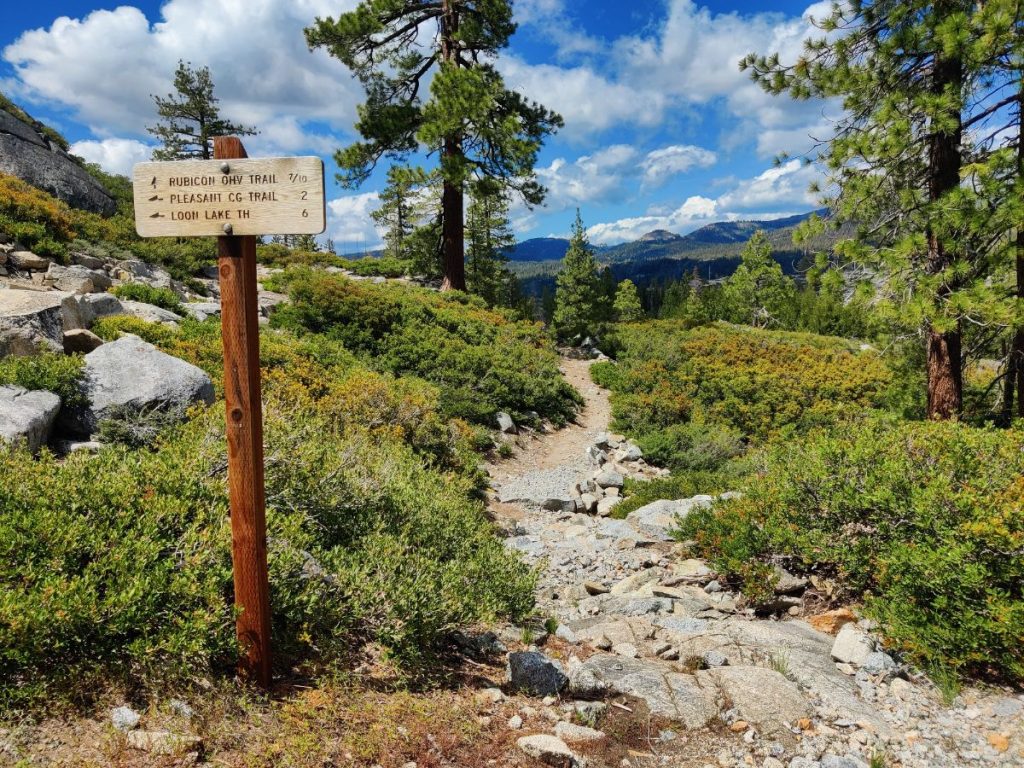 Rubicon OHV Trail to PCT
The next 5.5 miles are an abrupt change of mood! Singletrack snobs beware, you are hiking on one of the most famous jeep and OHV routes in the area. You'll see why as you navigate the massive rocks and other obstacles, possibly passing jeeps at walking pace as they struggle to find a safe line.
I prefer quiet singletrack to the sound of revving engines and the faint smell of spilled vehicle fluids, and I would not have wanted to spend much longer than five miles on this section. However, it's a small price to pay for the ability to close this epic backpacking loop through Desolation Wilderness. Plus, it's kind of interesting!
Leave plenty of time for this section; despite being a "road" it's surprisingly slow going. Try to avoid this section on Saturdays and busy holiday weekends; a few passing jeeps are interesting but a constant stream would be really unpleasant. I wouldn't plan to camp along this section unless you want company from OHVers.
PCT to Middle Velma Lake
The turn onto the quiet and smooth PCT will likely come as a relief after navigating the Rubicon OHV Trail. There are a couple campsites at Miller Creek, just after the turnoff, if you're ready to end the day.
The next ten miles are the easiest of the whole route and fairly well-groomed. Here the route re-enters the Desolation Wilderness and follows the PCT (and overlapping Tahoe Rim Trail). Depending on your timing, a steady stream of PCT thru hikers may be coming primarily north or southbound, but day hikers and weekenders are rare on this segment.
Compared to the rest of the route this section is notably lacking in lakes (though several streams make nice water sources and campsites). For more variety and a few extra miles, take extension #2 to lakes Genevieve, Crag, and Stony Ridge.
Middle Velma to Lake Aloha
Around Middle Velma Lake the terrain gets more interesting as high alpine scenery returns. The trail continues past Fontanallis Lake and Dicks Lake, both lovely camping spots that can be busy with other backpackers. The climb to Dick's Pass holds snow later than much of the route, but since it's the PCT there will be well-worn tracks to follow.
From Dick's Pass a long descent leads past several more lakes, including Susie and Heather. Here you'll run into weekenders and the occasional day hiker. The trail grows increasingly busy up to the junction at Lake Aloha, where you'll probably be pleased to turn right where the PCT and most other hikers turn left.
Lake Aloha to Rockbound Trailhead
Enjoy a relatively quiet stretch along Lake Aloha's northern shore as you climb to Mosquito Pass. The descent from the pass is very rugged in places; take your time. Back down in Rockbound Valley you'll follow the Rubicon River through forest once again; the three crossings here are much gentler than those further downstream.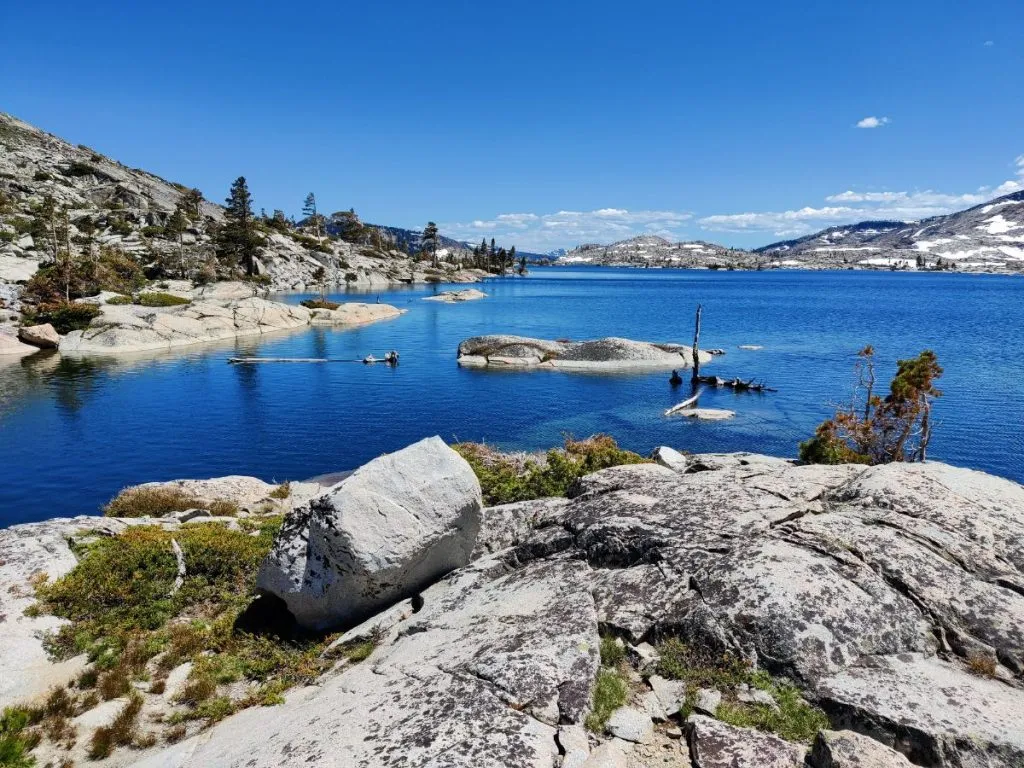 Finally, a short and steep climb up forested hillside leads out of the valley and back to Doris Lake. If you didn't camp here on your way in, it makes a great place to spend one last night before retracing your steps back to Rockbound Trailhead in the morning.
Camping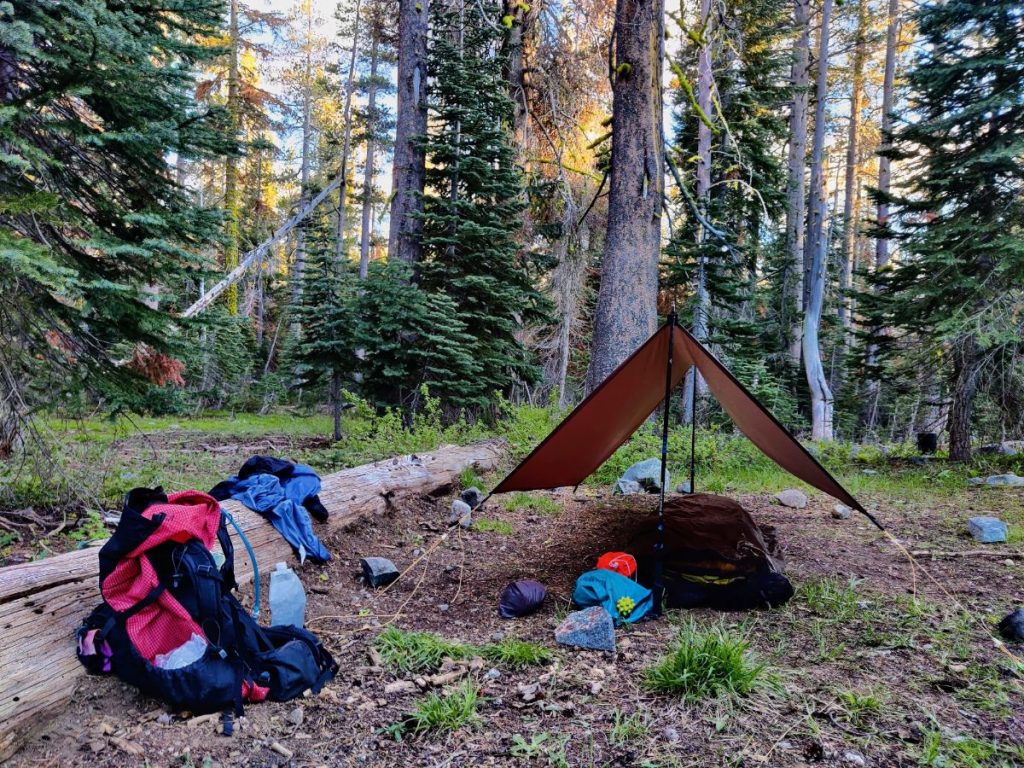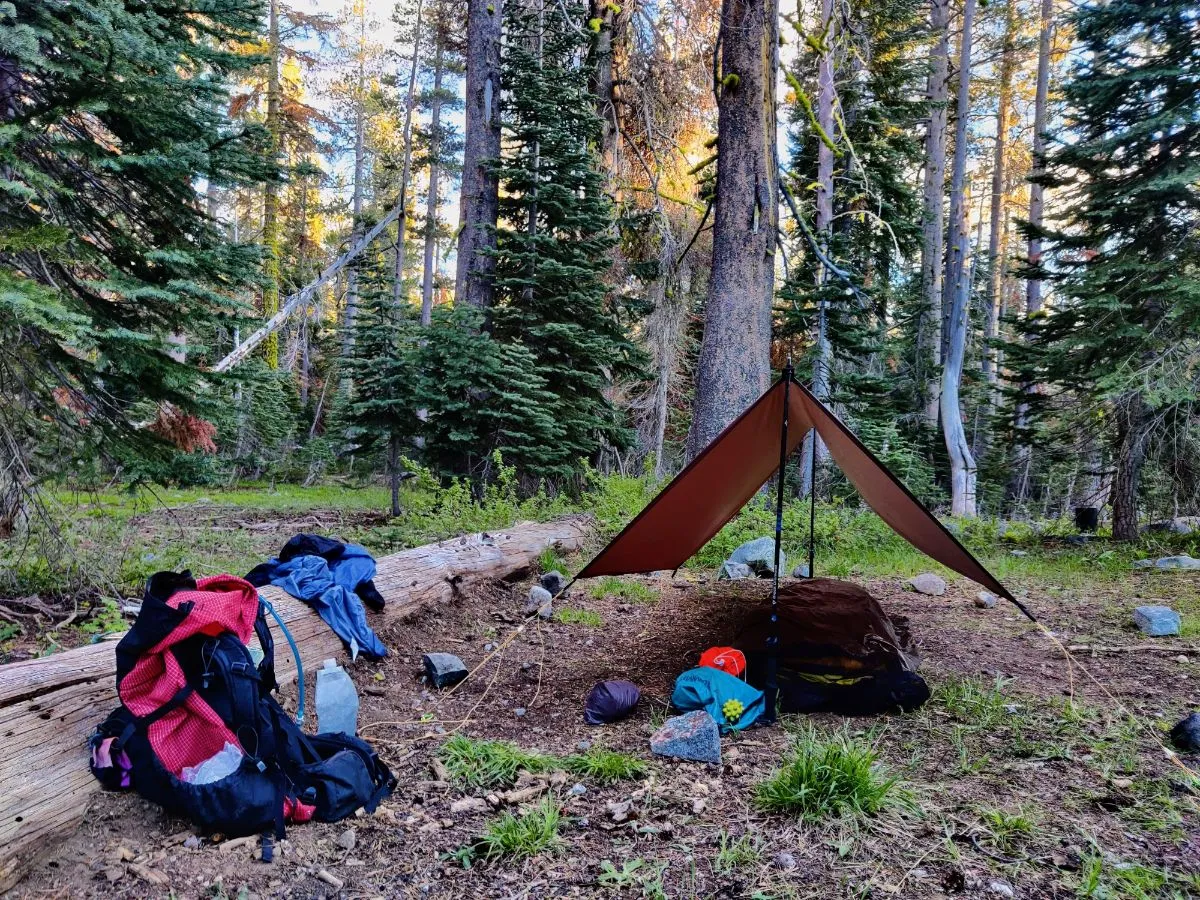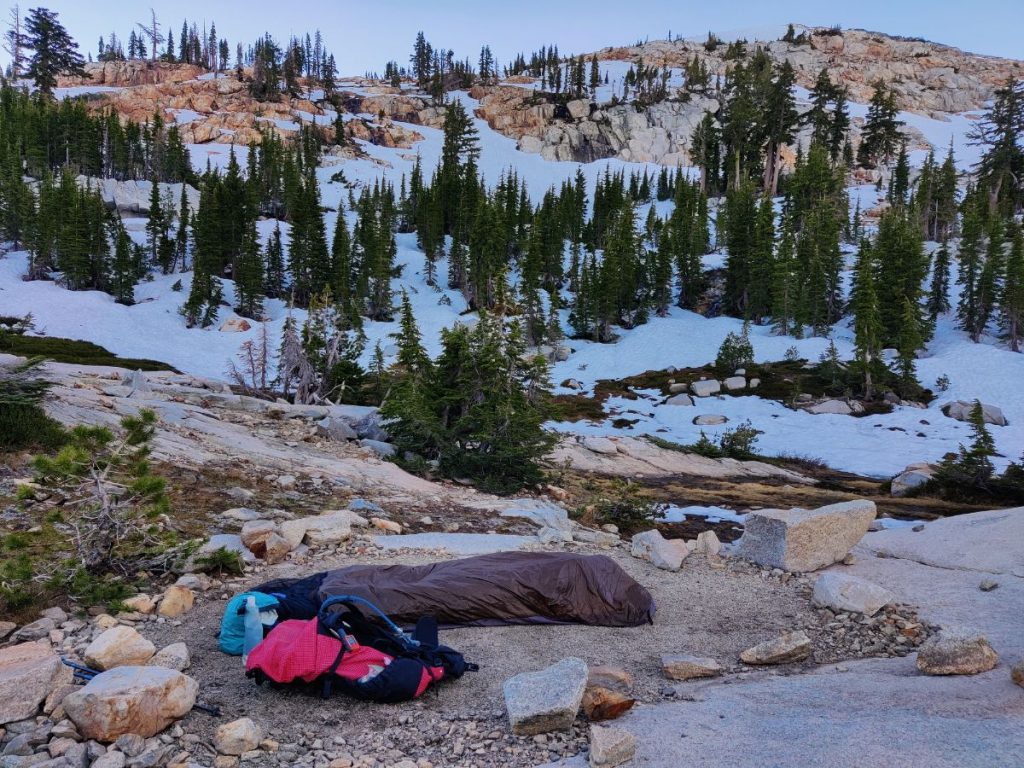 Permits
For the latest, see the official Desolation Wilderness permits page. At the time of this writing a majority of permits are available to be reserved online and a smaller number of walk-up permits are available each day.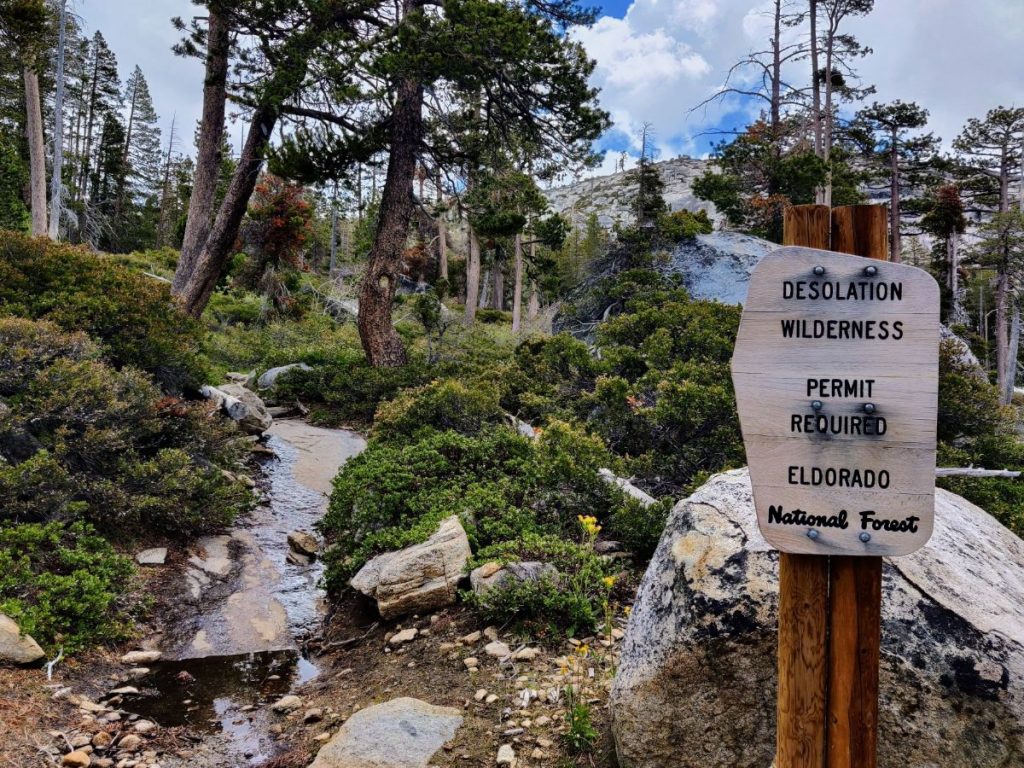 The quota system is based on the zone map, available here as PDF and at the bottom of the permit page. Hikers apply for a permit based on where they'll spend their first night of the trip; after that they're free to go anywhere.
For example, if following the Grand Loop as mapped above, you could get a permit for zone 25, 26, 14, 11, or even 10 (for extension 1) depending on how far you plan to go on day 1.
You also have the option of starting at a different trailhead, making this backpacking route extremely flexible in terms of permit options in the notoriously busy Desolation Wilderness.
Since this route exits and re-enters the wilderness, I wondered if a second permit might be required. The permit rules don't mention this case and just refer to a "trip" without specifying whether the whole trip needs to remain in the wilderness. I did my trip with a single permit for my first night's location, and I'd guess this case is so rare that no one cares enough to make a rule about it. If anyone finds out otherwise, let me know and I'll update this writeup.
Parking
The parking situation is a bit confusing. I parked at the Wrights Lake overflow lot before the main Rockbound Trailhead lot was open for the season. It seemed that the main lot requires a fee when open (there's a pay station at the entrance) but the overflow lot about a mile down the road might be free.
I was issued a parking pass with my permit, and I think it was meant as a fee waiver. But the trailheads it named were all far from Rockbound. Since my permit application clearly specified my trailhead, I'm wondering if this was just a mistake in the text on the parking permit.
Whatever trailhead you pick, I would suggest looking up the parking situation in advance and being prepared to pay, if necessary, when you arrive.
When to Hike
Desolation Wilderness follows the same seasonal patterns as the rest of the Sierra and the high alpine in general. Hiking season is typically from late June (depending on snowpack) to September, with July and August being peak season.
Try too early and you'll encounter potentially unsafe levels of snow, very wet trails, and high water crossings. My mid-June hike was about as early as I felt comfortable with; just one week earlier might have been a no-go. Too late and the weather gets colder while chances of an early winter storm increase.
Fortunately, there's a great trail conditions webpage for the Desolation Wilderness. Check it carefully, especially if heading out before July. Note that many of the trailheads, including Rockbound, aren't even accessible until access roads are open and free of snow.
If you do venture out on the early side, I highly recommend hiking poles to help with snow and water crossings, and a set of Yaktrax or similar in case you encounter a bit of hard snow and need traction.
On this Grand Loop route the sections that hold snow the longest are: between Rockbound Pass and Doris Lake, the northern side of Dick's Pass, and the western side of Mosquito Pass. Parts of all three extensions could also be a concern.
Must Know
A few other important notes about backpacking in Desolation Wilderness, on this route or any other.
Bears and food storage: A bear canister is highly recommended required (new as of July 2022) for this route. Bear-hiker interactions are apparently on the rise in the Tahoe area as climate change messes with their seasonal patterns and fires destroy their habitat. No one wants to get their food stolen or, even worse, cause a bear to be euthanized because it developed a liking for backpacking food.
Mosquitos: This area can be full of them, especially earlier in the summer while standing water is abundant. At minimum carry a small bottle of deet (I like 30% so it doesn't harm my gear) and / or picaridin bug spray. A head net can be key when it gets really bad.
Campfires: If they're banned, please don't make 'em! My permit specified that all campfires were forbidden throughout Desolation Wilderness, yet I still saw backpackers making them. Once you drive through the massive area decimated by the Caldor Fire, you'll understand why extra caution is in order here.
Trail conditions: As mentioned above, check the helpful trail conditions page for up-to-date information about closures and conditions before your hike.
More Backpacking Resources
I hope you have a wonderful time backpacking the Grand Loop in Desolation Wilderness! If you give it a try please leave a comment letting me know how it went.