Seven Mile Rim (or 7 Mile Rim, Sevenmile Rim, etc) is a fun intermediate-level OHV route near Moab, Utah. If you have an afternoon and a well-equipped vehicle (your own or a rental) it's a great way to explore a scenic area and practice your off-road driving skills.
Moab is a paradise for outdoor explorers of all stripes, and no group is more unmissable than the 4×4 / OHV crowd. Stroll through downtown Moab and you'll hear them before you see them, windows down and engines rumbling, vehicles covered in red dirt, drivers smiling.
If you can't beat em, join em! I'm usually into human-powered transportation; hiking and bikepacking are more my speed. But when my husband and I found ourselves in Moab with plenty of hiking and biking already under our belts, we (ok, technically, he) decided that renting a jeep would be fun. Compromise is an important ingredient of a good marriage, right?
Despite my initial hesitation – I usually only encounter OHVs when they pass and cover me with dust while I'm bikepacking – I have to admit, I enjoyed driving Seven Mile Rim in a Jeep! I hope I don't get my bikepacking card revoked for saying that, but I think more empathy for other types of outdoor adventurers is always a good thing.
This post describes what it's like to rent a jeep in Moab and drive Seven Mile Rim. I hope it'll be especially helpful to those who might have a little off-road driving experience but don't consider themselves particularly experienced. That's the position we found ourselves in, and we still had a great time.
The Basics
Length: From where you leave pavement / Highway 191, the loop is about 18 miles. About 12 of those miles are technically on the Seven Mile Rim trail. Round trip from Moab adds an additional 11 miles each way on Highway 191.
Difficulty: Moderate. Some off-roading experience is recommended, but there is nothing crazy on this route if you take your time and pick good lines. More on this below.
Time: We were told it would take around 5 hours including time to leave and return to Moab, but it'll depend on how fast you drive. To be leisurely and not feel rushed, it makes sense to start by mid-morning. We finished a bit early and had time to explore some other nearby roads before heading back to drop off the jeep just before the rental place closed at 6pm.
Getting There: From Moab, head north out of town on Highway 191 for about 11 miles. Just past the turnoff for Canyonlands National Park, turn left on BLM 215 / Cotter Mine Road. See the maps below for further details. Alternatively, you can drive another 4 miles north and access the loop from Mill Canyon Road. Or, you can enter one way and exit the other, without completing the full loop.
Direction: We drove clockwise which seems to be the recommended direction, though we saw people coming both directions.
Navigation and Maps
Here's a link to the Seven Mile Rim route on Trailforks. You can download it for offline GPS navigation in the Trailforks app, which is very helpful since the trail can be hard to follow in places.
The Jeep rental shop lent us this Moab OHV guidebook, which was useful for its descriptions of obstacles and difficulty levels along the way. It's nice to have a GPS navigation app like Trailforks in addition though, since it's easy to get off trail and lose your place among the turn-by-turn directions.
Visually, the trail is marked by a mix of signs, "7R" signposts, tire tracks, white painted dashes, and occasionally nothing at all.
If you're just getting oriented, here's an overview map from the BLM. Note that there's a second access point at the northern end, via Mill Canyon Road.
Seven Mile Rim Overview
Seven Mile Rim trail offers a tour of classic Moab terrain and old mining roads to the northwest of town. The surface is a mix of chunky dirt two-track, "slickrock" (sandstone, actually surprisingly grippy), and some sandy washes. As you follow the rim on the southeastern side, you'll get views of Arches National Park and the La Sal Mountains.
Highlights include:
Uranium Arch: Slightly off-route in the southeastern part of the loop, worth the short detour.
The Buttes: Distinctive rock formations that straddle the trail.
Burnt Toast: In a full-size jeep this is a tight squeeze between some boulders, but not scary or difficult. Just take it slow and perhaps use a spotter if unsure where your vehicle ends and the rock begins.
Tippy Spot: This section of off-camber slickrock feels scarier than it looks, and than it actually is. We were assured by the folks at the rental place that the jeep would absolutely, 100%, guaranteed, definitely not tip over. And, it didn't.
Wipeout Hill: Turn right here, NOT left, unless you'd like to raise the difficulty level significantly.
Ledge: The one notable ledge on this route has a difficult line, a couple moderate lines, and an easy bypass to the right. The hardest line is doable if you get your wheels in the right spot. If you want to try the hard line, get out and scout it first, looking for a series of smaller rock steps for the right wheel. Have a spotter make sure you're on track before you go for it.
Tusher Tunnel: Off-route on the northwest side of the loop, this is a fun add-on with a very short hike through a rock tunnel. The trailhead is marked on Google Maps.
Renting a Jeep in Moab
There are plenty of jeep rental options in Moab, but we had a good experience with Twisted Jeeps. The staff was helpful and professional, and the vehicle was in top-notch condition. (No special deals or treatment here, we just picked them off Google Maps and called like everyone else.)
Though we were able to get a reservation just a couple days in advance, I'd suggest calling well ahead to get a reservation during busy periods (and it seems that Moab, these days, has a lot of busy periods).
During our Seven Mile Rim drive we saw a mix of Jeeps, UTVs / side-by-sides, and dirt bikes. The smaller vehicles looked fun and could navigate certain obstacles with ease, but they had to be more careful than we did on the bigger drops.
Jeeps feel more enclosed than open-air UTVs (though our Jeep did have a soft top), which is something else to consider. We enjoyed the AC on a hot day and didn't get totally covered in dust, but we missed out on the feeling of outdoor immersion that comes with being less enclosed. Pick your style!
How We Chose Seven Mile Rim
We walked into Twisted Jeeps with absolutely no idea where we wanted to drive or what skill level we should aim for. The guy pulled out a trail guide and went over several options, all half to full-day adventures.
Seven Mile Rim was the most advanced, he said, and had some of the hardest driving challenges. He recommended prior off-road driving experience, though he swore it as all doable without specialized skills, if maybe a little scary. My husband, always in search of a challenge, said "That one!" And that was that.
How much experience is actually needed? Neither of us had driven this kind of off-road route before, though we both have some experience driving dirt roads and in snow. We managed fine – no damage to the Jeep or ourselves – with some care and good judgment.
The nice thing about Seven Mile Rim is that all the tricky parts have optional bypasses. When you get to a ledge you can stop, get out, and decide whether you want to take the hardest line, an easier one, or sometimes bypass it completely.
The "tippy spot" is the only notable spot without an obvious bypass. You can skip the entire section by turning right on an earlier side road and meeting back up with the route afterward. But the folks at Twisted Jeeps assured us – promised, guaranteed! – that the jeep would NOT flip.
Surprisingly, this route did end up feeling accessible to beginners. Though a couple harder lines require experience or at least some quick on-the-spot learning, they can be bypassed and the intermediate lines are forgiving. As a first-time Jeep driver I was amazed at how well the vehicle handled. Huge tires and good clearance go a long way!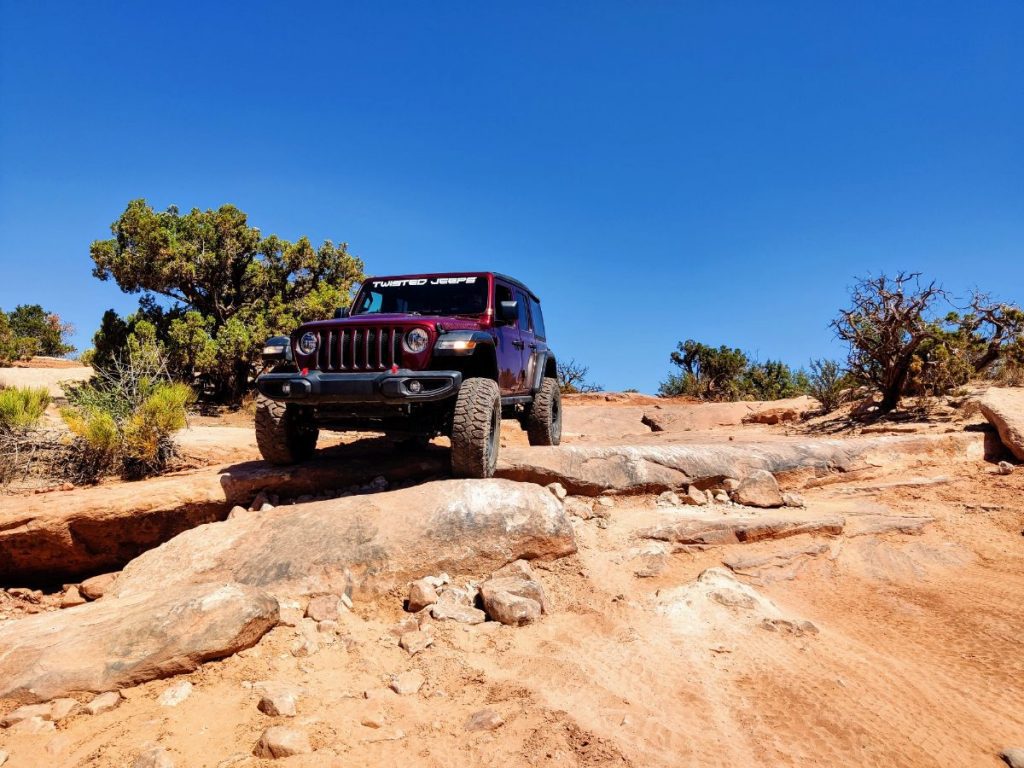 What to Pack
Seven Mile Rim is a half-day adventure in a desert environment. Accordingly, here are the items you'll want to bring:
Water! It can get hot out there, even though the vehicle is doing all the work.
Sunscreen, sunglasses, optional hat
Snacks and perhaps a picnic lunch
GPS navigation app and/or guidebook
Camera or smartphone
Hiking shoes, if you want to take any side trips
Tips for a Good Experience
Download a GPX track ahead of time. We just had a paper guidebook, which got us through, but we spent more time than necessary on navigation and missed a section of the route near Uranium Arch.
If you're newer to off-road driving, ask for a thorough overview of the gears and gizmos in the jeep. In particular, make sure you know how to shift into the lowest gear – where we stayed for much of the route – and turn off the sway bar for a smoother ride. We never used the lockers but it doesn't hurt to know how they work.
If you can't see what's ahead of your wheels, have a spotter get out and direct you. This is also a great excuse to get some action photos, and get a nervous passenger out of the vehicle for any sketchy-feeling sections (like the Tippy Spot).
Cell service is pretty reasonable along much of the route, especially up high on the rim. Don't count on it everywhere though.
"Watch the flares." That's what the guy at the rental place told me when I asked for driving advice. "What are the flares?" They're the mud guards over the wheels, and they stick out wider than the rest of the vehicle.
Scraped rocks are a sign that you should choose your line carefully. Avoid high-centering yourself – catching the bottom of the vehicle on a high spot – by keeping your wheels on the higher spots instead of trying to straddle them.
Watch the weather. Moab has a lot of dry sunny days, but heavy rain would add difficulty to sections of this route if usually dry washes were to fill with water.
If you're still unsure about Seven Mile Rim, here's another writeup I found helpful: 7 Mile Rim Trail Review. He includes a picture of the trail map posted on the route, which I wish I'd thought to snap.
More Desert Adventures
If you're in southern Utah and like self-powered adventure, check out these nearby routes:
Outdoor travel resources in your inbox?
There's more where this came from! If you love outdoor adventures in beautiful places, sign up here for occasional emails with my best tips and inspiration.
Share the Adventure
If you found this article helpful, please consider sharing so more people can benefit from it:
Pin For Later