When you were a kid – or even an adult – did you ever go out for a bike ride and fantasize about pedaling off to see the world instead of coming home in time for dinner?
What if you could ride past the edge of the neighborhood, beyond the corner store or local park, and just keep going? What if you could bring everything you need with you – food, shelter, water – to be happy and self-reliant as you pedal from place to place, exploring new landscapes and meeting new people?
This is obviously my own fantasy, but I'm willing to bet there are a few others who share it. Perhaps you're one of them! If you are, I have some exciting news for you: it can be reality as soon as you're ready.
It's called bicycle touring, or bikepacking, or sometimes bike camping. They each have their own connotations – touring often happens on pavement while bikepacking happens on dirt or gravel – but they share that same powerful spirit of restless adventure that keeps us wanting to pedal "just around the next corner" and see what's over there.
I write a lot about multi-day bike trips on this site. In fact I've pedaled over ten thousand miles in a bunch of different countries, and I often write for a more experienced audience. But today I'm writing specifically for total beginners.
Have a bike sitting in your garage, some old camping gear, and no idea what to do next? Read on, my future bike traveling friend. Here are quick and simple ideas to get you out the door on your very first bicycle camping overnight.
Bike to a Local Campground
If you're lucky enough to have a campground within biking distance of your house, you're all set for a perfect first bike overnight. Established campgrounds are a great way to dip your toe into bicycle camping in a safe and accessible environment.
First, go to Google Maps and search for campgrounds in your area. Research to figure out if reservations are needed, what the cost is (usually between $5 – $30 per site) and what amenities are available (bathrooms, drinking water, maybe even showers?).
Use a mapping app like Google Maps's bicycle layer, or Komoot, to figure out how you might ride to the campground. You'll want to find a reasonably bike-friendly route: look for recreation paths, bike lanes, and quiet neighborhood streets. Avoid busy roads with fast vehicles and no shoulders, and review how to bike safely in traffic. For more ideas, see my favorite apps and mapping tools for planning bike routes.
Biking from your front door is extra fun, but if it's easier or safer to drive somewhere and ride from your parking spot, then by all means do that.
How far to ride? If it's your first overnight bike trip, no distance is too short. You could ride just a few miles and still have an adventure. If you're a recreational cyclist and have some miles under your wheels, aim for 10 miles, or 20, or 50… Whatever you have the time and energy for.
If you happen to live near National Forest or Bureau of Land Management land, lucky you! You might not even need a campground, if dispersed camping is legal. Do note that you may not have any amenities, like bathrooms or water or a camp host, which can make a first bike overnight a little harder. More details here for those interested.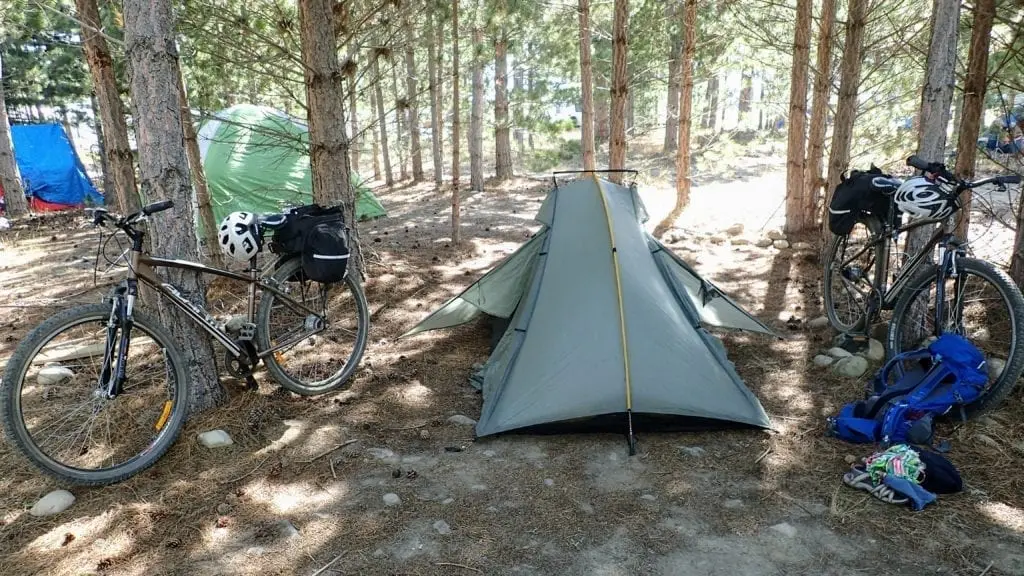 Bike to a Friend's House
Here's a creative idea for your first bike camping trip: instead of biking to a campground, ride to a friend's house and camp in their backyard! You'll get a free campsite (or perhaps just the cost of a host gift), a social visit, and credit toward your reputation as "that friend." You know, the delightfully quirky one.
Honestly, before the pandemic I might not have thought of this one, but I've done it a couple times recently. It's been the perfect way to visit loved ones safely and get my much-needed dose of adventure. Silver lining: asking people if you can camp in their backyard is now less weird than it used to be.
Of course, sleeping inside your friend's house works too, but is a bigger ask of your host and less pandemic-friendly. If your goal is to stay outside, negotiate the bathroom situation beforehand. Under normal circumstances you would just go inside and use theirs, but if circumstances require you to stay outside, come prepared with a portable toilet bag. I am not kidding.
Bike to a Motel
Intrigued by the idea of multiday bicycle touring but not into camping? That's totally fine. Another fun option is to ride your bike to a local motel, B&B, Airbnb, or other type of lodging where you can treat yourself to a luxurious pedal-powered getaway.
When it comes to route planning, the same guidelines from above apply: look for a safe bike-friendly route of an appropriate distance. Bonus points if it's scenic, includes interesting stops along the way (maybe that restaurant or museum you keep meaning to visit), or traverses an area that interests you.
Since you don't need to haul camping gear, you might want to bring a bit of extra luxury so you can fully enjoy your lodging. This might include pajamas, a change of clothes if you want to eat at a restaurant, or a book to relax with in that comfy hotel bed.
Can you bring your bike into a motel room? I've yet to be turned down, in the US at least. I make sure my bike is reasonably clean (not actively dripping mud), nicely ask permission from the front desk, and take the shortest inside route. Ask for a first floor room if that's an option, and leave a tip for the cleaning staff if appropriate.
Bike to Your Own Backyard
I know, this one might not seem quite as exciting as the others, but hear me out. If you've looked into all the options and can't find a suitable campground, motel, or friend's backyard to bike to, then why not camp in your own backyard?
That's right. Load up your bike, ride around your neighborhood, come back home, and set up camp in your yard. Maybe pick up some delicious takeout food on your way home, or try your hand at cooking on a camp stove.
Leave the house locked, pretend it's not there (possible exception allowed for the bathroom). Take it seriously, and have everything you need already packed or available outside.
This is beginner-friendly bicycle camping at its most basic. You'll feel safe, prepared, and have a backup plan just a few steps away if you forgot something important or can't figure out how to pitch your tent. It's a great practice run for your first "real" bike camping trip. It's especially fun with kids, who don't really care that you just rode around in a circle (because yay! Backyard camping!) Why not bring out the kid inside the rest of us, too?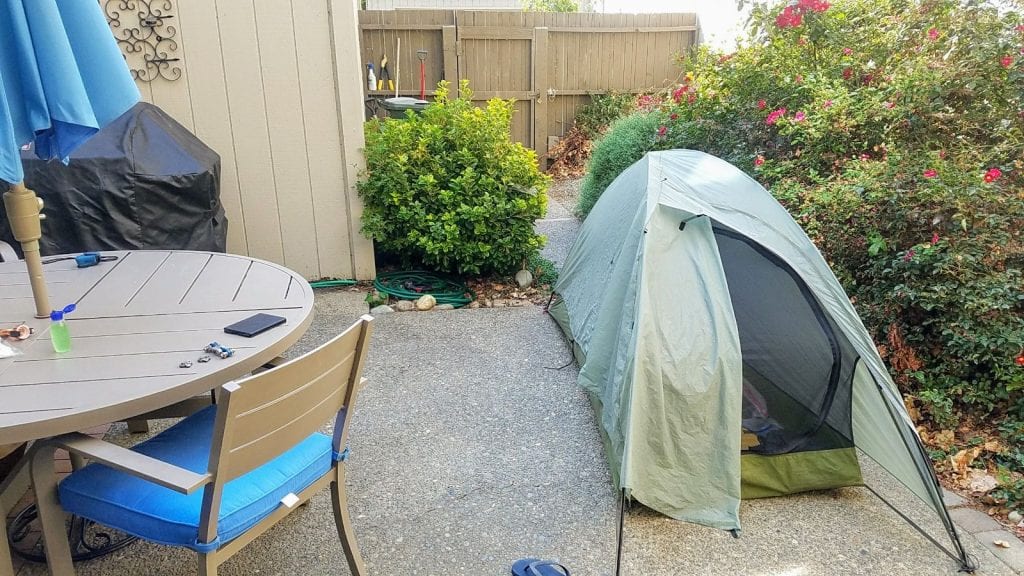 Tips for a Beginner Bike Camping Overnight
Figuring out where to camp and how to get there is more than half the work. If one of these ideas has inspired you to take the plunge and try your first bicycle overnight, here are some beginner-friendly answers to common questions.
Enjoy!
If any of this has sparked your interest – and more importantly, that feeling of "I could totally do that!" – I hope you'll remember this moment and use it as fuel to get yourself out the door for your first bike camping trip.
I know it can seem a bit overwhelming the first time (honestly every time – I still feel it!) but I promise it's not so bad. Once you discover that childlike feeling of adventure, exploration, and fun that comes from pedaling away from home with everything you need to enjoy a night under the stars, it'll all be worth it.
A word of warning: bicycle touring and bikepacking are addictive! If you find yourself hopelessly hooked on this new form of exploration, you might want to read these next:
You can also find even more bikepacking and touring resources right here. Enjoy your ride!
Bike resources in your inbox?
There's more where this came from! Sign up here for occasional emails full of inspiration and information about bikepacking and bicycle touring.


Share the Adventure
If you found this article helpful, please consider sharing so more people can benefit from it:
Pin For Later