Funn Mamba pedals are a popular all-around SPD mountain bike pedal with downhill roots. The spiffy CNC-machined aluminum, beefy platforms, and easily maintainable parts are already attention grabbing, but where these pedals really shine: their single-sided SPD version with clip on one side and flat platform on the other.
The Funn Mamba is available in four versions: single-sided and double-sided SPD in the original size, and both those varieties in a smaller "Mamba S" model. This review focuses on the single-sided original Mamba, but the key features are shared by all four versions.
If you're a mountain biker transitioning from flats to clipless, a bikepacker needing versatility for all conditions and terrain, or anyone who sometimes likes to unclip when things get sketchy, the Funn Mamba pedals are a great choice.
Pair them with a hike-a-bike-friendly shoe, like my personal favorite the Pearl Izumi X-Alp Canyon (read my review), and you'll be set for literally anything the trail throws your way. I've been riding this setup for about 7000 miles and have no plans to change!
There are affiliate links in this post. Buying through them provides me with a small commission at no extra cost to you, which helps keep this site running and growing. Don't worry, I only recommend products I know and love and I never publish sponsored content, so can you trust what you read here.
Funn Mamba Pedals Overview
Price: $115 (single sided) or $120 (double sided)
Weight: 450 g (single sided) or 500g (double sided) per pair
Platform material: aluminum (AL6061)
Axle: 9/16 inch CrMo with sealed cartridge bearing and DU bushing
Platform size: 4 x 4.01 x 0.53 in
Colors: red, orange, blue, green, black, grey
My rating: 4.8 / 5 stars, nearly perfect
Reasons to buy:
Extremely versatile
Large platform with excellent traction is confidence-inspiring for rough trails
Durable and well-made
GRS system allows easy lubrication to extend life
Spare pins and replacement axle kits available
Fun colors
Reasons not to buy:
Large platform may be overkill for mellow riding
Switching between SPD and platform sides is a minor inconvenience (as with all single-sided SPD pedals)
Big platform and aggressive pins can mess up your shins during hike-a-bikes
Somewhat expensive
My Conclusion: Funn Mamba pedals are a durable and rock-solid platform MTB pedal with SPD clips. They stand out for their huge platforms, long-term serviceability, and spiffy CNC machined aluminum in a variety of colors. The single-sided version delivers on its promise of versatility and performs better than any other single-sided SPD pedal I've tried. I find them very confidence-inspiring and recommend them to bikepackers, mountain bikers transitioning to clipless, and anyone tackling a wide range of terrain and conditions on their bike.
Single-Sided vs. Double-Sided
There are plenty of double-sided SPD pedals out there, but the Mamba especially stands out for its single-sided version: a click-in mechanism on one side and a flat platform on the other. Sometimes this is called "dual sided," not to be confused with the similar sounding "double sided," which actually means the opposite. Not confusing at all…
The single-sided style of pedal is my absolute favorite for bikepacking, and I've written about it in detail in my guide to bikepacking pedals. It solves so many problems we bikepackers tend to have: cleats jammed with mud, cycling shoe malfunction, the desire to ride in camp sandals on a hot afternoon. It's also very handy for tackling a varied route with technical sections a smidge above your pay grade.
The Mamba also comes in a double-sided version, which I haven't tried. Aside from the second click-in mechanism they're identical to the single-sided version I'm reviewing here. They should appeal to riders who like a big stable platform but spend almost all their time clipped in.
My Experience
I've been using the same pair of Funn Mamba pedals, the one sided clip version, for about 7000 miles. Though I use them for day rides too, the vast majority of those miles have been loaded bikepacking trips.
The Mambas accompanied me along the entire Great Divide, half of the Western Wildlands Route, through the Tian Shan mountains of Kyrgyzstan, and a number of shorter bikepacking routes and races in the US.
The terrain on these rides tends to be varied, which is exactly why I like the single-sided SPD design. I can click in for smoothness and power on pavement or gravel, and unclip for confidence on rough trails. I can also ride the platform side if my cleat falls off, or gets covered in frozen mud, or my bike shoe disappears from outside my tent and I need to ride in sandals. If there's one thing I've learned from bikepacking, it's the importance of a good backup plan!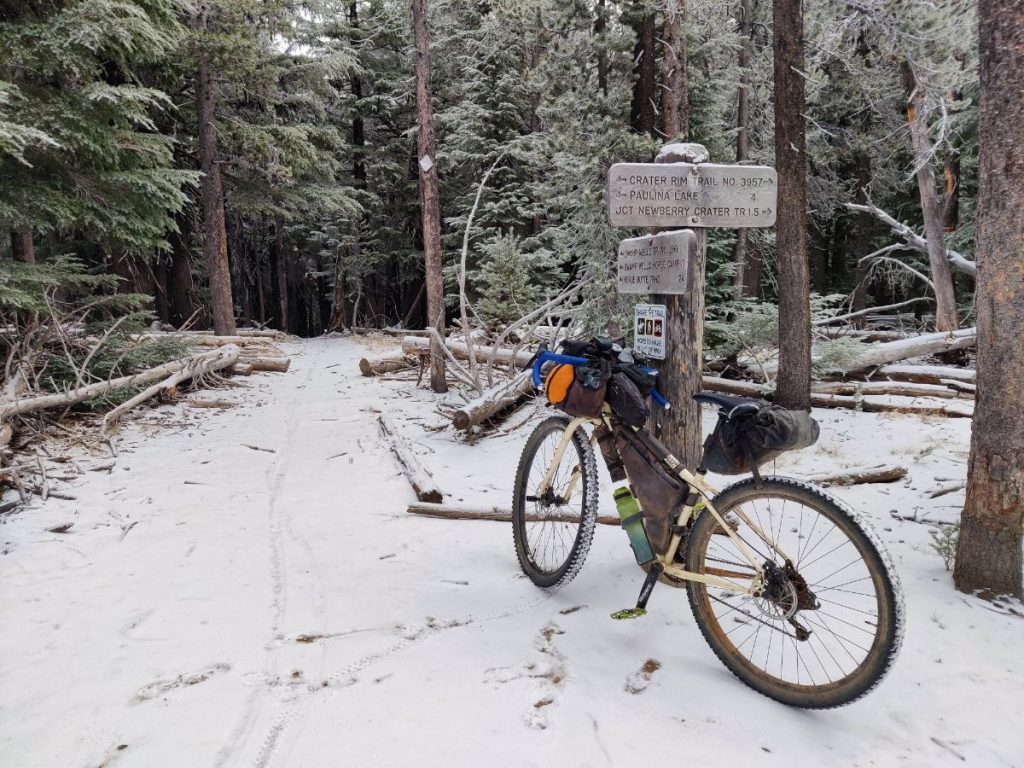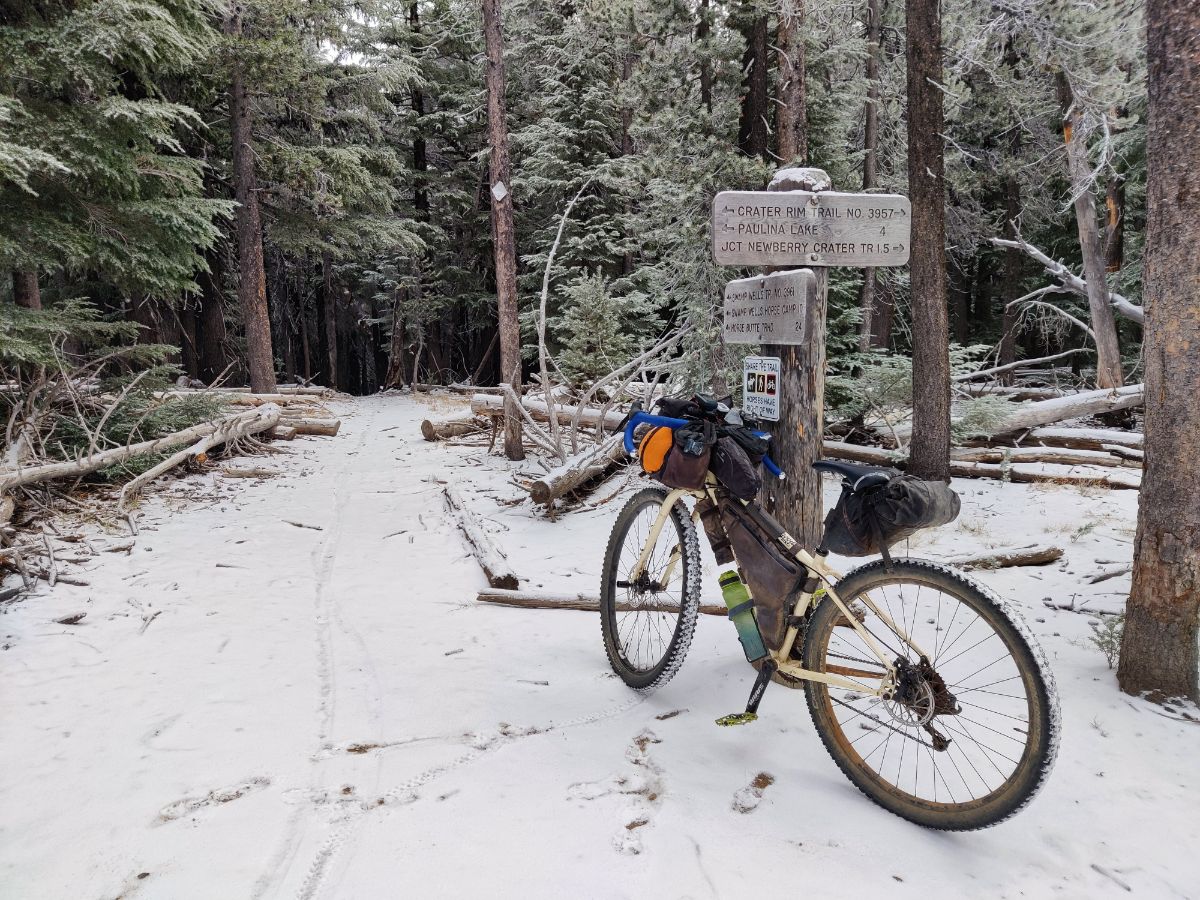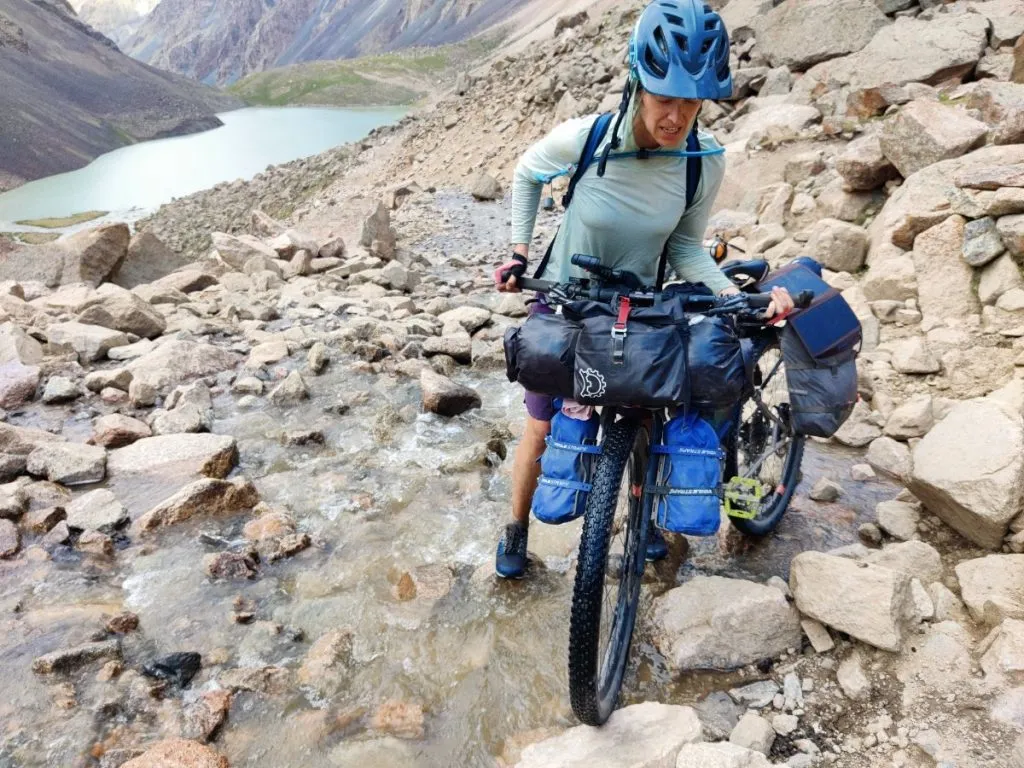 Installation
The Mamba pedals are a breeze to install with an 8mm hex wrench from the inboard side of the crank arm. I prefer this style over those that use a pedal wrench because I don't need an additional tool. This is handy even at home, but especially appreciated when bikepacking somewhere I reached by airplane (which requires removing and reinstalling pedals). Who wants to carry a pedal wrench for a few thousand miles?
Size and Traction
These pedals are BIG, and they're grippy! They were apparently designed with the rigors of the World Cup downhill in mind, but their large size and aggressive traction pins have benefits for us mere mortal riders as well.
Before getting my Mamba pedals I tried several other single-sided SPD designs, and none were as good for rough riding. The Mambas are the only single-sided pedals I've tried with a truly rideable platform side. You can basically stomp down anywhere in the neighborhood of these pedals and get a solid grip.
With other single-sided designs I could carefully pedal a short distance, helpful in case of muddy cleats or a shoe malfunction, but there was always the risk of my foot slipping off or my cleat interfering with the pins. With the Mambas I have enough traction on the platform side to actually ride technical trail without worrying about my feet slipping off, which has helped advance my technical skills.
Even when riding clipped in, the large size of the platforms is welcome. The extended support is more comfortable for my feet on long days, and the more stable and connected feeling is confidence inspiring on rough trail.
Each pedal comes with 11 traction pins installed on the flat side, none installed on the clip side (but holes for 4 if you want to add them), a baggie of spare pins, and the cute little 4mm socket wrench needed to install them. I've only had four pins fall out over the years, but if you run out of spares Funn sells extras. The pins are sturdy, grippy, and tall.
The only downside to so much pedal: the scars on my shins from hike-a-bike and clumsy technique. The burliness of these pedals may be typical in the MTB category, but compared to more touring-focused pedals like these from Shimano the Mambas have noticeably more bite, and you'll have to work a bit harder to stay out of their way.
Some folks, especially those riding mellower terrain, may find the size of these pedals a bit much. If you like everything else you're reading about the Mamba, scroll down to the section on the Mamba S for a smaller and slighter version.
Clicking In and Out
I've found the clip mechanism on the Funn Mamba pedals to be perfectly fine. I don't have much to say about it; it does its job. Riders accustomed to more minimalist SPD pedals might find the feel a bit different, but the mechanism is totally reliable and I found it easy to get used to.
It's easy to adjust the tension, which I do periodically as conditions change (dust, mud, etc.) or my cleats wear down. I keep them fairly loose as I'm a smaller rider, but the range seems wide enough to suit anyone.
If single-sided SPD pedals are new to you, note that the Funn Mamba shares one minor annoyance with all pedals of this type: you need to make sure the desired side is up before you put your foot on the pedal. With practice it becomes automatic, but it is an extra step. For this reason I only recommend single-sided pedals to riders who actually use both sides fairly often. If you ride clipped in 95% of the time and think you want a platform side "just in case," you may find the small amount of added effort not worth the benefit.
Durability
Long-distance bikepacking is rough on gear, and my Mamba pedals have not received particularly careful treatment. When I added up the miles from their big rides I was surprised to find the total nearing 7000. They've been very reliable during almost all of that lifespan. All the exterior parts are basically bombproof and have withstood many brutal rock strikes.
Here's where I have to admit something embarrassing: though these pedals are cleverly designed to be re-greased on a regular basis, I did not do so! When I first bought them I wasn't aware of this feature, which is probably why, somewhere around mile 6500, they started to squeak and click a wee bit. Given the lack of care they've received I think they've held up extremely well. I have had pedals completely disintegrate with much less use.
Fortunately Funn sells replacement axle kits for much less than the cost of an entirely new set. My next move will be to rebuild the innards and hopefully breathe new life into these neglected pedals. If you're more responsible than I am and actually use the Grease Renew System to… renew the grease… on a regular basis, these pedals should last for a very long time.
Colors!
They come in a number of fun bright colors – what's not to love about that? And if you don't love it, you can choose black or grey.
Price and Value
When I first bought my pair of Funn Mamba pedals, I thought they were pretty pricey. I had recently killed a pair of touring pedals at a very inconvenient location while biking across the US. A thoughtful McDonalds employee with a box of spare pedals happened to save the day, but after finishing the trip I decided to upgrade my pedal situation on the theory that you get what you pay for.
Now that I've been riding on them awhile, I think the Funn Mamba pedals are a good value. They're not the cheapest but they're well-made and will last a long time, especially if you take care of them using the GRS system. When eventually needed you can replace the axles and bearings for a reasonable ~$25 rather than buying a new pair. If you plan to put a lot of miles on your pedals, I think these are a very good buy.
Mamba S
If four inches of pedal width seems a bit much to you, Funn offers the Mamba S: a smaller and lighter version targeted at enduro, trail and gravel riders as opposed to the downhill inspiration of the original Mamba. It also comes in single-sided and double-sided versions and is essentially the same design as the regular Mamba, but roughly 0.15″ shorter and 0.75″ narrower.
Though I've appreciated the super-stable large platforms on the regular Mamba, I recently ordered a set of Mamba S pedals for a different bike. I suspect that for more gravel-oriented bikepacking, without much singletrack, they may be my new favorite.
As much as I love the regular downhill-inspired Mamba, it is perhaps a tad overkill for most of the riding I do. If the Mamba S can deliver all the things I love about the Mamba with a more appropriately sized platform for my small feet and frequent non-technical riding, I'll be sold.
Common Questions
Do Funn Mamba pedals come with cleats?
Yes, each pair of Mamba pedals comes with a pair of Shimano SPD compatible cleats. You can also easily buy replacements when needed.
Does Funn sell replacement traction pins for the Mamba?
Yes, Mamba pedals come with a few spare pins and you can also buy more.
In Conclusion
Funn Mamba pedals are a durable and rock-solid platform MTB pedal with SPD clips. They stand out for their huge platforms, long-term serviceability, and spiffy CNC machined aluminum in a variety of colors.
The single-sided version delivers on its promise of versatility and performs better than any other single-sided SPD pedal I've tried. I find them very confidence-inspiring and recommend them to bikepackers, mountain bikers transitioning to clipless, and anyone tackling a wide range of terrain and conditions on their bike.
If you mostly ride clipped in, consider the double sided version. And if you prefer something tad less beefy, try the smaller Mamba S.
More Bike Resources
If you found this helpful, you might also enjoy these:
Or visit the bikepacking and cycling sections for lots more.
Bike resources in your inbox?
There's more where this came from! Sign up here for occasional emails full of inspiration and information about bikepacking and bicycle touring.


Share the Adventure
If you found this article helpful, please consider sharing so more people can benefit from it: