As much as we love "getting lost" out there, most of us don't like actually getting lost. Actually getting lost can suck, like when you run out of water or ride an extra 40 miles with no food or end up stuck on a busy highway with no shoulder. Not the good kind of getting lost!
Enter the Garmin eTrex 22x. I've been using mine for around 1500 miles of bikepacking navigation, and I'm feeling pretty clear about what I like and what I don't. In this Garmin eTrex 22x review I'll describe the device's key features and share pros and cons from a bikepacker's perspective. I'm also an avid backpacker, so I'll try to make this review useful for other types of outdoor adventurers too.
Quick summary: The Garmin eTrex 22x is a rugged and affordable device that provides navigation and topographic maps in the backcountry. I like my 22x for its high quality maps and long battery life, but wish I had spent the extra $100 for the 32x because it includes an elevation profile feature.
When you buy through affiliate links in this post, I may earn a small commission. Thanks for your support! Don't worry, everything you read here is unbiased and based on real experience on the road and trail. Learn more.
Overview of the Garmin eTrex 22x
The eTrex 22x (along with its higher-end cousin, the 32x) is a rugged "handheld" GPS navigation device designed for hikers, bikers, and others who explore by road or trail.
Highlights from Garmin:
2.2" sunlight-readable color display with 240 x 320 display pixels for improved readability
Preloaded with TopoActive maps with routable roads and trails for cycling and hiking
Support for GPS and GLONASS satellite systems allows for tracking in more challenging environments than GPS alone
8 GB of internal memory plus a microSD™ card slot
Battery life: up to 25 hours in GPS mode with 2 AA batteries
Price: $200 (ok, technically $199.99)
Buy or learn more:
My rating: 3.5 out of 5 stars for the 22x, 4.5 stars for the 32x
My review summary: The Garmin eTrex 22x is a durable and affordable navigation device for those who want navigation and topographic maps in the backcountry without using a smartphone app. It has great maps and battery life, but the 22x lacks support for elevation profiles, and the buttons can be fiddly to use while riding a bike. If you can afford it, I recommend the eTrex 32x instead for its elevation profile feature.
Reasons to buy:
Durable and waterproof
Solid handlebar mount
Satellite reception is consistent and reliable
Preloaded maps are good
Battery life is pretty long with lithium AA's
Reasons to avoid:
No elevation profile on 22x
Uncommon mini USB data transfer cable required for transferring GPX files
Cursor button can be hard to use while riding
Screen scratches easily
Up next I'll share my impressions of the design and key features, and who I would recommend the eTrex 22x to (and who I wouldn't). But first, some background on how I use my 22x so you can understand where I'm coming from.
How I Use My eTrex 22x
I've had my eTrex 22x for a year and a half now. I don't use it super often, but when I do use it, I really use it. The eTrex is my primary navigation device for bikepack racing. In the last year I've put it through its paces during four intense events lasting 3-5 days each, and a few other casual trips, for a total of over 1500 miles.
During these self-supported bikepacking races I typically ride between 16-20 hours a day, so I'm using the eTrex both day and night. It's seen rain, snow, and scorching heat. It's been on my handlebars when I've crashed my bike. In short, I've put it through some challenges.
My goal when using the eTrex is usually to keep the dot (my position) on the line (my intended route). I'll load up a GPX route in advance, usually downloaded from RideWithGPS, and use the eTrex to follow it.
While riding I mount the eTrex 22x on my handlebars. I check it when needed to navigate complicated intersections, make sure I'm still on route, and occasionally find waypoints like water sources or campgrounds.
I often run RideWithGPS on my phone in parallel. This helps me see the "big picture" and check the elevation profile when needed, but I save phone battery by using the eTrex for a majority of navigation.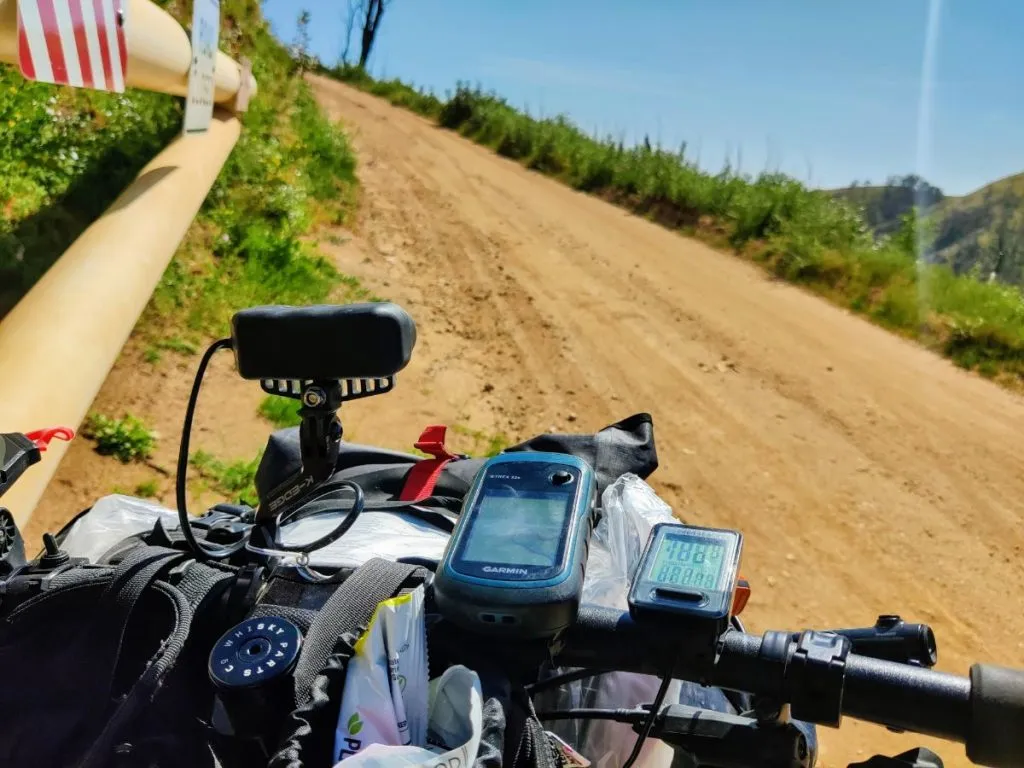 Why I Chose the eTrex 22x
In short, I chose it because it was the least expensive of the options and it was on sale. I'd been thinking about getting a dedicated GPS nav device for awhile (see next section) and the eTrex 22x seemed like the cheapest way to take the plunge.
I didn't do a ton of research first and honestly couldn't find much information about how well it would meet my needs. That's why I'm now publishing this eTrex 22x review to help future buyers make the best decision. Since buying mine, I've done a deep dive into GPS nav devices for bikepacking and now have a much better sense of the landscape.
Why Use A Dedicated GPS Device At All?
Some hikers and bikepackers may be wondering, with all the good smartphone apps out there these days, why even bother with a dedicated GPS navigation device?
Before I got my eTrex 22 I just used my smartphone for navigation, usually the RideWithGPS app. I often still do on mellower trips. Apps and touchscreen interfaces are generally much easier to use, and they're certainly less expensive. But to use them you need to either mount your phone on your handlebars — reasonable for smooth terrain but a bit harrowing on rough trails — or stop often to look at your phone.
So why did I break down and buy the eTrex 22x? Four reasons:
Battery life. It's very hard to keep electronics charged when riding 20 hours a day, charging bike lights and an InReach Mini, AND a smartphone being used for navigation. Especially without a dynamo hub. I wanted a primary navigation device that would run on its own power source and not drain my smartphone battery.
Durability. For a cycling nav device to be effective it needs to be handlebar mounted. I've experimented with a number of handlebar phone mounts, and while they do the job on smoother roads I've yet to find one I totally trust while clattering down the roughest of trails. Even if the mount is solid, I'd rather have my phone tucked away safely in case I happen to crash my bike.
Waterproof and coldproof. When riding in the rain, snow, or sub-freezing temperatures, it doesn't work to mount a smartphone on my handlebars for navigation. I need a waterproof device with a battery that doesn't give out in the cold. The interface on the eTrex is also completely usable even with thick gloves, a major advantage over a touchscreen in bad conditions.
Backup navigation. It's always a good idea to have a backup navigation method, and many bikepacking routes are long and complicated enough that paper maps don't cut it. I used to carry an old secondary smartphone for this purpose, but it's nearing the end of its life and has an even worse battery than my primary.
As you can see, a dedicated GPS device like the Garmin eTrex is certainly useful under the right conditions. However, it's an added cost and an added device in an already expensive and gear-intensive activity. If you aren't sure you need one, there's a good chance you don't. I'll get into a few alternatives at the end of this review.
Features and Functionality
Interface
Let's face it, we're all spoiled by our smartphones. No old-school non-touchscreen interface is ever going to be as easy to use. I find exploring the map — like panning side to side and looking at nearby areas — to be so awkward on the eTrex that I mostly avoid it. There's a bit of lag too; the processing power just isn't up to modern smartphone standards.
Once a route is loaded and you're in navigation mode, however, things work pretty well. Your current position automatically stays centered on the screen as the base map moves. It's fairly easy to zoom in and out, even one-handed while riding, to get a closer look at a tricky intersection or see how much farther it is to town.
My biggest complaint about the interface: that little round button on the screen can be hard to operate while riding a bike on rough ground. That said, I usually only need this button when changing tracks or looking ahead to an upcoming section of the route, so it's not a huge issue.
Durability
I've been very pleased with the durability and toughness of the eTrex so far. When riding rough terrain or in wet conditions I like to keep my phone tucked safely away as much as possible. It's a big relief to slap the eTrex on my handlebars and not worry about it; I generally have enough to worry about in those conditions already!
My eTrex has been dropped, banged, and rained and snowed on. It's seen temperatures in the low teens (low enough to temporarily kill my smartphone battery, but the eTrex was fine) and temperatures above 100F. I've never had any issues in these conditions! It's a tough little device.
Screen
The color screen is glare-free and fairly readable in both bright sun and darkness. There's an adjustable backlight which makes it easier to see in dim lighting but runs through battery faster. This light needs to be adjusted manually, but that's not a big deal. I usually change it when the sun comes up, if I started riding in the dark, and again as the sun goes down.
It's my own darn fault, but I managed to scratch the screen on my eTrex within the first few days of using it. I packed it unprotected in my top tube bag, where it rattled around against some other gear. It's still readable, but I have to look a little more closely in certain lighting conditions.
Tip: If you buy an eTrex 22x or 32x, get a screen protector! It's a small investment that can make a big difference.
Batteries
The eTrex is not rechargeable in the typical sense, but it can run on USB power (via mini-USB cable) OR two AA batteries. I like knowing I can always find AA batteries at a gas station or use my spares, so my primary nav device doesn't have to compete with my phone for that last slurp of battery juice from my USB power bank. It's also nice to have the option of using USB power, or power from a dynamo hub, if I run out of AA batteries.
The battery life of the eTrex is pretty good. Garmin says it'll last up to 25 hours in GPS mode with normal AA batteries. Presumably this means keeping the light level as low as possible.
I usually run mine with lithium AA batteries, which last longer than alkaline AA. I'd say roughly (I'm estimating here) three days of bikepack racing, which comes out to around 50-60 hours of riding. The battery compartment is super easy to open and batteries are easy to replace, something I really appreciate when my hands are numb from the cold or tired from all that braking and shifting.
Tip: To extend battery life, turn the screen backlight down as much as possible for current lighting conditions.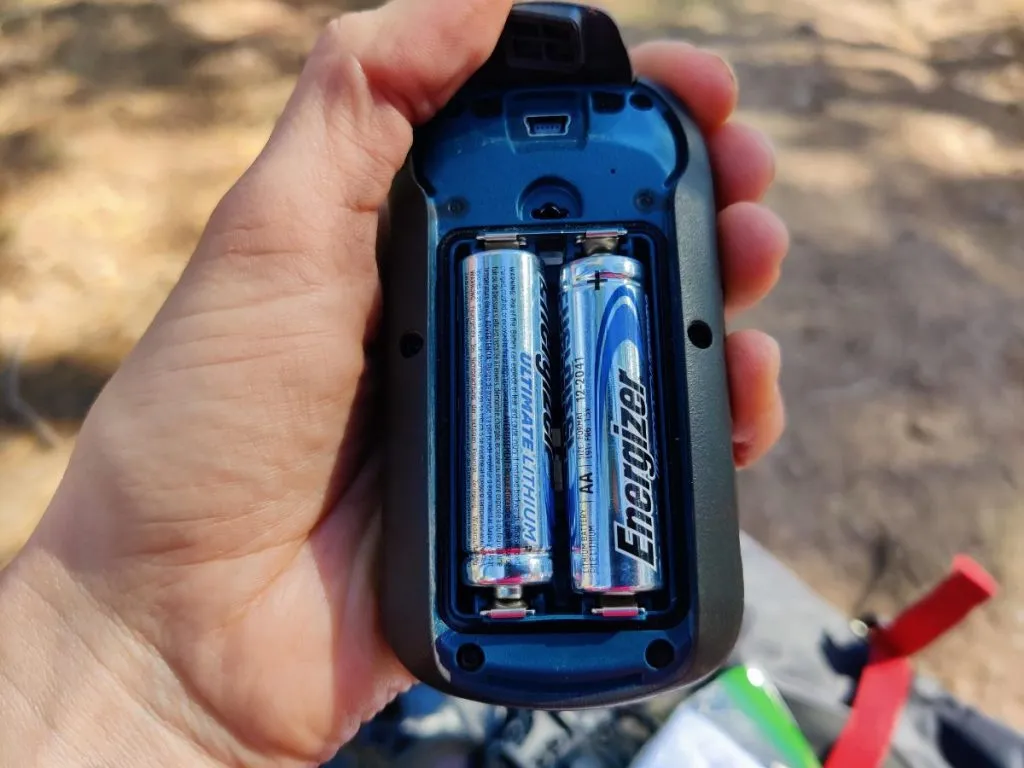 Satellite Connection
The eTrex 22x and 32x use a combination of both GPS and GLONASS satellite systems. It seems to work very well, at least where I've been wandering around (mainly in rural areas of the western United States). I don't think I've ever noticed a lag in my position or had trouble reaching satellites. In this regard the eTrex does its job so well that I don't even think about it, which is how you know it's working smoothly.
Preloaded Base Maps
The base maps on the eTrex are another thing I don't have to think about, and that's a compliment. It comes preloaded with premium North America TopoActive maps and the option to download additional maps if needed.
I find these topo maps easy to read and helpful for understanding the terrain around me, which is an important part of bikepacking in rugged areas. Hikers and backpackers, and really any off-road explorers, will likely appreciate them too.
Garmin makes it possible to load additional maps from 3rd party sources too, so you'll never be stuck without the maps you need for an unusual location or use case.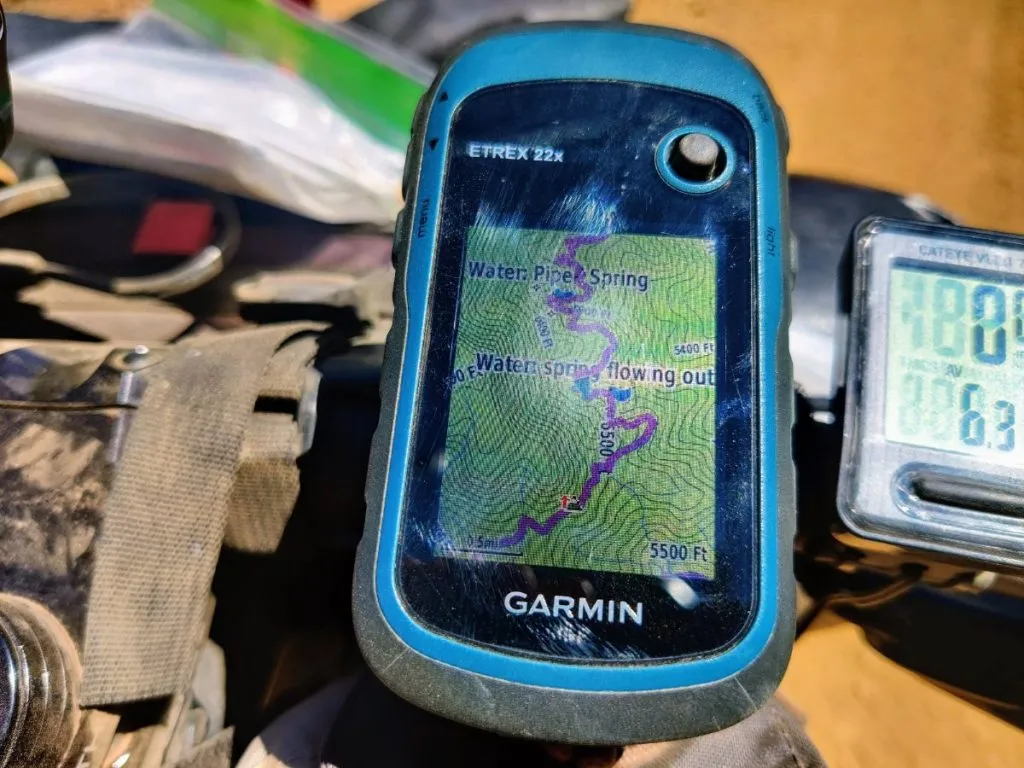 Recording Tracks
The eTrex can record a trail of where you've been, like a much simpler version of Strava. I usually run RideWithGPS on my smartphone in parallel and record my track there (yes tracking uses some phone battery, but not as much as screen-on navigation). But if I wanted to be completely phone-free this would be a useful feature.
Tracks are stored as GPX files and can be imported into other mapping and tracking apps later (Strava, RideWithGPS, etc.). Garmin's BaseCamp software is often mentioned as the way to do this, but you can also just connect it to your computer via cable (necessary for BaseCamp anyway) and use your computer's file browsing interface, just as you would with any type of remote storage.
Trip Computer
The eTrex trip computer screen is customizable, and by default shows common values like distance traveled, current speed, elevation, moving time, and stopped time.
I use a little CatEye Velo 7 for basic functions like odometer and average speed, and thus don't often find myself using the eTrex trip computer screen. But if don't have any other way to track distance traveled at a bare minimum, or are in the habit of watching your stats more closely, this screen is really helpful.
Navigation
Waypoint: The eTrex can do on-the-fly routing to a waypoint or named destination. The preloaded TopoActive maps include routable roads and trails and the eTrex provides routing options (calculate route for bicycle, avoid highways, etc). This means, in theory, you can just ask the eTrex to find the best route to wherever you want to go.
Route: The eTrex can navigate a pre-loaded route from a GPX file, and this is how I generally use it. I often plan or import routes using RideWithGPS, then export the GPX file to load onto my Garmin. More on the loading process below.
Track: If you've previously recorded a track, you can use the eTrex to navigate it again.
Handlebar Mounting
I'm very happy with how the eTrex mounts to my handlebars. I've used it on both drop bars and flat bars, and with a bar extender, and it's always been solid. Here's the handlebar mount I use; there are several others available that look like the same design.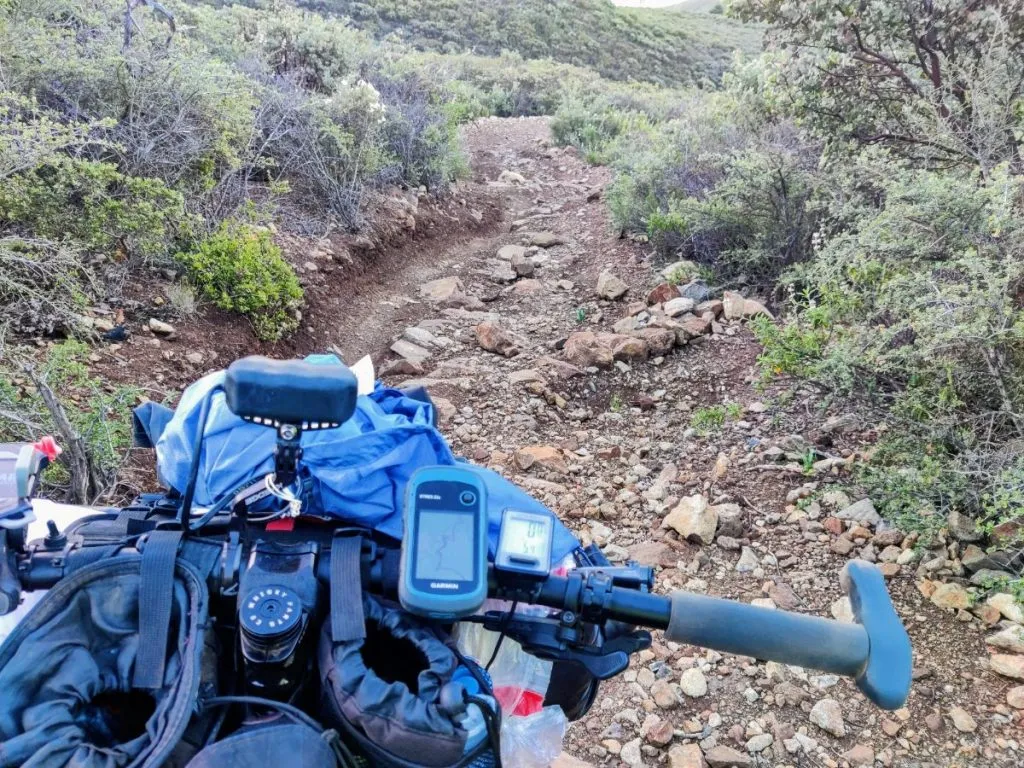 Loading Routes and Transferring Files
Custom routes are the feature I use most on my eTrex 22x, since most of my routes are planned by myself or others in RideWithGPS. I'll download my route from there as a GPX file and then load it onto my Garmin (here's how).
I like that the eTrex uses the GPX file format, which is common and simple. There are, however, a few gotchas with this important process.
Routes are limited to 250 points and tracks are limited to 10,000, so a long or detailed route often needs to be compressed or split into sections. You won't get any warning if the limit is hit; the route will simply be truncated.
Data transfer must be done by physically connecting the eTrex to a computer via USB cable. This wouldn't be so bad except the cable is "mini USB," otherwise known as "the old weird USB," and I don't have any other devices that use this cable. So it's an extra cable that I need to keep track of and remember to pack for trips, and not as easy to replace if I lose it.
Tip: When you load a route onto the eTrex, fire up the navigation function and make sure the whole route is visible before you leave for your trip! If it's not, you've run into a data point limit and need to split the route into sections (can be done in RideWithGPS and other programs).
No Elevation Profile (on 22x)
Here it is, my biggest disappointment with the eTrex 22x: there's no elevation profile! How else am I supposed to pass the time on a 3000 foot climb if I can't check the profile while thinking "Am I there yet?" every five minutes?!
Perhaps I should have expected this, because Garmin makes it clear that the 22x does not have an altimeter while the 32x does. But I assumed it would still show me an elevation profile using data from the map and/or route combined with my known GPS location. It does not.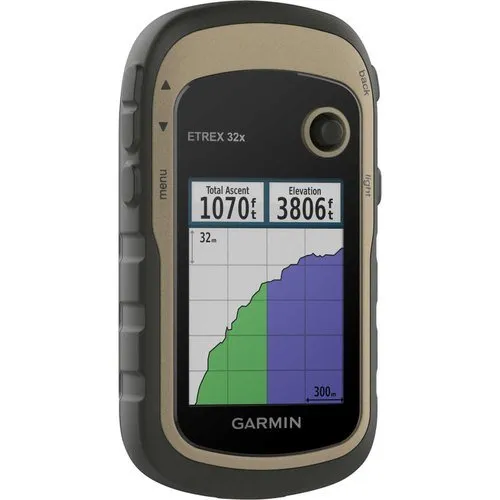 If you live somewhere really flat, this may not matter to you. But where I often bikepack and backpack, climbs and descents define the rhythm of the day and help me plan where I'm going to be when. I'm so used to elevation profiles in smartphone navigation apps that I'm rarely willing to navigate without them unless I already know the route and just need a little help not missing a turn. This is the main reason I usually run RideWithGPS in parallel with my eTrex 22x.
The eTrex 22x (and 32x) does show local low and high points of the route. This is quite helpful if you're wondering how much further until the top (or bottom), and it's a feature I wish the RideWithGPS app would adopt too. But it's no substitute for a full-featured elevation profile.
eTrex 22x versus 32x
So here's the crux of the issue: how does the eTrex 22x compare to the eTrex 32x? I chose the 22x because it was $100 cheaper than the 32x, but the lack of an elevation profile is almost a deal breaker.
Could the 32x be a worthwhile upgrade that keeps all the features I like about the 22x (durability, battery life, satellite connectivity, maps, etc) and adds support for elevation plots?
Per Garmin, here are the differences between the eTrex 22x and eTrex 32x: "eTrex 32x adds a 3-axis compass and barometric altimeter." So it has some extra hardware, but what does that mean for the features and user interface? Here are the differences, in order from most to least important for bikepacking in my opinion:
The eTrex 32x lets you see an elevation profile of your track or route and your current position on it, while the 22x does neither.
The eTrex 32x has an electronic compass that will show you which direction it's pointing as you rotate it, even while you're standing still. The 22x can show your current direction, but only by taking measurements as you move and calculating the vector between them.
The eTrex 32x uses the electronic compass to support "Sight 'N Go" navigation, in which you to point the device at a landmark in the distance and then navigate to it by compass.
The eTrex 32x lets you see a more accurate current elevation on the trip computer screen. The eTrex 22x shows an elevation based on map data, which is usually good enough.
For my bikepacking purposes, the lack of an elevation profile is by far the biggest issue. For backpackers, especially those who like to explore off-trail, I can see the compass being important too. Is it worth an extra $100 for those features? If you need them, it definitely is.
Should you buy the eTrex 22x (or 32x)?
With all of those pros and cons, is the eTrex a good device for bikepacking navigation specifically, and for outdoor adventurers more generally? Here's what I recommend:
Buy the eTrex 32x if:
You bikepack or backpack in the mountains, or really anywhere that isn't flat

You bikepack or backpack on routes where detailed cross-country navigation is necessary
You bikepack or backpack in challenging conditions (wet, cold) and efficiency is important to you (being able to navigate as you walk or ride, without having to look at your smartphone)
You can afford the $300 price tag (still actually on the affordable end of the spectrum for GPS navigation devices)
Buy the eTrex 22x if:
You bikepack or backpack in challenging conditions (wet, cold) and efficiency is important to you, AND you're on a tight budget.
You bike or hike

mostly on the flats; elevation doesn't define your rides.

You prefer climbs and descents to be a surprise. 🙂
You plan to use the eTrex mainly as backup to a smartphone app.
Stick with a smartphone app if:
You mostly take leisurely trips in good conditions, so using a smartphone app for navigation has few drawbacks.
You aren't often constrained by battery capacity; you're not riding or hiking super long hours, and have time to stop and recharge your phone every day or two.
You're on a really tight budget and want to make do without a dedicated navigation device. This is totally doable! I bikepacked thousands of miles using only my smartphone for navigation, and I still use my smartphone for backpacking.
Video Review
If you're more of a visual learner, bikepacking.com has a detailed video review of the eTrex 32x from a bikepacking perspective. I use my eTrex very similarly to his descriptions, and agree with most of what he has to say about it. Here's the embedded video:
Closing Thoughts
The Garmin eTrex series is the go-to for outdoor adventurers in need of rugged and reliable GPS navigation on both roads and backcountry trails. The maps and satellite connectivity are top-notch. The interface could be a little easier to use with one hand while riding a bike, but all things considered, it's not bad.
For people who hike or bike in the mountains I recommend the eTrex 32x over the 22x for its elevation profile feature. For folks who do a lot of off-trail navigation, I also recommend the 32x for its electronic compass. Otherwise the two models are very similar.
If you've been navigating with a smartphone app and your adventures are outgrowing this method due to challenging conditions, limited battery life, or risk of damage to your phone, then an eTrex may be the right next step.
Still thinking about it? Use these links to learn more or take the leap and make a purchase. (Affiliate links – if you buy through them I receive a small commission at no cost to you, which helps support this website.)
Garmin eTrex 22x:
Garmin eTrex 32x:
More Bikepacking Resources
If you're interested in bikepacking, these posts might also be helpful:
Or, visit the bikepacking resources center for lots more!
Bike resources in your inbox?
There's more where this came from! Sign up here for occasional emails full of inspiration and information about bikepacking and bicycle touring.


Share the Adventure
If you found this article helpful, please consider sharing so more people can benefit from it: