Perhaps your pedal-powered adventures have progressed to the point where you're wondering, what's the best GPS navigation device for bikepacking? It can be a big investment in an important piece of gear, so you'll want to make a careful decision.
But as you sift through a confusing jumble of model numbers and spec tables, you may feel like your head is about to explode. Choosing a cycling computer or GPS device is hard enough in general, but as bikepackers we have specific priorities that fewer people are talking about. How can we choose the best GPS for bikepacking, specifically, from among so many options?
In this side-by-side comparison of the most popular and bikepacking-friendly GPS units, I attempt to ease your pain. I've taken a deep dive into the specs, features, and reviews to extract the details that matter most to bikepackers in particular, and to suggest the ideal match between your bikepacking style and the best GPS device for you.
What Bikepackers Need From A GPS Device
When we're on a long ride in a remote and rugged place, bikepackers have specific and sometimes mission-critical expectations from a GPS device.
Some features are table stakes for any outdoor navigation device. It should be pretty darn water resistant, show basic stats about the ride, and have a reliable satellite connection. A clear map and route, and in most cases an elevation profile, are also essential.
At some point though, the needs of a bikepacker diverge from the needs of a more "typical" cyclist. Am I saying we're weird? Yes, that's what I'm saying. Delightfully weird.
With some exceptions, bikepackers tend to be less interested in performance metrics (VO2 max, power meter integration) and connectivity (Read email on my nav device while riding? No thanks!) and more interested in helpful maps and reliable backcountry navigation.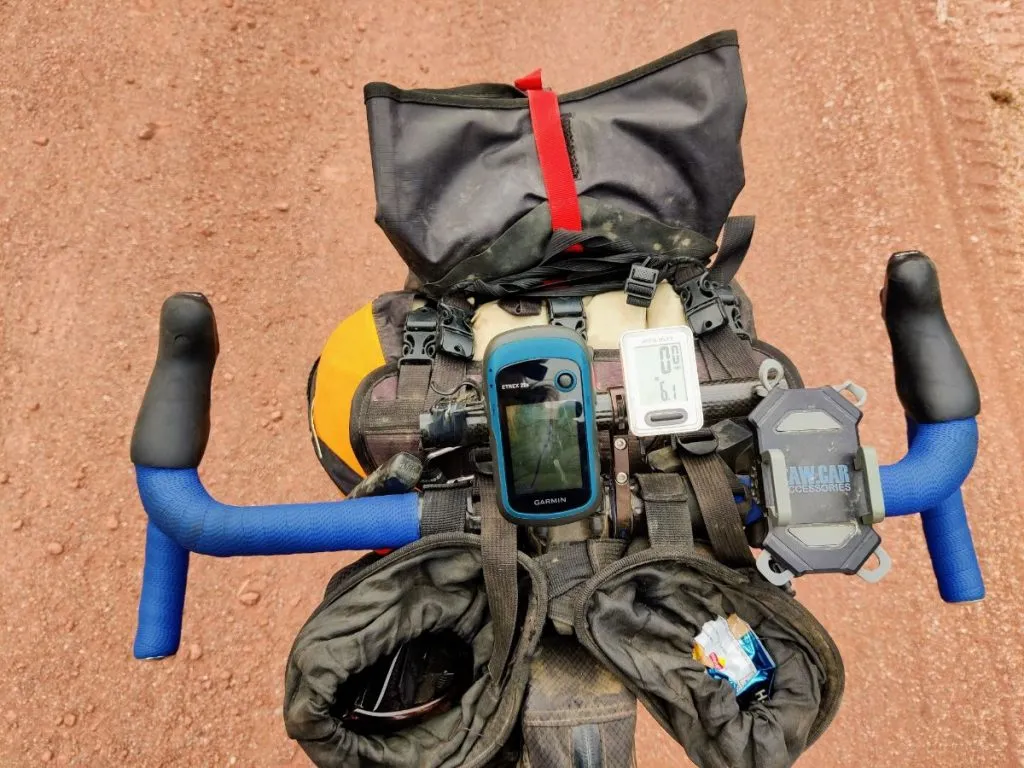 Do I really need a GPS device for bikepacking?
Short answer: no! I bikepacked and toured with a simple smartphone navigation app (RideWithGPS, but Gaia is also popular) for over 10,000 miles. I recommend beginners start this way and save the money to pay for more adventures or more essential gear.
I only sought out a dedicated GPS device for bikepacking when I started "racing." Long days (and nights) challenged my battery capacity over several days with minimal stops, and rugged trails and nasty weather made it impractical to keep my phone mounted on my handlebars. To efficiently navigate a complicated route under these conditions, I need a durable bar-mounted GPS device.
If you aspire to ride in challenging conditions or if money is no issue, a GPS navigation device can certainly enhance your bikepacking experience. If you train seriously as a cyclist too, it can double as a performance tool. But if you're on a budget and just want to start bikepacking and see if you like it, please don't feel like you need to shell out $300 for one of these bikepacking GPS units.
Why These Models?
Choosing the following models from among many options was a large chunk of the work involved in creating this article. Rather than list every possible cycling computer or GPS device, I've selected the one model from each product line that provides the most important bikepacking-related features at the best value, in my opinion.
The prices are all very comparable, so you can instead focus on the features and tradeoffs of each bikepacking GPS option. At the end of each section I'll briefly mention the other models in the product line and why I didn't choose them for this comparison. If you're interested, you can go explore them on your own.
Please note: There are affiliate links in this article. If you buy through them I make a small commission at no cost to you, which helps me keep this site running and growing. Thanks!
Why Should You Care?
Some of the above specs are self-explanatory, but if you've never used a GPS for bikepacking it can be hard to know why you should care about some of them. Before diving into the product descriptions, here's some additional context for the key features above.
Battery type: Preference depends on individual riding and charging habits. USB-rechargeable batteries are often seen as preferable since they use the same cables and battery packs as our phones and other devices. But when you already have lots of USB-rechargeable electronics to keep charged it can be reassuring to have navigation running on a totally separate power source like AA batteries.
Battery life: The longer the better, especially if you're wild camping and not spending much time in towns.
Sensors (compass, altimeter, accelerometer, etc): The data you'll see on your device is only as good as its sensors. Generally, GPS devices can estimate most values from data included on the map or route (like elevation) or by comparing two subsequent location points (to calculate speed or direction). Having the right sensor allows more accurate and detailed measurements. For example, any GPS device can calculate speed between two different location points, but a device with an accelerometer can show how fast you're changing speed and detect motions like jumps or crashes.
Base maps: Each device comes preloaded with a different type of map, and not all maps are equally good for all kinds of bikepacking. When riding remote trails in the mountains a detailed topographic map is key. When passing through cities a clear urban map, with cycling-specific features like heatmap data and low-traffic routing, is very helpful. A "routable" road or trail means the GPS device can direct you to follow it as part of an on-the-fly route; non-routable simply means it's visible on the map.
Additional maps: If the preloaded maps don't meet your needs, does the device allow you to download others? Maybe you're taking a trip somewhere unusual and need to add regional maps. Maybe you want to add detailed topographic maps for an especially rugged trail ride. There are free tools where you can get these maps, usually based on Open Street Map data, as long as your device supports them.
Satellite networks: GPS location won't be accurate unless the device can reach satellites reliably. All these devices use multiple satellite networks to improve coverage. In theory, more networks should mean more reliable coverage anywhere in the world. In practice, all of these devices seem to offer sufficient coverage and accurate location.
Wireless connectivity: GPS devices use various wireless protocols to send data (like route or ride tracks) to or from a smartphone or computer, another nearby device, or wireless sensors for metrics like heartrate and cadence. This mostly matters to bikepackers when it comes to transferring routes onto the device and ride tracks off of it.
Loading routes: A very common workflow for bikepackers is to plan a route in RideWithGPS (or use a route someone else has planned and published), then load it onto a GPS device to follow while riding. Some devices make this easier than others.
---
Garmin eTrex 32x
What sets it apart: Rugged device emphasizing outdoor recreation features over cycling performance and connectivity, from the established industry leader in GPS devices.
Price: $300 | View at REI | View at Amazon
---
Garmin Edge 530
What sets it apart: Wide variety of cycling-specific features and integrations to support navigation, training, and performance, from the established industry leader in GPS devices.
Price: $300 | View on REI | View on Amazon
Related Edge Models
The Garmin Edge series spans a wide range of features and price points. The Edge 530 seems like the sweet spot for a bikepacking navigation device — it has all the important bikepacking features at a reasonable price — but some folks may want to consider these too:
Garmin Edge Explore: This interesting model, focused on navigation instead of performance metrics, would have made a great addition to this list of bikepacking GPS navigation devices. It was marketed to bicycle tourers, after all! Sadly Garmin has discontinued it, but perhaps you can pick one up secondhand. It offers a large touchscreen and many of the other Edge features, though the battery life is unimpressive at only 12 hours.
---
Wahoo ELEMNT Bolt
What sets it apart: Performance-focused cycling computer with intuitive configuration via smartphone companion app and thoughtfully designed interface, from an upstart fitness technology company.
Price: $300 | View at Backcountry | View at Amazon
Learn more: Petr at Cyclists Hub shares why he thinks it's the best bike computer on the market in his review of the Wahoo ELEMNT BOLT v2.
Integrated Navigation and Messaging
When people talk about a "bikepacking GPS device" they usually mean navigation, but many bikepackers also use another type of GPS-enabled device: personal locator beacons and messaging devices.
These devices provide an "SOS" button to initiate emergency rescue, send and receive simple messages including your location, and optionally can send tracking points at intervals to record your location over time. The two most common standalone satellite messaging devices are the SPOT Gen 3 and the Garmin InReach Mini.
I prefer to have separate devices for GPS navigation and satellite communication because sometimes I use one but not the other. For example, I often take my InReach Mini backpacking but only use my eTrex for bikepacking. They do share some of the same hardware though, and people may naturally wonder if it makes sense to combine them. The following two options won't be right for most bikepackers, but they'll illustrate the concept of an integrated device and may appeal to a few folks.
In Conclusion
I sincerely hope this comparison of the best bikepacking GPS units has saved you some anguish. I got a headache diving into spec sheets so you don't have to!
More Bikepacking Resources