Bikepacking might seem like a niche activity to outsiders, but once you're into it the term can almost feel too broad. When choosing a bikepacking route, how do you know if it'll suit your style?
If you're looking for exciting singletrack and find smooth gravel, you're going to be bored. And if you're hoping for smooth gravel and find technical singletrack, you're going to be, well… frustrated, to say the least.
For the growing category of riders who aren't coming from a technical MTB background but still want to spend quality time off-pavement, this post is for you. I'll share six unique and rewarding bikepacking routes in the USA – five I've ridden and one on my wishlist – that explore some of the most beautiful terrain from the Rockies westward.
Each route is an epic backcountry bikepacking trip with plenty of challenges (gnarly weather, big climbs, scarce water, high elevation…), but prolonged technical riding is not intended to be one of them. The shortest takes just 3 or 4 days to ride, a few take longer than a week, and one takes over a month!
How non-technical are we talking?
Gravel backroads and dirt forest service roads are backbone of these bikepacking routes, but don't expect smooth riding the whole way (and definitely don't bring your road bike). There are some highly rideable miles, but these routes are still a step up from simple dirt road touring or gravel grinding.
Don't say I didn't warn you: whether it's chunky jeep tracks, sandy desert washes, or short stretches of legitimately tricky singletrack, each of these rides does have some semi-technical challenges. But these sections are the minority, and getting off and pushing will get you through them if need be (I won't tell anyone).
Fully rigid bikes will be fine here as long as your tires are wide enough; I would suggest 2″ or larger in most cases. Adventure bikes like the Salsa Fargo are perfect for much of this terrain, though hardtail mountain bikes are welcome too. I've even ridden two of the routes on my Long Haul Trucker touring bike, though I wouldn't necessarily recommend it.
So these are easy routes?
Nope! One thing I want to be very clear about: these routes are not generally considered easy by any means. I would call them all at least intermediate bikepacking routes, and I strongly recommend you have prior experience with multi-day rides in remote areas.
These routes are remote and involve substantial stretches between food, water, and phone signal. Carrying a satellite messenger like the InReach Mini would be smart. Camping is mandatory, at least some of the time. Weather can be scorching, freezing, wet, or windy. Hills can be big and steep. You'll need to be self-sufficient, know your way around basic bike repair, and carry a well thought-out repair kit.
If all of that makes you say "yes please!" but technical MTB riding isn't your jam, then these (mostly) gravel bikepacking routes might be just the thing.
If you're not quite there yet but dreaming about the future, this bikepacking guide for beginners is a great place to head next.
Oregon Outback
Length: 364 miles
Total climb: 14,376 feet
% singletrack: 1%
Recommended days: 6
Best seasons: spring, early or late summer (peak summer is very hot), fall
Detailed route guide: bikepacking.com
If your idea of an epic bikepacking trip stretches the length of an entire fairly large state, then the Oregon Outback will definitely catch your attention.
Starting in Amtrak-accessible Klamath Falls and heading more or less straight north to the Columbia River east of Portland, the route bisects Oregon on a path through everything from scrubby high desert (the "Oregon Outback" landscape which lends the route its name) to peaceful pine forests.
The Oregon Outback offers the most consistently straightforward dirt and gravel road riding on this list, and the least climbing per mile on average. There is nothing technical to speak of, though that doesn't mean it's all easy: the first 50ish miles on the OC&E Woods Line Trail can be frustratingly bumpy and dotted with cow pies, the red dirt in Deschutes National Forest can be a soft slog, and some of the gravel can be washboarded.
About 25% of the route is paved, with a big chunk especially around Prineville, but these roads are generally very low traffic.
For reference, I rode this route on my Long Haul Trucker in "bikepack" mode with 2″ tires and thought it was a reasonable choice, though something like a Salsa Fargo would be more typical.
Abundant National Forest and BLM land dictate daily distances, since this is where the free and legal camping lies (though a few indoor sleeping options can be found on route as well). The full service town of Prineville, roughly in the middle of the route, has all the motels and restaurants you could want, and a great bike shop too.
Food resupply is reasonably well spaced, mostly from small-town general stores and the occasional restaurant. Water can be an issue on a few stretches; plan for several sections of 50-80 dry miles especially in summer or fall. In late September I had a day of snowstorms and bitterly cold temperatures; be prepared for a wide range of weather.
Some sections of this route have a goat head thorn problem, so tubeless tires are recommended. (Haven't tried tubeless yet? It's not as hard as you might think.) I would say you could get away with tubes, especially with tire liners, but be prepared to fix a few punctures. The bike shop in Prineville sells patches and tire liners. Ask me how I know…
For my personal experience on the Oregon Outback, heading south starting around Ashwood after connecting from the east, see this route overview. And for more trip reports from other riders, see BikeSleepBike's Oregon Outback list.
New Mexico Off-Road Runner
Length: 505 miles
Total climb: 22,970 feet
% singletrack: 1%
Recommended days: 9
Best times to ride: late fall and early spring, winter maybe but avoid right after snow storms
Detailed route guide: bikepacking.com
The Off-Road Runner is to New Mexico what the Outback is to Oregon: a nice long point-to-point stretching nearly the entire length of the state, but with even more of a desert vibe.
Santa Fe is a gentle starting point with a small airport where you can easily build your bike and ride into town. Bike-friendly public transport links up the southern end of the route with El Paso, TX and another airport. Attractions along the way include breweries and tacos and a lot of empty desert. Astronomy geeks (*raises hand*) can work in a visit to the Very Large Array with just a bit of off-route riding.
There isn't any technical singletrack on this route, but it isn't all smooth pedaling either. Sections of desert wash are sandy (you may be pushing for a bit) and some of the two-track is chunky and rocky. These are a minority though, and a quarter of the route is on low-traffic paved roads.
Camping is easily found if you plan your nights to coincide with the large stretches of public land, and there are a few communities along the way with camping available as well as motels. Food resupply is straightforward, though I hope you like Mexican food. Water requires a bit of planning and definitely a purification system (here are my water treatment recommendations for bikepacking) since you'll be drinking from cattle troughs.
I would highly recommend tubeless tires for this route. The desert is full of spikey, pokey, sharp things. I watched in relief as a number of large punctures sealed themselves while riding this route tubeless.
Personally I have some unfinished business with the New Mexico Off-Road Runner, having ridden only the first 20ish miles and the last section south of Truth or Consequences. November is often a sunny (though chilly) time to ride, but an early snowstorm and several days of rain left my husband and I mired in ankle-deep "death mud" that froze overnight and halted any hope of forward progress.
Our efforts to salvage a few days of riding led to several days of cabin fever, a broken derailleur, and spending Thanksgiving night in the back of a U-Haul truck. It's a long story. Be sure to heed the warnings about weather in the route description. The desert can be very cold, and adobe mud WILL stop you in your tracks.
New Mexico, I'll be back…
Grand Staircase Loop (Southern Utah)
Length: 160 miles
Total climb: 11,930 feet
% singletrack: 0%
Recommended days: 3-4
Best season: Spring or fall
Detailed route guide: bikepacking.com
There's no place quite like the canyon country of southern Utah, and the Grand Staircase Loop takes you right through the heart of it. This logistically simple tour of Grand Staircase-Escalante National Monument is a fantastic way to get acquainted with the layers of the Colorado Plateau that define so much of the southwest's fascinating geology.
The Grand Staircase Loop is non-technical, but that doesn't mean it's all easy riding. Some sections are steep, rocky, and loose. The hardest area (coincidentally known as Death Ridge) will have almost everyone pushing up some of the climbs. Still, most of the route is rideable and though mountain bikes are best, even gravel bikes can make it through with some care and determination.
Water and weather can also be challenging. Be sure to check the route page for recent water reports and be prepared to carry as much as 8 liters if needed. You might encounter headwinds, scorching days, and chilly nights, so be prepared. There isn't really any resupply on this route except for possible snacks at a small convenience store 1.5 miles off route. The desert is a big and wild place, which is exactly why this route is alluring.
See my Grand Staircase Loop ride report from May 2021 if you're intrigued.
Idaho Smoke 'n' Fire 400
Length: 418 miles
Total climb: 35,661 feet
% singletrack: 15%
Recommended days: 6
Best season: July to September
Detailed route guide: bikepacking.com
Let me be clear: Idaho Smoke 'n' Fire stretches the category of gravel / dirt road bikepacking and is the most challenging ride on this list. Consider it a transition route for those looking to graduate from more straightforward riding to something with a bit more singletrack.
The Idaho Smoke 'n' Fire loop is an amazing ride through big mountain landscape east of Boise. It's home to an informal race every year in early September, and is also popular as a touring route at a more leisurely pace. Though there is a lot of gravel road, there is also considerable variety: everything from smooth forest service roads to two-track to rocky singletrack and a bit of mandatory hike-a-bike.
Smoke 'n' Fire has significantly more average climbing per mile than any other route on this list; twice as much as the Oregon Outback! There are several big climbs of 2000+ feet, mostly at rideable grade, but there's no shame in pushing for awhile to save those legs for later (at least that's what I tell myself).
Resupply feels a bit sparser here than the other rides described above. Most comes in the form of small-town stores with limited hours, but you'll still be able to find what you need. Water is relatively plentiful.
There is some legitimately tough hike-a-bike on this route, in particular a steep and rocky climb up to Titus Lake at an elevation (just under 9000 feet) that will definitely have you breathing hard. But none of it is a deal breaker; just plan a conservative pace and try to pack light.
Even in the summer, overnight temperatures can be frigid in this part of Idaho. Definitely pack good warm clothes and a sleeping bag, plus solid rain gear and shelter.
Boise is a wonderful town to start and finish in, with full services and a great MTB and bikepacking culture. If you're looking to spend a night here before or after your ride, consider reaching out to some of the locals on Warmshowers.
I "raced" this route in 2019 on my Long Haul Trucker and, while I would never recommend this to anyone, I did get through it in about 4.5 days. Many faster riders were on hardtail mountain bikes. Tubeless tires make sense for comfort on the bumpy sections, but spikey plants aren't an issue here like they are in the desert. I rode with tubes and had no punctures. In 2020 and 2021 I came back on a Salsa Fargo and found the experience much improved, but still felt like a hardtail would have been ideal.
If you're intrigued by the route but wary of singletrack, you have some options. You can cut some out (and about 20 miles as well) by skipping the Fisher Creek loop on the eastern side. However, this section is very smooth and I thought it was fun, even with my embarrassing lack of trail bike handling skill. More frustrating for most will be the rocky trails near Ketchum and Stanley.
For a true dirt and gravel road touring option, consider the Adventure Cycling Association's Idaho Hot Springs Route. It shares some miles with Smoke 'n' Fire and has a similar feel, but avoids the rougher trails.
If you're on the fence, I'd encourage you to give this route a try but plan a conservative pace and be willing to walk wherever you don't feel like riding. Who knows, it might even be your gateway into singletrack bikepacking…
SoCal Desert Ramble
Length: 497 miles
Total climb: 30,100 feet
% singletrack: 3%
Recommended days: 10
Best season: fall and spring, winter maybe but avoid right after snow storms
Detailed route guide: bikepacking.com
Starting in the coastal urban heart of San Diego, the SoCal Desert Ramble takes riders east into the vast deserts of Southern California on a variety of dirt roads and sandy tracks. The route hits several iconic landmarks of the region including famous Joshua Tree National Park, Salton Sea, and the truly bizarre Slab City community.
This is the only route on the list I haven't personally set wheels on, but its viability as a winter ride in my home state means it's high on the to-do list. I've spent enough time hiking, trail running, climbing, and roadtripping in the area around Joshua Tree National Park, Anza-Borrego Desert, Salton Sea, and Slab City to know it's a worthwhile destination by any means of transport.
Take this with a grain of salt since I've yet to bike the route, but my impression from the bikepacking.com guide is that it's a bit more challenging than New Mexico Off-Road Runner and definitely harder than Oregon Outback. There's more average climbing per mile than both (though still less than Smoke 'n' Fire), though it's packed more tightly into the first and last thirds of the route.
The wider tire recommendation (2.4″ or more) suggests plenty of sand and rocks, especially given that 30% of the route is paved. It's the desert, the plants are spikey, so tubeless tires are important.
If and when I ride this route, I'll be sure to report back. In the meantime, if you ride it yourself let us know what you think in the comments.
Great Divide Mountain Bike Route
Length: 2700ish miles
Total climb: ~150,000 feet
% singletrack: 3%
Recommended days: 45 – 70
Best season: summer
Detailed route guide: bikepacking.com and Adventure Cycling
No list of gravel bikepacking routes in the USA would be complete without mentioning the Great Divide Mountain Bike Route. This long-haul ride is THE go-to bucket list bikepacking route in America, and thousands of riders attempt it every summer!
With a few brief exceptions, the GDMBR travels entirely on gravel and dirt roads, with some rural pavement mixed in. A few short sections require hike-a-bike, but some folks ride this route with a full rack and pannier setup (though I don't necessarily recommend it).
The GDMBR is simply too big to sum up neatly. If the idea of 2700 miles along the spine of the continent tickles your fancy, see my 2021 Great Divide writeup for more details and pictures.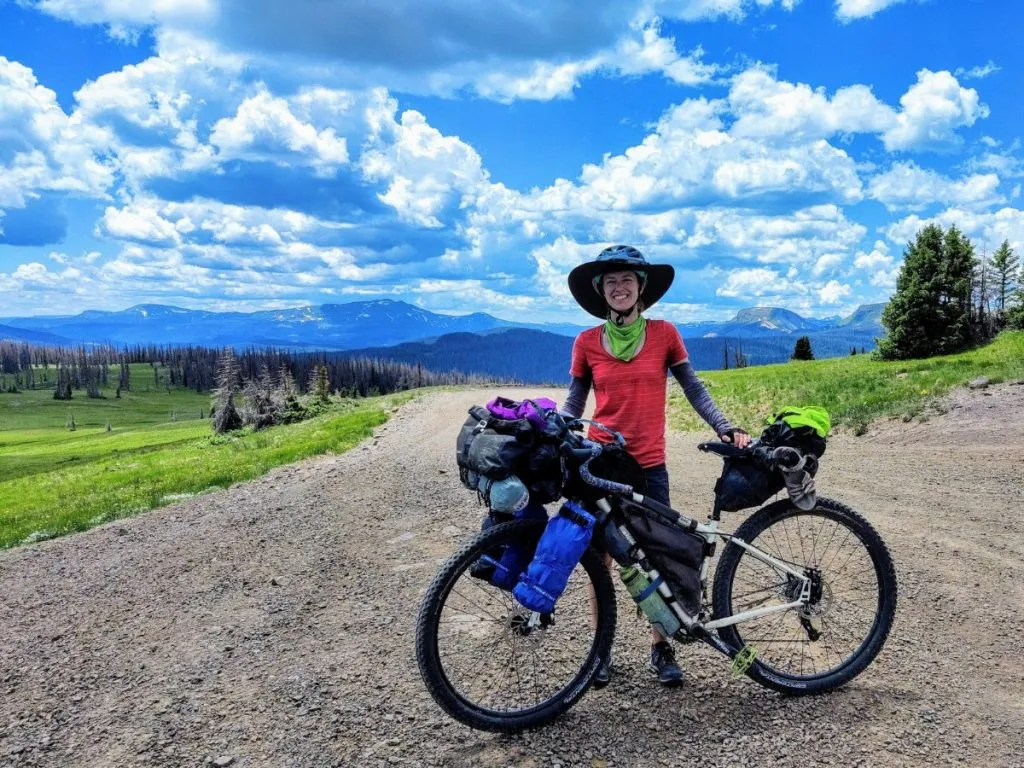 ---
More bikepacking route inspiration: If you're looking to expand your bikepacking bucket list, BikeSleepBike has a good collection of posts about bikepacking in the US and around the world. You can even filter by gravel vs. singletrack.
More Bikepacking Resources
If you're considering any of these routes, you might find these helpful too:
Bike resources in your inbox?
There's more where this came from! Sign up here for occasional emails full of inspiration and information about bikepacking and bicycle touring.


Share the Adventure
If you found this article helpful, please consider sharing so more people can benefit from it:
Pin For Later