If you've ever seriously thought about biking across the United States, you've confronted the thorny issue of traffic safety. It's the biggest risk most bike travelers face, and it's not to be taken lightly. A cross-USA ride, especially in the traditional sense from coast to coast, requires a fair amount of road biking confidence and a willingness to share space with motor vehicles day after day after day.
Though my own cross-US ride in 2019 was incredibly memorable, I found it mentally draining to be on constant alert around traffic. It was the hardest part of the ride for me! I experienced a handful of mental meltdowns on that ride, the kind where you sit by the side of the road and shed a few cathartic tears before collecting yourself, and motor vehicles (and the occasional mean driver) were a factor in 100% of them. And I was on a relatively lower traffic route!
But what if there was a way to pedal across the United States, all 3700+ miles of it, on multi-use recreation paths entirely separated from motor vehicles? Sounds like a cyclist's paradise, right? Well, if the ambitious Great American Rail Trail project succeeds, you'll be able to do exactly that.
This signature project of the Rails to Trails Conservancy was announced in 2019 and is expected to take decades of work and millions of dollars to complete. The proposed routing leverages 125+ existing multi-use paths and rail trails throughout the US, so the route is already 53% complete just three years after the project's launch. But filling in the gaps will require a massive amount of advocacy, planning, construction, time, and perhaps most importantly money. Since launching three years ago they've added an additional 90 miles of trail, a triumph that should give you a sense of the pace at which these types of projects move.
I've been following the Great American Rail Trail project with interest ever since riding coast to coast on the Bike Nonstop US route, which follows the current or proposed routing of the Great American Rail Trail for around 1200 miles. Though I adored the scenery of the west, the bike path networks of the east were a breath of fresh air after a few thousand miles of keeping one eye on my rear view mirror. Those miles on the Cowboy, Ohio to Erie, GAP, C&O Canal, and other rail trails offered the first moments of true relaxation I had enjoyed in quite a while.
The Great American Rail Trail project has received a lot of press, and rightly so! I'm starting to hear more people talking about it as a viable cross-country route. This is fantastic — do it! But also, I want to make sure people know what they're signing up for, especially cyclists from other countries who might be unfamiliar with our infrastructure and roads here in the US.
I love geeking out over maps and long bike routes, and I thoroughly enjoyed diving into the Great American Rail Trail project in more detail. This post shares my thoughts and opinions on how to approach a cross-country ride on this epic, and currently unfinished, bike route.
Bike Touring Gear Deal:
Ortlieb Panniers: up to 25% off racks, bags, and accessories when you buy a pair of Orlieb rear panniers at Campfire Cycling.
It's Not Finished
I want to be very clear about this, since media coverage sometimes glosses over a very important detail: the Great American Rail Trail route is only 53% finished. This means about half the ride is on rail trails and other multi-use paths separated from motor vehicles, and the other half is on open roads shared with cars. Though progress is underway and large chunks of the route can already be ridden in car-free bliss, the full link-up is incredibly ambitious and requires building over 1700 miles of new trail. In the meantime, if you want to ride the unfinished route you'll need to accept plenty of road riding; please study up on traffic safety for cyclists before you go!
When will the Great American Rail Trail be complete? It's still too early for an expected finish date. The Rails to Trails Conservancy says it will take "decades" to complete. In the three years since the project was announced "only" 90 miles of new trail have been added (which is actually great progress), and some significant sections don't even have a detailed proposed routing yet.
It's Already Pretty Awesome
Though I want to be clear about the project's unfinished status, let's take a minute to appreciate how much is already done! Parts of the US already have strong rails-to-trails networks where historic railroad routes have been transformed into recreation trails. By leveraging at least 125 existing trail segments the Great American Rail Trail was over 50% complete by the time it was announced.
Though it's by no means traffic-free at this point, I believe riding the existing trails and following carefully chosen roads between them is already the lowest-traffic way to cross the US by bike in the east-west direction (with the exception of the burly and mostly unpaved TAT route, which won't be an option for most due to time and difficulty).
The Rail Trail Experience
If you ride the Great American Rail Trail you're signing up for a lot of, well… rail trails. So let's take a minute to think about what it's actually like to bike tour on rail trails for long distances.
Car free: Woohoo! With no zooming death machines in close proximity, cyclists are free to relax more fully and ride more safely.
Physically manageable: Note that I say "manageable," not "easy," because rail trails can and do traverse mountain ranges. But they do so at a very consistent and reasonable grade, because that's what worked for trains. Thus a rail trail is generally a more gentle experience than a steep mountain road.
Historic and educational: Because rail trails (and canal towpath trails) were constructed and used during significant times in American history, they provide a window into the past. Many trails are dotted with historic sites and informational signs to help riders connect with the stories of the people who previously lived, worked, and traveled in the region.
Safe and relaxing: No cars obviously means safety from motor vehicle collisions, but it can also help with other types of anxiety some bike travelers struggle with on open roads. As a woman who often bikepacks solo, I usually feel less vulnerable when riding and camping in places cars can't access.
Those four factors benefit everyone, but they can be especially important to cyclists who might not feel comfortable crossing the country on open roads: for example families with young kids, beginner cyclists, members of marginalized groups, or adaptive athletes with specialized bikes or other equipment.
Is it all rainbows and sunshine on rail trails? Mostly, but having ridden hundreds of miles on them I do feel obligated to point out a few possible disadvantages, depending on your perspective:
Monotony: The consistent nature of rail trails makes them easy to ride, but can also make them a bit, dare I say it, boring. The grade is usually very gradual both up and down, curves are few and far between, and in wooded places they're often a green tunnel lacking views.
Busy with locals: This is another advantage of rail trails (accessibility to local communities) that can turn into a minor frustration on a long bike tour. Long-haul bike travelers grow accustomed to covering miles at our own pace, and it can be disconcerting to suddenly find ourselves swerving around strolling families or casual riders on a busy local rec path.
Personally I like remote and quiet routes. Out west I'll take a lonely gravel road or quiet highway over a rail trail. But in the busier east I'll absolutely take car-free riding over any alternative. The amazing thing about a complete Great American Rail Trail would be always having the option of car-free riding, as well as the freedom to detour on roads if the mood strikes.
Great American Rail Trail vs. Bike Nonstop US
Bike Nonstop US is a cross-US race started in 2019 as a lower-traffic alternative to the classic TransAmerica bike race, which roughly follows the increasingly traffic-heavy TransAmerica Bike Route designed by Adventure Cycling. Though the race is a defined event with a specific start time and a brisk pace, the route is published on the Bike Nonstop US website for anyone to follow at their leisure.
I had the pleasure (and the pain!) of "racing" Bike Nonstop US in 2019, and because it's relatively unknown I like to mention it to folks interested in crossing the US by bike. If you're here looking at the Great American Rail Trail because you want a lower traffic route across the US, I invite you to consider how the two compare.
Starting on the west coast, the Great American Rail Trail begins further north, making for a satisfying "Washington to Washington" journey. It has more rail trail miles the west and spends more time in Montana while BNSUS crosses Idaho. The two routes overlap through parts of Wyoming and Nebraska before diverging in the Midwest, GART taking a more northern route on as many trails as possible through the outskirts of Chicago while BNSUS heads south to the Katy Trail in Missouri and the edge of St. Louis. The two routes reunite in Ohio and share most of their last 600+ miles on several premier US rail trails including the Ohio to Erie, GAP, and C&O Canal trails.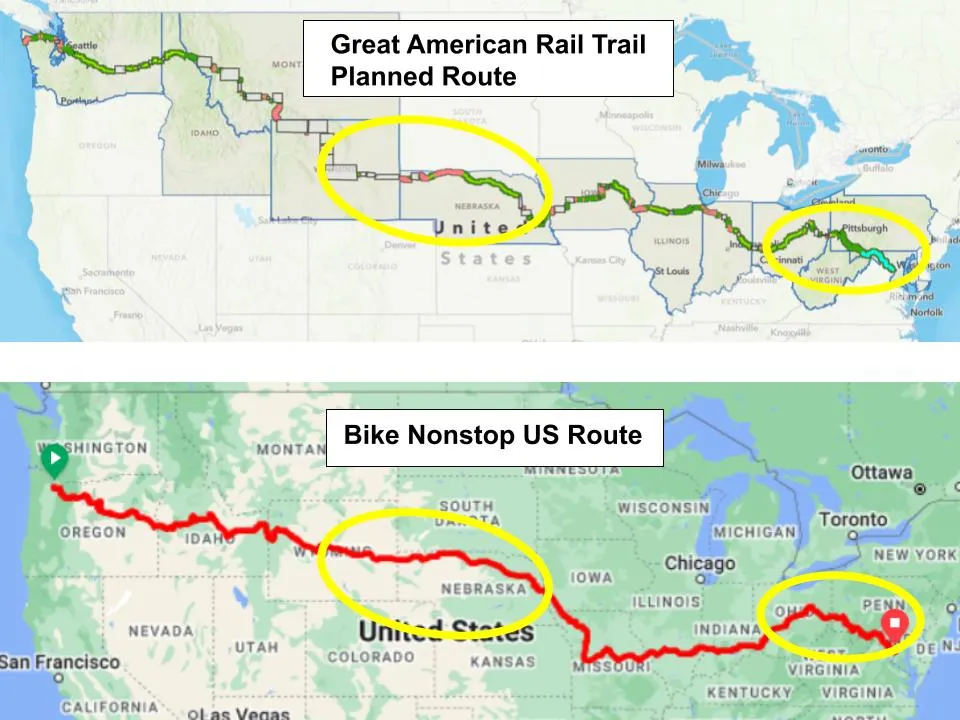 The Bike Nonstop route changes a bit each year and the organizer's goal is to incorporate more bike infrastructure as it's built. It's possible the two routes will end up looking even more similar in the future.
If you're choosing between these two routes I suggest considering whether you prefer to spend some quality time in Oregon or Washington, and similarly whether you want to pass through Missouri or Ohio. You could also flip-flop back and forth between them, perhaps following one route until Nebraska and then choosing the other through the Midwest.
Overall the Great American Rail Trail already has more miles of vehicle-free trail than Bike Nonstop, and will be adding more over time. But it's important to note that both currently involve a substantial amount of riding on open roads with cars, and will for the foreseeable future until the GART is fully complete.
Eastward or Westward?
As with most long-distance routes, people wonder which direction is best to ride the Great American Rail Trail. The "traditional" direction to bike across the US seems to be from west to east, but plenty of people do it the other way too and the Great American Rail Trail website is arranged from east to west. It's said that the wind is more often in your favor when riding west to east, but the route is so varied that this is probably not a big factor for most folks who aren't racing.
The easternmost miles are easier in many ways: less remote, less elevation change, more contiguous trail miles, more cyclists and bike touring infrastructure. If bike touring is new to you, it might make sense to start there. In the 2021 progress update video thru-rider Whitney mentioned how glad she was to have started in the east so she could build experience and confidence as she went.
Timing and seasons are also a factor. The eastern states can be unpleasantly hot and humid in July and August, while the high mountain passes of the west can be cold and snowy before mid-June and after mid-September. If you take the fairly typical 2.5 to 3 months for a ride of this length (see below) I think it would be ideal to start around late April or early May in the east, or late May to early June in the west.
More than anything else though, I think it makes sense to choose the direction that excites you most. Are you from the east and fancy riding your bike out west? Or perhaps you'd like the feeling of "riding home" from the other side of the country. If there's a direction that calls to you more, try to make it work.
I've written the descriptions below in a west-to-east direction, but you can easily reverse them if you want to ride the other way.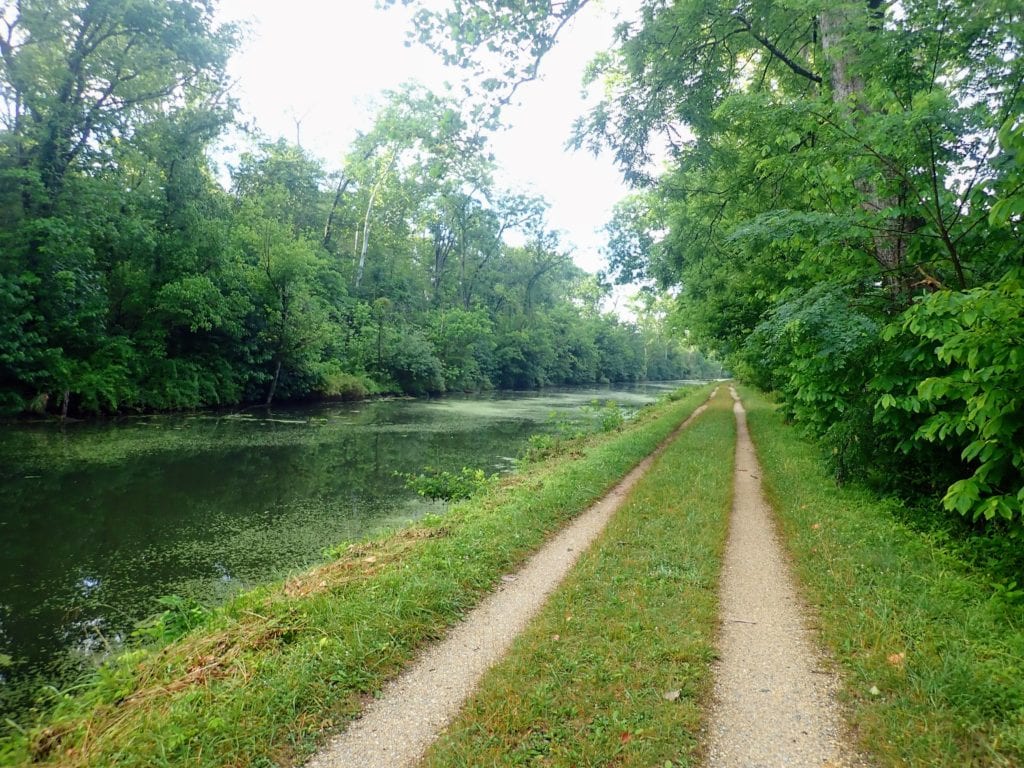 How long will it take?
How long will it take to ride the Great American Rail Trail? If you follow the current trails and rough proposed routing between them, you'll be pedaling for around 3700 miles. The amount of time this will take depends on your fitness, how much you like to ride long days versus spend time at camp, and how many stops and detours you want to make along the way.
Fifty miles a day is a reasonably conservative estimate for many riders, at least once you get in shape after a couple weeks of riding. If you can ride fifty miles per day on average and take a rest day once a week, you'll finish the route in three months.
If you're traveling light and have some cycling fitness, you can average more than 50 miles a day. It wouldn't be crazy to finish the route in two months, but you'd have to stay focused or be a pretty strong rider. You can certainly go even faster if you want an endurance challenge — my own back-of-the-pack finish time for the 3500 mile Bike Nonstop race was 30 days — but you won't have time for anything besides pedaling and eating.
Whatever your pedaling pace, I'd encourage you to factor in extra time for all the little things that come up on such a long ride: dealing with mechanical issues, waiting out a few days of bad weather, spending an extra day in a town you love, matching pace with another cyclist for a few days, taking a short day because you found the perfect campsite or someone offered you a free place to sleep, taking a hike in a beautiful place, etc. If you're going to ride your bike across the whole darn country, you'll want enough time to enjoy it as you go.
What to do about Wyoming?
If you look at the interactive map, it's painfully clear that Wyoming is the largest gap in the project. Sorry Wyoming, I love you and your massive skies and dramatic mountains, but you've got some work to do! Of the 509 miles of preferred routing through Wyoming, as of early 2023 only 17 miles are complete. That said, Wyoming is an incredible place to ride a bicycle and not as big of an obstacle to a safe cross-country ride as it might first appear.
Having encountered Wyoming three different times on three different long-haul bike routes, I'm here to praise the state's highway infrastructure. The shoulders on Wyoming's larger highways are consistently wider, safer, and better than those of its neighbors. On major routes like US-26 there's usually a generous and smooth shoulder comfortingly tucked on the other side of a rumble strip. These highways are certainly not the most peaceful way to cross the state, but they can feel like a relief after some of the narrower highways in neighboring states.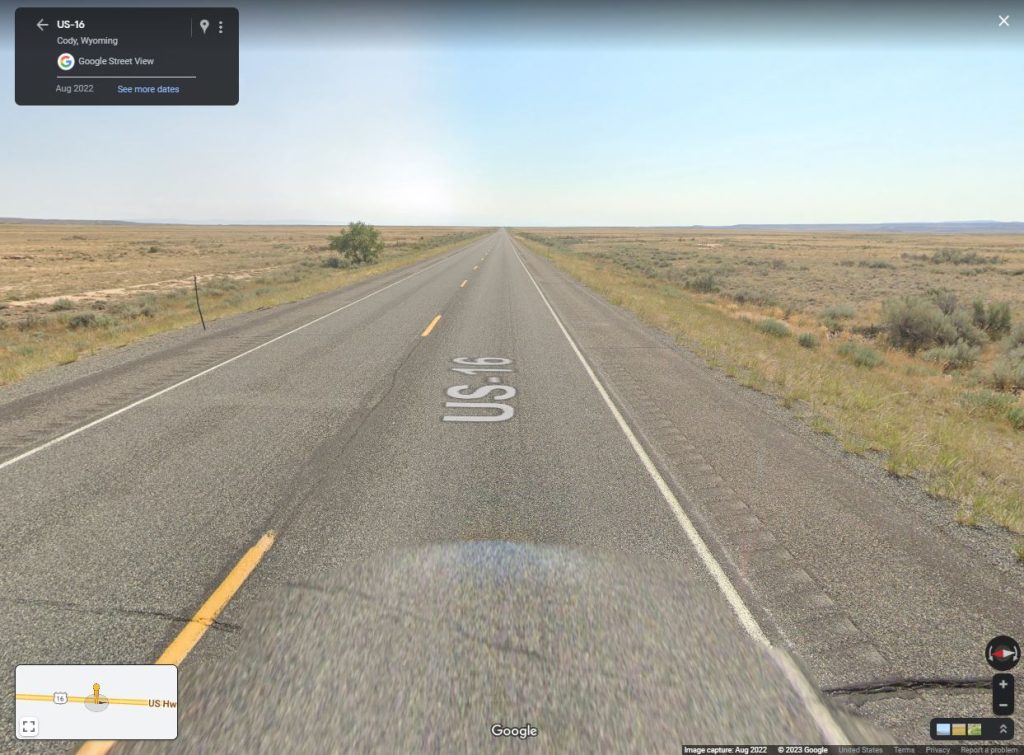 Most Obvious Choice: Ride the Highways
Thanks to Wyoming's generally good shoulders, I think the most obvious choice for thru riders is to follow the planned routing of the Great American Rail Trail on the nearest highway or whatever nearby smaller road looks appealing. I have not ridden Highway 14 from Yellowstone east through Cody or Highway 20 from Greybull south to Shoshone, but spot checking with Google Street View shows an apparently decent shoulder. From Shoshoni east I might recommend following the Bike Nonstop US route, which gets you off the highway for a bit between Casper and Douglass.
This routing preserves the intent of the Great American Rail Trail and overlaps with a section of Adventure Cycling's Parks, Peaks, and Prairies route, which follows Highway 14 between Yellowstone and just east of Greybull. Hopefully riders passing through the towns along the way will help raise awareness of the Great American Rail Trail project and might — if locals and riders have positive experiences with each other — smooth the path toward building the real route.
Pro tip: In doubt about whether a highway you're planning to ride has an acceptable shoulder? Try using the Street View feature on Google Maps.
Another Option: Ride TransAmerica + Bike Nonstop US
As an alternative to following the rough future routing of the Great American Rail Trail, consider linking up with the famed TransAmerica Bike Route for the section between Yellowstone and Shoshoni. This stretch takes you through Grand Tenon National Park, a very scenic complement to Yellowstone, and eastward along US-26 (which has a good shoulder) along the Wind River. It even overlaps, briefly, a paved section of the Great Divide Mountain Bike Route. You're likely to meet more cyclists on this route, you'll see another national park, and it's a bit of a shortcut, but you'll miss out on the planned routing of the GART and the northern region of Wyoming.
In Shoshoni this option reunites with the Great American Rail Trail's rough proposed routing heading east. From here you could follow the highways east to the Nebraska border, with some optional small detours as mapped in the Bike Nonstop US route.
What to do about Montana?
Second to Wyoming, Montana is the next-most incomplete state on the Great American Rail Trail with only 102 of 427 proposed miles complete as of early 2023. Some local projects are already chipping away at the gaps, but thru riders might be wondering how to connect up the unfinished sections of trail.
As with Wyoming, riding roughly along the future proposed routing is the way to honor the route's intent and promote awareness in local communities. But crossing the US by bike is hard enough already, and it's always nice to have options depending on your mood and geographic interests. There are several long-distance bike routes that cross in this area and I'll explain how they connect.
Ride the Highway and Frontage Roads
The proposed Great American Rail Trail route through Montana mostly parallels Interstate 90. In many places (all the ones I spot checked on Google Street View, but do your own research) this is a divided freeway with a good shoulder and cyclists are legally allowed to ride it. This area is more populated than Wyoming and there are more options for taking frontage roads and other side streets. If I were trying to follow the rough GART through Montana I would probably plan to seek out as many smaller parallel roads as possible, and ride I-90 where necessary, to cross the gaps between completed trail segments.
Another Road Option: TransAmerica Route
While the Great American Rail Trail parallels I-90 through much of Montana, Adventure Cycling's TransAmerica Bike Route travels further south on smaller highways that are quieter but often lack shoulders. Which is more pleasant from a traffic perspective depends on how much traffic there is on those smaller highways. If quiet they could be quite nice, but if busy those types of roads can be nearly un-rideable. They'll probably feel more scenic, but a freeway with a wide shoulder might actually feel safer since you have your own space.
Rugged Bikepacking Option 1: GDMBR
For those intent on avoiding vehicle traffic, another option is to divert to a section of the Great Divide Mountain Bike Route through Montana, starting either in Missoula on the GDMBR Missoula Spur, or in Butte where the GDMBR passes through. For maps and route information see Adventure Cycling's GDMBR guides.
This is a different type of route and requires gear and skills not every GART rider will have: ideally 2″ inch or wider tires, capacity for a couple days of food, and the willingness and skills to camp in grizzly bear country, among others. The riding is more rugged and often follows gravel and dirt roads, some of which can be quite rough. I would suggest most GART riders take the Boulder and Divide GDMBR alternates to bypass two of the roughest sections.
Rugged Bikepacking Option 2: WWR Through Idaho
This is the most rugged and challenging alternative of all, and I don't recommend it to most rail trail riders because it's of such a different character. But for those who are well-equipped and looking for a change from rail trails and highway riding, you could consider linking up with the Western Wildlands Route (WWR) at Wallace on the Trail of the Coeur d'Alenes. You would follow the WWR south through Idaho, skipping Montana almost entirely, and linking back up with the GART in Shoshoni, WY via the Bike Nonstop US route from Challis or Arco in southeastern Idaho.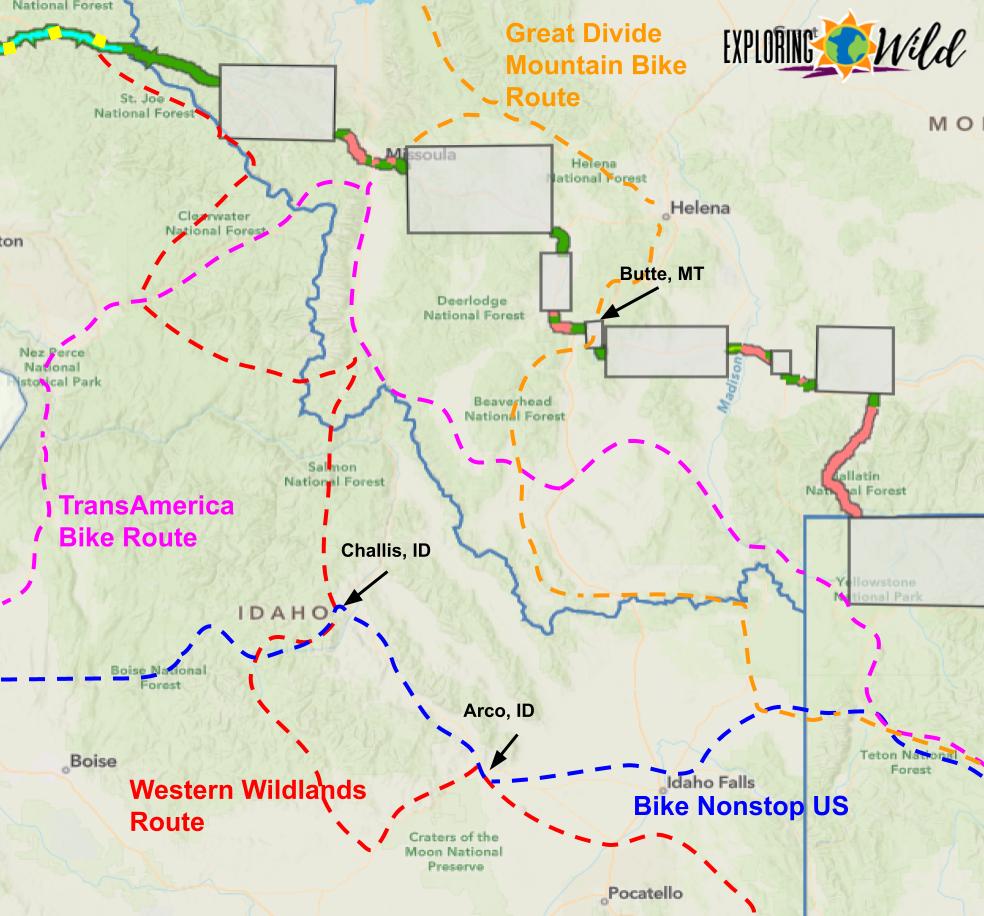 Not only is the Western Wildlands Route the most rugged of all the routes mentioned in this post; this alternative includes one of the WWR's most rugged and remote sections: the Magruder Corridor. Don't take it lightly! For more on the WWR see Katy McGuire's interview and my WWR section ride, and the Bikepacking Roots website.
What kind of bike and tires?
You might think "rail trail" connotes a certain kind of riding surface and therefore suggests a specific kind of bike and tire setup. Nope! Rail trails span a surprisingly large range of material and quality, making the Great American Rail Trail one of the more varied surfaces on which to cross the US.
Some trail segments, like the Ohio to Erie, are revered for their smooth pavement. Bring your road bike and skinny tires! Others, like the eastern stretches of the Palouse to Cascades trail in Washington, have places where the rocky ballast remains and little to no resurfacing has been done. Most riders want at least 700c x 40mm tires here, and personally I'd go with 1.8″ or wider. Nebraska's Cowboy Trail is known for being a bit sandy, so wider tires help keep you afloat. The GAP Trail's crushed limestone is quite pleasant, while the neighboring C&O Canal Trail's occasional rocks and ruts are rough by rail trail standards.
So what's the best bike on which to string all those trails together, plus all the paved roads in between? My preference would be either a touring bike (examples: Surly Disc Trucker or Salsa Marrakesh) or a sturdy gravel bike with clearance for at least 40mm tires. Most long-distance riders want to optimize for comfort more than speed, so a relaxed "all day" geometry with fairly upright posture is the way to go.
Longest Section Rides on the Great American Rail Trail
Not everyone can spare a few months to ride all the way across the country, and that's ok! The Great American Rail Trail is perfect for section riding, especially as we wait for gaps to be filled. If I were looking for a long section ride with as many trail miles as possible, here are the areas I would consider:
Seattle, WA to Missoula, MT: This 500+ mile stretch is by far the west's most complete section of the route, including 285 miles of the Palouse to Cascades Trail in Washington and the famous Coeur d'Alenes Trail in Idaho.
Dayton, OH to Washington DC: From Dayton east the trail is a cyclist's paradise of paved and gravel bike paths with rich history, including the Ohio to Erie, Montour, Great Allegheny Passage (GAP), and C&O Canal Towpath trails. There are a few short gaps, but together these trails provide over 600 miles of mostly car-free riding.
Not Just About Long-Distance Rides
While watching the progress report videos I came to appreciate how the vast majority of usage on this route will not be from thru riders. We long-distance bike travelers are a rare breed, and the biggest triumph of this project isn't enabling our adventures but providing access to safe and pleasant recreation areas for all the people living along the route. Many of these small towns lack access to walking trails and bike infrastructure, so this could make a big difference in their health and happiness. If we long-distance bike travelers benefit from it too, all the better!
Another big driver of the project: economic activity. Riders on long-distance adventures bring our tourism dollars to communities along the way as we eat and sleep our way across the country. This can have a significant impact on local economies, and is one way to incentivize them to support the project. As bike travelers we can think of ourselves as just one part of the ecosystem that allows such a massive and complex project to flourish.
How to Support the Project
If you, like me, wish this route was already finished, consider donating to help move it along. Since the Great American Rail Trail was announced in 2019 more than $34 million has been invested in projects that fill critical gaps along the route, and there's still a loooong way to go.
Here's how to help: donate to Rails to Trails Conservancy
Lastly, I'll leave you with the latest 2022 progress report:
More Bike Travel Resources
If you enjoyed this post, you might like these too:
Or visit the bikepacking section for lots more.
Bike resources in your inbox?
There's more where this came from! Sign up here for occasional emails full of inspiration and information about bikepacking and bicycle touring.


Share the Adventure
If you found this article helpful, please consider sharing so more people can benefit from it: