Just by reading this article you're supporting the Adventure Cycling Association, developers of the GDMBR. Each year I donate a portion of the ad revenue from this page to the ACA. Thanks for reading!
The Great Divide Mountain Bike Route is the stuff of legends, and after riding it I understand – intimately, with every pedal stroke and footstep and sunrise and sunset – exactly why.
This epic bikepacking route – GDMBR for short – hugs the Continental Divide between Mexico and Canada, touching five large American states and two Canadian provinces along the way. That's 2700 miles of gravel roads, dirt trails, small towns, rural ranchland, mountain climbs and descents, and a bit of pavement to connect it all up in a single unbroken line.
If you desire to get up close and personal with the spine of the continent (and don't have the time or patience to hike the nearby Continental Divide Trail), bikepacking the GDMBR might be the best way to do it.
Before 2021 I actually thought the GDMBR was too popular for my taste. First developed by the Adventure Cycling Association in 1998, it's grown hugely in popularity and is home to one of the most legendary bikepacking races in the world. I usually prefer to construct my own routes and get off the beaten path, but in 2021 I found myself craving more community, connection, and contact with others. My imagination started toying with the idea of a Great Divide ride, and the rest is history.
This post will share my impressions and answers to common questions about bikepacking the GDMBR. Many others have written about this popular route, but everyone approaches it differently. Especially if you want to ride in bikepacking style at moderate pace, solo (especially if female), and/or northbound, I can provide some perspective that other posts may not.
Related: GDMBR blog posts and books from the BikeSleepBike directory (my other project)
My Ride Overview
Since so much depends on individual experience and riding style, here's a quick overview of my own GDMBR bikepacking trip.
Dates: June 22 – August 26, 2021 (65 days, including 9 non-riding days for rest, visiting, and exploration)
Direction: northbound! (the unusual way)
Mood: leisurely but efficient. I've pushed myself hard on enough prior trips and wanted time for more relaxation and "type 1" fun this time around.
Companions: solo until Jackson, WY (about 1600 miles), then joined by my husband for the final 1100 miles. The best of both worlds! I love riding solo but a month is enough, and I've been wanting to share a long ride with him for years.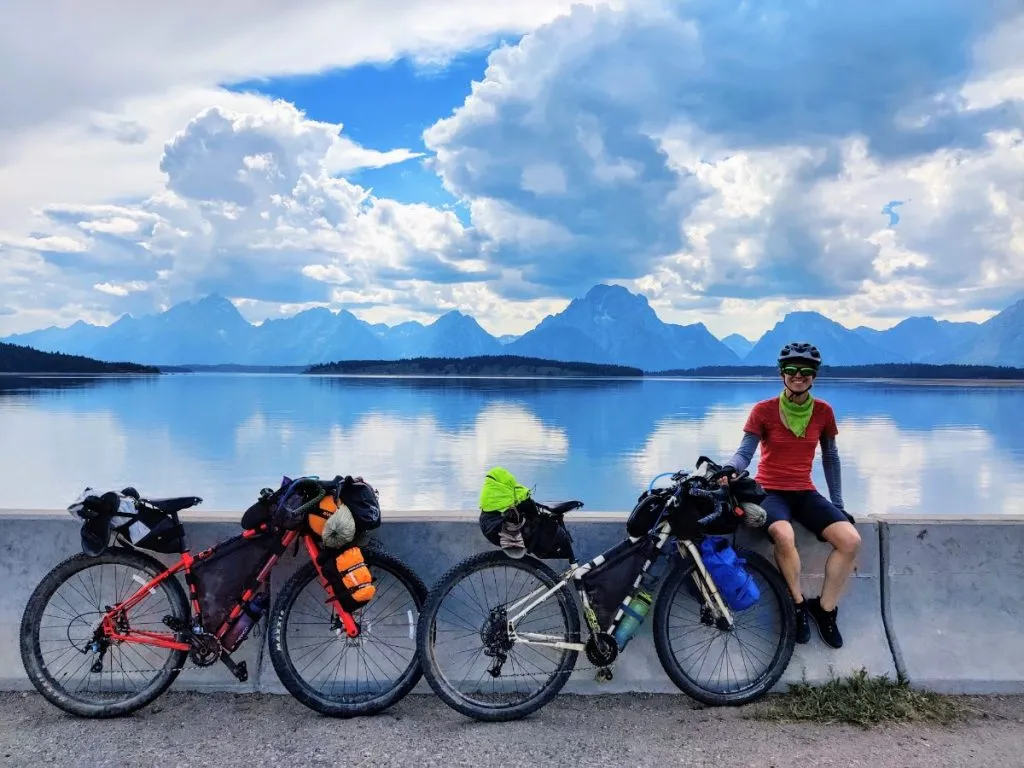 GDMBR Must-Know
If you're already familiar with the route, you might want to skip to the next section. Otherwise, here are some essentials to help you get oriented.
Length: ~2700 miles
End points: Banff, Alberta (Canada) in the north and Antelope Wells, New Mexico (US) in the south. A new extension goes from Banff north to Jasper, but many people still consider Banff to be the official start and there's some debate over whether the extension offers safe and pleasant riding (busy logging roads).
Riding style: Non-technical bikepacking. Despite "mountain bike" in the name, this route is mostly gravel and dirt roads with a bit of rougher jeep tracks and singletrack. Almost everything is non-technical, but you'll still be walking some rough or tricky sections, especially if heavily loaded.
Navigation: The GDMBR is NOT signed and is not a continuous trail. It's a route patched together from hundreds of different public roads. Riders are responsible for navigating the route using maps, directions, and GPS tracks (more on this below).
Remoteness: By western US standards most of the route is somewhat remote but not seriously remote. Be prepared to manage your food and water supply, deal with bad weather, and camp at undeveloped sites. It's common to go 1-2 days between towns and food resupplies, but most roads and trails carry other users and you'll usually encounter other humans every few hours, if not much more often.
Racing versus touring: There is a famous bikepacking race route that is mostly, but not exactly, the same as the GDMBR. Confusingly for the unfamiliar, racers are said to be racing the "Tour Divide" whereas non-racers (those who aren't prioritizing speed) are said to be "touring." The two routes are very similar but have a few key differences (for example, the Tour Divide crosses the Great Basin through Wamsutter and the GDMBR through Rawlins), so be aware of which you intend to follow when planning and riding. You can follow the race and see current and past race routes on trackleaders.com.
Racers often carry minimalist gear designed more for speedy riding than comfortable camping. If you're reading a gear list, make sure you know the rider's style and pace before deciding to copy their kit!
Commonly confused routes: Because it roughly follows the continental divide, the Great Divide Mountain Bike Route is sometimes confused with the Continental Divide Trail (CDT). The CDT often parallels the GDMBR and shares some resupply stops, but it's mainly a hiking trail (though biking is possible on parts). Similarly in Canada, there's a hiking route called the Great Divide Trail (GDT) which again parallels the GDMBR, but is not the same.
Timing and Logistics
How Much Time
How long does it take to bike the GDMBR? It depends! If you're a world-class racer, 2 weeks. If you're a leisurely tourer, it could be 3 months. Most people take somewhere between 1.5 and 2.5 months to ride the whole route.
The difference comes down to your gear weight, riding style, fitness, and personal preference. Some folks are looking to push themselves physically and mentally, while others want to see the sights and relax at camp. Whatever you choose, make sure your riding companions – if any – are on the same page!
Personally, I rode between 30-75 miles per day and tried to take a rest day every 7-10 days. On riding days my average was 49 miles, and I took 9 non-riding days to rest and enjoy places along the way. Sometimes tough terrain or bad weather made 30 miles feel like plenty, and sometimes fast roads or long downhills helped the miles fly by.
My daily average was a bit higher while riding solo and lower with my husband, in keeping with our goal of sharing a relatively relaxing vacation together. I slowed down a bit when he joined and we ramped up daily miles again together, which also extended my total time by a few days.
For context, 49 miles per day doesn't sound like a lot to me. I can ride 80 miles per day on roads without much trouble at all, and I've dabbled in bikepack racing where 100+ miles per day is the norm. We're both in our mid-thirties, fit and healthy. But the challenges of the route, combined with an intention to keep things fun, made this slower pace feel right.
Whatever your pace and fitness level, I suggest leaving extra slack in your schedule. There are so many things that come up during a long ride: unplanned rest days at nice places, bike repairs, bad weather, limited camping locations, or spending time with new friends. When a gnarly afternoon thunderstorm rolls in, it sure feels nice to grab a campsite or a room in town instead of having to press on in the cold rain.
North or South
Most GDMBR riders go from north to south, mainly due to tradition. I rode south to north, like a salmon swimming upstream. There are pros and cons to each and your choice will shape your experience, but both are perfectly good options.
Here are some factors to consider:
Timing: An early start is better for northbounders and a late start suits southbounders. See When to Ride below for details.
Wind: It's said that wind more often blows north to south along the route, so northbound riders will have more headwinds. While this may be true in some places (I had nasty headwinds in parts of Wyoming and Montana), wind direction is often inconsistent, and southbound riders experience headwinds too.
Flow: Would you prefer to start with scenic mountains and frequent towns, and end with wide-open desert and longer stretches of wilderness? Or vice versa? Going southbound it feels like you work up to the wildest and most remote sections later in the route. Starting in the desert of New Mexico and heading north, you'll have some of the wildest stretches under your belt by the halfway point and the more frequent towns and water sources in the north may feel luxurious by comparison.
Climbs: Some people say the climbs are steeper going north and the descents steeper going south. Personally I didn't find this to be a big deal. There are steep sections and gradual sections going both ways.
Other Cyclists: Riding south you'll meet more cyclists repeatedly as you leapfrog along the route. You may even be able to link up with a riding buddy. Riding north you'll meet more cyclists overall, but most interactions are brief roadside chats and you won't see each other again. Which suits your social style best?
Personally, I enjoyed my northbound ride. I met a lot of cyclists and enjoyed feeling that others were out there on the route, but didn't feel pressure to change my pace or coordinate with others going my direction. I also got to enjoy some remote sections on my own, and then appreciate the higher frequency of hearty food and fun towns while in "vacation mode" with my husband. Another key consideration in 2021: the Canadian border opened to travelers in August, just in time to ride all the way to Banff, while most southbound riders were limited to a US border-to-border ride.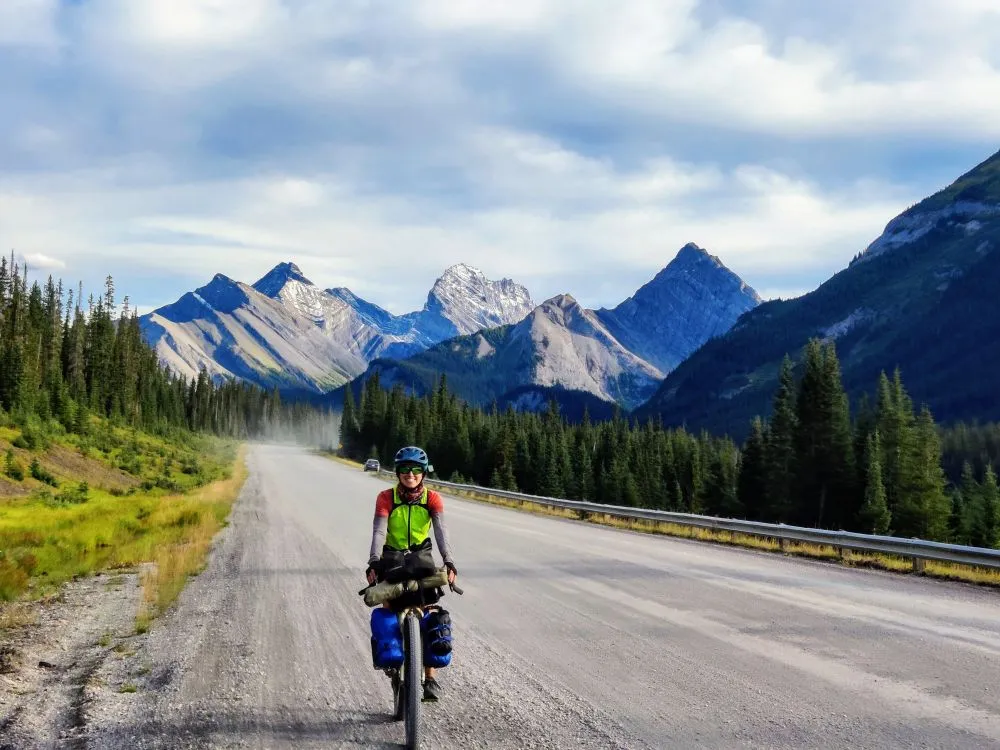 Best Time to Ride the GDMBR
The GDMBR is a summer route, but the exact best time to start and finish is a complicated question.
Many people simply work with the time they have. In 2021 I met southbound riders who started as early as June 10 (the Grand Depart for the Tour Divide race) and as late as mid-August. Everyone deals with a different mix of weather issues, which seem to be increasingly unpredictable these days.
No time window will be trouble-free, but here are some trends to consider.
Snowpack: In the mountains of Montana and Canada in the north, and the San Juans of Colorado in the south, snow can linger on passes well into June or even later on a high snow year. You can probably get through these sections, but they can be slow and miserable. Every year is different, so keep an eye on the snow conditions during the spring and early summer as you plan your ride.
Monsoon season: In New Mexico and parts of Colorado during late June through September, afternoon storms can drop large amounts of rain and turn dirt roads into impassable Death Mud. Paved alternates are often possible, but you'll miss some nice sections of the route if you have to take them.
Desert heat: New Mexico is sizzling hot by late June through August, and water can be scarce. Though it can be managed, it's ideal to avoid riding the southernmost section during peak of summer.
Smoke: Wildfire smoke and road closures are increasingly impacting GDMBR riders along the whole route, and especially from Colorado north. In 2021 we were able to finish the route and got lucky with the far northern section, but some people stopped early due to smoky conditions (bad for the lungs and also ruins the views). Risk of smoke and fire generally gets worse later in the summer, from August on, but seems to be moving earlier with each year.
Winter weather: Starting in mid-September, temperatures can get quite cold and there's risk of snow from early-season winter storms in the mountains. Most people try to be out of the high mountains (meaning south of Colorado) by then.
Putting this all together, the peak times for touring-pace riders are:
Southbound: July to September
Northbound: late May / early June to August
Of course, if you plan to ride slower or faster than average, adjust these to suit your pace.
To help you visualize the trends, here's a helpful graphic: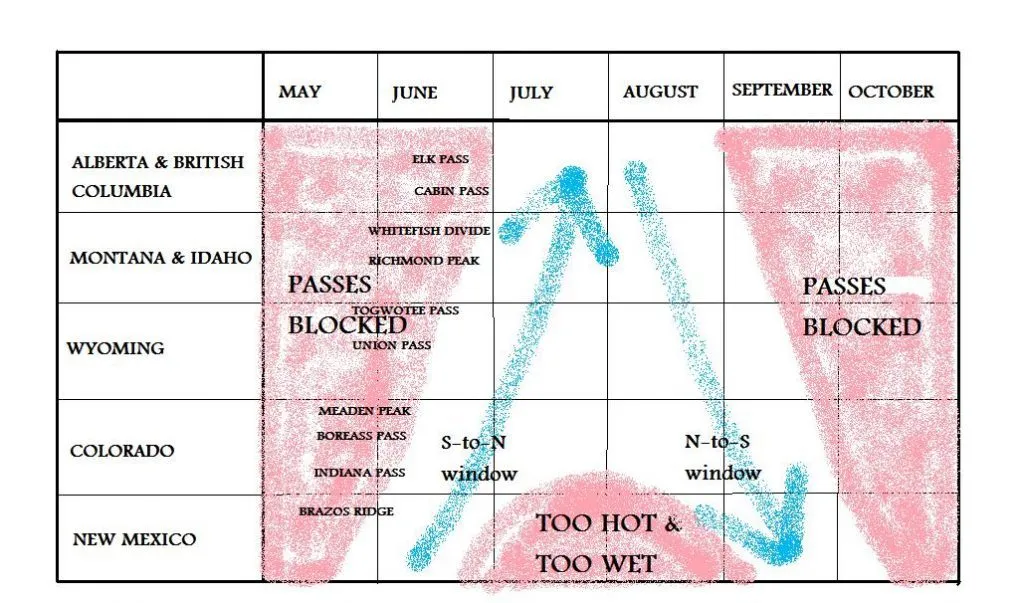 Transportation to/from Start and Finish
The Great Divide bike route is long enough that you'll need to handle transportation to and from each end separately – no round-trip tickets here! Here are the most common ways of getting to and from the endpoints.
Antelope Wells, New Mexico: This small border post stands alone in the middle of nowhere, so plan your transportation ahead of time. I recommend contacting Jeffery Sharp. He provides shuttle services to and from the terminus and nearby airports and bus stations, as well as a Bike Ranch in Hachita with rooms, camping, bike boxes, tools, and loads of Great Divide enthusiasm and lore.
Banff, Alberta: Calgary Airport is the closest major airport, about two hours of driving or 1-2 days of riding from Banff. Multiple shuttles run between Banff and Calgary Airport. Banff Airporter is popular with bikepackers and takes boxed bikes (we used them and it worked out great).
Kalispell / Whitefish / Roosville, Montana: If you're only doing to the US portion of the route, the folks at Whitefish Bike Retreat are very helpful to bikepackers and provide rides to / from the small Kalispell airport and the border crossing at Roosville. I believe they also do shuttles to and from Banff.
Terrain and Difficulty
How hard is the Great Divide, and what kind of surfaces and terrain should you expect?
It's varied! 2700 miles is a lot of miles. Here are some general trends.
Gravel and dirt roads make up the majority of the route. These are non-technical and vary from blissfully smooth to rocky and washboarded.
Singletrack trail makes up a small portion of the route, mostly in Montana and Canada. It's not technical by singletrack standards, but if you're heavily loaded you may need to walk parts.
Stupidly rough 4×4 tracks make up a very small portion of the route, but get talked about a lot. Examples are Fleecer Ridge and Lava Mountain in Montana, north of Abiquiu in New Mexico, and parts of the Flathead Alternate in Canada. Just get off and push, they'll be over soon. Most have an official alternate bypass (see list of alternate routes here), but unless you're really heavily loaded I recommend going for it, as these sections are some of the most scenic and interesting.
Pavement and highways are sometimes necessary to connect the more scenic sections. A significant minority of the route is paved, but it's mostly low-traffic backroads. A few short sections of busy highway are necessary, but there is almost always a decent shoulder (highway 24 near Hartsel is the notable exception).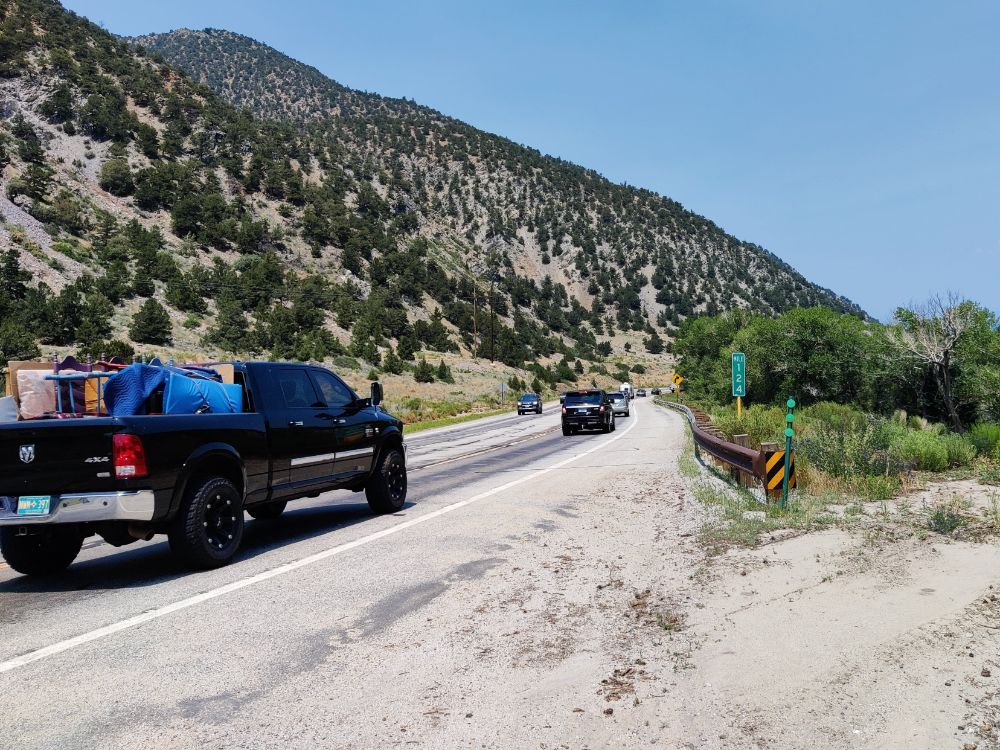 Climbs and descents are frequent – there is very little flat riding. Sometimes they're long and gradual, other times short and steep, sometimes a mix. It's normal to get off and walk up steeper sections, especially if heavily loaded.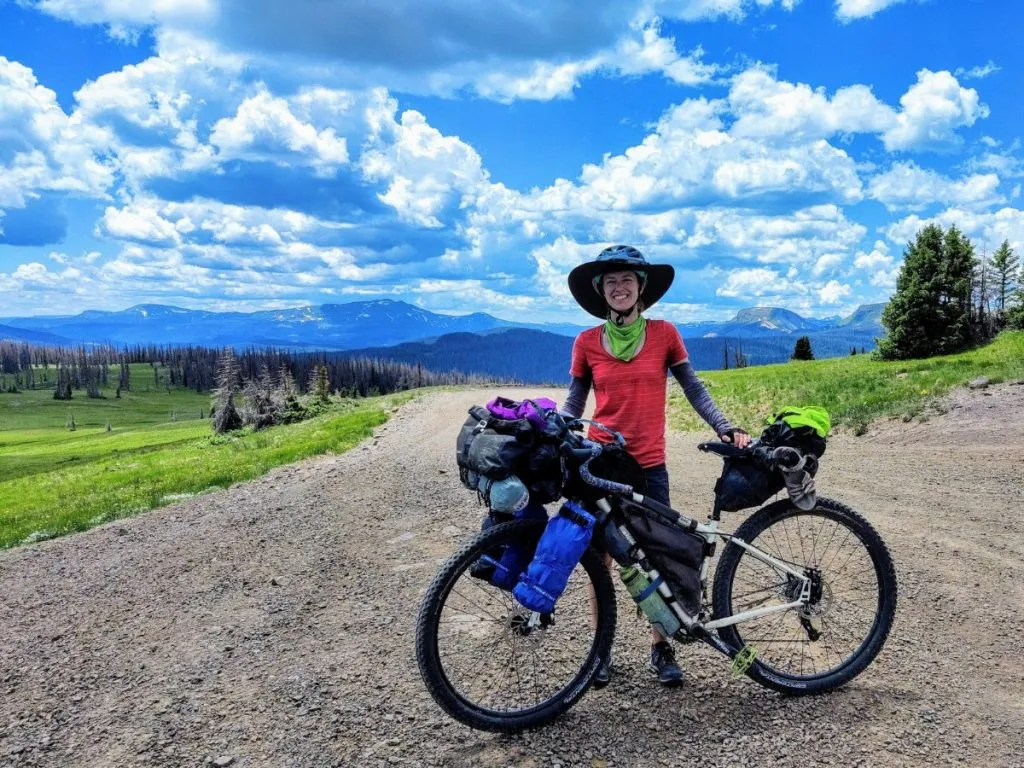 So how hard is the GDMBR?
This is entirely relative to your skills and experience. If you primarily ride flat terrain or paved roads, are not used to camping or mountain weather, or don't have much experience with loaded riding, the GDMBR might be the hardest thing you've ever done.
On the other hand: If you regularly ride mountain bike trails or gravel routes with lots of elevation gain, have experience camping in the mountains, and have done plenty of loaded riding in the past, you'll find many sections of the Great Divide relatively fast-rolling.
In either case, pace is a huge factor. The same route for the same person could be a pleasant experience at three months or a death slog at one month.
For me personally, the GDMBR at two-month pace was medium in difficulty. It was physically easier than pushing the pace at a bikepacking race like Smoke 'n Fire, mentally easier than riding solo amongst an unfamiliar culture like Sudan or Cambodia, and both physically and mentally easier than a thru hike like the Arizona Trail.
But the constantly changing terrain, weather, and surfaces kept me on my toes and the sheer length offered physical and mental challenges. While the route on average is very rideable, the most challenging 10% is legitimately rugged and steep. Unpredictable challenges like storms, smoke, and the occasional frustratingly busy and dusty road prevent the mood from lingering too long in purely relaxing territory.
Bikes and Bags
Bikes for the GDMBR
Everyone wants to know the best bike for the Great Divide Mountain Bike Route, but there's no single answer.
I saw so many different bike setups on the Divide! From four-pannier touring bikes to fast-and-light gravel racing setups, you really can ride this route on almost anything. That said, some choices are better than others depending on your goals.
Rigid bikes: I rode my Salsa Fargo rigid drop-bar mountain bike and thought it was perfect. It's a popular choice for this route, and relatively affordable. The lighter and more expensive Cutthroat, basically a carbon cousin of the Fargo, is also very popular. Some people even ride road touring bikes like the Long Haul Trucker, though I don't think it's an ideal choice (here's why).
Hardtails: Also a popular choice in a variety of models. The front suspension can take the bite out of rougher sections, but will be overkill for a lot of the pavement and gravel. If you're choosing a hardtail for the GDMBR, ideally make sure the geometry is suited to cross-country and long-distance riding, as opposed to downhill or technical trails. See Bikepacking on a Hardtail for more detail.
Full-suspension: Not recommended for this route due to weight, limited cargo space, and unnecessary amount of suspension.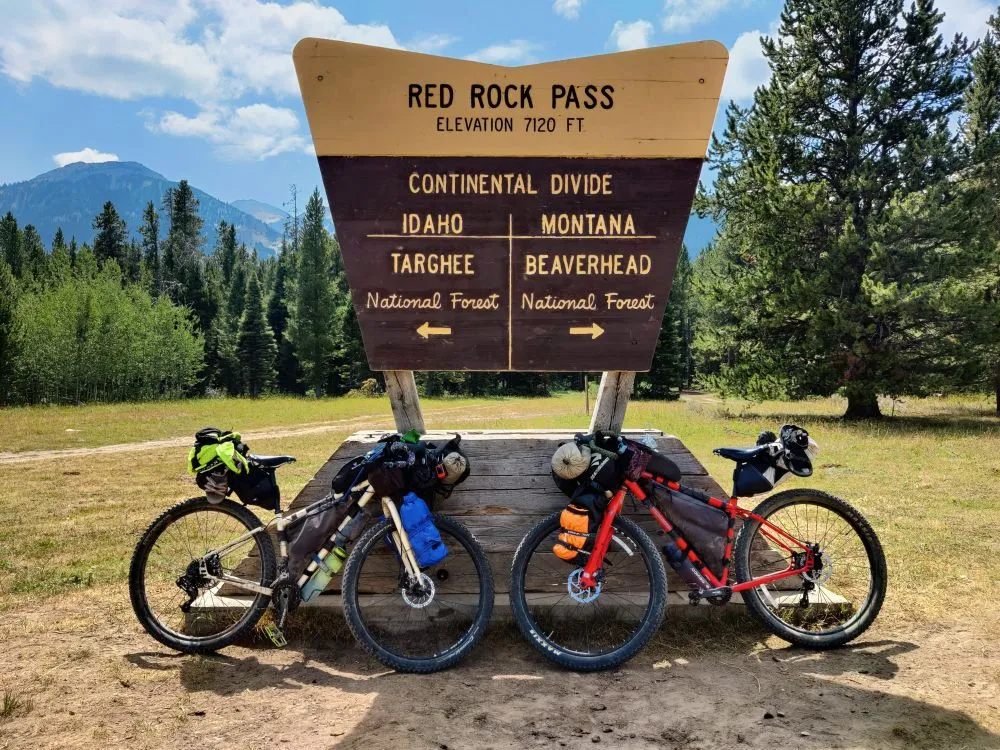 A Note on Tires
The best tires for the GDMBR will depend on your bike, goals, and riding style.
Popular choices include Vittoria Mezcal, Continental CrossKing, WTB Ranger, and Maxxis Ikon. The sweet spot for width seems to be around 2.2 – 2.3″, while some riders go as wide as 3″ and some as narrow as 45 or even 40mm.
My choice: 29×2.3 Continental CrossKing ProTection. Highly recommended! After 2700 miles they still had plenty of tread, and I had zero issues with tears or punctures that wouldn't seal. I've ridden WTB Rangers and Vittoria Mezcals on other routes in the past, and while they're good tires, they don't last nearly as long as the CrossKings.
If your rims are tubeless compatible, I highly recommend going tubeless. It's actually not too hard to set up and get used to; here's how my tubeless transition went. Especially in New Mexico, thorn punctures can drive you crazy if you're running tubes.
Bike Bags
These days, most people ride the GDMBR on a kind of "long-haul bikepacking" setup: soft bikepacking bags potentially augmented with extra capacity of fork cages and potentially a rear rack. I was surprised to see lots of riders making creative use of a rear rack, strapping on dry bags or mini-panniers instead of the traditional pannier touring setup. This provides more capacity than a seat bag but still keeps the bike relatively streamlined.
A minority of riders rocked a traditional four pannier setup. The only real downsides would be awkwardness on the brief sections of rough or narrow trail, and the temptation to pack heavier if you have the space. I noticed many of these riders took the paved alternates to bypass rugged sections.
Whatever setup you choose, I strongly recommend packing light. Extra weight really adds up on all those climbs. Don't forget, you can mail things home along the way if you're not using them, or have someone at home mail things out to you if you change your mind.
For more on this big topic, see Bikepacking Bags vs. Panniers and How to Pack for Bikepacking.
Camping and Lodging
Anyone riding the Great Divide should be prepared to camp. It's a big part of the fun! The GDMBR is lined with thousands of lovely places to spend a night under the stars. There are also plenty of places to enjoy the luxury of a roof over your head every few days. Here are my observations about camping and lodging on the GDMBR.
Camping
There are several ways to camp on the GDMBR:
RV Parks: Usually in towns, a cheaper alternative to motels, usually $20 – $40. Have showers and electricity, often laundry. Usually able to find a spot for cyclists even if full.
Developed campgrounds: Usually $15 – $25. Always toilets, tables, water, and camp host. May or may not have showers or electricity. Sometimes turn cyclists away if full, sometimes find space or have hiker/biker sites.
Primitive campgrounds: In the backcountry, often free or cheap (but you'll need cash), usually first-come first-served. Toilet and picnic table, sometimes food boxes and water, usually no camp host.
Dispersed camping: Camp where you want on National Forest and BLM land, always free. Sometimes a designated spot with fire ring or sometimes find your own spot, as long as you leave no trace.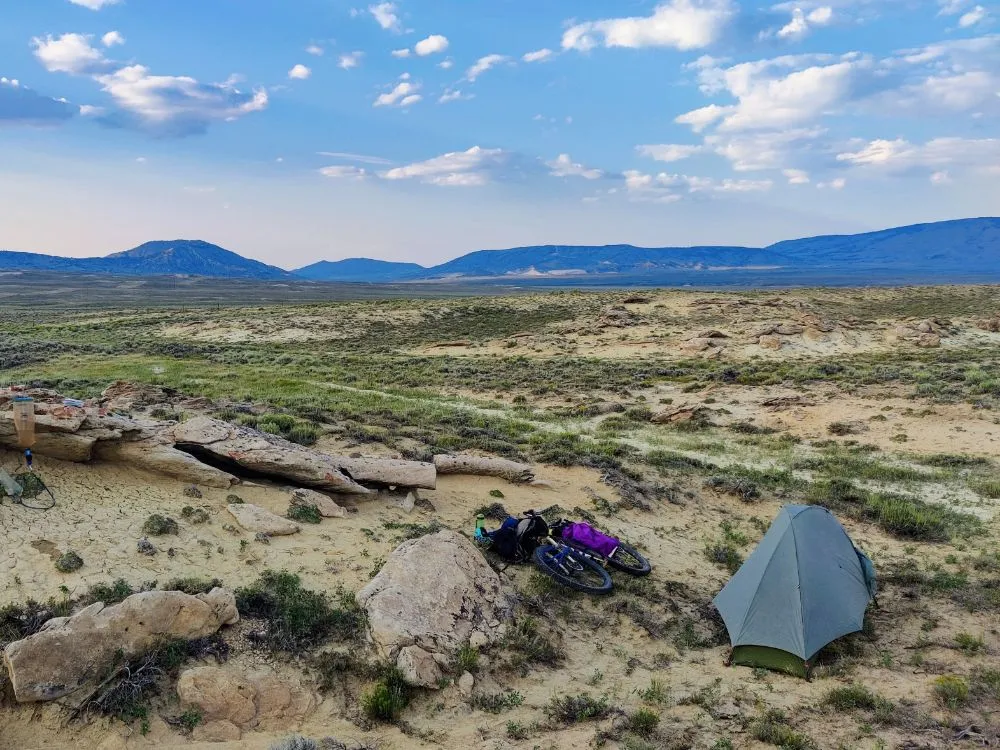 Which you'll like best is a matter of preference, and your budget. I did a lot of dispersed camping on the southern half, where it's usually easy to slip off into the forest and find a good campsite hidden from the road. In the northern half, denser forest and bear concerns can make it more convenient to camp at designated sites with food boxes.
Some people told me I would be safer as a solo woman camping at established sites, but I disagree. As long as I find a good stealthy site, I feel safe camping alone. That said, sometimes it did feel comforting to camp around others and then I would seek out an established campground.
Important camping tip! Though the ACA data and maps show many camping locations, there are many more that aren't marked. In fact, where ACA marks an "informal campsite" it's usually a large pullout where RVs park, often full of scattered trash and broken glass. There is no way I would camp at a place like that, especially on weekend nights. Cyclists can do much better!
Wherever you are, be sure to camp responsibly: camp on durable surfaces like dirt or pine needles, bury your waste and pack out your trash and toilet paper, store food properly, and don't make a fire if there isn't an established fire ring (or at all if there's a fire ban).
Hotels
Even if you love camping, it's nice to sleep in a real bed every now and then. Options include everything from nice resorts to budget motels or hostels to rural lodges and cabins. The ACA maps and data include many hotels, but definitely not all, so check Google Maps or a site like booking.com as well.
Some observations about lodging on the Great Divide:
Frequency: Varies by section. It's not uncommon to go 2-3 days between indoor lodging options, especially on more remote sections of the route like New Mexico and Wyoming. Larger towns have a wider selection, small towns might have a single motel, and sometimes you'll find rural lodges or cabins far from any town.
Availability: Don't assume you can just ride up and get a room. On weekends and in popular tourist areas, hotels were often fully booked and/or very expensive ($200+ / night). While I don't recommend locking yourself into a schedule too far in advance, it's worth making a reservation a couple days ahead for certain areas (Colorado's resort towns of Breckenridge and Steamboat Springs, for example) if you know you'll want to spend a night there.
Cost: Prices range from around $40 to $200+ per night, which can add up quickly if you're on a budget! At the cheap end you'll find hostel dorms, private rooms or cabins with shared bathrooms, and run-down motels in non-touristy towns. At the expensive end, the sky is the limit. In the middle it's common to pay $100 – $140 for a basic ensuite room.
Cheap rooms were easiest to find in the southern section of the route. Grants NM, Cuba NM, and Rawlins WY all had good selection.
Expensive and/or fully booked hotels were more common on the northern half, including Breckenridge / Frisco / Silverthorne, CO; Steamboat Springs, CO; Butte, MT (Helena is nearby and only slightly more affordable); Banff AB.
Hotel tip! Check hotwire.com for last-minute deals in the more expensive areas. Warmshowers can also be a good free option, but keep in mind that hosts along this popular route may get more requests than they can handle.
Cyclist Only Lodging
The GDMBR is home to some of the most generous and creative "trail angels" on the face of the planet. These places offer camping and lodging to long-distance cyclists on a free, donation-based, or pay-what-you can basis. They tend to also be oases of Great Divide legend and culture, and good spots to meet and chat with fellow cyclists.
Some of the most famous spots are:
Llama Ranch (Barbara and John Nye) near Helena, MT
Ovando, MT
Brush Mountain Lodge, near Steamboat Springs, CO
Toaster House in Pie Town, NM
There are plenty of other lovely spots too! Check the ACA maps and data for "COC" (cyclist-only camping) and "COL" (cyclist-only lodging).
Important note: The beloved Brush Mountain Lodge will be closed in 2022 while owner and host-extraordinaire Kirsten takes a well-deserved sabbatical. Updates here.
Civilization vs. Wilderness
There are so many ways to ride the Great Divide, and if you ride the whole thing you'll have plenty of time to experiment.
Not to say my way is the best, but I do want to offer a suggestion. I noticed many riders going from town to town, spending their nights at RV parks or motels in town as often as possible, and seeking out established campgrounds in between. Possibly because I rode south to north, starting where free camping is more plentiful, I developed a different rhythm.
I often planned my days so I would ride through town in the middle of the day, enjoy a big lunch and restock on food, then pedal out and camp in the woods instead of getting a room in town. This is especially easy from Colorado south, where free dispersed camping is easy to find in the national forests. In New Mexico and Colorado I saved lots of money and enjoyed many peaceful nights in beautiful campsites! In Wyoming, Montana, and Canada it can be a bit harder due to denser forests and concerns about camping in grizzly bear territory, but opportunities are still there.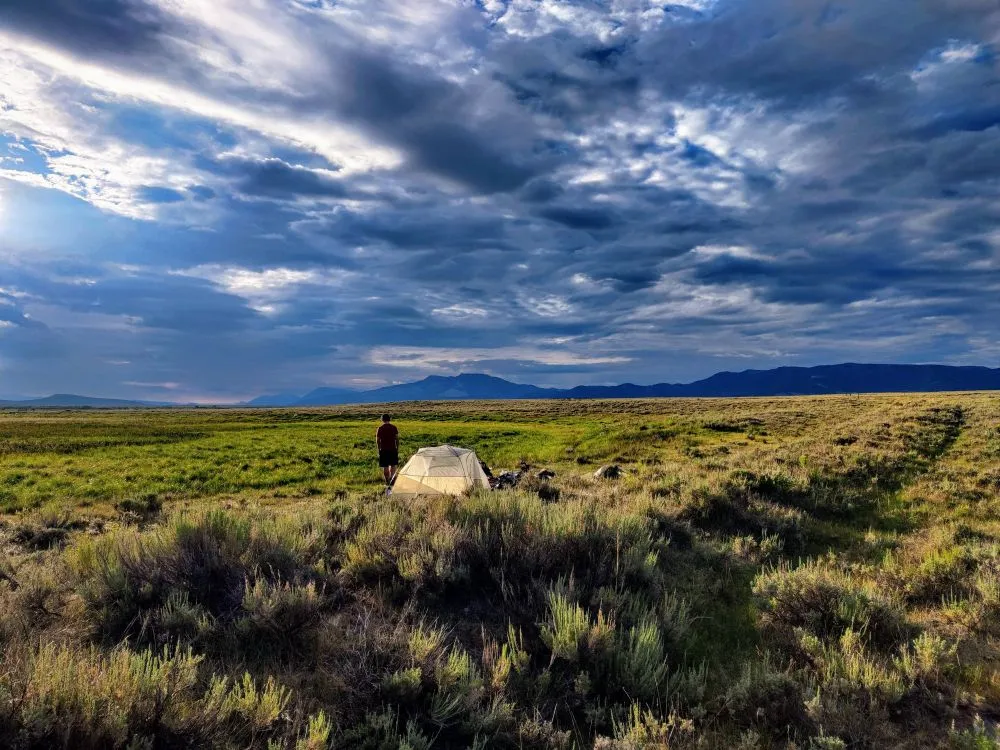 Rest Days
Roughly every 6-10 days I took a full non-riding day at a motel to rest and clean up. I looked for towns with a good grocery store near a budget motel with a minifridge, so I could catch up on nutritious food while resting, doing laundry (in the sink or a real laundromat), and taking care of other town chores.
I took rest days in Grants, Del Norte, Rawlins, Jackson (off-route, meeting up with family), Helena, Llama Ranch (near Helena but too awesome to pass up!), and Fernie.
Bikepacking Resupply Checklist
Spend your town time resting and eating instead of wondering what you're forgetting. Download this free bikepacking resupply checklist to your phone, or even print it out like in the old days:
Get the Checklist
Plan or Wing It?
I started the route with an average daily mileage goal for each half (solo and together with my husband), but often didn't plan more than one day ahead. Especially if wild camping in national forests, you can ride as far as you want and camp wherever you end up. I did track my progress in a spreadsheet so I knew if I was ahead or behind my overall goal. In the end, since I had chosen a reasonable daily average mileage goal, it all worked out.
There are a few sections where riders are forced to ride town to town, or at least plan out camping locations in advance, because of frequent towns or private land. Unless you're comfortable camping illegally on private land or stealth camping in populated areas (which I don't recommend), you'll want to take note of these sections in advance.
Use a mapping app with a land ownership layer, or the borders drawn in the McCoy guidebook maps, to find places where the route stays outside of national forests or BLM land for many miles. Those are the areas where you'll want to plan more carefully.
Food
Food resupply options are fairly frequent on most of the GDMBR, at least by US bikepacking standards. At a touring pace you'll usually need to carry 1-2 days of food between stores and restaurants, and occasionally 3-4 days. In some places food is plentiful; in a few parts of Montana and Canada you can have three hot meals a day if you want!
The southern half generally has longer food carries than the north, but long stretches are mixed in throughout. Check your maps before leaving town and don't assume the spacing of stores will be consistent.
Some of the longer sections between food resupply (listed heading nobo) are Abiquiu NM to Platoro CO, and Rawlins to Atlantic City WY (Great Basin).
Food on the GDMBR mostly comes from gas stations, general stores, and diner-style restaurants. You can eat your fill of cheeseburgers, fried chicken, beer, and ice cream, if you're into that (and I am!). You'll find simple thru-hiking-style meal ingredients (instant noodles, rice, mashed potatoes, cheese, peanut butter, oatmeal, energy bars, trail mix, etc) at many of the convenience stores.
In larger towns you'll find real grocery stores with much better selection. Some GDMBR towns with large grocery stores include Helena, Butte, Rawlins, Breck/Frisco, Grants, Silver City. Many other towns, like Cuba and Del Norte, have modest grocery stores that still feel extravagant after days of gas station food.
For more food inspiration, see my post on bikepacking food which applies very well to the GDMBR.
Mail Drops on the GDMBR
Even the smallest towns have a post office, so riders have plenty of chances to mail themselves supplies via General Delivery. Is it worth the trouble?
Some people are tempted to mail food boxes to many smaller towns along the route. Personally, unless you have dietary restrictions that require it, I don't think it's worth the hassle. Limited post office hours can constrain your schedule and add stress to your ride. Most people can get by without mailing any boxes at all, just restocking on key items in larger towns along the route.
If you do want to mail yourself supplies, I suggest sending yourself 2 or 3 boxes in places where you're likely to take a rest day. Use these to resupply key items that are hard to find on the road: medication, contact lenses, unusual bike parts, freeze dried vegetables, other food items you can't get on the road. Look for small to mid-size towns that are easy to navigate and have convenient post office hours.
Check post office hours in advance! All are closed on Sunday, most are closed Saturday, and small town post offices often have short weekday hours. Some will only hold general delivery packages for 2 weeks, so call ahead and check if mailing before you leave. Many towns on the route are used to hikers and bikers and may be more lenient.
Related: How to Resupply on a Bikepacking Trip
Stove or no stove?
Most Great Divide riders carry a backpacking stove (I like the JetBoil MicroMo – so fuel-efficient!) so they can make hot meals and drinks at camp. For me it was certainly worth the weight, especially since I spent so many nights camping. A few folks prefer to ride stoveless, carrying pre-cooked foods or cold-soaking when necessary.
Where to get fuel canisters? If you bring a canister-style stove, you'll need to replace your fuel canister at least once. Sporting goods stores, hardware stores, and sometimes general stores are good places to look. In towns where CDT hikers resupply, you might find hostels with "hiker boxes" where people leave partly empty canisters they don't need.
Note that fire bans are increasingly common in national forests along the route. They prohibit campfires and stoves that don't have a shutoff (including alcohol stoves), but canister stoves are usually allowed.
Bears and Food Storage
When camping, it's essential to store your food properly to protect both yourself and wildlife. Bears are the biggest concern, particularly grizzly bears in parts of Wyoming, Montana, and Canada. But black bears exist throughout Colorado and northern New Mexico, and rodents can do a surprising amount of damage almost anywhere!
When bears are exposed to human food, they often start seeking it out aggressively. This leads to scary and sometimes dangerous encounters for campers, and often the bear is put to death. No one wants any of that! So store your food properly.
In bear country, properly storing food means one of these methods:
Hard-sided food cabinet at an established camping area
Ursack bear-resistant food bag, properly closed and tied to a tree (this is my method; more info on Ursacks here)
Hang your food at least 10 feet high and 6 feet from the tree trunk (very hard to do, especially with the type of trees along much of the route)
Whatever you do, do NOT keep food inside your tent in grizzly territory. Don't cook or eat in or near your tent, and consider keeping your bike and anything else that may smell of food at least 200 feet away from where you sleep.
On the GDMBR, grizzly territory spans from Pinedale, WY in the south through Canada in the north, with the highest concentrations in the Teton / Yellowstone area, northern Montana, and Canada.
Other Bear Safety Tips
In addition to safe cooking and food storage practices, you'll want to take a few other precautions in bear country. Grizzlies are the main concern, since they can be more aggressive than black bears.
Bear spray is carried by almost all Great Divide riders north of Pinedale, WY. If heading northbound, pick up a can at Brush Mountain lodge; drop yours off there if heading south.
Grizzlies will generally leave you alone as long as you don't startle them into taking defensive action. So on narrow trails, keep your eye out and make noise, especially when riding fast downhill. Bear bells aren't thought to be that effective; bears respond better to lower-pitched noises like talking or yelling (or singing out loud!). If you do encounter a bear, draw your bear spray, calmly hold your ground, and let it know you're there. Here's a great video if you'd like more expert advice.
Black bears are present in all the mountainous areas of the route, from northern New Mexico on north. They tend to be skittish and don't pose much threat unless they're startled, or attracted to food in your tent.
We saw only two bears on the whole route, both in Canada. At least one was a grizzly, and both were on wide gravel roads. We also saw plenty of bear scat in northern Montana.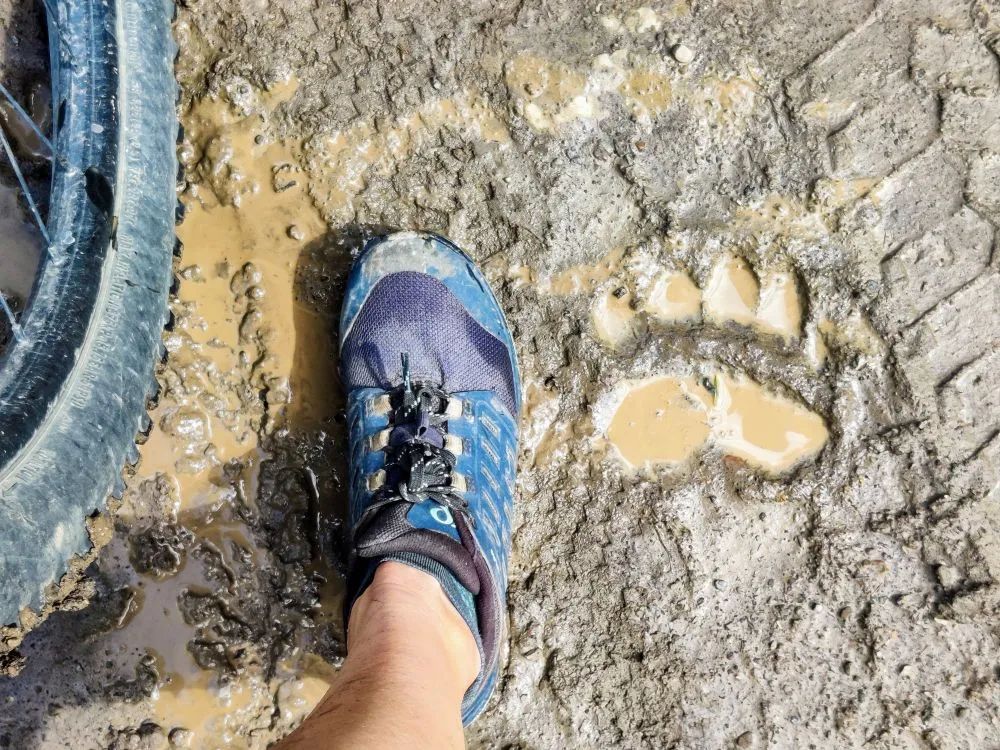 Water
Everyone wants to know how much water capacity is needed for the GDMBR, but the answer depends heavily on which section you're talking about.
Through much of Canada and Montana, you barely have to think about water. I usually filled up 2 liters at a time and then took a snack or lunch break to filter when it ran out. A lot of Colorado also has plentiful water.
Several dry sections do require more care. The most notable are the Great Basin (Atlantic City to Rawlins going south) and parts of New Mexico. Personally I found the New Mexico dry stretches to be longer, maybe because I was slow and just starting out.
The most water I ever carried: 9 liters, heading north from Beaverhead Work Station toward Pie Town. In the Great Basin I carried "only" 5 liters so I could dry camp; you can probably carry less if you camp at both "the reservoir" (A&M) and "the well" (Diagnus).
For up-to-date water reports on these and other dry sections, I highly recommend checking this Great Divide Facebook group.
How did I carry all that water? A 2.5 liter bladder in my frame bag, and a 1 liter bottle on my down tube. For more capacity I sometimes added up to 2 flexible 1-liter Platypus bottles on my handlebar bag, in a dry bag on my fork, and/or in a small stuffable backpack. For max capacity I used my filter dirty bag as well. More detail: 9 Ways to Carry Water on a Bike.
For treatment I used a Sawyer Squeeze filter with a CNOC dirty bag. More detail: Bikepacker's Guide to Water Treatment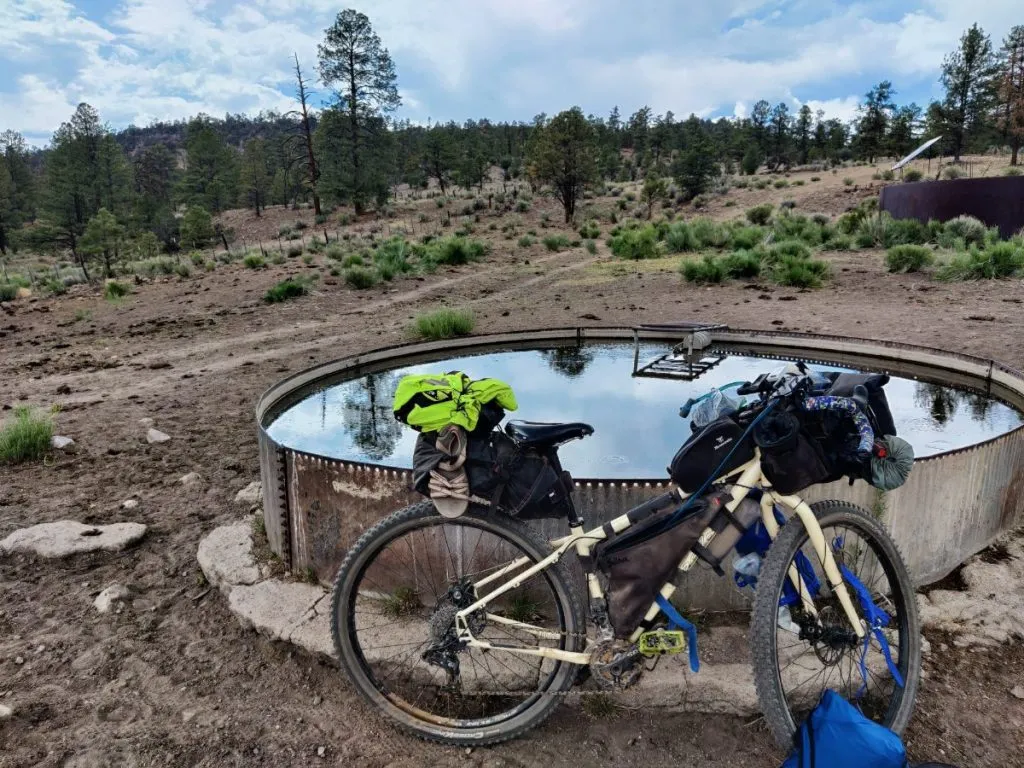 Budget
How much does it cost to ride the Great Divide Mountain Bike Route? This depends heavily on your chosen style. Rather than give a definite budget, I'll give a range for the biggest spending categories.
Transportation to start and from end: Getting to and from remote endpoints, especially Antelope Wells, can be a big expense. Budget a few hundred dollars for shuttle rides, airporters, etc.
Hotels and camping: In many towns a hotel room will run upwards of $150 per night, though you can find hostels and budget motels in some towns for more like $50 – $80. Camping ranges from free to around $40 per night.
A great way to save money on the GDMBR: Get off-cycle with town stops. Plan to pass through towns in the middle of the day and ride to the nearest national forest for free camping at night. Keep in mind that camping every night is tough; you'll probably want to treat your tired and stinky self to some luxury once each week or two at minimum.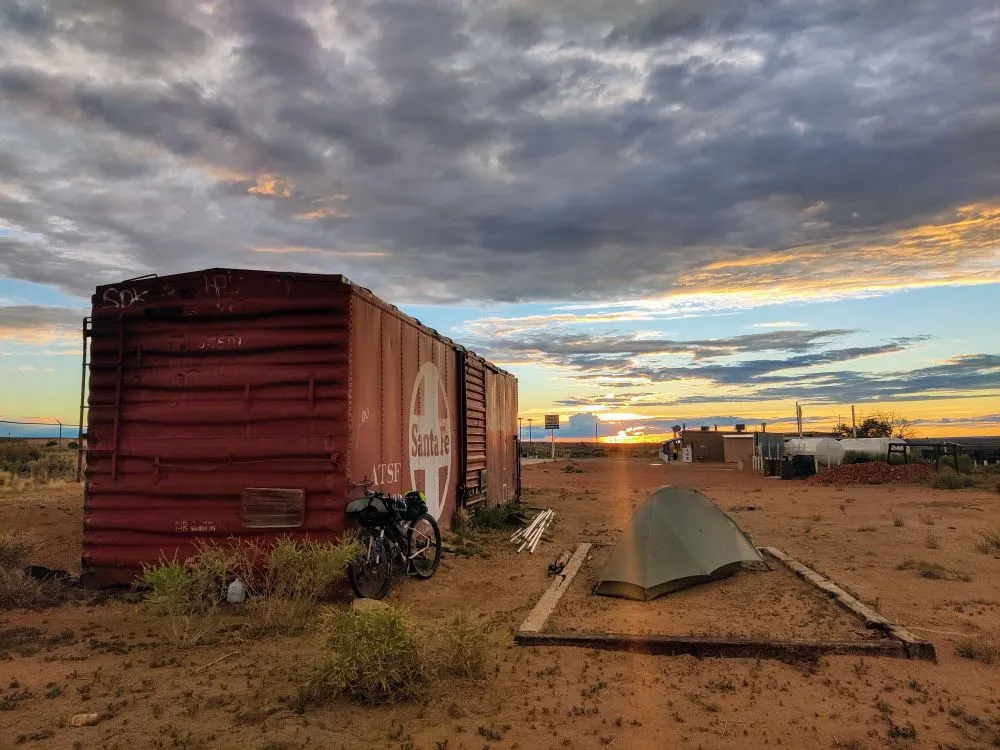 Food: Cyclists eat a lot! Eating luxuriously at restaurants and expensive general stores could easily cost $40 or more per day, especially if you're fond of beer. With careful choices, the willpower to pass up restaurants in favor of microwave burritos, and a willingness to eat lots of ramen and peanut butter, you could possibly get by on $10 per day. Most people will be somewhere in the middle. Don't underestimate how fun it is to eat well while bikepacking!
Bike parts and repairs: With good luck and preparation, you might only need a replacement chain and brake pads. But if anything more serious goes wrong, you could be looking at hundreds of dollars in bike shop costs, plus the transportation needed to get there.
Gear updates and repairs: Obviously gear can be a big expense before the ride, but issues can come up during the ride too. I ended up replacing a number of items that were already past their prime when I started: water filter, sleeping pad, and hydration bladder, to name a few.
We live a pretty simple life on the Great Divide, but extra expenses always tend to come up. It's best to have the budget for extra expenses like unplanned transportation or hotel stays, major gear replacements, expensive laundromats, or a fun night out in town with new friends.
Navigation
The GDMBR is not marked! It follows a patchwork of public roads and trails and sometimes involves frequent or unexpected turns. Riders are responsible for knowing and following the route, and coming up with their own detours when necessary. Here are the most common navigation resources:
GPS Data from Adventure Cycling: Most people navigate with a GPS track, either:
ACA's Bicycle Navigator App: I haven't used it but hear good things. If you don't already have a GPS app you prefer, this is probably the best option.
ACA's GPX data loaded into a GPS navigation device or smartphone app. Best if you already have an app or device you like (I use RideWithGPS; Gaia GPS is also good. Don't forget to download the data for offline use!).
Both these options include the track as well as services and points of interest (campgrounds, bike shops, convenience stores, etc). Important tip! The points of interest use abbreviations. Here's how to decode them.
Paper Maps from Adventure Cycling: the paper maps are helpful for a big-picture view and fun to pore over at camp, but bulky to carry. They include summaries and turn-by-turn directions for both northbound and southbound directions. Though I know people used to do it, I would not recommend navigating with paper maps alone as it's very easy to get off-route. Bring paper maps only as a supplemental tool.
Cost: ACA charges for these maps and data, roughly $100 for the full set, and each type must be bought separately. This can add up! If you're truly on a budget, you can find free GPS tracks on the internet. Otherwise I do suggest shelling out for at least one of the ACA map or data types, since they developed the route and do great work on behalf of bike travelers in the US.
Addenda: The ACA data and maps are updated every few years. To handle route issues and changes in services between updates, the ACA publishes addenda. Download these to your smartphone before riding! They won't seem important until you're out there with no network connection and then you'll wish you had them.
Backup: I always recommend having a backup navigation method in case your first gets damaged, lost, or runs out of battery. For example, use paper maps or a second smartphone to backup your smartphone app, or use a smartphone app to backup your Garmin navigation device. Don't count on finding anyone to ask for directions if you get lost out there.
Alternates: Know that the official GDMBR route also includes a handful of alternates for avoiding muddy sections, bypassing rough terrain, visiting towns for resupply or transport, and occasionally adding more challenge. These are shown clearly on the paper maps and Bicycle Navigator app, and included as separate tracks in the GPX data. Here's a list of the main alternates, and pros and cons to help you decide.
Google Maps: While insufficient for backcountry navigation on its own, I recommend downloading the area around the route for offline use in the app. It can come in handy for on-the-fly reroutes due to closures or mechanicals. The offline data includes businesses and their hours, which is super helpful for planning your resupply stops from the trail.
My choices: I bought the ACA GPX data and loaded it into RideWithGPS. While solo I carried a Garmin eTrex as backup, and while riding with my husband we used each other's smartphones as backup. The GPX data lacked big-picture context, so I did other online route research and carried the McCoy Guidebook on my Kindle (see below).
Other Resources
ACA Route Overview: Light in details, but a useful starting point.
McCoy's ACA Guidebook: Great descriptions of mood, terrain, geography, and history. Useful maps that show paved vs gravel surfaces. I recommend bringing on a Kindle or smartphone app to supplement GPS data. I do NOT recommend following his day-by-day itinerary, because there are so many other great places to camp and I prefer to be more flexible with daily mileage. Also the pace is a bit slower than the average rider these days. The book is written from a southbound perspective, but I still found it useful (if a tad frustrating) as a northbound rider.
POI Map from Sarah Swallow: Similar to the ACA data but from a racer-oriented perspective, and includes markers for key water sources and summits that ACA doesn't. Useful for cross-checking key services or water sources.
Facebook Groups: Even if you're not a regular Facebook user (I'm not), I highly recommend joining these groups where folks exchange current info about route conditions, closures, lodging and food, water sources, and much more.
Books: the GDMBR might be the subject of more books than any other established route! I enjoyed reading and listening to these while riding:
Films: If you haven't seen it, you have to watch the classic Ride the Divide. It's basically an entrance requirement for the route. 🙂
Do note that many books and films are created by racers, not tourers, so their route, gear, and overall experience may be different from a tourer's perspective. Still, there is plenty to learn and appreciate from their experiences.
Bike Shops and Repairs
There are plenty of bike shops on the Great Divide, and they tend to be well-equipped to deal with those of us riding through. Despite their very full schedules, we were accommodated immediately whenever we needed something adjusted or repaired (my bike did great, but my husband's had some bad luck).
That said, it's common to go hundreds of miles between on-route bike shops. So it's essential to carry what you need to repair common bike problems yourself. If something goes wrong that you can't fix, you'll likely be able to hitchhike to a bike shop, but it may throw a wrench (figuratively and literally) into your schedule or your budget.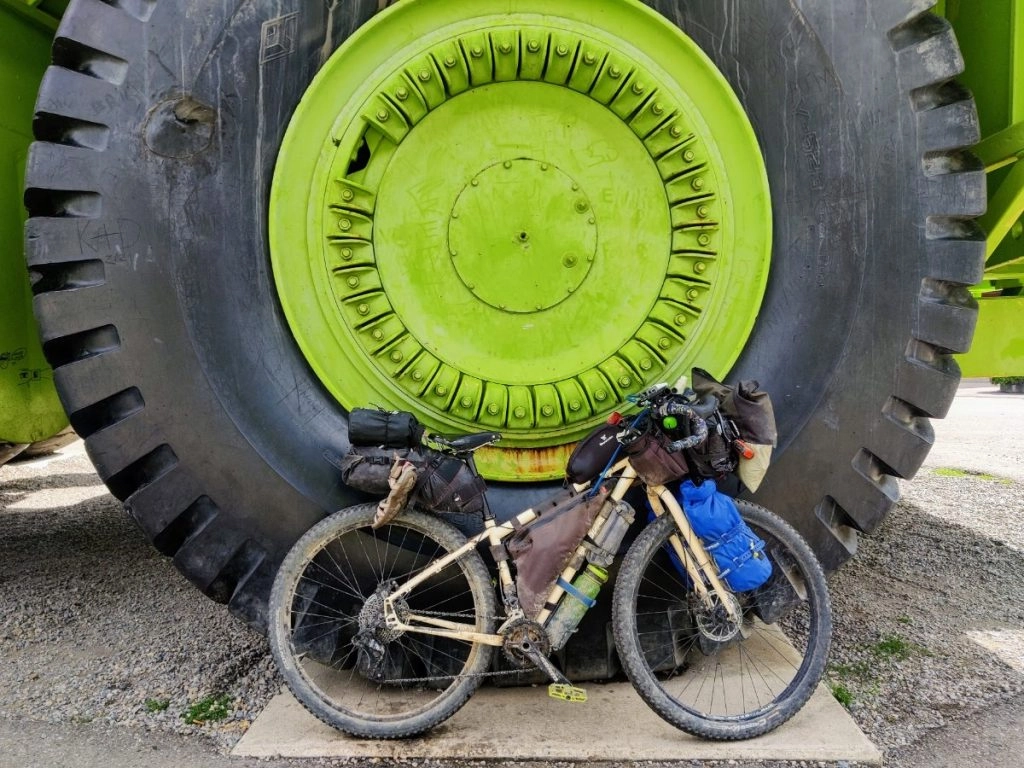 Connectivity
Don't expect to have phone reception or data on most of the route. In and around towns the chances are good, but out in the national forests and BLM land you will likely be disconnected. It's nice to have a Garmin InReach Mini (my personal favorite) or a SPOT, especially for solo riders, to feel a bit more connected.
Which carrier is best? The route is so long that I don't think there's a clear winner. Verizon is considered good in some parts of the rural US, but I used a combo of T-Mobile and AT&T (dual SIM cards) and found that totally sufficient.
Who's Riding the GDMBR?
How many people ride the Great Divide each year? I don't know exact numbers, but I was told that a few thousand riders started southbound in 2021.
To me the GDMBR felt well-traveled, but it's all relative. I usually ride in places where seeing another cyclist is rare, so I was surprised to meet 5-10 southbound riders nearly every day as I rode northbound through Colorado and Montana. I even leapfrogged with a few other northbounders at times, though there were far fewer of us heading that direction.
The cyclists I met were a diverse and wonderful group. There were retired folks, young college graduates, those of us in-between, and even a few families with kids. People rode solo, as couples, and in groups. Though white men may have been the majority, I met people of all different races, genders, and ages. It was always a welcome break to chat with other riders, even for just a couple minutes before continuing in our opposite directions.
Solo Riders: I've heard people say that this is not a route to ride solo because it's too "out there." I disagree.
By US bikepacking standards much of the GDMBR is actually well-traveled. There are only a few sections where you won't cross paths with another cyclist or motorist at least once an hour. I rode solo for the first 1600 miles and really enjoyed the freedom it afforded. I also met plenty of other solo riders, including other women.
Some people prefer company in grizzly territory, and some people simply get bored riding solo (I can understand this – after 1600 miles I was ready for company). But if you want to ride solo, go for it. Women, this applies to you too, though some people may try to tell you otherwise. Though the usual precautions apply, crime is uncommon in the types of rural areas that much of the route traverses.
New Bikepackers: I was really surprised by how many riders told me the GDMBR was their first "real" bikepacking trip! After just an overnighter or two, these folks set out on a multi-month odyssey! Props to them, that takes some spunk.
So if you're wondering whether you need a ton of bikepacking experience to ride the Great Divide, the answer is no. It does help to have some general outdoor experience with camping, managing bad weather, filtering and carrying water, planning food, etc. Backpacking experience transfers well. But as long as you start slow, do your research, and stay flexible, the GDMBR can be an epic learning experience for newer bikepackers. Of course, I do recommend a few shakedown rides to make sure your bike and gear are dialed in first.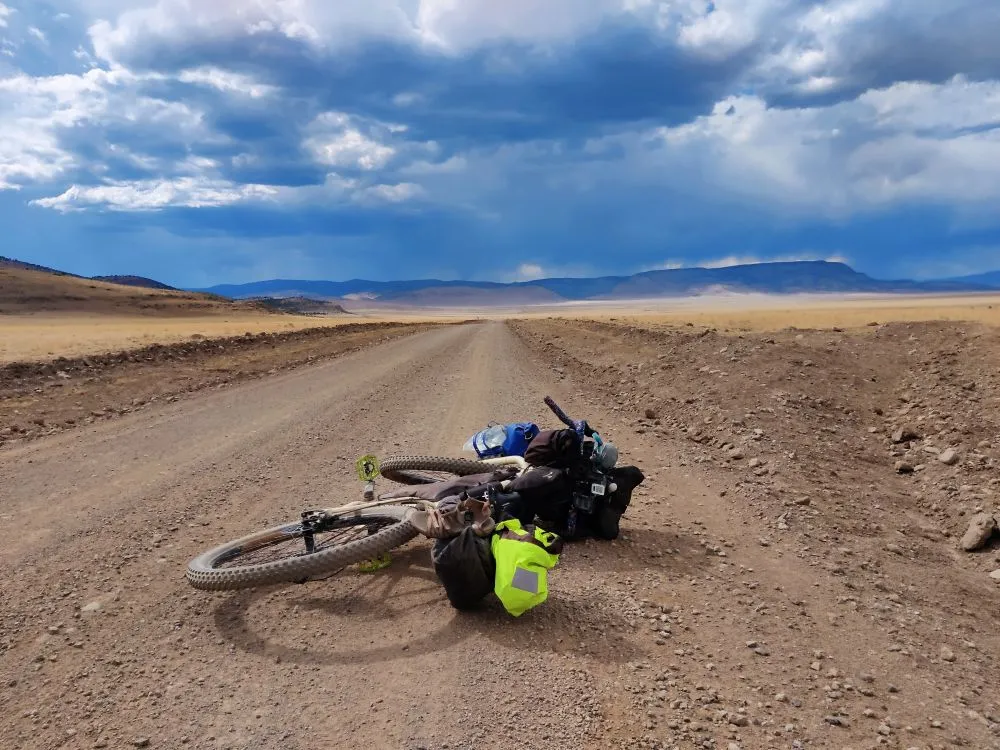 Safety Considerations
Generally speaking, bikepacking in rural areas is a pretty safe thing to do. But when we think about an epic ride like the Great Divide, fears about safety naturally come to mind. Here are some issues you might be wondering about:
Traffic: This is statistically your biggest risk when bikepacking around motor vehicles. Though the mostly low-traffic roads of the Great Divide do minimize this risk compared to road cycling, you will still encounter traffic and tragically cyclists have been hit and killed on this route. So take precautions when riding on busy roads: use a blinking red tail light, wear bright clothing, consider a helmet mirror so you can see behind you, and ride defensively.
Weather and Exposure: Occasionally riders get into trouble when not prepared for the elements. Rain, show, hail, and cold weather can be a risk if you don't have proper clothing and shelter (see Bikepacking in the Rain). Avoid high exposed places during thunder storms and take shelter in a large grove of trees to lower risk of lightning strike. In intense desert heat you should carry more water than you think you'll need, study refill options carefully, replace electrolytes with food or drink mix, and keep your effort level lower.
Bears: Bear attacks are exceedingly rare, but you should still use good bear safety practices on the GDMBR. This means storing food properly away from camp, cooking and eating away from where you sleep, making noise on tight or twisty trails, and carrying bear spray when north of Pinedale, WY.
Crime: Crime is very low in the types of rural areas and public land that the GDMBR traverses, and I'm not aware of any past issues. That said, you are out on your own when you ride this route, and responsible for using good judgment. If you get a weird feeling from someone, don't tell them where you're camping, that you're riding alone, etc. Be thoughtful when accepting rides if you need to hitchhike. And definitely lock your bike when in town.
Section Riding
The Great Divide is often thought of as a single long "thru ride," but I met a ton of section riders too. In fact my husband, who joined me in Jackson for the final thousand miles, was one of them. Some folks were out for only a week or two, just riding a few hundred miles at a time.
Some section riders expressed regret that they couldn't ride the whole thing at once like I was. I found myself telling them that maybe they had the right idea! I spent two months riding the entire Great Divide and while I wouldn't change that, I probably could have savored each day more on a shorter ride. When you've been on the road for many weeks, the days and miles have a way of blurring together. Section riding also allows you to ride each section in the ideal weather window, without the compromises most thru riders end up making for snow, heat, rain, and smoke.
There are many options for section rides, depending on the time you have and your transportation options (often the hardest part of getting to and from remote parts of the route). Some common section rides include:
Banff or Rooseville to Helena or Butte
Helena to Jackson
Jackson to Breckenridge
Breckenridge to Abiquiu, Cuba, or Grants (Albuquerque being the nearest transportation hub)
Is the GDMBR Right for You?
With so many adventures to choose from, will bikepacking the Great Divide be a satisfying way to spend your summer?
Obviously I'm a fan of the route, but I won't sugarcoat things. The GDMBR is not perfect, and I did not love every mile of it. Sometimes the roads were busy and dusty, the air was smoky, or the gravel deep and washboarded (or all of the above!).
As I see it, these are the biggest pros and cons of the GDMBR:
Pros:
Experience a legendary route that gets a lot of attention from the bikepacking community.
Meet other cyclists and trail angels.
Explore a beautiful part of the country without getting too remote or rugged (it's all relative).
Biking is a great pace for this length route, allowing you to pack in a whole lot of miles while staying up close and personal with the land.
Cons:
Much of the route is a little too well-traveled (by RVs, ATVs, etc) if you like solitude.
The experience is popular and well-defined; not much room for charting your own course or feeling like you're really on your own.
Compared to trails like the Arizona Trail and Colorado Trail, large sections of the GDMBR are not as scenic. Plenty of forested climbs and descents without rewarding views; open plains instead of mountain ridges, etc. If you're a backpacker you may feel like the scenic beauty to mileage ratio is lower than you're used to. (Yes I know, I'm a scenery snob.)
I'm glad I chose the Great Divide and I would choose it again in hindsight; it met my needs and goals for the summer. But if you're an experienced bikepacker looking for a bit more of that rugged, independent, path-less-traveled feeling, check out the Western Wildlands Route before making your decision. Here's an interview with a bikepacker who rode a large section of it in 2021.
Other Tips
Hopefully this post has given you a better idea of what to expect as you plan your Great Divide ride. If you're somehow still on the fence, let me encourage you to go for it! There's no better way, in my opinion, to explore this scenic region of the United States.
Here are a few other assorted tips that come to mind, for the Great Divide or any long self-powered adventure.
Take a few notes at the end of each day. You'll be amazed how quickly the details fade once you get into the trip.
Be patient with yourself. It can take days or even weeks for the daily rhythm of bikepacking to feel natural.
Expect change: in the weather, the terrain, and your mood. A cold and threatening thunderstorm will likely give way to sunny skies and idyllic riding just a few hours later.
Walk early and often. There's no shame in getting off your bike and pushing up hills or through rocky sections. It stretches the legs, gives other muscles a chance to work, and saves energy and wear and tear on your saddle area.
Build in extra time, if you can. Unplanned rest can be just the thing when you need to heal a saddle sore or cranky knee, keep pace with a new friend, enjoy the perfect campsite, or wait out a nasty storm.
Tend to your mental wellbeing in addition to physical, because they're connected. If you lose your motivation and don't want to ride your bike anymore, it likely means you just need a few days of rest for both body and mind.
Take it one day at a time. Solve whatever problems need solving to keep moving, and try not to worry about the rest. The trip will unfold at its own pace and the miles will add up before you know it.
I wish you quiet roads, sunny skies, minimal washboard, and of course, tailwinds.
More Bikepacking Resources
If you're dreaming about the Great Divide, these might be helpful too:
Or, check out the complete bikepacking resources collection for even more pedal-powered goodness.
Bike resources in your inbox?
There's more where this came from! Sign up here for occasional emails full of inspiration and information about bikepacking and bicycle touring.


Share the Adventure
If you found this article helpful, please consider sharing so more people can benefit from it:
Pin For Later