A visit to Hell's Gate National Park is one of the most popular things to do in Kenya, and a fantastic way to spend a day outside in a natural playground. Despite the intimidating name, the park is approachable and popular with tourists, and can be reached in just a few hours drive from Nairobi.
Hell's Gate is known as the setting that inspired the Lion King movie, if you're old enough to remember that, and is named for a small break in the cliffs that cross the landscape. The Serengeti of Tanzania may be bigger and wilder, but in Hell's Gate the lack of dangerous animals means you can get up close and personal with the wildlife without a vehicle – how cool is that!?
Popular activities in Hell's Gate include a bicycle safari, hiking through an exciting slot canyon, camping, and even rock climbing. Guides can be arranged on arrival for most activities, and entrance fees are generally lower than other national parks in the area. It's a wonderful place to feel immersed in a slice of the wild African landscape.
In this post I'll give an overview of how to visit Hell's Gate National Park, and what it's like to take a cycling safari and hike through the canyons. This was one of the very first things I ever did on the African continent – Kenya was the first African country I visited – and it's safe to say it helped plant the seed for all my subsequent solo travel throughout the region.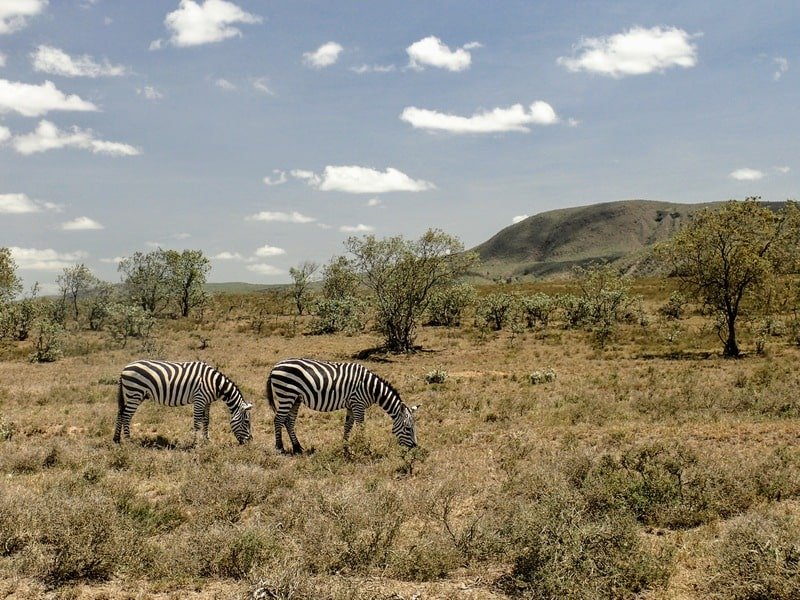 Getting to Hell's Gate National Park
The park is near Lake Naivasha, about 3 hours drive on paved road northwest of Nairobi. The route first heads toward the town of Naivasha, where you turn left on the South Lake Road. At the southernmost end of the lake, turn left on the entrance road. After just 2km you'll find the Elsa gate and visitor's center, on the northeastern end of the park.
Hell's Gate can be reached by public transport starting with a bus from Nairobi to Naivasha. From there, you can take a taxi or minibus to near the gate, and then explore the park itself on foot and bicycle.
It's also possible to rent a vehicle in Nairobi and drive yourself, if you're up for dealing with the somewhat chaotic roads. A two wheel drive car should be sufficient, no 4wd necessary since the main road through the park is in good condition. A more relaxing option is to hire a taxi or private driver from Nairobi for the day.
Entrance Fees
According to the park website, entry fees are:
Foreigners: $26 per adult and $17 per child
Kenyan residents: 600 KSH per adult and 300 KSH per child
Kenyan citizens: 300 KSH per adult and 215 KSH per child
These were last confirmed in 2017 though, so it's possible the prices have increased since then. If you have an update please let us know in the comments.
Park Map
Here's a Google map showing the Elsa Gate, Ranger's Post, campgrounds, and cycling safari route.
When To Visit Hell's Canyon National Park
The park can be visited year round, but there are a few considerations.
Wildlife viewing is supposedly best in the dry season of June – October, when animals gather at fewer water sources and the grass is short.
Scenery is at its greenest during the rainy season of March – May (though it's still beautiful any time of year).
Hiking is best done during the dry season of June – October if you want to hike in the gorge, as flash floods are a real risk during the rainy season.
Cycling Safari in Hell's Gate
A cycling safari is a highlight of most visits to Hell's Gate National Park. There's nothing like pedaling past zebras, buffalo, or gazelle to make you feel like you're immersed in a wild place.
Don't expect to see (or worry about encountering) big cats like lions and leopards. There are a few in the park but they're rarely spotted, which is why Hell's Gate offers the rare opportunity to view wildlife on foot and bicycle.
Renting Bicycles
Bikes can be rented from the junction to the Elsa gate from the south lake road, from near the gate, or from some nearby hotels if you're staying in the area.
Don't expect flawless machines. Make sure your bicycle has enough air in the tires, working brakes, and ideally a few working gears, as there will be some gradual hills to climb. Try to get the seat adjusted to a comfortable height (just a bit of bend in your knee when your foot is at the bottom of the pedal stroke) before riding away.
Don't expect bike helmets, but since there's little traffic and the road is straightforward, you'll probably be ok without one.
Guide
You can pick up a guide near the gate. I'm not sure if one is required, so ask when you get there, but we found our guide helpful for showing the way, pointing out animals, and fixing a couple issues with the rented bicycles.
Cycling Route
The most common route follows the dirt/gravel Gorge Road through the valley to the Ranger's Post on the southern side. Vehicle traffic is very low. The surface is sometimes good and sometimes can be a bit rutted or rough. It's slightly downhill on the way out and uphill on the way back, so save some energy and extra time for the return.
Shortly after leaving Elsa Gate you'll pass Fischer's Tower, the most popular rock climbing destination in Hell's Gate. Continuing through the valley, keep an eye out for zebra, gazelle, buffalo, and other animals as you pedal.
About 8km from the gate you'll reach pavement and shortly after, the Ranger's Post at Hell's Canyon Gorge. This is a perfect place to take a break from biking and stretch your legs with a hike. After the hike you'll bicycle back the way you came.
There is also another cycling route in Hell's Gate called the Buffalo Circuit, which supposedly offers different views and better odds of seeing giraffes. I haven't tried it, but the wikivoyage guide has a brief explanation.
Hiking in Hell's Gate
On the southern side of the park you can pick your way through the curving, layered walls of the lower gorge on foot. A bit of easy scrambling is required in some places, sometimes aided with fixed ropes, which adds to the sense of adventure.
While following the carved walls of the gorge you'll pass geothermal springs that feel as if a warm shower were installed in the middle of the gorge. These are aptly nicknamed "the devil's shower." There are some lovely photo spots amongst the narrow canyon walls as well, including "the devil's bedroom."
Finish your Hell's Gate hike with a walk up to the viewpoint, a great place to survey the landscape and understand the bigger geological picture.
I believe it's required to hire a guide at the Ranger's Post in order to hike in the gorge (other hiking may be allowed independently). There's a real risk of flash flood there – you'll notice the "emergency exits" as you hike" – and a guide will help show you the way and avoid risk.
The best way to reach the gorge is to bike across the park on a cycling safari. You can leave your bikes at the Ranger Station while you hike.
There's a picnic site nearby but it's overrun with bold monkeys, so keep a close eye on your lunch. And speaking of lunch, there's no food for sale, so be sure to bring it with you. Water and drinks can be bought at the Ranger Post and at the main gate.
Camping in Hell's Gate
Though Hell's Gate is usually visited as a day trip from Nairobi, it would also be a lovely place to spend a night and enjoy the quieter hours with fewer visitors.
There are three campsites in Hell's Gate National Park: Ol Dubai, Naiburta, and Endachata. Each supposedly has toilets, picnic shelters, and showers, though I can't comment on their condition because we didn't stay the night.
Other Things to Do in Hell's Gate
Rock Climbing: You can hire a guide and rent gear on arrival at the park. Fischer's Tower has some easy routes appropriate for beginners. Do be sure to check that gear is in good condition and safety standards are followed.
Geothermal Spa: On the western side of the park, the Olkaria Geothermal Spa offers swimming in geothermal pools.
What to Bring
You'll be out all day in the sun on foot and bicycle, so be sure you're prepared with:
Drinking water (you can buy more at Elsa Gate and the Ranger's Post)
Snacks, and perhaps a picnic lunch (Naivasha is a good place to buy lunch to-go before entering the park)
Money for entrance and paying guides
Sunscreen, sunglasses and perhaps a sun hat
Comfortable clothes you can hike and bike in
Comfortable athletic shoes for walking
A camera!
Binoculars, if you want to look more closely at wildlife
Where to Stay at Hell's Gate National Park
Though Hell's Gate is most commonly visited as a day trip from Nairobi, there are plenty of options for spending a night inside or nearby the park.
As mentioned above, the park's three campsites are great for those who have their own equipment and want to spend a night in the park.
Otherwise, the vacation getaway of Lake Naivasha, just outside the Elsa gate, offers a wide range of hotels and resorts. From here it's also easy to organize boating excursions on the lake, another worthwhile activity in the area.
More East Africa Travel Resources
If you love travel in East Africa, you might also find these helpful:
Travel resources in your inbox?
There's more where this came from! If you're into adventurous, thoughtful, off-the-beaten-track travel, sign up here for occasional emails with my best tips and inspiration.
Share the Adventure
If you found this article helpful, please consider sharing so more people can benefit from it:
Pin For Later