Cathedral Wash is a short and sweet slot canyon hike in northern Arizona, about 40 miles from the town of Page.
If you like your hiking both physical (think upper body involvement) and cerebral (choose your own path down ledges and mild drops) you'll love hiking Cathedral Wash. The hike begins in a sandy wash which gradually deepens to a gorgeous slot canyon, where you'll scramble down dry falls and scoot along ledges until you reach the impressive Colorado River.
At a glance:
Distance: 3 miles round trip (out and back)
Elevation gain: about 300 feet (almost all on the way back)
Difficulty: moderate (requires some scrambling)
Time: 2-3 hours (give yourself plenty of time for scrambling and route finding)
Trail Map
The trail is extremely straightforward to follow. Once you've found the beginning, you pretty much can't get lost. Here's a screenshot from gaiagps.com showing the path through the canyon: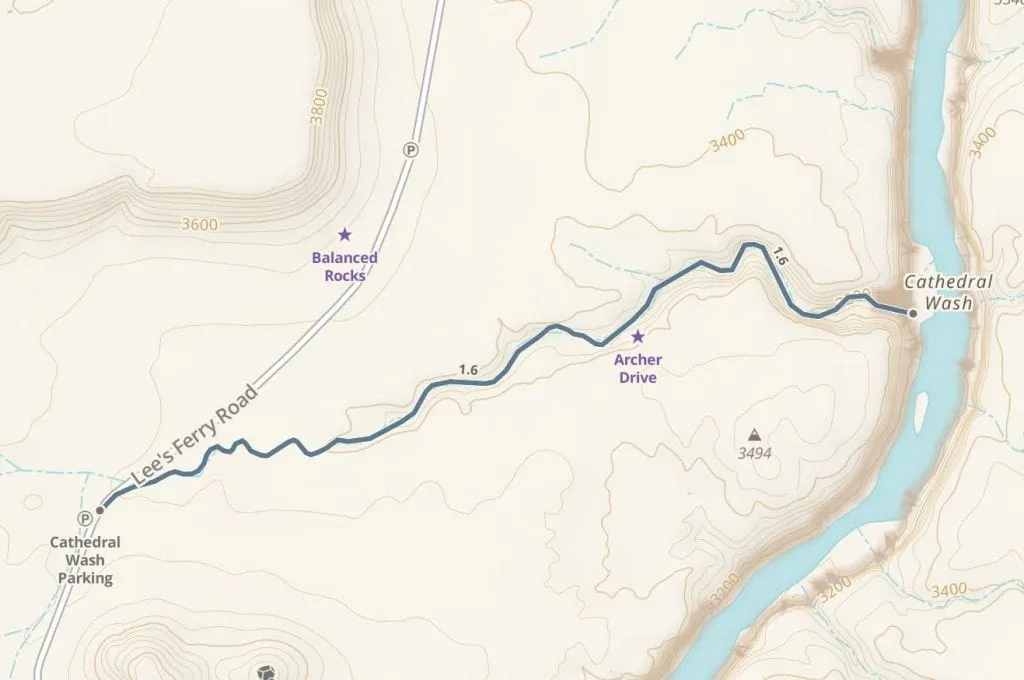 Directions to Trailhead
The trailhead for Cathedral Wash is about a 45 minute drive southwest of Page, Arizona. From Highway 89A you'll turn onto Lees Ferry Road, which is paved and accessible by any type of vehicle.
Soon after turning onto Lees Ferry Road you'll pass the fee station on your right. Be sure to stop here and pay the entrance fee before continuing.
As you head down Lees Ferry road, you'll find parking spots on the left. The trail also begins on the left, near the interpretive signs. Follow a footpath down into the culvert beneath the road and begin your walk down the sandy, gravely wash.
Fees and Permits
The Cathedral Wash hiking route lies within Glen Canyon National Recreation Area, which charges an entrance fee. At time of writing, the single vehicle fee is $30. If you already have an interagency / National Parks pass, you can use it here. More options and info here.
You can pay the fee / buy your pass at an automated machine on Lee's Ferry Road, which takes credit card and cash.
Route Description
From the trail signs on the left side of Lees Ferry Road (where the parking spaces are), follow a path down to the culvert beneath the road and cross under it to begin your hike.
The first section might feel underwhelming as you follow a sandy wash (dry waterway) gently downhill. Don't be fooled though, the best is yet to come!
The canyon walls gradually rise around you. Around one mile in you'll encounter the first of several dry waterfalls that threaten to stop you in your tracks. You'll know it when you see it and think "how the heck am I supposed to get down there?!"
Don't worry though, there's an easy way down. As you're facing downhill, head to the right side of the canyon, all the way toward the canyon wall, and you'll see an easy and well-worn series of steps in the rock that lead to the ledge below.
From here, finding your own way is half the fun! You'll need to choose when to stay high on ledges or descend lower into the canyon bottom, which might have some puddles if there's been recent rain. There are often several ways down, and none should be too difficult.
Don't hesitate to backtrack and try a different path if you find yourself staring down a drop that seems too severe. A boost from a hiking partner might come in handy here or there, but shouldn't be necessary if you're comfortable with a little mild scrambling.
Eventually you'll hear the rush of water and feel the canyon widening; you're almost at the Colorado River! Clamber over some rocks to the shore where the river flows through Marble Canyon and enjoy your accomplishment. When you're ready, turn around and hike back the way you came. The way back will likely be faster, even though it's uphill, now that you're familiar with the best route.
Important Notes
This hike can be hot, especially in the summer, and there is no potable water available along the route. Bring a liter or two of drinking water and some snacks to enjoy when you reach the river. It's best to carry a backpack so your hands are free for scrambling.
Do not hike Cathedral Wash when it's raining, or could rain, anywhere in the nearby area. Flash floods can and do occur in this canyon, and you don't want to be in it when they do.
Keep an eye on small children who may wander too close to steep dropoffs. Watch your own footing and take it slow. You'll want plenty of time to enjoy this beautiful canyon.
More Hiking Resources


Hiking resources in your inbox?
There's more where this came from! Sign up here for occasional emails full of inspiration and information about backpacking and hiking.


Share the Adventure
If you found this article helpful, please consider sharing so more people can benefit from it:
Pin For Later