If you like hikes that pack in a lot of "bang for your buck" in terms of effort, excitement, and scenery per mile walked, you will love Gooseberry Trail.
Peering over the edge from the highest switchbacks, you'd be excused for thinking "How the heck are we going to get down there?" And yet the trail provides, one roughly carved step at a time, a precarious path down to the famous White Rim.
Just be sure to keep one eye on your footing – not easy with such astounding views the entire way down!
Personally, I always feel like I haven't truly experienced a canyon until I've dropped below the rim and hiked back out again. If you can relate, then Gooseberry Trail will be your fastest way to get that up-close-and-personal feeling with Canyonlands. When we were passing through and had only one afternoon in Canyonlands National Park, this was the hike we chose, and it definitely delivered.
Will you like Gooseberry Trail?
Gooseberry Trail won't be right for everyone. Though relatively short in mileage, the first half is incredibly steep and rocky – essentially a stair climb down a steep gully. You'll need enough agility to navigate the rocky steps, and enough stamina to climb back out again.
If you're afraid of heights you might find the exposure a little intimidating, though the trail does feel more secure than you'd imagine when you first look down. There are only a couple short places where a misstep would be dire. Take it slow and you'll be fine (and that's coming from someone who doesn't have the greatest head for heights).
If you're a fit and capable hiker looking for the best short hike in Canyonlands National Park, I highly recommend Gooseberry Trail. If you don't have much time to explore the park – or even if you do – it's a great way to experience the canyon more intimately than from the viewpoints along the upper rim.
On the other hand, if you have more time and/or want a gentler introduction to the park, check out one of the more famous hikes in Canyonlands National Park.
At a Glance
Gooseberry Trail is a short but strenuous out-and-back hike in the Island in the Sky area of Canyonlands National Park, about one hour's drive from Moab, Utah. Hikers descend via steep switchbacks to a mellow wash leading to White Rim Road, then return the way they came.
Distance: 3.8 miles total (1.9 each way)
Elevation gain: 1955 feet! (That's a lot!)
Time: most people should allow 3 – 4 hours
Trailhead: White Rim Overlook / Gooseberry Trailhead
Location: Canyonlands National Park, Island in the Sky
Trail Map
Before you read on, take another look at that elevation profile! That's about a thousand feet of elevation loss (and then gain) in a little over half a mile.
Navigation: Once you're on the trail it's very easy to follow, but finding the start can be tricky. A GPS track might be helpful. You can use the above track from Gaia, or I recommend the Hiking Project app, which lets you cache trails offline for free (don't count on having cell service in the park).
Getting There
Gooseberry Trail shares a trailhead with the White Rim Overlook Trail, a much easier 1.7 mile out-and-back hike that stays high on the rim and features a scenic viewpoint. If you still have energy when you finish Gooseberry, may as well check it out, but the Gooseberry hike is more rewarding.
To reach the White Rim Overlook / Gooseberry trailhead from Moab, drive north from town on Highway 191 to the 313 turnoff on the left. Head east toward Canyonlands National Park (you'll need to pay an entrance fee or have an America the Beautiful pass).
Continue past the Visitor's Center toward the scenic overlooks. Just one mile before the road dead-ends at Grand View Point (also worth a quick visit) you'll pass the parking for White Rim Overlook on the left.
There is limited parking around the loop near the trailhead, and even more parking a mile up the road at Grand View.
No permit is required to hike Gooseberry Trail, though you will need to pay the park entry fee to get to the trailhead.
White Rim Road – the turnaround spot for this hike – is popular with mountain bikers and four wheel drive enthusiasts. Overnight use is strictly regulated by hard-to-get permits. I believe hikers are free to walk along the road without a permit, but an overnight stay would need to be at a designated campsite which are typically reserved months in advance.
Trail Description
From the point on the parking loop that's farthest from the main road, head east across the rock following signs for White Rim Overlook. Be on the lookout almost immediately for a series of cairns leading off to your left, seemingly toward the sheer cliff. They're easy to miss, and a GPS track can help you see if you've gone too far.
Once you've found the cairns, follow them to a small opening where the trail emerges from the edge of the rim. The descent starts immediately, and you might look down and wonder how on earth this is going to work. Have faith, and begin carefully descending the rocky steps as the trail switchbacks steeply down the top of the chute.
Though the terrain is very steep, the trail feels fairly secure. I'm moderately uncomfortable with exposure (for context, I've dabbled in rock climbing but it makes me really nervous!) but there were only two spots that gave me pause. Both were short and easy to negotiate.
After about 0.4 miles the grade eases slightly and the trail feels more secure, though there's still plenty of downhill left. Don't forget to look behind you and marvel at what you just descended!
Continue descending rocky steps for about another third of a mile to where the trail levels off in a sandy wash. Follow the wash and occasional cairns as you enjoy this easy terrain all the way to the junction with White Rim Road.
Once you arrive at White Rim Road (a dirt 4×4 road), take some time to wander and maybe enjoy a snack. You worked hard to get down here, and you'll work even harder to get back out!
While you're down here, consider that White Rim Loop is a famous bikepacking route and four wheel drive adventure. If you enjoy traveling by one of those modes, you might want to put the full loop on your bucket list! To your right as you face the canyon is Gooseberry campsite (permits required for overnight), one of the campgrounds used by those traveling the loop.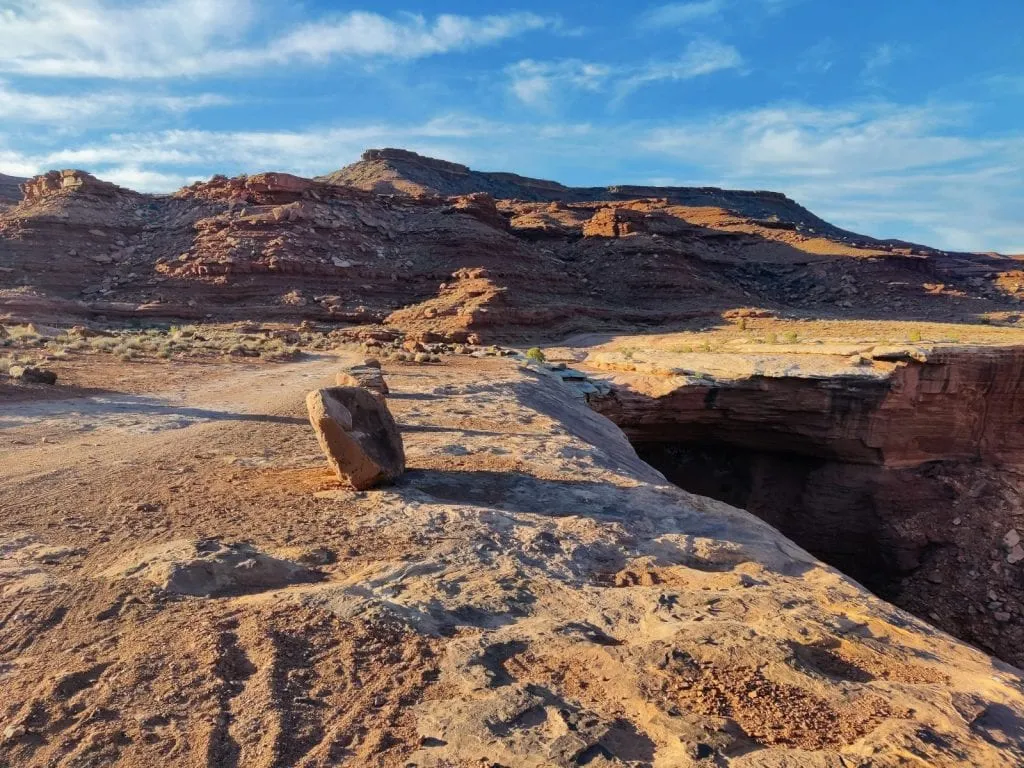 Once you've soaked up the experience of standing on the White Rim, turn around and retrace your steps. As you near the end of the wash, be on the lookout for the rocky steps where the "trail" leaves the wash to the left. They look so much like the surrounding rock that they can be easy to miss until you've gone too far up the wash.
The steep canyon wall certainly looks intimidating on the way up, but it'll most likely go faster than you think now that you know what to expect. Once the climbing starts it's less than a mile… and "only" around 1000 vertical feet – until you pop out at the upper rim and marvel at the terrain you just traversed!
Important Notes
Spring and fall are the best times to hike in Canyonlands National Park, as with most of southern Utah. Early morning and late afternoon provide the most scenic lighting and more pleasant temperatures when the weather is hot.
Gooseberry Trail is spectacular, but potentially dangerous in certain conditions. Summer can be brutally hot (over 100 degrees F) and winter is quite cold. When covered in snow or ice the trail could be dangerously slippery.
There is no water anywhere on this trail, so bring as much as you'll need when you start. Budget at least an hour longer than you expect – this is a slow trail – and expect that temperatures will grow hotter as you descend into the canyon.
Though I highly recommend this trail for more experienced hikers, it is NOT suitable for beginners or folks who are unsteady on their feet. If in doubt, do the mellower but also highly scenic hike to White Rim Overlook instead.
Pets are not allowed on hiking trails in Canyonlands National Park, including Gooseberry Trail.
What to Do Next
Since you drove almost to the end of the road, go ahead and drive the final mile to Grand View Point. There's an easy (by comparison with Gooseberry Trail!) 1.8 mile out-and-back hike with views to both sides of the "peninsula" of the Island in the Sky. The views to the west, where the Green River flows, will compliment all the east-facing views you enjoyed on the Gooseberry Trail.
The only bummer about Gooseberry Trail, in my opinion, is that you won't get any river views. The Colorado River lies too deep within the canyon to be visible from this angle. If you don't mind paying another entrance fee, nearby Dead Horse Point State Park offers those classic river views and is accessed from the same road you took into Canyonlands.
More Hiking Resources


Hiking resources in your inbox?
There's more where this came from! Sign up here for occasional emails full of inspiration and information about backpacking and hiking.


Share the Adventure
If you found this article helpful, please consider sharing so more people can benefit from it:
Pin For Later