Vinciguerra Glacier, also sometimes called Laguna de los Témpanos after the lake the glacier sits above, is a scenic and moderately challenging day hike starting just a few kilometers outside the town of Ushuaia. It's one of the most popular Ushuaia hikes among tourists who come to experience the southernmost city in the world, and for good reason. After five glorious weeks of bicycle touring through Patagonia I had seen more than my fair share of gorgeous scenery, yet I still thought this hike was beautiful.
The Vinciguerra Glacier hike is a varied mix of green river valley, steep forested climbing, and a clear alpine lake where you can see and even touch a glacier. I wouldn't necessarily recommend going all the way to Ushuaia mainly for this hike – it's not quite on the level of, say, the hikes near El Chalten – but if you're in Ushuaia and want a scenic trail that's easily accessible from town, Vinciguerra Glacier is a perfect choice.
Vinciguerra Glacier Hike At A Glance
Distance: 11.3 km / 7 miles round trip from the gate (That's according to my own tracking; the trail signs indicate 12km.)
Elevation gain: 1750 feet / 530 meters of both climbing and descending
Route type: Out and back, with options for side trips
Time: anywhere from 4-8 hours, depending on your fitness (for the uphill) and mountain-goat-like footwork (for the downhill).
Season: December to March, the southern hemisphere's summer
Cost: free, except if you pay for transport to and from the trailhead
Permits: not needed
Trail difficulty: moderately hard. Though not that long, this trail is steep! It's also very rocky, rooty, muddy and eroded in many places, making it a slow-going test of balance for all but the most agile of hikers.
Crowds: popular but not overrun. I was there in March, which is a bit late in the season, and I saw less than a couple dozen parties total. I imagine it's more crowded in January and February.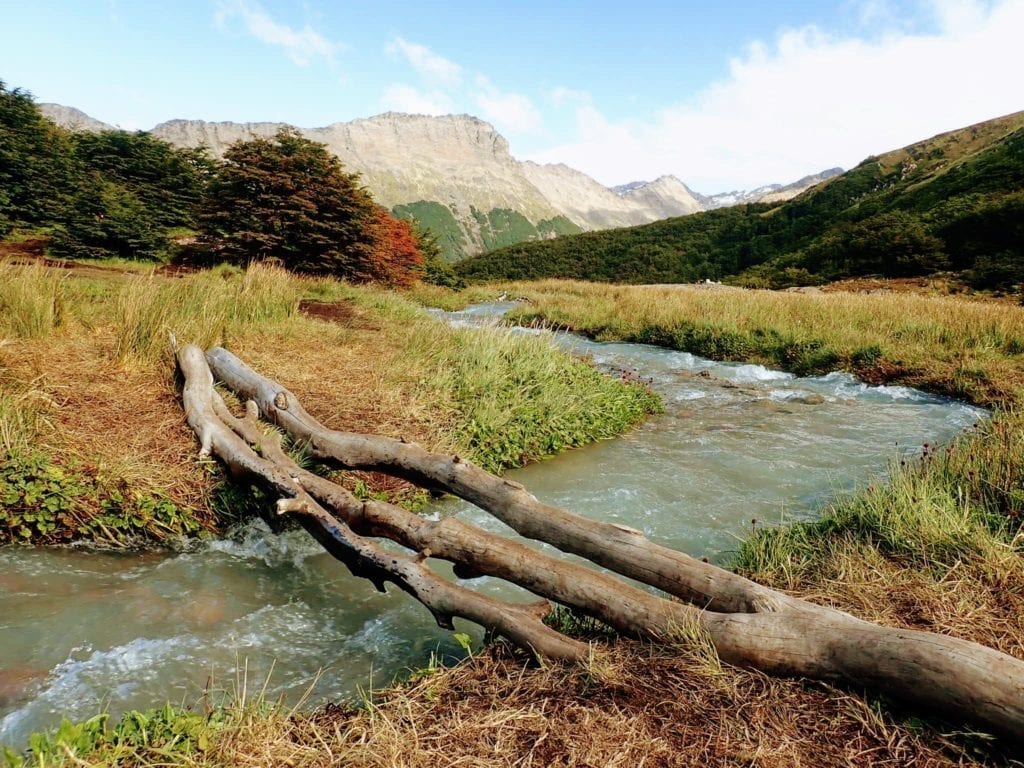 Getting To and From the Trailhead
The trailhead for Vinciguerra Glacier / Laguna de los Témpanos is about 8km from the Ushuaia town center, at the end of Camino Del Valle. This area is known as the Andorra neighborhood (or barrio) and is an interesting labyrinth of dirt roads and residential areas.
Here's a Google Maps image to give you an idea of where the trailhead is relative to the tourist information office in Ushuaia (the trailhead is marked in Maps.me but not in Google Maps):

To get to the Vinciguerra Glacier trailhead from town, you can:
Hire a taxi. I didn't try this but I would estimate the cost at $5 – $8 USD equivalent in Argentinian pesos.
Rent a bicycle from Ushuaia Extremo or another shop in town. You can cycle on highway 3 but I would recommend keeping to the gravel shoulder as the local riders do. Drivers don't seem to expect bicycles in the traffic lanes here.
Hitchhike, not an uncommon way of getting around in this part of the world. If you get lucky on the way back someone may see you walking and offer you a ride to town without you even asking.
Walk, if you don't mind adding an extra 8 km / 5 miles each way to your day!
Camping Near the Trailhead
An alternative option which I definitely recommend is to camp on Camino del Valle. If you have your own camping gear, it's a nice chance to get away from the tourism and industry of downtown Ushuaia for a night. There are a few options (as of March 2019):
Camping La Encantada (my recommendation): Just a mile (1.6 km) from the trailhead, this is a friendly family home that welcomes visitors to camp in their front yard. You'll find a mix of car campers, bicycle travelers, and backpackers here. The cost is 250 pesos per person per night ($6 USD) and they have a tidy, clean bathroom with a hot shower. There is wifi but it doesn't reach everywhere in the yard. Bring your own food and camp stove if you want to cook. It's a nice place but the barking dogs and occasional passing cars will remind you you're in a residential area; earplugs might be helpful for a peaceful night.
Camping Kelenkeskes: just before La Encantada on the right as you head up hill, another small campground at a family home. Supposedly has hot showers and costs 200 pesos per person per night, but seemed closed when I passed by.
Free municipal camping: 980 meters from the turnoff from highway 3, on the right as you're heading uphill, down a steep gravel road. The sign is currently only visible coming downhill on Camino Del Valle. It's a nice spot by the river, open, lots of space for car camping, but no bathrooms or any facilities (not sure how one is supposed to go to the bathroom since it's an open area without much privacy). It's also the kind of place that can get loud at night with groups of young local guys playing music and drinking. I decided not to stay here after checking it out because I didn't want to leave my bike and gear unattended while hiking, and didn't really want to camp solo amidst so many rowdy groups.
These places are all marked in the maps.me app, which I highly recommend for travelers. Google maps shows the two paid campgrounds but not the free municipal camping, which is 980 meters from the turnoff from highway 3, on the right down a steep gravel road. The sign is currently only visible coming downhill on Camino Del Valle.
Navigating Vinciguerra Glacier Trail
Once you get to the bridge (more on this in the trail overview below) the trail is well marked. However, there are two reasons it might be possible to get lost:
The first mile from the gate to the bridge has a few forks that are unmarked.
The trail is so muddy in places that many people have created detours, and sometimes it can be hard to find the right path back to the real trail.
Therefore, I recommend you take these steps to stay on track:
Keep an eye on the Maps.me app, which has an accurate track of the entire trail (it's labeled as Sendero Laguna de Los Tempanos, NOT Vinciguerra Glacier). I often find Maps.me is more thorough and helpful than Google Maps when I travel. It's free and you can download maps offline by region.
After the bridge, follow the trail markings closely, making sure you can see the next one before striking out too far from the last one. Much of the forested part is marked with orange and blue tabs attached to trees, and the rest is marked with yellow poles and/or white and yellow marks painted on rocks. With a little effort you can almost always see the next marking from the current one. They seem to be reflective, which could be essential if you're unfortunate to get caught out on this trail after dark.
Follow only well-used tracks. This is a popular enough hike that by mid-season it should be pretty obvious where hundreds of peoples' footsteps have gone before you. If you ever find yourself in a place that looks like few people have walked there, backtrack to the last obvious section of trail and reassess. It's best not to create new tracks anyway, as it destroys the area around the trail and contributes to erosion.
Supposedly the tourist information center in town can also provide maps, though I don't know how detailed they are.


Vinciguerra Glacier Trail Overview
Here's a brief overview of what to expect hiking to Vinciguerra Glacier.
Where the road ends at the trailhead, go through the unlocked gate and close it behind you. The small path soon forks twice as it dwindles to trail in abandoned peat fields; go left at the first fork and right at the second. From there you'll cross muddy ground along the left side of an absurdly idyllic river with nice views of surrounding mountains. About one mile (1.6 km) from the trailhead you'll arrive at an obvious bridge with some trail information signs.

Shortly after the bridge the forested climb starts. It's steep, rough, muddy and goes on for a while. Don't underestimate this section. If you have good balance and enjoy technical trails you may find it a fun challenge. Otherwise bring your trekking poles and plenty of patience. Either way, expect to get your feet wet and muddy. The attempts at trail maintenance are impressive but no match for the mud.
About 0.75 miles (1.2 km) after the bridge you'll hit a signed junction. Stay left for Vinciguerra Glacier and Laguna de los Tempanos. The right branch goes to Laguna Encantada, a shorter but equally steep climb to a pretty and windswept alpine lake ringed by dramatic mountains. If you have the time I'd recommend staying left to visit the glacier, which is the more interesting, challenging and longer hike. If you're still feeling spry on your way back down, add an out-and-back side trip to Laguna Encantada for an extra 1.5 miles (2.4 km) and 650 feet of muddy climbing and descending.
Assuming you stayed left at the fork toward Vinciguerra Glacier, the forest climb finally ends at a lovely alpine stream. Work your way across a soggy meadow, soon crossing to the left side of the stream as you face uphill. From there follow the small poles and painted rocks straight up along the stream. You'll know you're there when the steep trail flattens out and meets the shore of Laguna de los Témpanos.

This is a great place to take a snack break before turning around, but if you want to continue, there are trails leading around both sides of the lake. Follow them and you'll come face to face with the glacier and some interesting ice caves formed where the glacier meets rock.

On the way back simply reverse your steps, but expect the way down to take almost as long as the way up unless you're quite agile with your footing. I encountered more than a few people gingerly picking their way down the steep and rough sections, leaning on trekking poles for balance, clearly moving slower than they would have liked. Keep an eye on the time as you go up and allow yourself the same amount of time to get down safely before dark.

Variations and Side Trips
There are several other trails in the area if you want to extend your hike, and several opportunities for multiday backpacking trips.

Laguna Encantada
As I mentioned above, the junction for this trail is about 1.75 miles from the trailhead. Adding this lovely alpine lake as an out and back from the Vinciguerra Glacier trail adds 1.5 miles (2.4 km) and 650 feet of muddy climbing and descending for a total hike of about 10 miles round trip from the trailhead. It can also be the endpoint of its own hike that does not include the glacier, which would be about 9.5 km (almost 6 miles).
The trail from the junction is just as steep and muddy as the climb to Vinciguerra Glacier, but a bit shorter. It's marked here and there with ribbons and other indicators attached to trees. After a steep climb through the forest it exits abruptly at a soggy meadow and then the lake appears quickly in a basin backed by steep mountains. It's beautiful, if not quite as dramatic as the glacier. This section trail, from the junction with Vinciguerra Glacier trail, is well marked with yellow markings but not currently shown on Maps.me.
Some people choose to camp at Laguna Encantada and leave their gear at the junction, doing the glacier hike as an out and back before heading up the other, shorter branch of trail to set up camp. Laguna Encantada did have some nice grassy tent sites along the shore, but when I was there it was quite cold and windy, so prepare for a chilly night if you camp there.
Laguna Del Caminante Loop (multi-day)
If you have the time, turning left at the second fork near the beginning of the trail takes you on a loop to Laguna Del Caminante and back around to the other side of town. It would be possible to combine this loop with an out and back to either Vinciguerra Glacier, Laguna Encantada, or both. As at the tourist office in town for more information.
What to Pack
This is Patagonia, so it's smart to be prepared for anything – sun, rain, wind, snow – even during the peak of summer. Prepare especially for chilly temperatures near the lake and glacier. I worked up a sweat in just a t-shirt and knee length shorts while climbing the steep forest trail, but while exploring around the lake itself I was happy in my down jacket, rain jacket, gloves and rain pants. The temperature difference was huge!
Here's what I recommend you bring for this hike:
Water: There is plenty of flowing water along the trail if you need to refill, but it would be wise to treat or filter it before refilling your bottles. There is a known problem with giardia-spreading beavers on Tierra Del Fuego and I don't know whether it affects this region or not. So either bring 2-3 liters of water with you, or bring a filter or chlorine dioxide to treat more water along the way.
Snacks, and maybe a sandwich to eat at the lake for lunch (pack out all trash please). There are several large supermarkets and many small convenience stores in Ushuaia where you can buy food.
Sunscreen and sunglasses. Even on a cloudy day in Patagonia you can still get periods of intense sun.
Rain jacket (and optionally rain pants – if you're in Patagonia you probably have some with you anyway, why not bring them for both rain protection and warmth).
Insulating layer, like a fleece or a puffy jacket, for when it gets chilly up by the glacier.
Gloves and hat: optional, but recommended for anyone who gets cold easily (like me!).
Trekking poles (optional but recommended for most hikers): it's totally possible to do this hike without them, especially if you enjoy the challenge of trying to keep your feet dry while hopping across unstable logs through ankle-deep mud pits. I actually hiked without them and didn't mind it. But honestly, most people will probably want them. I'd guess it's possible to rent them in town.
Waterproof shoes (optional): I didn't have these because I hike pretty much everywhere, including to the top of Mt Kilimanjaro, in Altra trail running shoes. They are most definitely not waterproof, but they do dry quickly and I find them extremely comfortable. I wore them for this hike and managed just fine, though my shoes and socks both got wet and muddy. If you have waterproof shoes or boots that are comfortable for you, this is definitely the kind of hike to wear them on.
Headlamp (optional but recommended): summer days are long in Patagonia, but if you think there is ANY chance you might be racing the sunset on this hike you should pack a headlamp to help you navigate the trail in the dark. They're small and light and can really save your butt if something unexpected happens, or if you just move a bit slower or stop for more photo breaks than you thought you would.
Related: How to Deal With Cold Hands While Backpacking
Other Ushuaia Hikes

If you're looking for more, there are some other great hikes in the Ushuaia area. I didn't do these myself, but here's a nice overview of Ushuaia hikes from another blogger with more information:
Martial Glaciar (7 km): starts very close to town, short and steep, apparently not an impressive glacier but gives great views of town on a nice day.
Laguna Esmeralda (10 km round trip): starts about 15km to the east of town, with minibuses available every few hours. Scenic, popular, not too difficult.
Tierra Del Fuego National Park: 20km west of town, with an entrance fee and several "free" campgrounds once you're inside the park. Several different scenic hiking options.
Sierra Valdivieso Circuit: 50km (3-5 days) of difficult, remote, unmarked trail with sketchy river crossings, cross-country travel, snow, and other challenges. Only recommended for fit and self-reliant hikers. The trail is shown on Maps.me and there are companies in Ushuaia that offer guided treks on this trail, which is in the same area as Laguna Esmeralda.
You Might Also Enjoy