If you do much bikepacking, cycle touring, or long-distance backpacking in the US, eventually you'll get excited about hiker biker campsites. This cherished resource provides self-powered travelers with a cheap, no-reservation option to camp at popular sites that are otherwise often full.
Imagine you're bicycling the Pacific Coast Route through California. Hotels are expensive, private land abounds, and the campgrounds book up months in advance. Where will you sleep each night?
Or perhaps you're hiking the Arizona Trail and waiting for your walk-up permit to cross the Grand Canyon. You don't know exactly what day you'll arrive or how quickly they'll issue your permit, and the extremely popular campgrounds are totally full. What to do?
In these cases and many more, hiker biker campsites come to the rescue of weary self-powered travelers with unpredictable schedules and small daily budgets. Woohoo!
Hiker biker campsites exist at every level of park, from national to county, but only some parks have them and each is run a little differently. Unfortunately there's no central source of information about them all. Many folks rely on word of mouth within the community of long-distance hikers and bikers on popular routes, but you don't need to be tackling an epic trip in order to enjoy this resource. They're perfect for a last-minute weekend getaway too.
My goal with this post is to demystify the hiker biker campsite situation, so everyone can feel comfortable rolling or walking up and enjoying this fantastic feature of so many parks.
Why They're Awesome
Why are hike and bike campsites such a treasured find? Here are some of their best aspects:
No reservation needed: When you're trying get from point A to faraway point B under your own power, it's hard to predict exactly when you'll hit each stop along the way. Weather, challenging terrain, and all sorts of other issues can make it impossible to know where you'll be more than a day or two in advance.
Have available space (usually): Big campgrounds often fill up completely during busy weekends and summers, leaving no space for last-minute self-powered travelers who may be stranded without other options if turned away. Thanks in part to advocacy work by Adventure Cycling, many campgrounds have an official no-turn-away policy for people arriving on foot or bike. In practice, even campgrounds without this policy rarely turn away self-powered travelers even when their stated site capacity is reached.
Less expensive: While a regular campsite at a popular park can cost upwards of $30, hike-and-bike campsites usually cost $10 or less. That certainly adds up after a few weeks on the road or trail!
Social gathering place: Hiker biker campsites are the perfect place to meet and get to know like-minded adventurers, especially along popular long-haul routes. I still recall a number of interesting folks I've met at these campsites and shared great conversations with. Solo hikers and bikers in search of company will find this especially valuable.
How They Work
Each level of park (national, state, etc) and even each individual park does things a bit differently. Always call the park if you really need to confirm something. In general, here's what I've seen across a variety of hiker-biker campsites.
Who can stay at a hiker biker campsite?
Generally, anyone arriving on foot or bicycle with self-contained gear can stay at a hiker biker site. This includes folks on a weekend overnight as well as cross-country cyclists. It excludes support vehicles / SAG wagons / your friends who want to meet up and car camp with you. Anecdotally it seems e-bikes are welcome, though I haven't seen many parks addressing this specifically.
How long can you stay at a hiker biker campsite?
Each park and campground can make their own rule here, but it's typical to see a limit between 1 to 3 nights. These sites are intended for travelers passing through, not setting up camp for several days. At sites with unusual circumstances, for example Grand Canyon sites where travelers sometimes wait several days for hiking permits, I've seen the staff be very flexible and accommodating.
How much does a site cost?
The cost of a hiker biker site depends on the park, but it's often somewhere between $5 to $10. Some sites, like those along the famous GAP and C&O Canal trails, are free! Note that unlike standard campsites which charge per site, these fees are usually per person. If you're a large group sharing a regular site may actually be more affordable, but for solo travelers the discount is substantial.
What if they're full?
Many bikers and hikers report that they've never been turned away from a site, though a few unlucky folks have. Generally they'll squeeze you in somewhere, especially if you nicely explain that you have no other options. Adventure Cycling is working to get official no-turn-away policies implemented at more parks across the United States.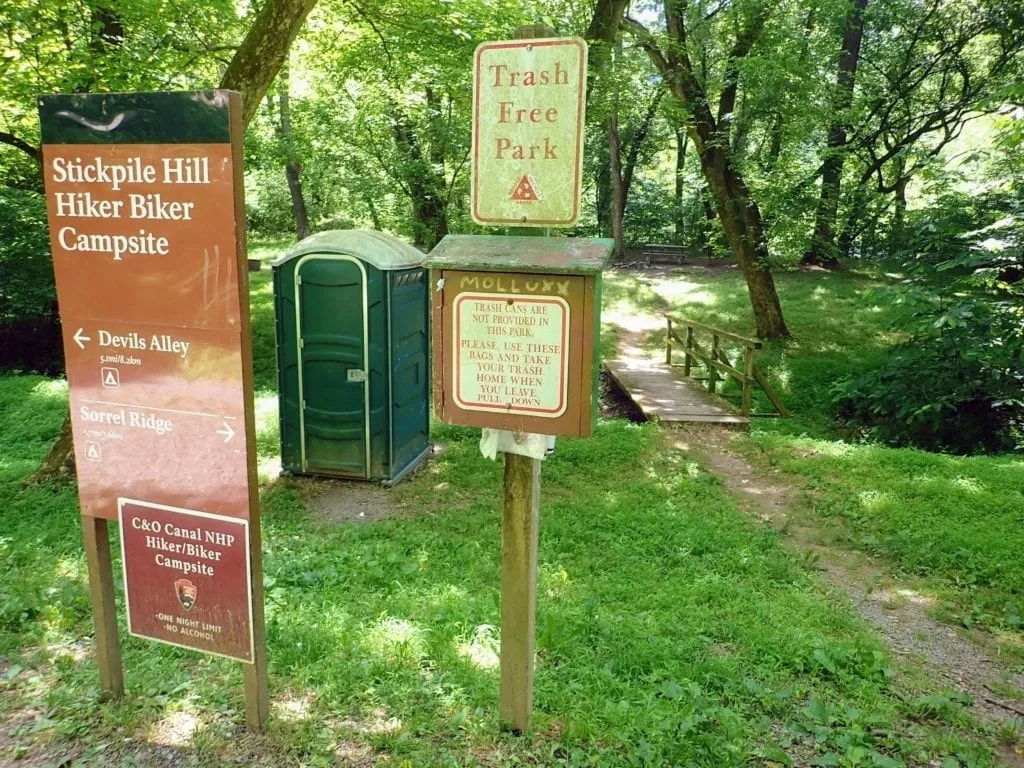 How to Find Them
Now here's the tricky part: how do you know if a park has a hiker-biker campsite? Unfortunately there's no central list of them all, and often no obvious pattern. One large campground along a popular route may have a hiker biker site, and the next one 10 miles down the road may not.
You'll need to do your own research in advance. Here are a few pointers and examples to help.
Park and Campground Websites
Hiker biker sites are often considered a feature or facility. To find out if a park offers them, check the park's website for clues in these areas:
Campground features or facilities list
Campground map
Site fees list
Here are some examples.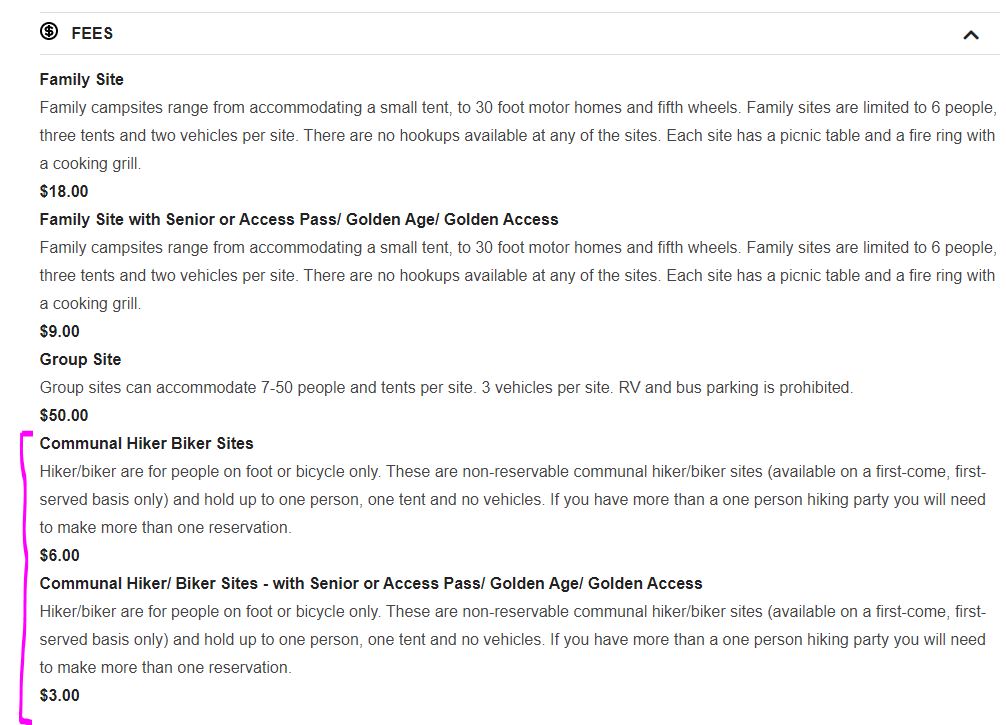 Lists
A few helpful folks have taken on the job of listing all the hiker biker campsites in a particular area, and some park websites include them in their search features. Here are a few, or you can google "[state name] hiker biker campsites" and see what comes up.
Along popular routes you might also find this information in route guides or other local resources.
Other Tips
You may come across "walk-in" or "hike-in" campsites at some campgrounds, but these are usually not the same as hiker biker sites. Often this is for car campers who park their vehicle in a central parking area and carry their gear to their site.
You might also see "backcountry" or "backpacking" campsites, which again are not the same thing. These camping areas are often inaccessible to cars, but they may be inaccessible to bikes too and they often require a reservation.
Google "[park name] hiker biker site" and see what comes up.
If still in doubt, call the park and ask.
What to Expect
Hiker biker campsites are implemented in many different ways. Usually they're part of a larger campground primarily for car and RV campers. Rarely, such as the famed hiker-biker campgrounds along the GAP Trail in Pennsylvania, they stand alone.
Many hike / bike campsites are communal, meaning a few sites have been set aside for all hikers and bikers to share. You'll find a free spot to pitch your tent, and you'll share a picnic table and fire ring with everyone else staying at the site. This is great if you're in the mood for company, but if you'd like a quiet night to yourself you may be out of luck.
On popular routes at popular times, these sites can be very full! I've seen dozens of tents lined up side-by-side. At slow times of year or less popular spots you might have a site to yourself, or even get your pick of available regular sites.
Amenities are generally the same as the rest of the campground. If there are flush toilets, showers, and food lockers, for example, the hiker biker sites have access to them too. Primitive campgrounds are more limited.
Electricity is hit or miss. I've had luck plugging into outlets in the bathroom or being offered a charge from a generous camp host's RV battery. Sometimes there will be an empty RV site with an electric hookup you can use. It's best not to rely on it, but often there's a way to charge up if you're desperate.
A few parks are even installing hiker-biker-specific amenities like gear lockers, charging stations, and bike repair stations. Thanks Oregon parks and others!
How to Pay
If you've never stayed in a hiker biker site before, you might wonder how to pay. This too depends on the specific park, but there are a few general patterns.
Usually payment is taken at the main drive-in entrance to the campground, which might be different from the entrance where you hiked or biked in. Once you find the entrance, it may or may not be staffed. If staffed you may be able to pay with a credit or debit card, though sometimes cash is required.
If it's not staffed, you'll definitely need cash and ideally correct change. There's usually an "iron ranger" or other place to slip an envelope with your payment. Typically you'll fill out some basic info on the envelope, insert your cash or check, tear off a stub as your proof of payment, and drop the envelope into the slot.
At some smaller campgrounds you might find the host and pay them directly. Usually you'll still need cash and correct change.
Tip: Bring cash in small denominations! It's common to arrive after the entrance kiosk is closed for the day, in which case you'll need to pay with cash in an envelope. A selection of $1, $5, and $10 bills is really helpful. Having your own pen can come in handy too.
Finally, please do actually pay. I've heard of people sneaking out early in the morning to try and avoid it. You might get away with it, but you could get caught. More importantly I think it's important to support this incredibly helpful resource and make sure the parks know how much we use and appreciate it. Otherwise there's no guarantee it will continue.
Closing Thoughts
Now you know about as much as anyone knows about hiker biker campsites in the US. Each one is a little different, and that's part of the fun. I hope you enjoy exploring this fabulous resource and the opportunities it provides for foot and pedal powered adventure.
More Outdoor Resources
If you like to adventure by foot or bike, you'll love a lot of other articles on this site. Try these:
Bike resources in your inbox?
There's more where this came from! Sign up here for occasional emails full of inspiration and information about bikepacking and bicycle touring.


Share the Adventure
If you found this article helpful, please consider sharing so more people can benefit from it: