Just by reading this article, you're supporting the Arizona Trail Association. Each year I donate a portion of the ad revenue from this page to the ATA to support their work as trail caretakers. Thanks for reading!
If you'd like to experience quiet desert nights, rocky rugged mountains, endless forested plateaus, and plenty of solitude, then the Arizona Trail might be the perfect hike for you. It might also drive you mad with its extreme temperatures, rocks, spikey plants, wind, snow, and long dry stretches.
Enchanting and maddening, all at the same time, is how I would sum up the AZT after thru hiking with my husband in the spring of 2021.
I had no idea Arizona contained such multitudes of biological and meteorological diversity. At times it was almost disorienting! Sometimes we were personifying saguaro cacti in the morning, stepping gingerly through snowy mountains in the afternoon, and cruising rolling ranchland by the following day. I fell in love with Arizona's abundant deserts, cursed its fist-sized rocks, and marveled at the unexpected expanses of Ponderosa Pines.
The AZT "has its teeth," as one highly experienced thru hiker told me, and he would know. But though it has a reputation for challenge and remoteness, the AZT is not some crazy cross-country bushwhack like the nearby Hayduke Trail. It's a reasonably well maintained and marked trail, or rather a linked series of trails and a few dirt roads, with a supportive and helpful trail community. Any hiker willing to research and prepare should be able to complete the route without specialized skills or overly complicated logistics.
If you're thinking of hiking the Arizona Trail, this post will give you an idea of what to expect. Everything below is based on a combination of my own spring 2021 thru hike, conversations with other hikers, lurking on the Arizona Trail Facebook groups (here's the general hiking group, here's 2021, there will be a new one for each year), and other recommended resources like the Guidebook, Arizona Trail Association website, and the Guthook guide app.
Arizona Trail Overview
If you're just beginning your Arizona Trail planning here, this overview will get you oriented.
Nickname: AZT, not to be confused with the AT, its longer and more famous sibling the Appalachian Trail.
Distance: 788 miles, or 775 if you take the shorter alternate route through Flagstaff. The total changes a bit each year due to ongoing trail reroutes and closures, and is often quoted at a nice round 800 miles.
Time to complete: 6 – 8 weeks on average, but this depends on many factors discussed below. Don't expect less than 7 weeks unless you're very fit and/or experienced, or willing to really push hard.
Southern terminus: Arizona / Mexico border at Coronado National Monument, about 20 miles southwest of Sierra Vista
Northern terminus: Arizona / Utah border at Stateline Campground near Wire Pass Trailhead, about 45 miles west of Page, AZ or east of Kanab, UT
Highlights: impressive biodiversity, the Sonoran desert, sky islands of southern Arizona, crossing the Grand Canyon, relative solitude
Challenges: large temperature differences and weather extremes, rocky and sometimes steep terrain, longish water carries, some long stretches without distinctive scenery or views
Direction and Timing
What's the terrain like?
To understand when and which direction to hike, you first need to know that the AZT is almost like two different trails stitched together around Pine, roughly mile 460 from the southern terminus.
South of Pine the trail oscillates between low-elevation desert and long (3000 – 5000 vertical feet) climbs up and over "sky islands," isolated mountain ranges that spike skywards from the desert floor and repeatedly take hikers above 8000 and even 9000 feet elevation for short sections. This southern chunk is predictably hot and dry during the day (can be cold at night) in the lower elevation desert, and potentially cold and snowy up in the mountains. The trail is sometimes smooth and sandy, sometimes steep and rocky.
North of Pine, the AZT ascends the Mogollon Rim to the relatively flat Colorado Plateau. Here the trail becomes gentler and hovers between 6000-8000 feet through Ponderosa pine forest all the way to the Grand Canyon.
After crossing the canyon – a massive descent and climb – the trail remains around 8000-9000 feet on the Kaibab Plateau until just 30 miles from the northern terminus, where it descends to just over 5000 feet on the edge of southern Utah's canyon country. The Kaibab Plateau accumulates many feet of snowpack in winter and can be quite chilly even in spring and fall.
Should I hike northbound (NOBO) or southbound (SOBO)?
For many people, the time they have available to hike determines their direction. Spring hikers go NOBO and fall hikers go SOBO. This is because winter snowpack is a bigger consideration on the higher elevation northern half, while desert heat is formidable on the southern half. The catch is that the southern section also ascends to over 8000 feet in a few places, so snow can be a factor no matter when and which direction you hike.
Other pros and cons for each direction:
NOBO springtime:
More and better water sources (depending on snowpack and recent storms)

Less risk of wildfires affecting trail

Wildflowers
More rain and snow than fall, usually
Start with more challenging and rugged terrain in the south, then cruise through big days in the flatter north once you have your trail legs
SOBO fall:
More seasonal water sources can be dry since snow has long ago melted
Hunting season means more crowded roads and camping where the AZT overlaps with vehicle-accessible areas
Less rain and snow than spring, usually
Changing fall colors
More risk of smoke and/or trail closures from wild fires
Start with easier terrain as you warm up, then tackle harder terrain in the south once you have your trail legs
What's the best time to hike the AZT going SOBO?
Fall hikers start in the north after summer monsoons (which are roughly from July through September, but unpredictable). Ideally this is when water sources have been replenished and the drier weather is good for hiking.
Hikers then aim to descend to the desert sections in the south (around SOBO mile 500) after the summer heat eases (usually mid to late October at the lowest elevations), but before winter storms make the isolated mountain ranges of the south impractically snowy (usually November).
Thus, the ideal timing for a fall SOBO AZT hike is starting after mid-to-late September and finishing by early-to-mid November.
Too early and you'll have more rain in the north and heat in the south. Too late and you'll risk snowy sections in the south and perhaps fewer water sources as monsoon-replenished sources dry up. Factor in recent rain and snowfall and your expected hiking pace to estimate the ideal start date for you.
What's the best time to hike the AZT going NOBO?
Spring hikers start in the south with the goal of getting through the lower elevation desert sections before daytime temperatures get uncomfortably hot. In practice this means reaching the Superstitions (around NOBO mile 300) by end of April at the latest. Then they aim to ascend to the Colorado Plateau (around NOBO mile 450) after most winter snow has melted (often mid-to-late April but depends on the year).
Thus, ideal timing for a spring NOBO AZT hike is starting after early-to-mid March and finishing by mid-to-late May.
Too early and you'll have snowy patches in the sky islands of the south, and sustained snow north of NOBO mile 460 and especially north of the Grand Canyon around NOBO mile 710. Water sources can be frozen, and sometimes microspikes are needed to cross the Grand Canyon and snowshoes are needed from the north rim (or you can walk the highway near the trail instead). Too late and you'll be sweltering in 100 degree F weather in the desert between miles 200 – 350ish.
All that said, the Arizona wilderness makes no promises! Freak storms and heat waves can and do happen, even during the ideal hiking season. Be prepared for the full range of temperatures and conditions no matter when you hike. Those planning to move at a faster pace will have a bit more leeway in terms of when they hike, and these days more erratic weather patterns are making every year unique.
Creative Alternatives
If the ideal spring and fall windows don't work for you, a creative flip-flop might be the answer. For example, you could hike north from Pine to the Utah border in early September, then return to Pine and hike south to the Mexican border once the deserts are cooler. Or, you could section hike the trail in two chunks during two different seasons.
To explore further, check monthly weather for Flagstaff to get a sense of the conditions on the northern part of the trail, and check Tucson for the south.
How long does it take to hike the Arizona Trail?
It's commonly stated that hiking the Arizona Trail takes 6-8 weeks. This is mostly correct, but can be misleading for less experienced thru hikers because the AZT attracts many experienced folks with at least one long trail on their resume.
The AZT is a tough trail, especially the southern half where steep and/or rocky terrain can slow progress. Food and water weight on long carries can also slow you down, as can occasional stretches of snow or thick mud. The flatter areas north of Pine lend themselves to higher mileage days, but if you're unlucky and hit deep snow there it may still be tough going. If you're used to summer mountain hiking, the shorter daylight hours of spring and fall will force you to hike in the dark (and cold!) or settle for shorter days.
So how long will it take you to hike the Arizona Trail? Depends on your fitness, experience, and hiking style. We met plenty of super-experienced folks (think Triple Crown finishers) hiking 25-30 mile days and finishing in 4-6 weeks. They generally had ultralight gear setups, backpacks the size of a typical day pack, and didn't seem to mind hiking through the dark, rain, or snow.
We also met some first-time thru hikers pacing themselves with 10-15 mile days in the beginning, carrying lightweight but not ultralight gear, hiking only during daylight and waiting out the occasional snowstorm in their tent. We ended up passing these folks, but just barely, and I suspect they finished somewhere in the 8-9 week range.
As a point of reference, my own hike took 7.5 weeks and included:
5 zeros, and a number of half-days and nearos
15.2 miles per day average south of Flagstaff (including a number of half-days instead of zeros)
20.6 miles per day average north of Flagstaff, where terrain flattened out and we really started pushing
We were both moderately experienced thru hikers (previous longest trail was the Colorado Trail) in decent shape, mid-thirties, with lightweight but not ultralight gear. We did a bit of night hiking and slogging through bad weather but also took our share of mid-day siestas (when hot) and late mornings (when cold) to keep things fun. For more finish times from other hikers, take a look at the ATA's list of trail finishers.
Whatever your pace, expect to do higher mileage north of Pine where the terrain flattens out, especially if hiking NOBO so you're in good shape by then and daylight hours are growing.
Also keep in mind that long dry sections lend themselves to longer days. You'll have an easier time reaching water sources on a convenient schedule if you can push at least 15 mile days, and perhaps 20 when needed.
Trail Conditions and Challenges
How you perceive the AZT will depend a lot on where you're from and your prior hiking experience. If you've hiked in the desert before, you probably won't be surprised by much of the following. If you're not familiar with desert environments in the western US then you might want to read carefully.
What's the weather like on the AZT?
Highly varied weather and temperatures are, in my opinion, one of the biggest challenges of the Arizona Trail. A number of factors contribute: big differences in elevation (from 2000 feet all the way up to 9000+), traversing many different ecosystems, a shoulder season hiking window, and the wide temperature swings typical of deserts.
Temperature: Expect cold nights throughout, especially in early spring and late fall. Expect hot days in the lower elevation deserts, especially in later spring and earlier fall. The moderate elevations tend to be more moderate in temperature, while the higher elevations can range from cool to pleasant in the daytime and can be quite cold at night.
We hiked from mid-March to late April and experienced brutally hot 90+ degree days with no shade, as well as several nights in the 20's and 30's F. These were not generally on the same days, but close! There were mornings when we woke up in the desert with our water frozen, hiked through toasty mid-day temperatures in the hills, and by afternoon were hiking through snow at 8000 feet. The temperature differences between sun and shade, walking and sitting, day and night, and low and high elevation can all be substantial, making it feel impossible to ever be a comfortable temperature despite frequently adjusting layers.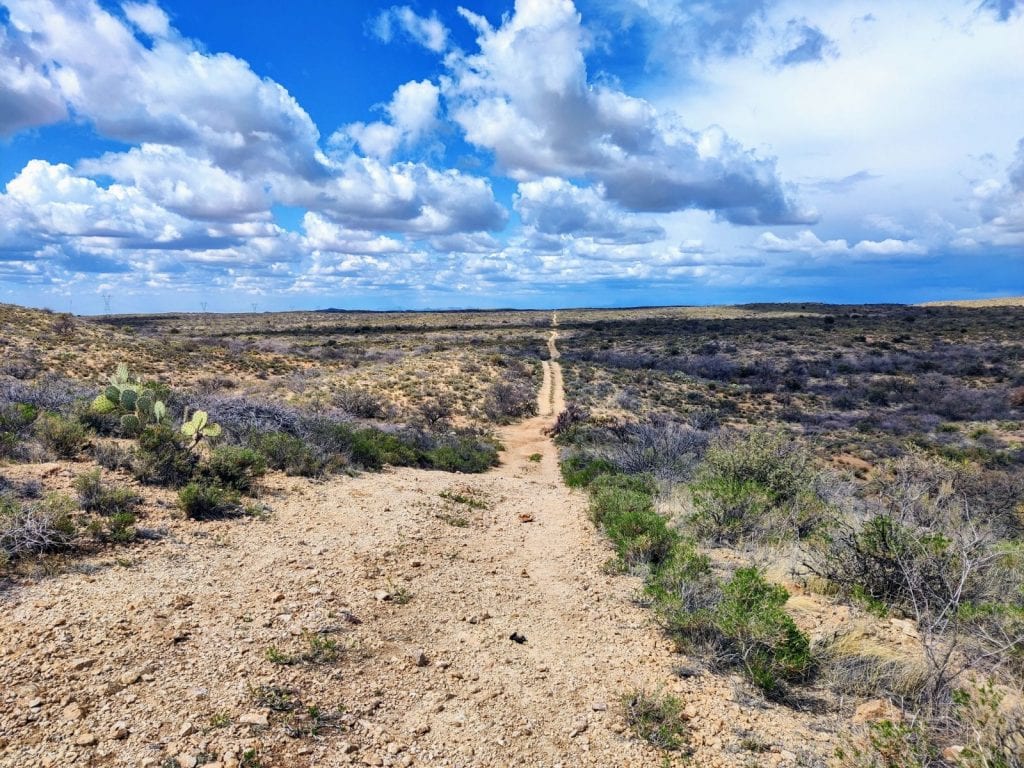 Precipitation: Spring hikers will likely have at least a few days of snow, accumulating up to a few inches or even feet at higher elevations. It's not uncommon for hikers to hunker down or leave the trail for a few days when storms come through. Fortunately snow melts fast in the spring, and a foot or more of snow can be almost gone within a week. Fall hikers generally have less snow but it can still happen.
During our spring hike we had two significant snows of 4-6 inches, several days of light snow and sleet, a few days of sporadic rain, and several days of cold and gusty winds.
What's the scenery like?
The AZT's varied scenery might be my favorite aspect of the trail. It was almost disorienting! You can wake up next to a saguaro cactus, spend the afternoon in a pine forest, and be back down to scrubby desert by the next day. In the trippy headspace of a long thru hike it can almost feel like you're teleporting from place to place, instead of walking an unbroken line through a single state.
The southern half of the trail takes you in and out of the Sonoran desert and up and over "sky islands" – mountain ranges that pop up from the desert floor and stretch to over 9000 feet. This section is tough but more scenic, varied, and interesting (in my opinion) than the more consistent and sometimes monotonous north.
The northern section is dominated by gentler terrain and Ponderosa pine trees, with the notable and incredible exception of the Grand Canyon. Just a few miles from the northern terminus hikers glimpse the red canyon country that southern Utah is famous for.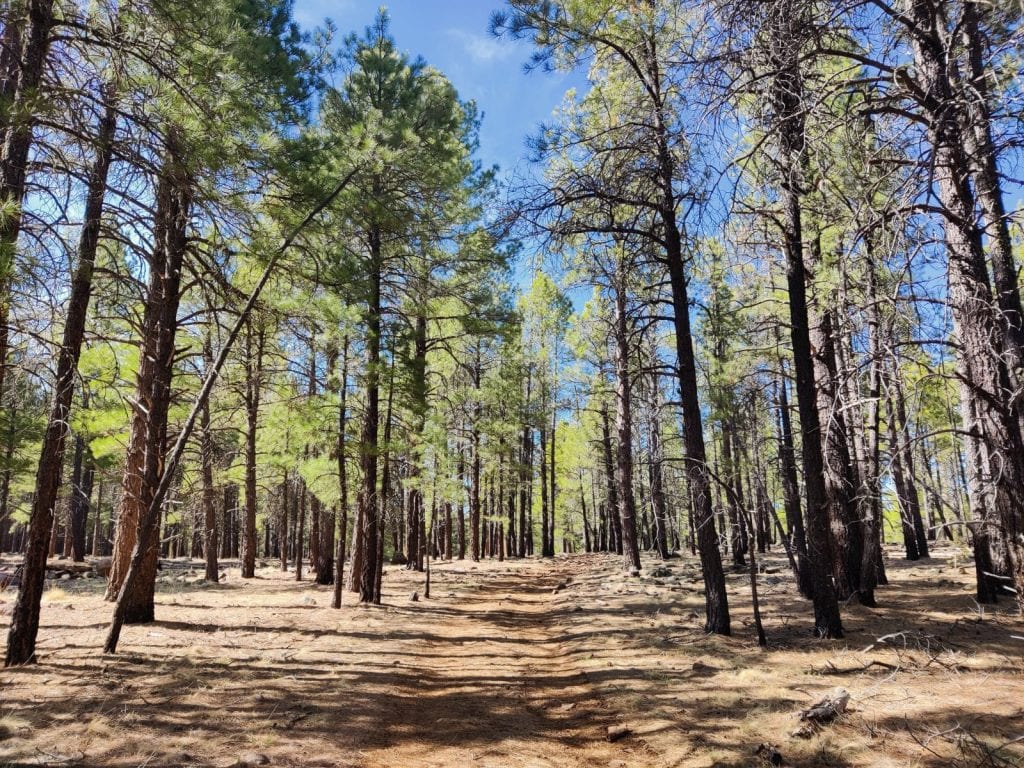 Unfortunately several long sections of the AZT have been damaged by fire in recent years, with 2020 being an especially damaging year. This can be a natural part of the cycle and the land will eventually recover, but prepare for some stark landscapes in the meantime (and, obviously, heed any fire restrictions in effect as you hike).
What are the trail tread and grade like?
As with the weather and scenery, the Arizona Trail's surface is varied and constantly changing. You can go from rocky two-track to smooth singletrack to steep and slippery rock-fest to level gravel road all in the same day. The terrain also changes dramatically between the steeper, more undulating terrain south of Pine and the gentler, flatter terrain of the Colorado and Kaibab plateaus to the north.
Generally speaking, a large portion of the trail is singletrack, with some sections of two-track and forest roads. There are a few short sections of pavement and gravel road walking.
AZT hikers are sometimes surprised by how rocky the trail is, especially if they've hiked the PCT and have not hiked the AT. There are sustained sections of fist-sized rocks, sharp volcanic shards, ball-bearing gravel, and other varieties of rocks. You will, at some point and probably several, curse the damn rocks.
The AZT's central and southern sections contain a surprising amount of climbing as the trail crosses mountain ranges and dips in and out of desert basins. Some of these climbs are quite steep compared to the gentle switchbacks often found on the PCT. There are several substantial climbs of 4000+ feet in the south, and then of course there's the Grand Canyon to cross in the north.
Is the Arizona Trail well maintained?
Yes, in general, trail volunteers do an excellent job maintaining the AZT. The tread is usually easy to see and follow. That said, it's a brushier trail than some, and a few sections have a bit of overgrown spikey desert foliage to contend with (a few scratches on my legs were the extent of the damage).
There are also some areas, particularly in recent fire zones or when the trail is covered in snow, where it's possible to lose the trail if you're not paying attention (more on navigation below).
How remote is the AZT?
Remoteness is a very relative concept. If you've hiked in the western US before, whether in the desert or mountains, you likely have a sense for the remoteness of the AZT. It's big country, with long distances between town access (sometimes over 100 miles) and very few paved road crossings. Many sections see few or no day hikers, so you might go a day or two without seeing other people from time to time. If you're hiking during the typical season there will be other thru hikers out there, perhaps a few hours ahead or behind, but you may or may not see them depending on your relative paces.
According to experienced hikers I met on the trail, sections of the CDT through New Mexico felt more remote to them, while the PCT felt less remote. This might have more to do with the number of other hikers encountered on these trails (less on the CDT, lots more on the PCT) than actual proximity to towns.
Will I have cell service on the trail?
Sometimes. Verizon often has the best coverage in the area, and you can expect to find some kind of data coverage every 2-3 days at most, and often at least once a day. However, it's totally common to go without service for hours or even days at a time, especially if you have a provider other than Verizon.
I hiked with both a T-Mobile and ATT sim card. Some areas had consistently good service on one or both, while others were lacking for days at a time. I like to keep my phone in airplane mode anyway, but service is useful for making motel reservations, coordinating rides, and updating Guthook comments for the latest on water sources.
A satellite device like a SPOT or Garmin InReach Mini would be a welcome reassurance for many folks, especially for solo hikers. My husband and I had an InReach Mini with us, though never truly needed it. If I'd been hiking solo I would have most definitely wanted it.
Navigation and Maps
What's the best way to navigate the Arizona Trail?
The Guthook app is by far the most common method, and hugely helpful for everything from following the trail to planning water carries and resupply stops. I highly recommend it for both safety and convenience.
The official Arizona Trail Guidebook is nice to have on a Kindle (or the Kindle app on your smartphone) and does have trail descriptions and turn-by-turn directions. I found it most useful for understanding the history, geology, flora and fauna, and general flavor of each section as opposed to navigation.
For those who prefer old fashioned big-picture topo maps, the ATA offers a map pack that can be ordered on paper, or a version that can be viewed on your smartphone with the Avenza app. I personally don't think this is necessary unless you plan to do a lot of side trips or want it as a backup.
Whatever method you choose, solo hikers should definitely have a backup in case their smartphone gets lost, dropped, drenched, or otherwise fails at an inopportune time.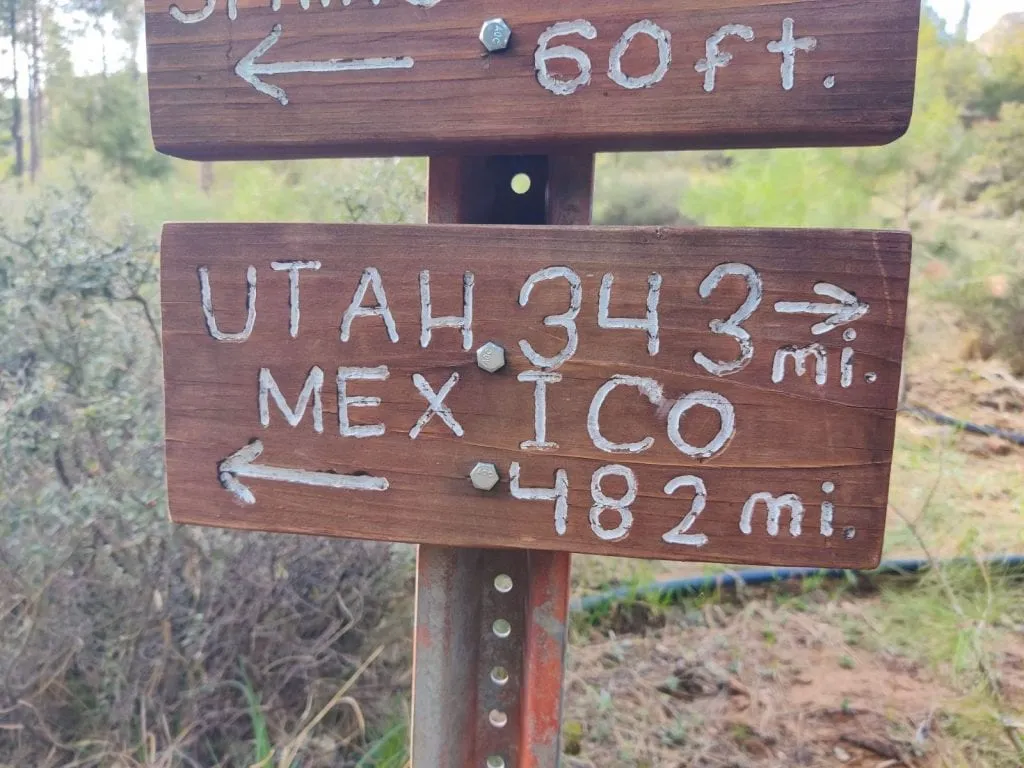 Is the Arizona Trail well marked and easy to follow?
Yes, generally, though you'll need to pay attention and not count on simply following blazes. The trail frequently diverges from dirt road to singletrack or vice versa without much warning. Most intersections are marked with signs and cairns and all are shown clearly in Guthook, but it's possible to miss turns if you're cruising along and staring at your feet.
There are also places where it's easy to lose the trail, such as in recent burn areas or when the trail is covered in snow. Some water sources are off-trail and unmarked. In all these cases, a GPS navigation app like Guthook will keep you from getting hopelessly lost in the desert or forest.
How crowded is the AZT?
As with outdoor activities in general, the AZT saw a surge of interest in 2021. During the height of the spring season there were 10-15 thru hikers coming through each day, and I'm told this is a new high. And yet, there were plenty of days when we only leapfrogged with a couple thru hikers, or met a single section hiker coming the opposite way, or saw no humans at all.
Most of the AZT felt much less crowded than other trails I've hiked. This is partly because few thru hikers attempt it, and we're all going the same direction. Many sections are remote enough that day hikers rarely venture there. If, like me, you enjoy feeling like you have the trail to yourself, this is great.
If you're looking for a social trail scene like the PCT or the AT, you won't find it on the AZT. It's certainly possible to link up with other hikers or leapfrog often, but you should still expect to spend long periods of time hiking and sometimes camping alone.
Despite our small numbers, when we did cross paths with other thru hikers we found it easy to connect. Unlike more crowded trails where groups or cliques might form, we felt an unconditional friendliness whenever we ended up in town or camp with other thru hikers.
Water on the AZT
The AZT is generally a drier trail than most, which has led to a lot of uncertainly and concern about the water situation. I found this to be such an interesting topic that I've created a whole separate post about water on the Arizona Trail, and I suggest you check it out. I'll briefly outline a few quick answers here.
Is the water situation really that bad?
Mostly not. Conditions vary a lot from year to year and even week to week, so it's hard to be precise, but most hikers find the situation manageable. Yes, you will have to carry a bit more water than you may be used to, pay close attention to comments on Guthook, and drink from not-so-pristine sources, but it's nothing a reasonably well prepared hiker can't manage.
What water capacity do I need and how long are the longest dry sections?
Again, major caveat: conditions are different every season and change quickly! However, based on my experience and that of most hikers in recent years I would say a maximum capacity of 5 to 6 liters is about right. Less than that and you could be tempted to take on a long hot dry stretch with too little. More than that and most people will have trouble covering miles due to the weight. Most of the time you won't fill it all – 3 to 4 liters is much more typical – but you may need to fill it all on one or two occasions.
Do I need to cache water?
Ah, the million dollar question. The short answer for a majority of hikers, especially in spring, is "probably not." With careful planning, a suitable water capacity, and the generosity of amazing trail angels who cache water for hikers in a few key places, you can get by without caching in most years.
BUT…. This is a bit controversial and dangerous to get wrong, so please read my more detailed post about water on the AZT to understand the nuances. It's hard to overstate the importance of personal responsibility and self-reliance when it comes to water in the desert.
What's the best water filter for the AZT?
The most common choice by far is the Sawyer Squeeze. It worked well for us and most other hikers we met, with a few important notes:
Get the original Sawyer Squeeze, NOT the Micro or Mini, which have considerably lower flow rates and clog more easily. Trust me, it's worth the small amount of extra weight.
Backflush early and often. You can use the Sawyer coupling kit with a Smart bottle or Platypus instead of bringing the syringe.
Sleep with your filter every night to make sure it doesn't freeze (which renders it ineffective with no visible signs). Weather on the AZT can catch you off guard, so when in doubt assume freezing temps are possible.
Carry chlorine dioxide as an emergency backup. If something happens to your filter, you will NOT want to drink untreated water from nasty cow ponds on the AZT.
Resupply and Logistics
How long between resupply stops?
In general, the short carries are around 40-60 miles. There are a couple carries of 100+ miles that can be avoided by arranging shuttles or other support (or very patient hitchhiking). For us this came out to food carries of 4-7 days using convenient on-trail resupply locations and/or easy hitches. A majority of our carries were 5-6 days.
There are a variety of ways to design your AZT resupply plan. For more detail see this helpful overview, the ATA's list of gateway communities, comments in the Guthook guide, and my own AZT resupply notes.
Will I need to hitchhike to resupply?
Maybe once or twice. The on-trail or near-trail resupply options on the AZT are pretty good, especially if you mail boxes to yourself (a few places accept boxes but don't have stores). With careful planning you could probably avoid hitching at all, either by skipping all the off-trail towns or coordinating with a shuttle or trail angel for a ride.
Two of the easiest hitches are Kearny (7 miles off trail) and Payson (15 miles off trail from Pine). Oracle is 2.5 miles off trail and can be reached by walking. Many other good options are around a mile or less from the trail, including the resupply paradise of Flagstaff and the small towns of Pine, Patagonia, Summerhaven, and South Rim of the Grand Canyon.
Will I need to mail boxes or can I shop for food as I go?
You can manage either if you're determined, but the Arizona Trail lends itself to a mix of both. There are a few on-trail or easy-hitch towns where you'll find supermarkets with everything you need (Flagstaff, Payson, Kearny), and a number of smaller towns with general stores that can work if you're not picky (Patagonia, South Rim Grand Canyon, Pine). There are, however, a few convenient on-trail locations where your best/only option is to ship a resupply box (Colossal Cave, High Jinks Ranch).
For more detail on resupplying, see this helpful overview, the ATA's list of gateway communities, comments in the Guthook guide, and my own AZT resupply notes.
Are there good trail towns on the AZT?
Unlike many towns along the PCT and AT, the towns along the AZT don't feel as if they exist solely for the purpose of supporting thru hikers. That said, every town has at least a couple hiker-friendly establishments. We always felt welcome in the towns along the way. Many businesses knew about the trail, and a few served as supportive gathering spots for hikers.
The best trail towns tend to be small enough that hikers can easily find each other at the obvious places. I would say Patagonia, Kearny, and Pine are your best bets for creating a bit of that trail town vibe.
What permits do I need to hike the Arizona Trail?
Technically you do not need any permits to thru hike the Arizona Trail. However, there are two sections where you will need a permit to camp within national park borders. You can technically bypass these with a long single day if you're a strong hiker and plan well, but most people will want to arrange a permit in advance.
Saguaro National Park: NOBO mile 144 to 127 / SOBO mile 662 to 645. Within this park camping is only allowed at two established sites: Grass Shack and Manning campgrounds. It's a long climb (heading NOBO) through the park, and a permit will make your day easier, but it's possible for moderately strong hikers to go border to border in a single day.
Permits must be reserved in advance, and while they're not too hard to get, they can easily be full by the time you know your schedule. Sometimes hikers coordinate to offer their extra spots (permits are per site, not person) to other hikers they meet along the trail.
Grand Canyon National Park: NOBO mile 684 to 724 / SOBO mile 64 to 105. Note that the boundary on the northern side is 12 miles from the north rim of the canyon. Within the park camping is only allowed at the established sites of Bright Angel and Cottonwood (and Indian Garden which is on the Bright Angel alternate route).
Most hikers arrange their permit a couple days in advance by calling or emailing the park or by visiting the office in person when they arrive; check the Backcountry Info Office waypoint in Guthook for the latest details. Permits are usually granted for the next day when possible, and thru hikers are often accommodated in a stock site at Cottonwood if the regular sites are full. Only very strong and determined hikers should attempt to cross the entire park in a single day; the rest of us are better off reserving a permit and taking time to enjoy the views.
Transportation to Start and Finish
There are many different ways to organize your hike. These tips won't solve every single case, but they'll point you in the right direction.
The closest towns to each terminus with reasonable services (vehicle storage, rental cars, etc.) are Sierra Vista in the South and St. George, Utah in the north. Major population centers near the trail include Tucson (south), Phoenix (middle-south), and Flagstaff (north). Start with these when looking at flights, bus routes, and rental cars.
The ATA maintains helpful lists of shuttle drivers (paid private rides) and trail angels (generous volunteers who deserve donations of gas money) who can help you with the following suggestions.
What are the main transportation options?
The AZT is long and thus there are many ways to organize your hike. Some people fly into a city as close to their starting terminus as possible, then fly out of a city near their finish terminus. Other people start in Phoenix and use public buses and private shuttles to get to the start terminus and then back to Phoenix from the finish. If you're driving, you can leave a vehicle near the start and then fly / bus / drive a rental car back from near the end, or you can leave a vehicle near the end and then fly / bus / drive a rental car to near the start.
Personal recommendation: If you have time to explore after your hike, plan to end up in the gorgeous canyon lands of southern Utah with your own vehicle or a rental! We left a vehicle in St. George, UT, drove a one way rental car to Sierra Vista, and took Uber to the southern terminus. After finishing at the Utah border we got a ride to Kanab from a trail angel, then booked a shuttle to St. George to reunite with our vehicle. From there we spent two weeks exploring the stunning landscapes around Bryce Canyon, Grand Staircase Escalante, and all the way to Moab before driving home.
How do I get to or from the southern terminus?
From Sierra Vista and possibly even Tucson, you can likely get a ride to the southern terminus via Uber or Lyft. Or, you can make arrangements with a shuttle driver or if all else fails, a generous trail angel. To get to Sierra Vista from elsewhere, look at bus schedules and one-way car rentals.
If you're SOBO and finishing at the Mexican border, your options are to hitch a ride from the trailhead or the Coronado National Monument Visitors Center, or pre-arrange a ride with a shuttle driver or trail angel. Check the terminus waypoint in Guthook for tips and ideas.
How do I get to or from the northern terminus?
The northern terminus is fairly remote, about 45 miles in either direction from the nearest substantial town (Page AZ to the east, and Kanab UT to the west).
To start your SOBO hike, make arrangements for a ride from Page or Kanab with a shuttle driver or trail angel. Shuttle drivers or local taxi companies can also help you get to Page or Kanab from larger towns like St. George or Flagstaff.
If you're NOBO and finishing at the Utah border, your options are to either:
Walk 1.5 miles to Wire Pass Trailhead and hitch to either Page or Kanab (mixed reports in terms of difficulty, you might get lucky or might not)
Make arrangements with a trail angel or shuttle driver. Trail angel Ashley was especially active at the northern terminus in 2021 (thanks Ashley!). Check the terminus waypoint in Guthook for contact info and other transport ideas.
Once in Page or Kanab you can hire a shuttle driver to take you to Flagstaff, St. George, or another larger town with an airport, bus stop, or rental car agency. We paid $150 to shuttle driver Steve (801-309-4924) for our ride from Kanab to St. George.
Where can I leave my vehicle while I hike the Arizona Trail?
If you drive to Arizona, you'll want to leave your vehicle somewhere safe while you hike. Most people aren't comfortable leaving a car at a trailhead for a couple months; break ins are rare but do happen.
Fortunately, Arizona is a state full of RV'ers and so RV storage facilities abound. There's one in Sierra Vista, a bunch in St. George, and plenty in Phoenix, Tucson, and Flagstaff. Call around in advance to check rates and availability. We paid around $50 per month to store our camper in St. George for two months at Hillside Palms RV Park, which was very friendly and accommodating.
I have some extra time after my hike. Where should I go?
If you have time and a vehicle, I highly recommend exploring southern Utah after you finish your AZT hike. Especially if heading NOBO in the spring, it's convenient to leave your vehicle in St. George in southwest Utah where it will be waiting for you when you finish.
After a couple days of recovery, we spent 2.5 weeks driving around spectacular southern Utah. We boondocked on extensive BLM and National Forest land, explored several national parks (Bryce Canyon, Capitol Reef, Arches, and Canyonlands), bikepacked in Grand Staircase Escalante National Monument, and went off-roading and rafting in Moab. What an incredible second chapter to an incredible trip!
Camping on the Arizona Trail
Can you camp anywhere along the trail?
Aside from the two national parks mentioned in the permit section, yes, you can legally camp almost anywhere along the AZT. General Leave No Trace ethics apply: choose previously used sites where possible and camp on durable surfaces.
Special considerations apply near certain water sources. Don't camp within at least 200 feet of springs, troughs, or other isolated water sources where your presence might discourage animals from coming to drink. Some ponds and tanks specifically prohibit camping within a quarter mile.
Is it easy to find a campsite on the AZT?
Yes, in most places. On the southern half small established sites can generally be found near the trail every mile or so, except on steep terrain where you might need to go a bit further to find a flat spot in a drainage or on a ridge. Those traveling in groups may need to be more flexible since sites large enough for multiple tents are fewer and further between.
In some of the desert areas of the south or the pine-covered plateaus of the north, it's easy to camp almost anywhere as long as you choose sites respectfully so as to not trample delicate plants. In these areas you'll see fewer established sites because there are so many good places to camp.
Do most campsites have water?
Expect to dry camp often on the Arizona Trail. If camping by water is a priority you could theoretically arrange it most nights, but it would severely impact your daily schedule. It's not uncommon to go 8-10 miles between water sources and sometimes more like 15-20.
In my experience, a good rhythm was to fill up with ~3 liters late in the day, then continue to a good dry campsite whenever we reached our daily mileage goal. We would then aim to fill up at or before lunch the next day. In this way we minimized the amount of time carrying extra water for dry camping while staying flexible enough to consistently make our daily mileage goals.
Will the campsites be crowded?
Like the rest of the Arizona Trail, most campsites offer solitude. Sometimes hikers link up in loose groups and camp near each other, but more often your campsite will be a solitary spot a few miles from the next camper. With ~10-12 thru hikers per day during the peak of the spring 2021 hiking season, we rarely found our desired spot taken even though we tended to start later and hike later than many around us. North of Pine there are so many good places to camp that this won't be an issue.
What should I look for when choosing a campsite?
Besides the usual (flat spot with good view), here are a few considerations specific to the AZT and desert hiking in particular:
Washes can flood when it rains, so don't camp in them unless you're very sure of dry weather.
The bottoms of washes and canyons are often the coldest places; try to camp slightly uphill of the lowest spot if you can.
Some flat spots that look suspiciously like campsites are actually ant hills! Don't camp on ant hills. If the area is covered in tiny pebbles and you can spot small holes with ants coming out of them, choose a different spot.
Some parts of the AZT can be intensely windy, so be mindful of wind direction and shelter, especially on ridgelines.
Most plants in Arizona are spikey, just waiting to pop your inflatable sleeping pad or pierce your tent floor. Avoid camping directly next to or beneath cacti or thorn bushes, and if you must, do a sweep of the ground before putting down your gear. (Also, bring a lightweight foam sleeping pad for under your inflatable one – see gear section below).
How should I store my food when camping on the AZT?
Opinions on food storage vary, but here are the facts:
Some parts of the AZT have black bears. These bears are usually skittish and not habituated to humans and human food (and we want to keep them this way!).
Many parts of the AZT have rodents. We had a few particularly aggressive mice that came into our tarp, chewed on our food bags, and even scurried over our sleeping quilts!
Thus, the conservative approach is to carry a bear-resistant bag like an Ursack and hang it or tie it properly in areas where bears might be present (usually higher elevation and forests, not the deserts).
A common but less conservative approach is to sleep with your food. This ensures that normal bears – who don't want to get near humans – will leave it alone. But there is a small risk of a human-habituated bear becoming interested in your food while it's in your tent. And if you're cowboy camping, rodents can chew through your food bag if it's not critter-proof.
Whatever you do, don't leave food unattended in a non-bear-proof container in bear habitats. This is how bears get their first taste of human food, which can lead to them being relocated or even euthanized.
In areas without bears, and if you can keep your food protected from rodents overnight, I have three glorious words for you: breakfast in bed. Nothing helps get me moving on cold desert mornings like the ability to make coffee and breakfast without leaving my cozy sleeping quilt.
Gear and Clothing
I have a full AZT gear list and notes here, but briefly here are the biggest considerations:
Do I need a tarp or tent for the AZT, or can I just cowboy camp?
Cowboy camping – sleeping in the open without a tent – is one of the great joys of desert backpacking. There's something about those quiet nights and unobstructed starry views that feels distinctly different from camping in the forest. For those who worry about creepy crawlies (we did see some scorpions), a bivy or bug net is a great compromise option and adds some extra warmth too (may I recommend the Borah Gear bivy).
Thanks to the generally dry weather in Arizona, you might be able to cowboy camp or bivy 80% of the time, but you'll definitely want a tarp or tent for the other 20%. We used ours to shelter from rain and snow a number of times, to provide extra warmth on sub-freezing nights, and when we just wanted a cozier or more private space (like stealth camping in towns or beside dirt roads). The rest of the time we just used our bivvies for lightweight protection from whatever might be crawling around.
What kind of shelter is best for the AZT?
Lightweight, trekking-pole-supported tents are common the AZT, as they are on most long trails. The Arizona ground is often hard and rocky, so bring sturdy tent stakes and pound them in using rocks. I recommend these titanium stakes, but bring spare paracord that's small enough to fit through the holes in case the original cord frays in the wind (yup it can happen). A freestanding tent would be a tad more convenient, but might not be worth the extra weight.
Looking for a new solo tent? See this visual guide to lightweight solo tents by price vs. weight. Many of the models listed there are common on the AZT.
Some people wonder about hammock camping on the AZT. I didn't see anyone doing this and can't imagine how it would work in the long treeless sections of the southern half.
What temperature rating should my sleeping bag or quilt have?
The Arizona Trail tends to have colder nights than mountain trails like the CT and JMT. We had a couple nights in the teens (or so I heard from a hiker with a thermometer – all I knew was that our water froze solid), plus quite a few in the twenties and thirties (water froze into slush).
It's hard to recommend a specific temperature rating since brands and individual tolerance both vary, but I would say err on the side of a colder rating for the AZT. I'm a very cold sleeper, but my quilt is rated for 10 degrees and I still slept in my puffy jacket most nights.
A 15 or 20 degree bag would probably be appropriate for most people, especially if you sleep in extra layers when it's cold. If your bag is on the edge or you run cold, bring a metallic space blanket to line the inside on those extra chilly nights.
What kind of clothing is needed for the Arizona Trail?
Many thru hikers use the same clothing and layering system for the AZT that they would use for the PCT or other long trail. The two biggest considerations specific to the AZT are sun exposure and large temperature swings.
Sun exposure: the southern half of the AZT has many stretches where you will go several days without any meaningful shade. The sun can be intense. Some hikers wear long sleeves but I find a t-shirt and these sun sleeves more comfortable. Though I generally prefer a running-style cap, I switched to this full-coverage hat for the AZT and was really glad I did.
Temperature swings: It's common on the AZT to go from uncomfortably cold to uncomfortably warm in the space of a few hours or even a few minutes! The combination of desert climate, varied elevation and ecosystems, and shoulder season hiking can make it impossible to regulate your body temperature as you move between areas of sun, shade, and wind.
There's no perfect solution for this, but when choosing your clothing err on the side of breatheable, wicking materials and a flexible layering system. For more detail on what I wore, see my AZT gear list.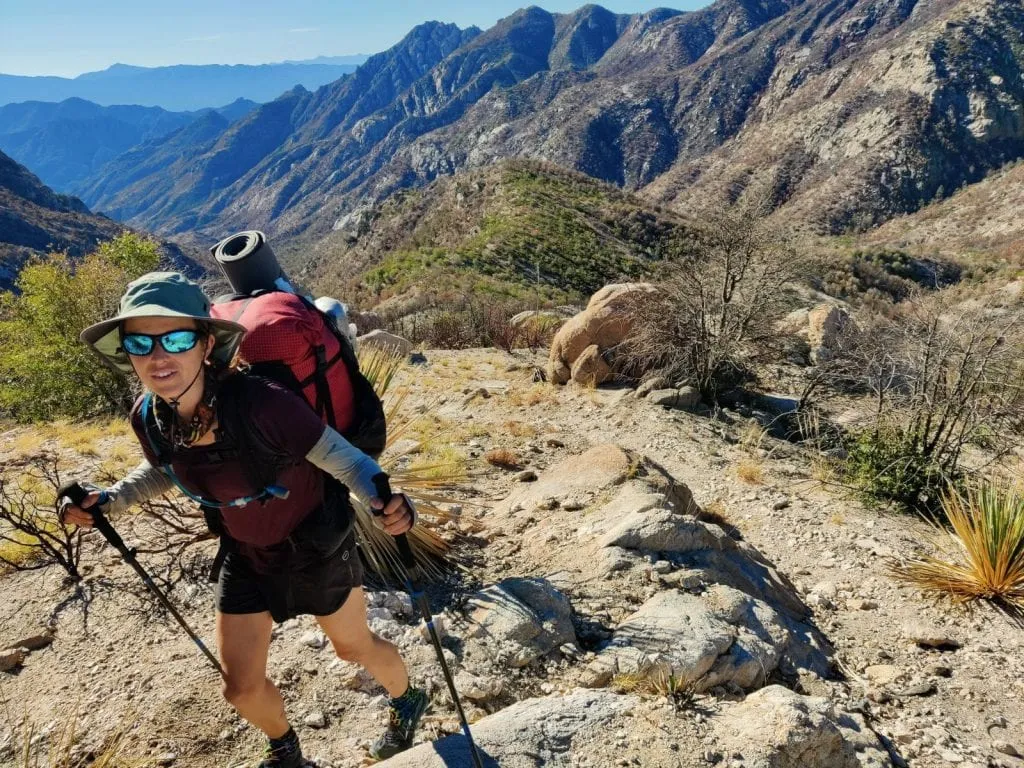 Are shorts a good choice for the Arizona Trail?
Like many other long-distance hikers, I prefer to hike in running shorts. The combination of soft chafe-free fabric, loose fit, and breatheability are all key when covering lots of miles and taking few showers.
However, when planning for the AZT I wondered if zip-off hiking pants might be more appropriate. Would the spikey desert foliage turn my legs into a bloody mess? Would the temperature swings leave me shivering in breazy shorts?
I'm happy to report that I hiked in shorts and was glad I did. Yes, there are some brief sections of scratchy plants. Yes, sometimes I had to hike in my tights or throw on rain pants for extra warmth. But on most days I was happy to have my loose and comfy shorts.
What about rain gear?
Rain gear is always important for wilderness hiking. It may not rain often in the desert, but when it does (or when it snows, hails, or sleets) you'll need protection. At a minimum, a reliable rain jacket or poncho is a must. A lightweight model like the OR Helium II is perfect, as long as it's new or has recently been retreated to refresh its waterproof coating. I don't personally think full Gore-Tex is necessary.
Rain pants are optional, but I recommend them, especially to those like me who are cold-intolerant. I wore mine almost every day at some point, mostly for warmth in morning and evening and sometimes to cut frigid wind while hiking. They are also my last-ditch sleep layer when I'm too cold at night, and handy for postholing through snow and doing laundry in town.
What other special gear considerations should I think about?
Hard rocky ground: choose your tent stakes carefully and consider a trowel for digging cat holes if you don't already carry one.
Wide temperature swings: choose your clothing and sleep system to handle below-freezing weather as well as hot 90+ degrees.
Thorns, spikes, and spines: mind your delicate gear, and use a thin foam pad under your inflatable sleeping pad.
Water: sources are rarer and lower quality than mountain trails. Have a careful plan for filtering and carrying. See Water on the AZT for more detail.
Snow: especially if hiking in spring, be prepared for some snow. A good lightweight way to keep your feet warm: sandwich an oven bag between two pairs of socks.
For more detail, see my AZT gear list and notes.
Plants and Animals
What's the coolest plant on the AZT?
I could never get tired of the abundant and exotic desert flora on the AZT. Ocotillo, cholla, prickly pear, and grand saguaro cacti abound. My favorite has to be the saguaro, with their massive stature and quirky postures just begging to be personified.
Most of Arizona's plants are unabashedly, exuberantly spikey. A poorly placed agave plant drew blood before my very first step, while trying to take a picture at the trailhead! As we joked throughout the southern half, spikes and thorns are just how plants in Arizona say hello. These incredible organisms deserve their own gallery:
Will there be bears?
As mentioned above in the food storage section, some parts of the AZT pass through black bear territory. In particular, the higher elevation sky islands of the south and the forested plateaus of the north are places to be bear aware. These bears are generally skittish and don't pose any threat to humans, but AZT hikers should make sure to hang, or at the very least, sleep with, their food.
What about rattlesnakes and scorpions?
Yup, there are rattlesnakes on the AZT, especially in mid-to-late spring. We never actually saw one (disappointing!), but talked to other hikers who did. Take care when walking on narrow trail, always watch what's in front of you, and keep at least one ear open.
Scorpions are out there (we saw two), but they're unlikely to bother you. Though their stings can be quite painful, they're rarely dangerous. Shake out your shoes before putting your feet in, and don't stick your fingers into places you can't see, like between rocks or in rolled up tent flaps.
What about insects like mosquitos?
If you're used to hiking in the mountains, you'll be pleasantly surprised by the relative lack of mosquitoes on the Arizona Trail. In spring we only saw a handful on the entire hike.
What else?
The Arizona Trail is amazingly full of delightful biodiversity. You might spot javelina, bunnies, elk, lizards, wild horses, and lots and lots of cows. Check out this great AZT wildlife overview by another hiker for more details.
Other Trails
How does the AZT compare to other long trails?
I have not personally hiked the PCT, AT, or CDT, but many hikers I met on the AZT had. I asked many of them the same question: How does the AZT compare with other trails you've hiked? These are some of their answers.
Continental Divide Trail (CDT) desert section: the AZT is nicer than the barren road walking that characterizes much of the CDT in New Mexico. The challenges characteristic of deserts in general – scarce water, large temperature swings – are similar. The AZT, though remote and sparsely traveled by thru hike standards, has more hikers and more trail town support than the CDT.
Pacific Crest Trail (PCT) desert section: The AZT is harder, with rockier trail and steeper climbs, but more interesting scenery and less barren. As one PCT veteran put it when talking about the rocks and steep climbs: "There's nothing here that's not on the PCT. There's just more of it." As another put it: "The PCT is a pretty well-groomed trail" by comparison. Water sources on the SoCal desert section of the PCT are similarly scarce but generally higher quality (flowing streams rather than cattle tanks). The changeable weather and large temperature swings are similar.
Appalachian Trail (AT): A very different type of trail with no desert at all, but even rockier than the AZT. After my least-favorite rocky section of the AZT I asked an AT veteran how he liked it and he said "I've seen worse in Maine." Also a far more popular and social trail than the AZT, but then again, most trails are.
Colorado Trail: As a CT veteran myself, I felt the CT was a bit harder than the AZT physically but easier mentally. The physical challenge of the CT is mainly due to high altitude and continual climbing and descending, though much of the southern half of the AZT is equally demanding aside from the high altitude. The northern half of the AZT, on the other hand, is much gentler and physically easier than most of the CT. The CT has more hiker traffic, more consistent terrain and weather, and rewarding views almost everywhere you look, which (for me at least) made it a more consistently pleasant experience. The AZT is more diverse and offers more solitude, but also more cold, heat, wind, long dry stretches, and not-so-scenic sections with little distraction. Both are rewarding and amazing in their own way.
Should I hike the Arizona Trail as my first thru hike?
It's not the most obvious choice, but you wouldn't be the first. We met a number of first-time thru hikers on the trail, some traveling with more experienced partners and some traveling solo. Especially if you live in Arizona or have prior desert hiking experience, it's doable. Plan a leisurely itinerary until you get your trail legs, keep your base weight light, and make sure to do your research about gear, weather, and water.
That said, we were surprised by the overall experience level of most hikers we met on the AZT. A good three quarters of those we talked to had already hiked the PCT or AT, and a number had hiked the CDT. These trails (CDT excepted) tend to see far more thru hikers (several thousand instead of a hundred or so for the AZT) and more consistent support from trail towns and the hiker community. While it may seem counterintuitive, far more people hike the 2650 mile PCT as their first thru hike than the 800 mile Arizona Trail.
In Conclusion
If you're thinking about thru hiking the Arizona Trail, I hope this post gives you a better idea of what to expect. I'm very proud of my AZT thru hike and so thankful for the chance to fully experience Arizona in all its beauty and wildness. It's a tough trail, a real thru-hiker's route that will definitely leave you feeling like you just walked across the entire freakin' state of Arizona.
The AZT can be relentless at times, and its beauty can be subtle, so you better like walking. Some days there won't be much to distract you from it. But on other days the wide-open deserts and dignified forests will surprise you with their enthusiastic life. If you'd like to experience all that Arizona's vast open spaces have to offer and test yourself against its sun, rain, wind, and snow, then the Arizona Trail just might be for you.
More Arizona Trail Resources
Here are the rest of my posts about the Arizona Trail:
And these trail journals will give you a sense of the experience from other perspectives:


Hiking resources in your inbox?
There's more where this came from! Sign up here for occasional emails full of inspiration and information about backpacking and hiking.


Share the Adventure
If you found this article helpful, please consider sharing so more people can benefit from it:
Pin For Later