So you've got your bike. And you've got some bikepacking bags, maybe, or perhaps just some stuff sacks and straps. And you've got a big pile of gear: sleeping bag, titanium pot, spare socks, tent poles, hydration bladder, favorite stuffed animal, flask of whiskey…
And now you're looking at those weird triangularly shaped bags and skinny cylindrical stuff sacks and thinking: how the HECK is THIS supposed to work?
Here's the secret: there is no secret. Well ok, there are some secrets (which we'll get into later), but you're still going to have to get creative. Bikepacking is a full-participation sport, and that starts with the packing.
Packing for a bikepacking trip is half art, half science, and another half brute force. It's a work in progress, a constantly evolving process of trial and error, a long series of what-if-I-put-that-there, let's-see-if-this-fits-here, maybe-I-don't-need-this-after-all experimentation.
Honestly, learning how to pack for bikepacking is, in my opinion, part of the fun! But there are a few time-saving tips worth knowing in advance. So to get you started, I'm going to walk through each component of a typical bikepacking setup and explain what types of gear you might want to stuff / wrestle / wedge into it.
Don't forget though: ultimately you're the only one who can craft your perfect bikepacking setup. Every combination of bike, rider, gear, and terrain is unique. If you find a way that works better for you, then roll with it and don't look back. Rules are made to be broken, and bikepackers are a rebellious lot, aren't we? 😉
There are affiliate links in this post. Buying through them provides me with a small commission at no extra cost to you, which helps keep this site running and growing. Don't worry, I only recommend products I know and love and I never publish sponsored content, so can you trust what you read here.
Will this cost a fortune?
Maybe, if you get really into it. It's a slippery slope (not that I would know…). But if you're just starting out, there are plenty of ways to make a small budget go further and still be able to pack for an epic bikepacking trip.
Throughout this post I'll be referring to the most common components of a bikepacking bag setup: saddle bags, frame bags, etc. But if you don't actually have all those fancy bags, don't panic. It's absolutely possible to get started bikepacking with a more budget-friendly gear setup. Here's how.
If you don't have the full bikepacking bag setup right away, many of these packing tips can still apply. You'll just need to adapt them to your stuff sacks and straps, or whatever you're using.
What are all these bags called?
Before we can talk about how to pack for bikepacking, first we need to go through what all those funny-shaped bags are called. A picture is worth a thousand words here:
---
By bikepacking standards, that bike in the picture above is loaded pretty heavily! Yes, I'll admit it, it's mine. It was loaded down for a month-long trip in Oregon, Idaho, and Nevada, with some stops along the way, and I needed a few extra things plus a lot of water capacity. Ideally for a more focused trip you would have less gear than this.
Now that you know the pieces of the puzzle, let's talk about which awkwardly shaped pieces of gear you should be trying to shove into which awkwardly shaped bags as you pack for your bikepacking trip.
General Principles
A few key principles of packing for bikepacking will come up again and again. So to save us all time, let's go through a few basics first.
Pack as light as possible. The more rugged the terrain, the more this matters. Think technical singletrack, fallen trees across your path, or steep and slippery hike-a-bikes. Ideally you should be able to lift your bike over thigh-high obstacles and even carry it for short distances if necessary. On the other hand, if you're just riding gravel roads you can get away with a bit more weight.
Pack heavy things low and close to the center of the bike, which keeps it free to be the nimble singletrack-shredding machine it yearns to be. Heavy things packed elsewhere will affect your bike's handling more obviously, especially if they're far to the front (on your handlebars) or far to the back (very back of your seat bag). This matters more on rough and technical terrain than on smooth gravel.
Pack things you'll need during the day more accessibly, and things you'll only need at camp less accessibly. This can be harder than it seems. For the first 2.5 days of your first trip the thing you need will always be at the very innermost corner of your fully stuffed seat bag.
Assume ANYthing can rattle loose when the riding is rough enough. If you've strapped anything you'd like to see again to the outside of your bags, tether it with a backup cord. Watch out for buckles, straps, sleeves, or anything else that could slip and get caught in your wheels, sending you in a graceful unplanned somersault over your handlebars.
Practice riding your loaded bike before leaving on your trip, and I don't just mean around the block. Go ahead, hit your local trails and bask in the pride of your badassery as dog walkers glance quizzically at your loaded rig. Also, get used to how it handles and find out whether your knees hit your stem bags or your thighs graze your frame bag.
---
Next, let's look at each type of bag and how to best pack it for bikepacking. For each section I'll give a few common options at different price points, but know that I'm not focused on specific gear reviews and recommendations here. I lean toward lower-cost options myself (here's a list of my personal favorite gear), so if you're looking for top-of-the-line kit you'll want to check out bikepacking.com or other sites that focus on reviewing the premium options.
Frame Bag
I usually recommend a frame bag as the first bikepacking-specific bag to purchase for new riders. It scores high on the weight distribution score (low and centered), fills frame space efficiently, and is very hard to imitate with a budget substitute. It even works great in combination with panniers for a touring setup.
There are budget frame bags, such as my personal favorite by Moosetreks, and there are high end ones, and some in-between. The most important part is to make sure the frame bag you choose will fit your particular frame.
What goes in a frame bag? Since it's low and centered, it's a great place to put heavy things. It's also easily accessible, so it's a great place to put things you use a lot. Here are some common things to carry in a frame bag:
Hydration bladder with hose routed up to handlebars for mid-ride sipping
Water filter (near the water bladder for convenience)
Repair kit, spares, and pump
Spare tube, protected in plastic at the very bottom of the triangle
Cooking kit and fuel, if small enough
Electronics, like a Kindle or mini keyboard on long trips (be sure to use a waterproof bag if you also have your hydration bladder in there)
Paper map or other big flat things that don't fit anywhere else
Small cable lock, if riding in populated areas
Of course, you definitely can't fit ALL of these things in your frame bag, unless you have a magic frame bag (please share your secrets!) If you happen to be riding a full suspension bike, almost none of it will fit!
These are just suggestions of things that commonly find their way into frame bags. Depending on the rest of your bikepacking setup, you might choose to pack some of these things elsewhere. For example, some people use a hydration backpack for water. Sometimes I put electronics in my seat bag. Sometimes the water filter goes in my handlebar bag.
Handlebar Bag
A handlebar bag, in the bikepacking context, is usually a cylindrical dry sack that attaches to your handlebars via straps or some kind of harness mount system. If you ride flat bars the bag can be nearly the full width of your bars, but most models can be rolled up shorter to fit between bikepacking-style drop bars (albeit with lower capacity).
Handlebar bags come in two different designs: a cylindrical bag that straps directly to your handlebars and stays there, and a harness with detachable cylindrical bag. The latter is a bit easier to unpack and repack, but otherwise they work similarly.
Here's a budget option from RockBros, and a premium option from Revelate. I'll tell you a secret though: a handlebar bag is probably the least-necessary bikepacking bag of the lot. You can replicate one surprisingly well with some dry sacks and a few straps! Definitely consider it if you're bikepacking on a budget.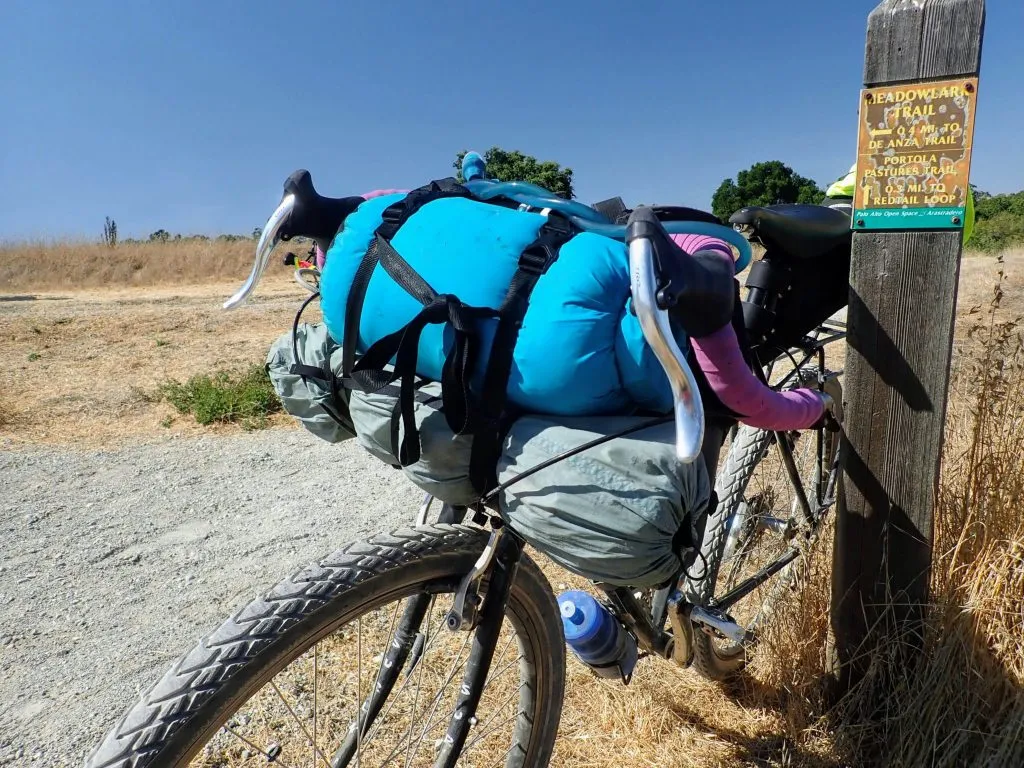 Most people use their handlebar bag for things that are lightweight (won't affect steering too much), stuffable, and/or already cylinder-shaped. Things you might pack in your handlebar bag:
Of course, not all of this will fit. One solution is to strap a second object, like a lightweight bikepacking tent or accordion-fold sleeping pad, to your handlebar bag. Take care not to make the handlebars too heavy though, especially on technical trails.
Sometimes you can attach a pouch to your handlebar roll for even more mid-ride-accessible storage. I love this one by RockBros, though Revelate and Ortlieb have similar designs at higher price points. Here's an example of the pouch attached on top of the roll bag:
A handlebar pouch is a great place for small odds and ends, like:
Snacks
Lunch
Warm gloves
Sunscreen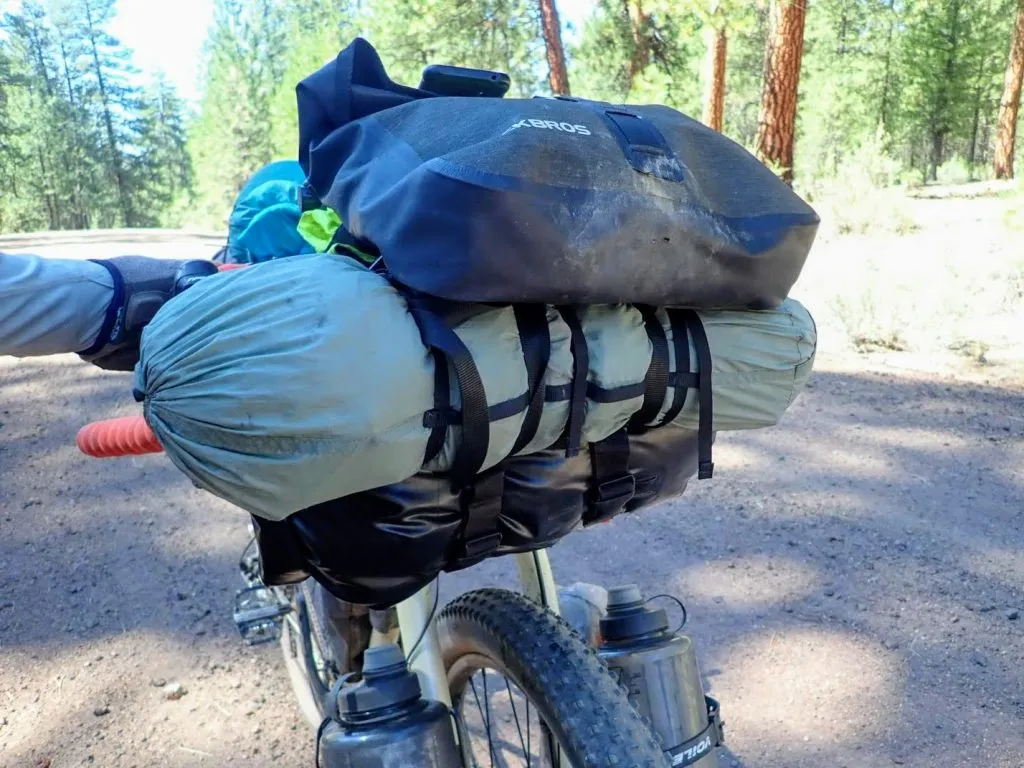 Seat Bag / Saddle Bag
There's no more distinctive component of the bikepacking look than that funny-shaped triangular-ish thing sticking way back behind your butt. I know what you're thinking: so this thing is supposed to hold basically all the rest of my stuff?
Seat bags come in a variety of sizes, styles, and price points. Here's a budget version from Roswheel, and here's a premium version from Revelate (those locking buckles may alone be worth the extra money if you suffer from tire rub). Make sure whatever model you choose fits between your seat and rear tire (dropper seat posts will complicate this).
Things commonly packed in a seat bag include:
Food
Cooking gear
Extra clothing, especially warm layers not usually needed until camp
First aid kit
For extra capacity: If you're desperate for more capacity on your bike, the top of your seat bag is one place to find it. You can strap a lightweight stuff sack, camp sandals, bag of potato chips, or foldable sleeping pad to the shock cord on the top. Just be sure to tether it redundantly with something that canNOT come undone, if you want it to still be there next time you look back.
How to Pack a Bikepacking Seat Bag
Maybe it's just that I'm a shorter person with a 29er bike, but I find seat bags to be the hardest piece of bikepacking gear to pack right. Without very precise packing I inevitably end up with a saggy, droopy, tire-rubbing nightmare.
Here are my tips for how to pack a saddle bag:
Pack heavy stuff (dinner food, cooking gear) toward the seat post and light stuff (rain gear, puffy jacket) toward the back.
Pack stuff you won't need during the day (dinner food, cooking gear) toward the seat post and stuff you might need (rain gear, puffy jacket!) toward the back. (What a coincidence, that actually works out well!)
Lose the stuff sacks. Instead, compact everything into a single solid mass. The structural integrity comes from compression.
Those straps that go around your saddle rails – leave them a bit loose until after you're done stuffing the bag. Then tighten them up and let them help compress the stuff in the bag.
If your bag is still droopy, you may need something stiff to give it structure. This could be two camp sandals positioned along the sides, or a piece of cardboard on the bottom.
Tire rub can be a frustrating issue for shorter riders on 29er bikes. If careful packing and secure buckles (some buckles on cheaper models tend to loosen over time) don't fix it, you may need a different seat bag or a more creative option.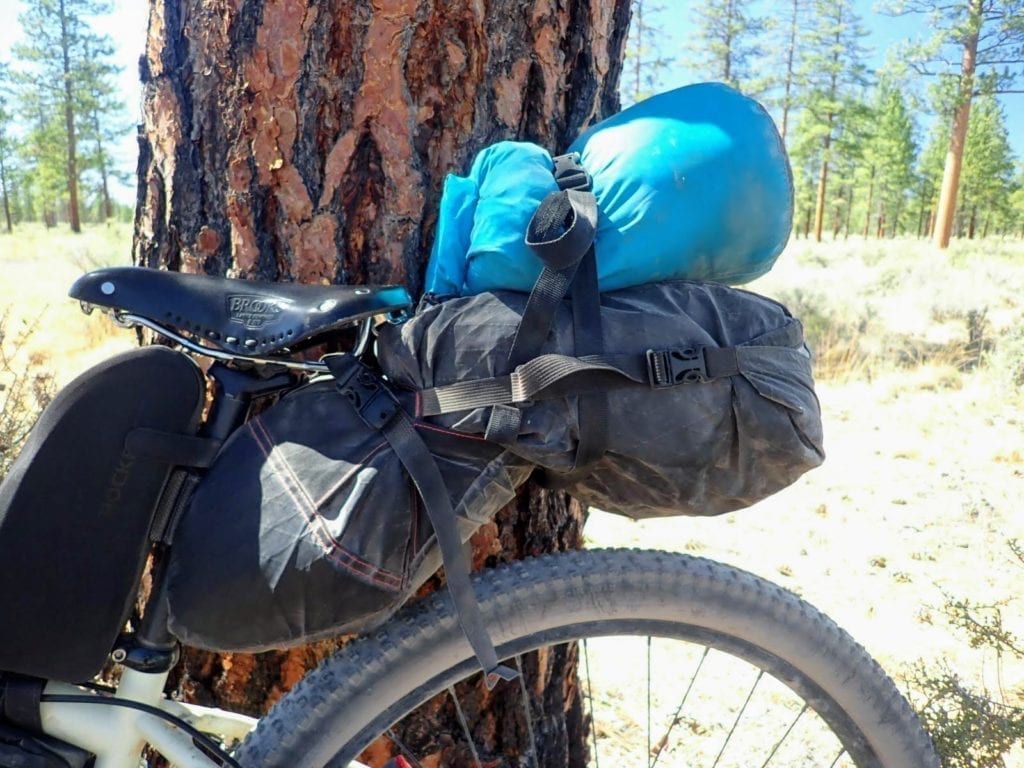 Feed / Stem Bags
Named because they attach to your stem and are often used for snacks, these little bags are super convenient for things you reach for often while riding.
There are specialty versions for bikepacking, but the astute person with some rock climbing experience will note that they're basically chalk bags. Here's a budget version I love that is actually a chalk bag, here's a semi-budget bikepacking-specific option from Moosetreks, and here's a nice premium option from Revelate. More about stem bags here.
Items commonly carried in stem bags include:
Snacks (it can't be a coincidence that stem bags are perfectly shaped to hold a roll of mini donuts)
Sunscreen
Sunglasses, when not worn
Camera
Extra water bottle
Bear spray, if applicable
Top Tube Bags
Your top tube – that is, the tube forming the top of your frame triangle – is another excellent place to tuck small items. The best top tube bag size and position depends on the size and geometry of your bike and body. You don't want the bags to bulge out and graze your thighs while pedaling, and you don't want them in the way of any important anatomy when you're standing over your bike.
But if you have the frame space for them, top tube bags are great. They're also sometimes called fuel tanks and jerry cans. They can go either toward the front, nestled in the corner between top tube and stem, or toward the rear, nestled between top tube and seat post.
Here's a budget RockBros top tube bag (which I love) and a premium Revelate version. This "jerry can" shape from Revelate more commonly goes in the back against the seat post, but you can put either shape in either place if it works for you. And here's a bunch more, if you're feeling picky.
These guys seem small, but don't underestimate them. They can fit a surprising amount of odds and ends that would otherwise end up buried deep in your seat bag, out of reach and taking up space.
Good items to put in top tube bags:
Snacks
Sunscreen, chapstick
Small first aid kit
Tools
Lights
Power bank for charging electronics
TP / bathroom baggie (you do pack out your used TP, right?)d
Fork
If all your bags are full and you still have more essential stuff to pack (and you're sure you really need it), it's time to involve your fork.
Some bikepacking-focused rigs already have bolts on the fork blades that are perfect for easily mounting a bottle cage. If your bike isn't so well-equipped, you have some other options, including good old fashioned electrical tape. Whatever you choose, do make sure there's no possible way it could come loose and jam your front wheel.
However you attach it, your fork is a great place to consider an oversize cage. I love these Blackburn Outpost cages with the straps replaced by a single Voile strap.
Fork cages work well for water bottles, or other items that are roughly water bottle shaped. Here are some items you might want to carry on your fork:
Water bottles
Inflatable sleeping pad
Cook kit and fuel
Small dry sack with clothing, tent fly, etc.
Do keep in mind that loading up your fork, especially with heavy water bottles, will interfere with your bike's finesse on rough and rocky terrain. I try to avoid it unless I'm riding mostly gravel, but sometimes you gotta do what you gotta do if you want to cross deserts and whatnot.
Backpacks and Hip Packs
Shifting a bit of gear from your bike to your body can be a key packing strategy for bikepackers with smaller bike frames or full-suspension rigs.
On the plus side, packs are a convenient way to carry water and keep your bike lighter for hike-a-bikes or carries. On the minus side, they place more weight on your saddle area (or legs, if climbing out of the saddle) and can contribute to back and shoulder fatigue. For these reasons, riders more commonly turn to backpacks on rugged and technical routes, but they can work well in other cases too.
If you do choose to bikepack with a backpack or hip pack, choose a relatively small pack that fits well and doesn't chafe.
Common items to pack in a backpack or hip pack include:
Water in a hydration bladder
Food and snacks
Layers for warmth or rain
Still wondering how to pack for bikepacking?
I know, I didn't actually tell you exactly what to put where. As promised, I left plenty of room for individual creativity. But if you're feeling a bit overwhelmed and wondering where to start packing for your bikepacking trip, here's what I would suggest:
Figure out your handlebar situation first. What fits best there? Can you easily carry two items – say sleeping bag stuff sack and tent – with a good handlebar harness or some creativity and extra straps?
Figure out your water plan next. Here are a bunch of ideas.
Stuff clothing and remaining sleep items into seat bag, see how much room is left over.
Put as much heavy stuff as you can fit into your frame bag, including water if that's part of your water plan.
Find easily accessible storage for the small odds and ends. Maybe a top tube bag and a stem bag or two.
What's left? Look for items that can be easily attached to other items or put in dry bags in cages on your fork.
Go through your packing list, remove any non-essential items, and repeat the process until it all somehow fits.
Handlebar / Cockpit Space
Once your bike is all loaded up with a handlebar bag and stem bags, you may find that handlebar space is sorely lacking.
If you run a GPS navigation device, phone mount, headlight, or other handlebar gizmos, you might appreciate this handlebar extender. It gives you a few extra inches of handlebar space above your actual handlebars, which is especially handy for elevating a headlight so it isn't blocked by bags.
If lighting for night riding is a key issue, you can also free up handlebar space (and arguably get better visibility) by combining a helmet light with a fork-mounted light using one of these gizmos.
Bikepacking Pack List
It's hard to give a definitive bikepacking gear list since terrain and climate vary so much. But, staying away from specifics like exactly how cold your sleeping bag should be rated for and whether you'll find any trees for hammock camping, here's a general bikepacking gear checklist.
Keep in mind that some of these items are optional, especially in warmer climates. See the next section for some suggested items to NOT pack if you're trying to cut weight and bulk from your gear.
Sleep:
Tent or other shelter
Sleeping bag or quilt
Sleeping pad
Clothing:
Base layer shirt
Bike shorts
Mid-layer warm shirt
Mid-layer warm tights
Down or fleece jacket
Rain jacket
Rain pants
Accessories:
Cycling gloves
Warm gloves
Rain booties
Sunglasses
Sun sleeves
Buff or bandana
Spare socks
Camp sandals
Food and Water:
Stove and fuel
Pot and/or mug
Utensil
Water bladders and bottles
Water filter or purifier
Electronics:
Navigation device: phone or GPS
Power bank(s)
Charging cables
SPOT or Garmin satellite communicator
Tail light
Head light
Ear buds, if desired
Spare batteries, as needed
Details: electronics for bikepacking
Toiletries:
Sunscreen
Chapstick
Chamois cream
Toothbrush
Toothpaste
Toilet paper and plastic waste baggie
Other personal items
Details: what's in my lightweight toiletries kit
Odds and Ends:
First aid kit
Tools and spares (full list here)
Helmet mirror, high-viz clothing, other safety items
Wallet and ID
Paper maps or backup navigation
Ziplock baggies and trash bag liners for waterproofing gear
Bike lock, if needed



Tips for Packing Lighter
Bikepacking is to bike touring as lightweight backpacking is to traditional backpacking. Fast and light, or at least light, is the theme to strive for. Many lightweight backpacking tips apply to bikepacking as well, such as finding clever multi-use gear and ruthlessly eliminating any unneeded gear.
Here are a few ideas to help you trim down your bikepacking pack list:
No need for spare changes of clothes out in the wilderness. Just bring one stink-resistant merino wool shirt and get used to smelling like the wild human creature you are.
Same goes for deodorant and soap! Really!
A stuff sack full of clothing makes an excellent pillow.
Do you really need a stove if you'll be passing though a town with fresh food every couple of days? These bikepacking food ideas might help you decide.
Camp sandals are strictly optional and one of the first items I leave behind on a lighter-weight trip.
More Bikepacking Resources
If you're trying to solve the packing puzzle for your upcoming bikepacking trip, you might find these helpful too:
Bike resources in your inbox?
There's more where this came from! Sign up here for occasional emails full of inspiration and information about bikepacking and bicycle touring.


Share the Adventure
If you found this article helpful, please consider sharing so more people can benefit from it:
Pin For Later