Idaho Smoke 'n' Fire 2019 Bikepacking Adventure
When I try something new, I like to jump right in. After clawing my way across the country in the inaugural Bike Nonstop US ride/race/event, I decided to rewind to where I should have begun and try a shorter race. I also decided, having shared too many roads with too many cars, that I wanted to redirect my bicycle obsession to gravel and dirt. And finally, I looked at my calendar and noticed summer was almost over.
Thus, I decided to ride the 2019 Idaho Smoke 'n' Fire 400+ bikepacking race in September. Idaho had been one of my favorite sections of Bike Nonstop, its wide open spaces and mountain scenery suiting me perfectly. The Smoke 'n' Fire course traverses some of the same areas but trades highways for backcountry trails and national forest roads.
I was excited to see that the Smoke 'n' Fire course would intersect briefly with the Bike Nonstop course. Maybe my sleep-deprived and exhausted self would cross paths with the sleep-deprived and exhausted ghost of my Bike Nonstop self, somewhere on a moonlit highway near Stanley. In these races I get tired and loopy enough that anything can happen!
So I found myself at the start line of the 2019 Smoke 'n' Fire 400+ bikepacking race in Boise, Idaho, on a chilly September morning. I was surrounded and welcomed by a group of mostly local riders, all friendly, excited, and ready to roll.
Four and half days later, basically an eternity, I closed the loop and returned to Boise much dirtier, hungrier, and sleepier than when I started. I was officially second-to-last place, though about a third of the field didn't finish at all. As usual, place doesn't matter much in these rides, at least for those of us in the back of the pack. What matters most, to me at least, is everything I learned and experienced along the way while pushing my limits alone in the Idaho backcountry.
My intent here is to share what I learned during the ride, and what I wish I'd known ahead of time, to help other riders decide and prepare. I definitely don't want to take all the fun out of it, but I know it's a big commitment of time and money and energy to line up at these events. Maybe, by sharing the lessons I learned the hard way, I can help others make a good decision and get the most out of their attempt.
Prior Biking Experience
So you know how many grains of salt to take my advice with… I'm fairly experienced at self-supported bicycle travel, but new to bikepacking. Before the Smoke 'n' Fire I'd logged about 4000 miles of bicycle travel in Southeast Asia and South America, plus 3500 miles of back-of-the-pack "racing" across the US in Bike Nonstop. Most of this was solo, and mostly on pavement and some light gravel.
My focus is definitely long-distance – I rarely ride if there isn't an overnight involved – and non-technical terrain. A mountain biker I am not, nor am I a competitive rider. I just like to connect dots on maps, sometimes quickly. So while Smoke 'n' Fire felt familiar in some ways (riding solo, camping out, being self-sufficient), in others it was an experiment in a new world (backcountry riding, some technical trail, bikepacking style).
Bike Choice
Let's get this out of the way early, because it's a little embarrassing. At the time I rode Smoke 'n' Fire I only owned one decent bike: my beloved Surly Long Haul Trucker. She's been my trusty steed for 7500+ miles, is bombproof, and we have a great relationship. With the frame-tire clearance maxed out (26×2.1″) and some Cowchipper handlebars, I asked her to pretend to be a bikepacking rig.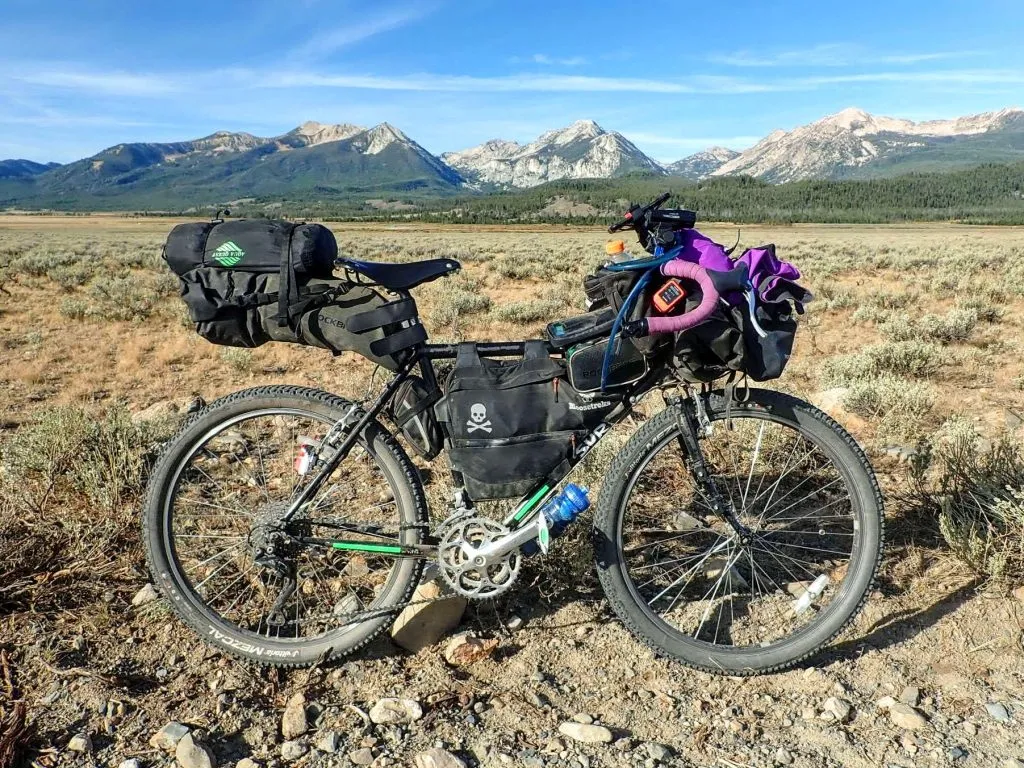 She tried, she really did. So did I. It didn't work. Those bar-end shifters, for one thing, just aren't great for riding rough terrain. The tires (with tubes) were too small, and the steel frame – tuned for heavily loaded pavement touring – much too bouncy. Combined with my lack of mountain bike skill, this meant walking far more of the rocky sections than I'd care to admit.
She's not light either, maybe 60 pounds when loaded, which is about half of me. This would become painfully problematic on some of the tough hike-a-bike sections where carrying would have been more efficient.
So what bike should people actually choose for Smoke 'n' Fire, if they have a choice? Most people rode hardtails and these seemed to work well. A few folks rode rigid mountain bikes like Salsa Fargos, and there was at least one full-suspension trail bike. Any of these would be better than a Long Haul Trucker.
Terrain
Some race reports from prior years suggest that Smoke 'n' Fire is mostly non-technical and doesn't have much singletrack. This may be true compared to other bikepacking events, or maybe those reports were out of date (I heard more singletrack has been added since the race first started).
For someone like me coming from a gravel and touring background and riding a touring bike, it felt like more than enough tricky singletrack to contend with. On every day except the first, I was slowed to a walk by at least one section of trail too technical for my bike and skill level.
If you're coming from an actual mountain biking background, I doubt you'll have much trouble at all. But this course is definitely more rugged than a gravel route. Some places demand a certain level of riding skill, and if you don't have it, be prepared to slow down, scoot along with a foot out, or even walk.
Elevation Profile
The Smoke 'n' Fire course claims about 35,000 feet of elevation gain in around 420 miles. For a rider like me this was manageable, but just barely. The high points nearly touch 9000 feet and the course spends a lot of quality time above 6000 feet. For a sea-level dweller like me, the altitude was definitely a factor and left me feeling pretty wiped coming over the big climbs.
The course is always going either up or down, but there are three sustained climbs that stick out:
Dollarhide summit at mile 129: Mostly rideable, and in hindsight, the one I'd choose first if I had to ride one again (in other words, the easiest).
Titus Lake and Galena Summit at mile 186: My own private circle of hell. In the dark, exhausted and slightly altitude sick, this was a brutal hike-a-bike for me. I had trouble hefting my bike over all the boulders. I camped at the lake, totally exhausted, and the next morning found that the climbing eases up just past the lake.
Scott Mountain Road summit (climb from Deadwood Reservoir) at mile 335: Sustained and steep, I heard other riders complain about this one. They were strong enough to ride it though. Personally I hiked up most of it and didn't find it that bad, as a hike. As a ride it would have killed me.
As if that weren't enough, there are also two more stout climbs in the last 50 miles, before and after Placerville. They are rolling and quite steep in places, and not as scenic as the others, but at least the end is almost in sight.
Pacing
The race is "short" enough that the front of the pack basically doesn't sleep or only takes a short nap or two, finishing in less than two days. The middle of the pack might spend a couple short nights under the stars. The back of the pack, where I hung out, either spends some leisurely nights camping (for faster riders) or, like me, rides too slowly and still doesn't sleep enough.
Here's what I wish I'd known: to stay in the mix, you need to get over Dollarhide and down toward Ketchum on the first night. I chose to camp before Dollarhide on night one, having already overshot my average daily mileage goal, but this turned out to be a bad move.
It turns out day one has more than its fair share of fast and smooth gravel roads. After 115 miles on day 1, I slowed dramatically to only 70 miles on day 2 after struggling with technical singletrack and an absolutely exhausting hike-a-bike to Titus Lake. I never did hit my day 1 mileage again during the race. If I were to ride this again, I'd try hard to front load more miles on the first day.
Camping and Motels
This is one of my favorite things about the Smoke 'n' Fire course: you can camp almost anywhere! National forest land abounds. In Bike Nonstop I sometimes gave up daily mileage because I didn't feel comfortable camping in populated areas, but in Smoke 'n' Fire I felt comfortable riding late into the night, knowing I could find a safe and private bivy spot almost any time I wanted.
I camped all 4 nights, but some folks stay in motels in Ketchum and Stanley.
Food and Water
Water is pretty easy to find throughout the course. I don't think I ever carried more than 3 liters. For longer or more leisurely bikepacking trips I use a more involved water treatment system, but in this case I just brought chlorine dioxide drops for quick on-the-go purification.
Food resupplies in general are reasonably spaced, and I don't think I ever carried more than a day of food, maybe 1.5 days. There are a couple gotchas though:
Most of the resupplies close in the evening. I'm not sure but Ketchum might be the only stop with a 24-hour convenience store. If you arrive too late you'll have to choose between skipping a resupply and waiting until morning. It's best to have some emergency reserves to help in these situations.
A few of the listed resupplies are off course. Initially I planned to skip all these, but after Stanley the options are kind of limited. I was running a little lean and ended up making an unplanned detour to Garden Valley. The lure of Subway was just too strong and all the climbing had worn me out.
Navigation and Electronics
I navigated using the RideWithGPS app on my phone. I don't have a dedicated Garmin for navigation, so I brought a second backup phone with the route cached there as well. The GPS route is critical, but the cue sheet available on the website is also surprisingly helpful. I used both.
I used my Garmin InReach Mini for tracking and found the battery life acceptable with 10 minute tracking intervals. I did have to charge it a few times, but it didn't take much from my power bank.
For lighting I used both a handlebar light and a helmet light. Having both was really key on the rockier trails at night, even with a brilliant full moon.
To keep all this charged I carried a couple Anker powerbanks. They're heavy, but I don't have a dynamo hub and wanted to make sure I could keep my navigation, tracking, and lighting all charged without taking long stops at restaurants or motels.
Weather
2019 was a good year for weather. We had no rain and mostly sunny skies. But… Idaho can be COLD this time of year. I knew this going in, packed sufficient gear for sub-freezing temps, and it still took my breath away. I woke up to frost and sub-freezing temperatures at least twice, which didn't make it any easier to drag myself out of my bivy before sunrise.
The area around Stanley is notoriously chilly. Though lower in elevation, valleys were often the coldest places in the late night and early morning, making the higher elevations more appealing for bivying. I suffer from colder hands and feet than most, and found my lobster gloves and fleece-lined rain booties absolutely essential for mornings and nights.
Even though we got lucky with the weather in 2019, I would absolutely recommend bringing a full set of reliable rain gear in addition to warm layers. Most of the course is a long way from anywhere. You don't want to be caught in wet clothes when the temperatures drop to freezing.
Vehicle Traffic
The amount of traffic on the course is really pretty negligible. Certain sections at certain times of day have a few RVs and pickup trucks, but typically they are moving slowly on the dirt and gravel roads.
The only section that gave me pause was the 10ish miles of highway into Garden Valley. By road riding standards it's empty. But after days in the backcountry, the traffic was noticeable and fast. I was glad to have a high-vis yellow vest for that stretch.
Bags and Gear
This was my first crack at using bikepacking bags, and my budget RockBros setup worked but wasn't fully dialed. Straps loosened frequently on rocky sections, causing tire rub. I would definitely recommend a dialed and stable bikepacking setup for this ride.
Though the cold temperatures can make it hard, packing as light as possible will pay off. As a small person I wished for a backpack a couple times – the washout before Smoky's Bar and the climb to Titus Lake – to take a bit of weight off my bike while hefting and carrying through awkward hike-a-bikes. My guess is that bigger and/or stronger riders won't notice this as much.
My Route and Pace Notes
I won't spoil too much of the surprise for you, but here are some brief route notes and my camping locations for each day. My finish time was 4 days, 11 hours and 56 minutes.
I usually rode until 10 or 11pm each night, and woke at 4 or 5am each morning, except the last morning when I accidentally overslept. Despite the relatively long breaks at night I never felt well rested; it took time to set up camp and eat each night, and the cold often kept me awake.
Day 1: 115 miles
Bike path and some rocky stuff early on, then lots of smooth dirt roads and beautiful open scenery. Bypassed the Y Stop by packing a lunch and took my first real break for dinner in Featherville. Negotiating the washout in the dark before Smokey's Bar was sketchy. Rode another hour or so up the road toward Dollarhide and camped at a gravel pullout near some hot springs.
Day 2: 70 miles
Freezing cold night, up and over Dollarhide by early morning. Then progress slowed abruptly on rocky singletrack and a long slog into headwind on Harriman Trail. Galena Lodge kitchen was closed for a bike race (ironically) but they fed me what they could. Climbed to Titus Lake in the dark, really struggled with the altitude and the hike-a-bike. Decided to camp at the lake, just too exhausted to safely continue and worried about effects of altitude.
Day 3: 84 miles
Finished up the climb to Galena Pass by sunrise, luckily it got easier. Finally some smoother dirt and gravel roads. Then the Fisher Creek loop, some tough hike-a-bike on the way up but lovely singletrack on the way down. Totally worth the out and back. Then more rocky singletrack, a resupply in Stanley, and sunset riding into the hills. A few quick paved miles, then more rocky trail in the dark, exciting. Bivied in the trees off dirt road after a stretch on empty Highway 91.
Day 4: 100 miles
Really really cold morning! Water froze, thawed, then froze again. Started feeling better around Deadwood Reservoir. Got into a good groove hiking up and over Scott Mountain. Rode the highway into Garden Valley for a Subway sandwich and resupply, then headed back up into the hills as sun set. The forest there was a little creepy, not so pristine, lots of steep little climbs. Camped just before the section known as Mordor.
Day 5: 47 miles
First not-totally-freezing night, as a result I overslept! Up after sunrise and working my way through Mordor. Hard to get into a rhythm in this section. Some ski area trails, steep climbs, singletrack, and then lots of downhill. Finally coasted into downtown Boise! Tired and in need of shower and warm bed. But what an epic ride!
Packing Notes
Clothes
Bike shorts (worn)
Baggy overshorts (worn)
Merino tshirt (worn)
Socks 1 pair (worn)
Buff (worn)
Bike gloves (worn)
Midweight long sleeve shirt
Long johns
Down jacket
Yellow vest
Rain jacket
Rain pants
Rain shoe covers
Rain gloves
Lobster gloves
Electronics and Navigation
Phone
Backup phone
Printed cue sheet
Garmin InReachMini
Earbuds
Camera
USB charging cables (2) and wall plug
Handlebar light
Helmet light
Red tail light
Anker Power Core battery (2)
Sleep and Shelter
Sleeping quilt
Down hood
Thermarest pad (NeoAir XLite)
Waterproof bivy (AquaQuest, cheap, would not recommend)
Miscellaneous
Sunglasses
Sunscreen
Arm sun sleeves
Minimal toilettries (toothbrush, toothpaste, contact solution and case)
Tiny first aid kit
Bike multitool
Leatherman tool
Spare tube
Small bike repair kit
Lightweight lock
Helmet mirror
Helmet
3L water bladder
Aquamira drops
Community
Though I was nearly DFL ("Dead f-ing last" as we say in ultrarunning. Is that a bikepack racing term too?), a small handful of very kind souls greeted me at the finish line in Boise. These lovely people reminded me that although I had ridden all but a couple dozen miles in complete solitude, I shared the course with many impressive, supportive, and delightfully crazy folks.
Thanks a bunch to the organizers, fellow riders, and supporters of the Smoke 'n' Fire 400! I'd love to come back and try this epic ride again one day… Maybe with a different bike though.
After The Race
After a few days of stuffing my face, sleeping a ton, and enjoying Boise, I got back on my bike and started pedaling toward California. Here's how that went.
More Bikepacking Resources
If you're into bikepack racing, you might also enjoy the bikepacking resources section, or these posts:
Share the Adventure
I put a ton of effort into these guides because I want to help other people realize their adventurous dreams.
If you liked what you read, would you mind giving it a quick share on your favorite social media so other aspiring adventurers can find it too? Many thanks!
---