The Idaho Smoke 'n Fire 400 was the first time I truly felt part of the bikepacking community, back when solo touring was my main thing. What's pulled me back to Boise three more times, even more than the beautiful and engaging route, are the fun friendly people and strong community vibes. I thought I'd already experienced the best this event has to offer, but this year's Smoke 'n Fire unexpectedly topped them all in many ways.
My original goal was to beat my time from last year – a modest but very hard-earned 3 days, 22 hours and 25 minutes. I hoped the combination of my new bike, experience at other events through spring and summer, and a bit of work on singletrack skills would come together for a faster time. Whether I was in excellent shape from an intense month of bikepacking in Central Asia, or still exhausted and in need of recovery, remained to be seen. I was excited to put all these factors to the test on a familiar route.
As so often happens in bikepacking though, the natural environment calls the shots and we adapt. Just two days before the aptly named event, a wildfire grew out of control and blocked a portion of the Smoke 'n' Fire route. For a day or two, while I was already on the road to Boise, we weren't sure if the event would even happen. But organizers Norb and Bart came through with a last minute reroute, changing the course from its traditional loop to an out-and-back over the second half.
This was interesting! At first I was disappointed – how would I compare my performance to past years if the route was different? And I would miss riding many familiar sections I looked forward to. But while talking with friends in Boise I felt the growing excitement of a new challenge. Even the old timers were scrambling to recalculate their race plans and resupply strategies. Would the reroute be harder or easier, faster or slower? Only one way to find out!
Because of the route change and the fact that I've ridden the event a few times, this writeup will be lighter on route beta, logistics, and pictures. I've covered most of that for the original route in my writeups from 2019 and 2020 as well as 2021, so if you're doing research for a future year be sure to check those out too.
The Route
The fire reroute for 2022 followed the second half of the loop in reverse to a turnaround at Redfish Lodge, then retraced itself almost exactly back to the start. Thus the second half would be exactly as usual, and the first half would cover familiar ground but in the opposite direction. The distance would be 50 miles shorter but with the same amount of climbing as the original. Resupply would be scarcer that usual during the first half, at small stores with limited hours.
Take a look at that first hundred miles – ooooh boy! That's two 4000 foot climbs on the first day for most riders, with even more climbing sandwiched between. Much of that first big climb is on singletrack. And the second big climb – the super obvious huge one at mile 78 – is a relentlessly consistent 8-10% grade. That's Scott Mountain, a climb we already dread going the other direction where it's half as tall. Now we'd have to climb it both directions!
Each year a few brave souls choose to ride "Fire 'n Smoke," following the loop clockwise instead of counterclockwise. So a few folks knew what to expect on the way out, but even they had never turned around and ridden back. Instead they got to cruise some easier miles around the loop to the finish. That first / last hundred miles is tough going both directions, and now we would all be covering it twice. "Fire 'n Fire" seemed a fitting name.
Any endurance athlete knows that out-and-backs… well… they suck. Running yourself ragged to reach an arbitrary point, just to turn around and go back, takes a ton of mental effort and attitude management. Yes you know what to expect and can scout camp locations and whatnot, but you also know that every enjoyable downhill has to be climbed later – try not to think about it! Loop and point-to-point courses obscure the ridiculous of our endeavor, but out-and-back courses hit us with it head on. Looking back on the results I'm sure this extra mental challenge contributed to the 44% DNF rate.
Idaho Women's Bikepacking
For the second year I have to highlight the amazing showing by the Idaho Women's Bikepacking group. The group began in 2021 as an informal mentorship program for women who wanted to ride Smoke 'n' Fire and felt they needed help preparing. Founder Laura Heiner, a now six-time SnF veteran and consistent force of positivity and warmth in the SnF scene, leads training rides and runs a Facebook group where women teach and support each other in all things bikepacking.
Thanks in large part to this group, 27 women (out of 84 total riders) started SnF this year! That's a much larger percentage than usual, and possibly the most women ever to participate in any bikepacking race! My first year in 2019 there were 10 of us women out of 76 total. In 2020 we were only 4 out of 66.
Though my love for SnF predates this group and I've never felt limited by my gender while bikepacking, the increase in women riders makes my own SnF experience even better. I've always felt accepted by male bikepackers and enjoy their companionship on the trail, but inside I've often felt like an oddity and a curiosity, notable more for my gender than my other qualities.
There is something so relaxing and empowering about riding with other women (something I got to do a lot of at SnF this year) and feeling more balanced gender vibes throughout the whole event. It's hard to explain, but I think the presence of so many other women allows a part of me that's usually suppressed in this context to come out and play. Nothing beats feeling fully like myself while doing this intense activity I love so much.
Finally, I think it's good for everyone – women throughout the pack and also men – to see a full female field out there. From super-fast riders like Lauren Brownlee who took second place overall(!), to beginners trying their first bikepacking race at the back of the pack, to plenty of mid-pack riders like myself, we represented the full range. Usually that variety is reserved for the men's field due to their sheer numbers. Said another way, it was so nice to just feel normal out there.
Ok, on to the day by day notes!
Day By Day Report
Pre-Race
I arrived in Boise on Monday afternoon in advance of the Wednesday morning 4am start. I came directly from Burning Man, a bit of an endurance event and outdoor adventure in its own right, so I was hoping to get some good rest before the start.
This year again I was fortunate to stay with fun and generous friends I've made through SnF. It says a lot about the local bikepacking community that I've only once stayed in a hotel in Boise, and that was before starting my very first SnF. Every year another awesome bikepacker finds a place for me – big thanks to you all!
This year was especially fun thanks to the energetic buzz around the reroute; we had a lot to speculate about while packing and prepping our bikes. I managed to get a few hours of sleep before my 3am alarm, and then it was off to Hyde Park in the dark.
Day 1: to top of Scott Mountain, 88 miles, 13865 feet climbing(!)
This was it, the BIG first day on the modified route. We would be reversing the usual descent to the finish, including over 4000 feet of mostly singletrack climbing in the first 17 miles. Temps were forecast to hit 100 degrees, and many of us hoped to tackle the second 4000 foot climb up Scott Mountain later in the afternoon. We had our work cut out for us.
It was an interesting start, nearly ninety people climbing singletrack in the dark. I hung back and took it easy, settling into my usual slow-and-steady style and letting many riders pass. By sunrise we had thinned out and I welcomed the daylight as I chugged steadily upward. I always look forward to getting through the nervous energy of the start and settling into my own sustainable rhythm.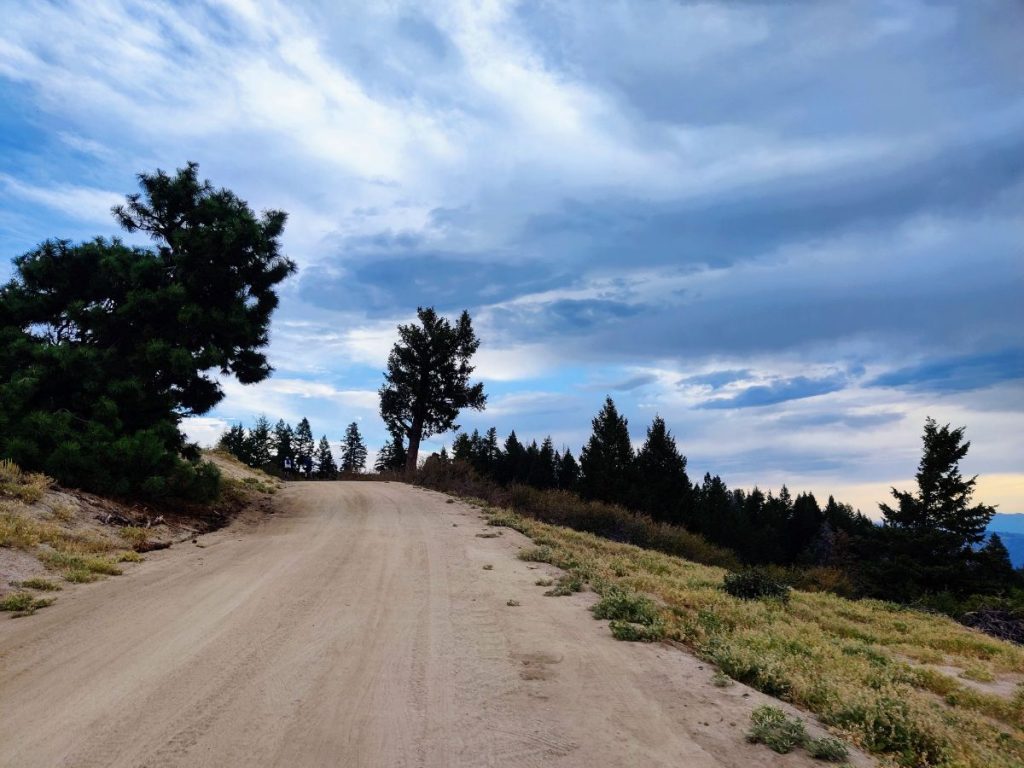 The afternoon was hot, but the mercifully overcast sky took the edge off. I reached the first resupply in Placerville around noon and was surprised to see dozens of other riders there. Perhaps I wasn't as far back in the pack as usual? We scarfed hot pockets and burritos and refilled water, then headed out into "Mordor" to trace the familiar meandering path in reverse.
The descent to Garden Valley was fast and long. I tried to enjoy it and not think about the impending climb back up on the return trip – oh the joys of an out-and-back course. I was at the gas station by dinner and enjoyed catching up with other riders as I stocked up on two Subway sandwiches and a big pile of snacks for the next day. From there a dozen highway miles led to the obstacle we were all dreading: Scott Mountain in reverse.
I really lucked out on this climb, the first of many sections I would share with good company. Self-supported bikepacking events are inherently solo endeavors, but there's no rule against enjoying companionship when it happens to find you. Near the bottom of the climb I ran into Laura, then Kristen and Liz. Together we hiked and pushed for several hours, pulling each other along through tired spells to reach the summit by midnight. It was surprisingly warm up there, so we spread out our bivvies by the road at the very top under clear skies.
After my usual routine – setting up my sleep system and shoveling in food while doing some gentle stretching – I laid down and tried to sleep. You'd think sleep would come easily after 20 hours of difficult riding, but I felt wired. This happens sometimes during races. It's as if my body goes into emergency mode and overrides the need for rest, then misses the memo when rest is finally allowed. Of the four hours I spent in my bivvy I slept for maybe two.
Day 2: to singletrack above Redfish Lake, 100 miles, 6700 feet climbing
The four of us were up at 5am and soon descending Scott mountain in the dark. It still wasn't too cold, always a gift on this often-chilly route. I rode my own pace and mostly alone, but still managed to see other riders through the Deadwood, Bear Valley, Cape Horn, and Elk Mountain sections. It seemed Laura, Kristen and Liz were always just ahead, finishing up a quick snack or layer changing break when I rolled up.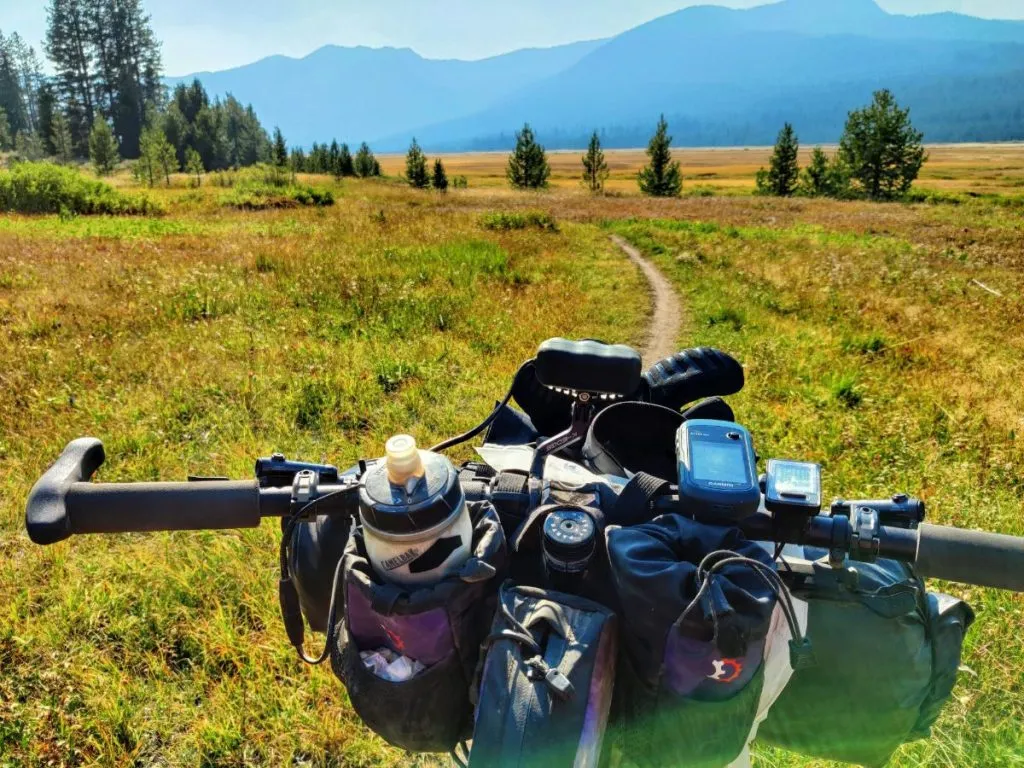 These sections went faster than I expected – was it better road conditions, my new bike, or improved fitness? I was in Stanley by dinnertime. Though I try to avoid the time suck of restaurants during races, I knew this might be my last chance for a big meal thanks to the reroute's sparser resupply options. I sat down for a burger and fries at the restaurant with the other women and enjoyed a proper break.
Stanley is the biggest town on the reroute and situated near the turnaround, and it was bustling with bikepacking activity. Riders just ahead passed through for the second time while those further back arrived for our first, everyone cheering and waving to each other. Though the out-and-back was mentally hard in many ways, the opportunity to cross paths with all the other riders was a fun benefit. Unfortunately Stanley was also the scene of some struggles as riders sought hotel rooms to put themselves back together, came to terms with ride-ending issues, or decided their heart simply wasn't in the return journey.
Three of us pedaled out of Stanley together in the dark. Our goal was to touch the turnaround at Redfish Lodge and see how far we could get on the return before running out of steam. Though dinner had given us a second wind, it was no match for the rocky singletrack climb. At least it was warm up there, far warmer than down at Redfish Lake or Stanley. I felt loopy and unbalanced after my short sleep on night one, so it was an easy decision to bivvy with Laura, Kristen, and Danica in a patch of warm air after climbing back up from the turnaround.
My hopes for three hours of good sleep were dashed by a clogged nose and sore throat. When I finally managed to sleep I dreamt of suffocation. In the morning the reason was clear: smoke from the nearby fires had rolled in and the air was heavy and gross. Hello Smoke 'n' Fire…. Every year now this happens, and every year we joke that we can't complain: the warning is in the name of the event. But we also know it's gotten worse over the last couple years, and we worry about what the future holds for this event, the American west, and the planet in general.
Day 3: to top of Scott Mountain, 96 miles, 6600 feet climbing
At 5am we were hiking down the rough singletrack back to Stanley, and it was COLD down there! With numb fingers and frozen hydration hoses we waited eagerly for the gas station to open at 7am. The hot coffee and burritos were well worth it, and we felt great about our decision to sleep higher on the warm singletrack.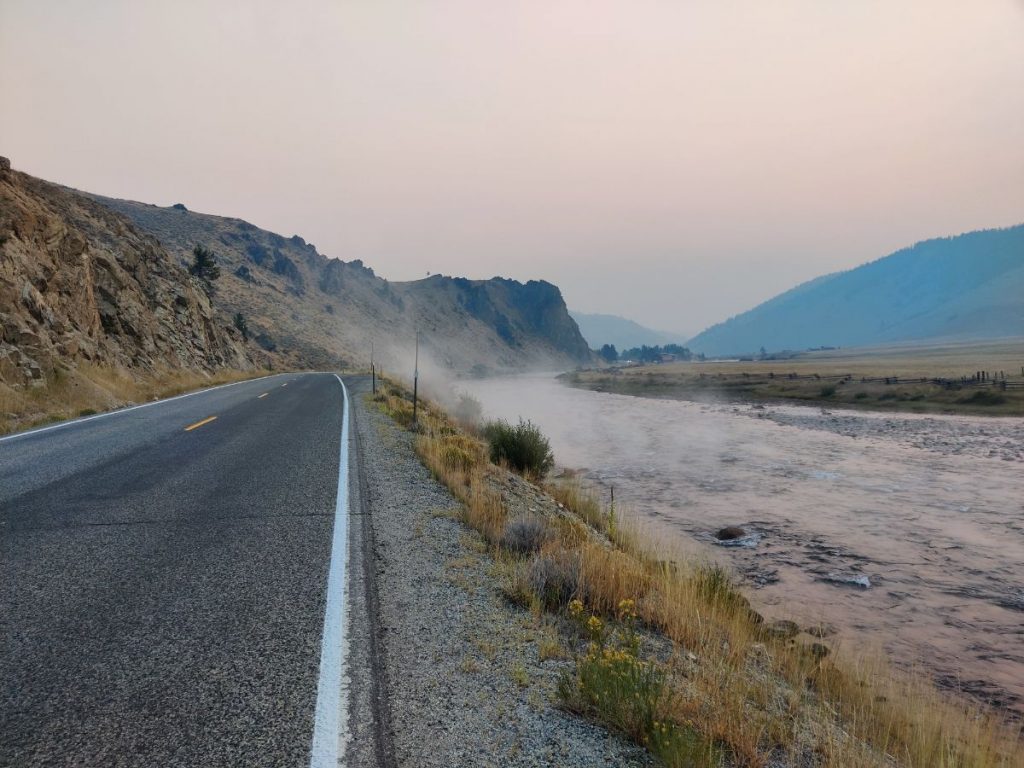 It felt good to leave Stanley and start making progress on the return journey, but the riding was not very fun. The air was smoky and gross and temps stayed chilly late into the morning. I rode alone nearly all day but sometimes caught up to other riders during their breaks, and enjoyed saying hi to the folks still headed toward the turnaround.
Fortunately the smoke eased a bit on the other side of Cape Horn. The tedious flatish washboard through Bear Valley often slows me down, but I did my best to power through. I reached Deadwood Reservoir well before dark, an improvement over last year, and felt the usual day three high of strength and coordination as I cruised along and listened to podcasts. Laura and Kristen were ahead and I never managed to catch them, but I was still happy with my progress.
I started the climb up Scott Mountain just after sunset. Though I often ride alone in bikepacking events, I'd been enjoying so much contact with other racers that I started to feel its absence on this long dark climb. At just the right time I came across Logan with his singlespeed. I was happy for the company as we chatted a bit and then hiked silently upwards, each at our own pace but close enough for moral support. Tree skeletons from a past fire stood out starkly in the light of a full moon orange from the current fire. Sometimes we turned off our lights while hiking, making the mood even more surreal.
We reached the top around 11:30pm. Rather than tackle the long descent and highway riding in my sleep-deprived state, I camped at the summit – exactly the same patch of ground I'd slept on during night one. Logan camped nearby. After two miserable nights I should have slept deeply, but it was much colder up there than on night one and I woke shivering several times.
Day 4: to finish, 88 miles, 9220 feet climb
Around 4:30am I dragged myself out of my bivvy to tackle the long descent, determined to avoid a repeat of last year's grueling 2am finish. I was already ahead of where I'd been last year, but I'd have to stay focused. My lights were bright, the moon was full, and Stella's hydraulic brakes made this screaming descent more comfortable than ever before.
Down at the highway, traffic was light in the hour before sunrise. I had already decided to skip the short out-and-back to Garden Valley since I still had food, so I turned left toward the section we call "Mordor." At the junction I just happened to run into Kristen returning from breakfast and coffee in Garden Valley! She and Laura had made it all the way there the night before.
Soon Laura caught up to us, and the three of us rode together along meandering old forest roads. I was hungry and in need of a hot meal, but tried my best to keep up because I was enjoying the conversation. It was a funny juxtaposition, four days deep into a bikepacking race, pedaling and chatting like a casual social ride. It was refreshing to enjoy this mix of fun and badassery with such strong women.
In Placerville I finally got the hot meal I'd missed in Garden Valley – a pepperoni Hot Pocket never tasted so good! Kristen and Laura headed out first, and I shared the steep hot hike up Harris Creek Road with Ben. Our chat about other bikepacking events – he'd also ridden Bones to Blue earlier in the summer – passed the time easily, and some cold watermelon trail magic at the top rejuvenated us.
It wasn't too long before I caught up to Laura and then Kristen, which surprised me. I realized I was feeling good… like, really good! Suspiciously good. Was there too much caffeine in that iced coffee I chugged in Placerville? The last day of SnF has been an exhausted slog for me in past years, and here I was pedaling up steep punchy climbs I had always walked. I didn't understand it and worried I would have to pay for it later with an energy crash.
As we transitioned onto singletrack for the bulk of the remaining miles, Laura and Kristen and I kept ending up in the same place. Mostly I followed behind them as they rode their familiar hometown trails, trying to imitate their technique and speed. Over 350 miles into a grueling race and I was having a blast riding singletrack on a loaded bike with two badass awesome women. How fun! This is the kind of thing we need more of: internalizing the idea that being female and feminine is not in opposition to being strong and capable.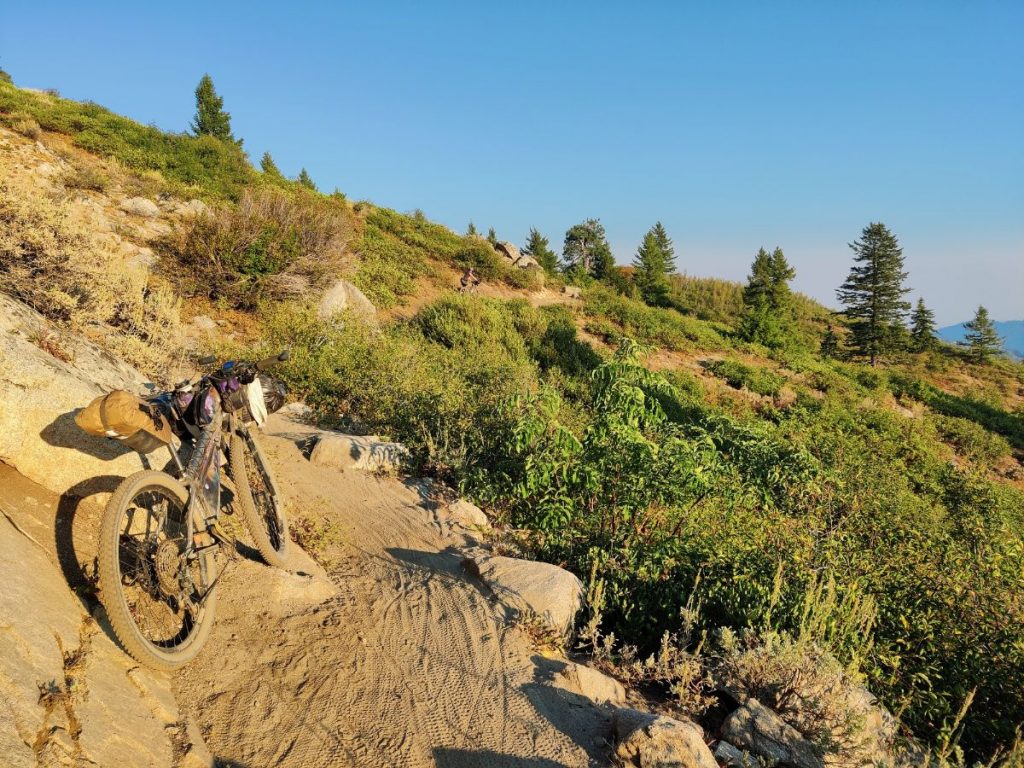 As darkness fell it looked like the three of us would push for the finish together, even if it meant waiting a few minutes here or there due to differing strengths. This being my 4th SnF and 9th bikepacking event, I've pushed through a lot of lonely grueling miles in pursuit of arbitrary time goals. I was on track for a personal best time on a route that seemed as tough, if not tougher, than the original, and feeling way stronger than ever before. Sharing the final miles with good company felt more important than trying to race them to the finish. Presumably they felt the same, or they probably would have dropped me. 🙂
The last few miles of singletrack seemed to take forever, as they had last year. But this time, instead of riding to the finish alone and delirious at 2am, I finished feeling strong at 10:30pm together with Laura and Kristen. Dozens of people cheered us in at the finish line, including many familiar faces. It was a little overwhelming and I wish I could have had longer and more lucid chats with everyone there, but it was still fun and heartwarming.
Personal Best?
My time this year was 3 days, 18 hours, 32 minutes. That's about four hours faster than last year. Even though the reroute was 50 miles shorter, I still consider this my personal best Smoke 'n Fire time.
Why? The shorter route had the same amount of climbing as the original, so mile-for-mile it was harder. My moving speed on Trackleaders was 0.5 mph faster than 2021, and I was able to ride side-by-side with people I've only been able to leapfrog with (by riding slower but taking shorter breaks) in the past. Finally and perhaps most importantly, I finished feeling WAY stronger than SnF in 2021, and for that matter any other bikepacking event I've ridden. All that adds up to a new level of success in my book, even if the times can't be directly compared on the same route.
Recovery
The morning after my 2021 finish I woke up so puffy, shaky, and destroyed that I sent a picture of my swollen face to my husband asking "What's wrong with me??" Cortisol stress response? Fluid and electrolyte imbalance? Who knows, but it wasn't pretty.
This year, by contrast, I felt almost normal the next day. The biggest issue was lack of sleep during the race – I consistently slept for only 2-3 fitful hours even when trying for more – and that did require some catchup. Of course I also needed to eat a ton of food and loosen up tight muscles.
All things considered, my body amazed me with its ability to finish strong and recover well. I thought I might have to pay for the energy expended during my strong last day, but the bill never came. What was the secret? My guess is a combination of good fitness, better fueling (including some liquid calories), and a lighter and more comfortable bike. More on all that below.
Bike
I rode Smoke 'n Fire on my new(ish) Chumba Stella Ti with rigid Whisky fork and 29×2.35″ Maxxis Ikon tires. This is my third bike in four years of SnF, and definitely my favorite setup yet. After bumbling through the route on my Long Haul Trucker as a first-timer, then two years of drop-bar riding on my Fargo, I especially appreciated Stella's comfy ti frame, reliable hydraulic brakes, and stable flat handlebars. She would have been even better suited to the original route with its larger percentage of singletrack, but she loved the reroute too.
Loaded up with a bit of food but no water, Stella's starting weight was 45 lbs. This is 4 lbs lighter than my setup in 2021, and as a light rider this difference definitely helps.
Gear
I generally ride bikepacking races with a streamlined version of my touring-pace gear: no tent, no stove, no luxury items, and minimum clothing needed to keep warm (always a struggle as I run cold). I'm not fast or hardcore enough to go without a full bivvy sleep system, but I try to minimize weight wherever possible.
This year I tried to go even lighter than usual. Here are a few changes I experimented with:
No Borah Gear ultralight bivvy, just a SOL emergency bivvy in case of rain (plus my usual Therm-a-Rest NeoAir XLite pad and Enlightened Equipment sleeping quilt). In the past I've brought both of these ultralight bivvies, sleeping in the water-resistant breathable Borah while carrying the SOL in case of bad weather, which is a bit redundant. Not sure I liked the change though – the SOL bivvy collects so much condensation that I mostly slept on top of it. I got away with this because of unusually warm and dry weather this year, but it would be uncomfortable some years.
No bike lock. Probably should have made this change a long time ago, but I'm so used to carrying a lightweight lock while touring.
No rain booties: plastic bags over socks for warmth instead, which works surprisingly well for short periods of wet or cold.
No rain pants: I often throw on rain pants for extra warmth. But with a dry forecast, I took the risk and instead packed a new pair of wind-proof fleece tights which worked beautifully.
Slimmed down repair kit: took a few items out of my fix-anything-in-the-middle-of-nowhere kit, including spare derailleur hanger, Loctite, and spare cleat. It's a gamble and I got lucky. Not sure whether I'll continue this approach for races, as eventually it will probably bite me!
A few other gear highlights from this year's SnF:
Navigation: eTrex 22x, plus RideWithGPS on phone for backup and big picture planning
Lighting: kLite Gravel dynamo-powered headlight, Qube tail light, and older helmet light from Light and Motion for the slower miles where the dynamo light isn't bright enough. This dynamo system is new to me this year and I'm loving it; see my full review for details.
Charging: 10,000 mAh power bank, kLite dynamo USB charger, small wall charger and cables
Swift Industries Olliepack seat bag: loved the small capacity (incentive to pack light), mesh stash pocket, and stable mounting system. Detailed review here.
Smartwool Merino Sport Fleece Wind Tights: Was worried these wouldn't be worth the splurge but I'm totally in love with them! They're comfy, breathable, and warm but not prone to overheating, even when I'm working hard. I already feel these were worth the money, and they'll be in my future kit on any ride involving temps in the 40's or below.
Pearl Izumi Pro Ride AMFIB Lobster Gloves: Been using these for years, but it's worth mentioning them again. These are the only option I've found that keep my hands usable while biking in near-freezing temps.
Rogue Panda frame bag and top tube bag: After years of choosing whatever color gear was on sale, I finally decided to dress up Stella with some pretty bags. The "space nebula" print makes me happy every time I look at it (which surely gives me at least a 0.1 mph speed boost) and their customer service went above and beyond.
Highlights and Successes This Year
Liquid nutrition: At SnF this year I finally tried Tailwind drink powder, as well as a few packets of Carnation instant breakfast. It can be a struggle to eat enough solid food especially in hot weather, and adding ~450 liquid calories per day was a game changer. I went through two Tailwind packets and one Carnation packet each day, mixed into my water bottle whenever I needed an extra boost, and they always went down easily. I think this is a big part of why I felt so strong on the final day and had an easy recovery. I also tried to eat plenty of solid food and carried more than I needed between resupplies, with plenty of variety.
Good company: Being able to match pace with other riders opened the door to sharing more miles, which was a huge mental boost and surely helped me ride faster on some sections.
More women: With a third of riders being female and representing the full spectrum of speed and competitiveness, it was refreshing to feel fully myself and, well, just normal out there. I absolutely loved trying to keep up with so many strong and capable women who inspire me to keep improving.
Better bike: There's no denying that Stella is lighter, comfier, and better equipped to deal with rugged riding than my Fargo. Shadowfax (Fargo's name) is a great all-around bikepacking bike, don't get my wrong, but this year I felt better at steep climbing, technical singletrack, and charging through sh!tty washboarded gravel than ever before.
Better training: I'm terrible at focused training, preferring to just use one multi-day ride as training for the next. This gives me great endurance but mediocre speed and skill. This summer I made an effort to ride at home between trips, including several rides focused on technical MTB skills and one (yes, only one) hill repeat workout. Even that small amount seemed to help, and I'd like to increase my focused training in the future.
Singletrack: The reroute skipped some of the most technical singletrack of SnF, but the remaining trail miles felt easier than in past years. I'm sure this is thanks to practice accrued while muddling through Pinyons and Pines and Bones to Blue, plus a little work on trails near home, combined with Stella's flat handlebars.
Trail magic: Each year a few kind souls station themselves along the route and offer food and drink to racers, but this year the trail magic was off the charts! Every single trail angel lifted my spirits and supplemented my food supply with yummy treats. Thanks to all of you!
Strong last day and easy recovery: As already mentioned, I felt uncharacteristically awesome for most of the last day and had a better-than-usual recovery after the race. I assume this was due to all the above factors. I hope I can recreate it for future races, because it felt like a breakthrough!
Could Be Better
Sleep: My only real issue this year was lack of good sleep. The reason was different each night: adrenaline, smoke, and cold, respectively. I could have maybe fixed the latter with a better bivy setup, but otherwise these things just happen sometimes.
I'm actually struggling to think of anything else! I was happy with my bike, gear, nutrition, and strategy, as well as the intangibles of camaraderie and community that happened to work out so well. It would be nice to have a bit more speed on the flats – that's the main section where I had trouble keeping up with others – but even that was better than last year.
After three years I thought I'd already seen the best Smoke 'n Fire has to offer, but this year still managed to surprise me with new challenges and joys. Congratulations to every rider who gave it a go, and thanks to everyone who shared energy and miles with me out on the route. You all are a special group of people and SnF is a special event!
Other SnF Writeups
If you'd like to hear more about Smoke 'n Fire 2022 from other perspectives, here are a few writeups by and about fellow racers:
For more info about the event itself, the official Smoke 'n Fire website has all the details.
More Bikepacking Resources
Bike resources in your inbox?
There's more where this came from! Sign up here for occasional emails full of inspiration and information about bikepacking and bicycle touring.


Share the Adventure
If you found this article helpful, please consider sharing so more people can benefit from it: