"This little life we have is not meant to be spent in isolation. We can have a great impact on one another and this world. Being aware of this helps keep me in line with my moral compass and the person I want to be."

– Eleanor Moseman
The first thing that stood out to me about Eleanor was the cheerfulness of her "It's ok!" She had just returned from an unnecessary out-and-back, the result of me pointing her off route (accidentally I swear!) on day one of The Big Lonely bikepacking race. I felt bad, but she didn't seem fazed.
She apparently forgave me, at least enough to share some miles as we rolled through high desert toward Sisters, Oregon. We chatted a bit about bikes and bike travel, as bikepackers do, and I got my first glimpse of her passion for China and Central Asia.
Eventually we drifted apart, but for the next two days and nights we rode within a few dozen miles of each other. At least that's what I learned later from the tracking data; we never came close enough to see each other after that first morning.
On the third evening, darkness found me pushing up and over the highest point of the route as an October snowstorm rolled in. Temperatures dropped into the teens and I squinted through a blinding flurry of snowflakes in my helmet light. At deserted Paulina Lake, faced with a twenty mile singletrack descent, I made the call to bivy until daylight. If I were to crash and be injured alone in that dark frozen forest, hypothermia would be an urgent concern. Though my decision left me unpleasantly low on food for the remaining day of riding, I felt sure it was right for me.
But Eleanor? She never stopped! The next morning I followed her tire tracks in the snow for hours and smiled at a heart she somehow found the energy to scuff into the snow near the crater rim. I worried when footprints appeared beside tire tracks, and later learned she had walked through the remaining hours of the night after her light died. Apparently she ran out of water too, yet still finished the race with a huge smile on her face.
When I emailed to congratulate her on pushing through this crazy night, she simply said "I've been in way worse situations."
Ok Eleanor, I need to know more!
So I asked this tough, kind, and passionate lady if she would be willing to do a Q&A session, and she generously obliged. What follows is a powerful blend of insight and introspection, culture and connection, and practical advice. She seems to lay it all out on the table, yet I have the feeling we are still barely scratching the surface.
I'm honored to publish this interview with Eleanor, and I hope you'll find her words and photographs as inspiring and helpful as I do.
Eleanor is a professional photographer and has been documenting life in the region for years both during and after her tour, so get excited for her lovely images throughout this interview. All photos in this post are by Eleanor Moseman unless otherwise noted. Here's a sample to start things off.
The Big Tour
Alissa: How did you first get the idea to travel around Asia on your bicycle in 2010 and 2011?
Eleanor: I had just moved to China and had only briefly traveled to China and Taiwan before that big life move. Living in Richmond Virginia and Brooklyn New York previously, the bicycle had always been my main mode of transportation. In China a decade ago, bikes were everywhere and especially in the countryside where the majority of people ride bikes to their work, whether it be fields or factories. I had thought, wouldn't that be a great way to see the country. By a simple tool that is found everywhere, goes unnoticed, and allows me the freedom to break away from the constraints of bus schedules and train routes that most foreigners are bound to.
I had never lived that simple barebones backpacker lifestyle and I was curious if I could survive consecutive days with basic necessities. Not to mention, the affordability really attracted me, as I was still just breaking into working as a freelance photographer and my budget was extremely limited. I also saw this as an opportunity to pursue a photojournalistic career and build a portfolio of photographs from around China.
The ethnic Musilim minorities, the Uyghurs, were in the far west reaches of China. Xinjiang. My first trip to China in 2007, I learned of this persecuted group of people when sitting in a Uyghur noodle shop. "Wow, those people kind of look like me…who are they?" Kashgar had been my planned destination with no real planned route from Shanghai to there. With no real timeline except "maybe around a year".
I moved to China in September of 2008 and fell into the darkest and deepest depression of my life. That Christmas Day, I was looking off my 32nd floor balcony telling myself I had to make a drastic life change, along with the great drive and urgency to just kind of disappear. And during the first week of May 2010, I set off from Shanghai to burn down my life and develop into the person I am today.
My boyfriend at the time rode with me the first day to Suzhou, a day ride, and I headed north along the Grand Canal on my own. I would finish during the early winter of 2011. During that time I rode seven countries, ended an engagement, escaped a handful of near sexual assaults, was unofficially arrested in Tibet Autonomous Region, survived dysentery, and learned to love myself, all while finding a direction of servitude for the rest of my life.
A decade later, I live in the memories made during those years. The friendships made on the road with fellow cyclists and, mostly, the locals who helped me have a second chance at life. The people that taught me about love, family, gratitude, and what really matters in this lifetime. The lifelong bonds among humanity. That trip was never "solo," and no one's really is. Who knows which cup of tea, bowl of Tibetan tsampa, or Central Asian naan helped me survive the next mile. This life I have now, the one I have lived somewhat briefly, and the one I hope to continue to live, is completely owed to the people of Asia. Specifically, the Tibetans and Muslim Central Asians.
What was your route, and how did you decide on it?
"Eleanor, it looks like you mapped out your route by throwing a bowl of noodles on a map!"
I had a general idea of the direction, which was West, but I also wanted to see as much of China as possible so I avoided a straight through route.
Most long distance cyclists through China aren't blessed with a work permit or visa. So I didn't have a time limit of 90 days like most tourists, and I could speak a little Chinese, which drastically improved by traveling before the days of online translators in smartphones. Speaking of smartphones, I would have to wait to see a cellphone tower to send a text message or phone call so there were no loaded maps or GPS apps on my handlebars. I worked strictly from Chinese maps, so my reading comprehension of Chinese developed because I would sit on the roadside methodically transliterating characters. I would learn the meaning of these characters in the meantime.
The more my Chinese developed, the more I drifted off main routes and would talk to locals from one village to the next. "What's down that road?" "What's over that mountain?" The funny thing was, when locals would recommend a route because it was" very nice and interesting" I avoided it and went the other way. Where I would avoid heavy touristic towns and find myself engulfed in traditional Chinese life and culture.
So, originally, I started in Shanghai on the far eastern coast of China and traveled North along the Grand Canal, an ancient waterway trade route that is still used by barges. I passed through regions of Inner Mongolia to the Northern border with Russia. I could see Siberia from that border and then made my way Southwest to the Chinese border with Mongolia. That ended up being an out and back as I got extremely sick, and robbed, in Ulaanbaatar.
I would continue traveling West through the Northern regions of China to Lanzhou, where I would go back to Shanghai for a short bit to work and save up some money to continue on. Traveling through more condensed and larger cities had taken a toll on my funds, and since this was my first time doing a bike tour, I made some changes to my bike and gear. I would take a short tour of Taiwan with the previously mentioned boyfriend during this little break.
The second part of the tour is when the real fun and danger would take place. My confidence and competence made leaps and bounds through some of the most remote and difficult terrain of Asia.
I would travel across China by train with my bike and start again in Chongqing, Yunnan. From there I would go a bit south to the famous Chinese rice terraces and then cycle North again with no real plans. But, all would change when I summited a mountain pass bordering with Utsang Tibet* (also known as the Tibet Autonomous Region) and I began to experience Tibetan nomadic life.
*The Tibet Kingdom consists of three regions: Kham, Amdo, Utsang. Utsang is a region that is highly regulated and free roaming travel is prohibited.
In Litang, Sichuan, a famous Tibetan trade town in Kham Tibet, I would bump into another single American cyclist that happened to be on the prototype of my Soma Saga. He had been on the road for a couple of years and really pushed the envelope when it came to off the grid touring. We decided to travel together for a bit. In the evening we would scour over Chinese maps, generally deciding on the lightest/faintest or dashed line on the map and I would use my Mandarin skills to discuss our proposed routes through nomad fields and yak paths with locals.
Over one month in the Tibetan regions of Kham and Amdo, I didn't even total 80km of paved roads, spent less than $125 USD, and averaged one shower a week. Because there was simply nothing around but small Tibetan villages, nomad camps, and breathtaking mountain ranges with Buddhist holy sites and sacred glacier tops.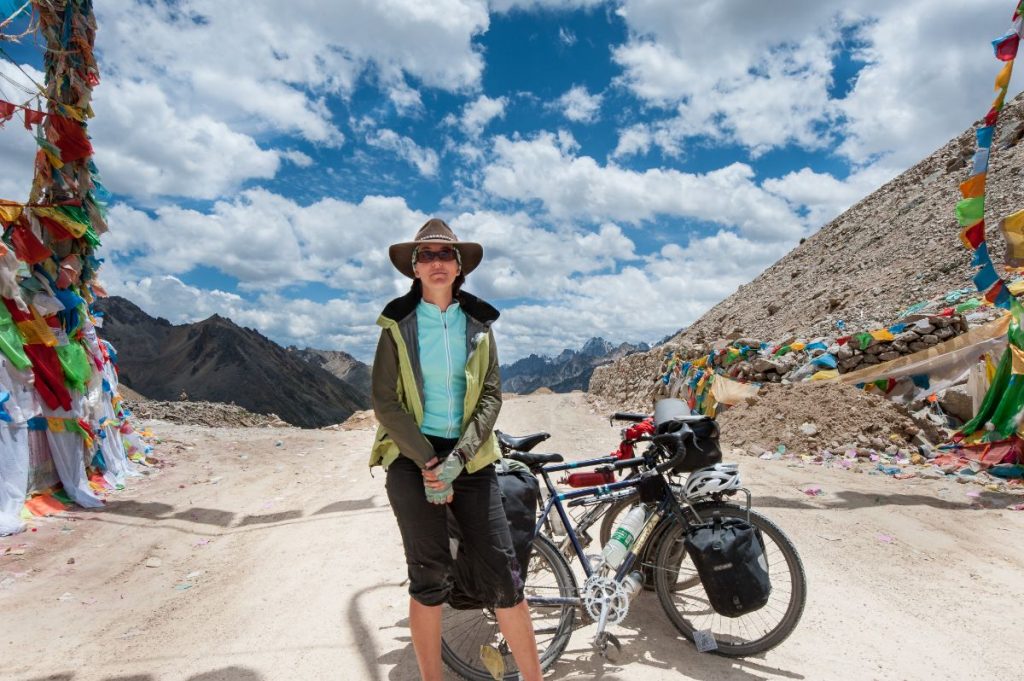 After entering the Tibetan Autonomous Region illegally, and breaking up this riding partnership not on good terms, I attempted to cross the northern part of TAR to only get taken into police custody. My near 6' body frame – down to 135 pounds and extremely malnourished – and well battered bike went back to Shanghai for a few months to recover.
I had stopped menstruating, and wouldn't begin again for 6 months while my fingernails were lifting from my nail beds and my face was so red and burned it looked like a few layers of skin had been removed during a 3 week stint living at 5000m. But that month was the pinnacle of the trip and every move after, I would be pushing myself to my limits.
I'd return to Hotan Xinjiang and make it to the capital of that region, Urumqi, during the dead of winter. I rode my bike through feet of snow and camped on the northern edge of the Taklamakan Desert. While holed up in a hostel in Urumqi, healing from an eye infection that nearly cost me my sight, I met an American based in Tajikistan. He urged me to head to Kashgar and pass into Kyrgyzstan. Sure, why not?!
Traveling South from Urumqi along the far Eastern edge of the Taklamakan Desert, I would then travel West towards Kashgar. Skirting the southern edge of Xinjiang and seeing the mountains that divided the region from the Tibetan Autonomous Region. It continued to lure me back.
From Kyrgyzstan, I traveled through Kazakhstan, Kyrgyzstan, Uzbekistan, Tajikistan, to return to Kyrgyzstan and back home to China. Non American cyclists usually continue their trip to Europe via Iran, Turkmenistan, and Turkey but being an American passport holder, there was no way to get to Iran so I had to do a loop and return to China. My tour would officially end in Kashgar, after one last attempt to cross a pass into the Changtang of Tibet. I fell very ill and called the end of the tour, with lack of fanfare.
What advice would you give someone who is intrigued by the idea of such a long and challenging tour, but not totally sure if they're ready to commit?
For me, the ease of commitment came with the fact I was burning my life down so I had little to nothing to return to, along with my unending fascination and desire to learn as much as I could about Asia. I felt like I was having daily classes on geopolitics, language, anthropology, history, and geography. It was the education I never knew could exist and it was the knowledge and experiences that made this trip so difficult to end.
My advice would be to go somewhere you are truly interested and want to be engaged day in and day out. Because I loved these countries and people so much, I knew that when I experienced some of the worst days of my life, the next day – if not the next hour – I could experience one of the best moments of my life.
I've read blogs where the traveler begins to get very short and impatient with the locals and when it comes to that point, you just should go home.
But also, that tour taught me that these types of experiences change me forever and that version of me is usually stronger, happier, and better. So I embark on tough trips because I know the experience and knowledge is life changing. Like one more cycle of Samsara has been broken and a little closer to Nirvana.
I dislike when people harp on this, but it needs to be said: you traveled alone where many people would assume it's dangerous for a woman to do so. What was your perception of the risk related to your gender, and do you have advice for women who want to travel by bike but are worried it's unsafe to go alone?
"Find your power and strength as a woman!"
I, too, look forward to the day when this isn't a topic, a question, or concern. Risk, of course. Have I been endangered, yes. Will it ever end, probably not. Do I have issues now that are triggered by touch and lack of consent, yes!
There are plenty of things to be afraid of, and at times, I am fearful for my safety. It's also very difficult for me to give broad sweeping advice and motivation to ALL women when I know we have different experiences and coping mechanisms. For me, it's gotten to a point that when I'm assaulted now, I get very angry. The last guy I chased off and I'm glad he got away because I'm afraid what would have happened if I had gotten the chance to take out all my assaults on one naive and ignorant man.
I remind myself that I'm privileged as a white western woman that I have the ability to usually walk away from a situation. There are women and young girls assaulted in villages that can't say anything and have to live with the predator for possibly the rest of their life. I have a voice and mobility and I remind myself that is more than many local women can ever imagine.
There is also this: I have so many wonderful things happen in my adventures because I am a woman. I'm not threatening and that is probably why many want to help me and invite me into their homes, family, and lives. I am an "auntie" to hundreds of families and a "sister" to many others.
Generally, I don't dwell on what can go wrong or what might happen, but we all know what can and has to others. Have I felt immense fear? Yes. I recently gave some advice to some 20 year olds that if they are ever assaulted overseas, "don't cry. They hate it when you do that." That has been my experience. The predators get very frustrated and angry when I cry. Acting insane and angry has been what has gotten me out of these situations a little easier.
It's very important for women to understand the worst, but also know it's very unlikely it will happen. It may, and this needs to be thought about and if the adventure is worth this slight risk.
Again, knowing language and customs can really help keep a woman safer and treated with respect. For instance, in Muslim countries, dress accordingly and show respect to the culture. More than likely, you won't receive the same harassment as women wearing short lycra shorts and revealing tank tops. I know it's 2022 and we shouldn't tell women what to, and what not to, wear, but this is what I have experienced and witnessed myself.
Which part of your route do you most recommend to other bike travelers and what was special about it?
Sichuan, China. The Tibetan region, without a doubt. It's the simple nomadic life among mountains that resonates with me.
When you're bike touring, it's the simplest of life. You wake up, eat, ride your bike, hope to survive another day, eat, go to bed. Repeat. The nomadic life is much harder and more difficult than that of a foreign cyclist but that life seems to be similar. With the addition of family and laughter mixed throughout their days. Tibetans have a wonderful sense of humor and connection to their environment and this is a delight and treat to be around after a long day of traveling on a bike.
Are there any areas you would not recommend for bike travelers?
Haha, the desert. It's hard. It's hot. And that's when I've encountered the most trouble from men and authorities.
Is there another part of the world you'd like to get to know next?
India. More specifically the Tibetan regions of India. I'm a depth over breadth kinda person. I'd rather be an expert in a very specific part of the world than a little about a lot. I'm at an age and a point in my life where my life has revolved around Tibet and Xinjiang for a decade.
I would love to go to Georgia, Turkey, and Morocco. Afghanistan and Pakistan have been pulling at my heart strings for a decade.
What is your favorite food commonly eaten in Central Asia?
Naan. The breads. What's fascinating is that the naan varies from country to country. To make some friends in bordering countries, travel over with some naan from another country. Many have never seen their neighbor's naan.
I'm struck by your blending of biking, travel, and photography as a way of telling important stories about people and cultures. What is one issue you've observed that needs more attention than it's getting?
I'm an ally. But if I were to try to sum all my issues into one, it is that we need to eradicate fear and hate from our planet and encourage quality education for all. From all that I've witnessed, and been involved in, it stems from xenophobia, racism, bigotry. Whether this is governments imprisoning and persecuting ethnic and religious minorities or clashes among groups of people sharing lands, it's fear of others and loss that is translated into hate and anger.
Education is, in my opinion, the one key to changing this. Educating ourselves through travel and understanding geopolitics or educating children in underserved areas. Whether these communities are in the United States or impoverished communities in Asia, we all need to break this cycle by teaching our future generations that as humans, we all have similar hopes and desires.
I think with us going on two years of Covid restrictions, changes and losses, we have all been granted time to question what truly matters in our lives. Hopefully, many of us have reached some clarity and answers. For me, it's community, friends, and family while trying to be a better person.
What might surprise Americans about the culture(s) of Central Asia?
I think many Americans might not know how important family and community are in Asia. Generations live together and everyone is involved in the work and childcare. I feel like this lifestyle doesn't translate to the US and those living with parents and grandparents are looked down upon with a stigma of being unsuccessful. I think many abroad see "success" as a happy household with family close and involved.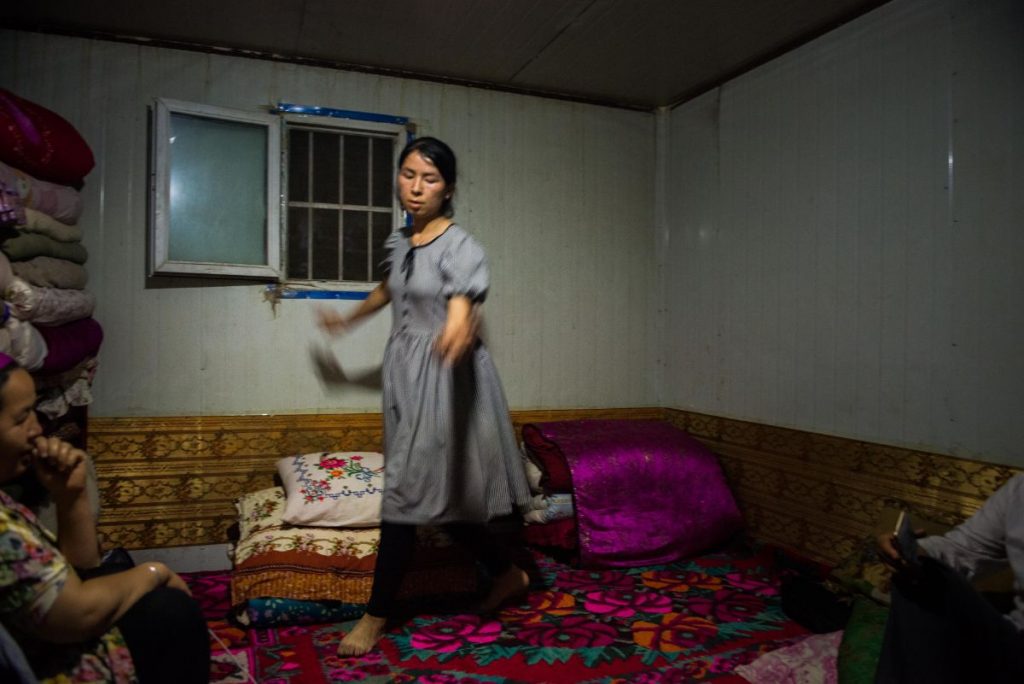 What ideas do you have for cyclists who want to communicate with local people but aren't skilled in speaking the local language?
Learning a little about culture, religion, and geography can be very beneficial. Learning a couple of phrases like "Asalaam Aleikum" in Muslim countries or "Tashi Delek" in Tibet can really open up some experiences. A smile can speak thousands of words, and a tone of friendliness and respect.
I've been photographing a household since 2014 in Tibet and they don't speak Mandarin. Outsiders have noticed this and asked how we communicate. I told them, "by the heart." I think when you let down expectations, obligations, and just let your heart rule you…this is heard by others. Body language can sometimes express your soul more than words ever could.
Is there a particular person you connected with during your trip who still stands out in your memory? What was it that brought you together?
OH goodness. So many. And so many of them I'm still in contact with. During the bicycle trip, in particular, would be a Chinese woman about my age that was a cyclist as well. Lotus. She lives in Inner Mongolia with a daughter who is now in university.
I met her during the beginning of my trip when I was cycling up a mountain and a man from her town met up with me and we cycled together to Chifeng. Lotus met me at the bicycle shop because she had never met another "girl cyclist." I stayed with her for days and have become part of the family.
Bike and Gear
Tell me a bit about your bike.
This tour was so long ago and I was riding a Soma Saga steel frame bike with 26" wheels. I've grown up now to a full suspension carbon Niner 29" MTB along with a custom titanium rigid frame with 29" wheels (on order from Industry Nine).
What water treatment system did you use on your long tour, and how did it work out?
Haha, well, it slowly changed as I developed "third world guts". I generally prefer to boil and in China it's very easy to find boiled water. It's even for the helping at gas stations and most shop keepers will have a thermos that might be willing to share.
I've been as desperate to use a bandana folded to sift funk out of the water. Towards the end, I would simply collect water from wells and put it in a 16oz clear bottle (like a Coca cola bottle) and let it sit in the sun all day. That's when I had guts of steel and it took a lot to get me sick. I stay away from carbon filters and now use a UV pen which has worked very well.
Note from Alissa: If you don't have guts of steel, see Water Treatment for Bicycle Travelers for more on this topic.
What stove and fuel system did you use on your long tour, and how did it work out?
MSR Whisperlite International. It was great. At the time, getting petrol was very easy around Asia. Now with the uprising of ethnic minorities in China, it's very difficult to get gas without some bribery or a license. I'm able to ask friends and they will take some gas out of their motorcycle for the canister. I would stick with the Whisperlite in countries where petrol is easy to get, or you know a language to get you what you need around regulations.
You must have had some cold nights during those two years! What shelter and sleep system did you use? Any tips for staying warm and dry enough in bad weather?
I went through 2 different tents and found a small two person works better for those times stuck in weather. Boiling water and filling my Nalgene, and placing the bottle in my sleeping bag is generally my trick to getting through the cold nights.
What is one beloved piece of gear that provides an impressive amount of value relative to what you paid for it?
Mittens
Reflections
In what ways did that first long bike tour change you as a person?
I learned to love myself. I learned that I can take care of myself. I learned that I'm the happiest outside and meeting new people.
But, most importantly, I learned that nothing can be achieved without others. I have a hard time hearing "solo" and "unsupported" because it goes against human nature. We need each other. We need to feel loved and cared for. To feel special. I can't think of one accomplishment in my life that I can honestly say I did completely alone.
This little life we have is not meant to be spent in isolation. We can have a great impact on one another and this world. Being aware of this helps keep me in line with my moral compass and the person I want to be.
Describe a skill or trait that you think is very important for bike travelers to have or develop.
I'm tenacious. When I say I'm going to do something, I follow through. It may be that I use shame and guilt as fuel for my ambitions. Telling people, and saying out loud what I intend on doing, holds me accountable. Also, many friends want to help, get involved, and support me and I can't let them down either. Strangely enough, shame is a bit of my gasoline.
I would expect that you experienced plenty of challenging weather, fatigue, logistics, etc. during your tour. What is a challenging aspect of a long bike tour that people might not expect until they try it?
I think the greatest challenge is knowing when to call the end and going home. The mental and emotional recovery post tour took much longer than the tour itself. Some depression and hopelessness. Readjusting to expectations and obligations in society. Not eating like a starved person and getting back into the habit of bathing more than once a week.
That was the challenge, and honestly, it still is.
I still feel those post trip blues but I now know they pass. They can actually stand in the way of going back out again, and I know that I couldn't do another tour like that simply because the return home was too rough for me.
What are you most proud of having produced as a result of your trip?
Myself. I feel like I had a rebirth and I'm pretty content with the person that came out of that trip.
What has your relationship to bike travel been like since your long tour?
I took a hiatus. I did long distance walking instead. Getting back on a bike was kind of heartbreaking for a while. It just brought back too many memories and a desire to just ride off and never come back. I needed to focus on my career and objectives that would support me later in life. Now, ten years later, I am at a point where I can invest in cycling like I wanted to.
What are you currently doing for work, and what would you like to do more of in the future?
I'm a freelance commercial photographer. My income comes from photographing interiors, architecture, and hotels. I also supplement that with portrait sessions and print sales.
I would like to do more photojournalism projects and portrait sessions while getting out of the interior photography world. I've been doing that stuff for so long that it's not a challenge anymore and I really like working with people.
My portrait sessions are more of an experience than a photography sitting. It's about making people feel good, empowered, and just better by the time they leave my studio. The camera seems to be kind of like a truth serum for some folks who sit for me. I love that intimate time shared with people. I love learning from people and hearing all their stories. (I get pretty bored of my own.)
Portraits of Tibetan friends. The rightmost is Gayla, a woman of the Tibetan village I have been photographing since 2014.
Bikepack Racing
What drew you to The Big Lonely, and what about it got you hooked on continuing to race?
The Big Lonely was my first race and I just paid my entrance fee for the Silk Road Mountain Race. These types of adventure races entice me because there are so many elements that go into it besides being able to ride a bike fast.There are basic outdoor skills and being able to keep your head focused and in the right spot to get to the finish line. And the comradery of course!
What I loved about the Big Lonely, was after spending so much of my "adventure life" alone on the road and in the mountains, it was great to share a route and experience with other people. We all struggled through it and had a similar goal. This isn't something you get with long distance touring as a single person. It's kind of like I found my club.
I had photographed the first Silk Road Mountain Race in 2018 and it was my first exposure to ultra endurance racing. It intrigued me and the skills that go into completing a race like this are skills I have and refined over a decade.
Personally, I know how my head gets when I'm outside and need to complete something within a deadline. I know that I can go weeks without speaking English and maybe even longer. I know how to stay focused and not let emotions get ahead of me.
These kind of races are about knowing yourself and how to deal with yourself. Knowing a pace that will get you to the finish line. Knowing when to sleep or eat. Knowing weather and how to deal with whatever is spit out at you and simply knowing that you can keep going no matter what. Because there is always a possibility of a major injury or worse.
I've walked through cold nights to prevent hypothermia. I have stalled out on reaching mountain summits until daybreak to stay warm. I know my internal workings and how to handle myself. I may not be the fastest or strongest rider, but I can generally hold myself together.
It's as much of a head game, a test of skills and wit outdoors, as it is about riding a bike.
You've toured extensively in Central Asia before, and now you'll be racing. What are you hoping to experience from the race, and how do you expect it'll be different from other rides you've done in the area?
To be short and blunt. I have something I need to prove to myself. The last two years with Covid have changed my life and trajectory so much. I'm not going to lie and say it has nothing to do with ego and self worth. I've been wondering if I've gotten old and soft.
It's going to be different because I'm going to push myself like I have never done before.
I'm also taking a little camera out with me and hope to produce a little "point of view" photo essay. Record all the beauty and hardships, and maybe an ugly sob session, during the race.
There are no other races I'm looking at. Not really pushing for anything after the Silk Road. Maybe I'll just go back to cycling slow in Asia for the rest of my life.
Closing Thoughts From Alissa
Wow, thank you Eleanor!
I appreciate so many aspects of Eleanor's answers. I love the way she doesn't shy away from complexity and somehow manages to be both open and tough at the same time. She offers wisdom I need to hear, and I suspect others do as well.
Her immersive all-in approach to that first bike tour fascinates me, and her stories and pictures of Central Asia make me want to visit even more than I already did. I admire the way she uses photography to highlight the common humanity between people of different places and cultures – one of the most valuable lessons of bicycle travel in my opinion.
And of course, it's always fun to get to know a fellow cyclist a bit better after sharing some miles.
Before you go, I recommend watching Eleanor's TEDx talk on the power of fear. As one who is constantly working through my own fears during solo adventures and life in general, it resonates with me deeply.
To read more about Eleanor's travels, visit her original bike touring blog at wandercyclist.com.
For more of Eleanor's photography and visual storytelling, visit eleanormoseman.com and @eleanor.moseman on Instagram.
And to see her architecture and interior design photography, visit architecturedesignphoto.com.
Eleanor, thanks again for sharing your words and pictures with us. I'll be watching your dot during the Silk Road Mountain Race this summer, and I hope you find what you're looking for out there.
More Bike Travel Resources
Bike resources in your inbox?
There's more where this came from! Sign up here for occasional emails full of inspiration and information about bikepacking and bicycle touring.


Share the Adventure
If you found this article helpful, please consider sharing so more people can benefit from it:
Pin For Later