I first heard about Katy's Western Wildlands ride on her Bikes or Death interview. Though she and Patrick chatted about bikepacking for over two hours, they barely scratched the surface of her time on the WWR. It turns out Katy did a LOT of riding in 2021!
I was struck by Katy's adventurous and joyful approach to bikepacking, and her enthusiastic appreciation of natural landscapes. I think most bikepackers share a sense of awe and interest when it comes to the land we ride through, but as a geologist Katy takes this to another level. I sensed she had some wisdom to share and plenty of bikepacking stories left to tell, so I reached out and asked if she might indulge my questions about her time on the WWR.
The 2700 mile Western Wildlands Route, developed by Bikepacking Roots, is my own personal path not (yet) taken. When I had the chance to take a long bike ride in the US during summer 2021, I surprised myself by choosing the much more popular GDMBR instead. Turns out a year of social isolation can cause even the biggest introvert (that's me!) to seek out other bikepackers and a sense of community.
I found what I was looking for on the Great Divide and I'm happy with my choice. But the part of me that usually gravitates to lesser-traveled routes is still toying with the idea of a WWR ride. In the interview that follows, Katy's depiction feels to me like a spot-on capture of bikepacking's double-sided nature: a bit brutal at times, but liberating and epic overall. Do I still want to ride the WWR after this? Yes, definitely.
If you're considering bikepacking the Western Wildlands or another long-haul route, you'll find this interview packed with practical information. And even if you're not, Katy's contagious enthusiasm for biking and exploring the planet are sure to inspire your next adventure, whatever it may be.
Please note: Katy used the Western Wildlands Route as the backbone of her trip but took some significant (and scenic!) detours, especially in Utah. If you're researching the WWR, be aware that some of the places mentioned and pictured in this interview are not technically on the route.
Mapping and planning enthusiasts: you can download a massive GPX file of Katy's ride, segmented by day, by clicking here: download Katy's GPX.
Q&A With Katy
Alissa: What drew you to the Western Wildlands Route?
Katy: The Western Wilds initially called to me as a road less traveled. I wanted to spend a significant time in Idaho, and the route passed through some favorite big name mountain towns – Park City, Whitefish, Flagstaff, Ketchum. I personally also didn't want to compare my experience touring to the very publicized race experiences of the Great Divide.
I know your route involved some side trips and detours. Can you explain which parts of the WWR you rode and where you went exploring off-route?
I started at the end of June in Kalispell, MT and followed the route as advertised until Soldier Summit, UT. By that time I wanted to get off route and see the Green River gorge through the Book Cliffs. I zig zagged south through the Swell and met up with the route west of Escalante, UT and continued to Flagstaff, AZ.
I called the ride in Flagstaff at the end of August. I had already reached 2700 miles – the official length – thanks to my detours. I had a day without water when the last water had a triops hatching. And I didn't have time to finish the remaining 600 or so miles before I had a professional commitment.
What was your prior bikepacking experience coming into this trip?
Haha!! Almost nothing. I had the vast experience of 3 trips. My first was in 2020 and was a solo 6 day ride on the GAP/C&O rail and canal path from Pittsburgh to Washington DC and partway back. A hurricane came through, so I called the ride at 666 miles when it became apparent I was not going to get to work on Monday! I added to the route to hit WV first, and that blew my timeline in the weather.
My second, third, and bonus trips were a logistical masterpiece. Seriously, the logistics are half the fun for me. After a masterful arrangement of three Amtrak lines, the BART, the Metrolink, and a very humble local bus, I put together 1000 miles through California and Washington, and did it with style, friendship, and family.
The second trip was a 13 day solo adventure in April 2021 along the SoCal Ramble route in Southern California, again with some added miles to make it personal. The third trip followed immediately: a 6 day tour across the state of Washington with a dear friend, plus a 3 day bonus jaunt across the Santa Cruz mountains after hopping off the overnight train in Oakland, CA to visit family.
I rested for a few weeks after that, then started my WWR adventure.
Bike and Gear
Say a bit about your bike, tires, and bag setup for the Western Wildlands. What parts worked especially well? What would you change in hindsight or recommend to future riders?
I rocked a brand new Chumba Stella Ti with Enve MTN fork and a GX groupset on her maiden voyage! I started with Maxxis 2.8's, and a hodgepodge of bags. I dropped the 2.8's in Ketchum for some Rekon Race 2.2's. The 2.8's were just overkill for the gravel route. I picked up some new custom bags from Urban Desert, whom I met on my SoCal ramble trip. The GX was smooth as butter, I would run that drivetrain again.
I would put a 100-120mm travel suspension fork on the bike for two reasons. 1) SINGLETRACK SHRED in Ketchum, Park City, Whitefish, Price, and Flagstaff. I'd also add a mechanical dropper. Rentals from shops or bikeparks get expensive quickly. Next time I'll suck up the weight difference and enjoy the shred. I also think a suspension fork would have negated some of the lasting nerve damage to the palms of my hands.
If I was going to run rigid I would start with narrower tires. I feel like I could have done the route on 2.0's.
How did your bike hold up?
I broke 8 spokes and had to rebuild the rear wheel in Ketchum AND Park City. I had two spokes out at the same time, otherwise I had breaks almost immediately after repair. Everything else was stellar – brake pads, chain, cables, tires.
Does your bike have a name?
The Duquessa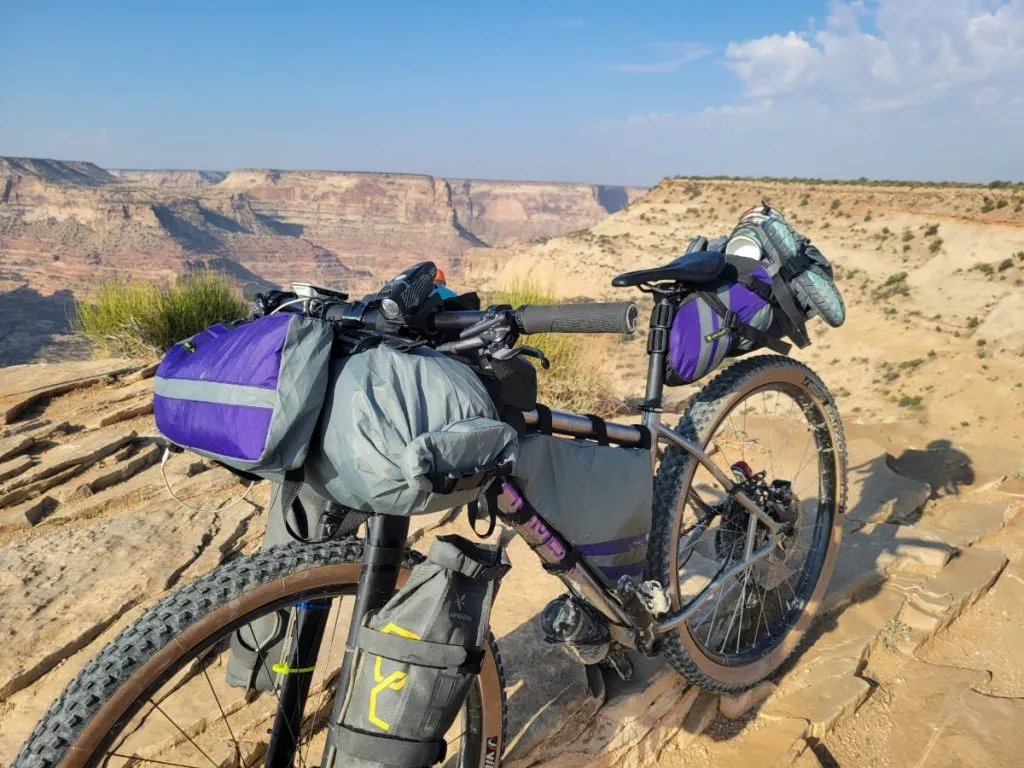 Favorite chain lube for such a long ride on such varied surfaces?
Squirt wax emulsion lube. It's non combustible so you can fly with it. It's dusty out there! I didn't notice too much degradation in the rain, but I never mudded the bike out.
What was your sleep and shelter system, and did you have any issues with it?
I used a 1 person Big Agnes. No mechanical issues other than personal preference. I'd use a tent with side entry next time. My tent has a front entry that just feels like a dog house.
I prefer a tent to have an escape from the mosquitoes, slugs, and whatever stole most of a rotisserie chicken from my vestibule while I was eating my cold mashed potatoes.
Did you ditch any unneeded gear along the way, or acquire any new gear?
I started in a heatwave in Montana – temps reached 115. I ditched my sleeping bag for the first two weeks, then got cold and had to buy thermal pants in Darby, MT.
I ditched my stove – I didn't require hot foods and it became dead weight. I kept my pot though.
I acquired a resealable heavy duty food storage bag to cold soak my noodles, but it didn't end up sealing all that well commencing in the Noodle Incident parts 1 and 2. A pistachio nut bag was a fine replacement for a soaking bag.
I had too many town clothes – I sent home a tank top and pair of packable shorts.
I bought new gloves, I switched out my hat in Park City, and went through about 5 pairs of sunglasses.
Most beloved piece of gear that cost less than $20?
I broke my hat in Whitefish and had to replace it! I rarely wore my helmet so the hat was a must-replace piece of gear.
My air pillow fits the bill here for a piece of "gear." The air pillow covered with my buff made a nice little pillow that let me get a mediocre night's rest.
Experiences On the Route
How would you sum up each state along the WWR in a few words?
Montana – Trees, not much view. A Green Tunnel. Lakes!
Idaho – Big Views, HOT SPRINGS, Craters of the Moon.
Utah – Big cliffs, Wild Horses, Dinosaurs, Slot Canyons.
Arizona – wtf is crawling in my water sources.
Nicest place you camped?
The Wedge in the San Rafeal Swell was divine. No water, no people, and hundreds of feet of cliffs to the San Rafeal River.
Favorite section of riding?
I really enjoyed the descent to one of the forks of the Salmon River before Challis, ID. The descent was pasted on the side of a hill with tight switchbacks and massive views.
Least favorite section?
I found the Montana section the least memorable. I just remember a green tunnel, heat, and smoke. Also, the ride to the border from Eureka was forgettable. Nothing to see and for me it was unnecessary sun exposure.
I've heard the Magruder Crossing section is especially wild and remote. Did it live up to the hype?
The Magruder was pretty, but it's also a popular motorbike touring route. I'm told there was a view but I couldn't see through the smoke. The area burned a few years ago, so with the smoke and dead trees the experience was very surreal. I didn't filter the water up there though so that was a nice change. I enjoyed the town before the corridor – Elk City. I highly recommend staying a while and listening to the locals. You might be offered some fresh bear chili or hear wild stories of winter.
The weather must have varied hugely on such a long route. What were some of the extremes you dealt with? Any dodgy weather-related situations?
The heatwaves in Montana were intense – I had a 115 degree day. The flashfloods while in slot canyon country in the San Rafeal Swell were very real. I fled one canyon and went back to Price, Utah due to flooding on my route.
I had some doozies of lightening storms on either side of the Snake River Plain. I took a nap in a vault toilet while sheltering from some storms outside of Blackfoot, ID. I left before it was completely passed, and I've never felt more exposed than being stuck at 9000 feet in a lightening storm.
What were the sloggiest slogs?
The gravel road up a canyon had been washed out a few days before my arrival. The incision was 12 feet deep in some places and a staggering reminder of the power of flash floods. For me, the result was that I had to slog up behind the plow that was re-grading the road through feet of deep, loose wettish slurry.
The Galena climb from Stanley on the way to Ketchum broke me, that was the first time I bawled from exhaustion and joy at the same time. I didn't think I would make it. I was exhausted and just didn't care really. I couldn't see myself at the top. I ditched the dirt and took the road to keep it smooth. I measured the climb in vertical change and just tried to make 100 feet at a time.
Which section would you recommend to someone who wants a taste of the Western Wildlands Route but only has a couple weeks to ride?
I would choose a route that either starts or ends in Ketchum! Take the shuttle to SLC for cheap flights, or Idaho Falls. This section has hot springs, great camping, lots of water, side activities like gold mine tours, and quirky towns like Challis and Stanley.
Any side trips or detours you especially recommend?
The Yankee Fork Gold Dredge outside of Stanley, ID is a wonderful stop. It's along the route, no detour needed.
I would detour again to the San Rafeal Swell—so many pictographs, dinosaur tracks/bones, canyons, cliffs. Route yourself to Escalante, Utah and ride the Devi's Causeway.
Take a ride on the Wasatch Crest trail in Park City, it's divine with views into Big Cottonwood Canyon.
Any observations you want to share about the communities you visited?
Short term housing and rental markets have completely ruined housing in mountain towns. Do we really need third and fourth homes as investments while people who are actually trying to eek out a living (working and servicing the town – running the lifts, serving your coffee) can't even find a bunk to rent?
Any notable stories of interactions you had with people along the way?
I had just arrived at Capitol Reef National Park and met a hiker in rough shape – he had been lost and hadn't any food all day. Honestly, I wasn't quite in the mood to listen at first – I too was also hot, tired, and thirsty. I swallowed my pride and sat down to chat and share some electrolyte tabs and food. I'm really glad I did. I needed a reminder that we all can make judgement mistakes, we are only human. Looking back, I should have retrieved his vehicle for him with my bike.
When we parted ways it was getting dark and I hadn't prepared with a reservation made 6-9 months in advance. Time to scrounge around and look for a campsite to share. I had done a circle and spotted a good candidate – one solid off-road vehicle and a woman about my age, possibly traveling solo. Seemed like a good fit. As I rolled around the campsites for maybe a second pass, she called out and asked if I was looking for a place to camp for the night. I was thrilled by the generosity. I couldn't have asked for more, and then fate delivered so much more to me.
Turns out we went to the same college, had similar interests, and we were from the same very small corner of western PA that I now (mostly) live in and we would soon be neighbors. We talked for hours about traveling and discovering the Western landscapes, our favorite Edward Abbey novels, the struggles with career and family, and finding the balance. It was fate!
There were a few assholes, but lets focus on the positive. Everyone has bad days and I try to assume negative interactions usually aren't my fault. Some people will go to great lengths to stay unhappy no matter the circumstances.
Food and Water
Let's talk food! Favorite meals, staple snacks, anything else that stands out.
I ate a lot of breakfasts in town—hashbrowns, eggs, sausage, French toast. I also had trouble riding by any Mexican restaurants.
Whenever I could, I displaced my water bottle with a large vanilla latte in my feed bag. I wasn't picky – gas station cappuccino or coffee shop would do! A bag of rotisserie chicken was also a fantastic mid-day meal.
More packable items: Fresh fruit, yogurt, premade sandwich, avocado, cheese curds. Anything fresh with more water content! Gummy snacks.
Gatorade in the helmet to go, individual servings of iced tea or lemonade packets for some extra flavor. My most depraved meal on repeat was a bag of BBQ Fritos with a can of baby smoked clams mashed together and an avocado if I had one.
Almond Snickers for a calorie bomb if I was crashing, fritos, raspberry fig cereal-type bars hit the spot.
I have food security issues so I would frequently be carting around way too much food, but variety is the spice of life! My mind goes to the worst case scenarios—what if I taco a wheel and have to walk out? What if I get lost? I lived and died by the delayed gratification of a fresh peach or tangerine at the top of the climb.
There really was quite a lot of food available on the route.
What's the most food you carried at one time, and where?
At one point I had about 10,000 calories after I left Ketchum. I had overshopped at the discount grocery store. I also had a lot of food along the Magruder Corridor because I planned to skip the resupply town of Darby.
Favorite trail towns for rest and resupply?
I highly recommend most of the cities along the route. In no particular order: Elk City, Park City (stay at the Hostel a few nights, ask about throwing a river trip together!) Hailey/Ketchum (hot springs, singletrack), Flagstaff, Price UT, and Escalante UT.
My absolute favorite was a little farm market outside of Cainevillle, UT called Mesa Farm Market on the way to Capitol Reef NP. The previous night had been very stressful and scary when the bank of the Muddy River almost collapsed on me. The market was blissful – goat milk yogurt, fresh sourdough bread, butter, pesto, citrus fruit, and iced coffee.
Black Owl Coffee in Hailey has the best coffee in the valley! Stop in and stay for a while.
Are people in the resupply towns aware of the Western Wildlands Route? What kind of attitudes did you encounter toward yourself and bikepackers in general?
I found most people in the super small towns to be aware and friendly. The only negative part: I got really sick of being asked if I carried a gun and then being asked to defend that position.
Any towns you didn't enjoy or found difficult to resupply in?
I never left wanting from a town along my route. Just lower those expectations and you will find what you need. Every town had what I needed. Maybe not what I wanted but you can't be picky.
What was your water treatment system and how well did it work, especially in the dry parts of the southwest?
I mostly used an MSR TrailShot filter system for normal surface water. A few days in Montana I particularly didn't give a damn and just filled my bottle from meltwater. The filter worked fine as long as I shook it to clean it (which I didn't do the first month, oops).
My filter got gummed up in a tributary to the Green River in the white clay. I ended up filling the extra bottles I had from Gatorade and letting the water settle overnight, then poured off the clearer water and used some iodine pills in the clear fraction. I had 9 liters of capacity at that point so I had some space for working out a settle-pour-treat system. With just a bladder and no bottles I would have been drinking untreated clay water. Gross. Iodine pills are not effective with so much particulate matter in the water.
What was the most water you ever carried at one time, and where?
I carried 9L when I went off route with no beta to the Green River. I had 2 tall bottles, 1L metal bottle, 2 1L Platypus bags, a 3L water bladder, plus 2 big Gatorade bottles.
I carried the two bike bottles in feed bags, the Platypus bags were in my fork bags, the 3L bag was in my triangle bag, I had a Gatorade in my helmet, and a Gatorade in my rear bag.
I had so much because I didn't know if the route was even passable at the small tributary along the Green River, and I was looking at a 2 day round trip back if it wasn't.
Geology for Bikepackers
From your perspective as a geologist, what were the coolest things you saw along or near the route?
The Yankee Fork Gold Dredge outside of Custer, ID. A mining dredge has been turned into a museum and you can take a tour for $5. It's the best money you can spend on the route. The best part is you can root through the tailings for gold and keep anything you find! Mining has been such an integral part of the development of the western states. Seeing the action up close is really something special.
Snake River Plain basalt contact with river valley sediments. This is a pure nerdy one — the volcanics are from the Yellowstone Hotspot and they overlie older river deposits of the Snake River.
Outside of Park City, there was a point you could see the Wasatch and Uinta mountains coming at right angles to one another. But I only saw it when I looked behind me. The Uinta and Wasatch mountain ranges have completely different origins, structure, tectonics. I would have loved to do a transit around the Uinta mountains.
The San Rafeal Swell in SW Utah is an absolute playground. The modern geomorphic expression is a ring-shaped exposure of towering, eroded sandstone cliffs. The region is home to countless slot canyons, arches, mesas, badlands, pinnacles, pictograph panels and other cultural sites, mines, dinosaur tracks, fossil sites, and river canyons. I could have spent a lot more time there. My favorite camping spot was there – it's called the Wedge.
How do you think your geology background leads you to experience bikepacking differently? Which aspects of a route or terrain do you notice that most bikepackers probably aren't thinking about?
This one made me laugh. I absolutely try to avoid riding at night, simply because I think it's a waste of effort to ride and only see the road in front of you. The whole point of the journey for me is to ride through landscapes, not a black tunnel. The only night riding I did was coming into Escalante, UT and I STILL regret missing the canyon.
I see and think differently about the landscapes around me in terms of connections to a physical processes. Mountains and valleys are beautiful, but they are the result of a set of processes. A great example is the crossing of the Snake River Plain (SRP). I heard others call the SRP a bore, and just "something to get through." To me it's a reservoir that preserves evidence powerful volcanic activity migrating across an existing landscape.
The SRP is a valley filled to the brim with volcanics from the Yellowstone hot spot. The landscape is chock full of lava tubes, ice caves, loess deposits, waterfalls, various ages and types of volcanic flows. All of these have their own formational process. NOT BORING!
What's a simple way that bikepackers can get more in touch with the geology of where we ride? What are some clues we can look for or ways to read the landscape besides just "wow that's a cool view" or "ugh this road is rough."
I think this is a fantastic question. A good place to start is by making observations and naming the specific features of a landscape. Try to answer WHY the landscape is so cool. Give yourself the language to describe it properly. What features are part of the landscape – rivers, cliffs, valleys, waterfalls, peaks, ridges, boulders, gravel, arches, scree slopes, or caves?
Next take in the relief from highest to lowest points you can see. Is it a continuous slope? Is the highest to lowest point broken up with cliffs in a stepped pattern? How wide is the valley? Notice if the surface you are riding is graded gravel or a more native surface. What color do the rocks appear? Does it feel like sandpaper? Can you see crystals in the rock? Is everything the same shape? Try to estimate the height of the cliffs you see, the widths of the rivers.
Learning to describe the landscape accurately lets you communicate and share with others too. When I'm riding I'm constantly making these observations and making notes of any changes.
Reflections
What did you learn about yourself while riding the WWR?
I learned I'm actually an extrovert, I cannot survive in isolation. I need to feel connected to communities, but I also have the ability to create community and bring it with me wherever I may be.
I learned to live with only short term goals, day by day. I learned to be ok with an uncertain future (no job, no home to go back to). I learned how to unwind and live where you are in the present. I also learned you can't rest on past accomplishments – those laurels sure are pretty but get dusty awfully quickly.
Maybe the most important self realization was that I can and will be able to quit my job in the future to do this again. I can be without career work and I'll be ok mentally.
How did your body adapt over the course of the ride? Did you finish feeling strong?
I started in good shape from the April/May touring. I felt good, when I could sleep. I just couldn't sleep well. Looking back on pictures, I lost a bit of weight and I was sprinting climbs in SoCal so I think I was in good shape to start!
The fitness plateau is real, but it happens at such a high level that it's ok. I think its also a motivational plateau. Once you are elevation acclimated, the riding feels wonderful. The road grades are consistent and manageable.
I feel like I finished strong but I was on my way to exhausted. I had completed 2700 miles by Flagstaff, and the lack of sleep was finally catching up to me.
What were some of the mental challenges and rewards of riding such a long route, and especially doing it solo?
Hands down, going off route was the most rewarding. My particular deviation had some thrilling risk and required the knowledge of my physical ability gained from the standard route. I highly encourage riders to use the standard route as a baseline for a personalized adventure.
A little deeper dig into this mentality: Going off route lets you define the parameters of your own accomplishment. So what if you did different miles, or fewer miles, or more elevation. The journey is yours to define. I wish I had taken some opportunities that presented themselves earlier in the trip to journey off route.
The biggest challenge was sleeping enough to wake up rested and recovered. I really struggled. Sometimes I couldn't stop thinking about my future (I was jobless and homeless at this point!). Some nights I had terrible nightmares. Some nights I just could not fall asleep. To ride all day and then not sleep is a sinking ship. I tried a lot – no coffee, melatonin, pillow arrangements, sleeping pads, sleep aids, different sleeping bag, clothes.
Mentally I struggled with being alone. Some experiences are just better shared with others. There are only so many interesting selfies to take. At times I really missed the company of others in the evenings. I kept extending my stay in Park City after my bike was finished because the people were just so interesting.
My advice is to pay forward gratitude and kindness to the others you will inevitably meet on the trail at some point. And appreciate the relationships you have and the ability to connect with friends across time and space – the internet is a wonderful tool!
Describe an experience that made you feel happy / optimistic / warm and fuzzy?
Random warm-fuzzy: The kindness of strangers, the many pleasant conversations and brief interactions. I found people to be generally kind, interested, and friendly.
Self-actualized warm-fuzzy: I was able to meet up with some old friends along the way in Ketchum and Salt Lake.
Describe an experience that made you feel sad / scared / uncomfortable.
This might not be a popular opinion.
The Woman killed in Ovando on the Tour Divide was a horrible, tragic occurrence. My friends and family thought it was me at first – I was in a similar position in Montana and fit the description. I can't imagine what they went through. I could really put myself in her position. My heart goes out to her loved ones. But also, I disliked the way total strangers twisted the incident into a scare tactic when talking to me. I really got sick of being called crazy.
Scared: the crossing of the Muddy River. The bank of the river collapsed on me at dusk. I thought I was going to get mired in the mud and stuck.
Sad: the absolute poverty and living conditions that are part of the rural American life.
What places or routes are on your wishlist for future riding? Has your wishlist changed after riding the WWR?
I would love to do the Idaho Hot Springs Loop. I wish I had tacked that on at the time!
Since I still have a section missing, my plan is to start at the southern border, ride north, then transit west on a linkage to Las Vegas and then bring it home to SoCal, then make an epic loop up north through the Coastal Ranges to San Francisco/Bay Area, then hit the Pony Express route heading East with a detour to the Wind River Ranges.
I still have a Baja Divide quest in me but I would like a riding partner for that one.
For a completely different journey, I want to do the Appalachian connection from Pittsburgh, PA to Georgia and then through Arkansas to Austin, TX.
Any other advice you would offer to future riders?
Keep up on the fire activity. Several times there were fires nearby and the route was soon closed behind me. Along with the physical route closure, air quality can be a problem. I was mired in Park City for a few days with bad air, and I had bad air in Montana and on the Magruder Corridor.
My random words of wisdom and encouragement:
The struggles of a long route are mostly mental. You are brave. You are stronger and more capable than you realize. Learn to read a map. Honor your commitments.
Growth only happens when we challenge ourselves. I literally failed almost every riding goal of 2021. I cut short two of my four routes, finished last in a bike packing race, and then missed miles of the Bentonville Trail challenge. Measure yourself by what you have accomplished, not by missing an arbitrary goal. Goals are just broad targets to get you moving in the right direction. See where it takes you!
Wrap Up From Alissa
What a journey! Katy, thanks so much for sharing your experience, and congratulations on a challenging and epic solo ride. Your stories and pictures have me feeling even more excited about the Western Wildlands Route and your well-chosen detours.
Readers, I hope this interview was as fun for you as it was for me! Next time I'm out riding, you can bet I'll be looking a little more closely at the rocks and the landscape and trying to channel my inner amateur geologist.
It sounds like Katy still has plenty of adventures on her wishlist. You can follow her at @forest_for_the_tree and be sure to check out her Bikes or Death episode if you haven't already.
Pin For Later
More Bikepacking Resources
If you liked this interview with Katy, you might also enjoy these:
Or check out the bikepacking resources section for even more pedal-powered information and inspiration.
Bike resources in your inbox?
There's more where this came from! Sign up here for occasional emails full of inspiration and information about bikepacking and bicycle touring.


Share the Adventure
If you found this article helpful, please consider sharing so more people can benefit from it: