The spectacular and challenging John Muir Trail was my first major backpacking trip beyond a simple overnighter. I know, that's a little unusual! What can I say, I'm not one to take the slow and steady path. When something captures my attention I jump in with both feet.
So it may not be surprising that I learned a lot of backpacking skills the hard way during my JMT hike. This was many years ago now, but I remember those 18 amazing days like it was yesterday. And now, with far more experience hiking in the mountains, I can look back and see exactly what I would have done differently.
Whether you're planning a John Muir Trail thru hike or just dreaming about it, these JMT hiking tips will give you a sense of the trail and help you refine your gear choices. I still had a fantastic time out there, but if I can help future hikers avoid some of the mistakes I made, all that hard-won experience will be even more worthwhile.
Choose Your Backpack VERY Carefully
I chose my JMT backpack carefully, or so I thought. I was fully bought into the idea of lightweight backpacking and chose a lightweight, frameless pack that was well reviewed (a small brand that no longer exists). It was also a great value, one of the better ounces saved per dollar calculations in my gear spreadsheet.
Unfortunately, I overlooked a couple important points:
The pack was one-size-fits all and I'm a small person. Its boxy shape felt awkward, and as my body composition shifted over weeks of heavy activity the hip belt no longer fit. I ended the hike with my fleece jacket wrapped around my waist, the hip belt fastened over it, to avoid taking the pack's full weight on my shoulders.
If Muir Trail Ranch is your last resupply, your pack WILL be very heavy for a few days after picking it up. The 2-3 days after MTR were brutal on my shoulders and back, in large part because my pack did not fit me properly.
So, when choosing your backpack for the JMT or any long backpacking trip, keep these points in mind.
The best pack in the world will be horrible for you if it doesn't fit YOUR body.
Packs have maximum recommended weight limits for a reason. Do a reality check with your heaviest post-resupply pack weight. If it'll be over the max recommended load for more than the first day after picking up your heaviest resupply, consider a different pack (or make your resupply lighter).
To help you identify some good backpack options, here's an analysis of the most popular backpacks on the John Muir Trail. See also:
Expect Cold Nights
It was on the JMT that I first learned what a cold sleeper I am. When the early September nights dropped below freezing at 10,000+ feet, I absolutely froze my buns off. My gear wasn't bad, but it was definitely less substantial than what I would pack for a similar trip now.
If you've never hiked and camped at such high elevation before, let me tell you that even on the warmest summer days, nights in the mountains can still be brutally, freeze-your-water-bottles-in-your-tent, wake-you-up-shivering cold.
Don't worry though, good gear and techniques CAN keep you warm if you know what to expect. Here is a post jam-packed full of tips for staying warm while backpacking on exactly this type of trip. I suggest taking them seriously, especially if you'll be hiking toward the end of the summer season when the temperatures start to get chillier.
The JMT gets higher (and thus generally cooler) the further south you hike. Southbound hikers on the fence about bringing that extra warm layer or those down booties could consider shipping them to Muir Trail Ranch with your resupply package, so you'll have them for the second half only.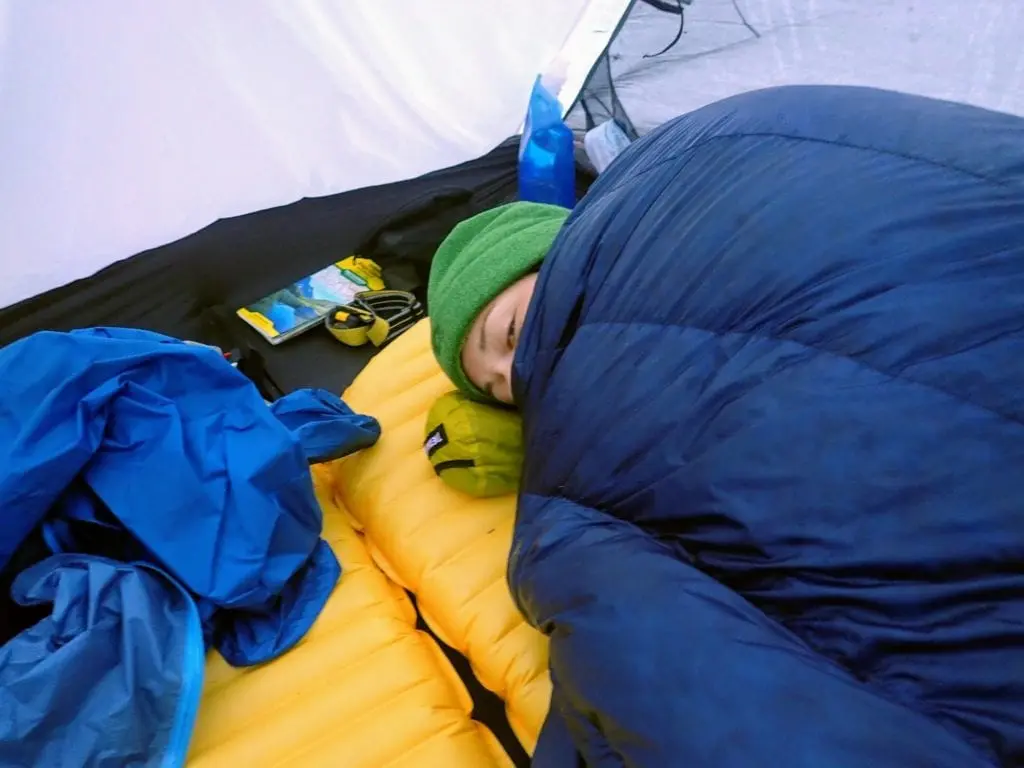 Don't Skimp on Rain Gear
The High Sierra isn't known for summer rain the way the mountains of Colorado are, for example. In fact, out of my 18 days on the JMT there were 16 without rain.
But on those other two days, wow was I uncomfortable. My super-lightweight rain jacket, trash bag pack cover, and trash bag "rain skirt" failed completely to keep my gear and my body dry.
This is what's known as "stupid light" – getting oneself into a bad situation by trying to pack too light. Someone with more experience in the mountains might have been able to make this setup work, but I had neither the proper gear nor the experience to improvise without it.
If I were hiking the JMT again and needed an affordable yet reasonably lightweight rain setup, this is what I would pack:
Of course there are other options, especially for the die-hard ultralight backpacker. For more details on clothing I recommend for mountain backpacking trips, see this post on lightweight backpacking clothes and this one on rain jackets.
About the pack cover: Hikers who are really dedicated to cutting weight could consider a trash bag DIY pack cover, but know that they are not very durable. You'll need to bring some spares, and/or enough duct tape to mend any rips. You'll also need a reliable way to secure it around your backpack; heavy rain tends to come with heavy wind.
Test Your Meals In Advance
If you're shipping food to yourself along the JMT, as most thru hikers do, make sure you actually like eating what you send. While it's true that most food tastes better on the trail with a thru-hiker-sized appetite, there are still going to be some things you don't want to eat. If you pull it out of the bear can and think "ugh, not THIS again," dinner is not going to be as enjoyable.
To avoid this, test your meals at home. It can be a lot of fun to make your own dehydrated meals (and it can save money too), but make sure you got the recipe right before shipping off a dozen of them. Try to incorporate plenty of variety so you can rotate through 3-4 meals before repeating.
Sneak in a special treat or two for those nights when you're craving something extra. We brought dehydrated pumpkin pie filling which was… interesting… but at least it was new and different.
If you're buying pre-made backpacking meals, I recommend bringing some extra freeze dried goodies like veggies, cheese powder, olive oil, or other goodies to add calories and flavor.
Use Lightweight Gaiters with Trail Running Shoes
I hiked the John Muir Trail in trail running shoes, which I highly recommend (here's why and how). The only drawback I've experienced with this setup is that dust and small rocks easily find their way into my socks and shoes. This is annoying, and over time it can lead to blisters if enough grit gets in there and isn't emptied out.
The solution I've since discovered and wish I'd known then: Dirty Girl Gaiters. Their name might not suggest it, but they're extremely popular with thru hikers of all genders. Their fun patterns are irresistible too.
Plan But Stay Flexible
I know, this one is tough. The JMT requires pretty precise resupply planning, so most hikers need to plan a schedule in advance and stick to it.
However, sticking to an exact schedule can be a bummer when you pass the perfect campsite just a couple miles too soon, or when your zero day is planned for a lake that turns out to be swarming with mosquitoes.
You'll probably find your thru hike more rewarding if you have the flexibility to tweak plans on the fly. Stop a couple miles early and make it up the next day. Skip the mosquito-infested zero day and wait until you reach a site you fall in love with.
On my hike we stuck to our plans rigidly. My only real regret is having to pass by so many places I wanted to spend more time in. Of course if we hung out at every beautiful place on the JMT we'd all still be out there. But give yourself the leeway for a special treat now and then.
For help understanding how many days you should plan between resupply stops and how to work in rest days and side trips, consider these factors (includes pace charts).
Choose Hiking Partners Carefully
Shared experiences on the trail can bring us together quickly, but when hiking partners aren't a good fit things get uncomfortable fast. I unfortunately witnessed some social friction on the JMT, which taught me the importance of looking carefully at what makes a good hiking partner.
A good hiking partner isn't just fun to talk to at camp and roughly your speed. A good hiking partner is just that: a partner. Ideally all partners participate equally in discussion and decision making, with compromises being made fairly when preferences differ.
Even people who know each other well and get along wonderfully can need some space from each other after many long days of hiking. I hiked with my husband, so I would know! 🙂 It's totally fine to hike separately for a few miles and get lost (figuratively speaking) in nature, rather than staring at the heals of the person in front of you. Just make sure you plan precisely where to meet up again, and what you'll do if either person isn't there when expected.
If you are thinking about hiking with someone you don't know very well, mitigate the risk by being fully self-sufficient with your gear. I witnessed a pair of hikers grow increasingly grumpy with each other throughout the hike while struggling to agree on their daily schedule and camp locations. Each would have preferred to part ways, but their shared shelter, stove, and map kept them tied.
Protect Your Skin From The Sun
I have to admit, part of me actually hoped I would return from the JMT with a nice outdoorsy suntan, the kind that just screams "I went on a grand adventure this summer." Forgive me, I was in my twenties and fear of skin cancer hadn't yet become real.
Of course I still absolutely used sunscreen, sunglasses, and a hat. To go without those would have been unthinkable. But my short sleeve shirt left my forearms exposed, especially when hiking with poles, and the backs of my hands ended up especially crispy.
Since hiking the JMT I've discovered sun sleeves that cover my arms and hands down to my knuckles. These are perfect for alpine hikes with long sections above treeline and away from any shade. Those granite basins of the High Sierra are beautiful and vast, but they can feel like the world's largest oven in the relentless afternoon sun.
Protect Pristine and Delicate Places
I'm embarrassed to admit this, but hopefully it'll help others avoid the same mistake. I have pictures from the JMT of me proudly washing out my clothes in a pristine alpine lake, so excited to "do laundry" for the first time on the hike.
I didn't realize at the time that this is a violation of Leave No Trace guidelines. Of course I used biodegradable soap, but it actually doesn't matter. The John Muir Trail is incredibly popular. If every hiker "did laundry" in those lovely blue alpine lakes, they would be a scummy mess by the end of a single hiking season.
So what's a smelly hiker to do? At the very least, wash your clothes without soap of any kind. Better yet, grab a pot full of water, carry it at least 200 feet away from the lake or stream, and do your best to wash your clothes and body there. Yes, the water eventually does run back into the lake or stream, but it's been filtered through soil in the meantime, which does make a difference.
I understand there is grey area here. Sometimes we swim in those refreshing lakes on a hot day. A little bit of our sunscreen washes off, and if we wear any clothes in, they come out a little cleaner. Should we avoid touching the water entirely? I think this is a decision we all need to make mindfully. Consider the lake, consider what's on your skin, consider how heavily used the campsite is.
And as a general rule, skip the soap.
---
With those JMT hiking tips, there's a good chance you'll avoid some of the mistakes I made on this fantastic hike. To cover even more bases, check out this list of backpacking mistakes to avoid.
For more help planning your John Muir Trail adventure, see these related posts:


Hiking resources in your inbox?
There's more where this came from! Sign up here for occasional emails full of inspiration and information about backpacking and hiking.


Share the Adventure
If you found this article helpful, please consider sharing so more people can benefit from it:
Pin For Later