The John Muir Trail and Tahoe Rim Trail have a lot in common. Both are stunning summer romps through the Sierra Nevada mountains in the United States. Both offer scenic alpine vistas enjoyed from single-track trail and perfectly perched campsites. Both are relatively short thru hikes that will take you away from your "normal life" for a well-spent 2-4 weeks.
The two trails also share many of the same challenges that come with hiking in the Sierra Nevada: finding water sources, resupplying food, choosing a good campsite, protecting your food from wildlife, preparing for mountain weather, avoiding or coping with mosquitoes… They require similar gear and have the same hiking season (July – September, depending on snowpack).
So how is an eager thru-hiker to choose? There are many excellent writeups about both the JMT and TRT, but most of them don't directly compare the two. Here I'll compare the JMT and TRT across a few important categories to help you understand the differences, pros, and cons.
In the end, the choice is yours (and maybe the JMT permit lottery's) and you really can't go wrong with either of these lovely trails.
My Own JMT and TRT Hikes
I've had the pleasure of thru-hiking both these trails under very different circumstances and for different purposes.
The John Muir Trail was my first real backpacking trip, aside from a couple 1-2 nighters near my home. My husband and I hiked it in 2014 with two other friends after meticulously researching, planning, buying gear, and packing and mailing an epic menu of homemade freeze dried meals. We took our time – a leisurely but still challenging 13 miles per day over 18 days (see our itinerary here) – and soaked it all in. It was along JMT's rocky tread that we figured out backpacking isn't really that complicated. We became capable trail wanderers and haven't looked back since.
After the JMT, our next question was naturally "That was cool… What else can we do, and can we do it faster?" That's the endurance masochists in us. A couple summers later in 2016, amped up for a tough project and trying to make the most of scant time off work, we set ourselves the task of walking around Lake Tahoe on the TRT in exactly one week. Seven days. That's an average of 24 miles per day. We honed our lightweight gear strategy, went stoveless, resupplied food from shops along the way, and hiked from sunrise until sunset and then some.
Which trail was better? Impossible to say. In hindsight the JMT was more fun, because we went slower, so it hurt less. The TRT was in some ways a more satisfying athletic accomplishment. But we could have done it the other way around, taking our time on the TRT and pushing ourselves on the JMT, and had opposite results. (Though I doubt we would have touched 7 days on the JMT – amazingly the current unsupported record clocks in at around 3 and a half days, a truly spectacular athletic feat.)
One thing to note: we packed so light on the Tahoe Rim Trail that I didn't bring a camera, so I only have a few poor quality phone pictures that don't really do it justice. On the JMT I took tons of pictures, so you'll see more of them in this post.
The Basics
| | | |
| --- | --- | --- |
| | John Muir Trail | Tahoe Rim Trail |
| Affectionate nickname | JMT | TRT |
| Distance | 211 miles | 170 miles |
| Route type | point to point | loop |
| Typical time needed | 18-24 days | 10-15 days |
| Getting permits | Difficult (info) | Easy (info) |
| Food storage | Bear can required | Hanging / bear bag OK |
| Official planning resource | PCTA website | TRTA website |
| Lowest elevation | 4,035 feet | 6,240 feet |
| Highest elevation | 14,505 feet | 10,338 feet |
| Dogs allowed | Mostly no | Entire trail |
| Mountain bikes allowed | Mostly no | Some (info) |
| Horses allowed | Mostly yes | Almost all (info) |
Let's dive into a few of those rows in more detail.
Permits
JMT Permits
Summary: harder
Permits for the JMT are notoriously hard to get. Even back when I hiked it in 2014 we had to start at an alternate location, Tuolumne Meadows. I'm sure it's even harder today.
TRT Permits
Summary: easier
Permits for the TRT, on the other hand, are available to all who want them. Technically you don't even need a permit, except for the Desolation Wilderness section, and everyone thru-hiking the TRT is granted one. You do have to request it and pay for it though; see the website for details.
For these reasons, if you were hoping to hike the JMT but struck out in the permit lottery, the TRT can be an appealing backup plan if you know you still want to log some trail miles this summer.
Transportation
JMT Transportation
Summary: harder
The JMT, being a point to point route, has some challenging transportation logistics to work out. It's definitely doable with a mix of public transportation, park buses, and/or a 2-car shuttle. But it will take some research and planning.
TRT Transportation
Summary: easier
The TRT, awesomely, is a loop. This means you finish exactly where you started, just a bit hungrier and more rugged-looking. There are a number of different trailheads you can start from and leave your car at, making the whole thing pretty simple. Do read up on the TRTA website for parking regulations before choosing your start point. Public transportation is also an option for certain trailheads if you don't have wheels or don't want to leave them parked at a trailhead for so long.
Resupplies
Both trails have resupply points at mostly reasonable intervals, where you can either buy food or pick up a package you've mailed.
JMT Resupplies
Summary: a bit harder
Most people mail their food resupplies on the JMT. I think it would be challenging and expensive, though maybe possible (might have to rummage through the hiker bins where people discard unwanted food), to resupply by purchasing food at the tiny shops along the way.
Also be aware that there's one long stretch between Muir Trail Ranch and Whitney Portal with no resupply option unless you hire pack mules or hike out over Kearsarge Pass to Onion Valley. When I hiked the JMT we carried 9 days of food out of Muir Trail Ranch. Yes, it was heavy.
TRT Resupplies
Summary: a bit easier
While you can mail food to some locations on the TRT, you have the option of buying food along the way if you aren't too fussy. Tahoe City, for example, has an entire full-size grocery store just a few blocks from the trail. There are a few other on-trail locations with smaller shops, and also a few towns within a 5 mile drive if you're up for extra walking or hitchhiking.
My Ratings
Which trail is better? I know you want a black and white answer, but honestly, it depends. It depends on your skills, goals, available time, and preferences.
That said, it's possible to compare them in a few different categories. These are my personal opinions. Five is the highest and one is the lowest.
| | | |
| --- | --- | --- |
| | John Muir Trail | Tahoe Rim Trail |
| Physical difficulty | 4 | 3 |
| Logistical difficulty | 4 | 2 |
| Remoteness | 4 | 2 |
| Solitude | 4 | 3 |
| Scenic beauty | 5 | 3 |
Physical Difficulty
Both hikes are physically challenging, and you can make either more or less so by varying your speed and gear. But, mile for mile, the JMT is harder. The average and peak elevations are higher, the trail is often rockier, and there is more elevation gain per day. There will be days on the JMT when you need to climb 3000+ feet over a pass before lunch. The TRT has plenty of climbs and should not be underestimated, but they are usually not as long, steep, or high.
Altitude won't be as much of a factor for most hikers on the TRT, whereas the passes in the southern section of the JMT (not to mention the summit of Mt. Whitney) will leave most people feeling pretty short of breath.
Logistical Difficulty
The challenges of getting permits, planning transportation, and mailing resupplies combine to make the John Muir Trail more of a logistical challenge. It wouldn't work to just show up at a trailhead and go, like we basically did for the Tahoe Rim Trail. That said, these challenges can all be overcome and there is plenty of information out there to help you, so don't let that dissuade you if your heart is set on the JMT.
Remoteness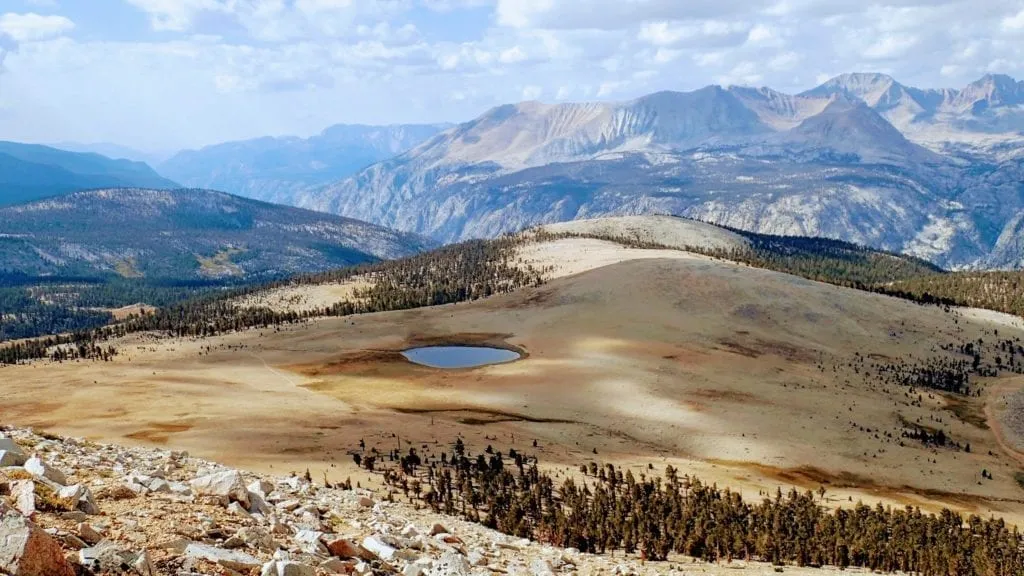 On the Tahoe Rim Trail in general you are never more than a long day of hiking from a trail head. This means the people you meet will be primarily day hikers, with occasional other backpackers – many hiking short sections – mixed in.
On the John Muir Trail you'll traverse areas no normal day hiker would reach. There's something special about only meeting other backpackers out on the trail. "We've been out here for a week. Do you have a recent weather report?" "Nope, we've been out here for a week too." "Oh well. Beautiful trail huh?"
The JMT's remoteness can be a lovely thing, but it also means you'll have a harder time getting out if something goes wrong. Plan emergency exit routes, bring a bit of extra food, and have a way of getting help especially if hiking solo.
Solitude
Remoteness is usually correlated with solitude. On the TRT it felt a little odd being in full backcountry mode – hungry, smelly, and disconnected – while encountering day-hiking families and locals out walking their dogs. Some sections were uncrowded, but you can't avoid the crowded sections. If you're not in search of solitude you may find this more interesting than the long stretches of emptiness on the JMT, but most hikers will probably prefer the quieter trails of the JMT.
The other thing to note is that mountain bikes are allowed on substantial sections of the TRT, but not on the JMT. While they were almost always courteous and friendly (including one group of badass night bikers that were trail biking fully in the dark!), it can get a little tiring to keep stepping aside on crowded weekday afternoons on certain sections.
Scenic Beauty
Both trails are lovely and will definitely scratch that itch for mountain vistas. However, while the mountains around Tahoe are beautiful, their scale is simply not as big.
The John Muir Trail passes through three of the most spectacular national parks in California. You'll spend days above treeline in massive granite amphitheaters, descend into sparkling valleys you can barely see the other side of, then repeat, and repeat, and repeat. At the end of it all (if you hike southbound) you'll find yourself at the summit of the tallest mountain in the lower 48 states, with an absolutely expansive view.
If you're a connoisseur of lake views, your choice is between one huge lake on the TRT (plus plenty of other small and medium ones), versus tons of small alpine lakes on the JMT. On the TRT you'll get sweeping views of Lake Tahoe, which no lake on the JMT (or many other places) comes close to in terms of size. On the JMT you'll find an uncountable number of small and medium sized lakes wedged between steep granite walls and nestled into expansive alpine plateaus.
Other Considerations
Here are a few other factors that might sway you one direction or the other.
Pacific Crest Trail: While both trails share some tread with the famous PCT, the JMT shares more. If your goal is to section hike some of the PCT, you'll get more out of hiking the JMT.
Mount Whitney: For southbound JMT hikers, Mt. Whitney's summit is the prize that marks the start of the (very long) victory lap (down lots and lots of switchbacks). If you're excited about the two-for-one of summitting the tallest mountain in the contiguous US and also completing a thru-hike, the JMT is your choice. The equivalent on the TRT is Mount Rose, a few thousand feet shorter but still a worthy peak with amazing views.
Side Trips: Both trails have plenty of opportunities for side trips if you want to draw out your hike. The JMT probably has more. You could wander for months in the massive swath of rugged land contained in Kings Canyon and Sequoia National Parks, the John Muir Wilderness, and Yosemite. If you like climbing 14ers or you're into alpine climbing and scrambling and plan on bringing any gear with you (at least a helmet please!), you probably already have your heart set on the JMT.
Dogs: You can't bring dogs on much of the JMT. You can bring them on the entire TRT. If you want to share your backcountry adventure with Fido then TRT is your pick.
Camping: On most of both trails you can camp where you want, following the standard regulations for keeping minimal distance from water sources and trails. The TRT, however, has one section (Lake Tahoe Nevada State Park) where you MUST camp at specific established campsites. It's possible to hike a super long day and avoid this section entirely, but most people won't want to. So if you're allergic to established campsites, keep this in mind.
California – Nevada State Line: The JMT is entirely within California. On the TRT you'll hike across the state line between California and Nevada not once, but twice. If this sounds like a novelty to you, that's a plus for the TRT.
So which one is better?
Ugh, you're going to make me choose huh? Well, the John Muir Trail is popular for a reason. It's big, epic, and breathtakingly gorgeous. If you're of the "go big or go home" mindset, you'll like the JMT.
But don't discount the Tahoe Rim Trail. If you prefer forests to granite, have less time, want to push yourself physically on a less committing trail (like we did with our 7 day itinerary), need a logistically easier route, or can't get a permit for the JMT, definitely consider a trip around Lake Tahoe for your next thru-hike.
You can always do both eventually. 🙂
Do I need different gear for the JMT versus TRT?
For most people, not really. A thoughtfully selected set of three season mountain backpacking gear will serve you well on either trail. There are a few considerations for those looking to really optimize:
The JMT typically requires longer between resupplies and a bear canister is mandatory, so a larger pack rated for a heavier load is sometimes necessary (unless you're truly a gram counter).
The JMT spends more time at higher altitude, which will require warmer clothing and sleep system especially if hiking in late season (September). Don't get me wrong, you need warm gear for the TRT too! But if you run cold and/or your gear is on the edge of sufficient, the JMT may be a more compelling reason to upgrade a few key items.
Since the JMT is a more difficult trail, it will reward a lightweight backpacking setup even more than the TRT will.
If you're interested in gear, check out this series where I analyzed over two dozen JMT gear lists and pulled out the most popular backpacks and sleeping pads. Even if you're not hiking the JMT, there's a lot to learn from what makes these items popular choices with well-informed through hikers.
More Resources
Both trails have plenty of planning information available, though more has been written about the super-popular John Muir Trail.
Here are a few resources and trail journals for each to get you started.
---
Looking for something a little shorter? Check out the Desolation Wilderness Grand Loop.


Hiking resources in your inbox?
There's more where this came from! Sign up here for occasional emails full of inspiration and information about backpacking and hiking.


Share the Adventure
If you found this article helpful, please consider sharing so more people can benefit from it: