At first glance, the Surly Moloko and Jones Loop handlebars have a lot in common. For one thing, if you're new to the world of "alt bars" you might think they both look pretty weird!
More importantly, the Loop H-Bar and Moloko are both designed to offer a natural wrist angle and multiple ergonomic hand positions to ease long days in the saddle. But beyond that, these two handlebars have important differences and some riders will definitely prefer one over the other.
Since many cyclists, bikepackers, and tourers find themselves choosing between these two popular handlebar options, I'm creating this quick side-by-side comparison of the Jones Loop vs. Surly Moloko to help you make your decision.
When you buy through affiliate links in this post, I may earn a small commission. Thanks for your support! I always offer unbiased opinions based on real experience from the road and trail. Learn more.
Similarities
Alt bars: Both are in a category known as "alternative" bars, which aims to increase comfort relative to flat MTB-style bars by adding backsweep and other comfort-focused features. Alt bars can offer the perfect combination of features for riders who aren't totally happy with either drop or flat bars.
MTB compatibility: Because these bars are variations on the flat bar style commonly used on mountain bikes, they work most naturally with MTB brakes and shifters. If you're switching from drop handlebars you'll probably have some drivetrain compatibility puzzles to sort out.
Backsweep: Both bars use an aggressive amount of backsweep, especially the Jones, for a more upright posture and natural wrist angle to help prevent numb hands and nerve issues on long rides.
Forward lean: Both the Jones and Moloko, but especially the Moloko, are forward-extending bars that allow a reachier posture. This can be good or bad depending on you and your bike, and a different length stem can help you dial in the right fit if needed.
Hand position and posture variety: Both bars' main claim to fame is their focus on a variety of hand positions, bringing this often-touted advantage of drop handlebars into the flat bar world. Rotating between hand positions can minimize nerve problems and switching between different postures can provide full-body relief during a long day in the saddle.
To illustrate the wider range of posture and hand position with this style of bar, here's an overlay from whatbars.com showing three popular bikepacking handlebars: Jones Loop, Salsa Rustler (flat with 11 degrees of backsweep), and Salsa Woodchipper (aggressively flared dirt drop bar).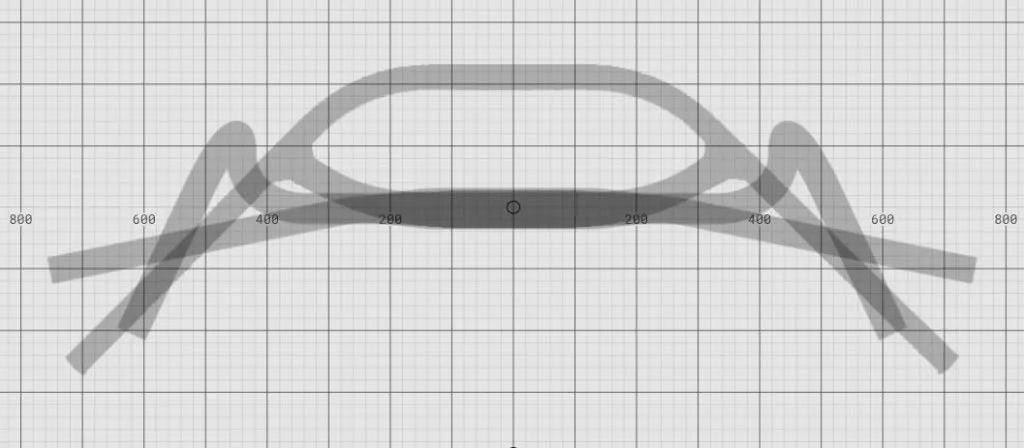 The point I want to make here: Bars like the Jones Loop and Surly Moloko offer a wider range of postures than the Rustler or even the Woodchipper. The Loop bar extends further forward from the stem and further backward, giving a rider more options for taking the load off cranky muscles.
Bar real estate: Bikepackers tend to fill up our handlebars with bags and gadgets (feed bags, handlebar harness, navigation device, phone mount, headlight…). Both these bars offer extra space and more options for setting up your cockpit.
Handlebar bags: Both will work with many of the standard handlebar roll setups, and their forward positioning has the advantage of keeping bags off brake and shift cables. There are also some 4-point harnesses specially designed for extra stability on this style of bar. Jones, Surly, and others make "loop packs" designed to perfectly fill the space inside the loop area.
With those similarities mind, let's now see how the Loop and Moloko differ.
Shape Comparison
A picture is worth a thousand words, so let's start with this screenshot from the fantastic site whatbars.com (labels added by me).
Important differences to notice here:
Backsweep: This will be the biggest difference for most riders. While both bars have generous backsweep compared to standard MTB bars, the Jones Loop has an even bigger backsweep angle than the Moloko. For some riders this feels too "beach cruiser-y" especially on technical terrain – they want something with more stability on rough ground. Other riders, often but not always those who spend more time on smoother terrain, appreciate the comfort.
Anecdotally, my husband loves his Jones Loop bars for their backsweep. His tight hamstrings and inflexible hips make the upright posture more comfortable, and his good balance and bike handling skill compensate for any disadvantage on rough terrain. I, on the other hand, prefer flat bars with just a touch of backsweep when I'm mountain biking. To each their own!
Bullhorns: The Moloko conspicuously includes mini-bullhorns (the straight extensions at the front of the loop) while the Jones Loop does not. These offer a forward-leaning "aero" position which is often used by bikepackers more for rest and variety than aerodynamic benefits. They're pretty short though, and aerobars can be added to either bar for riders who really want them (in fact Jones offers the Gnarwal specifically for this purpose). So while the Moloko's mini-bullhorns might appeal to some riders, they probably shouldn't be the deciding factor.
Forward reach: For anyone still unsure how these wacky bars work, the stem clamps onto the part of the loop closest to the rider. This means the hand positions closer to the loop / middle are stretched forward from the stem compared to a standard flat MTB bar (though note that backsweep puts the ends of the bar closer to the rider than a standard flat bar).
The Moloko in particular is a very forward-reaching bar for all hand positions except the ends. This might be a good thing for some riders and less so for others, depending on body and bike geometries. Fortunately a change in stem length can usually make up for any undesirable changes here.
Next, a quick overview of each handlebar's specs and options will help us compare them more closely.
Jones Loop H-Bar
Price: $93 (aluminum), $350 (carbon), $440 (titanium)
Weight: 625g, 275g, 570g
Width: 660mm or 710mm
Material: aluminum (straight gauge or butted), carbon, titanium
Sweep angle: 45 degrees
Rise: 0.5″ standard, or 2.5″ option in aluminum
Clamp diameter: 31.8mm, or 35mm option in carbon
Grip diameter: 22.2mm (MTB standard)
Buy it at: Jones Bikes
The Jones Loop H-Bar has been around for awhile and is a classic among long-distance tourers. It's made by Jeff Jones, cyclist and bike builder at Jones Bicycles. To clear up any confusion about the name, Jeff writes "All my bars are H-bars. H-bar for Handle-Bar." So "H" is not the model type, "Loop" is. There are "Cut" and "Bend" versions too, but the original Loop is most popular and comes in a variety of material, width, and rise options.
The Jones Loop H-Bar is notable for its wide range of options. If you want a lightweight carbon bar or a titanium bar, or if you want a riser bar with 2.5″ of lift for a more upright posture, you'll want to go with the Jones.
Surly Moloko Bar
Price: $110
Weight: 709g
Width: 735mm, with cut marks for 685mm
Material: Chromoly steel
Sweep angle: 34 degrees
Rise: 0″
Clamp diameter: 31.8mm
Grip diameter: 22.2mm (MTB standard)
Buy it at: Campfire Cycling, REI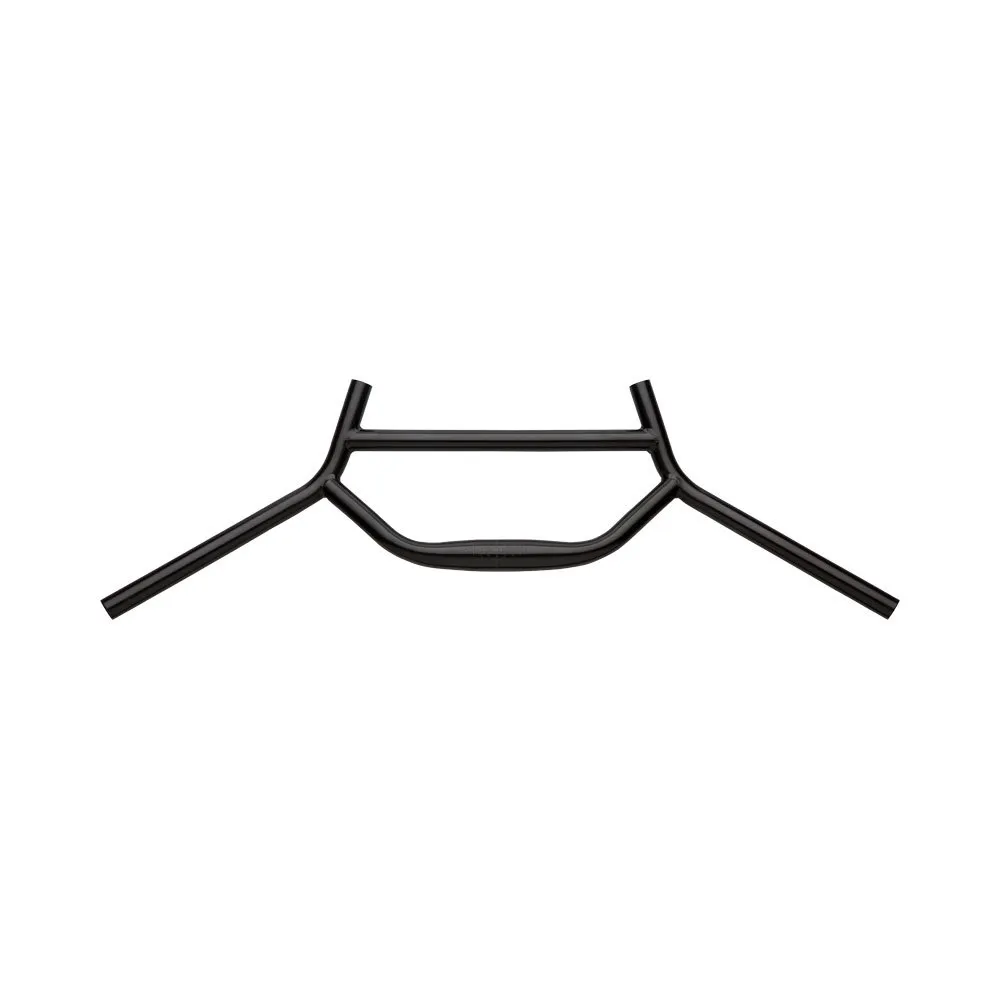 Surly is a very popular bike maker in the bikepacking and touring space. Their stuff is steel, heavy, bombproof, and somehow manages to be both practical and innovative at the same time. The Moloko handlebar fits right in.
Compared to the Jones H-Bar's myriad options, the Moloko says "you get what you get" in typical Surly style. It comes in one material and one width (though it can be cut down). Its steel construction makes it heavier than all of the Jones bar options, even the Jones aluminum Loop, so it's automatically out of the running for weight-conscious folks.
If you're into the loop style of handlebar but the Jones has too much backsweep for you (perhaps you're drawn to rougher terrain and need more stability) then the Moloko might be just the thing.
Comparison Table
| | | |
| --- | --- | --- |
| Spec | Jones Loop H-Bar | Surly Moloko |
| Price | $93 – $440 depending on material | $110 |
| Material | aluminum, carbon, titanium | Cromoly steel |
| Weight | 625g, 275g, 570g | 709g |
| Width | 710 or 660mm | 735mm, with cut marks for 685mm |
| Sweep | 45 degrees | 34 degrees |
| Rise | 0.5″ or 2.5″ (aluminum only) | 0 |
| Clamp diameter | 31.8mm (35mm option in carbon) | 31.8mm |
| Grip diameter | 22.2mm | 22.2mm |
So Which Bar Should You Choose?
Still on the fence about the Jones Loop H-Bar versus the Surly Moloko? Here are my recommendations based on their most significant differences.
Lighter weight: Jones Loop. If you're counting grams and willing to spend more than $350, go for a carbon or titanium Jones Loop bar. For those of us with smaller budgets, the aluminum Jones and steel Surly are roughly comparable in weight (Jones is a bit lighter, especially the butted aluminum version) and price.
Technical riding: Moloko. If you're a mountain biker or do a lot of rugged bikepacking, you're likely (but not guaranteed – personal preference!) to prefer the slightly wider width and smaller-but-still-generous backsweep of the Moloko.
Upright posture: Jones Loop: If you're specifically trying to get your bike's front end higher so you can sit up straighter, go for the regular or even 2.5″ rise version of the Jones Loop. Note that small changes can be made in other ways (steerer tube extender, headset spacers, riser stems) so this recommendation only applies if you've exhausted these possibilities or don't want to deal with them. Also note that both bars offer a more upright posture at the ends compared to standard flat bars.
Forward posture: Moloko. If you love getting low and stretching out, the Moloko has a slight edge there with its reachier profile and integrated bullhorns (note that you still get a more upright posture at the ends). However, if you're set on the Jones Loop you can always add aerobars.
Handlebar Bags
If you're concerned about bag compatibility, here's a quick overview of handlebar bags designed specifically for loop-style handlebars. They should all fit either the Jones Loop or Surly Moloko, though some will be a better fit for one or the other.
It's important to note that you don't necessarily need a special bag to fit in the loop, and many regular handlebar bags work on loop-style bars too. For example, we mounted a Revelate Harness on my husband's Jones Loop bar with zero modifications, and took it on a monthlong trip in Central Asia with no issues.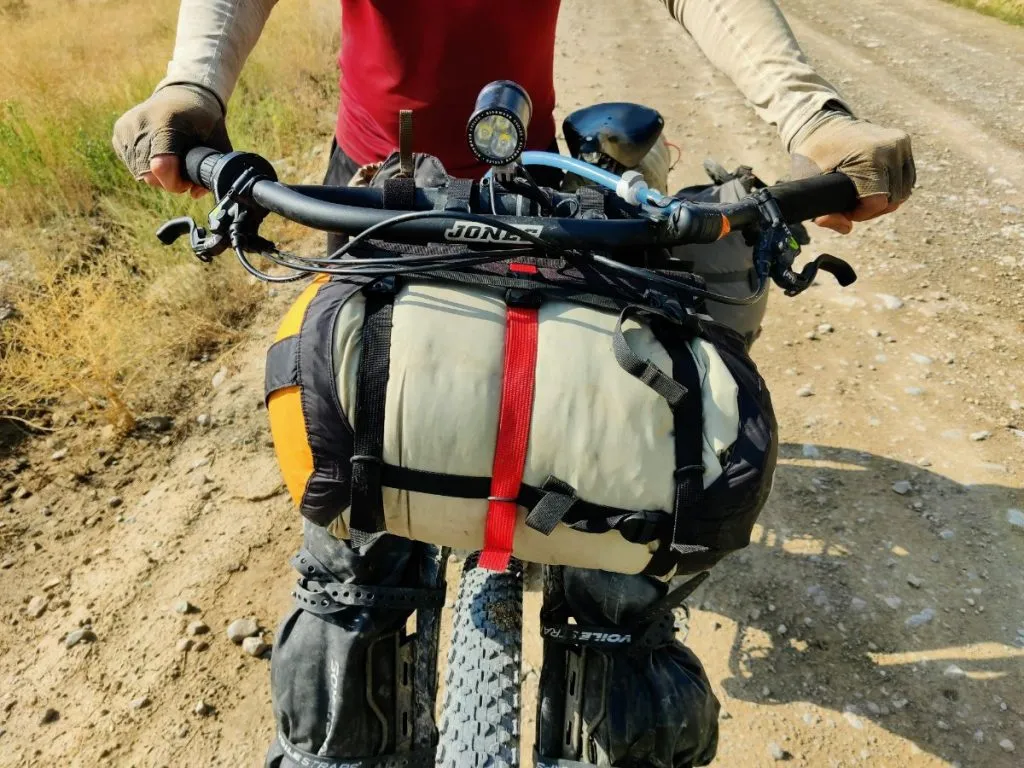 In Conclusion
I hope this comparison of the Surly Moloko and Jones Loop H-Bar helped you decide between these two excellent options. If you're looking for ergonomic hand positions and all-day riding comfort for your pedal-powered adventures, it's hard to go wrong with either!
More Bikepacking Resources
If you appreciated this comparison, you might also find these articles helpful:
Or, visit the bike travel home page for lots more!
Bike resources in your inbox?
There's more where this came from! Sign up here for occasional emails full of inspiration and information about bikepacking and bicycle touring.


Share the Adventure
If you found this article helpful, please consider sharing so more people can benefit from it: