At a Glance
The kLite Ultra Lighting and Charging System is a premium dynamo-powered bicycle light and USB charger designed for rugged endurance rides and bikepack races.
The kLite system comes in two varieties, race and adventure, optimized for different styles of riding.
I've used the kLite Gravel (now "Race") light for over 2000 miles and the USB charger for over 4000 miles. I love how reliable and durable they are, and how bright the light is at full speed.
The system is expensive, but it's a game-changer.
Night riding: love it or hate it? For many of us it's a mixed bag. Pedaling through wild places in darkness can feel meditative and primal, yet the urge to find a cozy spot and hunker down for the night can be strong. Through years of bikepacking, racing, and touring I have found that when the sun goes down, nothing lifts my spirits more than a super bright, super reliable light.
The kLite dynamo-powered system is the latest and greatest in my journey toward better lighting for my bikepacking adventures. I've come a long way since riding my first bikepacking race with a dinky commuter handlebar light (not recommended!). A helmet mount and a big stack of power banks got me pretty far, but nothing compares to the magic of a dynamo hub and a thoughtfully designed, well-executed bikepacking dynamo light.
My kLite system came along with a massive overall upgrade to my gear and riding experience: my new Stella Ti mountain bike with a SON 28 dynamo hub. I've been happily putting this system through its paces over the last two years, including a couple thousand miles of bikepack races and events where the headlight was key, and a couple long international tours where I mostly used the USB charger and Qube taillight.
Australia-based kLite, essentially a one man show run by Kerry Staite, is well known in the endurance racing and bikepacking scene for its super-bright lights, innovative tech, and rugged design. This system ain't cheap, and I had lofty expectations for this premium piece of gear.
In this in-depth review I'll explain the kLite system and how it works, how I've set mine up, and what I think after couple thousand miles of riding with it.
Disclosure: kLite and their US dealer jefe.bike offered this product for me to test. The decision to write about it, and what to say, is entirely mine. Some links in this post are affiliate links, which means I make a small commission at no cost to you if you purchase through them.
kLite Lighting and Charging System Overview
The kLite system is a rugged, modular, adventure-ready dynamo-powered light and charging system designed for the most demanding rides and conditions. Despite its sophistication I've found it surprisingly intuitive to install and use. The system works together seamlessly and the thoughtful design puts the needs of bikepackers and endurance racers front and center. Perhaps most importantly, the light is bright and makes efficient use of dynamo power over an impressive range of surfaces and speeds.
Price: $500 (light and charging kit)
Details and to purchase:
My rating: 4.8 / 5 stars, very happy with it
Likes and advantages:
Super bright!
Decently bright even at lower speeds
Versatile beam shape is optimized for off-pavement bikepacking
Rugged and reliable design
Complete plug-and-play system, easy to mount and connect
Modular design can be arranged in many configurations, including just the USB charger for tours without night riding
Top-notch customer support, 2 year warranty, and replacement part availability
Dislikes and limitations:
Light is dynamo powered only (no battery option)
Slight learning curve to manage the system
More expensive than many other dynamo lighting options
No way to turn off light quickly for stealthiness
Less compact than some other options, requiring a bit more bar and/or bag space
On the heavy side for those counting grams
Of course every design has its tradeoffs, and kLite has intentionally optimized for many of those advantages at the expense of the limitations. It's hard to sum up the system in just a few bullet points, so read on for an in-depth description and review.
How I Tested the kLite Dynamo System
To date I've used my kLite lighting and charging system for about 2000 miles of bikepacking races / events, including Smoke 'n Fire 400, Tour de los Padres, Pinyons and Pines, and Bones to Blue. I'm slow and usually finish in the mid-to-back of the pack, but I still love pushing my personal limits.
In these events I try to ride for several hours after sunset, bivy for a few hours, and start again a couple hours before sunrise. I used to struggle with keeping my lights charged for all this night riding, and the kLite system makes life so much easier. I do still run a small helmet light for rugged hike-a-bikes, twisty singletrack, and turning to see what's in the bushes over there… But thanks to the kLite I can often turn off my helmet light to save battery.
I've also used the USB charger by itself for another 2000ish miles of touring-pace bikepacking in Central Asia, Morocco, and Portugal. On these trips I left the headlight at home for simplicity, since I didn't plan to do much riding in the dark. The USB charger helped keep my power bank topped up between towns, which were usually 2 – 4 days apart.
Here you can see the kLite perched atop my bars during two different bikepacking events: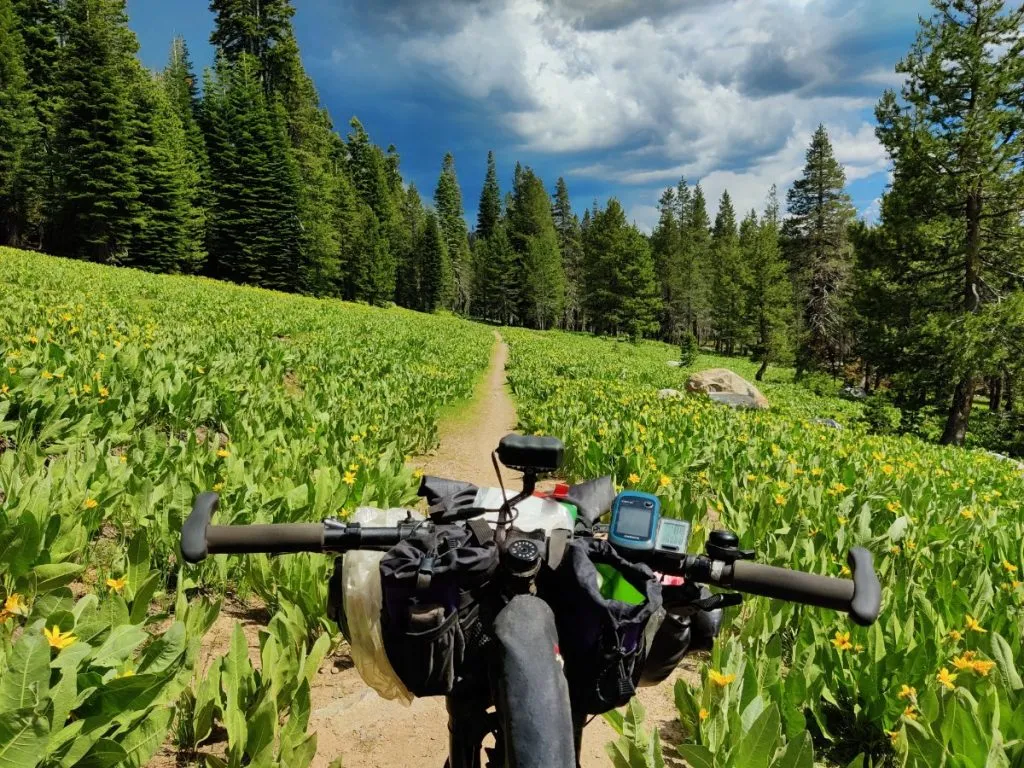 Versions and Naming
kLite has updated and rebranded their dynamo system a few times. The original "Bikepacker Pro" was a compact little light, while the burlier "Bikepacker Ultra" was closer to today's form factor.
A few years ago they released the Ultra v2 in three different varieties: road, gravel, and MTB. Different lens configurations on the three LEDs optimized each version for a longer versus wider beam pattern. Mine is the Ultra v2 Gravel, the middle version optimized for a bit longer throw and higher speeds.
Since then they've rebranded the Gravel to "Race" and the MTB to "Adventure." So now my system is called the kLite Race Ultra, still optimized for a longer throw and higher speeds typical of gravel, pavement, and race-pace. The shorter and wider beam of the kLite Adventure Ultra is a bit better-suited to singletrack and slower pace, but either works for either use case.
I do ride a lot of gravel with my Race / Gravel Ultra, but I also ride a fair bit of singletrack too and I'm not super fast in general. It's possible I would have chosen the Adventure model under the new system, but I think either would work for me.
Kits are further divided by hub type, with one option for SON and the other for SP / Shimano. The difference is in the wire loom, which comes with the correct connector for the hub type. The kits work with "any current dynamo hub."
What's In The Kit
Each kLite Kit includes:
light (either race / gravel or adventure / MTB version)
dual USB charger
wire loom with switch for controlling light
GoPro-style mount for the light
variety of mounting hardware, shims, and zip ties
It's possible to use some parts separately or mix and match with non-kLite components — more on this below. But most riders will be interested in the complete kit, which all integrates nicely together.
Installation and Mounting
When I first saw all the parts in all the boxes, I thought I might be in for a big project. Compared to the all-in-one Sinewave Beacon, the kLite's separate pieces might seem intimidating. Fortunately the instructions were clear and installation went faster than I expected — half the bits in the kit turned out to be zip ties anyway. 🙂 I've since come to appreciate the modular design of this system and the way it lets experienced riders configure their cockpit precisely to suit their needs.
Because the kit comes tailored for a specific hub type, the connectors were pre-installed. It was simply a matter of deciding where to put each part on my bike, attaching the mounts, and plugging in the connectors. On my very first test spin of the front wheel, the light flickered to life. Magic!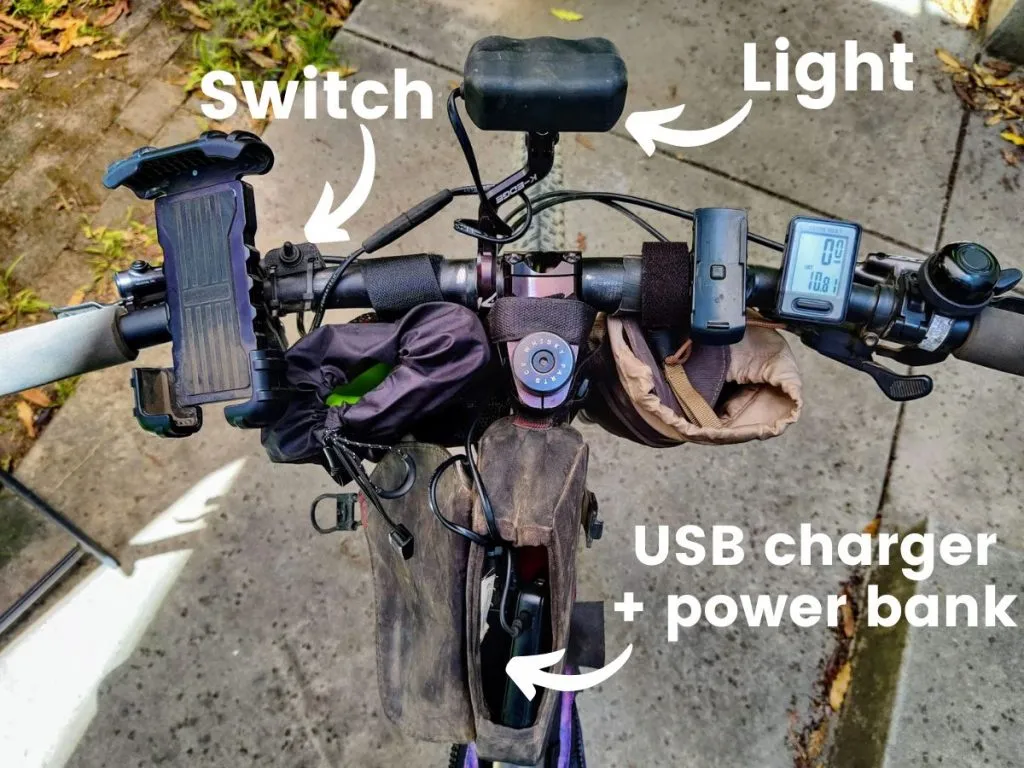 Mounting the Light
The big decision is where and how to mount the kLite lamp. Options include handlebar, stem, fork, between aero bars, or beneath a GPS device mount. The optics have 180 degree symmetry so the light can be mounted in either upward or downward orientation, but not sideways.
A GoPro style handlebar mount is included and several other types of mounts are available on jefe.bike. I've been using a K-Edge (no relation to kLite), and though the older 3D printed mount in my kit was clever, new versions of the system ship with an aluminum alloy mount similar to the one I've been using.
Consider your handlebar bag setup when mounting the light. In the past I've had trouble with handlebar-mounted lights, even with a bar extender, being blocked by my bags. Happily the mount is tall enough that I can angle it up and a bit forward (forward helps prevent getting an eyeful of your own light when climbing or dismounting) and still have a clean light path.
Tip: As with all handlebar mounts, use a strip of old tube or a few wraps of electrical tape to protect the bar and prevent slipping. A dab of blue threadlocker keeps bolts from vibrating loose. On a related note, should your mount ever fail the kLite lamp can be zip tied elsewhere using the slots in the aluminum heat sink.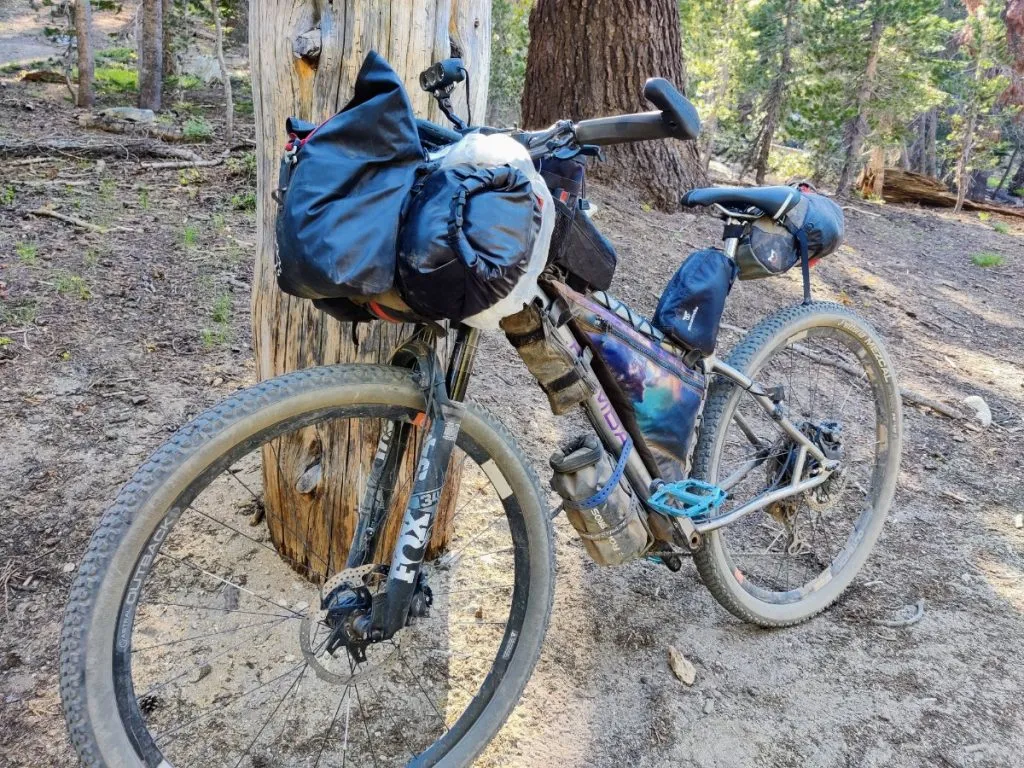 Mounting the Charger and Switch
The USB charger is weatherproof and can be mounted directly to the handlebars in tons of different ways, but I chose to tuck it in my top tube bag. The switch is mounted on my handlebars to the left of the light. The light unit itself has no built-in switch, so this is how you'll turn the light off and on.
Connecting the Wires
Wiring up the various pieces was simple thanks to the pre-installed connectors. A couple recommendations:
When installing the front wheel make sure the connector on the dynamo hub is facing upward. If the cable is yanked suddenly (as once happened when my mounting bolt came loose) this will minimize stress on the connector.
Zip tie or otherwise secure cables as needed to keep things tidy and reduce risk of snagging or catching.
Once everything is connected, give the front wheel a hearty spin! If everything is wired up properly and the switch is on you'll see the light flicker into life. Take it outside and watch its full brightness kick in around 8 mph.
The Light
The lamp is the shining star, so to speak, of the kLite system. It's a hefty, solid-feeling unit with no switches or ports, just a fully sealed housing and integrated cable that runs to the switched wire loom for control.
The three LEDs output up to 1300 lumens at sufficient speed (faster than 8 mph with 29er wheels, slower with 27.5″). On my gravel / race version the two outer spot lenses punch light further down the road for higher speeds, while the center flood lens throws a closer and wider beam for navigating rough roads and trails. On the MTB / adventure version this pattern is reversed, with two outer diffuse lenses and a center long-throw lens.
Must-know: the kLite can only be powered by a dynamo hub. There are other bikepacking dynamo lights, like the Sinewave Beacon, that can plug into a USB power bank to supplement dynamo power at low speed or run without a dynamo entirely. This is certainly a handy feature, especially if you swap bikes or wheelsets and want to use the same headlight without a dynamo. Personally I don't find myself missing the battery boost for low speed night riding. At low speeds I prefer to run a secondary helmet light that I can direct anywhere, rather than deplete my power bank for a brighter handlebar light, but that's just me.
Brightness and Beam Shape
At full power (over about 8 mph) this light is really bright and fully sufficient for almost all my night riding needs. It provides a much better sense of depth than single-LED lights I've used in the past, which helps reduce brain and eye fatigue on long nights. Unless I'm riding twisty singletrack, where a helmet light helps to see around curves, the kLite is all I need for higher speeds.
It's dimmer below 8 mph, but at that speed I'm usually grinding up a climb and don't need as much light anyway. On hike-a-bikes the stand light is often enough to navigate the trail, but I sometimes run a helmet light at low brightness to supplement. That the kLite works at all below 8 mph is due to a low-speed boost feature that makes this light, according to its product listing, "the world's most powerful dynamo light at low speed."
The beam shape on the Race model aims to blend wider illumination of what's right in front with a long-throw punch for higher speed on roads. We bikepackers ride a huge range of terrain, from high-speed pavement to slow singletrack and lots of rough gravel and dirt roads. I imagine nailing the right beam pattern for such varied use is a big challenge. Fortunately the kLite is designed specifically for this challenge and I think it does a great job.
Key tip: To run the lamp at full brightness when using the switched wire loom, make sure you unplug any high current draw device like a power bank from the USB charger. The lamp can only run at full brightness with a low-draw device (like a GPS or InReach) plugged in. Charge the power bank during the day!
Stand Light
Thanks to the magic of capacitors, the light will shine dimly for about ten minutes after the hub stops moving. I'm pretty sure I've measured even longer, enough to completely set up my bivy, crawl in, eat a snack, and the light is still on. I still like to supplement with a headlamp when setting up camp, but I also love knowing I'll never be caught completely in the dark if batteries die or I misplace my secondary light.
There is one downside to this system design in my opinion: there's no way to immediately turn the light completely off. The switch doesn't turn off the stand light. If you want to be stealthy for any reason, like slipping off the road to a secret campsite, you'll have to find a way to cover the light.
Dual USB Charger
Lighting is only half the battle when it comes to long-distance bike adventures. To get the most out of a dynamo hub you'll also want a USB charger that converts AC power from your hub to 5V DC for charging other devices.
kLite's USB charger is a simple weatherproof unit designed to mount on handlebars or fit inside a top tube bag. It has two charging ports so you can charge two devices at the same time (or charge one and run a USB tail light like the Qube). A small red LED turns on when power is flowing to the USB charger, providing peace of mind that devices are indeed charging.
The kLite dual USB charger is simple but well executed. It fits nicely in my top tube bag, is easy to use with both a cache battery and Qube tail light, and the red LED makes it easy to check that charge is flowing (surprisingly important when you're sleep-deprived and looking for something to worry about).
Some dynamo systems integrate the charging port into the light body, but I prefer the kLite's separate pieces. On leisurely (non-race) international rides I generally leave the light at home for simplicity but still carry the USB charger.
The kLite charger seems to generate charge as efficiently as any dynamo system, maybe even better at slow speeds. But if you've never used a dynamo powered charger before, you'll need to set your expectations appropriately. Here are a few benchmarks:
Ten miles of riding on flat-ish roads charges my 10,000 mAh power bank about 5%. So it would take ~200 miles of smooth riding to charge it fully.
On a tough 50 mile stretch with lots of singletrack, hike-a-bike, and slow climbing, I was only able to add 14% to my 10,000 mAh power bank. At this pace, 200 miles of riding would only charge my power bank about halfway – definitely not enough to keep up with my phone battery usage.
In other words, unless you're really fast it's hard to generate more power than you're using, especially if riding shorter "touring pace" daily mileage or slow rugged routes. Active management helps: always be charging something (power banks with passthrough charging are great), think ahead to upcoming terrain, and still plug in whenever you stop to resupply.
So if you still have to think about batteries and plug in at the gas station, is a USB charger even worth it? I say definitely yes. In combination with the dynamo powered light (which I no longer have to worry about charging) it has absolutely eased the burden of battery management. I now carry fewer heavy power banks and stress much less about running completely out of power in the middle of nowhere.
Switched Wire Loom
The kLite wire loom connects the rest of the pieces together. It's basically just a switch that takes input from the dynamo hub and directs it to the light plus USB charger, or to the USB charger only.
The switch is designed with a curved zip tie mount that's easy to find room for on handlebars or aerobars. Like the rest of the system, it's ruggedized and weatherproof.
kLite is now shipping all their kits with the "always on" version of the wire loom, which used to be called the "race / pro" version and is what I use. It's an intuitive setup: the switch turns the light on or off, and the USB charger is always on.
Tip: be sure to unplug any high-draw devices like a power bank from the charger at night if you want the light to run at full brightness.
If you already have a non-kLite charger and light but need a way to control them, the loom can also be used with non-kLite components. According to Matt at jefe.bike: "Simply cut off the connectors on the end, strip the wires, and use crimp connectors to link the wire loom to their in-place lamps and USB chargers. Others buy connectors and solder the leads right in so that there is a quick connect / disconnect to their in-place lamp and charging devices."
One minor gripe: every now and then the switch changes positions seemingly without any contact. I've never caught it in the act so I can't say exactly what's happening, but maybe extreme bumpiness occasionally jolts it into the opposite position.
Tail Light Compatibility
Though not part of the kit, I'm also running a kLite Qube safety blinker tail light from the USB charger. It's one of my favorite parts of the system, and super easy to plug and play with the rest of the kLite kit. Here's my review of the Qube.
If you already have a different dynamo tail light and want to use it with the kLite kit, here's what Matt at jefe.bike has to say:
"For those that are running an existing dynamo tail light (like the Secula or Supernova e3, which are quite popular), these almost always run off of alternating current. AC tail lights will play nicely with the ULTRA / USB charger / wire loom but will require a pigtail Y connector from the switched wire loom lead, a run of wire back to where the tail light resides (typically on a rack), and also an in-line resistor to limit the current that will flow to the tail light so that the LED doesn't get overpowered and blown out. We build these for customers all the time—mostly tricked out tandems, work bikes, and hard core commuting bikes—and the cost is typically $75 for a custom wire run and Y-connector that includes the in-line resistor."
Durability
kLite emphasizes that all parts of the system are "expedition rated" — weatherproof, waterproof, and vibration proof — as opposed to "commuter grade." In other words, they know things get gnarly out there and we depend on this gear for performance and safety in very remote places. Since this is one of the most, if not the most, popular dynamo systems used by ultra-distance bikepack racers, it's safe to say it gets a lot of testing in challenging environments.
In my experience so far, the kLite seems bombproof. Granted I've only put a few thousand miles on it, but it's already taken some knocks and seen plenty of weather. kLite designs these lights for some of the toughest riding and gnarliest conditions around, and though anything can happen out there I certainly feel confident in this system.
Price and Value
Let's be honest: the full kLite system is rather expensive. It's a serious investment that will appeal to dedicated riders and racers who already know how important a good lighting and charging setup is for them.
Newer riders and those with limited budgets are probably better off with a good battery-powered helmet light, for the time being. But if you've already invested in a dynamo hub, "in for a penny, in for a pound" as the saying goes. A high quality lighting and charging system will make the most of your hub's capabilities.
kLite's products are probably more expensive to produce than the cheaper options. Presumably the extra cost comes from the rugged and weatherproof design, unusually bright and well-engineered optics, and sustainable made-in-Australia manufacturing.
I also appreciate having a complete system (headlight and charger, plus the tail light sold separately) that's optimized to work together smoothly. I could cobble together a mix-and-match system for less money, but the DIY wiring and potential compatibility issues could easily lead to frustration and wasted time.
Ultimately I think the decision to spend on high-quality lighting is like the decision to spend on a fancy bike. If you can afford it you'll certainly enjoy it, and the more ambitious your riding goals the more value you're likely to get from it. But it's not worth straining your financial situation over, and you can still have a ton of fun on a bike without it.
kLite vs. Sinewave Beacon
The Sinewave Beacon, another popular bikepacking dynamo light, is the primary competitor to the kLite. I actually have both in my household, since my husband runs a Beacon. They're both great lights used by many high-performing bikepack racers as well as more casual bikepackers. From my observations, here are the main differences between the Beacon and kLite.
All-in-one versus modular: The Beacon has an integrated design with switch and single USB charging port built directly into the light body. This makes for dead-simple installation and fewer bits to manage. On the other hand, it's not as flexible. For example, I sometimes take only the charger on international tours and leave the light at home for simplicity, which isn't possible with the Beacon.
Brightness and beam pattern: Both lights are used by many bikepack racers, so they're obviously both sufficient, but in my opinion the kLite is brighter and does a better job at illuminating the rough varied terrain we bikepackers find ourselves on. My husband's Beacon turns on in "strobe mode" (cutting out at high frequency due to low power from the dynamo) at lower speeds than the kLite, but this isn't useful lighting, in fact I find it pretty annoying. When my kLite comes on, it's on, and it's impressively bright even at low speeds.
Battery power option: The Beacon has a handy ability to accept a cache battery as a power source, boosting its power at low speeds or running without a dynamo entirely. This makes the Beacon handy for switching between wheelsets if one doesn't have a dynamo hub. For example, you could run the Beacon as a bikepacking light with a dynamo hub and as a commuting light on a different bike with a power bank.
Number of USB ports: The Beacon has one and kLite has two. I often use them both, usually to charge a power bank and run my tail light at the same time.
Reliability and ruggedness: Both our kLite and Beacon are in great shape so I can't say I've tested this personally, but kLite claims to be more rugged and "expedition rated." I can see how their design choices support this goal; the components are all very simple and have almost no vulnerable parts.
Product Support
kLite is a one man show and passion project of cyclist and tinkerer Kerry Staite. He makes his products in Australia with a focus on innovation and sustainable manufacturing. Kerry's authentic style and no-BS attitude are part of his products' appeal for many. To get a sense for his work and approach, check out his Bikes or Death interview and follow up episode.
If you're in the US, you'll be ordering your kLite from the official US distributor jefe.bike. Matt is an avid bikepacker, and he and his team provide top-notch customer support and can accommodate custom requests or provide guidance on DIY wiring modifications. You'll find a few of Matt's answers to my questions throughout this review.
Between Kerry and Matt, there's a strong sense that actual bike-loving humans stand behind this gear and are there to help you get the most out of it.
Must-Know About Dynamo Light Systems In General
Here are a few things to know about any dynamo-powered lighting and charging system, including the kLite.
You need a dynamo hub. These systems are designed to run on AC power from a dynamo hub which must be built into your front wheel. The most popular brands are SON (Schmidt), SP (Shutter Precision) and Shimano. They cost between $150 – $400 plus the cost of lacing it into the wheel.
You won't feel the extra drag. Yes, physics says it takes more energy to get energy out of a hub, and you can feel this if you turn a dynamo hub by hand. But once it's attached to your wheel and spinning along, there's enough momentum that all but the most elite road racers would be hard-pressed to notice a difference.
Brightness depends on speed. When climbing slowly (below 5-10 mph depending on the light) a dynamo light will be dimmer. At hike-a-bike speed it may not turn on at all or may be flickery. Most people keep a second light handy for prolonged, slow, or complex night riding, though it doesn't need to be as bright or have as much battery capacity as a primary light would (some people just use a headlamp).
You need a dynamo powered USB charger if you want to charge devices. AC power from the hub must be converted to DC before it can be used for charging; you can't simply plug your phone into your hub. As with light brightness, the amount of charge you'll get also depends on speed.
You'll still want a cache battery. Even with a USB charger, you'll still want a cache battery a.k.a. power bank (recommendations here). It's often useful to charge the cache battery while riding during the day (when you don't need max power for the light) and then recharge your devices from the cache at camp or while riding at night.
You need a backup plan. Though hubs and lights are designed to be highly reliable (kLite has explicitly focused on this), there's always the possibility of failure. This is another good reason to carry a cache battery and secondary light so you won't be completely up a creek if something goes wrong.
You'll still have to think about charging. It's true, a dynamo system removes a massive amount of stress especially in a racing situation. But instead of thinking about battery capacity you're now thinking about the terrain ahead and whether it'll be fast enough to generate power, when to charge what, and which mode to put your light in.
As you can see, dynamo systems add complexity and aren't quite magical enough to provide unlimited power all the time. However, as someone who rode and raced without one for years, I totally love having one and would not want to go back.
A high quality system like the kLite adds a ton of value for night riding, safety lighting, and device charging in remote environments. The additional complexity is quick to get used to and I'd take it over battery-related stress any day (or night — especially night).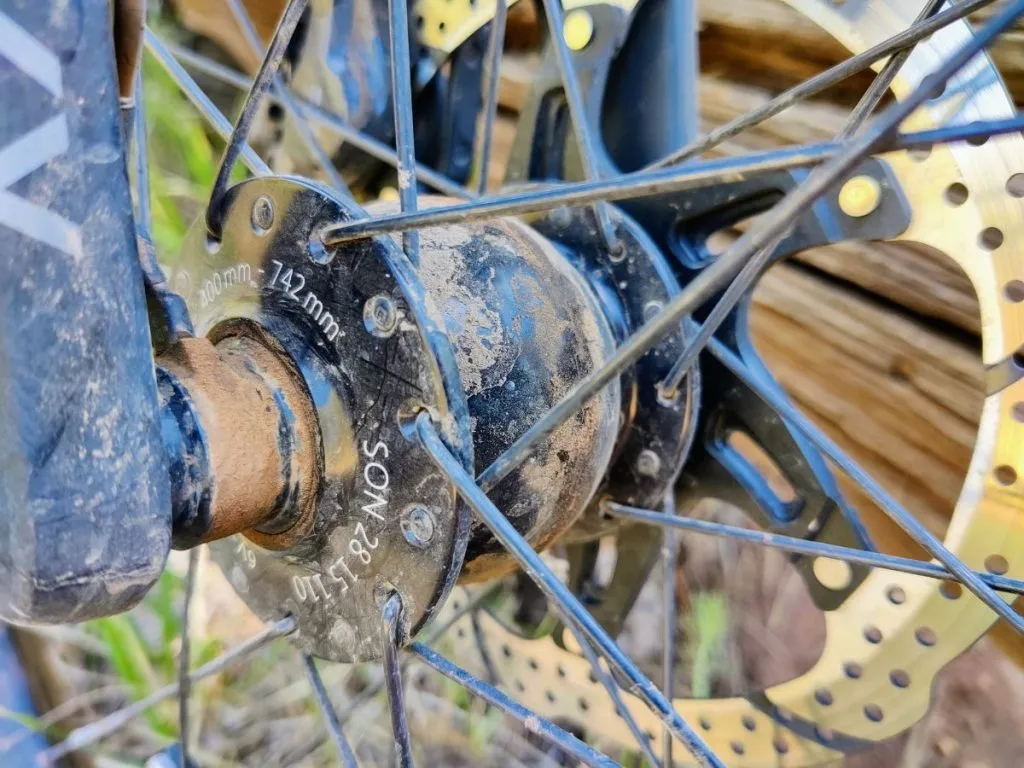 In Conclusion
I've been very impressed with the kLite system and already find it hard to imagine my bikepacking life before it. We have a lot to manage out there, especially when racing. The combination of dynamo power and a reliable lighting and charging system definitely reduces stress and creates additional options for moving forward. I'll be continuing to ride with this system through summer and fall and beyond, and will update this review with any new impressions.
On a less practical note, integrating electronics into my bike's mechanical system makes her even more badass. I'm into it! She's always been a cross between wild beast and high-tech machine, but dynamo electronics add a whole new dimension to her personality. Together as a team we're now a bit more self-contained and capable in the wildest of places. That feeling gets to the heart of bikepacking for me, and I'm loving it.
For more details or to purchase a kLite system:
More Bikepacking Resources
If you're interested in dynamo lighting for bikepacking, you might also find these helpful:
Or, visit the bikepacking resources page for lots more!
Bike resources in your inbox?
There's more where this came from! Sign up here for occasional emails full of inspiration and information about bikepacking and bicycle touring.


Share the Adventure
If you found this article helpful, please consider sharing so more people can benefit from it: