Whether riding a lonely rural highway in the dead of night or navigating city streets at rush hour, an unmissable tail light is essential for any cyclist who wants to remain alive. For me a "safety blinkie" is a must-have item for visibility and also peace of mind. As long as it's flashing away back there I feel I'm doing my part to keep good fortune on my side.
There are many good battery powered options to choose from, and as long as you keep them charged they get the job done. But since adding a dynamo hub to my bikepacking setup I've had the pleasure of riding with a top-of-the-line dynamo powered tail light: the kLite Qube.
My kLite system came along with a massive overall upgrade to my gear and riding experience: my new Stella Ti mountain bike with a SON 28 dynamo hub. I've been happily putting this system through its paces over the last few months, including a thousand miles of bikepacking races and events (Tour de los Padres, Pinyons and Pines, Bones to Blue).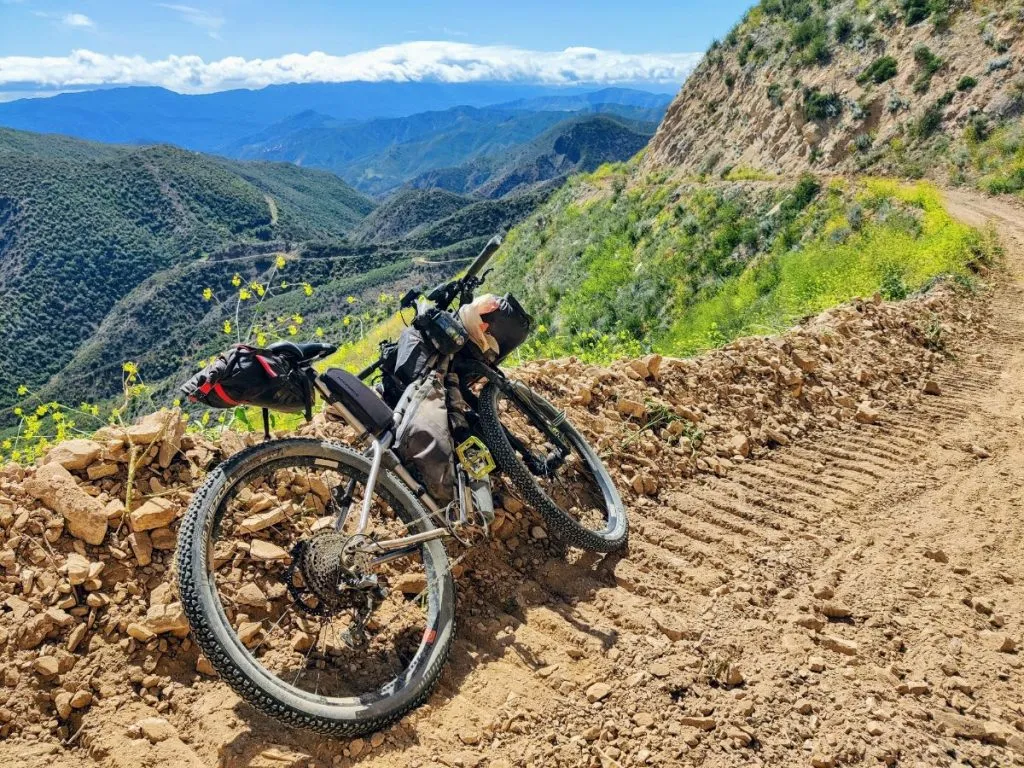 Though many of those miles were off-road on peaceful trails and 4×4 tracks, there were substantial stretches of pavement — like a thirty mile stretch of coastal Highway 1 at night, and 20 miles along the shore of Lake Tahoe — where I was nervous about traffic. I've also been enjoying my Qube during local training rides on busy roads.
If you're new to dynamo lighting or curious about the entire kLite system, head over to my in-depth kLite Kit review covering the headlight and USB charger. The Qube works beautifully with the full system, but it can also be used on its own with some other dynamo headlights or even certain kinds of USB power banks (more on that below).
Australia-based kLite, essentially a one man show run by Kerry Staite, is well known in the endurance racing and bikepacking scene for its super-bright lights, innovative tech, and rugged design. This tail light certainly isn't cheap, and I had lofty expectations for this premium piece of gear.
So how has it performed? In this in-depth review I'll explain the kLite Qube tail light, how I installed mine, and what I think after a thousand miles of riding with it.
Disclosure: kLite and their US dealer jefe.bike offered this product for me to test. The decision to write about it, and what to say, is entirely mine. Some links in this post are affiliate links, which means I make a small commission at no cost to you if you purchase through them.
Who Am I?
kLite designs their gear for the most intense rides and elite riders. Think racing the 2700+ mile Tour Divide in less than two weeks, riding all night in freezing rain in the mountains of Kyrgyzstan, or pushing limits at a 24 hour mountain bike race.
Me, I'm just a regular gal and recreational bikepacker. I'm not fast enough to win races, but sometimes I enjoy my own version of racing and pushing my limits further back in the pack. The rest of the time I "just tour" at a reasonable pace, often solo or sometimes with friends or my husband. I ride far and often, usually logging a few thousand loaded miles each summer on a mix of gravel, dirt, and a bit of pavement.
After 15,000+ miles of touring, bikepacking, and racing on five different continents, I've learned a lot of things the hard way when it comes to gear! In my reviews I try to help potential buyers understand whether gear is right for them and their riding style, and whether it'll be worth their hard-earned dollars.
Quick Review Summary
The kLite Qube rear safety blinker is a dynamo-powered tail light that runs off USB power. I love that it's ruggedly constructed, dead-simple to use, bright and attention-grabbing, and never needs to be charged.
Price: $130
Details and to purchase:
My rating: 5 / 5 stars, very happy with it
Likes and advantages:
Very bright light with attention-grabbing blink pattern
Super simple with no switches, buttons, or detachable cables
Always on, no running out of battery on a dangerous road

Draws very low current so it's always on

(even at hike-a-bike pace) and doesn't detract from headlight brightness or USB charging
Capacitive storage keeps the light blinking for several minutes after you stop moving
Sturdy and waterproof design, can even be submerged
Comes with mounting hardware in 3 different diameters for flexible mounting options
Great customer support and two year warranty
Dislikes and limitations:
More expensive than most tail lights, even dynamo-powered ones

No way to turn it off until the capacitor fully discharges

(minor gripe, but potentially an issue when looking for a stealthy camp spot)
Qube Tail Light Overview
The Qube rear safety blinker is a deceptively simple piece of tech that's at its best when you don't have to think about it. The completely waterproof unit is simple and rugged with an integrated 35 inch cable and no buttons or switches.
It has only one mode, though this mode is carefully designed to be as attention-grabbing as possible. It's a mix of short and long flashes with some randomness thrown in, apparently based on space docking trials showing that random periodicity makes it easier to judge distance. Neat!
The anti-glare optics are designed to be brighter at a distance, so riders behind you aren't blinded by your tail light but drivers further away get the full-strength blast.
Listen carefully: the Qube is intended as a dynamo-powered light but is actually USB powered. It runs on a tiny amount of 5V DC power such as that produced by the kLite Dual USB Charger (see my kLite Kit review). It cannot be wired directly to a dynamo hub. It can, however, be powered by other dynamo USB chargers or certain power banks (more on this below).
Note that unlike some conventional tail lights the Qube doesn't double as a red reflector. The lens is actually clear and the red color comes from the light. This makes sense for a dynamo powered light that's always on when you're moving. There's really no need for a red reflector (unless legally required for road riding) if you have an always-on red blinker.
Kerry and kLite
kLite is a one man show and passion project of cyclist and tinkerer Kerry Staite. He makes his products in Australia with a focus on innovation and sustainable manufacturing. Kerry's authentic style and no-BS attitude are part of his products' appeal for many. To get a sense for his work and approach, check out his Bikes or Death interview and follow up episode.
Matt and Jefe Velo
If you're in the US, you'll be ordering from the official US kLite distributor Jefe Velo. Matt is an avid bikepacker, and he and his team provide top-notch customer support and can accommodate custom requests or provide guidance on DIY wiring modifications. You'll find a few of Matt's answers to my questions throughout this article.
Between Kerry and Matt, there's a strong sense that actual bike-loving humans stand behind this gear and are there to help you get the most out of it.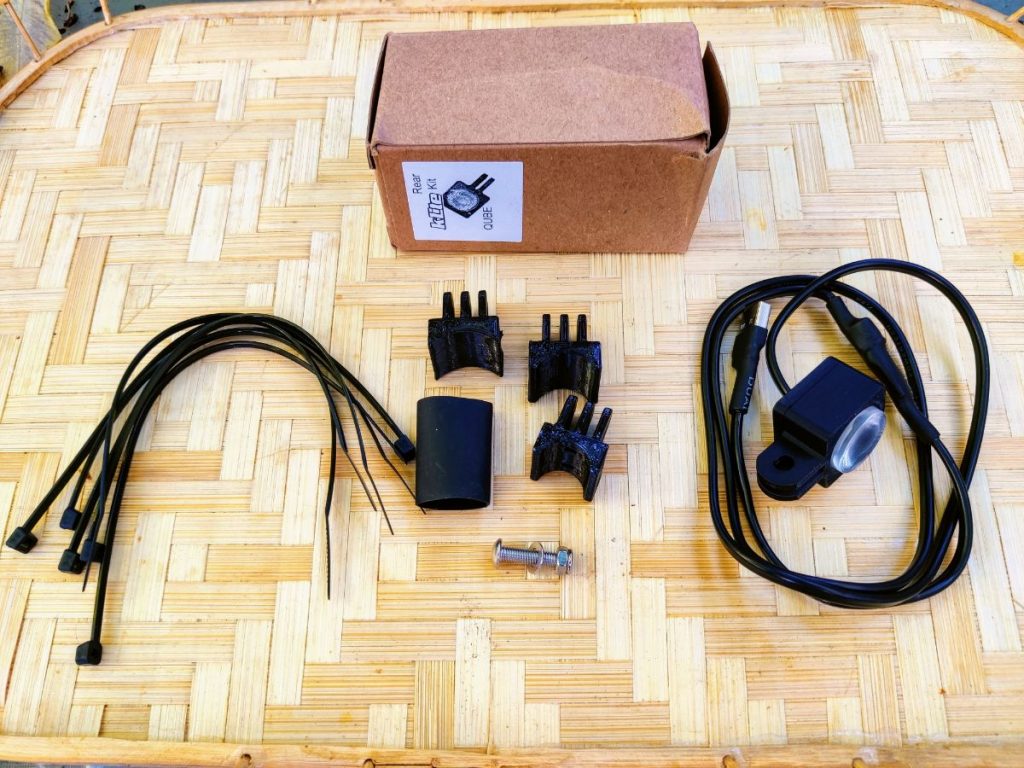 Mounting and Setup
The Qube comes with three different mounting options for different diameter tubing. I put mine on the left seat stay which is perfect for my bikepacking setup. If you're not running a seat bag or rack that would block it, the seat post is also a good option.
The 3D printed parts might seem a little clunky if you're unfamiliar with this manufacturing technique, but I think it's actually very clever. It probably allows kLite to make these parts locally and at lower cost. They're plenty sturdy and precise.
At first I was worried about having to run a cable all the way to my handlebars from the rear blinker, but it was actually easy. I was able to tuck it under the straps of my frame bag and route it into my top tube bag, where it plugs into the kLite Dual USB Charger. Since the charger has two ports I still have one free for my power bank.
Once my kLite kit was set up, mounting and connecting the Qube took just a couple minutes. As soon as I spun the front wheel it blinked into life.
Experience and Impressions
The Qube is dead simple to operate. As long as it's plugged into the kLite "USB always on" style of wire loom, it's…. well, always on. As soon as my wheels are spinning, even at low speed, the Qube is back there blinking up a storm.
The light itself is very bright and visible, even during daylight. The blink pattern is indeed very eye-catching. The Qube is even more visible than my current favorite battery-powered blinky, which I consider to be very bright.
Though it plugs into the dynamo USB charger, it draws just a tiny bit of current. It has no noticeable effect on the brightness of the kLite headlight or the ability to charge a USB device on the other port.
The capacitive stand light lasts a long time, definitely many minutes. I can stop at a traffic light, or change layers and grab a snack, and the light continues blinking well after I've stopped moving.
In fact, the stand light is so good that it leads to my only small gripe: there's no way to turn the light off until the capacitor discharges. This won't be an issue for most people in most situations. But when I'm out bikepack racing at night, sometimes I prefer to draw less attention to myself or sneak off the road to a hidden campsite.
Compatibility
kLite System
As you would expect, the kLite Qube works seamlessly with the kLite USB charger and the rest of the kLite ULTRA v2 kit. As long as you have the "race / USB always on" version of the wire loom, the USB charger will get enough power to run the Qube regardless of the switch position.
Other Dynamo Lights or USB Chargers
It's possible to use the Qube tail light with non-kLite USB chargers like the Sinewave, but Matt at Jefe Velo says they've seen mixed results. "Sometimes they work, and sometimes they don't, even across the same devices," depending on exactly which electronic components are used in the various small batches.
If you want to try out a Qube with your dynamo USB charger, Matt says to get in touch. They might be able to ship you a device to test out with the option to return it if it doesn't work.
USB Batteries
The Qube can be run from a USB power bank, BUT with an important caveat: the power bank must NOT have a low current shutoff feature. The Qube draws such a small amount of current that power banks with this feature will automatically stop sending power to it.
Here are two power banks that will work with the Qube: the Voltaic Systems USB battery and the Ainope 10000mAh. They accept a trickle charge from the dynamo hub, offer pass through charging (so you can charge it from the hub while you charge a device from it), and lack an automatic low current shutoff.
Though the Qube is amazingly handy as a dynamo light, the ability to run it from a USB battery is a nice option if you regularly swap to a non-dynamo wheel set. It also offers redundancy in case your hub or dynamo charger fails.
In Conclusion
The Qube is a really lovely little piece of gear with a super high value-to-effort ratio. Once it's set up, it dramatically improves safety with zero thought and high reliability. You'll never forget to charge it or turn it on at the right time, because it's always on. Even when you're sleep deprived, tired, or distracted, the Qube has your back.
Though the rest of kLite's kit appeals strongly to endurance racers, I think the Qube is compelling for a wider range of riders. It's perfect for long days and nights of racing, but also valuable for leisurely bikepackers or tourers, commuters, road cyclists, or anyone who regularly rides a bike around motor vehicles.
If you have a non-kLite dynamo setup and are looking for a tail light, the Qube is worth a try to see if it's compatible. If you already have the kLite ULTRA kit, I think it's a no-brainer to add the Qube. And if you're considering a full kLite system, the Qube is another point in its favor. It's certainly not cheap and you don't need it to ride your bike. But if parting with the money isn't too painful, you'll definitely appreciate it.
More Bikepacking Resources
If you're thinking about a dynamo tail light for your bike, you might also like these articles:
Or, visit the complete bike travel resources page for much more!
Bike resources in your inbox?
There's more where this came from! Sign up here for occasional emails full of inspiration and information about bikepacking and bicycle touring.


Share the Adventure
If you found this article helpful, please consider sharing so more people can benefit from it: