If you use a smartphone for navigation while cycling, a handlebar phone holder is the best way to carry your phone on your bike. But you shouldn't trust just any hunk of plastic to keep your precious phone safe over bumps in the road and trail. Is the Lamicall Bike Phone Mount as sturdy as it claims to be?
I've been bikepacking with a Lamicall Bike Phone Mount for several thousand miles, including two rough and epic trips in Morocco and Kyrgyzstan. Perhaps more to the point for most readers, I also use it around my neighborhood. In this long-term review of the Lamicall Phone Holder I'll share my likes and dislikes to help you decide if it's right for you.
When you buy through affiliate links in this post, I may earn a small commission. Thanks for your support! Don't worry, everything you read here is unbiased and based on real experience on the road and trail. Learn more.
Lamicall Bike Phone Holder
Price: $23 – $26
Fits phone sizes: 4.7″ – 6.8″
My Conclusion: The Lamicall Bike Phone holder is the only clamp-style phone mount I trust on rough terrain, and ag reat value for the money. The unique design is sturdy, secure, and allows quick one-handed entry and exit for mid-ride photos. It's bulky and the lock mechanism can be finicky, but neither point gets in the way of it doing its job well.
My rating: 4.3/5 stars, does its job well with minor drawbacks
What I like:
Easy single-handed entry and exit
Sturdy and secure
No rubber or silicone bands that will eventually snap
Clamp doesn't interfere with phone buttons
Fits wide range of phone with no compromises
Affordable
What I dislike:
Big and bulky
Original clamp style needs lots of shimming (new version is better)
Lock mechanism can be sticky (but isn't really needed anyway)
A bit fiddly to attach to handlebars
Lamicall Phone Holder Review
Phone Clamp and In-Out Mechanism
The Lamicall Phone Holder uses a clever spring-loaded sliding mechanism to hold the phone. When you push down on the bottom piece, the top pieces slide upward and out, making room for your phone. When you release pressure on the bottom piece, the top and bottom both slide inward into place to tightly grip each corner of the phone.
This mechanism has three major advantages over a typical silicone band holder like this (which I've also used extensively):
Those stretchy bands will eventually wear out and snap. Sure you can replace them, but you never know which bump in the trail will be their last (and what will happen to your phone at that moment).
The bands make it a pain to take your phone in and out of the mount. This is especially a problem if you use your phone to take pictures while riding (which I definitely do) or make frequent stops.
Band holders and side-clamps don't play well with button locations on some phones, leading to unintended volume changes, screen locks, and other frustrations.
The Lamicall mount system solves all of these problems, and solves them well. There are no elastic bands to break. I can put my phone in and take it out with only one hand (even while riding, though I don't technically recommend this!). No part of the mount ever hits the buttons on the side of my phone.
The phone holder rotates relative to the bar clamp and is easy to change to a different angle. I adjust mine frequently to reduce glare on sunny days. It stays where I put it, as opposed to other mounts that eventually became loose and, for lack of a better word, droopy.
I have a fairly big phone, about 6.5 inches in the long direction, and the Lamicall fits it no problem. The design is nicely agnostic to phone size; a larger phone doesn't put extra strain on critical bits like with silicone band style holders.
Here's a quick video I made to show how easily the phone clamps in and comes out, even with one hand:
Security
The Lamicall Bike Phone Holder is actually designed for motorcycles, and this shows in its burly design. It's the only handlebar phone mount I trust while mountain biking on rough trails or chattering over washboarded gravel. I occasionally tuck my phone away in a pocket or bag when the riding gets really rough, but this is more because I'm worried about a crash than about the mount failing. (Though this mount, with its sturdy corners, is more likely than most to protect a phone in case of a crash.)
The spring-loaded clamp is very secure on its own, but there's also a locking switch on the back that makes it impossible to open the clamp. This should add extra peace of mind on rough surfaces or perhaps riding in cities where phone theft is a concern. Unfortunately it's not as well-designed as the rest of the holder, and it sometimes gets stuck. I eventually stopped using it, as the spring mechanism is plenty secure on its own.
Handlebar Attachment
I have an older version of the Lamicall phone holder with a clamp designed for motorcycle handlebars, which are larger in diameter than bicycle handlebars. It comes with a hefty stack of rubber shims to make up the difference for bicycles. The shims work pretty well, but eventually mine rattled loose and fell out on a dirt road somewhere in Morocco. Fortunately I was able to replace them with a length of motorbike tube (a bike tube would work too) that I found by the roadside, which worked even better.
On the bright side, the old clamp version is incredibly sturdy. It uses a cam-locking lever, like a bicycle quick-release axle, with metal bolt and threads for a very sturdy attachment. As long as you crank it down tight, it won't loosen or slip.
Lamicall has since come out with an updated clamp style optimized for bicycle handlebars. I haven't tried it, but reviewers really like it, and it appears to be just as sturdy but without the need for such a thick shim. If I were buying the Lamicall phone mount today I would go with this new version. It looks like it wouldn't require any shim and be quicker to mount and unmount. The older version takes a minute or two to install, which isn't super convenient if you install and remove it often.
One of the most substantial downsides of the Lamicall phone mount is the size and bulk of its handlebar clamp and the phone clamp itself. This thing is big! It doesn't exactly look sleek, if you care about such things. If you're already loaded down with other gadgets or a handlebar bag you may struggle to find room for it, especially on drop handlebars. But all this extra material is what makes the design so sturdy and reliable, which is worth the tradeoff in my book.
Price and Value
Affordability is a major selling point for the Lamicall phone holder. Sure, there are plenty of cheap phone mounts available, but I've never found one as sturdy as the Lamicall.
The QuadLock system is the gold standard of reliable bike phone mount, but the mount plus case adds up to $100+. The QuadLock is a great system. Like the Lamicall it offers easy one-handed in/out, and it's also much svelter and sleeker. But for only around $25 the Lamicall offers nearly the same level of reliability at a quarter of the price.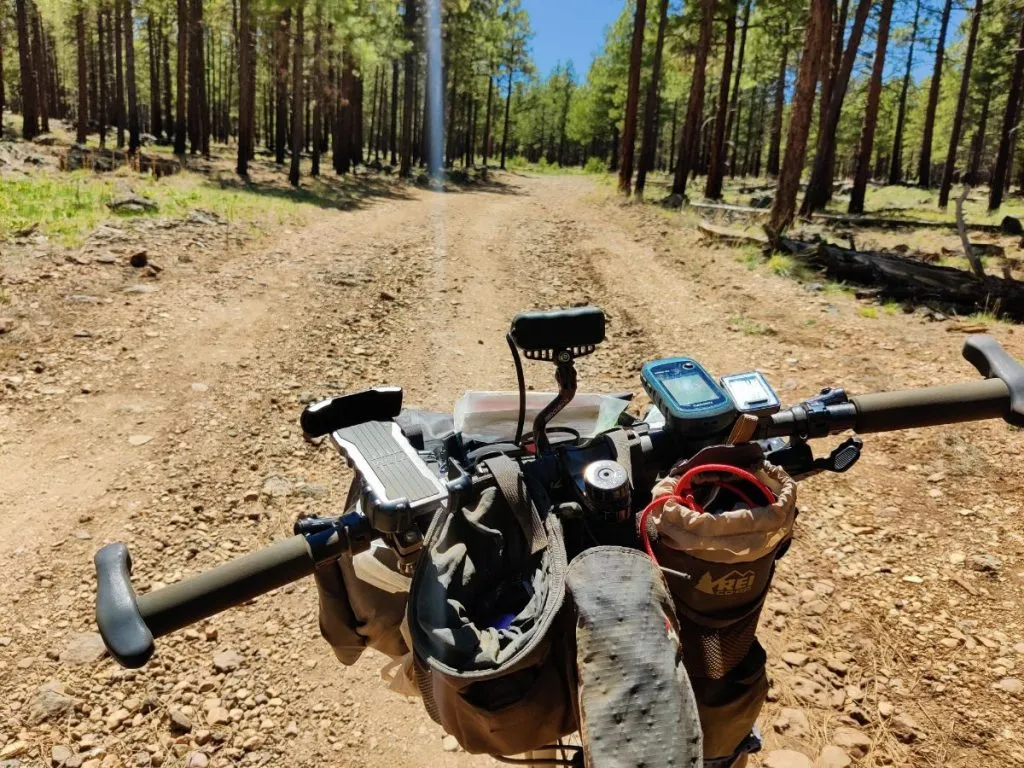 Durability
I've put this mount through the wringer on bikepacking trips, including 900 rough miles in Central Asia and 1200 miles through Morocco and Portugal. It's held up surprisingly well, with no issues aside from the lock switch becoming sticky (but I don't need to use it anyway, so this hasn't bothered me).
By comparison, I've eventually broken every other style of bike phone mount I've used (at least three). Sometimes a piece of plastic breaks, the rotation mechanism loosens, or the elastic bands snap. I've seen a friend's mount fail and drop her iphone in a mud puddle during a crash. My Lamicall is still going strong with no incidents to speak of (fingers crossed!).
Though I often use a dedicated GPS device for bikepacking, sometimes I prefer the simplicity of phone navigation or like to use both at once. The Lamicall Phone Holder makes this possible on the roughest of rides. If you look carefully you can see the Lamicall phone mount on my handlebars in each of these pictures:
In Conclusion
The Lamicall Bike Phone holder is the only clamp-style phone mount I trust on rough terrain. The unique design is sturdy, secure, and allows quick one-handed entry and exit for mid-ride photos. It's bulky and the lock mechanism can be finicky, but neither point gets in the way of it doing its job well. If you ride rough surfaces or just don't want to worry about a flimsy phone mount, the Lamicall is (literally) a solid choice at an affordable price.
More Bike Resources
If this review helped you, you might also like these:
Or visit the cycling and bikepacking sections for lots more.
Bike resources in your inbox?
There's more where this came from! Sign up here for occasional emails full of inspiration and information about bikepacking and bicycle touring.


Share the Adventure
If you found this article helpful, please consider sharing so more people can benefit from it: