Quiet roads, friendly people, varied landscapes, a relaxed but convenient tourism industry, tasty food… It's no wonder Laos was my favorite country out of the four I traversed on a recent solo bike trip through Southeast Asia.

If you're considering a bicycle tour in Laos, especially an independent one (Laos is definitely the kind of place you can navigate on your own), read on for an in-depth rundown of everything I learned during 34 days of bicycle touring in Laos.
Route
This route shows where I spent each night during my entire trip through Southeast Asia, including Laos.
Here's the route I took. I spent 34 days cycling through Laos, including some nice blocks of consecutive rest days.
Crossed from Vietnam at Dien Bien Phu / Tay Trang border crossing
West on highway 2E to Muang Khua
Slow boat on Nam Ou river to Muang Ngoi and Nong Khiaw
Brief side trip on highway 1C toward Sam Nuea, backtracked on bus in order to reach Luang Prabang in time for the Festival of Lights. This section was difficult and the roads were pretty empty.
Nong Khiaw to Luang Prabang on highway 13, with nice stop in Luang Prabang for the Festival of Lights
Luang Prabang to Vang Vieng and Vientiane on highway 13 (very scenic but big hill)
Vientiane to Vieng Kham on highway 13 and mix of small roads along the Mekong where shown on Maps.me
Vieng Kham to Thakhek on the "the loop": highways 8, 1E and 12. Included out and back to Thong Lor Cave, recommended.
Thakhek to Savannakhet on small roads along Mekong (I recommend this route as an alternative to highway 13)
Savannakhet to Pakse on mix of highway 13 and small roads along Mekong (shown on Maps.me but not always Google Maps)
Pakse to Champasak with detour to Wat Phu. Then south to Si Phan Don (4000 Islands) on the WEST side of the Mekong on small and friendly dirt roads.
Island hopping (with help from a few rickety ferries) across Don Khong, Don Som, Don Det and Don Khon.
Boat to Nakasong, highway 13 south to border with Cambodia (watch out on the boats here, my brake lever was damaged when the boatman loaded my bike in a bad position).
I highly recommend the small roads along the Mekong in the southern part of Laos. They are flat and relatively populated, which makes them feel more accessible and less committing than the dirt roads in the mountains of the north. I felt safe on them because of all the riverside settlements, and knew that I could be back on highway 13 within less than a day if needed. Highway 13 is a bit monotonous and busy though, so I was glad to avoid it as much as possible.
If you need to research a border crossing to or from Laos, here's a helpful map showing all the Laos border crossings. Note that some borders aren't open if you have an e-visa to Vietnam.
Important Update: As of January 2020, many land borders are no longer issuing visas on arrival for Laos.
Highlights
I enjoyed the entire month I spent in Laos, and it was my favorite country in Southeast Asia. Here are just a few of the highlights.
Muang Ngoi
This popular backpacker destination is known for being a bit inauthentic, and it's true, the entire village is filled with backpacker accommodation and restaurants. However, after a few weeks in the mountains of northern Vietnam I admit to thoroughly enjoying the ease of a couple days spent here. Maybe because it was low season, the vibe was still relaxed and the village didn't feel overrun.
The setting is also simply gorgeous. There's a fun hike up a steep jungle-covered hill to a lovely viewpoint.
Luang Prabang
I had the good fortune to be in Luang Prabang during the annual Festival of Lights, and to befriend a few backpackers for company during the festivities. Seeing the lovely temples peacefully lit at night and watching the festive dragon boat parade were some of the best memories of the entire trip.
Thakhek Loop and Thong Lor Cave
A bit touristy but the loop is pleasant to ride with varied scenery. I enjoyed the out and back along quiet road to Thong Lor Cave, and the boat trip through the cave was more interesting than expected.
Savannakhet
Off the tourist trail and easy to navigate, this town was a pleasant place to relax and recharge. Among the low-key attractions in Savannakhet are the French colonial architecture and a number of picturesque temples. I've heard the Dinosaur Museum is worth a visit, but I was feeling lazy and didn't go.
Tourism In Laos
Tourism in Laos is developing rapidly, and I was surprised comfortable tourism infrastructure in so many towns. This may be a good thing or a bad thing, depending on your preferences.
I did not appreciate Laos' tourists enough until I later reached the cities of Cambodia and the beaches of Thailand. There I encountered, for lack of a better term, a sleaze factor (sketchy looking western men, serious drug addicts, sex tourism, etc) and also a mass tourism vibe (huge buses and organized tour groups) that I had not noticed in Laos.
Most tourists I met in Laos, especially in the north and central area, were young backpackers eager for adventure tourism. Yes, some of them wanted to party, but most still wanted to wake up in time for their kayak excursion or village trek the next morning. The infamous debauchery of major backpacker hot spots has been cleaned up; tubing in Vang Vieng is still a relaxing party but nowhere near the dangerous infamy of earlier days.
In southern Laos I noticed more small groups of older visitors on organized tours, again preferable (in my opinion) to the more developed mass tourism and expat scenes in parts of Cambodia and Thailand.
Because much of the tourism in Laos revolves around outdoor activities and scenic places, many of the popular things to do in Laos are of interest to bike travelers and regular travelers alike. As a bicycle traveler I found it pleasantly easy to mix with other types of travelers in Laos, including a few nice rest days spent hanging out with backpackers in Luang Prabang and Nong Khiaw.
Terrain
Laos has some really varied terrain. The mountains in the north rival those of northern Vietnam, while the flats of the Mekong River valley in central and southern Laos are perfect for long days of consistent spinning. If you head east from the Mekong in the southern half of the country, you'll find hills and plateaus. Whatever terrain you're looking for, you can find it in Laos.
Accommodation
Accommodation in Laos is generally cheap, easy to find, and a good value. Most towns have a guesthouse or two at least, and along the main highways there are plenty of guesthouses at well-spaced intervals. In tourist towns you can often find bungalows, hotels, and hostel dorm beds all for reasonable rates. I usually paid somewhere between $7-$9 USD (equivalent in Lao kip) for a single fan room with en-suite bathroom that often included hot water.
You might have to end your day a few hours earlier or later than you'd prefer, but you can generally arrange to be at a guesthouse before dark if that's your goal. I used Maps.me for identifying guesthouses and found it to be pretty accurate in Laos, especially on well traveled routes in the central and southern regions. In the mountains of the north I had to be a bit more careful about planning my stops, but once on the highways of the south it was pretty easy to ride until I got tired and then find a good stopping place.
If you can't find a place to stay, ask the locals by making the universal gesture for "sleep" – put both hands palms-together, tilt your head to one side and rest your cheek on the back of one of your hands. Be prepared for vague pointing in various directions. If you ask enough people you'll eventually find something.
Unlike northern Vietnam, many guesthouses in Laos are single story with outside doors, making it very easy to bring a bicycle inside the room with you. Wherever that wasn't the case I had no problem locking it up inside a downstairs lobby or garage.
Bargaining happens in Laos but not as intensely as in Vietnam, and I found that most guesthouse owners started with a pretty fair rate. You can negotiate down a little bit, but if the owner seems unwilling to negotiate further it's likely because they quoted a fair rate to begin with.
Camping
Wild camping isn't common in Laos, though I'm sure it's possible if you know what you're doing. Unexploded ordinance is a deterrent to scrambling around in the bushes looking for hidden campsites, and population density is reasonably high in many places. I would only recommend it if you plan on spending significant amounts of time on back roads.
I used my tent only one night, when I intentionally pushed past the last known guesthouse figuring I would find a place to camp in a village. This turned out to be harder than expected and I was turned away by many people before finally finding a lovely family that understood my plight and helped me out. Don't underestimate the difficulty of communicating your needs to people who don't speak a word of English.
I've heard that some cyclists ask to camp at temples and the monks are usually welcoming. I didn't try this because I didn't want to impose, but some people report success and leave a small donation to thank the monks.
Road Quality
Road quality in Laos is quite varied. Some new roads, like the one from the Dien Bien Phu border crossing, are nearly flawless (as of 2018). Others, like highway 1C toward Sam Nuea, are rough single lane country highways with frequent unpaved sections. The main highway 13 in central and southern Laos is currently paved but the surface is not the smoothest, making for a sometimes frustrating ride.
If it's your thing, you can find plenty of bumpy but charming dirt roads all throughout the country. These can be intimidatingly remote and steep in the mountains of the north, but I followed some along the flat, populated banks of the Mekong further south and had a lovely experience.
Unpaved or work-in-progress roads with traffic are unpleasantly dusty in the dry season. In the wet season the dirt roads may turn to mud and make for seriously slow going.
Traffic
Laos is definitely my favorite SE Asian country when it comes to traffic and drivers. Though I spent the most time in Laos, I had none of the close calls and minor accidents that I experienced in Vietnam, Cambodia and Thailand.
Traffic is often light, even on the main highways, though large trucks are always worth keeping an eye on. In the remote or mountainous areas, including the back way to Phonsavan on highways 1C and 7, the roads can feel downright lonely.
Lao drivers often seemed to know when I was approaching a tight spot and would do their best to not make the situation worse. They would yield when needed and pass respectfully.
Still, it's a good idea to check out these Southeast Asia cycling safety tips just in case.
Food and Drink
In most parts of Laos you'll have no problem finding snacks, cold drinks, and three meals a day. There's no need to horde meal rations except maybe a packet of emergency instant noodles and some peanuts or biscuits in case you end up at a guesthouse with no restaurant nearby.
There are a few areas where the road passes through a protected wilderness area. Take note of these as that usually means there are fewer villages and less traffic, and therefore fewer opportunities to buy food.
The quality and price varies widely, but noodle soup, fried rice or fried noodles are often what you'll get out in the countryside. In towns with a tourist presence (which is many these days) you can usually find an English menu with a few more options, including one of my simple favorites, omelette with sticky rice.
In the popular destinations you'll find all kinds of food, including some surprisingly good Lao Indian options, though this kind of food costs a couple dollars more than the usual $2ish per meal. In backpacker hangouts like Vang Vieng and Muang Ngoi you'll find more banana pancakes and fruit shakes than you know what to do with.
In general I found the bargaining culture in Laos to be more relaxed than in Vietnam. Vendors usually started with a fair price. Food is legitimately a bit more expensive in Laos than in Vietnam.
In Laos I continued my strategy from Vietnam of buying breakfast the evening before from the small shops that seem to be everywhere. Often it involved soy milk, yogurt, cookies, pastries, and instant coffee.
One of my favorite things about central and southern Laos (not so much in the mountains of the north) was the ease of finding iced drinks along the main roads. For amazing iced coffee, look for the little stands with paper bags hanging from the roof and rows of condensed milk cans stacked up. These serve heavy bags of ice with sweet and strong coffee poured over the ice, good for a much-needed energy boost on a hot day. Pro tip: keep the ice after you finish the coffee, and you'll be able to sip cold ice water for hours.
For less money you can sometimes find stands with a blender and containers of powder. They mix up the powder with condensed milk and blend it with ice for a sweet and cool treat.
Beerlao is delicious and ubiquitous, usually cold, and in my opinion one of the better beers of Southeast Asia, perfect after a long and sweaty day of cycling.
Pro tip: both instant coffee and instant noodles can be made with cold water. For the coffee, pour the powder into a small water bottle and shake until dissolved. For noodles, just let sit for about ten minutes until soft.
Water
Most people advise against drinking the tap water in Laos so you'll want to buy or ideally purify your water.
Chilled bottled water and other drinks are easy to find at shops along main roads. I carried a 1.5 liter bottle in an oversize bottle cage and a smaller standard squeeze bottle, and this was almost always enough until I could refill. Sometimes guesthouses or restaurants will have free purified drinking water available from a dispenser.
Unless you plan on carrying more water than you need (and you'll need a lot on hot days), I recommend carrying some chlorine dioxide drops (I like Aquamira) as a backup so you can safely drink any water you find from taps, natural sources or village wells.
Note: I brushed my teeth with tap water all throughout SE Asia, being careful not to swallow any, and was mostly fine. Who knows if that contributed to the occasional digestive issues I experienced, but they were nothing a couple of Imodium couldn't fix.
Gas Stations
Gas stations in Laos make great stops. They're nearly everywhere, and often have clean toilets and a shop where you can buy snacks and drinks. They also make reasonable places to shelter from the rain if caught in a sudden downpour.
I used many gas station toilets in Laos, but usually tried to buy my snacks from the families selling out of smaller shops in order to support them financially, as the gas stations seem to make good money already.
People
I found Laos to be a very friendly country with a comfortable vibe for visitors. As a general rule, the further you are from the tourist trail the more smiles, waves and "sabaidee's" will come your way. In most places the kids are delightful, friendly but polite, and always eager to say hello. Even within the most touristy destinations there seems to be a relaxed, if mostly transactional, vibe between locals and tourists.
Very rarely did any of the greetings turn into invitations for further interaction, which could be due to a substantial language barrier, reserved culture, my introversion, or all three. Don't plan to rely on local hospitality for food or lodging. But you can absolutely rely on friendly and genuine greetings to power you through the end of a long day in the saddle.
Communication
Most people outside the tourism industry don't speak English, and Lao is not an easy language for westerners to learn. Still, most tourists learn and use the key phrases like "sabaidee" (hello) and "korp chai" (thank you). If you can do better than this, the locals will be very impressed.
Despite the language barrier, basic transactions are managed easily enough through gestures and counting on fingers. Many shopkeepers know a few English numbers.
It was rare to meet a Lao person who spoke enough English for a real conversation, but when I did it was a special treat.
Weather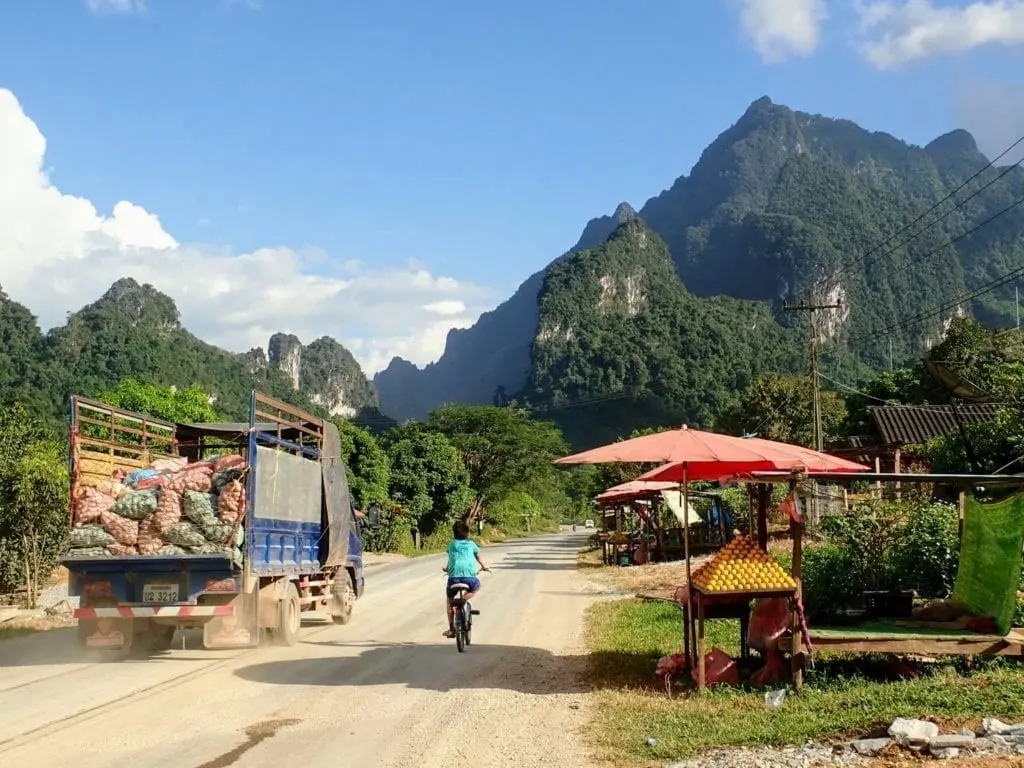 I cycled in Laos during October, the beginning of the dry season that lasts until about April. The weather was usually hot and sunny, with occasional torrential downpours lasting less than an hour, easy to wait out. Definitely plan on wearing lots of sunscreen and covering up when the sun gets to be too intense.
You can certainly still cycle in the wet season from May to October, but prepare to get wet and avoid the dirt roads which turn to mud.
Navigation
I used Maps.me for navigation, elevation profiles, and help finding guesthouses and shops. It worked great! I even trusted it with navigating small roads along the Mekong that didn't appear on Google Maps, and it never steered me wrong.
If you really want to explore the sights and side trips, Hobo Maps are supposed to be excellent.
I took a quick look at a GT Rider map in a Luang Prabang bike shop, but didn't feel it provided very much new information for my relatively well-traveled route. Perhaps those who plan to explore more dirt backroads would find it useful.
Internet and Phone
Wifi is fairly common at many guesthouses and some restaurants in Laos, so I actually made do without a local sim card. This meant that I couldn't make local phone calls, which worked fine for my on-the-fly strategy of not arranging anything ahead. I downloaded maps in Maps.me and did any necessary online research when I found wifi.
That said, it's cheap and easy to get a sim card in Laos, and many travelers do.
Bicycle Care
My bike had no major issues in Laos, but like elsewhere in Southeast Asia I've read the ubiquitous motorbike repair shops can help you out in a pinch.
In Vientiane I was able to buy a 10 speed chain (as a backup) from a bike shop on Dongpalan Road. I couldn't find a sign but apparently it's called Chongchareon Bicycle Shop, phone number 337 +85 621 285 187. The guy spoke some English and was very helpful.
Dogs
Unlike in northern Vietnam, I had basically zero issues with dogs in Laos. Like the people, they seemed friendly and relaxed.
Safety and the Solo Female Factor
As far as personal safety goes, Laos has to be near the top of the list, at least among the developing countries of the world. It's about as hassle free for a solo female as it gets. Most men simply smiled politely and said "sabaidee." I received zero unwanted male attention during my time in Laos.
I do want to note two things. First, I felt slightly on edge on the remote roads of the north. I'd heard/read a few stories of bandits attacking tourists in those areas and developed an irrational fear, even though I know events like that are very rare. Even the main "highways" in that area can be quite sparsely traveled, and I felt more at ease on the flatter and slightly busier (it's all relative) roads of the central and southern regions.
Second, I had one slightly odd incident on an otherwise friendly and idyllic dirt road along the Mekong in southern Laos. A teenage school boy on a motorbike said something I couldn't understand when passing me, accompanied by a very unfriendly look. Then he stopped a few times up ahead, "hiding" in very obvious places and peering back at me around bushes, apparently waiting for me to come closer. I stopped a safe distance behind him and pretended to have a snack each time. The area was not remote and I didn't feel in danger, but I also didn't want to cycle into whatever he was planning as he hid in the bushes. Eventually a passing man said something to him and he sped off, and that was the end of that. But it was a good reminder to always pay attention and follow my gut when noticing something a little off.
Not that any of this should matter in my ideal world, but I'm a white woman in my mid-thirties and I cycled solo, usually wearing knee-length baggy mountain bike shorts and a t-shirt.
As always, it never hurts to consider a basic framework for keeping yourself as safe as possible in unfamiliar environments.
Enjoy Laos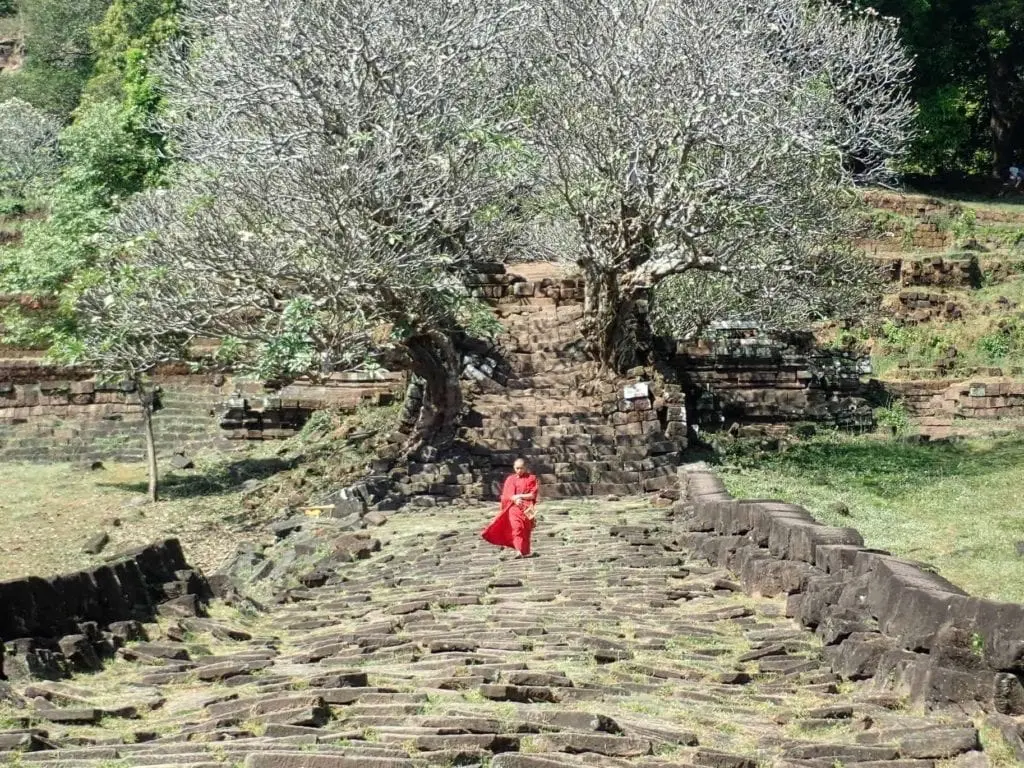 Laos will always hold a special place in my heart as the country where I became a cyclist. After struggling through the mountains of northern Vietnam at the beginning of my trip, I finally found my strength and confidence in central and southern Laos. I made friends, I laid down miles (or should I say kilometers) like never before, I explored back roads, and I felt comfortable. What more could a traveler on a bicycle ask for? I highly recommend bicycle touring in Laos and I hope you enjoy it as much as I did.
More SE Asia Cycling Resources
You might also like:
Outdoor travel resources in your inbox?
There's more where this came from! If you love outdoor adventures in beautiful places, sign up here for occasional emails with my best tips and inspiration.
Share the Adventure
If you found this article helpful, please consider sharing so more people can benefit from it: