I don't know about you, but when I go into the wilderness I like to picture myself floating gracefully through epic landscapes like a strong gazelle… Not clomping around like an overburdened hippo, a flurry of adorable small forest animals fleeing in terror at my menacing footsteps.
A heavy pack that leads to sore shoulders and cranky knees can suck the fun out of an otherwise lovely backpacking trip. But we have important gear to carry! Our backpacking gear keeps us warm and fed and hydrated and, well, alive! The whole point of backpacking is to be self-sufficient in wild places.
So what's a backpacker to do?
The answer is a collection of gear, techniques, and mindset known as lightweight backpacking, and it's a game changer. Whether you use it to hike longer days, venture further into rugged places, or make any trail easier and more fun, one thing is for sure: you will never go back to "traditional" backpacking.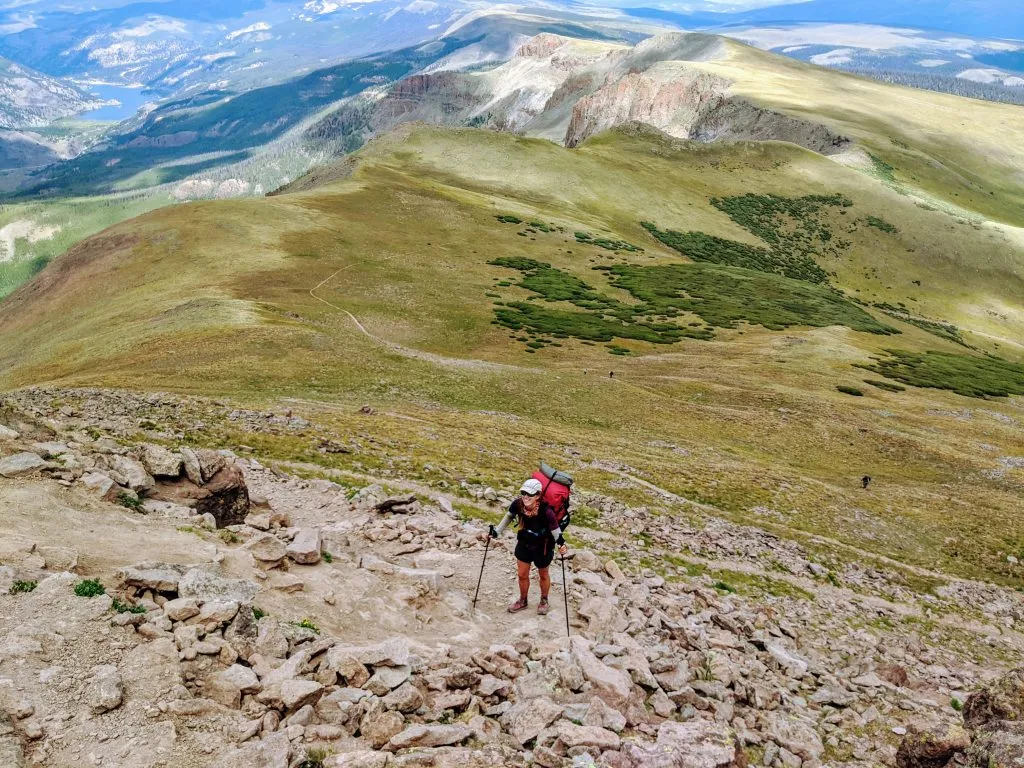 Don't worry, this isn't an all-or-nothing endeavor. I promise there's something you could do right now to cut weight from your pack before your next hike. You don't have to start from scratch or change everything all at once.
In this article I'll share all the lightweight backpacking tips I've learned through years of personal experience, research, and trail-side chats with other hikers. I like my cozy warm jacket and comfy sleeping pad as much as the next backpacker, maybe more, and I hate spending money. So I promise you'll find a balanced and accessible view of lightweight backpacking that will make your hike more fun and comfortable, whether it's a 6-month thru hike, the John Muir Trail, or a weekend trip.
This is a very comprehensive post, so if you'd like to skip to a particular section, use these links: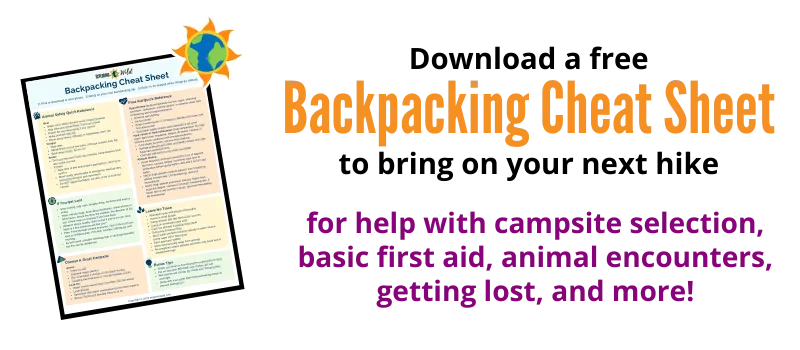 You'll also get occasional emails packed full of backpacking resources and inspiration.
I think you'll like them! But don't worry, you can unsubscribe any time.


Disclosure: this article has affiliate links. If you click one of these links and then buy something, I may get a small commission at no additional cost to you. Don't worry, I only link to products I know well and truly recommend.
Lightweight vs. Ultralight Backpacking
Briefly, so we're on the same page, what is lightweight backpacking? And how does it compare to the commonly mentioned category of "ultralight backpacking?"
Tradition (and Wikipedia) have defined "lightweight backpacking" as having a base weight (all your gear, but without food or water) of 15 pounds or less. However, I'm with Andrew Skurka on this one: that's too simplistic.
I personally define lightweight backpacking as backpacking with the intent to move comfortably and enjoy your hiking miles, as opposed to just suffering your way to camp and then collapsing with relief.
In practice this means fine-tuning your gear list and choosing gear carefully, giving thought to the weight of each item and the tradeoffs involved. It does NOT necessarily mean being cold, hungry, or uncomfortable. There is so much good lightweight backpacking gear available these days that being a lightweight backpacker has never been easier.
Now what is this ultralight backpacking business? Again, Wikipedia says you need a base weight below 10 pounds, but I define it as someone who goes just a bit further down the minimalist backpacking rabbithole. An ultralight backpacker prioritizes weight very highly when choosing gear, doesn't mind making compromises some of us find less comfortable, and usually enjoys high-mileage days.
Much of the gear and techniques in this post can apply to both lightweight and ultralight backpacking. It's a spectrum, and I think splitting hairs over terminology misses the point: to enjoy moving freely in wild places.
Don't Pack These Things
Let's start with the easy part: leaving things at home. The key to backpacking light is to have everything you need and need everything you have (well, except for that "luxury item" – we all have one of those).
If you're just getting started, the best lightweight backpacking tip I can give you is to figure out how to need fewer things, and to use the things you have more creatively.
Of course it's foolish to skimp on survival items like warm layers and a good rain jacket – don't do it! But there are plenty of non-essentials we bring into the wilderness simply because we've always assumed we need them. Don't "pack your fears," as the saying goes.
Instead of thinking "May as well throw this in, just in case," ask yourself "What might happen if I don't bring this?" If the answer doesn't involve a serious safety or comfort issue, consider leaving it out.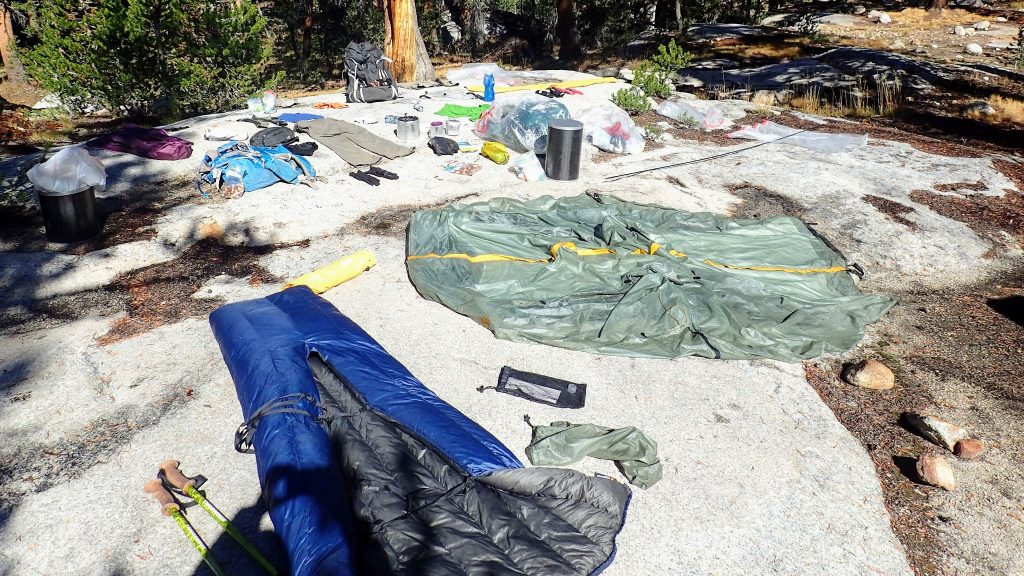 Below are some items to consider removing from your backpacking gear list. Try it once and see! You might be surprised to find you don't miss them.
Deodorant
Your hiking partners might hate me for this (just kidding – I bet they won't even notice!) but I don't think we need deodorant in the backcountry. After a day or two it's a losing battle anyway, and deodorant just doesn't make much of a difference. You might be surprised to find that you can get along just fine without it. It's even kind of liberating!
Instead: Invest in a lightweight merino wool hiking shirt, like my personal favorite, the Icebreaker tech-lite tee (Amazon); men's here. They are comfy, moisture wicking, and naturally stink-resistant (how do sheep do that?). And splash some water on your armpits when you arrive at camp each evening.
If you must: Cut some chunks from a solid deodorant stick and pack them in a plastic baggie. When needed, like for town stops on a long thru hike, apply using your fingers.
Spare Clothing
In the "real world" there's this weird unwritten rule that we're not supposed to wear the same clothes two days in a row. But that's the beauty of the trail – it's not the "real world," and you really just need ONE baselayer shirt regardless of how long you'll be on the trail.
Instead: Bring a single good quality stink-resistant baselayer, like the merino wool Icebreaker tech-lite tee (women); men's here. (Budget tip: look for the colors that are on sale.) When you arrive at camp, splash water on your armpits and change into a long-sleeve midlayer. If it's warm enough, rinse out your baselayer and let it dry for the next day.
If you must: On longer trails it can be nice to have a clean shirt for town resupply days, because grocery shopping in nothing but rain gear gets old. In this case I bring a second merino wool shirt or, in hot climates, a super-lightweight synthetic shirt for the hottest days and as a spare for town.
It probably goes without saying, but this does NOT mean skimping on warm layers and rain gear. For more on what to wear backpacking, from socks and undies all the way up to rain jackets, see thispost about clothing for lightweight backpacking.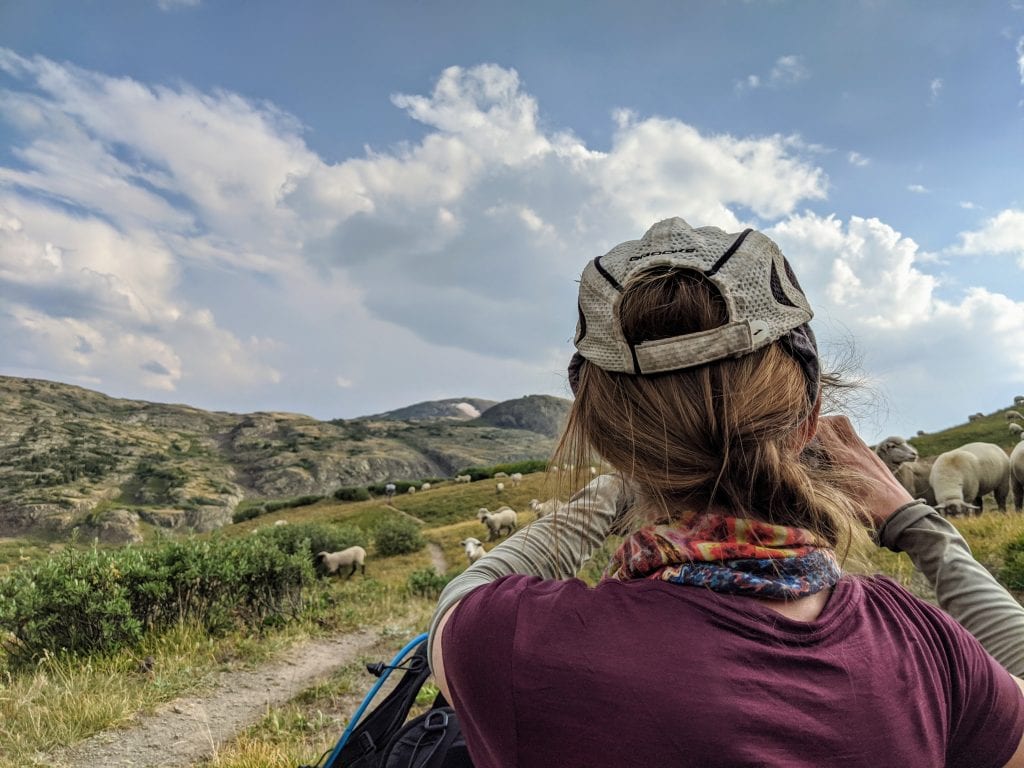 Camp Soap
If you've already ditched deodorant and clean shirts, soap isn't going to save you! Even biodegradable camping soap can harm delicate ecosystems if enough people use it, so leave it behind and feel good about your Leave No Trace efforts as well as your minimalist backpacking technique.
Instead: For your body, simply wash yourself with water. You're going to get dirty again in five minutes anyway. Baby wipes are another option when water is scarce, but a good rinse works better.
For dishes, swirl some water in your bowl and drink it (I know it's kind of gross, but dumping food-filled water attracts animals and disrupts ecosystems). Finish with a final bandana wipe if necessary.
If you must: If you just can't do without soap, pack a very small container of concentrated environmentally safe soap. Please carry your water away from the source to do your washing, so the runoff gets filtered through soil instead of going directly into the water source.
Camp Towel
Given the variety of cute and colorful little camp towels I've seen, you'd think being wet was a permanent condition.
Instead: Follow one of the key principles of lightweight backpacking: choose items with multiple uses. You can't wear a 10″ x 14″ towel (well I guess you could, but it might be chilly 😉 ) but you can dry your body with a spare sock, buff headband, or midlayer top. Or, just let evaporation do its thing.
If you must: Bring a small towel. But seriously, you don't need a towel.
Camp Pillow
When I first started backpacking I bought a little inflatable backpacking pillow. Good sleep in the backcountry is important, right? But it wasn't actually very comfortable, and eventually I realized I was already carrying something even better.
Instead: Construct a pillow from other items in your pack. I like this 8 liter dry sack which I carry electronics in, stuffed with clothing to desired firmness. A down jacket is the comfiest, but if it's cold and I'm wearing it, rain gear and other odds and ends will do. A buff headband makes a great pillow case.
If you must: I know some folks feel their back and neck are happier with a dedicated pillow, and to these folks I say, enjoy your pillow! We're all different. Sea to Summit, Exped, and Klymit all make popular models.
Camp Shoes
I've never understood the need for camp shoes. But that's probably because my hiking shoes are Altra trail runners, which are so comfy and breathable that I rarely feel the need to kick them off when I get to camp.
Instead: If your feet hurt so much that you can't wait to slip into camp shoes, you might want to consider hiking in lighter, more flexible shoes. A lighter pack will also help your feet hurt less, reducing the need for camp shoes, which will make your pack lighter, which will make your feet hurt less, which will reduce the need for camp shoes, which will… So, since you're here reading tips for lightweight backpacking, you're on the right track!
If you must: Perhaps your route has a lot of water crossings and you need to protect your feet while keeping your shoes dry, or it's rainy and your shoes are always wet at the end of the day, or you just really like camp shoes. In these cases lightweight sandals may be worth the weight. You could even make your own for much cheaper.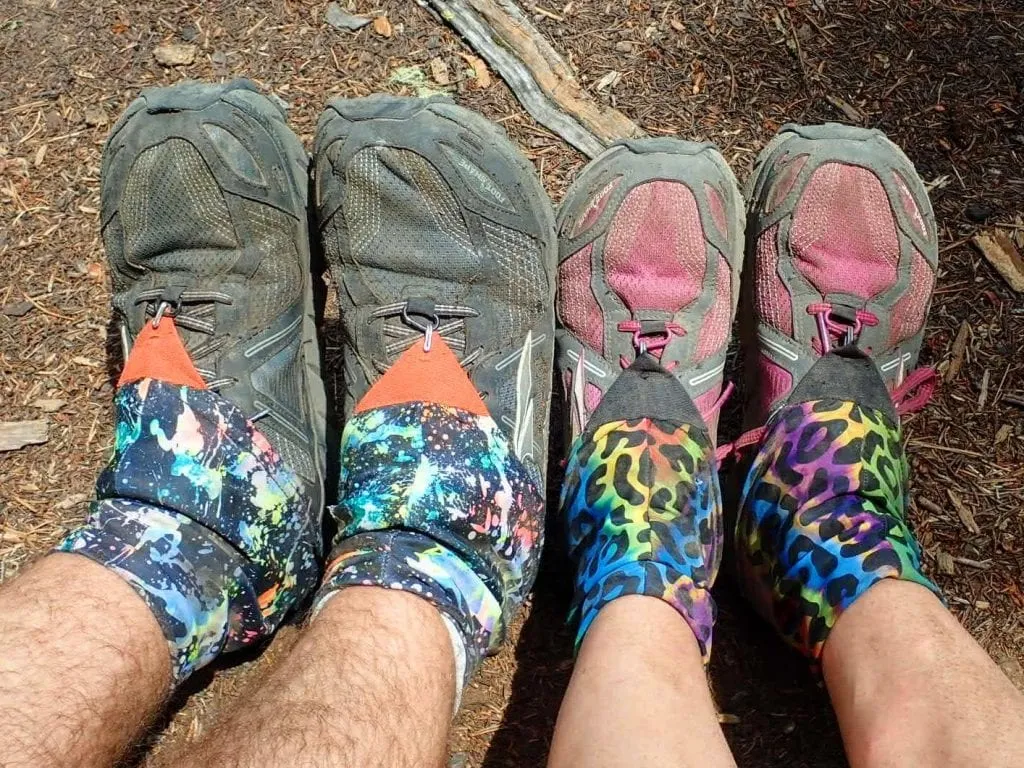 Excessive Amounts of Toilettries
Your toiletries kit will already be lighter without deodorant and soap, but you can also lighten your pack by using small containers to bring only as much as you need.
Instead: Use travel-sized toothpaste (or even toothpaste powder if you're really counting grams), a mini floss dispenser (or pre-cut a few segments), and really small bottles (I mean seriously small, like these soy sauce containers) for any other liquids you need. Even if you tend to use more cleansers and creams at home, you may find you don't need them while backpacking. This goes for sunscreen and bug repellent too; decant into smaller bottles.
If you must: Just don't. Small containers are cheap or free (try saving shampoo bottles from hotels) and there's no reason to lug a full tube of toothpaste into the backcountry.
Tent Footprint
A tent footprint is a tarp that goes under your tent to protect it from sharp things on the ground. Some folks say they prolong the life of your tent, but in many years of not using one I have never had problems with my tent floor.
Instead: Choose your tent site carefully and gently remove any sharp rocks or sticks before pitching. Consider putting big ones back when you leave, in an effort to leave no trace if camping at an infrequently used site.
If you must: For delicate ultralight tents or extensive use on rough ground, bring a lightweight piece of Tyvek or a painter's drop cloth. You can buy a precut tarp with grommets online, or for much less money simply visit a hardware store.
Bathroom Trowel
Don't misunderstand, I'm not saying don't bury your poop. You should absolutely bury your poop at least 8 inches deep, away from water sources, and pack out your used toilet paper. But you probably don't need a trowel.
Instead: Get creative with the tip of your hiking pole, a flat rock, or a tent stake. Leave a little extra time since this method does take longer.
If you must: In some areas with hard or rocky soil, such as large sections of the Arizona Trail, these other methods just don't cut it. If you must bring a trowel, you can splash out on a fancy lightweight model in your favorite color.
Fancy Multitool
If you're new to backpacking and full of vague anxieties about what might go wrong, it's tempting to throw in that 36-function Xtreme Survival Multitool. But seriously, what do you need a screwdriver for on a backpacking trip? Are you carrying anything with screws?
Instead: Knowledge, experience, and skills are the lightest and most useful gear of all. With a bit of practice you'll feel comfortable with your gear and tools, knowing you have exactly what you need to fix the most likely problems.
If you must: A small pocket knife can be useful for cooking, gear repairs, and perhaps as a survival tool. It doesn't need to be huge, and it doesn't need to have 35 other tools included.
Food and Water for Lightweight Backpacking
Food and water are heavy! Water weighs 2.2 pounds per liter, and backpacking food typically weighs 1 to 2 pounds per person per day. If you're out for many days or hiking in dry areas, you might be carrying 15-20 pounds of food and water!
Here's how to reduce your backpacking weight by optimizing your food and water, without going hungry or thirsty.
Plan Water Refills Carefully
In places where water is readily available from streams and lakes, planning water breaks carefully can cut several pounds. Instead of starting with water for the whole day, aim to take your lunch break at a water source so you can filter water for the afternoon while you eat. It's helpful to have a small, lightweight, and fast water treatment method like the Sawyer Squeeze mini or chlorine dioxide drops.
Important caveat: Running out of water in the backcountry really sucks and can be a dangerous mistake. If in doubt about your next refill opportunity, err on the side of carrying more.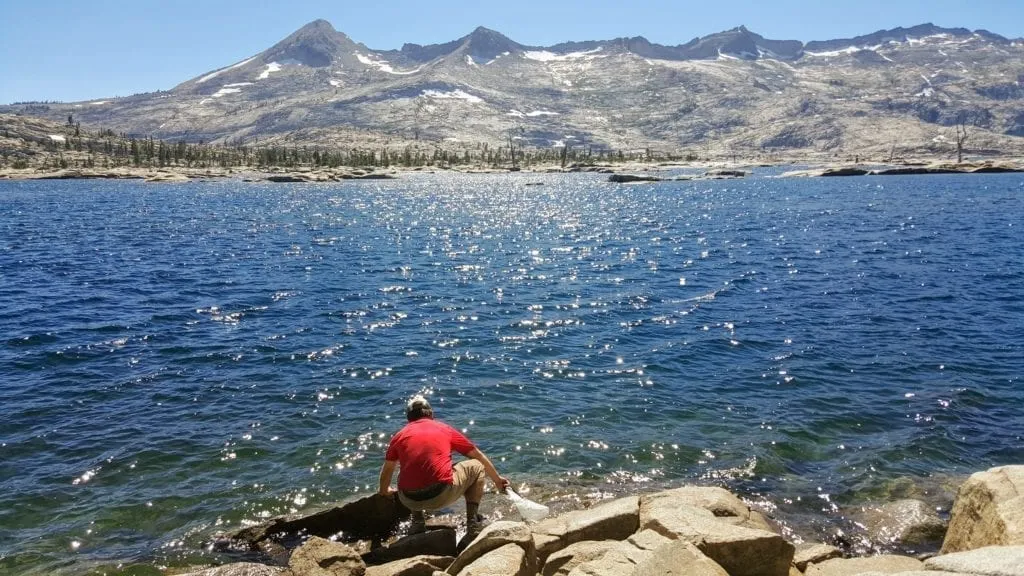 Pack Lightweight Food
Backpacking imposes some pretty strict constraints on food choices, especially when you're out for more than a few days between food resupplies. To get the most energy possible out of the space and weight allocated to food, follow these guidelines:
Plan your menu precisely, down to exactly how many calories you will eat per day, and then measure and pack only what you need. Most backpackers should shoot for 3000-4000 calories per day depending on your size, metabolism, and daily mileage.
Choose calorie-dense foods that are high in fat content, because fat has more calories per gram (9, to be exact) than protein and carbohydrate (both only 4 calories / gram). Nut butter, salami, hard cheeses, trail mix, and high calorie protein bars are all good places to start. Many backpackers add olive or coconut oil to their meals as an efficient way to get more calories for relatively little weight.
Choose food that is NOT high in water content, since water is heavy, contains no calories and is usually easy to add on the trail. This means buying or making your own dehydrated or freeze dried meals, having just-add-water breakfasts like oatmeal with powdered milk, and cooking with dehydrated fast-cooking grains like couscous or ramen.
Remove extra packaging beforehand, or better yet, buy in bulk and portion out what you need.
If you have the time, you can make your own lightweight meals by purchasing freeze dried ingredients online and then mixing and matching in baggies. This works especially well for longer trips (since the ingredients come in bulk) and saves money compared to prepackaged backpacking meals.
For a fantastic primer on lightweight backpacking foods and a huge list of foods arranged by weight and nutrition info, see this great video from Gear Skeptic.
Packing lighter doesn't mean giving up luxury entirely. Sometimes lightweight backpacking means whiskey instead of wine. Hot chocolate powder and a lightweight flask of your favorite potent beverage can make for a nice treat on chilly nights.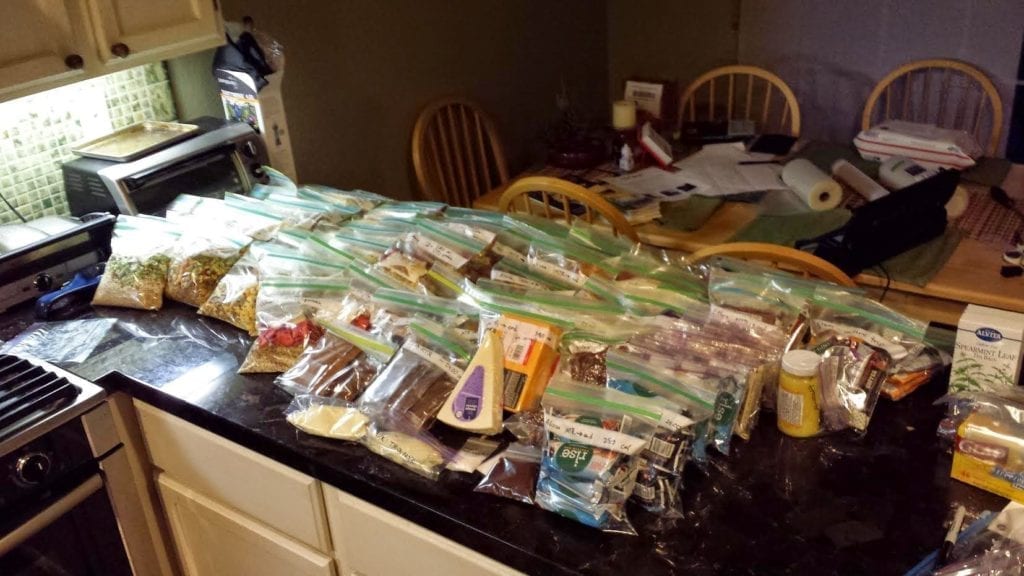 Lightweight Cook Systems
Backpacking food preferences are highly personal, but here are a few ideas for those open to experimentation.
Size Your System Correctly
Cooking pots can be bulky and heavy, so choose one that's only as big as you need it to be. If you're hiking solo or doing your own cooking, consider eating out of your small pot or cooking in your mug (if it's metal).
Ditch the Stove Entirely
Traditional fuel canisters are heavy and bulky. One way around this is to simply ditch the whole setup – stove, fuel, pot, metal mug – and just eat cold food out of plastic freezer bags.
Sounds horrible right? It's probably not as bad as you're thinking, but it's true, a hot meal at the end of a long day can be one of the great pleasures of backpacking. Going stoveless works best for trips where the focus is covering ground instead of relaxing at camp. When my husband and I hiked 24 miles per day around Lake Tahoe on the TRT, we were so busy hiking that we didn't have time to sit and cook anyway!
A few tips for trying stoveless backpacking:
Cold ramen is actually great. Just add cold water and wait 15-20 minutes. The salty broth is delicious, and you can add some olive oil or peanut butter and supplement with nuts for a filling evening meal.
No-cook breakfasts are even easier than dinners. Here are some of my favorites.
Look into "cold soak" backpacking food ideas for more inspiration.
Try Alternative Stoves
If you want to pack lighter for backpacking but still crave warm meals and a hot cup of instant coffee in the morning, consider alternatives to canister stoves.
Solid Fuel: Esbit solid fuel is light and can be packed in small quantities. Use it with a tiny stove and cook directly in a titanium mug for a very minimalist stove setup. This works great for a fast-and-light weekend, but isn't practical for long trips because the fuel is bulky and hard to find in stores. Also, you usually won't get enough heat to fully boil water or cook a big meal, and may have to settle for luke-warm results in cold weather or at high elevations.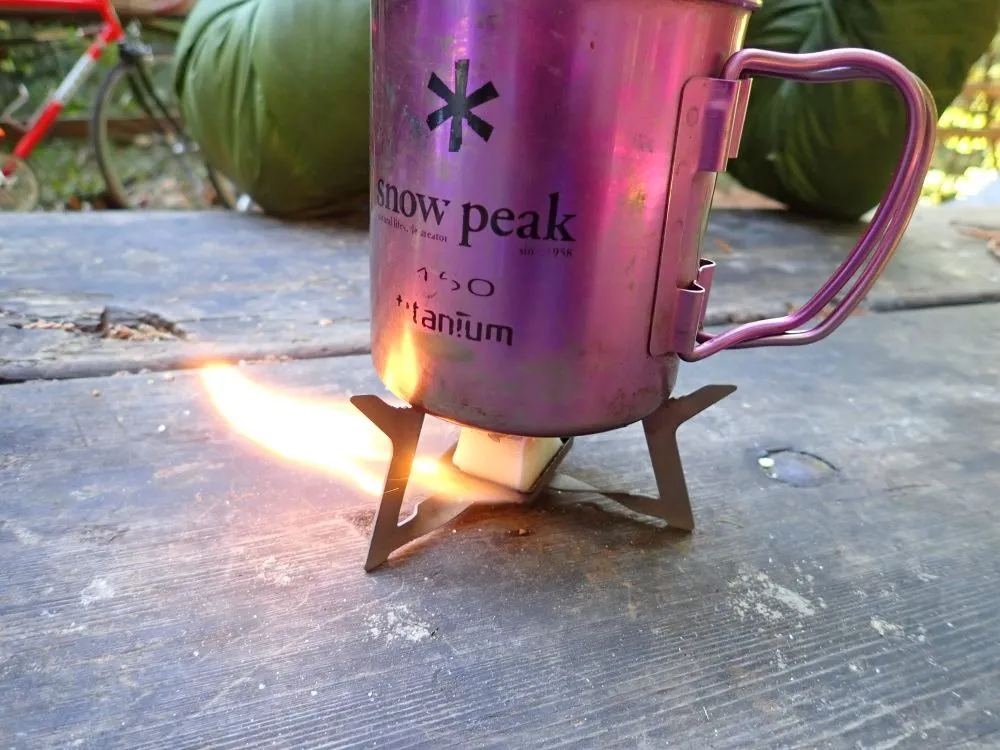 Alcohol Stoves: A favorite of many lightweight thru hikers, alcohol stoves check all the boxes: they're small and lightweight, easy to resupply with fuel, and can even be made cheaply as a DIY project. Here's how to use alcohol stoves safely.
Some areas have fire restrictions prohibiting camp stoves without shutoff mechanisms, which makes canister stoves the only option. If you're considering an old-fashioned wood burning campfire, these are also off limits in many places these days due to increased forest fire risk.
Use Light Dishes
Though lightweight backpacking can sometimes be spendy, dishes are one area where light and cheap can coexist. If you don't want to spend $8-$10 for a fancy titanium spork, just bring plastic utensils, the kind you can save from a fast food restaurant instead of throwing away. These will be less durable and probably need replacing, but you can't beat the price.
For eating, a lightweight plastic bowl is all you need. I've been using the collapsible Sea to Summit X Mug (note: the X Mug is larger than the X Cup and better suited for eating meals out of) for years and love how compact it is. My first one lasted 6 years before getting a small hole at one of the creases. Many thru hikers just use lightweight tupperware with a lid, or Talenti Gelato plastic jars (bonus: you get to eat all the gelato first).
You don't really need a separate cup for drinking if you're trying to pack light, though it can be a luxury to drink coffee and eat oatmeal at the same time.
If you do want to splash out on cookware that's both light and durable, a quality titanium pot can be worth it over the long run.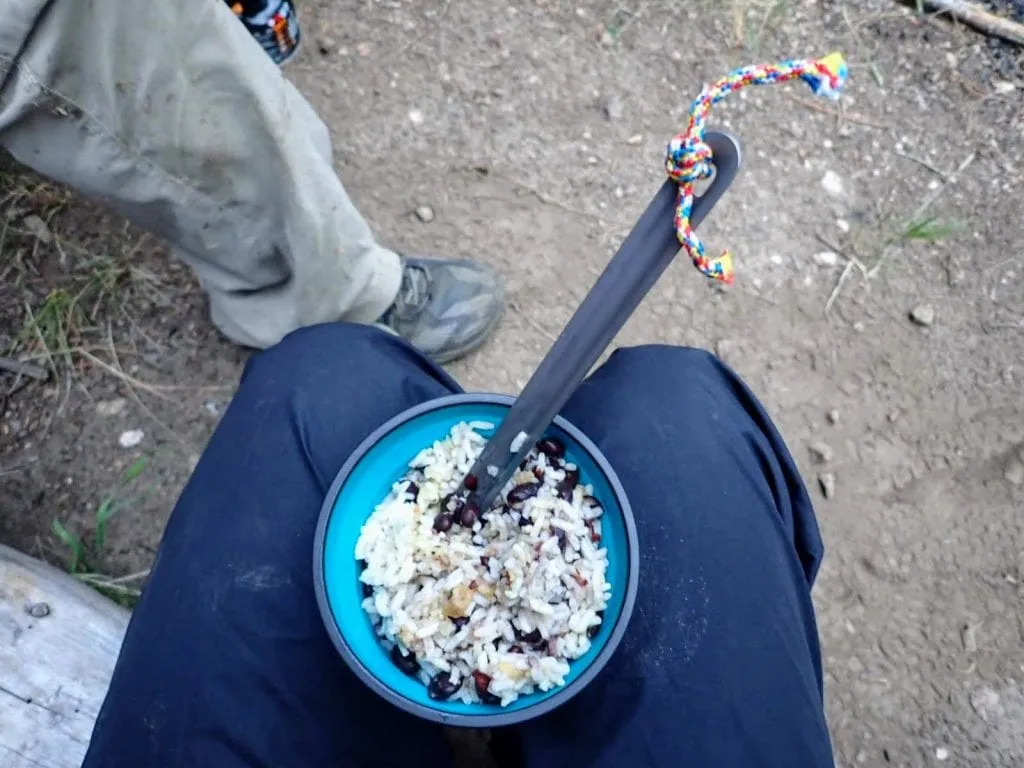 Lightweight Backpacking Gear Guide
Once you've ditched unnecessary gear and streamlined your food system, the next step is to research and buy or upgrade "the big 3" – shelter, sleep system, and backpack. It's nearly impossible to have a true lightweight backpacking kit without paying attention to these critical items.
This part probably requires spending some money, but don't worry if you're on a budget. There are many fairly priced options, and I'll include tips below on how to maximize value for money.
Shelters for Lightweight Backpacking
Tents are the most traditional type of backpacking shelter, but they're also the heaviest and bulkiest. Sometimes I like the privacy and coziness of a tent, especially if I'm camping in a crowded place. But out in the backcountry with no one around, it can be lovely and liberating to sleep in a less enclosed shelter (or none at all).
Here are some alternative shelter ideas for a lighter and more minimalist backpacking style.
Lightweight tents: Current designs keep getting lighter and smaller, and it's now possible to find a fully enclosed tent for well under 2 pounds. Many of the lightest models use dyneema composit / cuben fiber fabric and/or can be pitched with trekking poles instead of dedicated tent poles. See this creative way of looking at solo tents by weight vs. price for help finding the best value.
Tarps: If all you need is overhead protection from rain, a well-pitched tarp provides almost as much shelter as a tent with less weight and bulk. They do take some practice to set up, might require trees or soft soil for anchoring guy lines, and they don't keep the bugs out.
Bivvy sacks: Essentially a weather-resistant sleeping bag, bivvy sacks are like a person-shaped shelter. Fully waterproof bivvies collect condensation and can feel clammy, and all bivvies might feel claustrophic to some folks. I personally like my 3/4-length water-resistant bug bivvy for fair weather, or paired with a tarp for a versatile and fully weatherproof shelter system.
Hammocks: Sleeping off the ground means you need less gear for warmth, and some people find hammocks quite comfortable and convenient. They obviously require well-placed trees, making them a no-go in certain ecosystems and questionable from a Leave No Trace perspective in high-use areas.
Cowboy camping: In fair weather it can be nice to simply roll out a sleeping mat (perhaps with lightweight ground cloth if using an inflatable pad) and sleep under the stars. Take care to not get caught in the rain without shelter though; consider an emergency bivvy if there is ANY chance of bad weather.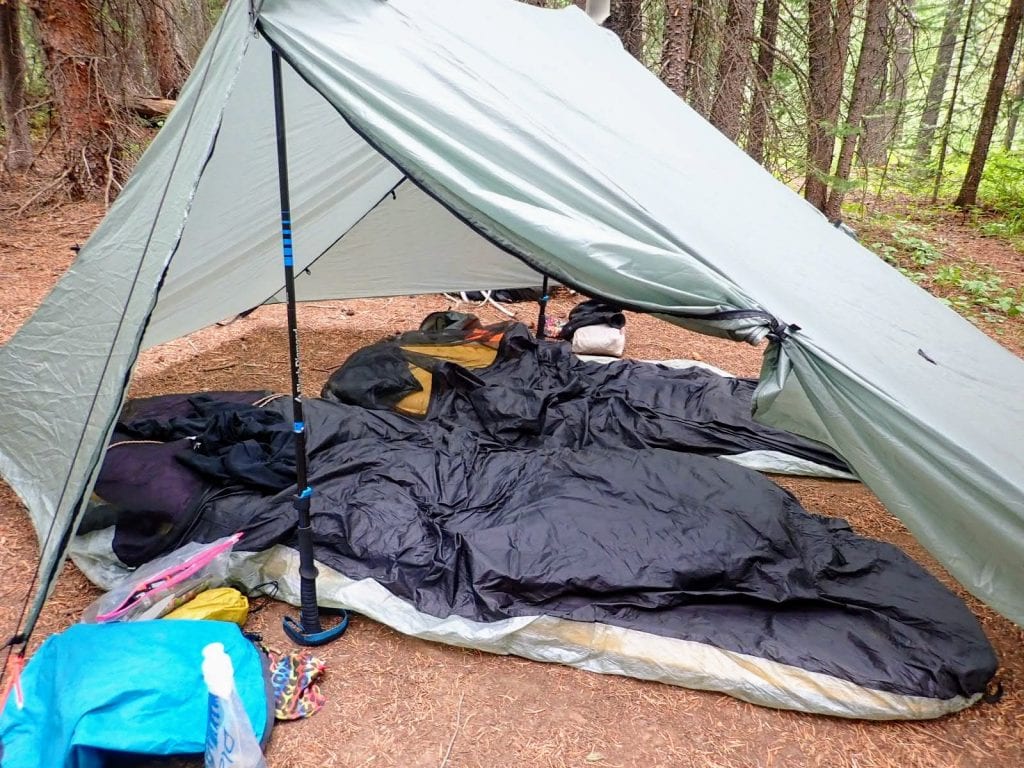 Sleep Systems for Lightweight Backpacking
Here are several ways to cut weight from your sleep system, in rough order from cheapest to more expensive.
Incorporate clothing into your sleep system. You need to carry a midlayer, insulated jacket, and rain gear anyway, so why not sleep in them when needed instead of buying and carrying a lower temperature sleeping bag? I often sleep in my down jacket, and find that rain gear – while it can feel a bit clammy if not fully breathable – makes a big difference for those extra-chilly nights. A mylar emergency blanket can stretch your sleep system to even lower temperatures, though they're not very durable.
Switch to a sleeping quilt. A sleeping quilt is like a n ultralight sleeping bag that's missing its hood and underside (the part you lay on, which doesn't provide warmth anyway since the insulation is smushed). Popular quilt makers include Katabatic Gear, Zpacks, and Enlightened Equipment. Quilts can be just as warm as full sleeping bags, provided you keep your head warm with a lightweight insulated hood, a convenient multi-use item you can also wear around camp. This system works well even for a cold sleeper like me – I haven't used a traditional sleeping bag since 2013!
Choose a lightweight sleeping pad. I love the popular Thermarest Neoair Xlite; it's warm, lightweight, and comfortable even for a side sleeper like me. If you can get away with less padding, some lightweight backpackers prefer closed cell foam pads, which are bulky but light. You can even choose a 3/4 or torso length pad and place your empty backpack under your legs for a very lightweight setup. Here's a more thorough guide to sleeping pads.
Choose a high quality sleeping quilt or bag. If you have room in your budget, more expensive models tend to use higher quality down, which is warmer for less weight and bulk.
Backpacks for Lightweight Backpacking
Many traditional packs weigh 4 or 5 pounds even when empty! All that extra weight makes them structured and durable, helping you carry a heavy load in (relative) comfort.
But once you get your pack weight below 25 to 30 pounds (including food and water), you no longer need all that extra structure in your pack. Now you can knock off another few pounds, and reduce the temptation to pack heavier next time, by switching to a smaller and lighter backpack.
Most modern lightweight backpacks weigh around 2 pounds or less. Popular small brands include Gossamer Gear, Hyperlite Mountain Gear, and Ultralight Adventure Equipment (I personally love my ULA Circuit). Among "traditional" outdoor gear brands, Osprey is making inroads into the lightweight backpack world with their Exos / Eja models, and now their even lighter Levity / Lumina packs. For more ideas, see this post on popular backpacks for thru hiking the John Muir Trail, and this post on ultralight 40 liter backpacks for those who really want to lighten up.
Pay attention to the recommended max weight for lightweight packs, and be honest when assessing the weight of your gear. Ultralight backpacks are very light because they lack structure and padding, and most are very uncomfortable above around 35 pounds. If you're carrying many days of food, the rest of your gear will need to be quite lightweight to make a lightweight backpack practical.
Upgrade your pack after upgrading other gear, as a reward for having achieved your lightweight backpacking goals in other areas.
Consider day packs for shorter trips. My go-to ultralight pack is a well-loved 33 liter model by Inov-8 designed for adventure running and fastpacking. It only cost about $50 and is pretty small, but I can attach a bulky item like my sleeping bag to the outside. It won't fit more than a few days of food, but for a fast and light long weekend it's perfect. Unfortunately it's no longer in production, but this fastpacking pack from Ultimate Direction is a similar idea.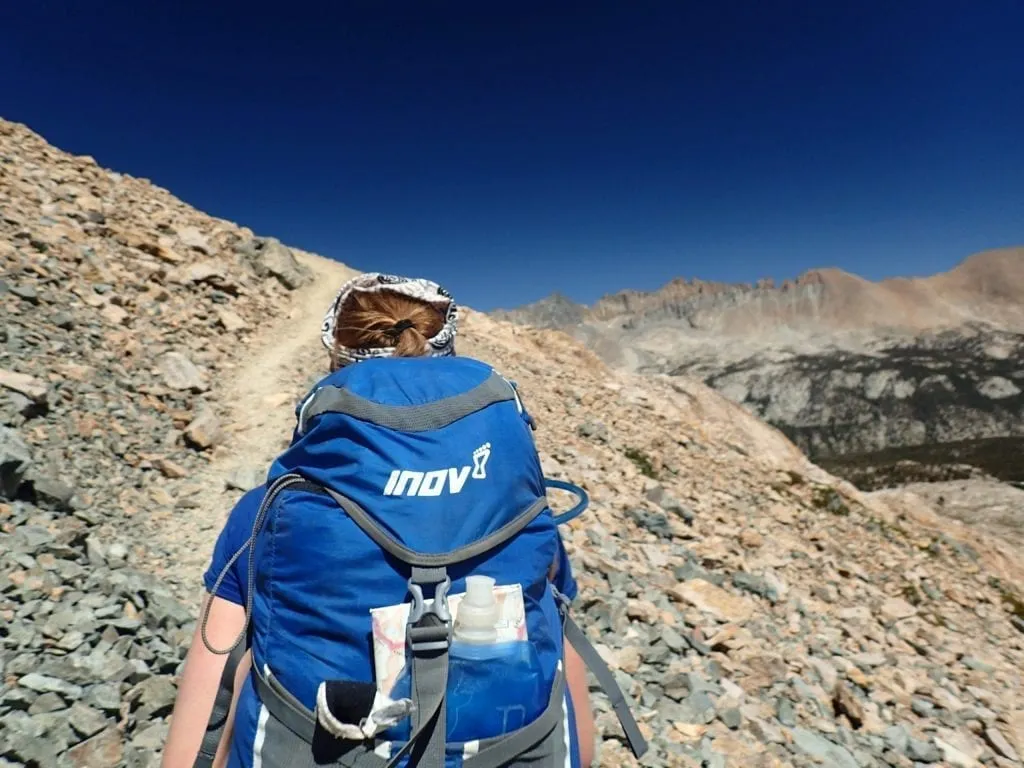 Deals on Lightweight Backpacking Gear
As you consider all these tips and gear ideas, keep in mind that you don't need to pay full price to get top-notch gear. If you know what you want and have time to wait for the right price, you can find some excellent online deals. Here are a few of my go-to places to check for deals on outdoor gear:
Buying used is another great way to get lightweight backpacking gear for good prices (and sell your old gear when you upgrade). These are the best places to start:
Finding The Best Value Lightweight Gear
One complaint I often hear about lightweight backpacking is that you need to spend a lot of money on gear to do it properly. This is untrue. Well, kind of.
It's true that if you can afford to buy the latest and greatest gear, you will have an easier time getting down to truly ultralight backpack weights. But there are plenty of clever budget hacks out there too.
My personal approach is to balance value and performance. If you are willing to spend a moderate amount of money upgrading one or two key pieces of gear with a lightweight focus, here's how to do it strategically:
Start with the heaviest gear you have. Usually this is your tent, sleeping bag, maybe sleeping pad, and your backpack itself.
Weigh each of these pieces of gear and put the results in a spreadsheet.
Research alternatives. Whenever you find a good one, record the weight and price in the same spreadsheet.
For each item you're thinking about buying, subtract its weight from the weight of the version you currently own. Then divide the price by the weight difference. This gives you cost per unit weight saved for each item.
Prioritize your list in order of lowest cost per unit weight saved, and spend your limited budget on the items at the top. With one important caveat…
Not all gear in a category is equivalent. One sleeping mat may be much warmer than another, or a backpack may be more durable and better reviewed than its lighter counterpart. A tarp may save a lot of weight per dollar spent but would be a dangerous upgrade unless you know how to properly use it in a storm. So take your calculation results with a grain of salt and make sure you know what you're getting for your money and weight savings.
This method led to many of the key gear purchases I still use today. It takes a bit of time but it really works, and hey, gear research is kind of fun. Because those instructions can be a bit confusing, I'm sharing the spreadsheet I use for this process. Use this form to get a link emailed to you:
Cost vs. Weight Gear Worksheet
I know, choosing the best outdoor gear from so many options can be overwhelming! To help, I'm sharing the interactive spreadsheet I use to make my own choices. It will help you compare cost and weight of potential gear choices, so you can cut weight from your pack in the most cost-effective way possible.
Enter your email address below, then click the link in the confirmation email, and I'll send you the google spreadsheet link right away. I love all the gear I've chosen using this method and I hope you will too.
You'll also get occasional emails packed full of backpacking resources and inspiration. I think you'll like them! But don't worry, you can unsubscribe any time.
Top Lightweight Gear Companies
While stores like REI are handy for their wide selection, experienced backpackers know a secret: much of the best lightweight backpacking gear is only available online from small companies. This comes with benefits like size and color customization, as well as sustainability and accountability advantages of buying from small and local companies (though to be fair, some large companies like Patagonia and REI have also made commitments to being sustainable outdoor brands).
To get you started, below are a few standout lightweight gear companies I personally recommend. I found many of these by applying the ounces saved / dollar spent strategy mentioned above, and I have been very happy with all of them. For even more gear ideas for all budgets, see my list of favorite backpacking gear.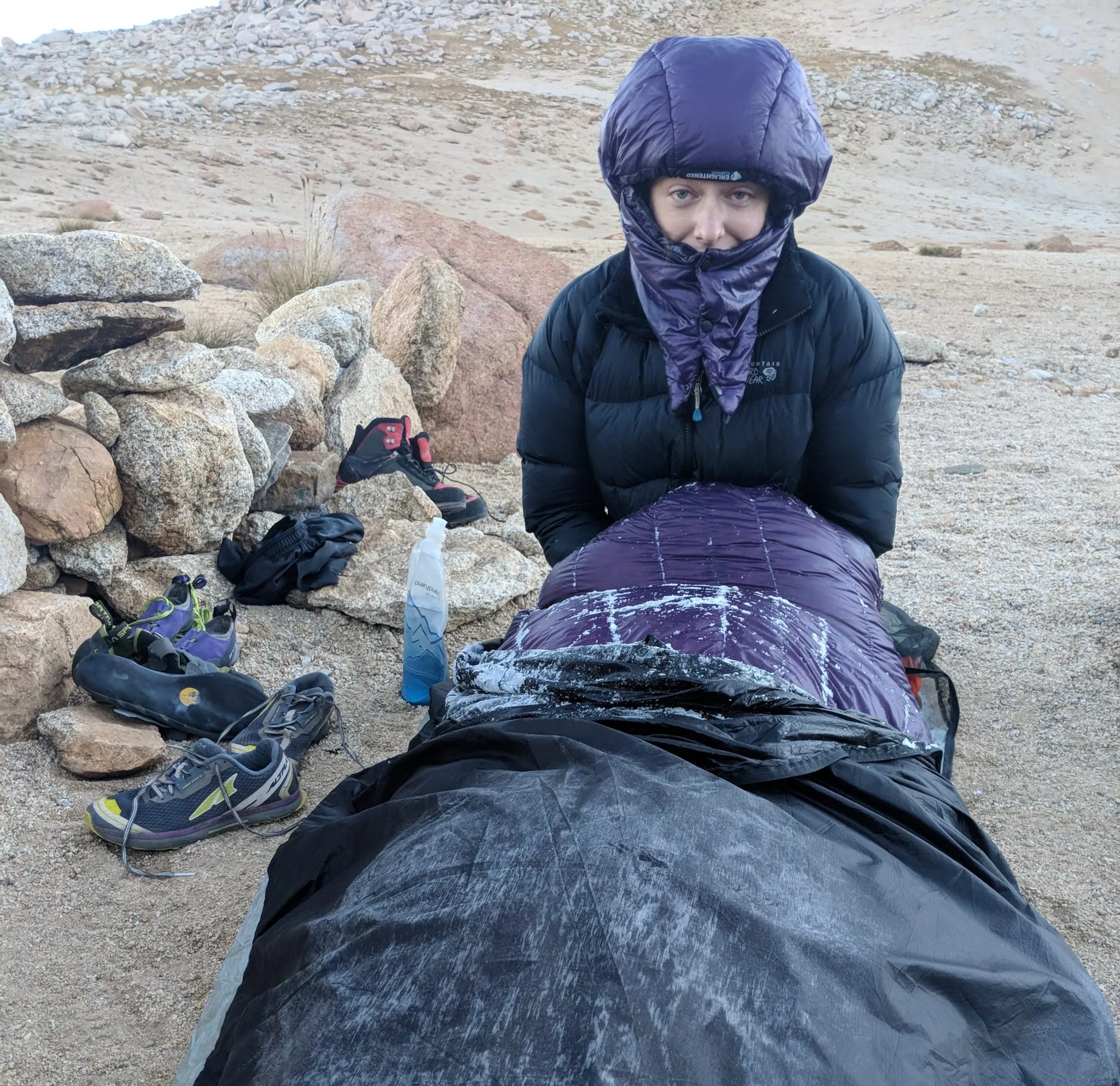 Enlightened Equipment
Enlightened Equipment is best known for their down sleeping quilts, but also makes clothing and shelters. I love my Enigma sleeping quilt for moderate weather, and their Convert hybrid for colder weather (near freezing or below).
The custom sizing option is a game changer for anyone who is not average-sized. Larger people will feel more comfortable and less restricted, while smaller people will have less air space (which makes it harder to stay warm) and less extra material to lug around.
Tarptent
Tarptent makes a great selection of lightweight tents, and their most popular models strike a good balance between light weight and full enclosure. Their Double Rainbow is our go-to when my husband and I hike together, including our 3 week JMT hike. It's ideal for three season use, where the weather won't be too gnarly but you still want the convenience and protection of an enclosed shelter.
Big Sky
Big Sky makes excellent lightweight shelters and a few other accessories.
The Big Sky Soul 1 Person Tent is my go-to solo camping tent (they have a 2-person version as well) for backpacking, bikepacking, and travel. The all-mesh walls work great alone as bug protection, and the rainfly keeps things nice and dry in bad weather. The freestanding design is super simple to set up anywhere, even without stakes, and is fairly roomy for a 1 person tent.
For more detail, see my review of the Big Sky Soul here.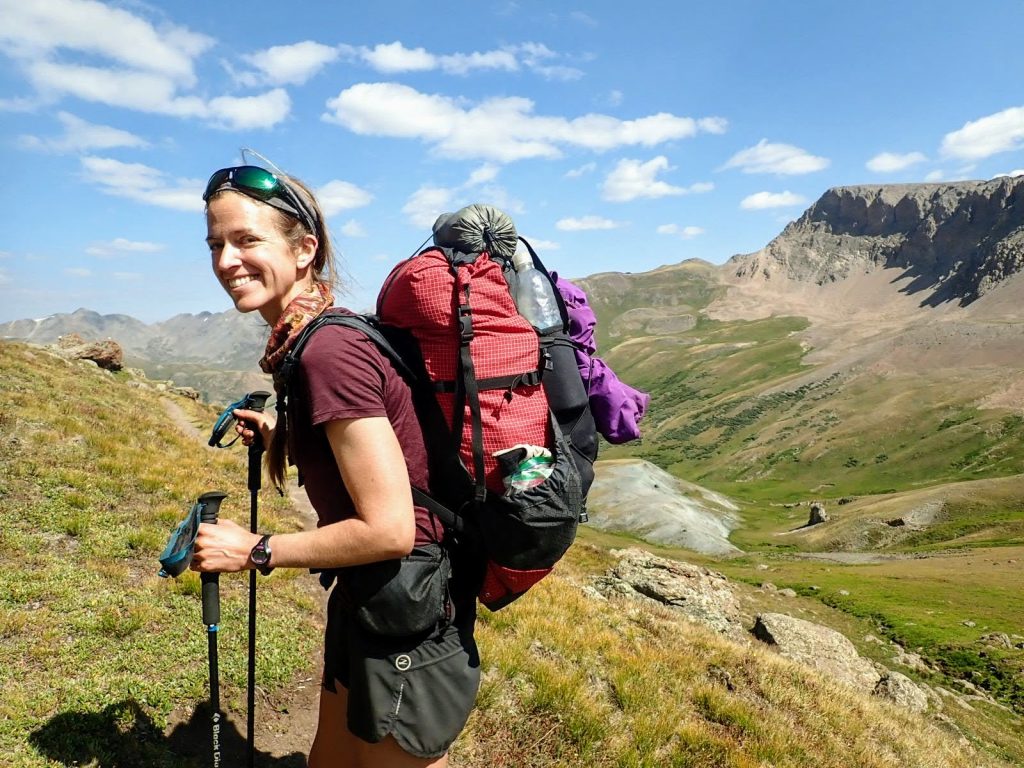 Ultralight Adventure Equipment
ULA Equipment is known for their lightweight but practical backpacks, and after hiking the Colorado Trail with their ULA Circuit pack I am a big fan. It was highly adjustable and fit me perfectly, held everything I needed for a five week thru hike, and had plenty of attachment points while remaining simple and easy to use.
Borah Gear
Borah Gear makes lightweight bivvies, tarps, and accessories. The side-zipper ultralight bivy is my favorite alternative to a tent in dry weather, keeping the mosquitoes out while providing a bit of extra warmth and a nice view of the stars. It's my go-to when trying to move fast and light in summer weather, like a quick jaunt around the Tahoe Rim Trail or bikepack racing in Idaho.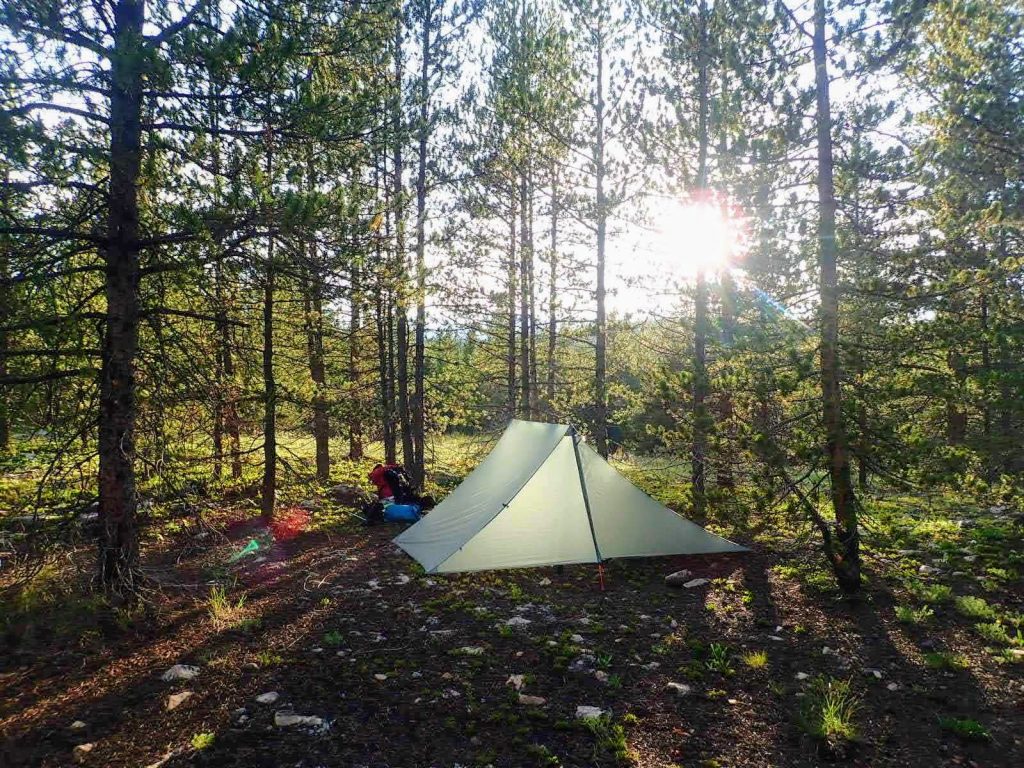 Six Moon Designs
Six Moon Designs makes shelters, packs, and accessories. The Haven Tarp pairs well with the above bivy sack if rain is a possibility, or as rain protection on its own. It's not the lightest tarp on the market, but it's easy to use and doesn't require much fuss or trees in the perfect places. It can be pitched with two trekking poles and four to six stakes. After 5 weeks on the Colorado Trail I love it even more than before.
Here are a few more of the most respected lightweight backpacking gear manufacturers to check out:
If you're intrigued and want to dive in further, check out this list of small-scale backpacking gear manufacturers for even more ideas. Beware, lightweight backpacking gear can be a deep (but wonderful) rabbit hole…
Experiment Safely and Enjoy
For me, lightweight backpacking is about experimentation and cleverness. I like to experiment to find out what I really need and what I don't, so I can enjoy the wilderness more comfortably.
But, I have a responsibility to suggest that you experiment safely. Don't head off into the mountains without enough warm gear. Don't skimp on food and water. Always weigh the risk versus benefit of testing a new piece of gear or leaving an old one at home.
One great approach is to experiment on short trips in places that aren't too remote. Where I live in the California Bay Area, there are places I can hike and camp and still bail to my home within half a day if anything goes wrong.
This kind of trip is perfect for testing new and lighter packing strategies, which can make an otherwise less-than-epic hike near home seem a lot more interesting.
So in conclusion, I hope these lightweight backpacking tips help you pack lighter, hike farther (or the same distance but more comfortably), and enjoy the outdoors even more than you already do. Happy trails!
PS: If you found this post helpful, you'll probably like these other backpacking and hiking resources too.


Hiking resources in your inbox?
There's more where this came from! Sign up here for occasional emails full of inspiration and information about backpacking and hiking.


Share the Adventure
If you found this article helpful, please consider sharing so more people can benefit from it:
Pin for later: