Just by reading this article, you're supporting the Rails to Trails Conservancy. Each year I donate a portion of the ad revenue from this page to support their work. Thanks for reading!
What's a Rail Trail?
What exactly is a rail trail, you ask? If you're a cyclist, it's a linear slice of heaven. Rail trails, or rails to trails conversions as they're sometimes called, are delightfully car-free recreational trails created along old railway beds.
Often surfaced with fine crushed gravel or sometimes pavement, rail trails are usually easy riding for most types of bicycles. Sometimes they showcase historic structures like tunnels and restored trestle bridges along the way. Due to the gradual grades used in railroad building, they're never too steep, and they're always car-free. Many rail trails traverse rural areas full of natural beauty, connecting charming small towns along the way.
For all these reasons, rail trails make a perfect first bicycle tour for beginners, a great family bike trip, or a scenic backdrop to an active social weekend on two wheels. (And if you're wondering what exactly a bicycle tour is, well, welcome to the rabbit hole…)
The United States, with its rich railroad history, boasts hundreds of sections of rail trail. The Rails To Trails Conservancy has an excellent website where you can filter by state, type, and distance to find trails anywhere in the country. These are amazing resources for local cyclists, walkers and joggers looking to enjoy the outdoors in their communities.
But this post is isn't about these short sections; it's about the longest rail trails in the USA. The BIG ones! These are the long rail trails worth considering if you're craving a few days or even a week of gently graded, car-free, scenic and historic bicycle touring and bikepacking bliss.
I've had the pleasure of setting wheels on nearly all of these, and I can personally confirm: these seven long rail trails are excellent ways to sneak a bit more adventure into your life. And don't we all need a bit more fun adventure in our lives?
Palouse to Cascades State Park Trail, Washington
Length: 285 miles (110 well developed)
Location: Rattlesnake Lake (east of Seattle, WA) to the Washington – Idaho border
Surface: Crushed gravel, gravel ballast (chunkier gravel), sand
Website: palousetocascadestrail.org
Formerly known as the John Wayne Pioneer Trail and sometimes the Iron Horse Trail, this long-distance rail conversion in Washington State is one of the longest rail trails in the western US.
The western 110 miles of the Palouse to Cascades State Park Trail, ending at the Columbia River, is well developed. There are several campsites along the way and good water availability, though not all are in towns so you'll want to plan your food carefully.
From the Columbia River onward the trail is mostly undeveloped, with rougher surface and some road detours, and requires more self-sufficiency.
Along the way riders enjoy some impressive historic bridges and the 2+ mile long unlit tunnel beneath Snoqualmie Pass, which is the longest trail tunnel in the US (bring lights!).
Cowboy Trail, Nebraska
Length: 195 miles
Location: Norfolk to Valentine, NE
Surface: Crushed gravel, sandy in places
Website: bikecowboytrail.com
The Cowboy Trail is currently one of the less developed trails in this list, so don't expect to find the same density of bike shops and bike-themed restaurants that you would along some of the more traveled trails. The sometimes sandy trail surface, Nebraska's winds and summer thunderstorms, and unvarying scenery can make this trail a more challenging ride than you might expect.
All this is part of its charm though. Camping and food are still readily available, and the Cowboy Trail's less-traveled nature makes for a more adventurous feel than some of the more popular corridors. It's a great car-free way to experience the state of Nebraska, while its proximity to Highway 20 means you're never far from help if something does go wrong.
The Katy Trail is a popular long-distance rail trail traversing most of central Missouri, and is the longest continuous rail trail conversion in the US. Its flat grade makes for a relatively relaxing way to cross this otherwise hilly state while enjoying prairie, the Missouri River, and small towns and farmland.
The section along the Missouri River is prone to flooding when the river is high, so be sure to check for closures and detours if riding after a high-rain period.
The Katy Trail links up with the Rock Island Trail at Windsor, which extends 47 miles westward to Pleasant Hill on the outskirts of Kansas City, MO.
This "trail" is actually more of a route linking multiple trails. Currently 280 of the 326 miles are on separate paved multi-use path, while the remainder links these stretches through city streets and rural roads. Visitors get to experience a wide variety of Ohio including cities, small towns, nature preserves, rural farmland, and Amish heritage areas.
While the paved multi-use paths are lovely and appropriate for cyclists of any level, the connecting sections do take a bit more focus. They have a bit of traffic in places, and sometimes include steep rolling hills. These sections may not be well suited for children or beginning cyclists. Check out the interactive maps on the website for more detail when planning your ride.
For those wanting to stay entirely on car-free multi-use trails, check out the Little Miami Scenic Trail, 78 smooth paved miles between Cincinnati and Springfield, 59 miles of which are part of the Ohio to Erie route. This is one of the longest paved bicycle trails in the country!
For more information about Ohio's fabulous network of paved cycling trails, visit www.miamivalleytrails.org and www.ohiobikeways.net.
Known as the GAP trail for short, the Great Allegheny Passage is one of the US's premier rail trails. Its well-maintained gravel surface takes riders through forests and along rivers, across impressive gorges (stop at Ohiopyle for some ice cream and a swim in the Youghiogheny river), over the Eastern Continental Divide, through historic railway tunnels and alongside active train tracks. Pause along the way for scenic hikes or rafting trips, historic exhibits, and good meals.
Riders can camp or stay at B&Bs or motels along the way, with food and water readily accessible at regular intervals. The trail is well traveled by both long-haul and weekend warrior cyclists alike, and many of the trail towns are well-developed with lodging, restaurants, and even helpful bike shops should something go sideways mechanically. All these factors make The GAP trail ideal for a family bike tour or first-time bike traveler.
Though the GAP Trail does pass over a big hill (with the Eastern Continental Divide at the top) with about 1500 feet of elevation gain, its railroad grade makes for manageable pedaling the entire way. The ascent is more gradual if heading from west to east.
The GAP Trail's western section can be linked up with the Montour Trail via a short road ride through the not-so-quaint town of Glassport. The Montour Trail can further be linked with the Panhandle Trail near McDonald, allowing riders to travel from as far west as Steubenville on almost entirely mixed-surface rail trails.
In Cumberland, Maryland at the eastern terminus, the GAP Trail links up with the famous C&O Canal Towpath Trail for another 184 car-free miles of riding all the way to Washington DC. This makes for 334 miles of continuous car-free trail, the longest continuous bike route in the country!
C&O Canal Towpath, Maryland
Length: 185 miles
Location: Cumberland MD to Washington DC
Surface: Varies widely, mostly dirt and crushed gravel, rough in places
Website: bikecando.com
Trip reports: BikeSleepBike, CGOAB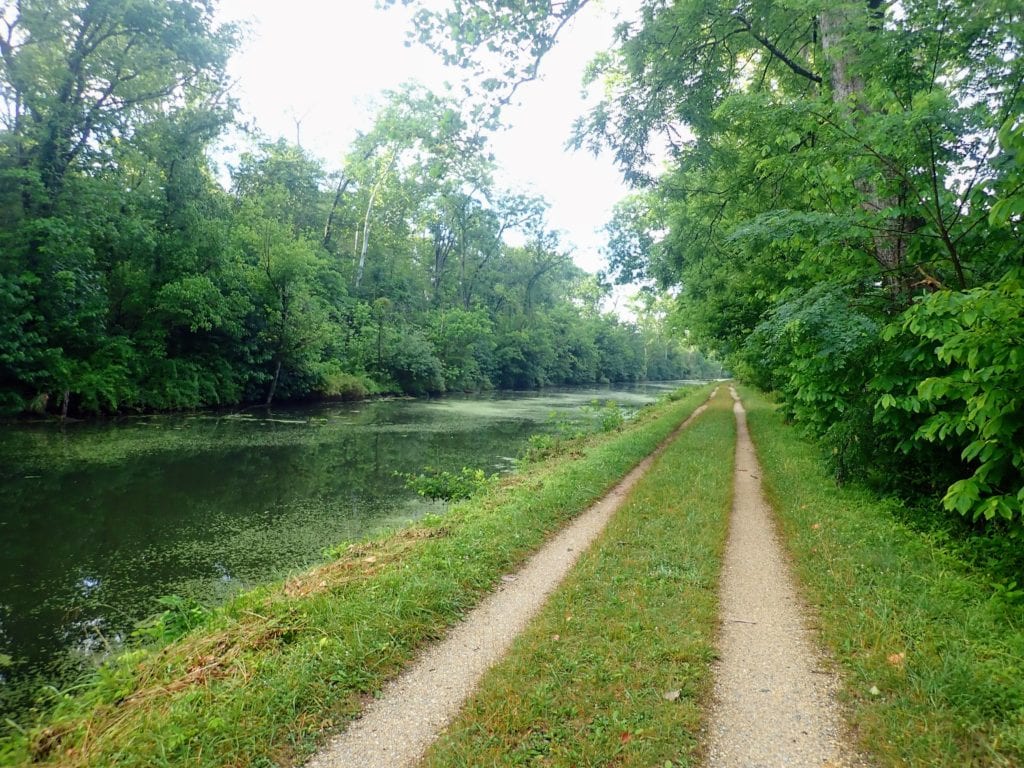 Ok, the C&O isn't exactly a rail trail, but a towpath trail is a very similar idea. This historic trail links Cumberland, MD and Washington DC along the historic Chesapeake and Ohio Canal towpath, showcasing interesting historic infrastructure like old canal locks along the way.
A standout feature of the C&O are the free hiker/biker campsites with toilet and water, spaced roughly every 6 miles for much of the trail's length.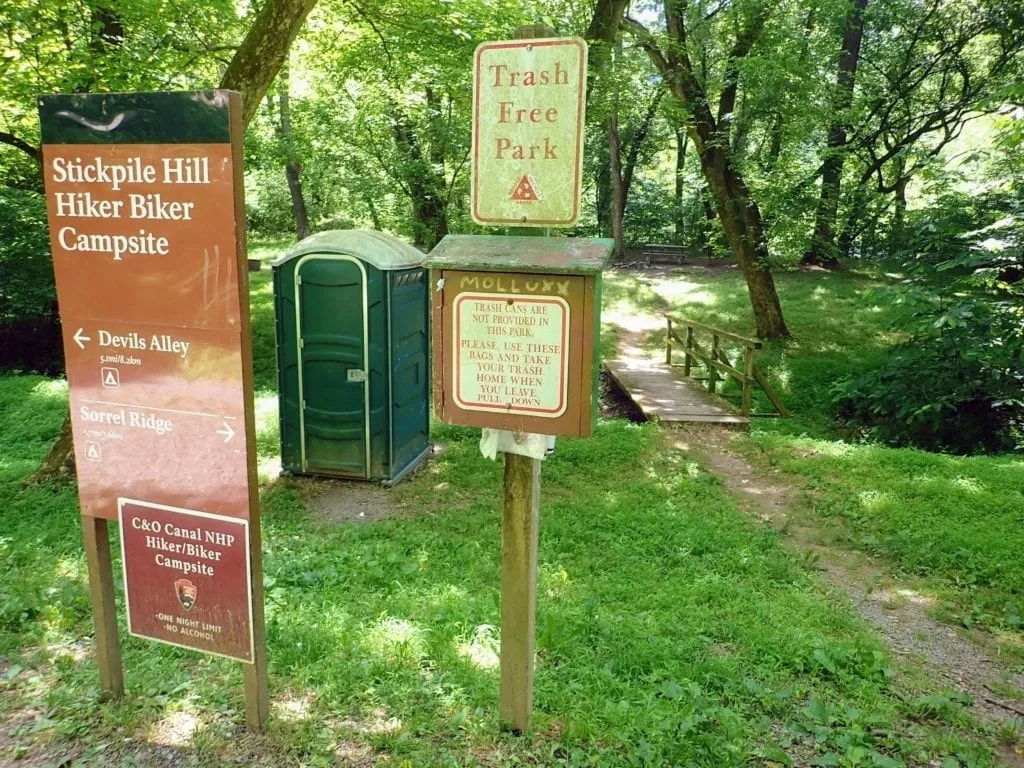 The C&O Canal Trail's surface is more varied than most others in this list, which makes for more interesting riding. Be prepared for a little bit of everything, from muddy singletrack to fast-rolling crushed gravel to sections of smooth pavement. That said, it's a common route for bicycle tourists of all types and you'll find everything from mountain bikes to families hauling trailers on this lovely long-distance trail.
In the town of Cumberland you can easily link up with the Great Allegheny Passage mentioned above for another 150 miles of car-free trail riding all the way to Pittsburgh.
Erie Canalway Trail, New York
Length: 360 miles
Location: Upstate New York (Buffalo to Albany)
Surface: varies, mostly crushed limestone and pavement
Website: eriecanalway.org
The historic Erie Canal Trail runs from Buffalo to Albany primarily on old railway and canalway beds, with a few short connecting sections on roads (which you can see in the interactive map).
At 360 miles with options for extensions and alternates, the Erie Canalway is one of the longest rail trails in the US. It has a well-developed bike touring culture and offers plentiful camping, restaurants, towns, and sights along the way.
The Erie Canal, completed in 1825, rises 500 feet over its course via a series of locks and was an impressive work of engineering in its day. The transport of people, goods, and ideas that it enabled played a pivotal role in New York's economic and cultural development. There's no better way to appreciate this history than to pedal your wheels along its length.
This is the only trail listed that I haven't personally set wheels on, but it comes highly recommended from a reader who was excited to spread the word. It's most definitely on my wishlist now!
Wabash Trace Nature Trail, Iowa
Length: 63 miles
Location: Iowa (Council Bluffs to Blanchard)
Surface: well-maintained dirt
Website: https://www.wabashtrace.org/
I said at the beginning that this is a list of the longest rail trails in the US, but at "only" 63 miles Wabash Trace Nature Trail falls a bit short. However, I personally enjoyed it so much that I have to give it an honorable mention.
The Wabash Trace Nature Trail is a peaceful dirt ride through the Loess Hills (at gentle railroad grade slope) and Iowa forests. Along the way several small towns (and the larger town of Shenandoah) offer motels, restaurants, and camping. Much of the surface is very rideable hard-packed dirt, lending a more natural feel than crushed gravel or pavement.
Fun fact: the Wabash Trace Nature Trail crosses 72 bridges in 63 miles! With more than one bridge per mile, you'll have plenty to keep you occupied.
More Bike Touring Resources
If you're into bicycle touring, check out the bicycle touring resources page or these popular posts:
Bike resources in your inbox?
There's more where this came from! Sign up here for occasional emails full of inspiration and information about bikepacking and bicycle touring.


Share the Adventure
If you found this article helpful, please consider sharing so more people can benefit from it:
Pin For Later