The Loowit Trail is a tough, engaging, and logistically simple 2-4 day backpacking trip in Washington state. If you're ready for it, this challenging ~28 mile loop around Mount St. Helens will reward you with big views, unique terrain, and a felt sense of nature's power as you hike around an active volcano that last erupted, tragically killing 57 people, in 1980.
Today some life has returned to the St. Helens "blast zone" but the mountain is still in flux. As you hike around Mt. St. Helens on the Loowit Trail you can literally feel the landscape shift beneath your feet. I backpacked the Loowit Trail this past September and was struck by its distinctive flavor, so different from the mountain routes I usually gravitate to. Instead of long grinding climbs to high passes, the Loowit offers constantly undulating terrain, short steep climbs and descents, and countless gullies… oh so many gullies!
The Loowit Trail is not the only famous trail in the Pacific Northwest to circumnavigate a volcano, but it feels like the wildest. It's less well-manicured than the nearby Timberline and Wonderland trails, and less well-traveled. While gingerly picking my way down steep slippery slopes and across narrow off-camber trails, I enjoyed pondering the fact that some parts of the Loowit Trail will not be in the same place next season.
Aspirational backpackers take note: long sections of delicate footing combine with limited water and camping to make the Loowit Trail an advanced-level backpacking trip. If you have relatively lightweight gear, can backpack at least nine miles in a single day, do your homework on water and camping, and enjoy a little light scrambling, I'm sure you'll appreciate this wild and rugged trail. For everyone else I'm afraid I don't recommend it.
When you buy through affiliate links in this post, I may earn a small commission. Thanks for your support! I always offer unbiased opinions based on real experience from the road and trail. Learn more.
Loowit Trail At A Glance
Location: Washington state, about 1.5 hours drive from Portland to the southern trailheads
Distance: About 25 miles plus access trail mileage (between 3 and 11 miles roundtrip depending on trailhead)
Days: 2-4 for most people, though some folks hike/run it in a single day
Elevation gain / loss: 4300 feet for loop, plus a few hundred more depending on access trail
Min and max elevation: 3240 and 4880 feet
Season: July – Sept depending on snowpack and water crossings
Difficulty: very hard (steep climbs, delicate footing, brief scrambling)
Trail info and conditions: USFS website
Highlights:
interesting and varied terrain; never boring
rough and wild, not overly manicured
dramatic scenery and wide-open views
loop format is logistically simple
no permit needed
usually not too crowded
Lowlights / challenges:
9 mile no camping stretch
loose sketchy footing in many places
potentially tricky water crossings early in the season
potentially long water carries late in the season
lots of sun exposure
Who will love the Loowit: Experienced backpackers with lightweight gear looking for an engaging trail that's never boring; those who like some scrambling mixed into their hiking, trail runners itching for a highly aesthetic and logistically simple long 1-day run.
Who might want to skip it: Beginner backpackers not used to practicing precise and agile footing with a heavy pack; those with heavy gear; those who can't cover at least 9 miles (the length of the no camping zone) in a single day; those with substantial fear of heights or steep hillsides
Bikes: Not allowed in the northern zone ("blast zone") between Toutle River and Windy Pass, and not recommended for most of the rest of the Loowit Trail unless you enjoy dragging and carrying your bike for long stretches (trust me, I've done plenty of hike-a-bike but would not take my bike on most of the Loowit). The one section popular with mountain bikers is between Abraham Trail and Ape Canyon Trail. 
Dogs: Technically allowed (on leash) only outside of the blast zone, but not recommended due to the sharp lava rock and general difficulty of the trail. 
Horses: Horses and stock prohibited on all of the Loowit Trail; it is not stable or substantial enough to support them.
Map and Navigation
The Loowit Trail, also referred to as trail #216, is fairly well signed at almost every junction. In the lava fields, where the trail often disappears in a jumble of volcanic boulders, you'll see tall posts marking the general direction. Look for cairns (rock piles) marking the current best path across eroding gullies. 
Though navigating the Loowit Trail is relatively straightforward, it's always important to have a good offline map when hiking in the backcountry. You never know when you might make a wrong turn, become confused, or lose your way where the trail becomes faint in a gully or rock field. I use AllTrails app with the premium membership that allows offline navigation; don't expect to have phone service on the trail. Gaia GPS is another popular app with similar pricing and functionality. 
Here's a map showing the Loowit Trail accessed from June Lake trailhead, one of the most popular access points. This is the route I hiked in September 2023: 
And here's an AllTrails map starting at Climber's Bivouac / Ptarmigan Trail, another popular starting point in the south. Though these two maps might look very similar, the three miles between these two access trails on the Loowit are slow-going. It's important to think about whether you want to do these miles at the beginning of your loop or at the end.
If you'd like to carry a paper map – recommended as a backup to your electronic device especially for solo hikers – the National Geographic Trails Illustrated is a good one. We chose to not carry a paper map on this trip because we hiked together as a pair and both had the route downloaded to our phones, serving as each other's backup.
When to Hike
The Loowit Trail is a summer hike. It's usually doable from July to September, though that window varies from year to year. The biggest considerations are lingering snow, weather, water crossings, and water sources.
Lingering snow: The slopes of Mt. St. Helens hold snow throughout the winter and spring. In summers following an especially snowy winter there may be snow on the trail well into July. On low snow years the trail might be accessible starting in June. Check for recent trail reports on AllTrails to see how conditions are progressing.
Weather: At any time during the summer you should be prepared for rain or even snow, though it's more likely you'll struggle with the heat and unrelenting sun on the route's many exposed treeless miles. By late September or early October the chances of rainfall increase, average temperatures drop (expect below-freezing nights), and early storms may dust the trail with snow. Check the weather forecast before heading out!
Water crossings: The Loowit Trail crosses many gullies and streambeds in its circumnavigation of St. Helens, and while snow is melting up high those streams and rivers are flowing strongly. Water crossings are a bigger issue earlier in the season, and some – like the Toutle River – may be difficult and dangerous to cross. By mid to late August most years the water crossings have calmed down. 
Water sources: As the snow melts out of the high country, the water crossings become easier and the smaller streams dry up. This leaves late-season hikers with longer water carries between the few reliable sources (more on this below).
Other considerations: Wildflowers are at their best earlier, throughout July or August. Mosquitoes are also more plentiful during this time, though not a major problem on this trail. Late-season hikers have fewer daylight hours to hike and more dark hours to pass in the tent, but will enjoy some fall colors here and there.
With all that in mind, my preferred time to hike the Loowit Trail on an average snowpack year would be mid-August. We hiked in mid-September because that's when we were available and in the area, and still enjoyed our hike very much. But we did have to plan water carefully, check the weather forecast and plan for a good window, and the nights were a bit chilly. On the bright side, crossing the Toutle River was a non-issue.
Access Trailheads
The Loowit Trail, being a loop, is beautifully simple in its logistics. There are no trailheads directly on the route but the trail intersects access trails every few miles to form the short "stem" of a "lollipop" route. The shortest of these access trails is June Lake at 1.5 miles each way. The longest is Ape Canyon at 5.5 miles each way.
Choosing a trailhead is mostly a matter of deciding how you want to break up the hike, especially in relation to the 9 mile no-camping zone and the long dry stretches late in the summer. 
The two most popular starting trailheads are June Lake and Climber's Bivouac / Ptarmigan, both in the south and both relatively short and efficient ways to reach the Loowit. When hiking clockwise either of these makes for a solid first day (9 miles for June Lake or 12 miles for Climber's Bivouac after reaching the main loop) ending at the Toutle River, which marks the start of the no camping section. This allows you to start the no camping section first thing in the morning of day 2 so you have the best shot at making it through in one day. Some people also start at Windy Trail, near the eastern end of the no camping zone, and hike counter-clockwise to reach the Toutle River at the western end on their first night.
Other factors to consider include: when you want to do the most rugged western miles, where you're coming from and how far you're willing to drive, how much additional mileage and climb the access trail adds, whether there's a parking fee at the trailhead, and time of day you'll be crossing the Toutle River (morning is easiest when flow is higher).
We started at June Lake Trailhead and hiked clockwise. We had also been considering Climber's Bivouac, which has a slightly longer approach in mileage but slightly less climbing. Ultimately we chose June Lake for a few reasons:
We wanted to finish our hike early on day 3 because rain was in the forecast for that afternoon, so we wanted to frontload the three slow miles between June Lake and Climber's Bivouac junctions on day 1 to decrease our chances of being caught in the rain on day 3. 
We arrived at the trailhead after dark and camped there overnight, so we preferred a paved road to a quiet area. Climber's Bivouac is gravel for the last couple miles and can be busy during peak season.
Climber's Bivouac has a $5 per day parking fee (or Northwest Forest Pass) and June Lake has no fees.
June Lake is one of the easiest trailheads to drive to (all paved) and the shortest approach hike, but it's a smaller trailhead with fewer parking spots and the area is popular with day hikers. During peak season you might prefer the larger Climber's Bivouac lot. There is also walkable overflow parking at the Sno Park just prior to the June Lake lot.
It's possible to camp, either in a tent or your vehicle, at both June Lake and Climber's Bivouac trailheads. This is likely possible at other trailheads too – check regulations for the one you're interested in. 
Which Direction to Hike
You can backpack the Loowit Trail either clockwise or counterclockwise from any access trailhead. The choice depends on your planned daily mileage, water sources, and whether you want to frontload the slowest and hardest miles (in my opinion, the western side between June Lake and Toutle River) or work up to them. 
One thing to note is that the campsites at the Toutle River is on the southern bank, a bit up from the bottom of the canyon. Early in the summer this river crossing can be high and fast late in the day but will be easier first thing in the morning. If you start at the southern side of the loop (June Lake or Climber's Bivouac trailheads) and hike clockwise, you can camp before the river crossing and save it for the following morning. 
Opinions seem to differ about which section is the slowest and hardest, but I would say it's the western side between June Lake and the Toutle River. This section has large boulder fields that will slow even the most nimble hiker, and backpackers with heavy packs will need to really take their time. We were happy with our choice to get these miles done on day 1 so our third day was easier, but some hikers might prefer to hit them at the end of their hike when packs are lighter and trail legs have been found.
How Many Days?
How many days will it take to backpack the Loowit Trail? The total distance is around 28 miles if you hike from June Lake or Climber's Bivouac trailheads, but some of the miles are long and slow. We hiked the Loowit Trail in 2.5 days and thought that was a challenging but not grueling pace. We were also dealing with shorter daylight hours at the end of September; summer hikers will have more time to squeeze in the miles. 
Most backpackers complete the Loowit Trail in about three days. Fit hikers with lightweight gear can push for two days, while more leisurely folks will be happier with four days. Stretching to more than four days is challenging due to the long no-camping zone; you'll need to hike at least one 9+ mile day to backpack around St. Helens. 
The Loowit Trail is not a particularly fast hike. The miles come slowly in many places, especially the boulder fields and rope-assisted scrambles of the west side and the steep and slippery gullies throughout. Allow extra time for precise and careful footing here.
The Loowit Trail is also popular with trail runners and ambitious day hikers attempting to circle the mountain in a single day. It's certainly an aesthetically appealing challenge, but only suited to those with the fitness and agile footwork to traverse so many challenging miles efficiently in a single push.
Loowit Trail Itineraries
There are many ways to break up the Loowit Trail thanks to the loop shape and multiple access trailheads. Here are a few of the most obvious.
2.5 Day Itinerary from June Lake Trailhead
Here's the itinerary we followed on our 2.5 day hike from Sept. 21-23, 2023. We started at June Lake Trailhead and hiked clockwise.
Day 1: June Lake Trailhead to Toutle River (12 miles)
Day 2: Toutle River to Ape Canyon Trail Junction (11 miles)
Day 3: Ape Canyon Junction to June Lake Trailhead (6 miles)
3 Day Itinerary from Climber's Bivouac
Our 3 day itinerary had a short last day and a fairly long first day. This 3 day itinerary redistributes those miles more evenly.
Day 1: Climber's Bivouac Trailhead to Toutle River (8.5 miles)
Day 2: Toutle River to north side of Pumice Butte. Sometimes there is water here, otherwise carry water from the spring before Windy Trail junction. (10.5 miles)
Day 3: Pumice Butte to Climber's Bivouac Trailhead (10 miles)
4 Day Itinerary from June Lake Trailhead
If you need a bit more time, this itinerary breaks up the slower western miles into two days. The downside is that you may need to hike a mile off-route to Butte Camp to get water on night 1.
Day 1: June Lake Trailhead to Butte Camp, 1 mile off route (7 miles)
Day 2: Butte Camp to Toutle River (6 miles)
Day 3: Toutle River to first camp after Windy Pass. There may be a stream but don't count on water here; fill up at spring before Windy Trail junction. This site is exposed, so in bad weather you may want to continue to Pumice Butte. (9 miles)
Day 4: After Windy Pass to June Lake Trailhead (8 miles)
Don't feel limited to these itineraries. There are plenty of other good options, especially if hiking earlier in the summer when smaller water sources are flowing.
Camping
There is a nine mile long day-use only section in the St. Helens "blast zone" between the Toutle River and Windy Pass, the northern side of the loop. This area, also known as the pumice plain, is a delicate and important scientific research area. Backpackers must cover this section in a single day, without camping. Here's a map showing this zone and other helpful info.
Elsewhere along the Loowit Trail, camping is allowed following the usual Leave No Trace guidelines: camp in established sites, bury human waste at least 200 feet from water sources (see How to Poop in the Woods if you're not clear on the details), and pack out everything you brought in. Speaking of which, I beg you, please pack out your used toilet paper! I saw too much evidence of poor toilet habits on the Loowit Trail. We can do better!
You'll find established campsites (usually just small flat areas cleared of rocks) roughly every few miles. There are others, but here are some of the most popular areas with multiple sites:
June Lake (steep ¼ mile off trail, water)
Butte Camp (1 mile off trail, water)
Toutle River (water; sites are on the south bank a bit higher up – would not recommend camping right next to river due to cold, humidity, and potential for rockfall)
Plains of Abraham after Windy Pass (exposed and windy)
Pumice Butte (maybe water, but spring here was dry when we hiked in mid-Sept)
Ape Canyon Trail junction
A few sites scattered here and there in the trees on the clockwise descent toward June Lake Trail junction.
When we backpacked the Loowit Trail we camped at the Toutle River and the Ape Canyon Trail junction (dry). They were both good spots. The Toutle River has nice sites up a bit from the water (a short scramble down and back if you need water for the night). The Ape Canyon Trail junction is dry and a bit exposed – we had a windy night there – but with excellent views and a selection of sites.
Food Storage
There aren't any food storage requirements on the Loowit Trail and bears aren't known to be a problem. Still, small critters can become a nuisance if they develop a taste for hiker food. We saw plenty of chipmunks in the area, though none were particularly interested in our food. Still, it's best to store food responsibly and safely by hanging it (perhaps in an Ursack Major or Minor) or sleeping with it. 
Drinking Water
Drinking water can require some planning on the Loowit Trail, especially if you hike during hot weather late in the summer when the smaller streams have dried up. It's manageable but you'll need to plan ahead; don't expect to just scoop up a bottle of stream water every few miles. A water capacity of about 4 liters per person is appropriate for the Loowit Trail, potentially more if hiking in hot weather and/or planning to dry camp.
Early in the summer, as snow is melting up on St. Helens, the Loowit Trail crosses many small streams. These are convenient but often silty, which can clog hollow core water filters and render UV purifiers ineffective. Chlorine dioxide is a good purification method for this type of water. Whatever you do, definitely treat your water on the Loowit Trail to avoid getting diseases like Giardia. For more info see Water Filters for Backpacking.
If you hike later in the summer after most snow has melted (usually by mid-to-late August), most of these smaller streams will be dry and you'll need to plan more carefully. Some of the most reliable major water sources for late in the season are:
June Lake (steep ¼ mile off route)
1 mile from the Butte Camp / Loowit Junction on the Butte Camp Trail (1 mile off route)
Toutle River
Spring near Windy Trail junction (¼ mile before junction going clockwise). Also likely a stream in this area as well.
Trip reports on AllTrails are very helpful for understanding the current water situation. Look for recent reports, or reports from last year around the time you plan to hike (keeping in mind snowpack variation from year to year) to understand which sources are drying up and which may still be flowing. The Loowit Trail has little shade and summer days can be hot, so you might need more water than expected. At least 4 liters of water capacity is recommended if backpacking in mid-to-late summer when the smaller streams have dried up.
I tried a new water carrying system on this trip: the Smartwater Bottle drink tube from One Bottle Hydration. I've long been a hydration bladder fan since I can't reach bottles in my pack's side pockets, but this system is the best of both worlds and my new go-to. Learn more about the pros and cons in How to Carry Water While Backpacking.
Water Crossings
The Loowit Trail is bisected by seemingly innumerable gullies and streambeds. Early in the summer when snow is melting quickly, these can be challenging to cross. The Toutle River is likely to be the trickiest. Be sure to follow safe practices for water crossings and don't attempt to cross if you don't feel safe.
Water crossings are lower and slower first thing in the morning, before the day's heat has begun melting snow up high. If in doubt, consider camping and trying the crossing in the morning (a good reason to hike clockwise from the southern side of the loop, so you can legally camp on the south bank of the Toutle and cross in the morning if needed).
Recent trip reports on AllTrails may help you get a sense of the water crossing situation and whether it's likely to be a problem for you.
Permits for the Loowit Trail
No permit is needed to hike, run, or backpack the Loowit Trail at this time of writing.
Some of the access trailheads, such as Climber's Bivouac, do require a parking fee. This can usually be paid in cash at a rate of $5 per day, or by displaying a Northwest Forest Pass in your vehicle. Research your access trailhead online to find details.
St. Helens Summit Side Trip
As you hike the southern side of the Loowit Trail you'll cross two "climbing" routes used by those summiting Mount St. Helens. The Monitor Ridge route is the preferred summer route, and Worm Flows is the winter route (but also used in the summer).
It may be tempting to consider working a summit attempt into your backpacking trip around Mount St. Helens. While the summit climb is nontechnical, it's extremely strenuous and usually an all-day affair even with a pre-dawn alpine start. Also, a permit is required to summit St. Helens and the application is competitive.
Other Trail Users
The Loowit Trail is said to be much less crowded than many others in the area, and we certainly found this to be true when we hiked it (mid-week in mid-September, so not the most high-use time). We met a handful of runners tackling the Loowit in a day, a few day hikers, and just a couple backpackers. Both nights we had our entire camping area to ourselves with several empty sites nearby. 
By contrast, when we hiked the nearby Timberline Trail a week later (more below on the comparison between these two trails) we saw dozens, if not hundreds, of backpackers and day hikers. Granted it was a weekend, but it was also a cold and rainy period at the very end of September and we were told the high season is much more crowded.
Equestrians and stock are not permitted on the Loowit Trail, and you'll see why once you're on it; the trail isn't stable enough to accommodate them in many places. Mountain bikes are allowed except in the no-camping zone, but the only section that's really rideable is a short stretch on the eastern side between Abraham and Ape Canyon junctions. Dogs are technically allowed outside the no-camping zone as well, but tend to struggle with the sharp lava rock so you won't see too many of them. In short, if you prefer solitude to busy trails, the Loowit is a good choice for you.
Rope-Assisted Scrambles
Three short rope-assisted scrambles are a unique and interesting feature of the Loowit Trail. If you relish a wee bit of excitement on your hikes, you'll probably enjoy overcoming these brief obstacles. If you have a fear of heights or exposure, they may be a bit stressful for you.
All three rope sections are near each other on the west side of the loop. Hiking clockwise you'll encounter the first (and steepest, in my opinion, though I'm sure they vary from year to year) a few miles before the Toutle River. The other two lead into and out of the Toutle River canyon.
The ropes are fixed by the forest service, appear to be in good condition, and are thoughtfully placed with redundant anchors and protective sheathing where necessary. Still, it's always smart to look them over and give a test pull before committing your weight.
If you're worried about these sections, I can tell you – as someone with a moderate fear of heights and exposure – they might get your heart beating a little faster but they aren't that bad. They're short and you're not likely to get too badly hurt if you slip. Just take it slow and steady, one step at a time, and you'll be up or down in no time! It will help to stow your hiking poles, if you have them (and I highly recommend hiking poles for backpacking the Loowit) so both hands are free to grab the rope.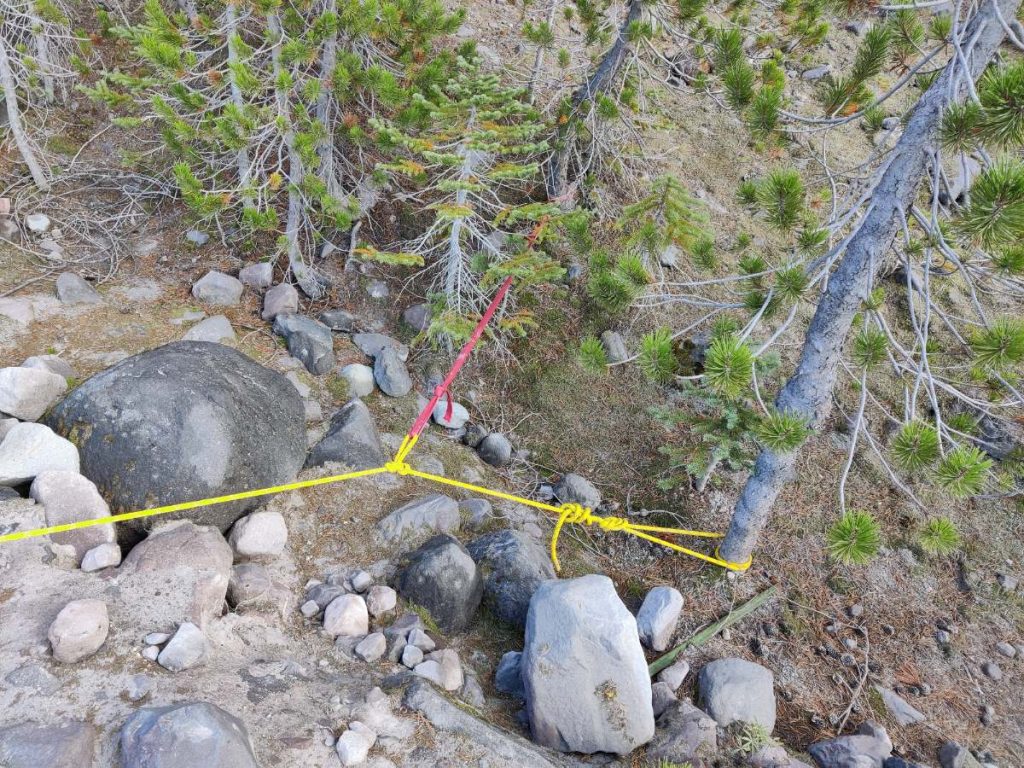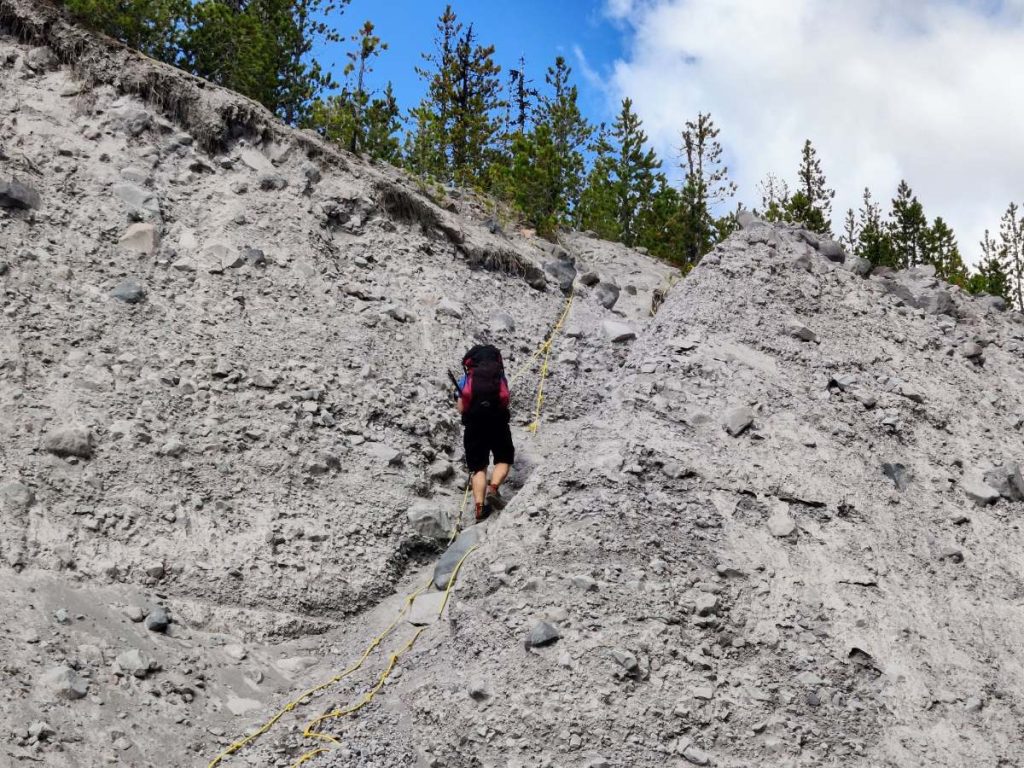 Trail Overview by Section
June Lake Trailhead to Toutle River (12 miles)
This section contains some of the slowest miles on the Loowit Trail, so leave plenty of time. Challenges include plenty of steep climbing, most of the route's volcanic boulder fields, and two of the route's three short rope-assisted scrambles (the third comes immediately upon starting the next section).
From the trailhead to June Lake is a wide and mostly gentle climb. After the lake (and some nice campsites) the trail steepens for a quarter mile to join the Loowit, the first taste of challenging grades to come.
Between June Lake junction and the start of the big descent to the Toutle River, the trail alternates between forest and lava fields. The lava fields are massive piles of rocks and boulders, slow to traverse because it takes time to find safe footing and follow the correct route. We lost the trail a few times but always made our way successfully by heading toward the next tall post. 
Eventually we encountered the first of the rope-assisted scrambles. It was steep at the top and took a bit of commitment to descend (down is often harder than up), but the rope was in good condition. In my opinion this first one (going clockwise from the south) is the trickiest — get it done and the rest will be fun and easy!
The descent to the Toutle River includes some dramatic views and lovely old growth forest, especially idyllic in the late-afternoon light. Just before the rope leading down to the river there are a number of campsites on both sides of the trail; we chose one on the right with great views over the river. We did have to make a short trip down and up to fetch water, but I'd highly recommend camping at those sites instead of down in the canyon. They're much more scenic, warmer, quieter, and have less risk of rockfall (look up when you're crossing the river and you'll know what I mean!). 
We saw only a couple other trail users this day, and no other backpackers. We had the campsites at the river all to ourselves and enjoyed a gorgeous sunset.
Day 2: Toutle River to Ape Canyon Trail Junction (11.5 miles)
We enjoyed a peaceful and relatively warm night in our campsite above the Toutle River. Our first task was to descend to the water and refill for the day ahead. The crossing was low enough to be a rock hop first thing in the morning (had been a few inches higher the prior afternoon) and the ropes into and out of the canyon were not bad. 
The climb from the river was steep and green. Eventually the scenery opened up and we enjoyed excellent views of St. Helens. Sometimes the footing was sandy, but the scenery in this section make for pleasant hiking.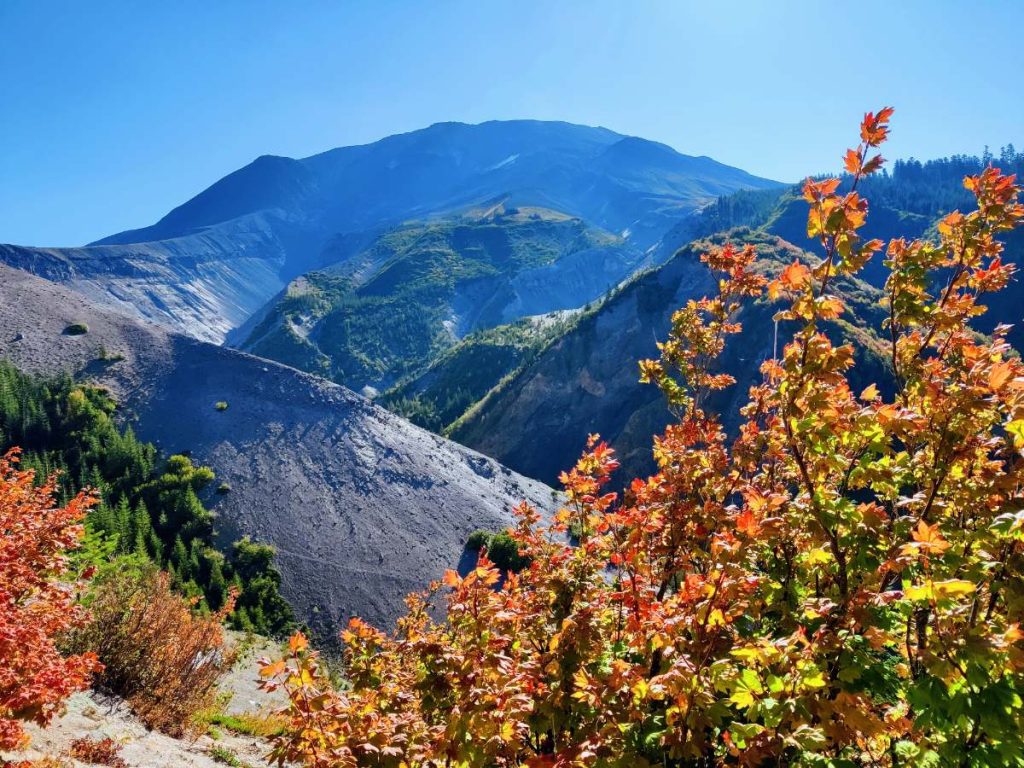 Crossing a pass we entered the "blast zone" or pumice plain where foliage is sparse and views stretch in every direction. This section was mostly straightforward, just a few steep gullies to cross with some faster miles mixed in. It's also a very interesting section where you can observe life slowly returning after being obliterated by the eruption just over 40 years ago.
We found good water near the end of the no camping zone, in the form of a gushing spring just before Windy Trail junction and a couple streams shortly before that. We filled up 4 liters each at the spring, expecting this to be our last fill of the hike.
With heavy packs we picked our way up Windy Pass. The trail was a bit loose and sketchy, but overall a short climb. The descent to the wide-open Plains of Abraham is easier but still slippery, and the views are dramatic. Here we met a few mountain bikers headed to the Ape Canyon Trail, and enjoyed some easier flat walking. 
We considered camping at the Pumice Butte sites, but the spring was dry and we still had plenty of daylight hours so we continued to the junction with Ape Canyon Trail. The sites here are also dry, but the views are great and we had the place totally to ourselves. Unfortunately this area is fairly exposed and a strong wind blew in after dark, rattling our tarp all night long. 
Day 3: Ape Canyon Junction to June Lake Trailhead (6 miles)
We didn't sleep very well with all the dust and flapping, and the next morning we awoke to cool temps and a cloudy sky. Rain was in the forecast for the afternoon. Time to get moving and finish our last six miles!
After a short little climb the remaining miles were mostly, but not all, descent. We spotted a few campsites hidden in the trees here or there, but mostly the landscape was open and dramatic. We crossed a few more steep and loose gullies, picked our way down steep rocky trail, and enjoyed views over the flanks of the mountain carved out by dramatic debris flows that looked like rivers in the distance.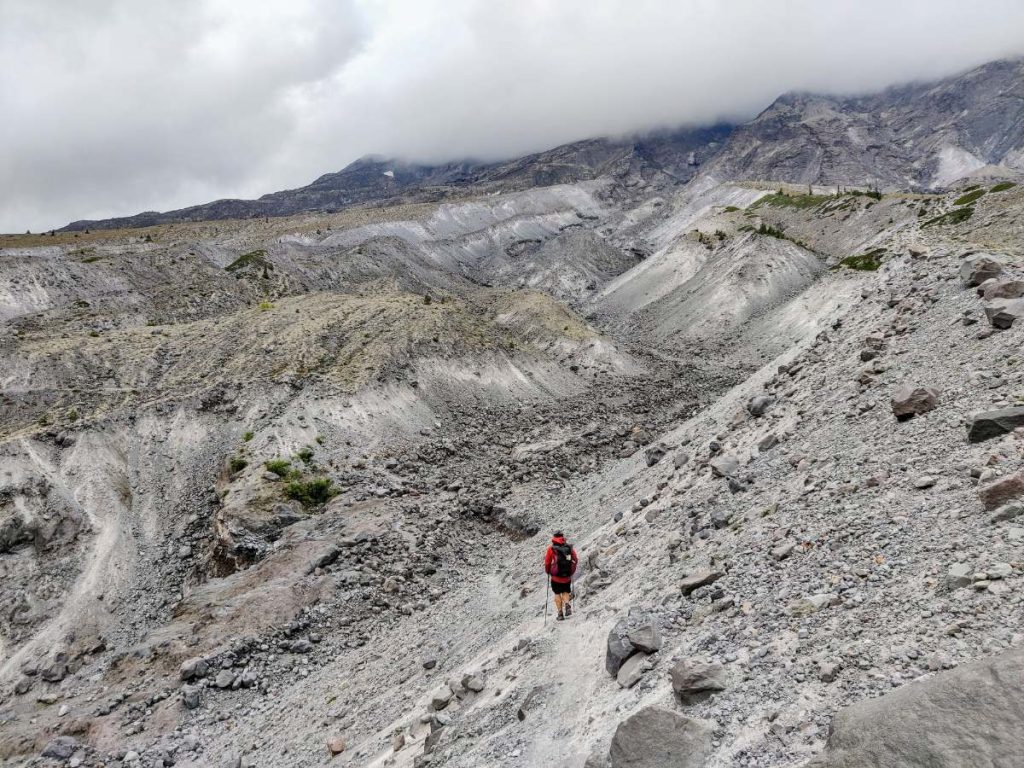 At the right time of the summer, this side of the mountain may offer you a free snack in the form of ripe huckleberries. If you don't know what huckleberries look like, here's an important tip: edible huckleberries look like blueberries. You may also see clusters of little red berries along the trail — these are NOT huckleberries and we think they may be poisonous. Don't eat the clustered red berries!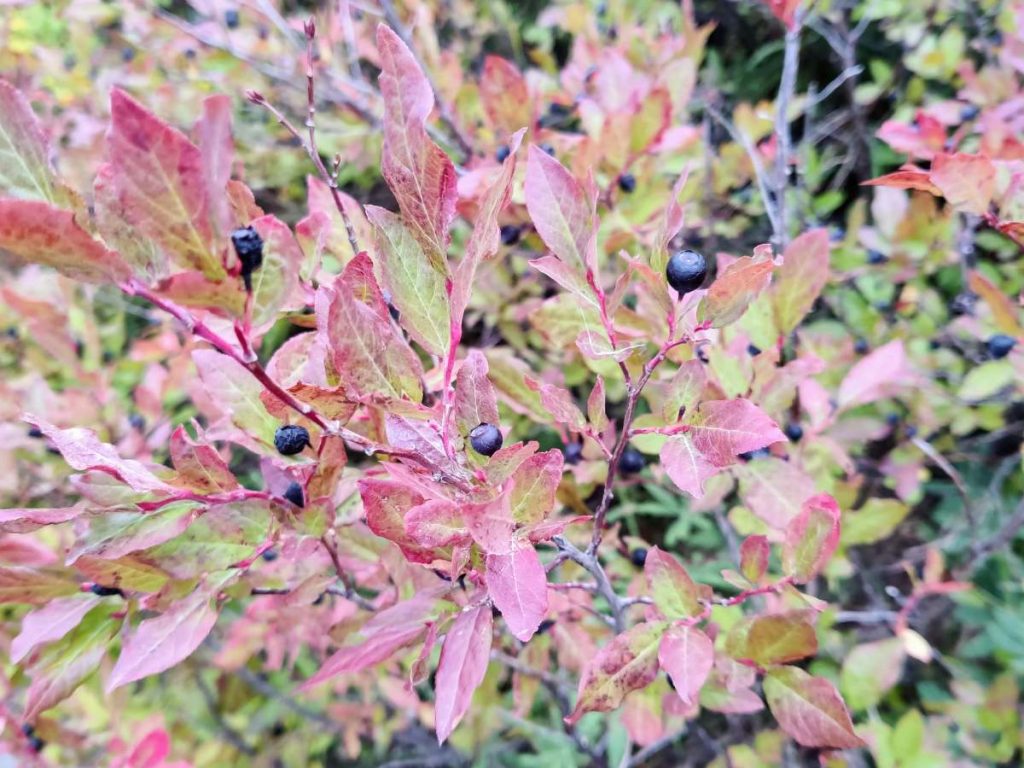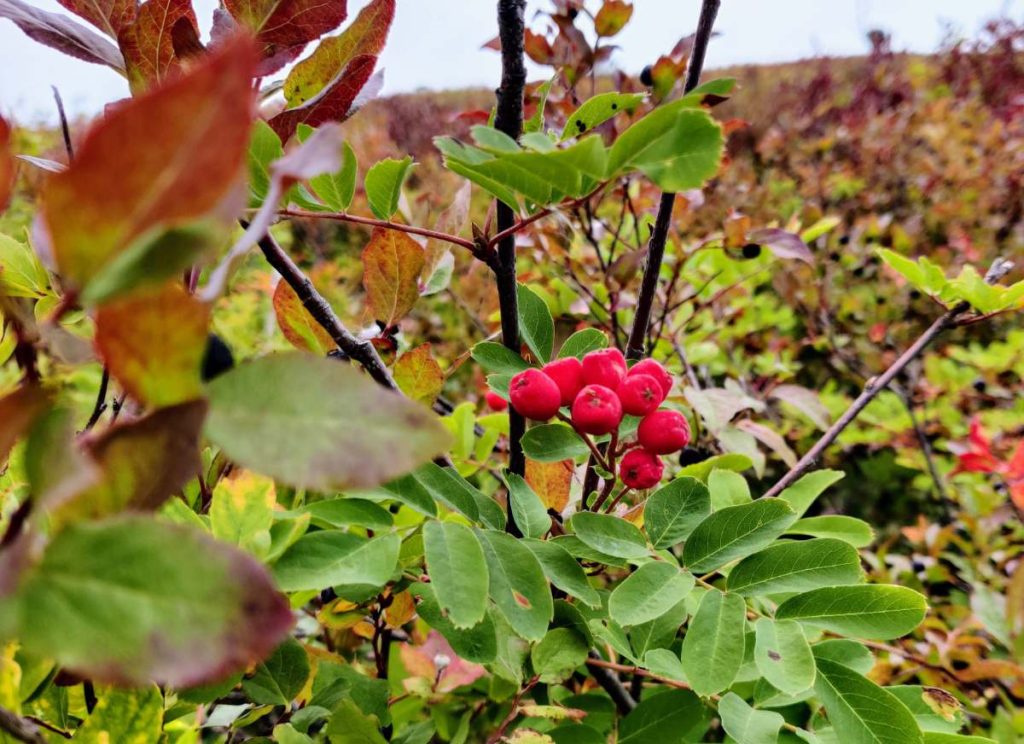 At long last the rocky trail gave way to smoother forested path, and the remaining short section to June Lake junction passed quickly. We were glad to have started at June Lake and have the slower miles to Climber's Bivouac Trail behind us now. We were back at the car by 11am, having beat the rain!
Hiking Solo?
Though I hiked the Loowit Trail with my husband, I also love hiking and adventuring solo. If you're wondering whether the Loowit Trail is an appropriate route to backpack solo, here's my two cents.
Experienced backpackers will probably feel comfortable hiking the Loowit Trail solo except possibly early in the season when water crossings, especially the Toutle River, might be challenging. If you're not experienced with water crossings having a partner would add a margin of safety. Later in the season, when snowmelt has slowed, you're unlikely to have issues. If you're uncomfortable with heights and exposure you might also prefer a buddy for the rope-assisted scrambles.
Cold and stormy weather can also be a danger, and all hikers should be prepared for this, solo or not. In hot weather be extra careful to carry enough water and plan refills carefully. You may not meet many other hikers each day, so you'll need to be totally self-reliant. But if you have the experience, gear, and skills to hike the Loowit, there's no reason you can't do it alone. Go and enjoy some solitude!
Loowit Trail vs. Timberline Trail
I had the privilege of backpacking both these famous trails in a single trip, about one week apart. Both are iconic 2-4 day PNW backpacking trips around volcanoes, both are challenging and quite rugged in places, and both are logistically simple loop routes with no permit quotas. Here are my thoughts on their differences.
Loowit Trail:
less crowded
more rugged trail and sketchy footing, thus harder but also more engaging
more exposed terrain above treeline
fewer hard water crossings (but still some)
fewer late-season water sources (longer water carries)
active volcano with more obvious upheaval from recent eruption (1980)
Timberline Trail:
more crowded
fewer rugged and sketchy sections (but still some)
more forested miles
more hard water crossings
more water sources throughout the season
dormant volcano, terrain was formed a long time ago
In terms of overall vibe and impressions, I felt like the Timberline Trail was more dramatic on a large scale (bigger and taller mountain, longer climbs and descents, longer route) while the Loowit Trail was more dramatic and engaging on a smaller scale (more rugged little gullies, boulder hopping, rope-assisted scrambles, nearly constant views of recent volcanic upheaval). Both are great! The Timberline Trail may be slightly more accessible and "easier" but is by no means easy, and early in the season the water crossings make it an advanced-level hike. 
Backpacking Gear
I always recommend a relatively lightweight backpacking gear setup because it's more comfortable and fun, and this is especially true for the Loowit Trail. Many sections require careful footwork and good balance. A heavy pack would be a lot of extra work and potentially risky if it leads to sloppy footing.
Here are some of the key gear items I use on most backpacking trips, and on the Loowit Trail specifically. For more, see my favorite backpacking gear.
Backpacks: We both carried ULA Circuits. We love them because they're lightweight, adjustable, and have a very flexible 68 liter capacity. On this short trail we kept them cinched down to a smaller volume, but they also expand to manage 7-day food carries when needed.
Sleep: Therm-a-Rest NeoAir XLite sleeping pads (warm and light) and Enlightened Equipment Convert quilts with synthetic hoods. The Convert is a great middle ground between a sleeping bag and a lightweight quilt because the full zipper helps prevent drafts in cooler temps. 
Shelter: Borah Gear bivvies and a Six Moon Designs Haven tarp. We love this setup for backpacking as a couple because we can set up the bivvies alone on clear nights for a bit more space and stargazing, or we can get cozy in the tarp when more warmth or weather protection is needed. We ended up pitching the tarp on this trip due to threat of rain.
Shoes: Altra Lone Peak trail running shoes. We've both been hiking and running in these for many years and won't wear anything else. They were more than adequate for the rocky and slippery footing on the Loowit Trail, and they dry very quickly after water crossings.
Cooking: JetBoil MicroMo, super fast at boiling water for rehydrating meals. Snow Peaks titanium mugs for drinks (a luxury item), Sea to Summit collapsible X-Mugs as bowls, Toaks titanium long-handled spoons.
Water: Sawyer Squeeze filter in gravity mode with CNOC Vecto 3 liter dirty bag. We used this for the clear water sources, but also carried some chlorine dioxide tablets in case of silty water (not used). 
Electronics: Garmin InReach Mini, Petzl Actik headlamp, power bank and cables
Other must-have items:
Hiking poles for balance, both on the rugged trail and during water crossings
Sunscreen, hat, perhaps arm sleeves or a sun hoodie; much of the Loowit Trail is unshaded.
Rain gear
Warm gloves, used several times in the chilly mornings of late September
More Resources
I hope this guide to backpacking the Loowit Trail has inspired you and helped you plan your hike. It's a tough trail, but with the right preparation and experience it's a very rewarding and unique backpacking trip. 
You might also like these other popular backpacking posts:
Or visit the backpacking home page for lots more!


Hiking resources in your inbox?
There's more where this came from! Sign up here for occasional emails full of inspiration and information about backpacking and hiking.


Share the Adventure
If you found this article helpful, please consider sharing so more people can benefit from it: