Though Mountain House meals (and Backpacker Pantry, etc) are certainly convenient, I can't remember the last time I ate a pre-made dehydrated backpacking meal without adding my own ingredients to it.
No matter how much they claim to be loaded up with the good stuff (fat and protein), dehydrated backpacking meals always seem too carb-heavy to be truly satisfying. To make matters worse the portion sizes are often on the small side, especially if you're covering big miles.
I suppose this is how Mountain House and similar brands keep their prices from soaring even higher; they're already pretty darn expensive for a meal you're going to eat from a bag while sitting in the dirt. Carbs like pasta and rice are much cheaper than quality sources of fat and protein, so I can understand why they're tempted to skimp.
So what's a hungry and nutrition-conscious backpacker to do?
If making all your own DIY backpacking meals from scratch is too much work but pre-made meals aren't quite cutting it, you can add more of the good stuff to your pre-made meals via bulk ingredients. You'll get the flavor and menu inspiration of pre-made meals plus more fat, protein, and important nutrients, not to mention a yummier and more satisfying meal.
However you do it, adding these yummy additions to any backpacking meal will instantly make it more filling, nutritious, and tasty.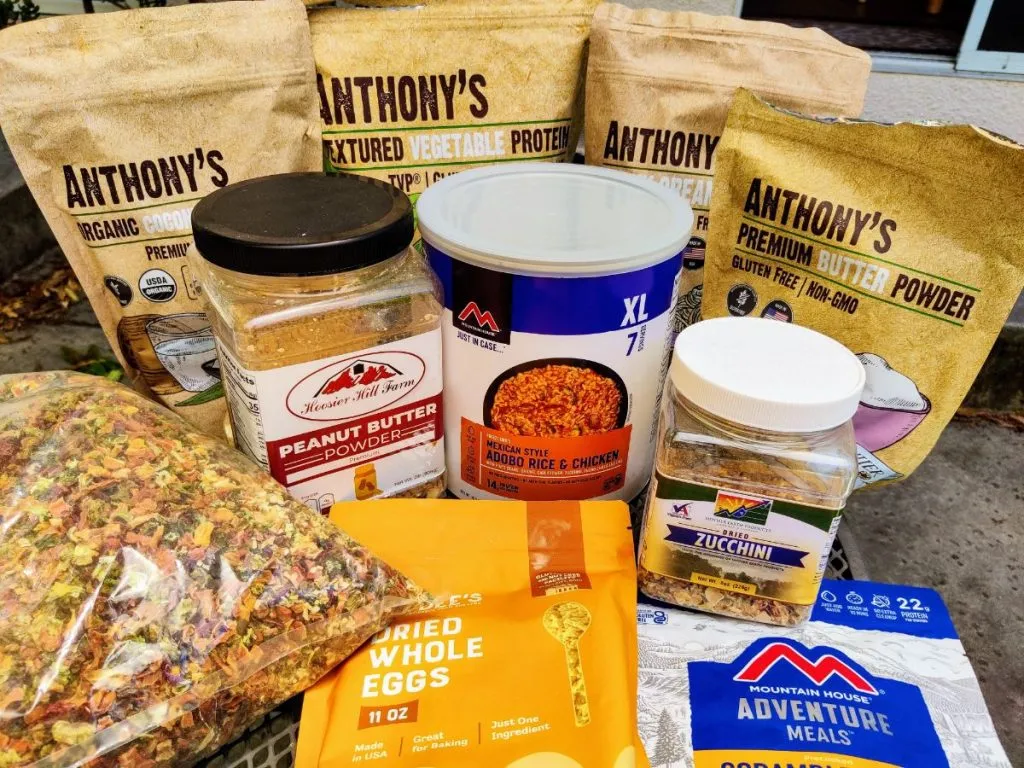 Delicious Additions
Here are my favorite items to mix into bulk backpacking meals or add to single-serve packets. I've linked to my go-to bulk brand on Amazon for each, but many are available in smaller package sizes too if you're not ready to commit.
Packing and Cooking Tips
I'm always bothered by the amount of packaging generated when I do food prep for a big trip. I wash and reuse my ziplock bags at home to try and make up for it, but portioning out backpacking meals can lead to a lot of plastic waste.
If you're eating single-serve meals like those from Mountain House, it's often simplest to eat directly out of the pouch. But how do you carry all these other powdered and dried ingredients? And if you're portioning out bulk meals at home, do you use a separate ziplock for each meal?
Pack all your powder baggies inside a larger bag or container to avoid mess. Squeeze all the air out before zipping, both to save space and minimize potential for busting a seal.
Whether you're rehydrating directly in the Mountain House pouch or in a bowl or pot, an ultralight insulated cozy is a nice luxury item. It's not strictly necessary, but slow eaters in cold or high-altitude camp locations will appreciate having hot food for longer.
Hopefully these ideas will help you spruce up your freeze dried backpacking meals on your next trip. There's nothing like sitting down to a filling and delicious meal at the end of a long day. Happy trails and bon appetit!
More Backpacking Resources