In a world where premium brand frame bags run at least $100+, the affordable Moosetreks frame bag (available on Amazon) is a steal. While arguably not as durable or high-quality as its more expensive counterparts, the value for money is very, very good.
My Moosetreks frame bag is still going strong after 4500+ miles. Even more impressively, it cost only $42!
Frame bags use the space in your frame triangle far more efficiently than bottle cages, allowing you to carry more water in your frame PLUS extra odds and ends. The position on the bike – low and centered – makes the frame triangle perfect for carrying heavy water and gear with minimal effect on the bike's handling.
If you're in search of ways to save money on bikepacking gear, or are just getting into this bikepacking thing, or are contemplating a transition from touring panniers to bikepacking bags, a budget frame bag like the Moosetreks is the perfect place to start. It can be added to your pannier setup for extra space on long-distance tours, used as the centerpiece of a bikepacking setup, or even used alone for convenient storage on long day rides.
I use the size small road/touring version from 2019 on my Long Haul Trucker, which was my do-it-all bike before I got my Fargo. It fits my 50cm LHT frame like a custom design. So far it's survived 3500 miles of bikepacking racing across the US, as well as 1000+ miles of backroads bikepacking in Idaho and Oregon.
In this review of my Moosetreks frame bag I'll tell you exactly what I love about it, what I don't love, and how it's fared over 4500+ miles.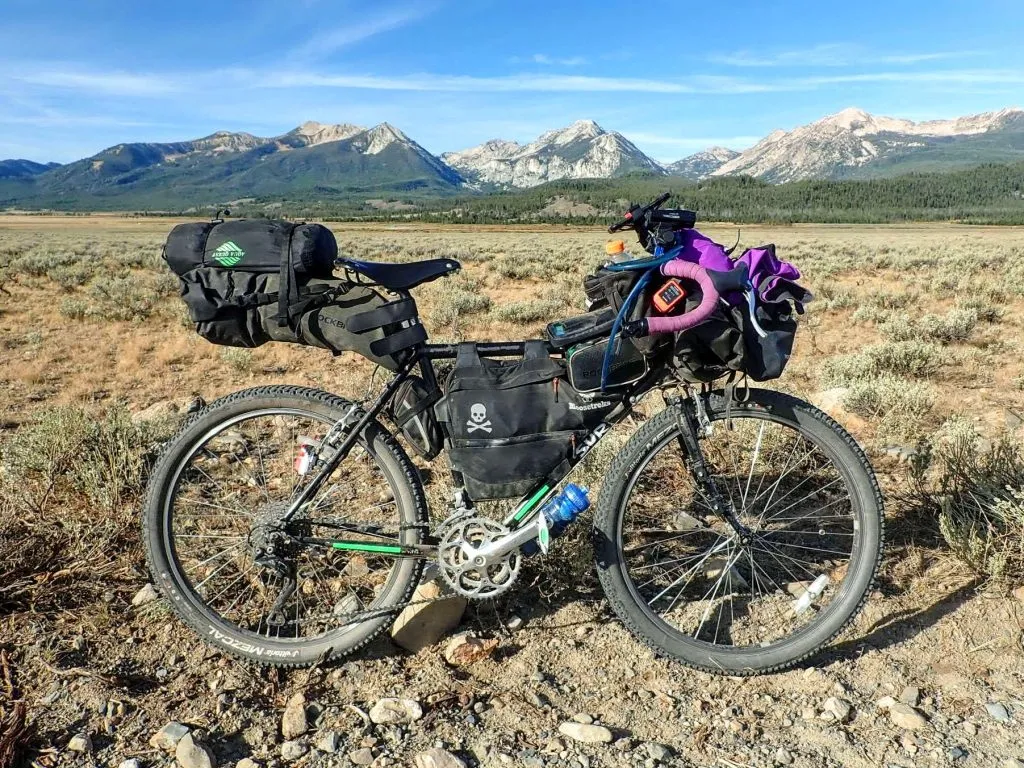 Moosetreks Frame Bag Overview
Price: $41.99 on Amazon
Capacity: 6 L to 14 L depending on size
Weight: 207 g to 404 g depending on size
Review Summary: The Moosetreks frame bag is an affordable full triangle frame bag available in six different shape and size combinations. For the price, it is very well designed and sufficiently durable.
My Rating: 4.5 out of 5. For the price, the design and durability exceed expectations.
Moosetreks Frame Bag Sizing
The Moosetreks frame bag comes in two versions: a road/touring version with two compartments, and a trail/mountain version with a single compartment. The road/touring version best fits bikes with more horizontal top tubes and overall larger frame triangles.
Each version comes in three sizes, with weights and sizes as follows (from Moosetreks' notes on the Amazon listing):
Touring/Road size Large – 14L Capacity, Weight: 404g, Fits most 60+cm road touring bike frames
Touring/Road size Medium – 12L Capacity, Weight: 372g, Fits most 54-58cm road touring bike frames
Touring/Road size Small – 6.5L Capacity, Weight: 331g, Fits most 48-52cm road touring bike frames
Trail/Mountain size Large – 8.5L Capacity, Weight: 275g
Trail/Mountain size Medium – 7L Capacity, Weight: 245g
Trail/Mountain size Small – 6L Capacity, Weight: 207g
The exact measurements of each size are shown in product pictures on this Amazon listing as well.
I own the size small road/touring version, which fits my 50cm Surly Long Haul Trucker frame perfectly.
Pros and Cons
Pros
Affordable
Many size options
Two pockets for easy organization (road/touring version)
Sturdy attachment straps
Cons
Zippers seem fragile
Some durability issues after heavy use
Design and Use
The Moosetreks frame bag attaches to the frame with sturdy velcro straps on all three sides.
The road / touring version has two zippered pockets: a long one on the top half, and a smaller one in the bottom of the triangle. Both pockets are accessed from the right / drive side of the bag (from the orientation of sitting on the bike).
The divider between the two pockets is sewn on one side and attaches with velcro to the other, so it can be folded away to convert the bag into a single large compartment.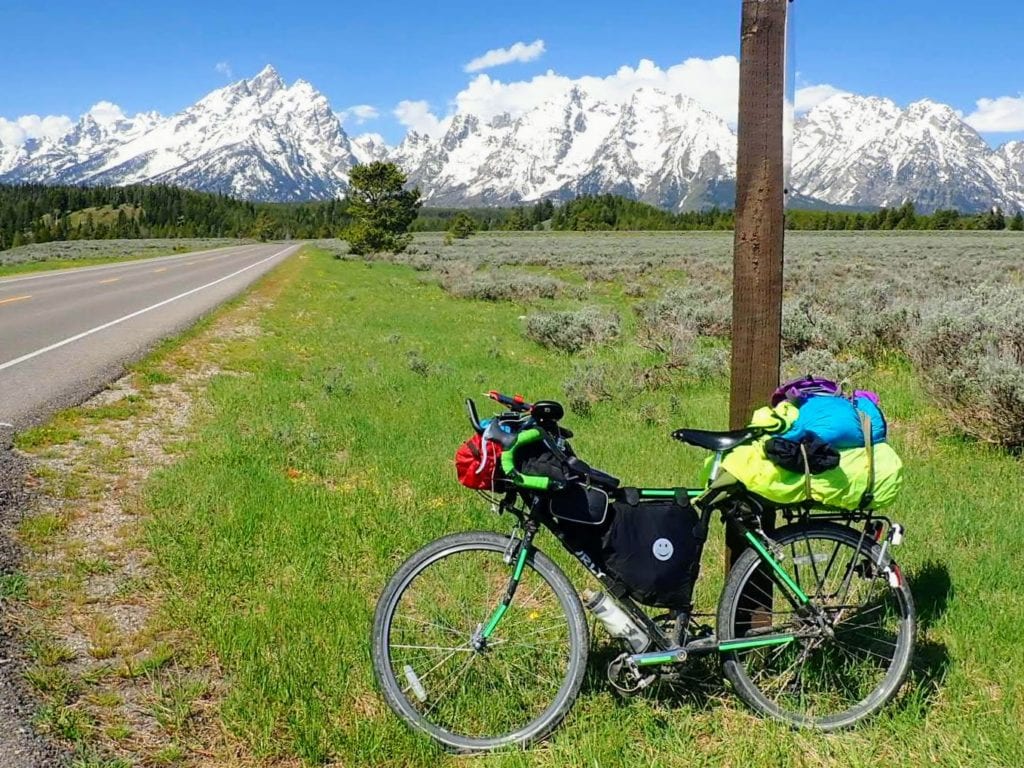 My size small road/touring bag just barely fits a 3 liter hydration bladder in the top compartment. I typically fill it to only 2.5 liters to make the fit easier. I would guess the medium and large sizes can fit a full 3 liters with no issues.
An alternative setup would be to remove the velcro divider and use the entire space for the water bladder, which would make the fit less tight. However, I like to use the bottom compartment for tools and electronics – heavy items that I like to pack low and centered on the bike – and carry more water in bottle cages on my front fork if necessary.
Unlike some higher end frame bags, there is no dedicated port for the hydration hose. I simply leave the front of the bag slightly unzipped and run my hose through the gap. This works fine for me, though obviously it makes the bag less water resistant. Speaking of which…
Water Resistant?
Moosetreks says this frame bag is water resistant, but not waterproof, as is the case with most frame bags.
Personally, I do not trust it to keep electronics or other water-sensitive gear dry in heavy rain. But I don't trust any bag to do that. Anything critical goes inside at least one layer of plastic bag or dry sack.
That said, I have not been bothered by the bag's lack of water resistance despite plenty of rainy riding. It keeps my tools, pump, and other non-water-sensitive items dry enough to not cause problems.
Durability
Durability is the one area where sacrifices are often made with more affordable gear. My Moosetreks frame bag has held up admirably through 4500+ miles of heavy use, but I can understand the concern of those who question its durability.
Mine has only developed one problem: the stitching on the divider has a rip about 1.5 inches long. I use the top pocket for my hydration bladder, which puts a lot of weight on the divider, so it's not surprising that this is the first part to fail.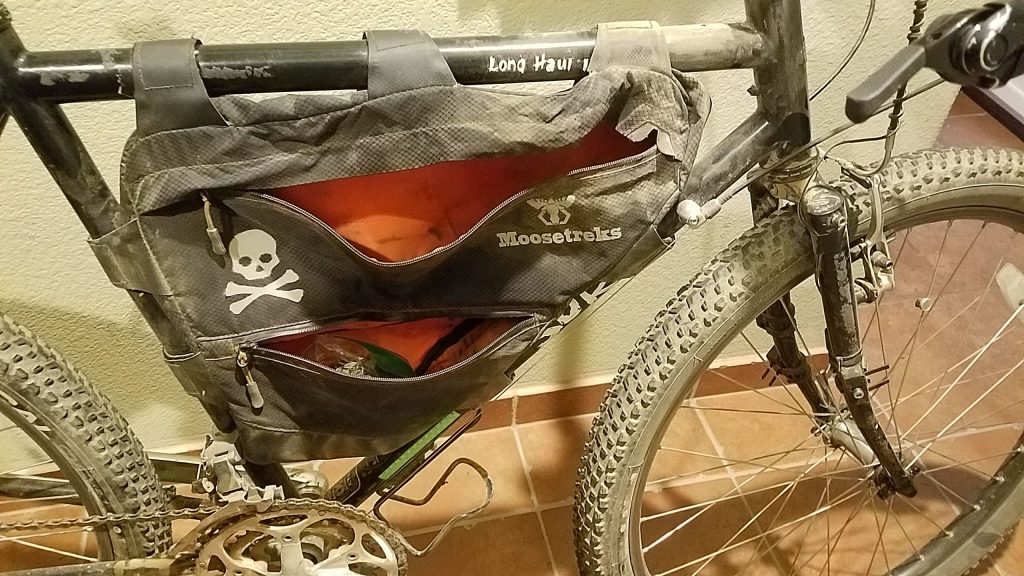 I've heard others express concern about the zippers, and I agree that they feel flimsy. I treat mine carefully and so far they're doing fine (knock on wood). But I won't be shocked if they eventually break or develop tears where they attach to the bag.
Given that the Moosetreks frame bag costs less than half what its competitors do, I've been pleasantly surprised by its durability.
Alternatives
As of early 2020, there really aren't any comparable alternatives to the Moosetreks frame bag at a similar price point.
For those looking at budget options, RockBros makes a frame bag that comes in three sizes but is more limited in capacity and shape, especially if you ride a road/touring bike.
Other frame bags from the bigger name brands, such as the Salsa EXP, are arguably higher quality but will set you back at least $100. For the higher price you can usually expect better durability, extra features like a hydration hose port or shock cord, custom sizing, or other bells and whistles.
In my opinion, unless you ride many thousands of miles per year and/or have money to burn, the Moosetreks frame bag is a no-brainer. For those who know their bag will get heavy use in rough environments, a more durable bag might be worth the extra cash.
More Bike Resources
If you're into bikepacking or bicycle touring, check out the rest of my bicycle travel resources here.
You might also like these posts:
Bike resources in your inbox?
There's more where this came from! Sign up here for occasional emails full of inspiration and information about bikepacking and bicycle touring.


Share the Adventure
If you found this article helpful, please consider sharing so more people can benefit from it: