I can't believe it's been almost 5 years since I hiked 200+ beautiful miles through the Sierra Nevada mountains on the John Muir Trail. Time flies!
The John Muir Trail, or JMT for short, was my first long backpacking trip. But I've done plenty of other backpacking since then, and as my hiking gear and style have evolved with experience I've come to realize: the JMT is the perfect test of dialed-in backpacking gear for summer mountain hikes.
You might not know it if you met me on the trail, but I'm a sucker for spreadsheets. In a fit of curiosity late one night, I went through online gear lists from over 30 John Muir Trail hikers and compiled them all into a giant spreadsheet to see which gear JMT hikers choose the most.
Lucky you, I did it so you don't have to! Now you get to learn from the results.
In this post I'll break down the most popular backpacks on the John Muir Trail, and what the rest of us – even if we're not hiking the JMT any time soon – can learn from them as we search for the ideal backpacking pack.
Why should we care about JMT gear if we're not hiking the JMT?
As hikers always searching for that elusive best backpack for multi-day hikes, we can learn a lot from the gear chosen by JMT hikers. Why? For most hikers, the John Muir Trail demands balance.
JMT hikers need a pack roomy enough for many days of food and a mandatory bear canister, plus all the usual gear and clothing required for days in the high mountains. Yet the trail is difficult enough that counting ounces and striving for a lighter pack really does pay off.
And, unlike the super-long-distance PCT or AT, many JMT hikers are mere mortals who jump right into the high Sierra mountains straight from full-time jobs and comfy houses. In other words, not all JMT hikers are hiking machines fit enough to carry heavy loads all day long, or accustomed enough to trail life to put up with a miserably cold and uncomfortable super-lightweight setup. The JMT gear list, for most hikers, is an exercise in compromise. This is where good gear really does make a difference.
The other convenient thing about the John Muir Trail is that it's very, very popular, and people like to post their gear lists online. This allows people like me, who get way too into this stuff, to do some analysis…
Methodology
Using our friend Google, I analyzed about 30 JMT gear lists published online by hikers from prior years. I filtered out any that were:
Very old (more than about 5 years, or included a lot of discontinued gear)
Not specific enough about brands and models
Written by hikers who clearly weren't happy with the pack they chose (just a couple, and they were old discontinued models).
The result is a pile of data that a gear and numbers geek like myself just can't wait to dive into. Let's go!
One important thing first: 30 is what's referred to as a small sample size in statistics. There aren't enough recent and detailed JMT gear lists online to give a perfectly representative picture. In other words, there are definitely some great packs missing from this list and some not-so-popular ones that made it in by luck. This post is like asking 30 different hikers what pack they use: interesting information for sure, but not a comprehensive picture.
Backpacks Mentioned in JMT Gear Lists
Not surprisingly, the packs used on the JMT vary widely. The list contains everything from a 32 liter pack weighing 23 ounces, to a 70 liter pack weighing 86 ounces! That's a 3.7x difference! The average weight of all packs mentioned was a relatively light 44 ounces (2.75 lbs), and the average capacity was 58 liters.
Here's the full list of backpacks mentioned in the JMT gear lists I analyzed. The Mentions column is the number of times that specific pack model was mentioned across all the gear lists I analyzed.
[supsystic-tables id=1]
Unfortunately many of these exact models have already been discontinued and replaced with new ones in the fast-paced race toward better outdoor gear. I've included them still, because I think it's interesting to see the general type, weight and capacity even if the exact model is no longer available.
It's worth noting that ULA has some other models which are more appropriately sized for the JMT than the ones in the list. I've seen both the ULA Ohm (35 oz, 63 L) and ULA Circuit (41 oz, 68 L) on the trail and they seem to have a good reputation. Why aren't they in the list? Probably because my sample size is just too small. If I could find 100 gear lists instead of 30, I bet these two would show up pretty often.
Most Common Packs on the JMT
Even with this small sample size, it's pretty clear that two of these packs are more common than most of the others:
Why are they so common? For one thing, they both hit the sweet spot in terms of weight and capacity. They're both lightweight (2 -3 pounds) but not so light that they might be impractical for all but the most devoted ultralight gear collectors.
Their capacity is also similar, right around 60 liters, which seems perfect for accommodating gear plus the mandatory bear can. The Osprey Exos/Eja in particular is almost exactly the same weight and capacity as the overall averages for the whole list, making it a solid middle ground between too light/small/flimsy and too heavy/big/bulky.
From what I've read in reviews, both packs are also comfortable, functional, durable, and handle lightweight to medium loads reasonably well. The max suggested load for the Mariposa is 35 pounds, while the Exos can apparently handle up to 40 pounds, making it a smarter choice if your gear isn't as lightweight.
The Osprey Exos is a men's / unisex pack, but there's a women's model called the Osprey Eja. The Mariposa is not gender-specific but comes in three separate sizes and even has separate sizing for the hip belt.
The Osprey Aura AG 65, which showed up twice on the list, is a popular women-specific pack with a bit more capacity and heavier load tolerance. Lighter than the Ariel but heavier than the Exos and Mariposa, it's a good choice for non-lightweight hikers still making an effort to get their pack weight under control for the JMT.
Lightweight Packs
The well-known brands Osprey and REI make a solid showing in the list, but many small lightweight gear brands are represented too. In fact, ten of the twenty five packs mentioned come from small lightweight gear companies like Gossamer Gear, Zpacks, and ULA.
It's possible that hikers who are more likely to post their gear lists online are also more likely to seek out lightweight alternative gear options; correlation is not causation. Still, this list is a good reminder that it's worth looking beyond the old standards when seeking out innovative and lightweight gear. For even more lightweight backpack models that didn't make it into this list, see this overview of the best lightweight hiking packs.
Important caveat: if the rest of your gear isn't lightweight, you don't want to buy a lightweight pack. Most of the packs weighing under 3 pounds simply aren't meant to carry heavy loads; they're usually only rated for up to 30-35 pounds max. Load them up heavier than that and they are neither comfortable nor guaranteed to stay in one piece.
Typical Capacity of JMT Packs
What capacity backpack is best for the JMT?
The chart above shows how many packs from the list fall within each capacity range. The most common capacity for JMT packs is definitely in the 55-65 liter range. This makes sense given the need to balance lightweight gear with enough space for a bear can and many days of food.
A couple of the packs on the smaller end are obviously too small to fit a bear can. I can only assume they strapped it to the outside, since in both cases their full gear list includes it.
Typical Weight of JMT Packs
Now let's look at the weight of the packs when empty:
Two to three pounds is definitely the sweet spot here, which is considerably lighter than most standard backpacks. Again, this only works if your gear base weight (everything except food, water, and the clothes you're wearing) is less than around 15 pounds. If it's not, you're better off with a more standard pack in the 3-5 pound range in exchange for extra load-carrying comfort and durable materials.
If you're serious about getting your base weight down into lightweight territory, you should also check out this post on strategies to reduce your pack weight, and this one on lightweight clothing choices.
Weight Versus Price of JMT Packs
Weight is obviously only one factor to consider when choosing your pack. If it's light as a feather but unbearably uncomfortable, or doesn't fit your body, or you can't stand the way it's organized, you're not going to enjoy it. That's why it's important to read reviews written by people whose style and goals are hopefully similar to yours.
That said, weight vs. cost is one metric I look at when trying to evaluate gear. Here's a chart of weight versus price for each pack in the list that hasn't been discontinued:
Sometimes people think lighter-weight backpacking gear is more expensive, but this chart shows that's not necessarily the case. For example, the very lightweight Zpacks Arc Haul (all the way on the left) is actually a tad less expensive than the very heavy Osprey Ariel 65 (all the way on the right). And the ULA CDT, down in the lower left, is an exceptionally good value for someone looking to seriously cut ounces.
Of course you're paying for other factors too – comfort, durability, quality of materials, etc. Cost versus weight is not the only factor. But if your budget is tight and cutting weight is a big priority, you might want to consider the packs that are lower down and farther to the left on the chart above.
It's probably no surprise that the two most common packs we looked at above – the Osprey Exos 58 and Gossamer Gear Mariposa – are both in that lower left quadrant. Both are moderately affordable, moderately lightweight packs.
Other Considerations
So does this mean the best backpacking pack for you is a Gossamer Gear Mariposa or Osprey Exos 58? The answer is a definitive "maybe." If your base weight is in the neighborhood of 15 pounds or less, chances are good that one of these well-loved classics will work for you, or at least not be a total disaster. If you're into the idea of lightweight hiking and excited to get your pack weight as low as possible, the Mariposa could be an awesome choice. If you're tending slightly more toward the standard gear category and don't want to give up quite as many luxuries, the Exos could be your pack.
If you're more in the standard backpacker category, with a base weight of 20 pounds or higher, I'd strongly recommend you stay away from the lightweight packs and go with something like the heavier Osprey or Deuter models. The comfort factor alone will totally be worth the extra couple of pounds.
In either case, definitely read some reviews before you make your choice, and don't be afraid to choose something that isn't in this list. I could only find about 30 JMT gear lists that were detailed and recent enough, so there are bound to be some good options that I missed. If you find one, let us know in the comments below, or better yet send me your gear list so I can include it in my analysis.
I hope you enjoyed geeking out on gear and charts with me! If you found this useful, you might also like post #2 in this series: what we can learn from the most popular sleeping pads on the JMT.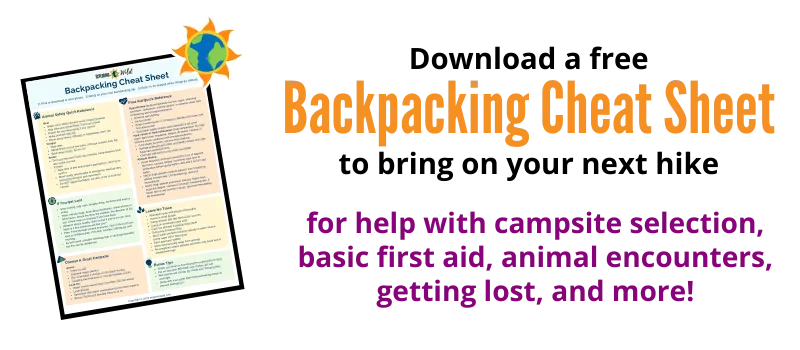 You'll also get occasional emails packed full of backpacking resources and inspiration.
I think you'll like them! But don't worry, you can unsubscribe any time.


More Backpacking Resources
If you're planning a backpacking trip on the JMT or elsewhere, these might come in handy too:


Hiking resources in your inbox?
There's more where this came from! Sign up here for occasional emails full of inspiration and information about backpacking and hiking.


Share the Adventure
If you found this article helpful, please consider sharing so more people can benefit from it: