With summer in full swing, the snow is melting out of the high alpine. For bikepackers this means it's time to hit the trails! The peak months of summer and early fall are a special time for outdoor adventurers, a narrow window when the world's most spectacular terrain can be accessed under (mostly) sunny skies and without snow gear.
These mountain bikepacking routes are accessible and at their best starting around mid-July, though a couple may be accessible earlier and a high snow year could push ideal timing into August. They'll usually be rideable through September, maybe even into early October if the first snows arrive late. It's always smart to check snow levels and keep an eye on the forecast when bikepacking in the mountains, but it's especially essential when dabbling in shoulder season on routes like these.
I usually write from first-person experience on this site, but I've personally pedaled only half of these routes. Some are on my ever-growing wishlist, some I've heard great things about, and some are simply too classic to omit. If you've ridden one of these excellent summer bikepacking routes in the mountains, or have another one to recommend, let me know in the comments! If you're craving a fix of mountain bikepacking this summer, let this list offer ideas and inspiration.
Mountain Bikepacking Routes in the U.S.
Here in the United States we're lucky to have some truly world-class mountain ranges. The Rockies dominate the continental topography and this list, and they are by far the easiest place to spend a few days above 10,000 feet on a bike. The Sierra Nevada, just as beautiful but less accessible to bikes, offers at least one classic mountain bikepacking route. The Cascades of the Pacific Northwest are lower in average elevation but not to be underestimated in their beauty and ruggedness.
With apologies to the East Coast I've focused on the Rockies westward here. The Appalachian range is formidable, but it simply doesn't reach the same heights as the others and I'm less familiar with it personally.
International Mountain Bikepacking Routes
For those who relish a particular blend of physical challenge and mental stimulation, bikepacking abroad is an adventure like no other. Earth is home to many impressive mountain ranges, and many bikepacking routes are still waiting to be pieced together. Here's a small selection of diverse routes in other countries focused on big mountain riding in the northern hemisphere's summer months.
Mountain Bikepacking Tips
If you've never bikepacked in big mountains before or need a refresher, here are some things you need to know.
Electrical storms: High exposed places and electrical storms aren't a good combination for bikepackers, or anyone else who doesn't want to be struck by lightning. Some mountain areas have a monsoon season during the summer that reliably delivers thunderstorms most afternoons. When riding in big mountains you'll want to start early in the day, keep an eye on the clouds (puffs that grow taller than they are wide suggest building thunderstorms), and be over any mandatory high points by early afternoon. If in doubt hunker down in a stand of trees or, above treeline, a low point in the topography until the storm passes.
Weather: Lightning isn't the only weather-related challenge in the mountains. Even during summer it's totally possible to find yourself being pelted by hail or dusted with snow at high elevations. Nights can easily dip below freezing and days can be windy. You'll want a reliable bikepacking shelter and sleep system and a thoughtful layered clothing system that can weather the elements. Some routes also have the issue of "Death Mud" to consider during periods of heavy rain, usually on dirt roads in areas with clay-rich soil.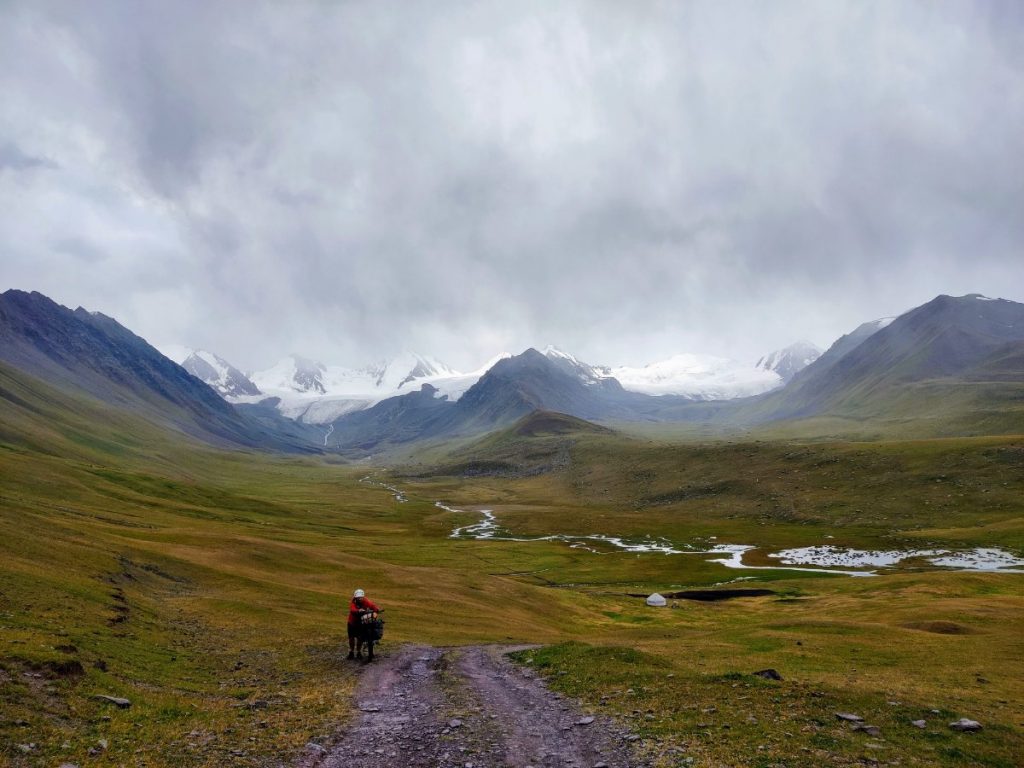 Timing: No route on this list should be attempted outside of summer or early fall. June will work for a few of them, especially in low snow years, but mid-July is a safer bet especially for the Rockies. August and early-to-mid September are excellent times to ride these routes, and it may be possible to push into October if the first storms hold off. Always check snowpack levels and weather forecasts, especially if dabbling in shoulder seasons.
Altitude: Most people will feel some normal effects of high altitude — shortness of breath, a bit of nausea and headache, trouble sleeping well — above 9000 or 10,000 feet. For some unlucky folks the effects start lower, around 7000 or 8000 feet. The best way to feel good at high elevation is to ascend slowly, giving your body a couple days to acclimate. It's also essential to drink plenty of water — more than you usually would — and if possible arrange to "ride high and camp low," covering high sections in a single day and choosing lower areas to sleep. If you start feeling truly unwell it's safest to descend to lower elevation right away.
Climbing: Most mountain bikepacking routes feature big climbs; there's just no way around it. Combine all that elevation gain with the challenges of high altitude and you'll probably move slower than you expect. Get a bit of training in your legs beforehand, pack light, and remember hike-a-bike is your friend.
More Bikepacking Resources