It seems obvious that this website, with its hundreds of articles about bikepacking, should have a comprehensive bikepacking gear list. I have posts about my favorite gear and a few packing lists from specific trips, but (until now) no general-purpose packing list for bikepacking. Why have I waited so long?
First, there are so many ways to approach bikepacking and I hate to be overly proscriptive. You do you, ride your own ride, as we say. But perhaps more to the point, I was stumped. "What do you pack for bikepacking?" is a surprisingly complicated question!
That's because I don't actually have a single bikepacking gear list… I have many! I'm a student of this wacky pastime and am constantly adjusting, tweaking, experimenting, and customizing my gear list for every single trip. Whether the goal is cutting ounces for a race or figuring out how to have more fun around the campfire, there's always something new to try. It's not necessarily about buying lots of new gear (because that's expensive!) but about fine-tuning the combinations and deciding what to leave out.
Thus I don't really have a bikepacking gear list, I have a bikepacking gear system. I group my trips into three categories: ultralight, standard , and long / international. Each style implies different priorities, contingency plans, and expectations. Within each category there are different locations, climates, paces, and all the other factors that make each trip unique.
In this post I'll explain each of my typical bikepacking styles and then compare, side-by-side, my gear lists for all three. You'll be able to see what I add for the long trips abroad and what I subtract for the ultralight trips near home. If you're just starting out and wondering how to reconcile all the different bikepacking gear lists out there, I hope this post gets you thinking about how to pack for the specific needs of your trip instead of just copying a checklist.
Ok, enough of that, let's get into the gear!
My 3 Types of Gear Lists
I've been fortunate to experience a wide variety of pedal-powered trips. First there were the early solo tours on other continents. Then came bikepacking trips throughout the western US, leading sometimes to bikepacking races (in my own way) and a gradual progression onto rougher roads and trails. Solo rides, rides with my husband, rides with friends, rides for fun and for limit pushing and for cultural experiences and as my own personal rites of passage… So many rides!
When I zoom out, most of these trips fall into one of three categories: ultralight, standard, and long international travel. I still alternate between these styles; last year I enjoyed trips in all three categories. Here's what each of them means to me.
---
Maybe you can think of other categories, like ultralight international racing (Silk Road Mountain Race) or winter bikepacking or a long leisurely bike ride across America. Those are great too and offer other interesting gear puzzles to solve, but for purposes of this post I'll stick to the styles I know best.
Shelter and Sleep
Shelter and sleep systems are usually the biggest and bulkiest part of a bikepacking gear list, and one of the most important. Here's how I modify mine depending on the style of trip.
In this table and all the ones below, I've listed the gear items in the left column. Each column to the right explains how I approach that item for that specific kind of trip.
There's a big difference in comfort between these sleep systems, and it's one of the biggest distinguishing features of my various bikepacking gear lists. With my ultralight bikepacking gear list I'm usually tired enough to sleep anywhere and happy for the convenience of a bivy; I'll only be in it for a few hours anyway. I'm a very cold sleeper and don't skimp on the warmth of my sleeping bag even with an ultralight setup, but everything else is pared down to the minimum needed for safety.
On a standard or long international trip, my tent is my home away from home. I need privacy at busy campgrounds, weather protection in all kinds of elements, and enough room to hunker down inside for a day or two if needed. I use a lightweight, freestanding, double wall tent in either a solo size (for just me) or a 3-person size (if my husband is joining).
Food and Water
The biggest difference here: my ultralight bikepacking gear list leaves out the stove. The resupply style for races usually amounts to packing out piles of junk food from gas stations, and there's no time for cooking. Sometimes I'll also go stoveless on a more leisurely short trip if I can carry fresh food out from towns often enough. On longer trips I do enjoy the pleasure of hot coffee in the morning and a hot meal at night, generally something simple cooked by soaking in hot water (see my Bikepacking Food Guide).
My water containers are more influenced by route and climate than packing style; I'll bring whatever I need to carry enough (see 9 Ways to Carry Water on Your Bike). The exception is a hydration backpack, which I'll wear for short ultralight trips to keep my bike lighter for hike-a-bikes but wouldn't want on my back for a longer trip (see Bikepacking with a Backpack).
Water treatment depends mostly on the needs of the route. My standard is a Sawyer Squeeze set up as a gravity filter with a CNOC Vecto, which is light and convenient. For a short ultralight trip I might carry only chlorine dioxide tablets, which are even smaller and lighter. For a long trip, especially overseas, I carry both so I can treat water for viruses in addition to bacteria and parasites (see Water Filters for Bikepacking and Bike Travel).
Clothes
Electronics
The biggest factors here are whether I'll be riding at night (most common with my ultralight gear list) and how often I'll be recharging. I'm fortunate to have two different bikepacking bikes for different riding styles, and one has a dynamo hub. I'm more likely to have the dynamo hub for races and events, but I've also taken it on more leisurely trips in the US and overseas.
Bike Tools and Spares
Toiletries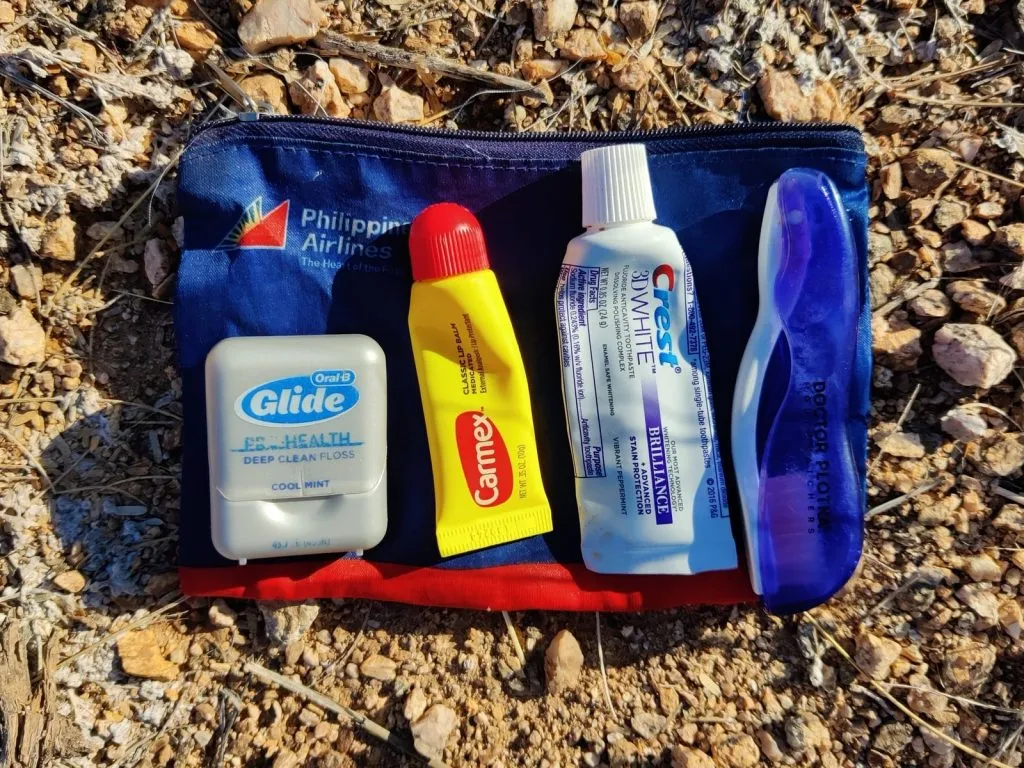 Odds and Ends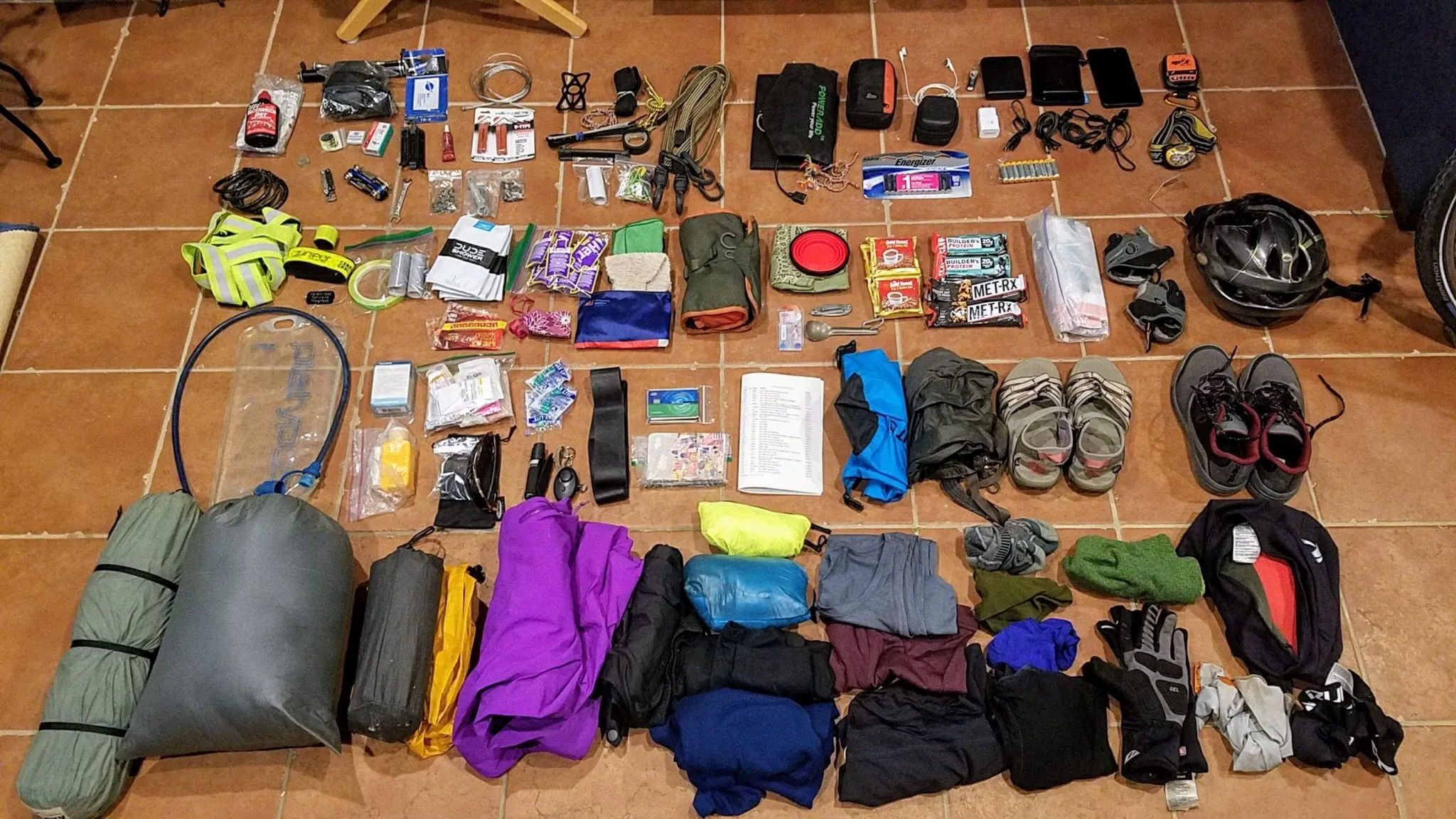 More Bikepacking Resources