Looking for a tasty, easy, stoveless trail breakfast that you won't mind eating cold on a chilly morning? It may seem too good to be true, but it does exist!
Maybe you're an ultralight backpacker who likes to move fast and far, or maybe you're just happier carrying less weight. Whatever your reasons for backpacking without a stove, these easy and tasty no-cook backpacking breakfasts will start your morning off on the right foot.
1) One-Bag Cereal + Milk + Coffee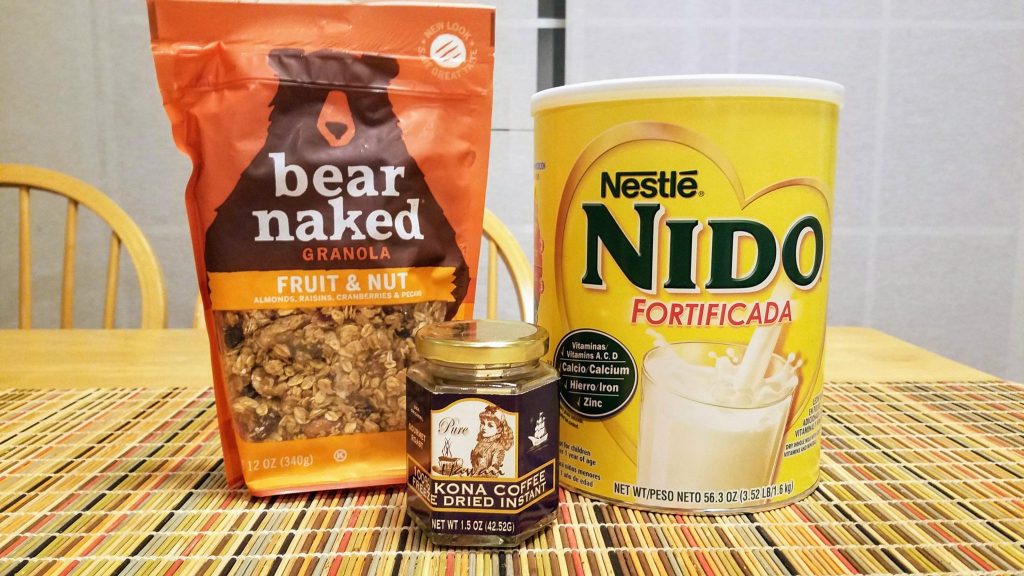 This is one of my favorites for its efficiency and tastiness. The ingredients are lightweight and it tastes more or less like a breakfast I'd eat at home, with a little twist.
Normally I love starting my day at home with a bowl of granola and a hot cup of coffee. But if I'm stoveless on the trail and trying to get an early start, nothing beats the efficiency of pouring everything into one bag and shoveling it down.
What you'll need:
Granola or other cereal of choice. My favorite: Bear Naked Fruit and Nutty. For extra calories and nutrition, add more nuts, dried fruit, shredded coconut, chia seeds, hemp hearts, whatever you like that's high in protein and fat.
Powdered whole milk, a couple big tablespoons. I like to buy Nestle Nido powdered milk in bulk, because I use it at home too for post-workout recovery drinks.
Instant coffee powder or individual packets
Plastic ziplock baggies
Long spoon (optional, for eating directly from plastic bag)
For extra efficiency, pre-assemble each serving in a ziplock baggie. At breakfast time just add cold water, shake a bit, and enjoy. You can eat it right out of the baggie as long as your spoon is long enough, and you won't have any dishes to clean afterward.
For a more relaxed approach, just bring bulk supplies of all ingredients and mix as you go. It still works best in a ziplock bag though, because the milk and coffee dissolve best with some shaking.
Obviously you can leave the coffee out if that's not your thing, in which case it's just good old cereal and milk.
2) Tortillas And Nut Butter
Tortillas are usually a staple of my backpacking lunch menu (paired with hard cheese and salami), but they can work for breakfast too.
For this purpose, I like them best when liberally smeared with nut butter and nutella, both great sources of filling calories.
If you want to be organized and don't mind spending a little extra, those little packets of peanut butter or almond butter are convenient. But if you're on a budget or resupplying somewhere with limited options, you can totally just buy a jar of peanut butter (go for plastic, it's lighter). If you're really worried about weight you can spoon it into a plastic bag and leave the jar (warning: this can get messy).
You can eat it burrito style, or you can tear off little bits of tortilla and individually slather each one in yummy goodness. Find your own style.
The only downsides:
Can be messy – go for thick nut butters that won't drip as much
The nut butter is heavy
Can go down a little dry and sticky sometimes. Pairs well with trail iced coffee (see below).
3) Cold Oatmeal
Oatmeal is a classic trail breakfast, but not everyone knows this secret: you can enjoy it cold too! Simply add water and leave it to soak for at least 30 minutes, add all the delicious mix-ins you normally would for hot oatmeal, stir well and enjoy.
What you'll need:
Instant oatmeal, by the packet or in bulk
Goodies to mix in for taste and more calories: powdered milk, chocolate chips (not recommended for hot weather), chia seeds, sliced almonds, etc…
A container to soak in. Could be a bowl or ziplock bag if you're going to do this at camp, or something less leak-prone if you want to soak overnight in a bear bag or in your pack while hiking. Those plastic talenti gelato jars are a popular choice.
Spoon, potentially long-handled if you'll be eating from a ziplock bag.
4) High-Calorie Protein Bars
This one is so easy and simple, it's almost cheating.
I secretly love those massive "nutrition" bars that are actually candy bars. You know, the chocolate flavored desserts that are marketed as health food but are so packed with sugar you may as well be eating a Snickers? Yum…
The trick, if you're trying to eat healthy, is to not let them become an everyday food at home. However, there are a few absolutely perfect uses for them, and backpacking is at the top of the list.
Introducing the Met-Rx Big 100 Colossal Protein Bar. These things are such a treat for me that they're almost worth dragging my sore body out of a cozy sleeping bag into the harsh morning air.
At 420 calories and 32 grams of protein, the Super Cookie Crunch variety won't leave you hungry an hour into your morning climb to the next pass.
Arguably tastier but slightly less massive, the 360 calorie Chocolate Chip Cookie Dough variety is another excellent choice.
There are some downsides to this choice for a stoveless backpacking breakfast:
They're not cheap
They're heavy
They're not always available if you're resupplying from small stores along the trail.
For those reasons, I often use them on shorter trips of 2-3 nights, where the extra weight doesn't add up to very much.
I usually buy these bars on Amazon from listings like these, depending on available flavors and current prices:
Bonus: Trail Iced Coffee
Tip: instant coffee DOES dissolve in cold water! It just needs a little extra mixing. Just because you're going stoveless doesn't mean you need to give up your morning cup of joe.
If you'd rather not mix it in with your cereal as suggested above (I swear it tastes good and is not that weird) or if you want something to go along with your cookie dough protein bar (yummm), shake up some instant coffee with cold water in a water bottle and enjoy.
Trail Tested on the TRT
My husband and I first tested these no cook backpacking breakfast ideas when we had the stupid idea of thru-hiking the Tahoe Rim Trail in a single week. We left the stove and fuel at home to save weight and resupplied from simple grocery shops along the way.
With about 25 miles of hiking to do each day, we were up at sunrise and still hiking after dark. Every minute counted and efficiency was key. Being able to roll out of our lightweight bivy sacks and fuel up with a ton of calories that tasted halfway decent was totally key. I can personally promise that these ideas will do the trick!
Know any other great stoveless backpacking breakfasts? Let us know in the comments below.
Going Backpacking?
Pin For Later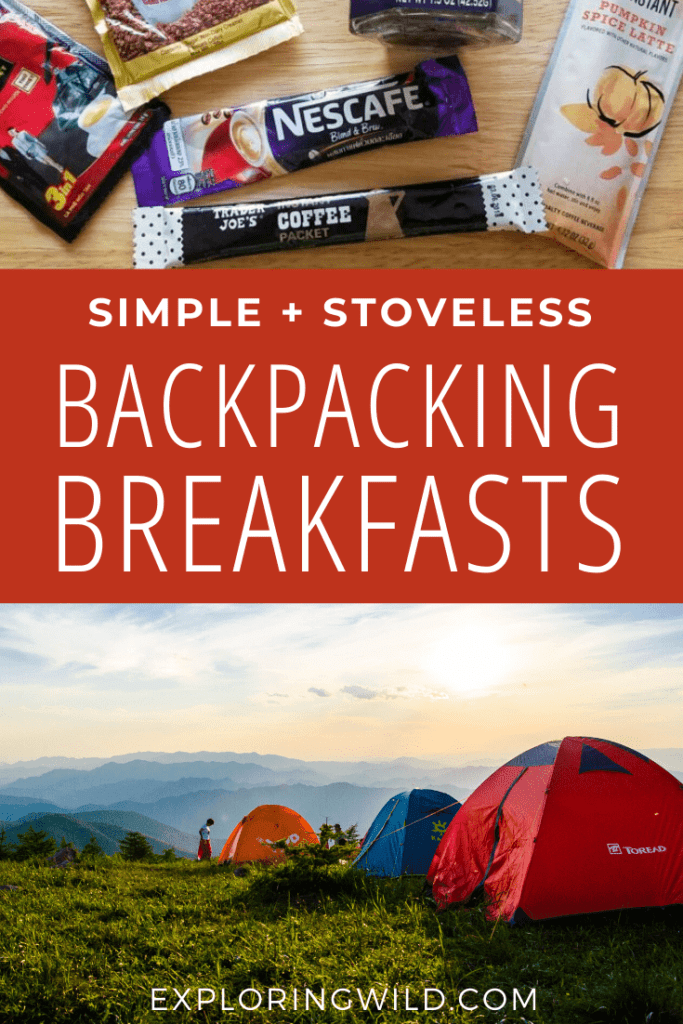 More Backpacking Resources


Hiking resources in your inbox?
There's more where this came from! Sign up here for occasional emails full of inspiration and information about backpacking and hiking.


Share the Adventure
If you found this article helpful, please consider sharing so more people can benefit from it: